DansDeals will receive compensation if you are approved for a credit card via a link in this post. Terms apply to American Express benefits and offers, visit americanexpress.com to learn more.
I've been to the Maldives twice and it's truly Heaven on Earth. The overwater villas there are the stuff that dreams are made of. You can jump right out of your villa and into the bathtub warm ocean while swimming with incredible sealife.
Historically it's always been very expensive whether paying with points or cash, but that has changed thanks to new points hotels opening there.
The Conrad has overwater pool villas for 76K-95K Hilton points per night. The Waldorf Astoria has villas from 96K-120K Hilton points per night, though overwater villas are extra. The Park Hyatt has villas for 30K Hyatt points per night, though pool and overwater villas are extra.
The new JW Marriott Maldives Resort & Spa is now accepting reservations starting on September 15th.
It's the 5th Marriott property in the Maldives and like the Westin, S. Regis, and the W Maldives, it will be a top-tier category 8 property. Currently that means it will cost 85K points per night or 68K points per night on a 5 night stay. In the future category 8 hotels will cost 56K-70K points off-peak, 68K-85K standard, and 80K-100K on peak dates.
Similar to the Conrad, the JW Marriott has both Overwater Villas and Beach Villas available as the base rooms. That's important as you can only redeem the regular amount of points for a room categorized as a base room.
That means a 5 night stay in either room will be 340K Marriott points, or 68K points per night:
I was wondering if this is a mistake like the S. Regis Maldives deal back in 2016, when I stayed in an overwater pool villa for just 26K Starpoints per night.
However the JW Marriott is actually charging more for their beach villas than the overwater villas:
Obviously going with a beach villa or an overwater villa is a matter of personal preference, but I love the overwater villa experience, so that's a no-brainer for me.
The value for your points is excellent. A 5 night stay would cost 340K Marriott points instead of $9,504 (after backing out the $600 seaplane transfer fee). That's a value of 2.8 cents per Marriott points. I typically value Marriott points at about 0.7 cents, so this is 4 times better than their typical value!
Overwater villa rates at other Marriott hotels vary by season.
For example in off-peak summer, a S. Regis overwater villa would run 540K points for 5 nights or 108K points/night:
But in peak winter season, a S. Regis overwater villa would run 890K points for 5 nights or 178K points/night:
I've stayed in an overwater pool villa at the W Maldives in 2013 and in an overwater pool villa at the S. Regis Maldives in 2017 and can't wait to stay in another one in the future.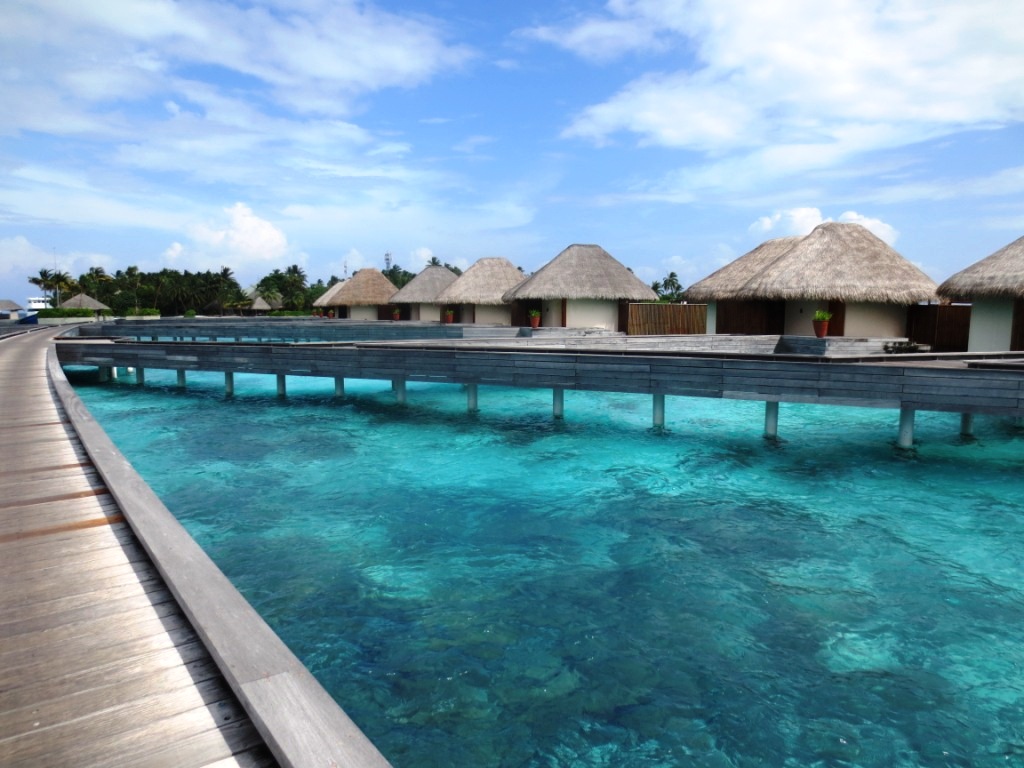 Here are Mavic Pro pictures that I took of the S. Regis Maldives in 2017. Pretty much as close to paradise as you'll find on this planet:
The W is the more laid back property and offers better snorkeling.
The S. Regis is more luxurious and is newer, though I wasn't a big fan of the constant butler golf cart traffic on the island.
With the JW Marriott and the Conrad offering overwater villas as base rooms I'll just have to make it back there as well!
You can earn Marriott points with the Chase Marriott Bonvoy Bold Consumer Card, Chase Marriott Bonvoy Boundless Consumer Card, Marriott Bonvoy Business AMEX, and the Marriott Bonvoy Brilliant Consumer AMEX. You can view a chart comparing these 4 cards here.
Note that it can take 24 hours to fly from the USA until you reach a resort in Maldives as you need to connect somewhere to reach Male (MLE) and then you'll need to wait for a seaplane to bring you from the Male airport to your resort. That seaplane will also set you back some $600 per person to the JW Marriott. It's an exhausting and expensive trip, but the water is truly stunning there and the isolation and relaxation is impossible to describe.
Airlines serving Male include Air France (3 days/week seasonally from from CDG), Aeroflot (3 days/week from SVO), Air Italy (3 days/week seasonally from Milan), Alitalia (2 days/week seasonally from Milan), Austrian (2 days/week seasonally from VIE), British Airways (3 days/week seasonably from LGW), Cathay Pacific (4 days/week from HKG), Emirates (daily from DXB), Etihad (daily from AUH), Lufthansa (2 days/week seasonally from FRA), Qatar (daily from DOH), Singapore (daily from SIN), and Turkish (daily from Istanbul).
Note that flights that arrive into MLE after about 3pm require that you overnight in Male before taking the seaplane to your hotel, which is far from ideal.
Read more on DDF on the Maldives Master Thread.
Have you been to or do you plan on visiting the Maldives?