-Find more articles like this by clicking on the "Trip Notes" tab on top of the DansDeals banner at the top of this site.
—————————————————————————–
Continued from: Trip Notes Maldives: The Longest Flight In The World And 2 Nights In Paradise.
We arrived in Singapore from the Maldives on Friday morning.  Thanks to the ghetto upgrade (lie-flat seating in coach thanks to an empty row of 4 seats in the middle of the Singapore A330) we were ready and raring to go.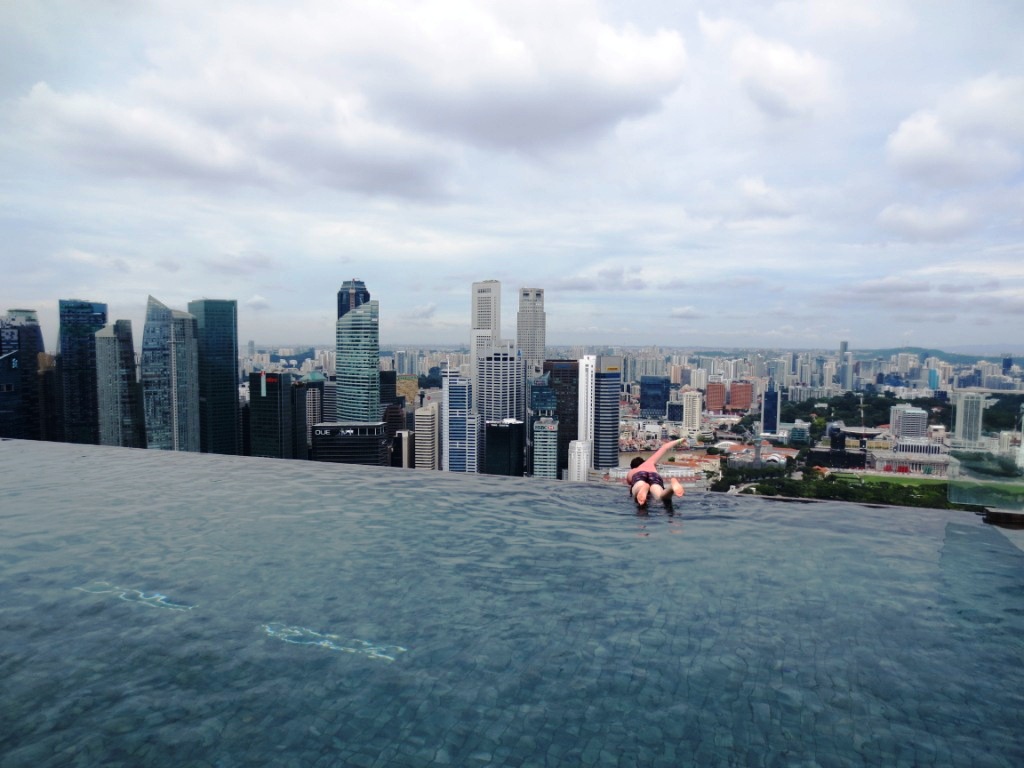 Living on the edge.
I had already done my research thanks to the Singapore thread on DDF as well as the Lonely Planet Singapore guidebook.
Taxis in Singapore are relatively inexpensive, though pricing rules are complicated with higher fees depending on the time of day.  There is a 25% surcharge over the meter for trips starting 6am-9:30am and from 6pm-midnight.  There is a 50% surcharge for trips starting from midnight-6am. Nicer cars may have a flag drop of $4 (US $3.20) instead of $3 (US $2.40) though the other rates are always the same.  If you pay by credit card there is a 10% surcharge.
Singapore also has an excellent Subway system, though you should study the map as it may be cheaper and more effective to travel by foot or taxi.
The temperature in Singapore is muggy and in the upper 80s all year-round. There are no seasons here.
Our taxi driver from the airport was a great ambassador for the city, showing us which sites to see, and giving us a free history lesson along with the highs and lows of Singapore living.
He pointed out landmarks as we passed them like the Singapore Flyer:
The Marina Bay Sands hotel: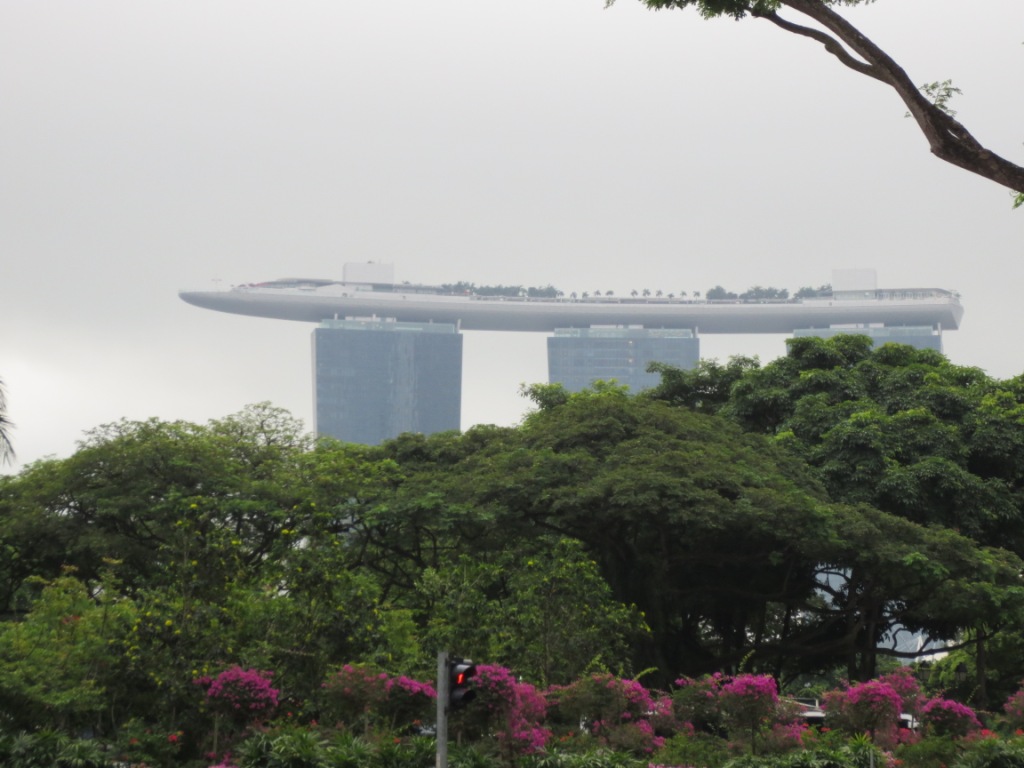 And the landmark, Raffles Hotel: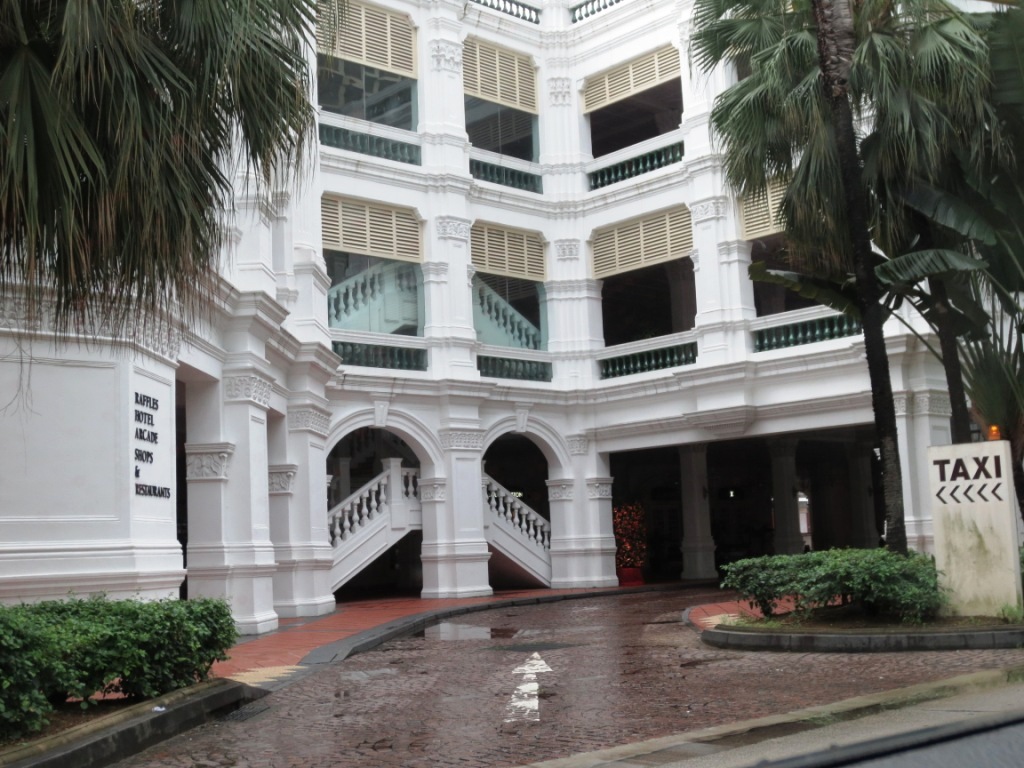 Singapore is a city-state, meaning that the entire country consists just of the city of Singapore.  It is a financial hub and feels very western with English being the primary language.  For some reason it all feels a little fake, like a giant Disneyland though suitable for both adults and kids.  You don't feel like you're getting an authentic Eastern experience like you do in China, Japan, or Hong Kong.  Rather this is the sanitized version that the tourism directors have created.  Not that you can't have an awesome time in Singapore as long as you understand what you're in for. Just don't try to bring in any drugs or gum 😀
We stayed at the Fairmont Singapore, where I have a lifetime of free suites and spa treatments. The hotel is undergoing renovation and we couldn't be confirmed for a suite.  Lower floors still are not renovated, but we went with a low floor due to being in the hotel for shabbos when we would have to use the stairs.  The room itself was extremely dated and customer service was lacking.  While they promised us a suite to change into for Saturday night they reneged on that offer when we came to take them up on it.  We did get lounge access at least.
While the main doors of the hotel are electric there are manual doors at the side of the hotel as well, so that worked well for shabbos.  It's also only an 8 minute walk from the Sephardic Maghain Aboth Synagogue, which is administered by Chabad.
Our first stop was the Marina Bay Sands Hotel.  While they charge $20 for non-guests to reach the observation deck you can just ask for a pass to the KU DÉ TA bar and you'll be in the Skypark area, a floor above the observation deck, for free! If you're a good talker (or tipper?) you may be able to access the Infinity pool, one of the coolest in the entire world.  Officially it's only for hotel guests though.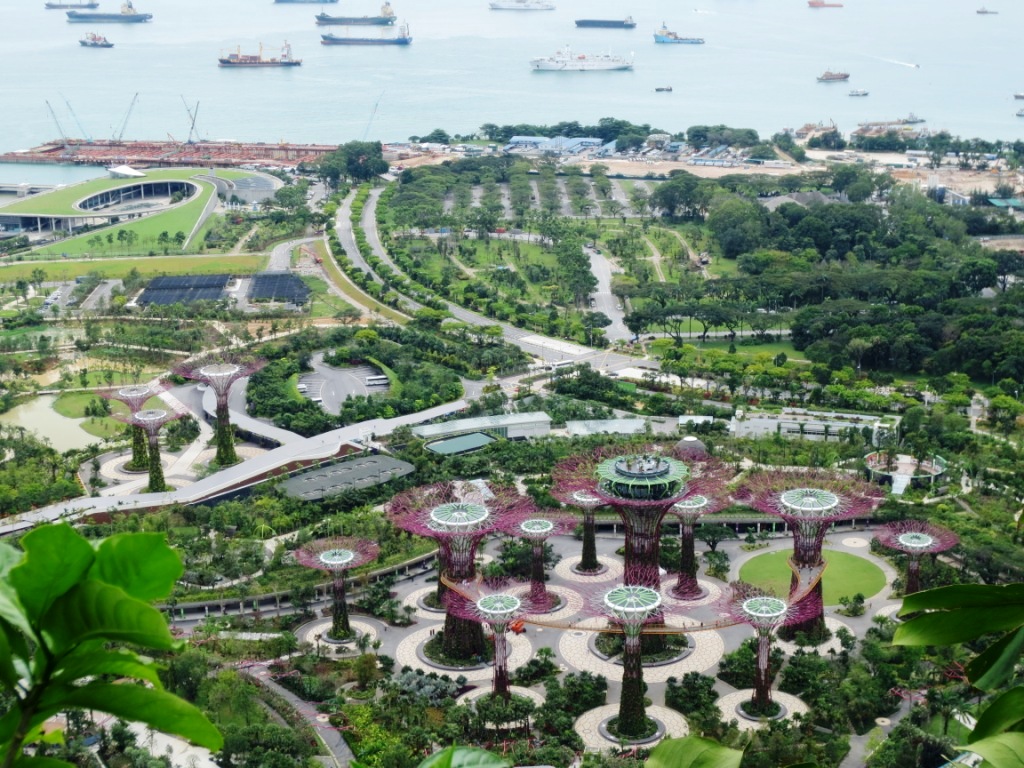 View of Gardens by the Bay from the Skypark.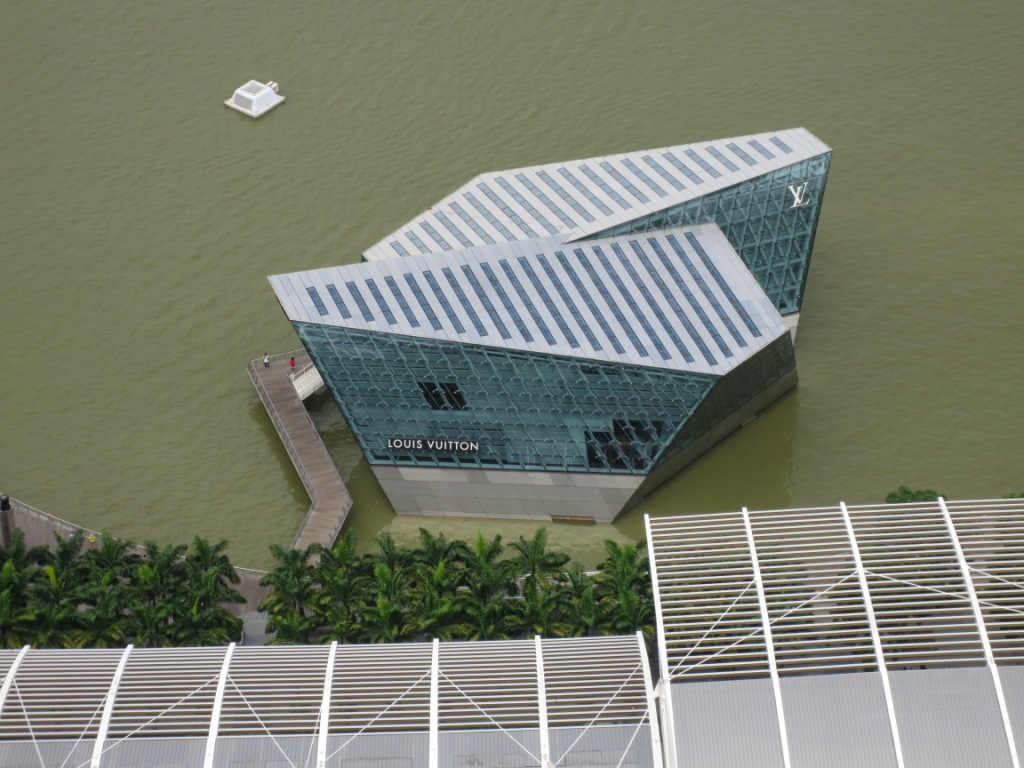 View from the Skypark.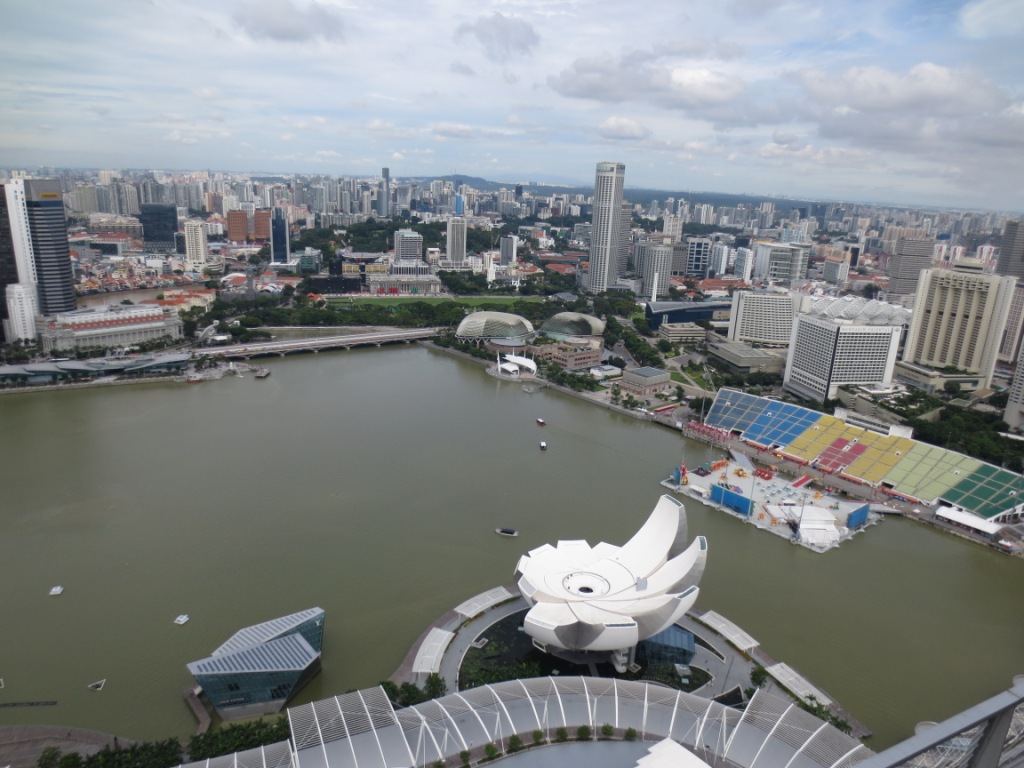 View from the Skypark.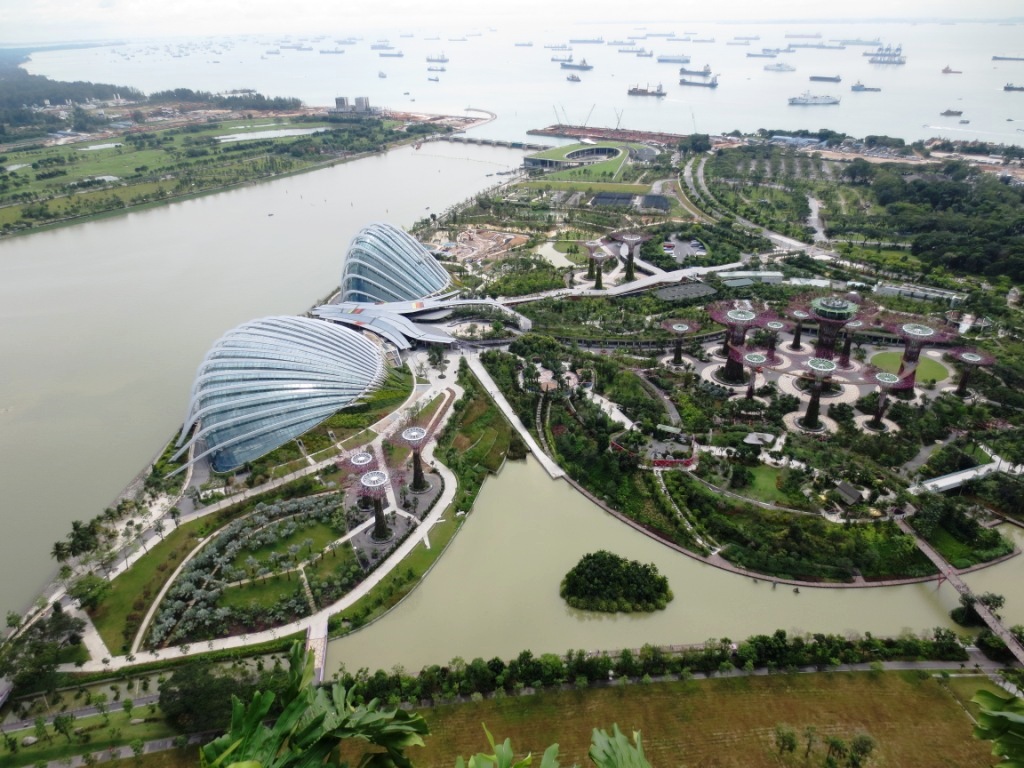 View from the Skypark.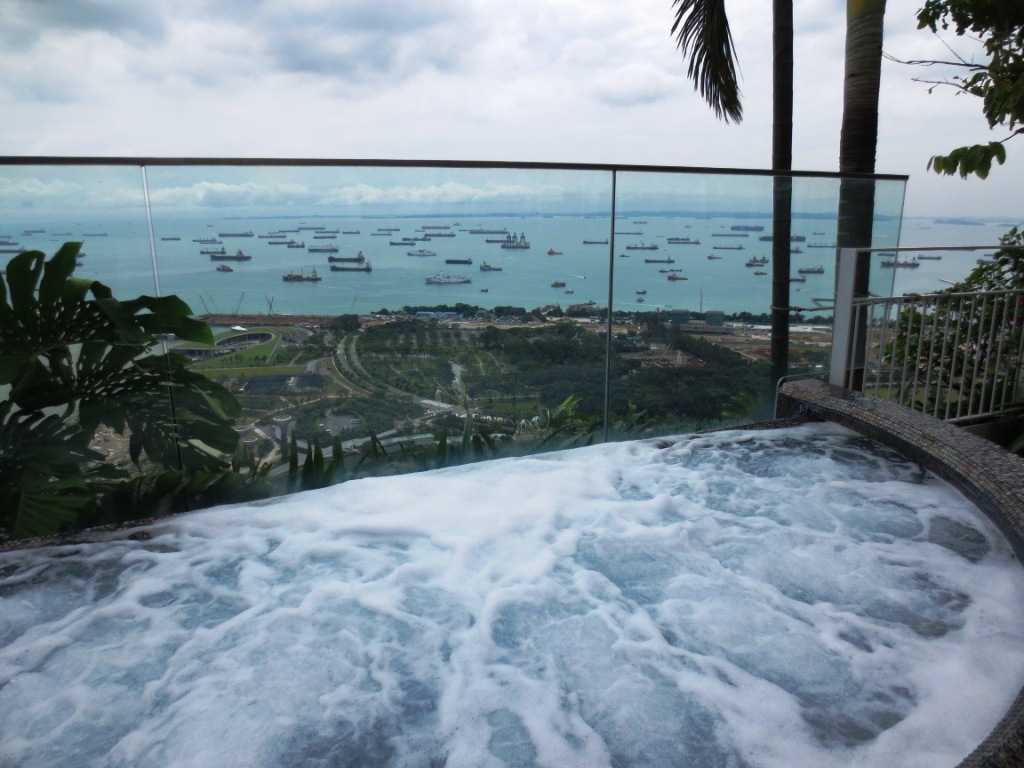 Hot tub in the Skypark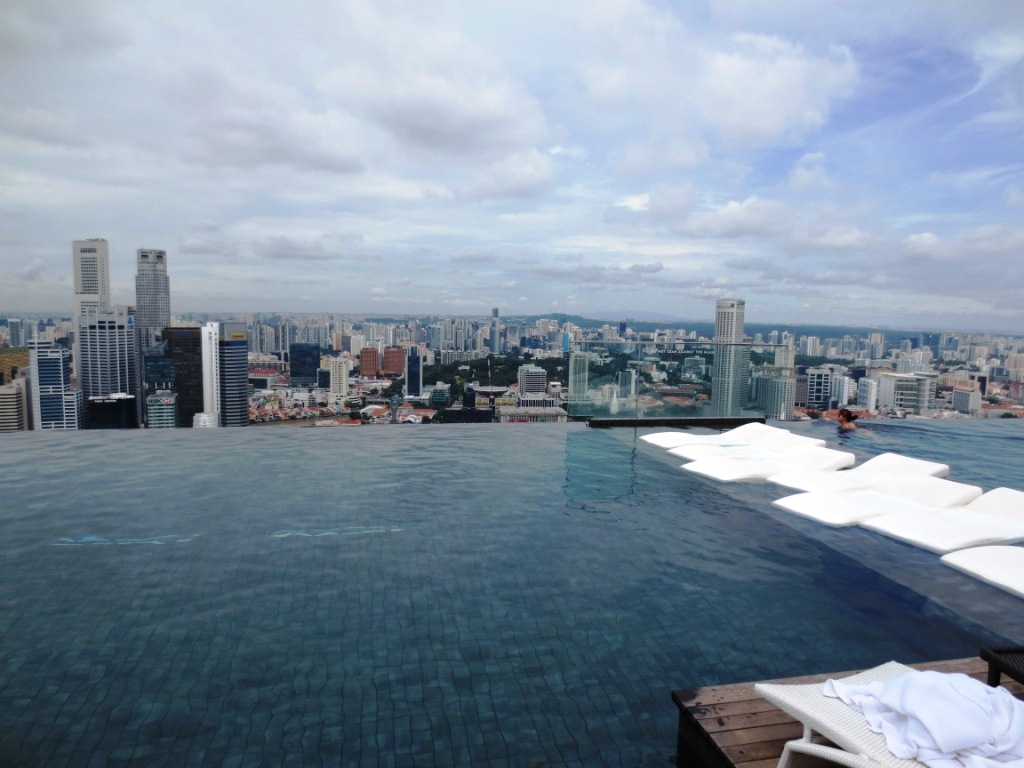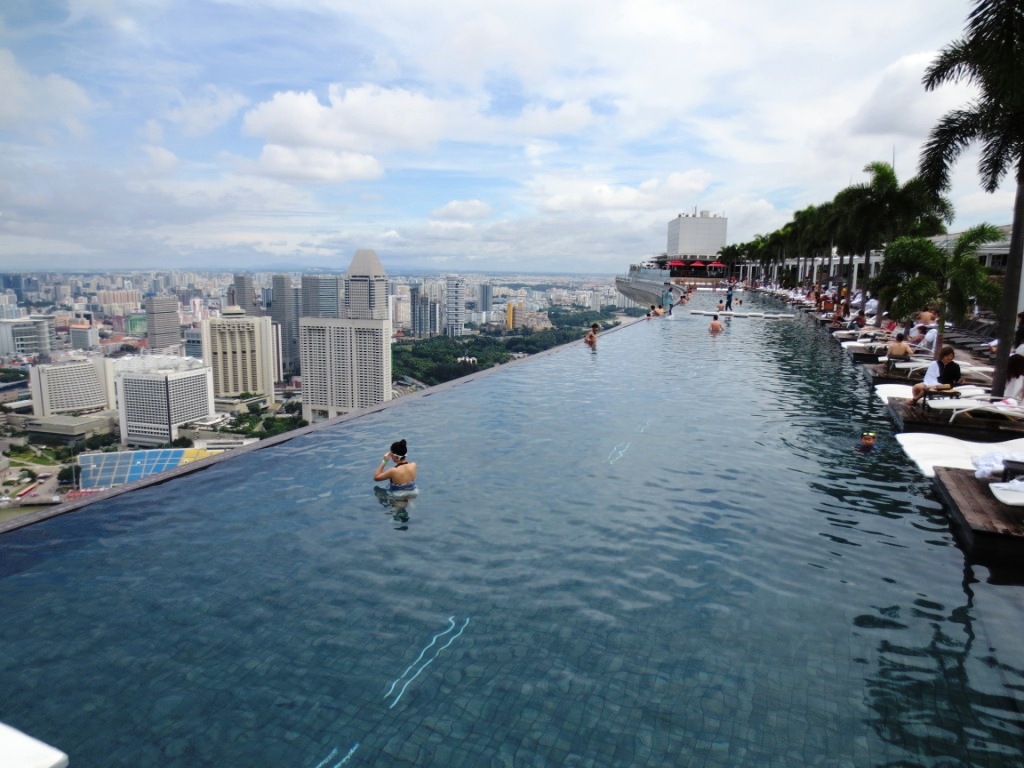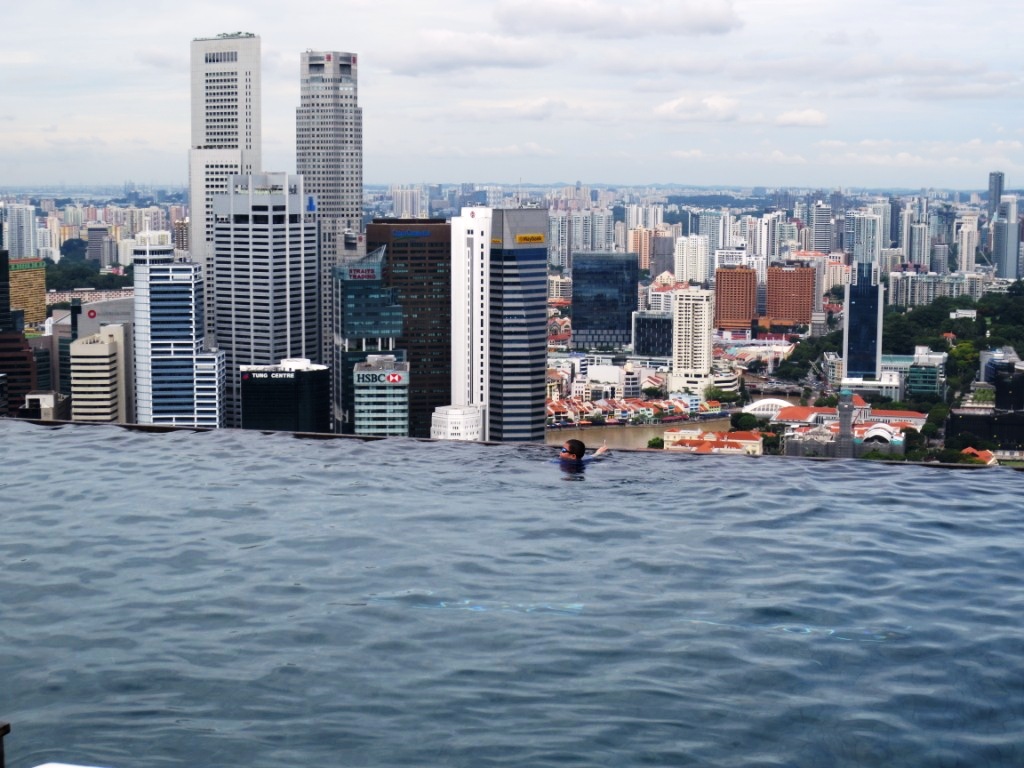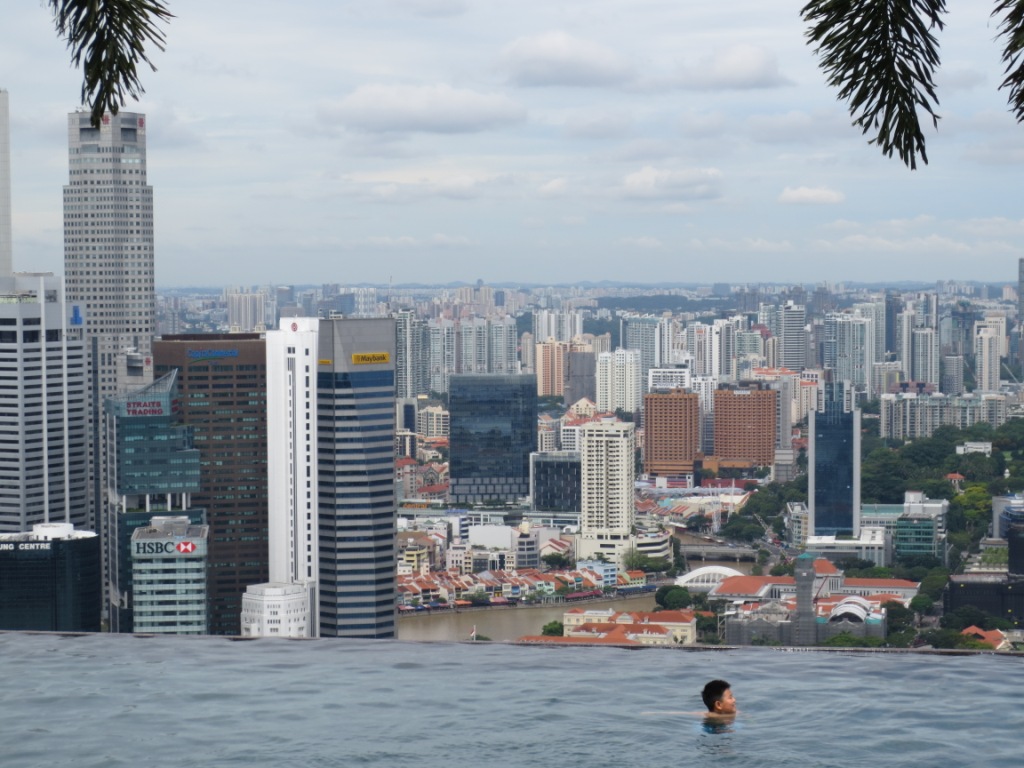 No it's not really as scary as it looks from those angles, as you can see from the bar: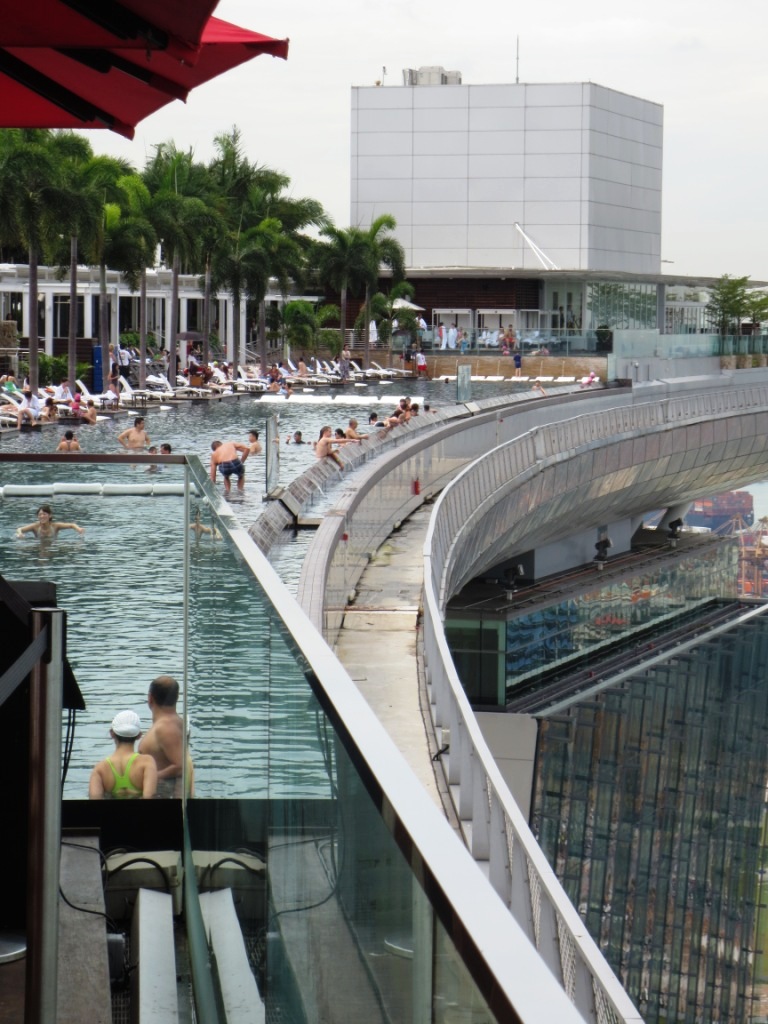 We also went to Arab Street where you can pickup tichels galore.  You'll have to bargain, but the patterns and material quality are awesome and prices are better than in Israel.  As it was Friday morning the Sultan Mosque was closed to non-Muslims.
There is 1 kosher restaurant in Singapore, Awafi.  It is located on the 6th floor in the Jewish community center next door to the shul.  Unfortunately on Friday they don't operate their normal menu and only had grilled chicken or Shnitzel, though it was quite tasty if not slightly pricey: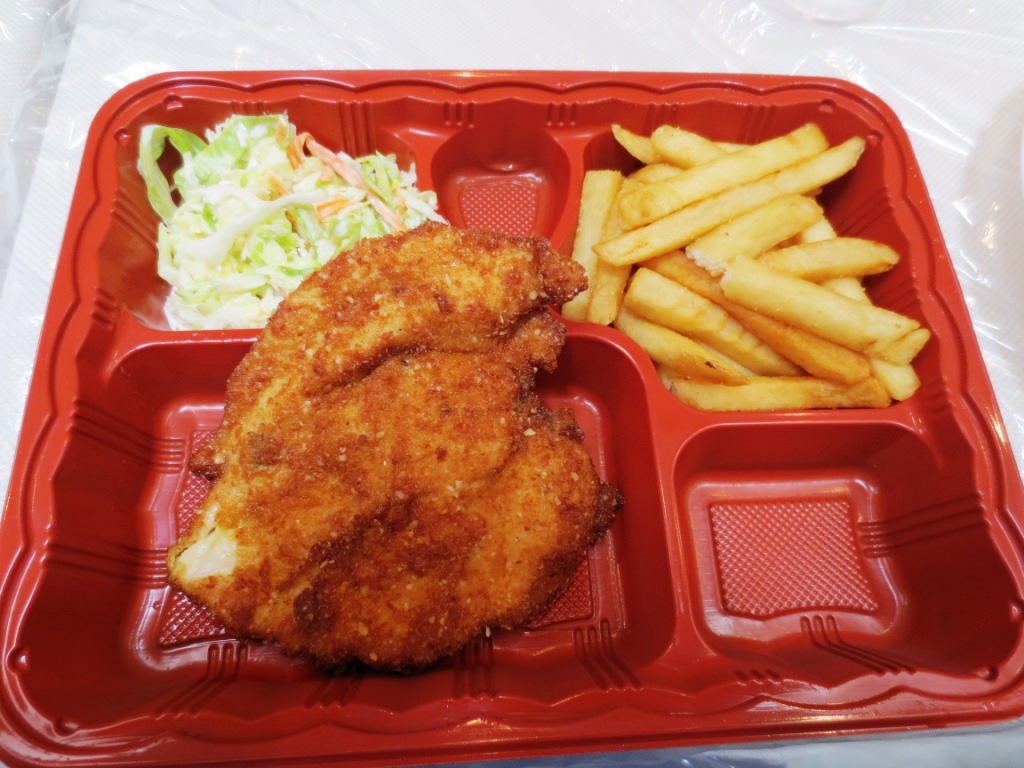 There is a kosher, though non-cholov yisroel, Coffee Bean & Tea Leaf next door to the Jewish community center. They used to have cholov yisroel milk powder like the Coffee Bean in Los Angeles on Beverly and Alta Vista has, but they no longer carry it as there was insufficient demand for it. The cholov stam baked goods there looked fantastic, though all we could do was gawk at them.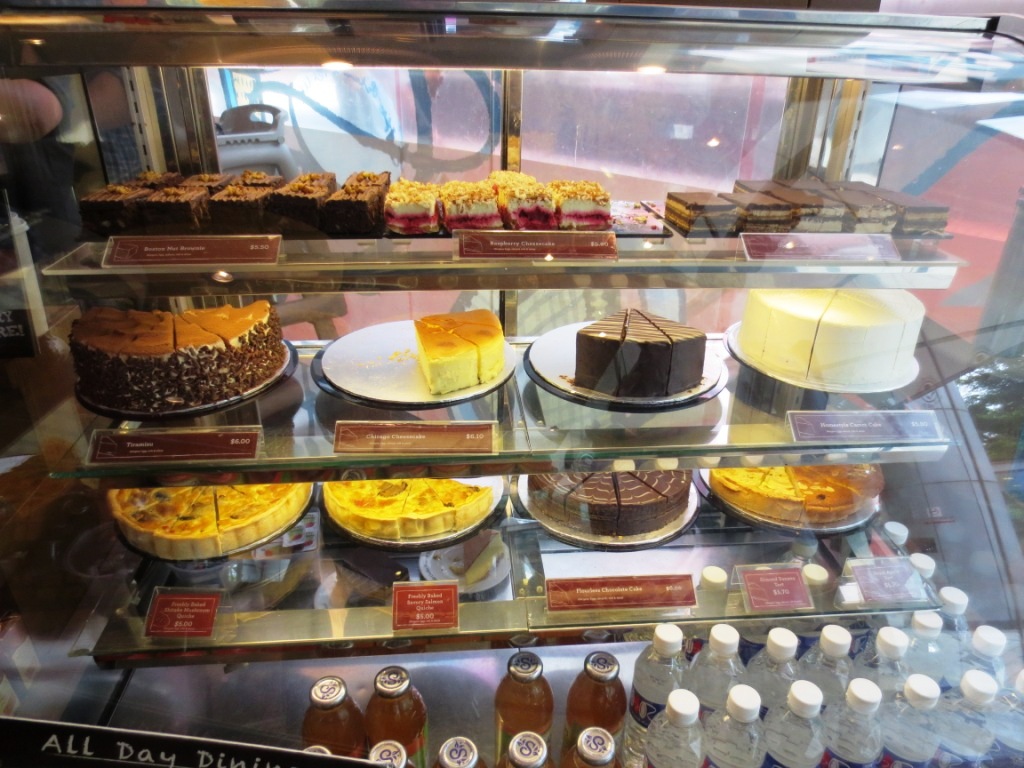 From there we walked to Orchard Road, home to literally dozens of malls.  There's more retail shopping here than you've seen in your entire life.  You can't possibly check them all out, so this is where a guidebook is helpful to determine where to go.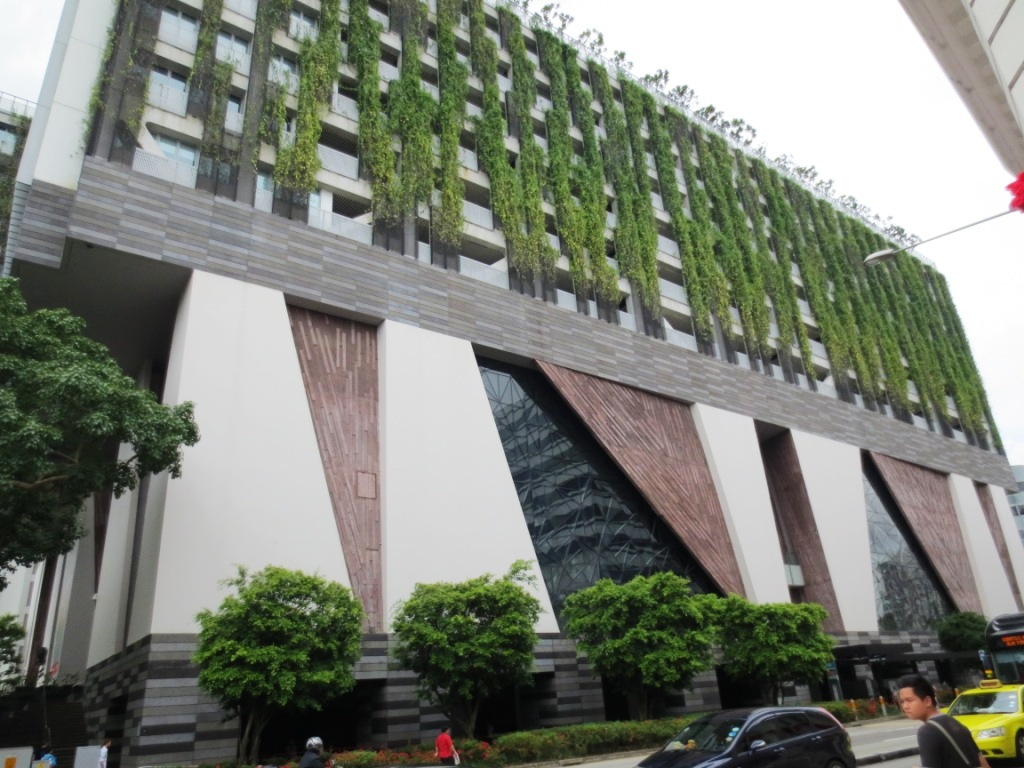 Walking to Orchard road.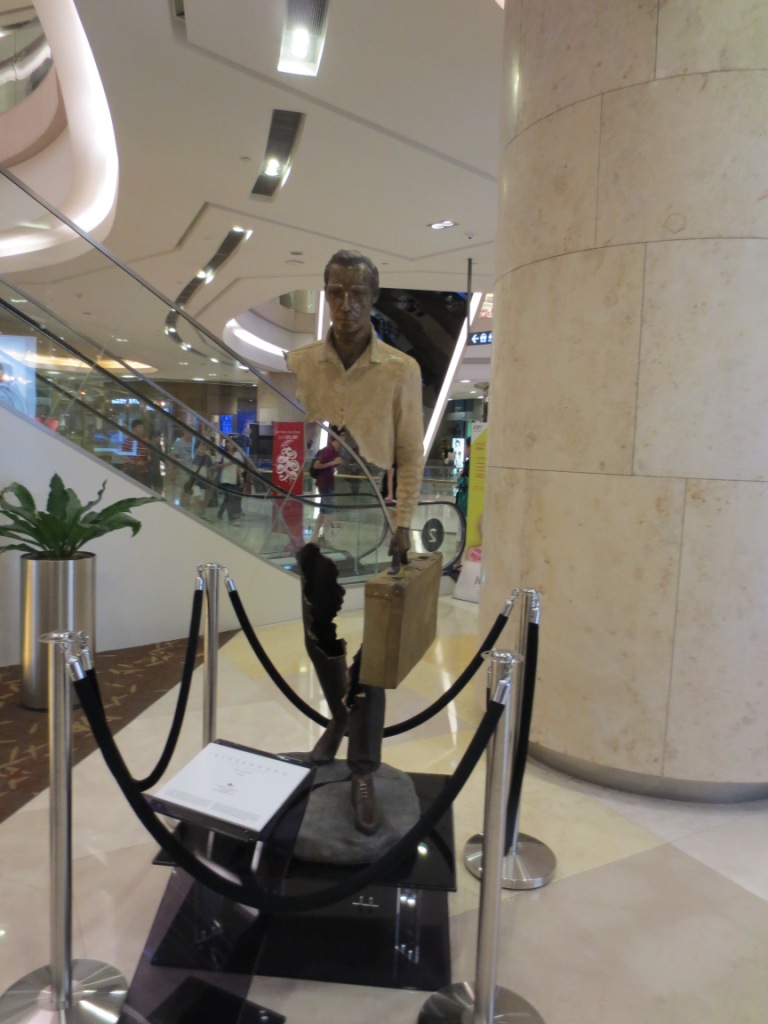 Art in the ION Orchard mall.
Next up was the Singapore Botanical Gardens.  They're free and they're gorgeous.  It's an amazingly serene setting in middle of the city and definitely worth a nice stroll.  There is a charge to see the orchid gardens and you can even buy orchid jewelry that are actual orchids dipped in gold.  Items like gold dipped orchid earrings and headbands are under $100 ($80 USD)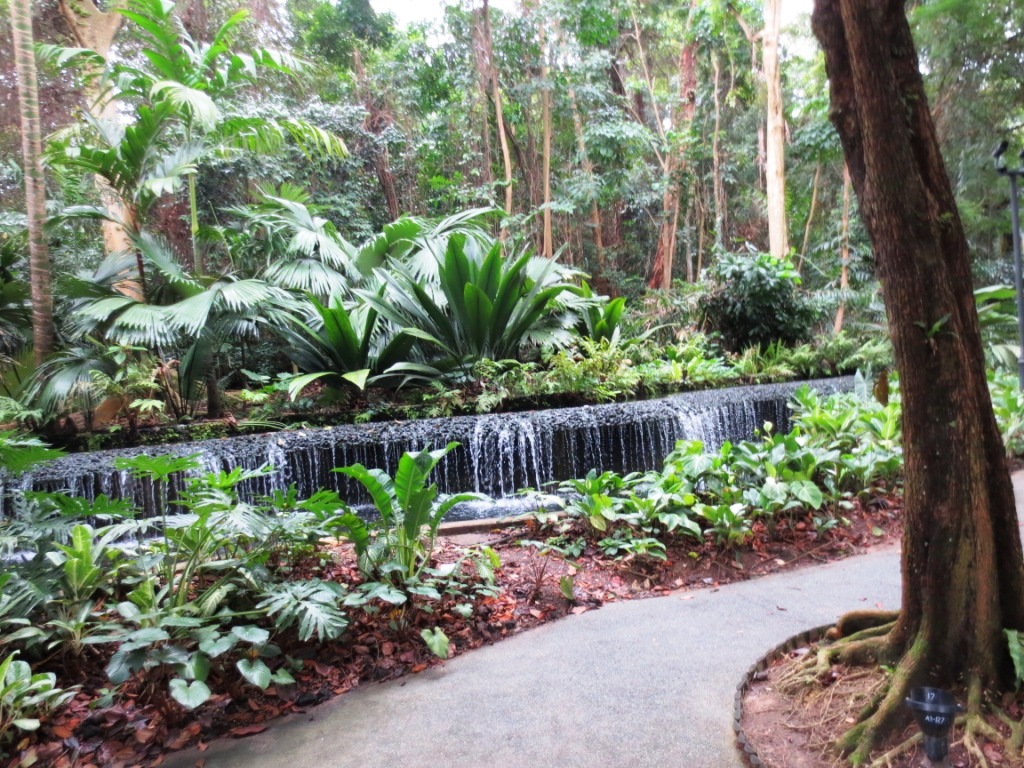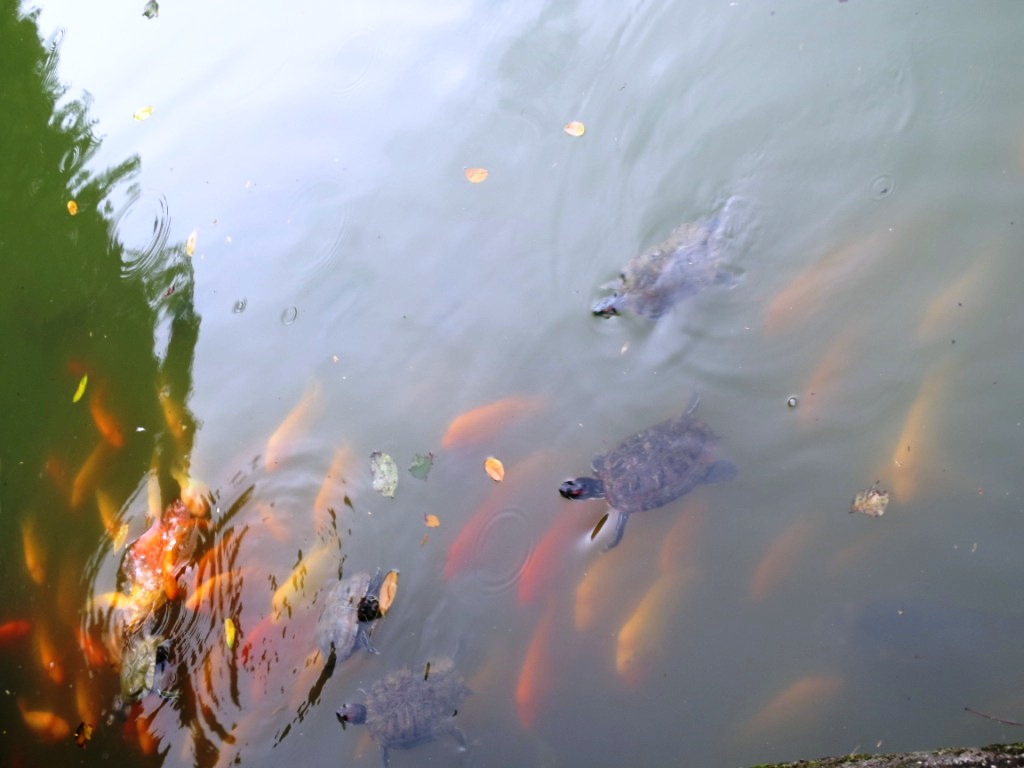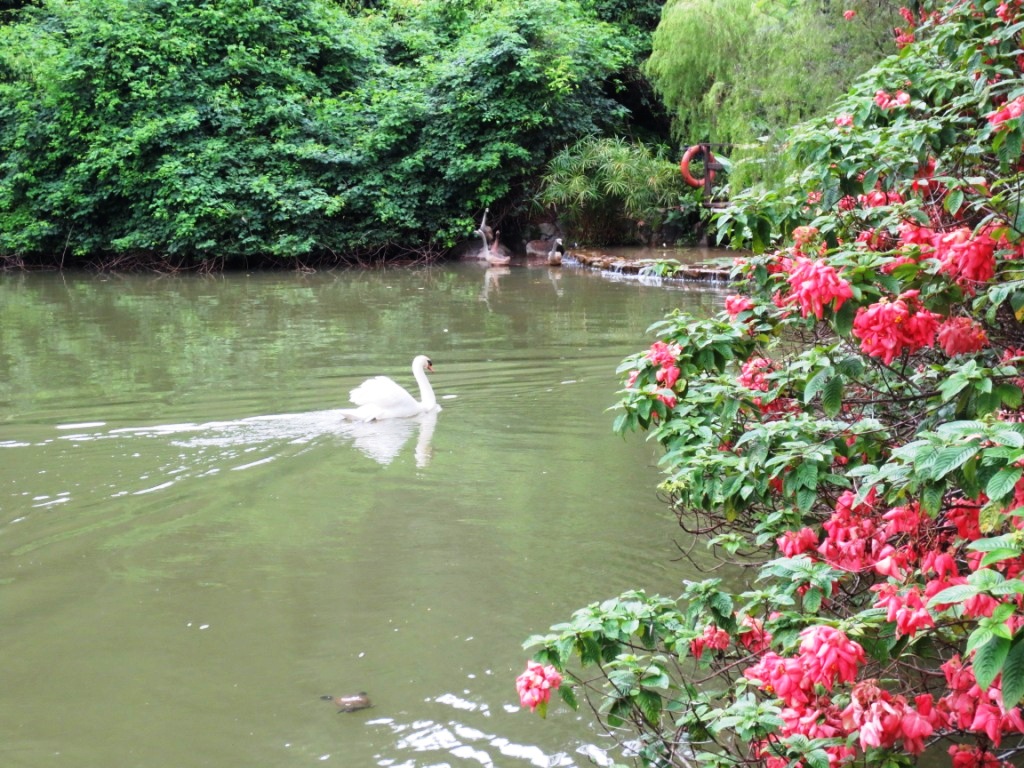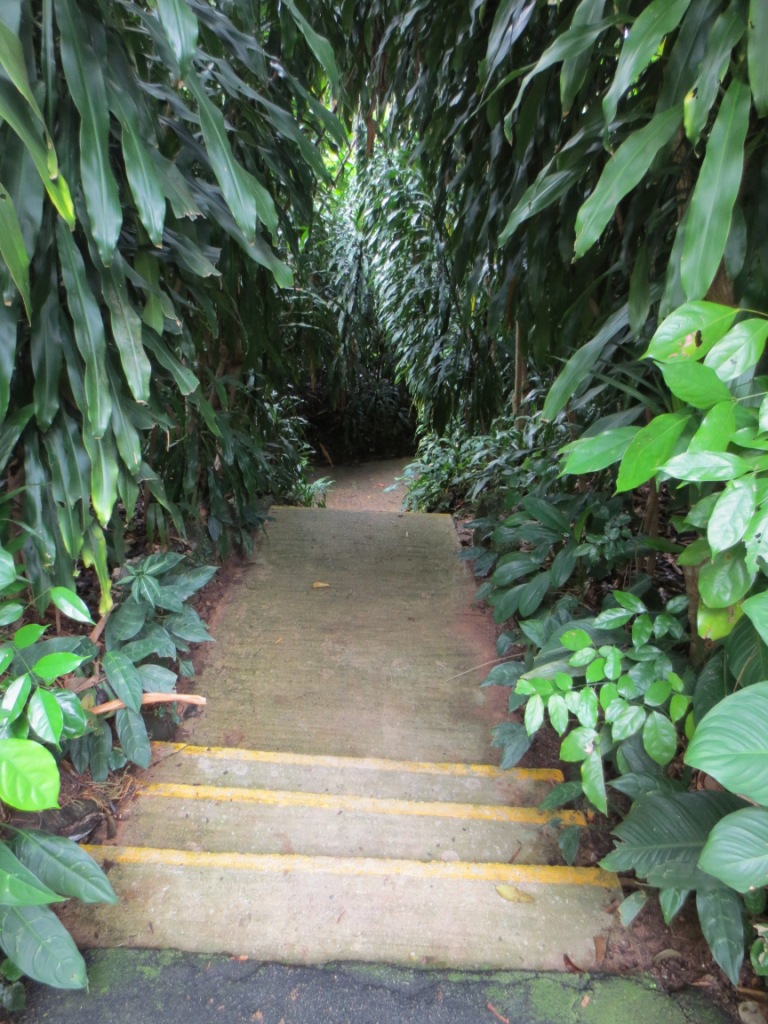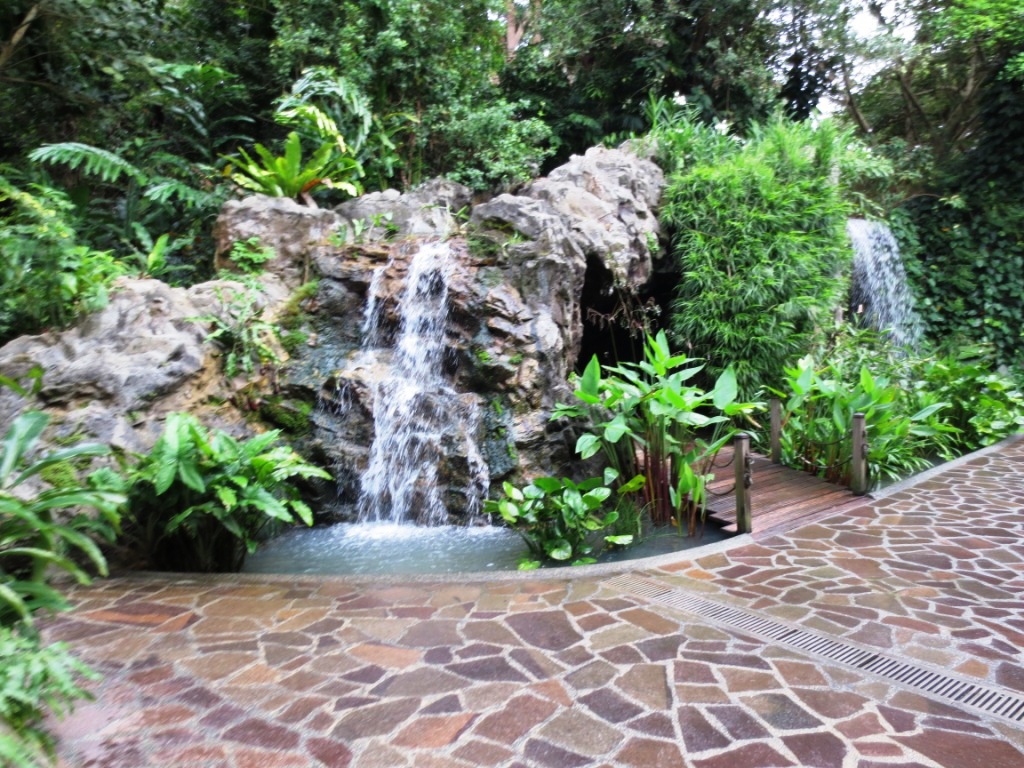 We made reservations to eat at the shul for Friday night.  There is no eruv so I brought my davening gear there before shabbos and left it there until afterwards.
The Chabad rabbis lead a slow Sephardic style davening that is not what I'm used to.  The last time I had that experience was when I was in Kobe, Japan back in 2005.  Thanks to American's AVNYC promotion I was able to fly twice from NYC to Florida for under $200 and get a free ticket from Sao Paulo to Dallas, NYC, Tokyo, Los Angeles, and Miami before heading back down to Brazil.  Those were the good old days  back when I was getting 5 visits a day on my blog instead of 50,000.
The shabbos meal itself had a very eclectic crowd and I got to shmooze with other travelers, local businesspeople, students in school hoping to get into high finance, and discuss the intricacies of the different seats on the 19 hour long all-business class flight between Newark and Singapore with Diamond Joe Gutnick.  The food was not as good as I had in Chabad of Hong Kong Island, downtown Melbourne, Paris, or even Venice over shabbos but I don't think anyone left hungry.  On shabbos day after another lengthy davening the entire community eats together and it's quite nice as well.  Again, the food was nothing to write home about, but thanks to a decent cholent (something I'm told they don't always have) we didn't go hungry.  The restaurant isn't open on Saturday night, so we filled up at shalosh seudos which had surprisingly good food.
That night we were off to the Night Safari. Wildlife Reserves Singapore runs a world famous Zoo and a separate Night Safari park.  What I had read is that the animals were much more free and open than at other zoos though at least at the Night Safari I didn't really find that to be the case as they seemed mostly confined to me.  We started with a tram ride tour of the park where we did see all kinds of nocturnal animals though the commentary was very heavy-handed on the environment.  As we passed each animal we were told how our kids and grandkids may never see them as humans are destroying the earth, etc.  And as we exited the tram we were told how the entire park may not exist in the future due to changing climates…it was all repeated a bit too much for me.  Afterward we walked around the park and like the rest of Singapore, it is all very clean but that superficial feeling nags at you.  I had expected more.
Perhaps the Zoo would have been the better choice, where apparently monkeys swing in the trees above you.  There is also a River Safari that just opened this month.  Be sure to show your Singapore Airline boarding pass to get a nice discount and don't buy tickets from the hawkers-go straight to the main ticket counter where they take credit cards and can process the discount.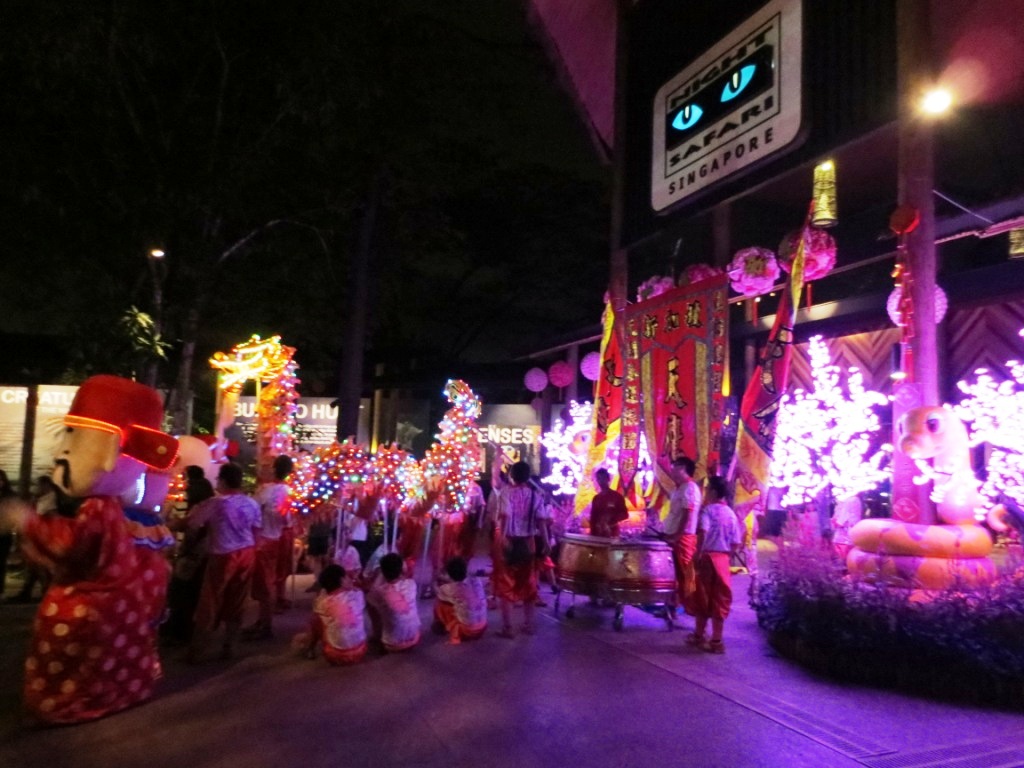 Night Safari Entrance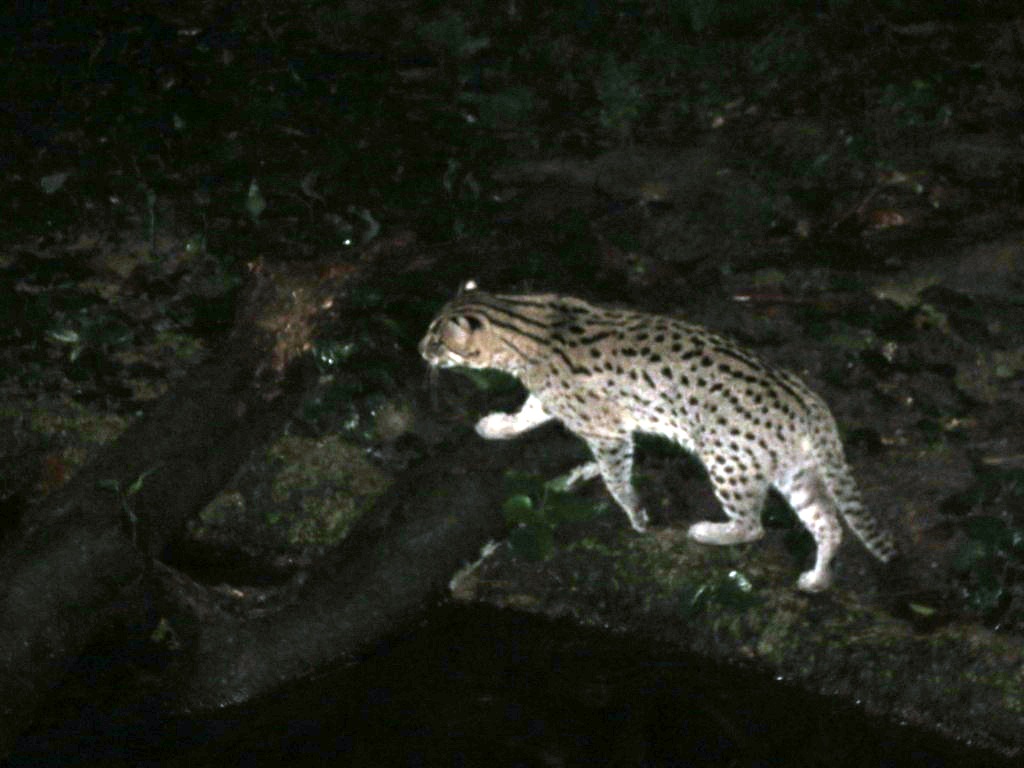 Leopard, Night Safari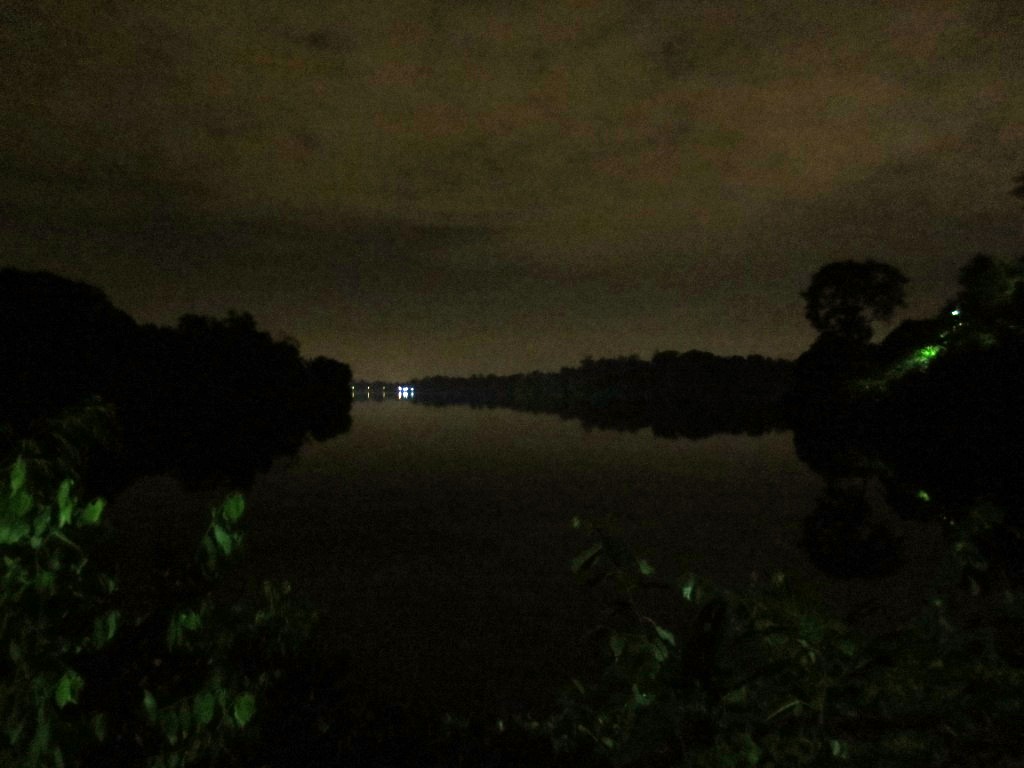 A serene lake at the Night Safari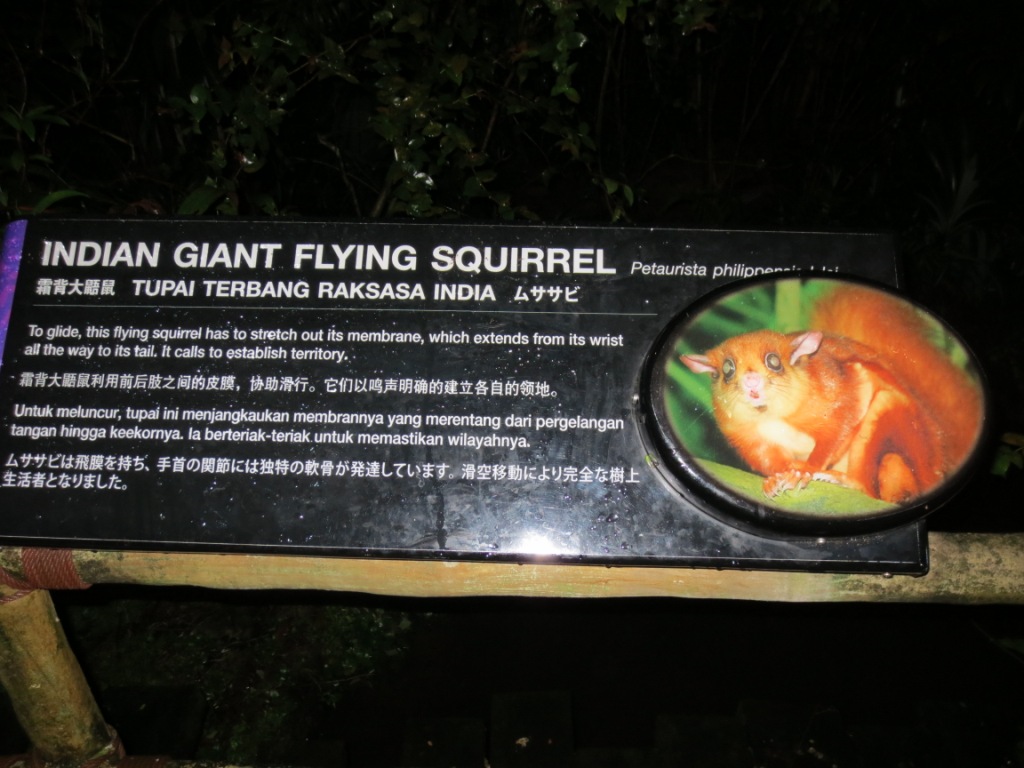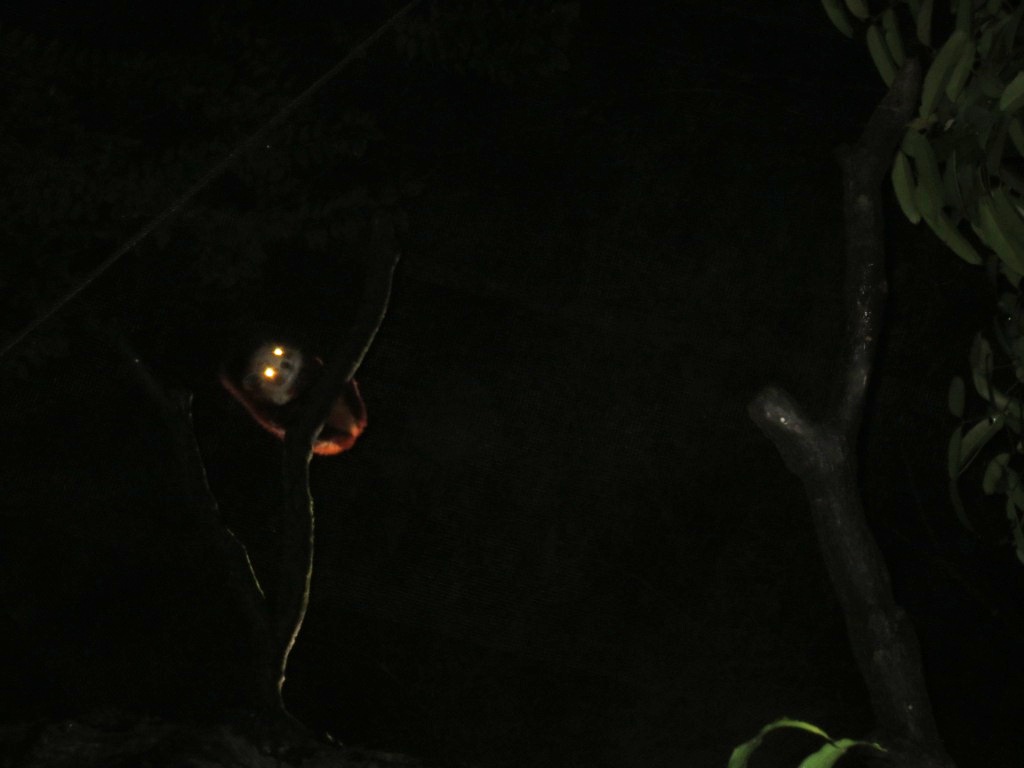 But is his name Rocky?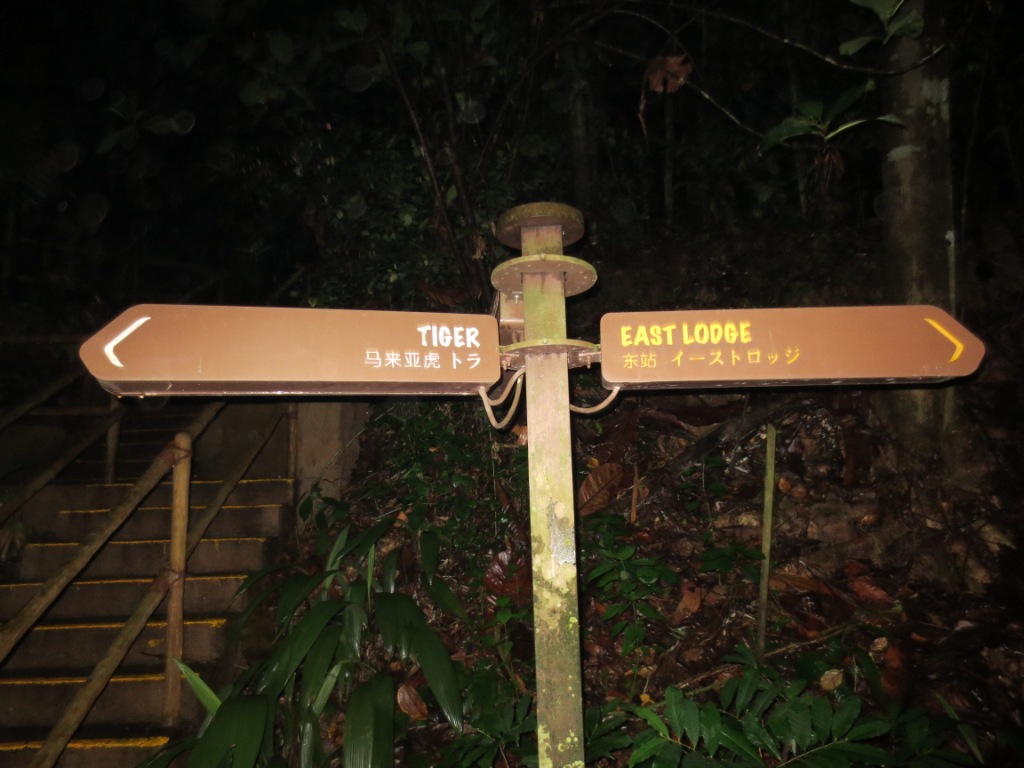 The Jurassic Park name and font. Where's Newman?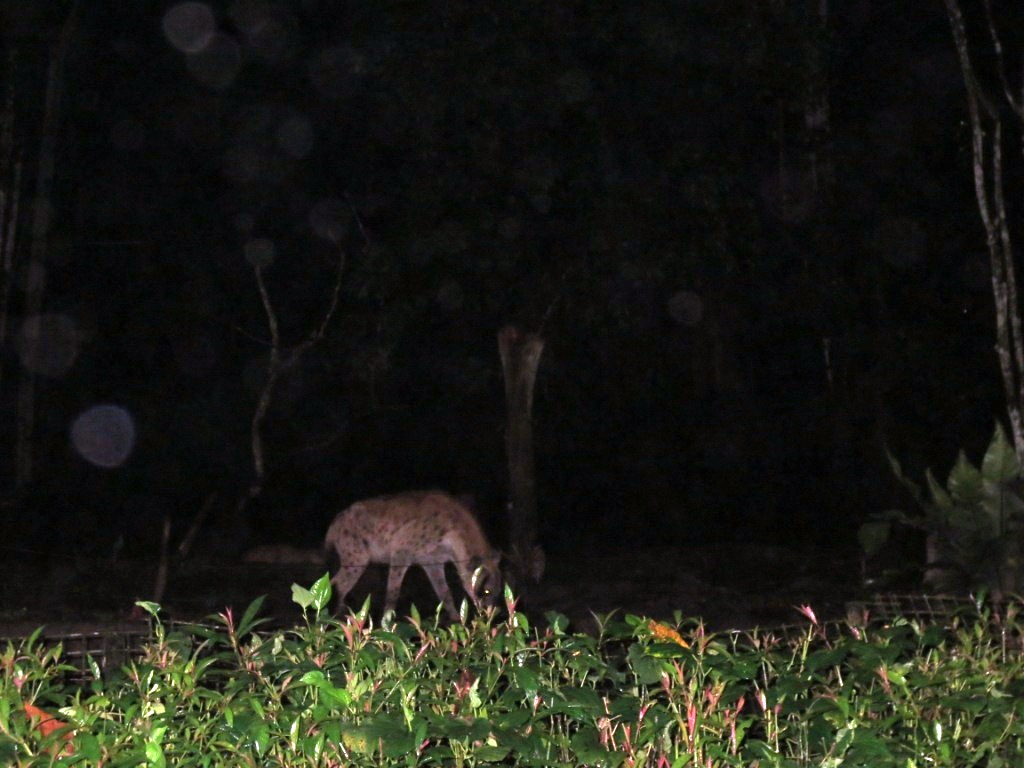 Hyena, Night Safari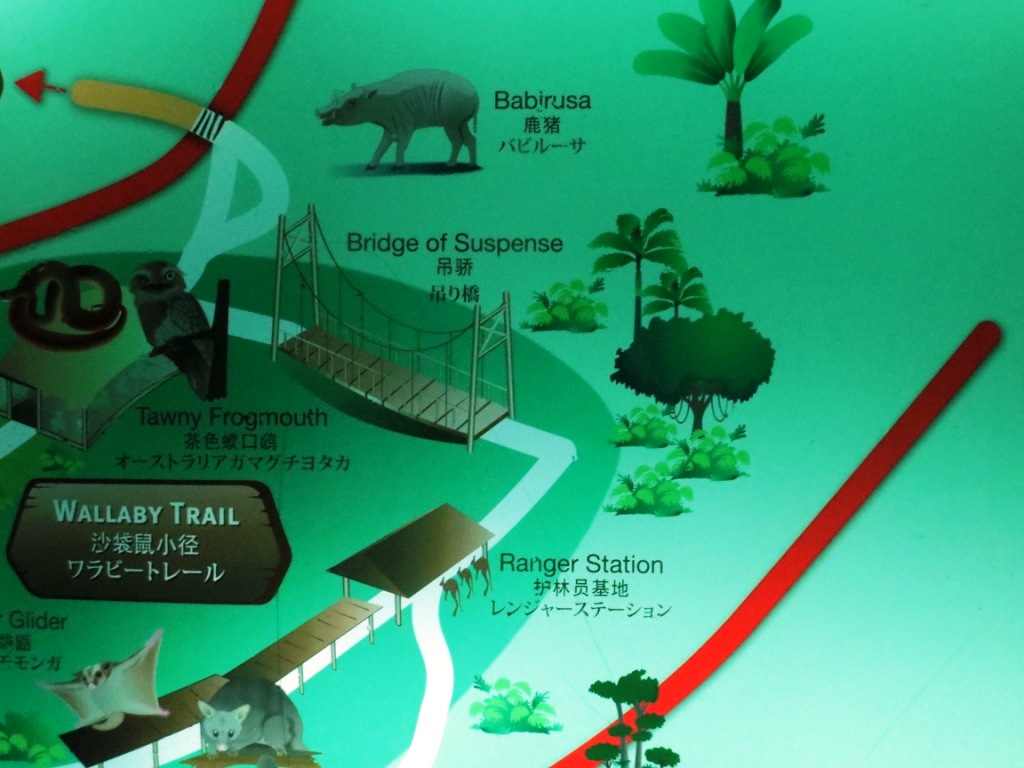 Lost in translation…The Bridge of Suspense!
On Sunday morning we went to the Asian Civilizations Museum.  Museums aren't really my thing, but this was very highly rated and had a nice discount with a Student ID.  There were neat artifacts and stuff, but still museums just aren't my thing.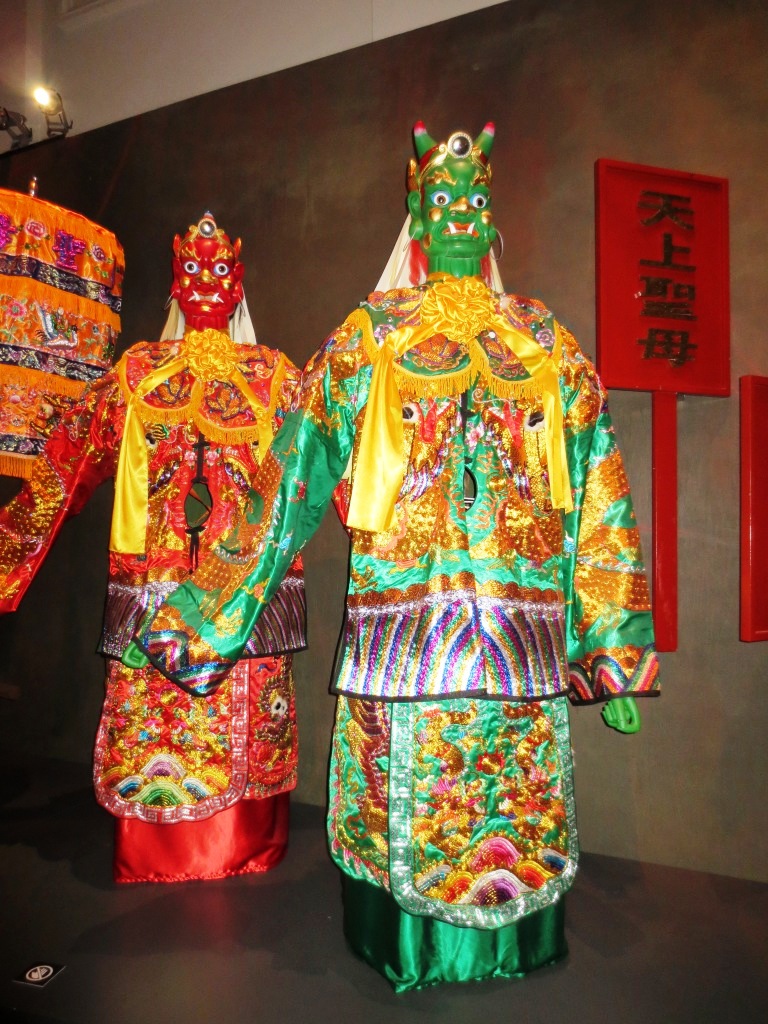 Asian Civilizations Museum.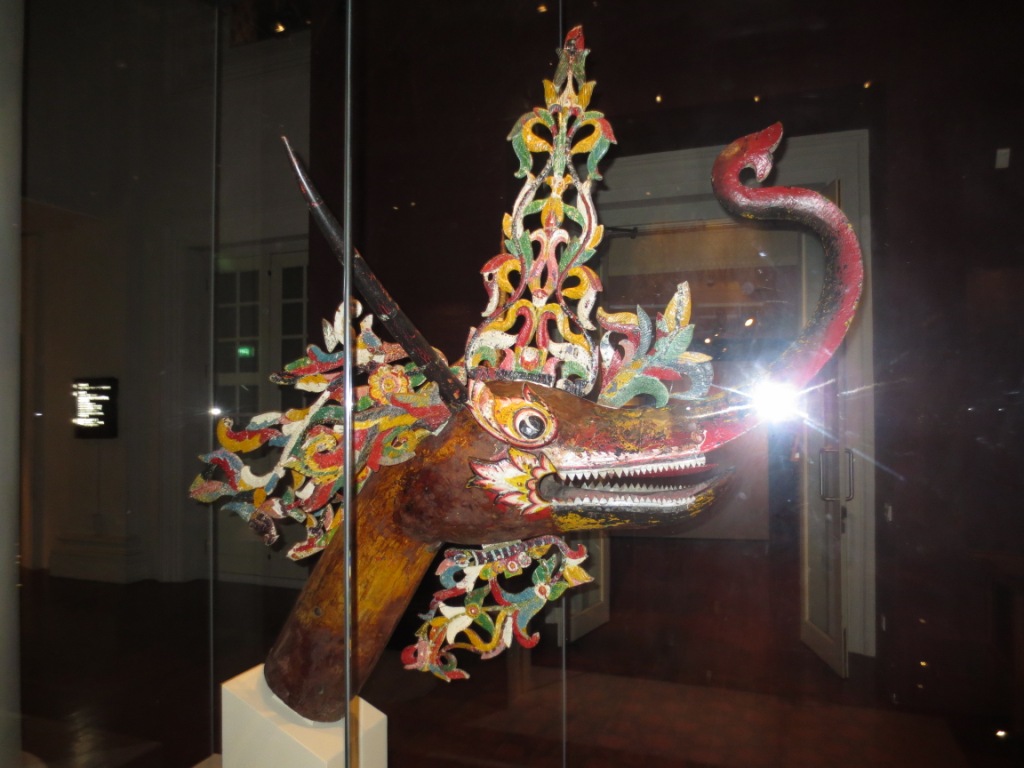 Asian Civilizations Museum.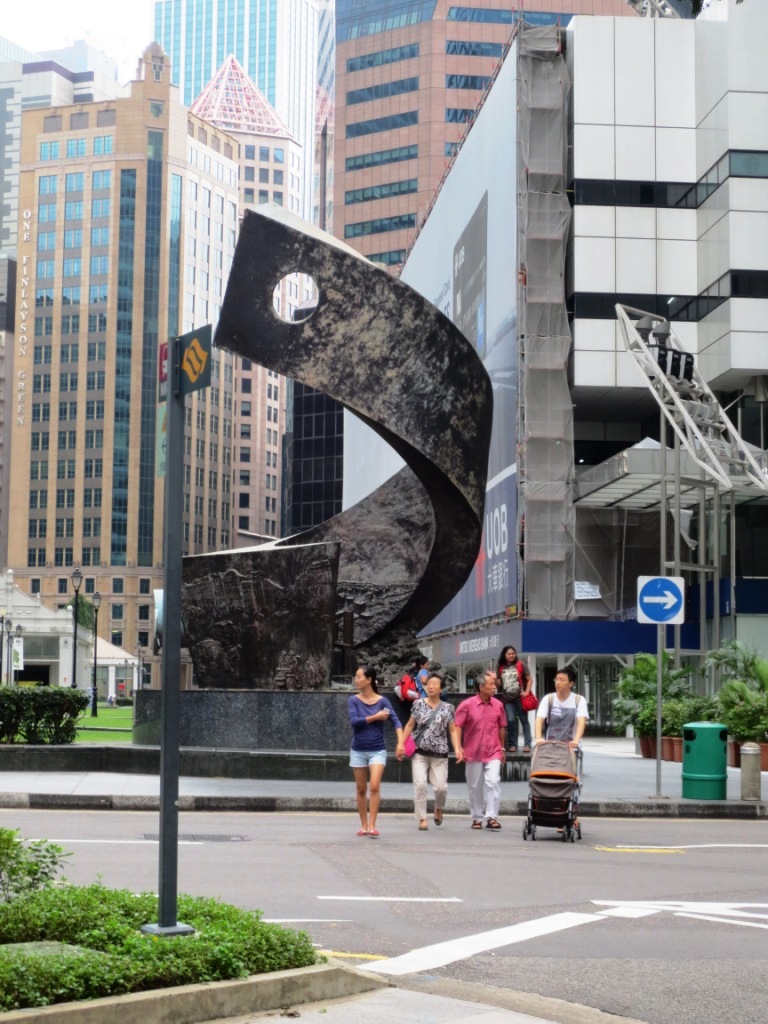 A random neat looking sculpture
Then we jumped on the subway to check out Chinatown.  The subways are nice, spacious, and clean.  Plus you can walk all the way from the front to the back without going through any doors.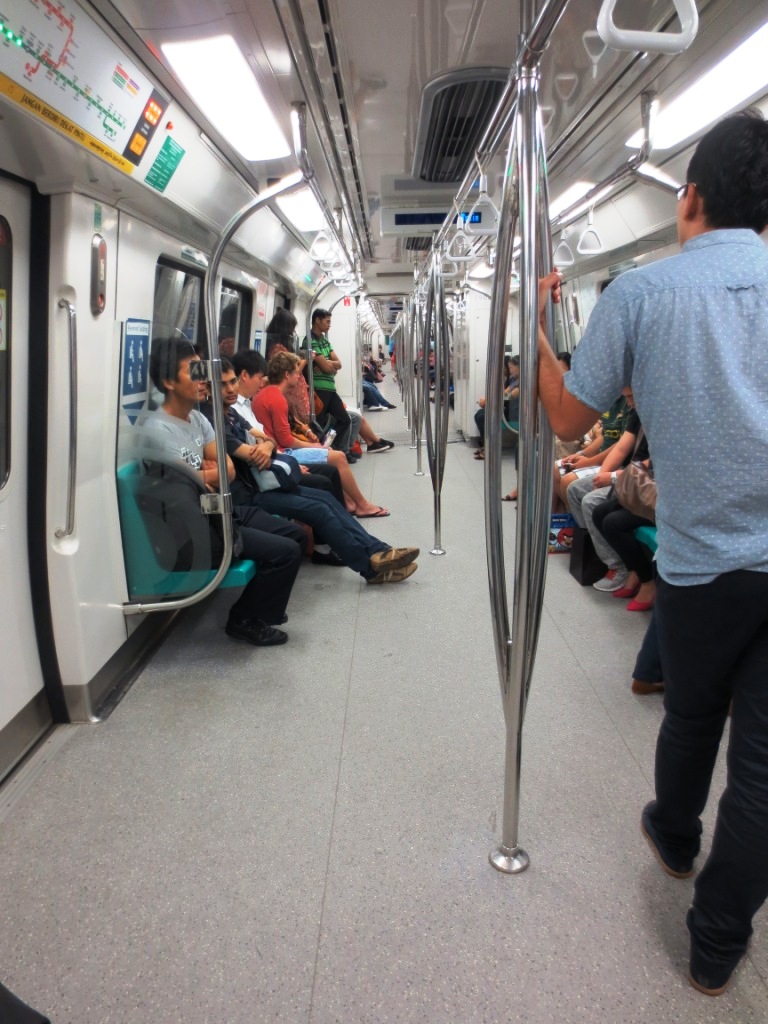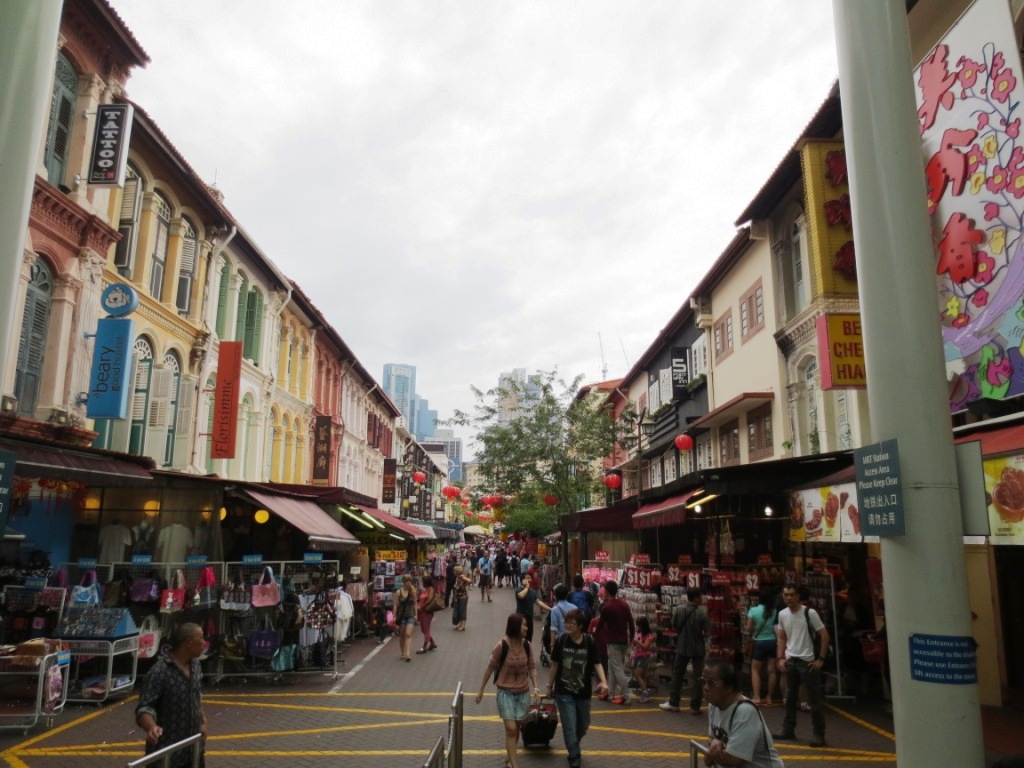 Chinatown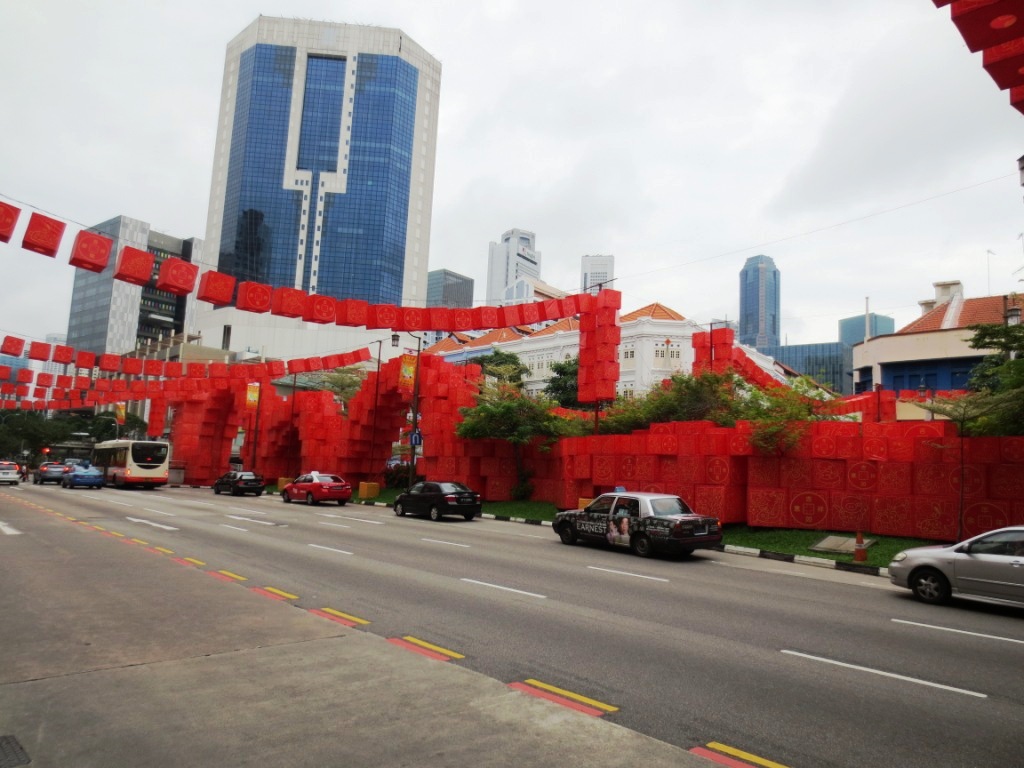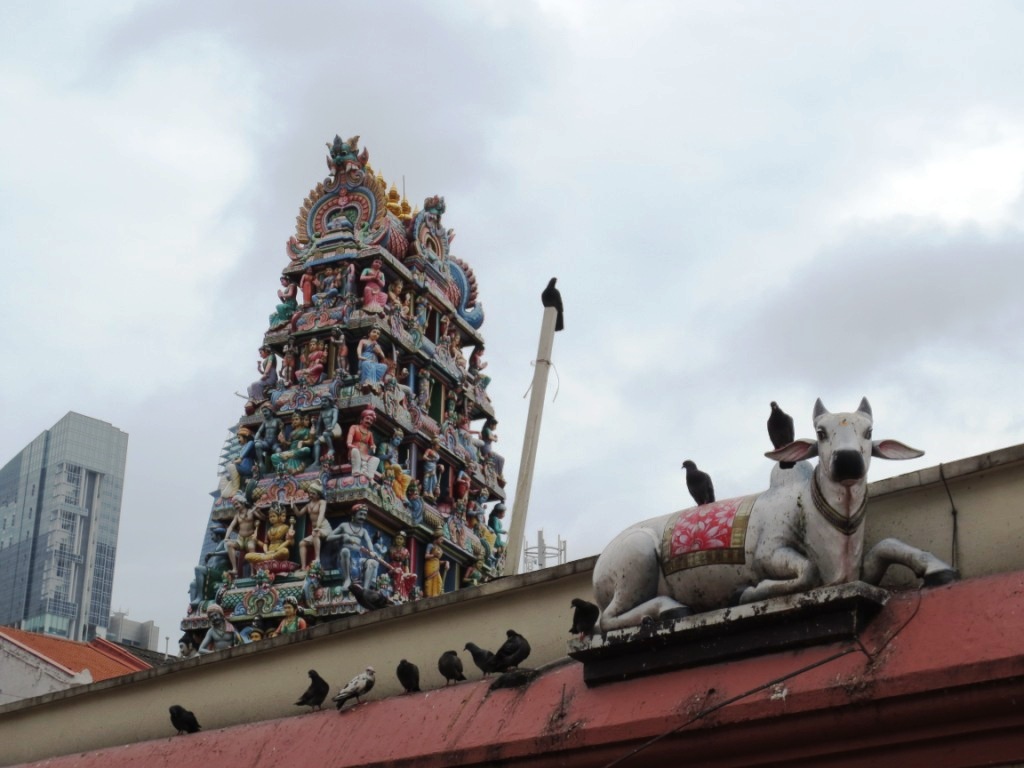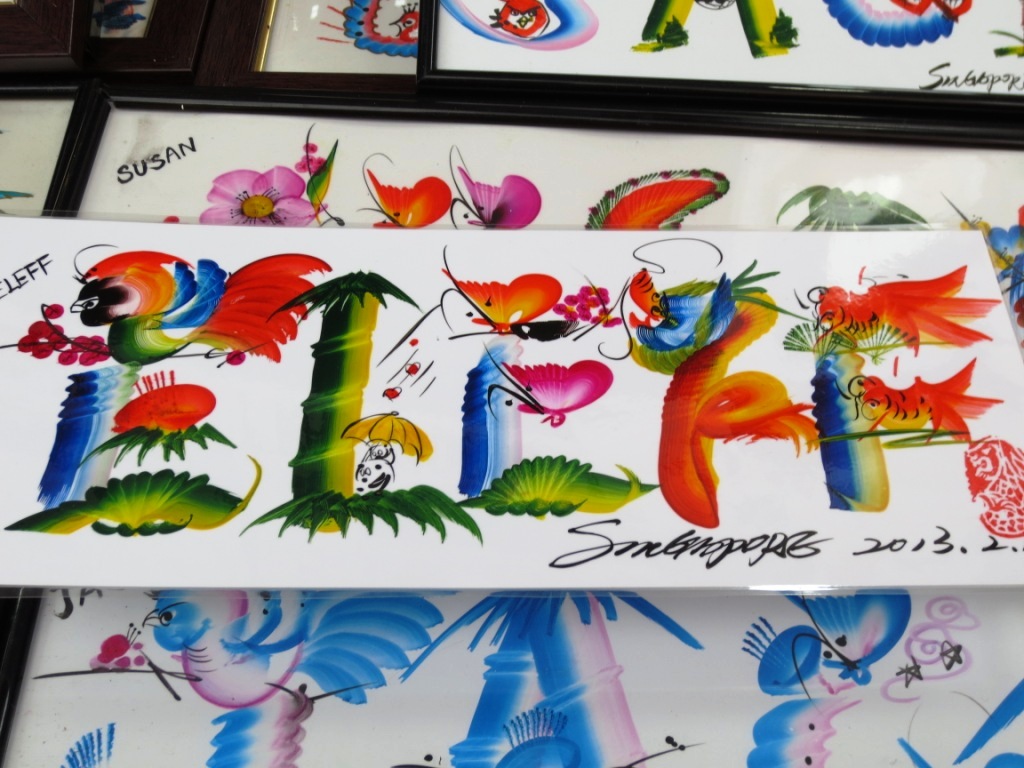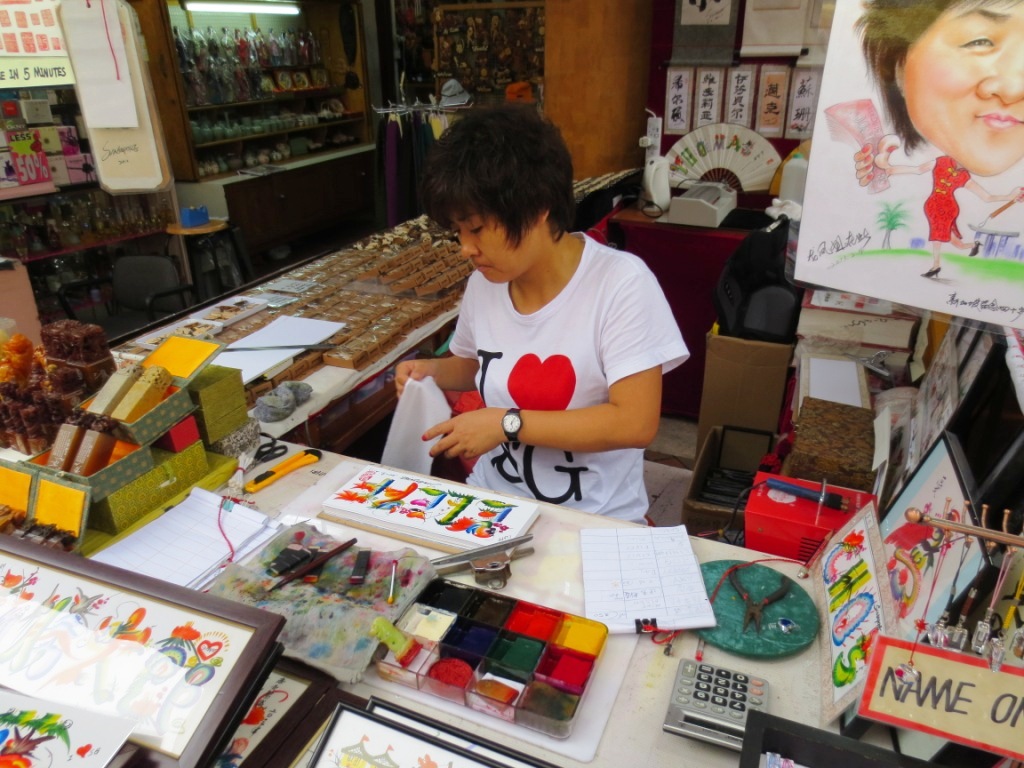 A great souvenir or gift for someone back home.  Be prepared to bargain though or you will be ripped off!  They'll ask for $40 for this sign to be painted and laminated but accepted $15 ($12 USD).
Chinatown is also the place to buy items like the Singapore Airline's flight attendant uniforms or other small gifts for cheap…if you are a decent bargainer.
A quick subway trip after that and we were in Little India.  As it was Sunday it was teeming with people though the wares didn't really interest us too much.  If you're in the mood to hunt for a pair of jeans though…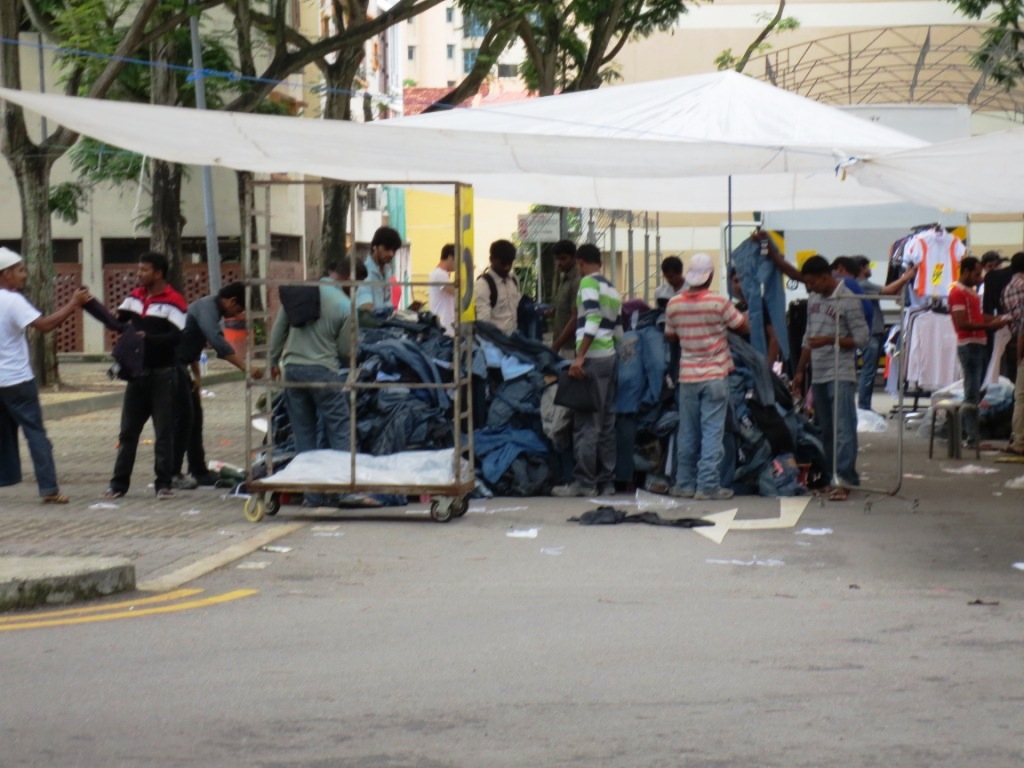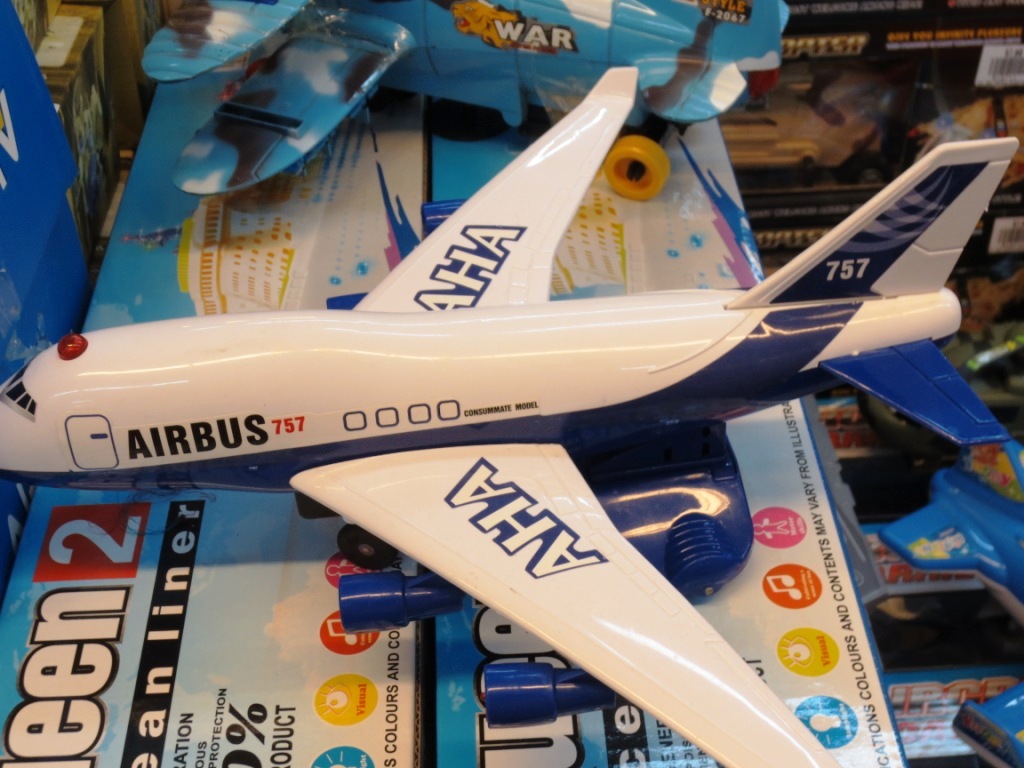 Ah yes. The very rare AHA airlines Airbus 757 😀
After lots of running around for a Sunday morning it was time for some grub at Awafi.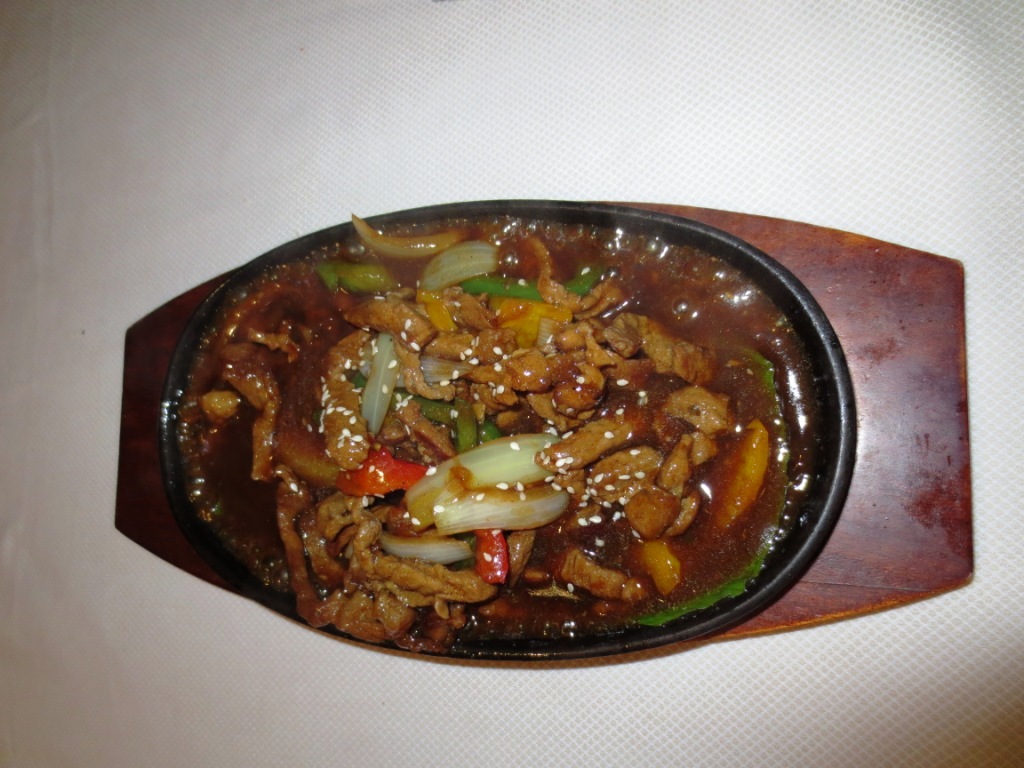 The chinese Sizzling Beef was delicious.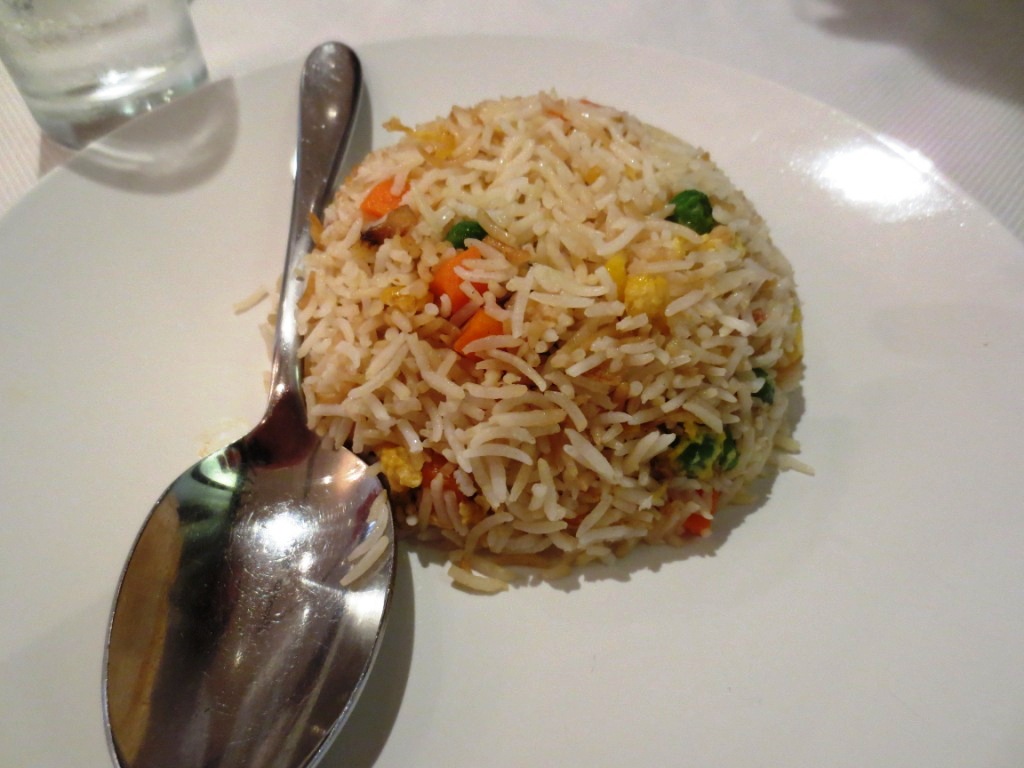 And the fried rice was fantastic as well.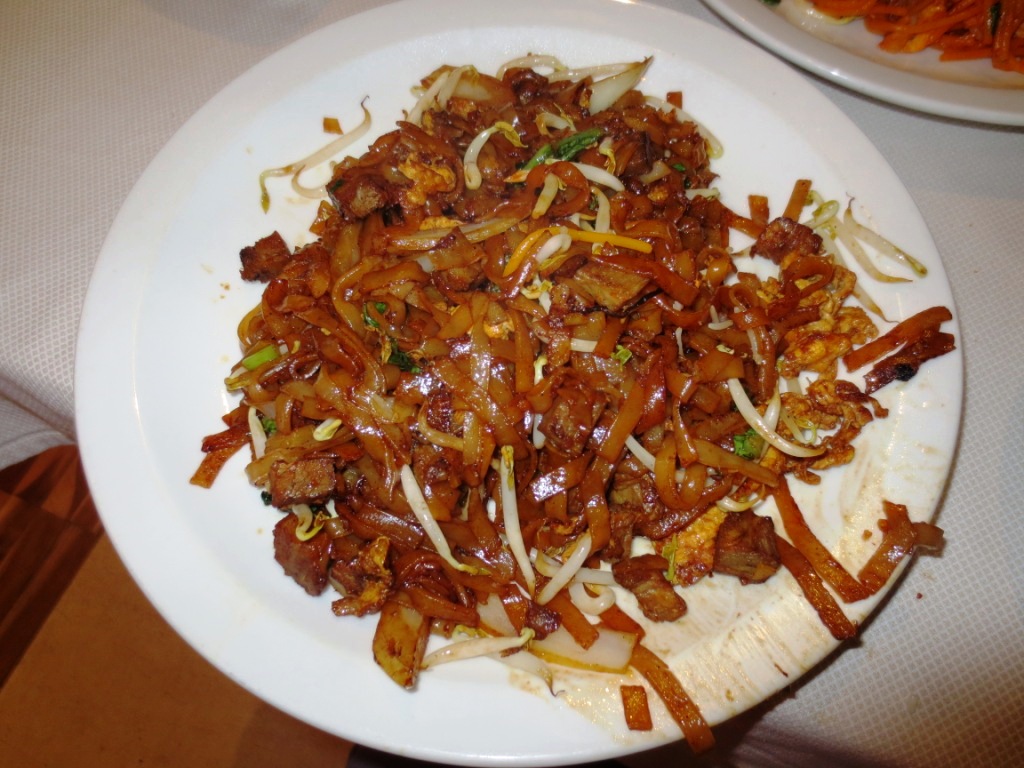 Kuay Teow with beef, a local dish, had flavors I had never had before.  It's worth a try!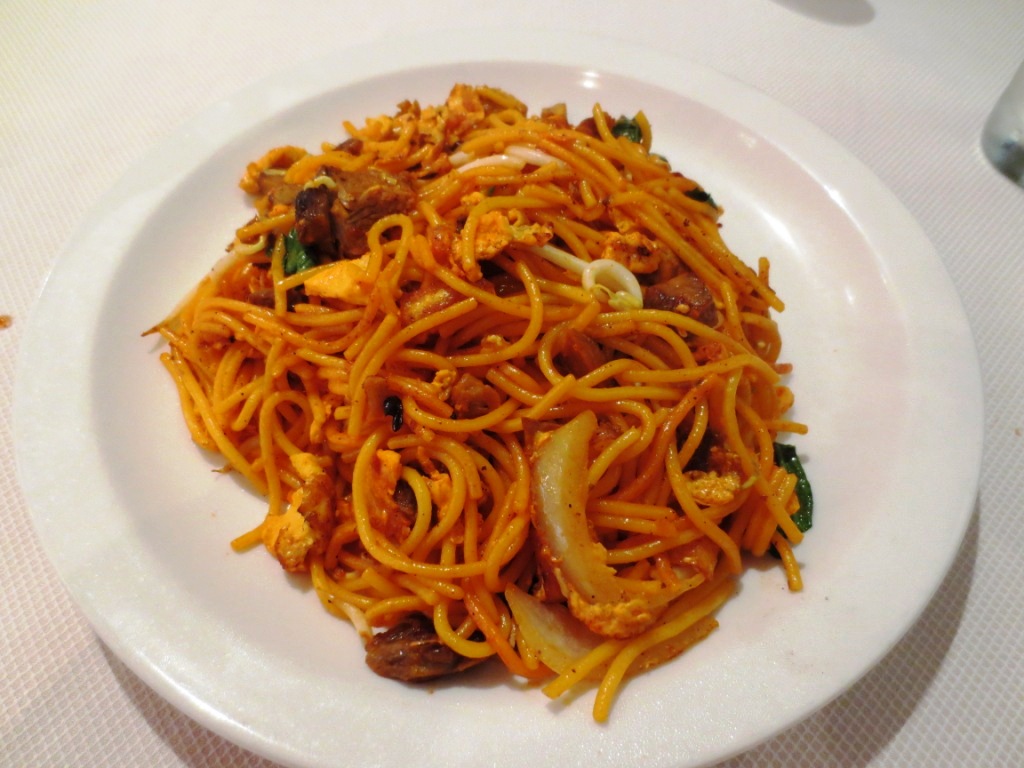 Mee Goreng with Beef was also something that's worth a try while you're here.  The flavors are definitely unique if nothing else!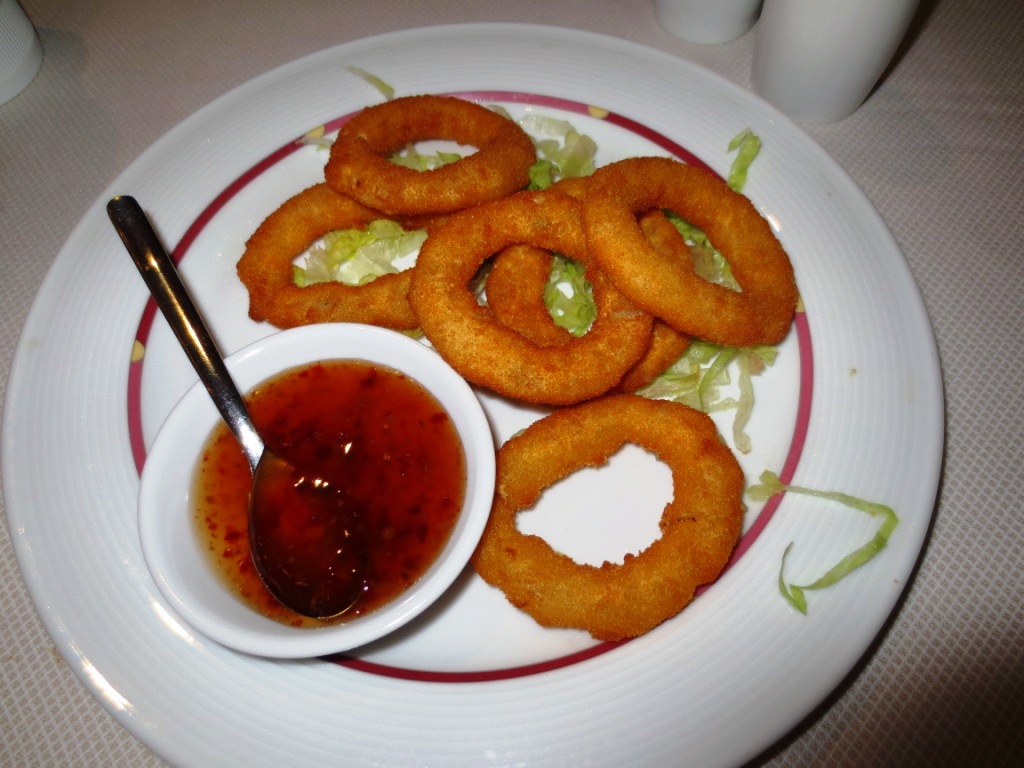 Yes I did ask if they were homemade. I seem to have a thing for getting stuck with the frozen onion rings.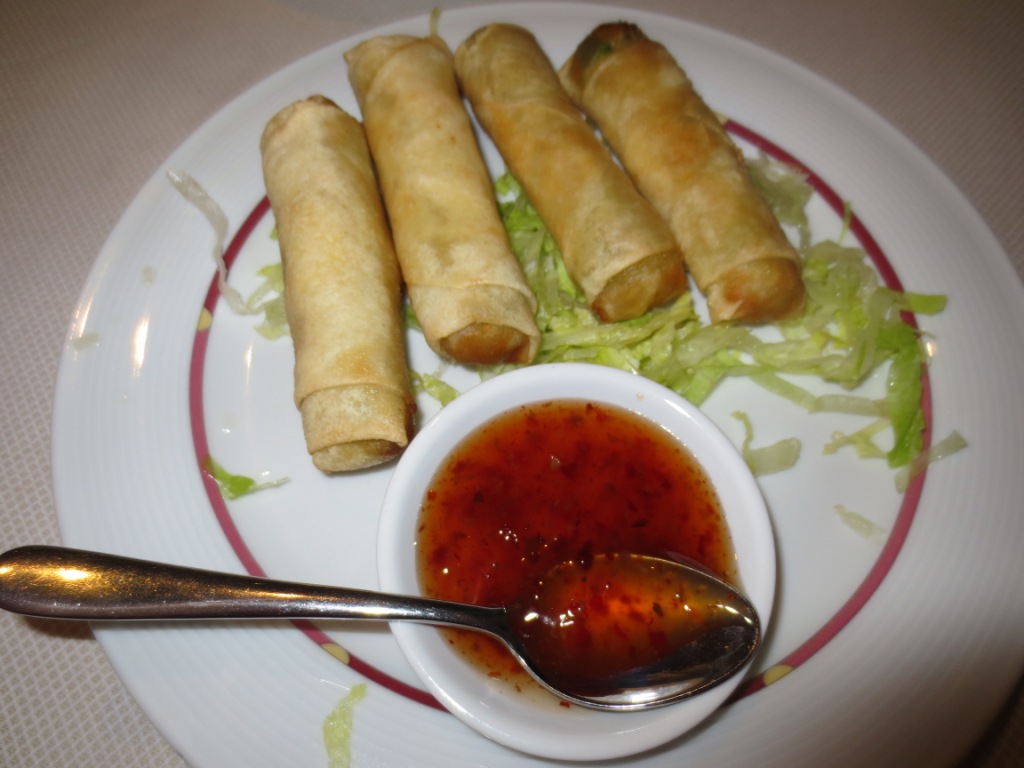 Spring Rolls with sweet chili sauce were great
Afterwards we headed off to Sentosa Island, home to the W hotel and some of the priciest real estate in the world.
You could spend days on Sentosa and not be bored though your wallet will be significantly lighter.  Sentosa is home to beaches, a Casino, and dozens of attractions for adults and kids like Zip-lining, 4D movies, cable car rides, and more.
We went on the Skyline Luge where you navigate your luge down a trail and come back up via Skyride to try a different pathway down.  The best deal and the ideal amount of times is the 3 pack for $20 (USD $16).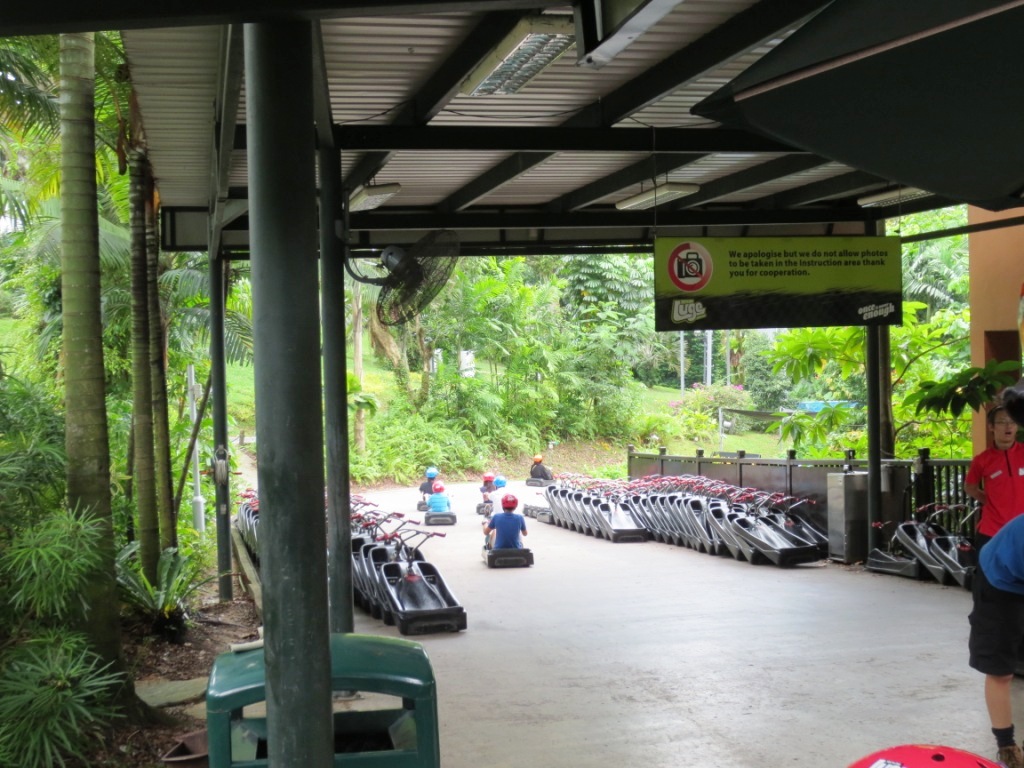 Luge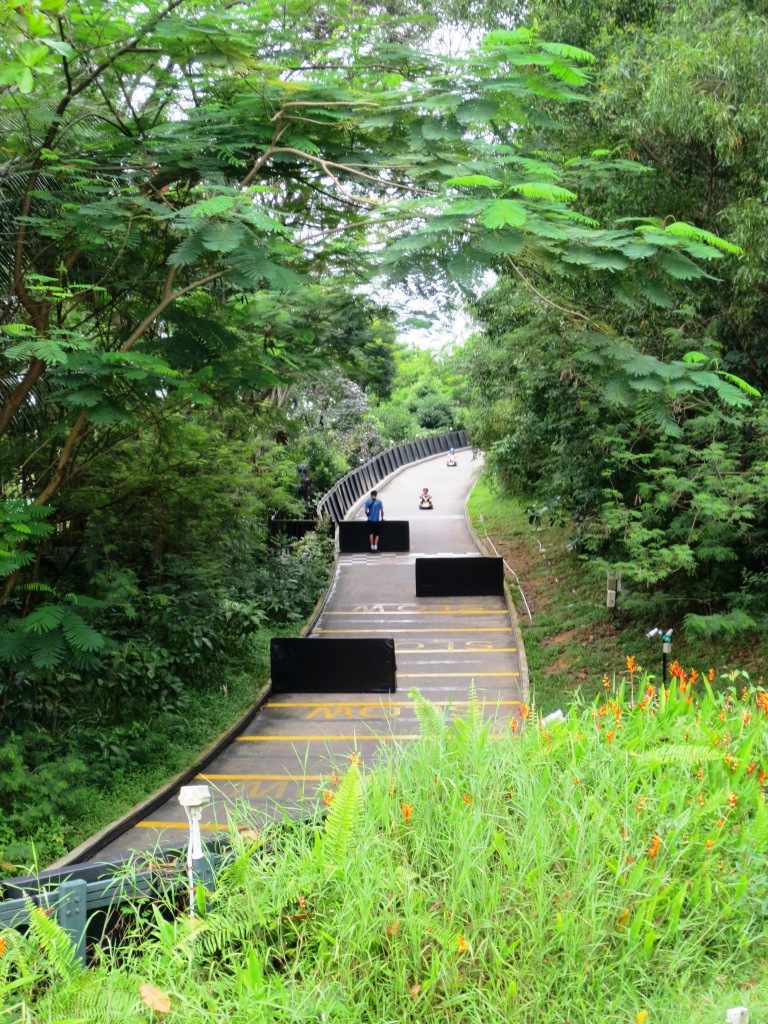 Those checkpoints make sure you're not going to fast in the beginning, but be sure not to go to fast around the curves or you'll get hurt!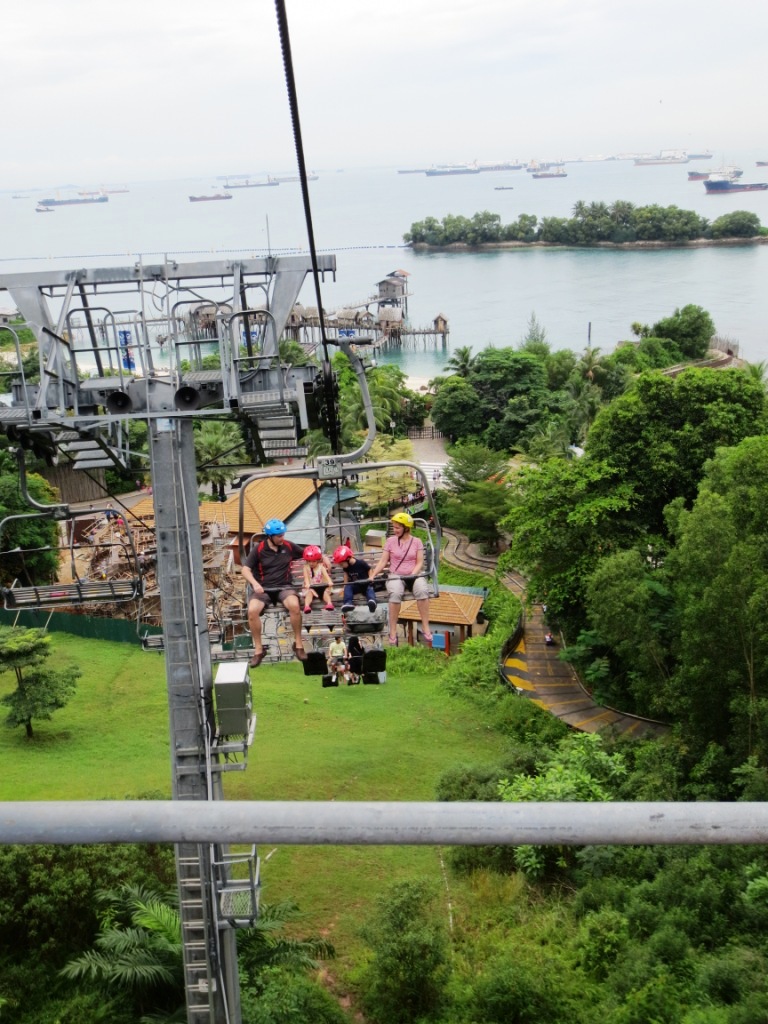 Taking the Skyride back up.
Running out of time, it was back to Awafi for dinner: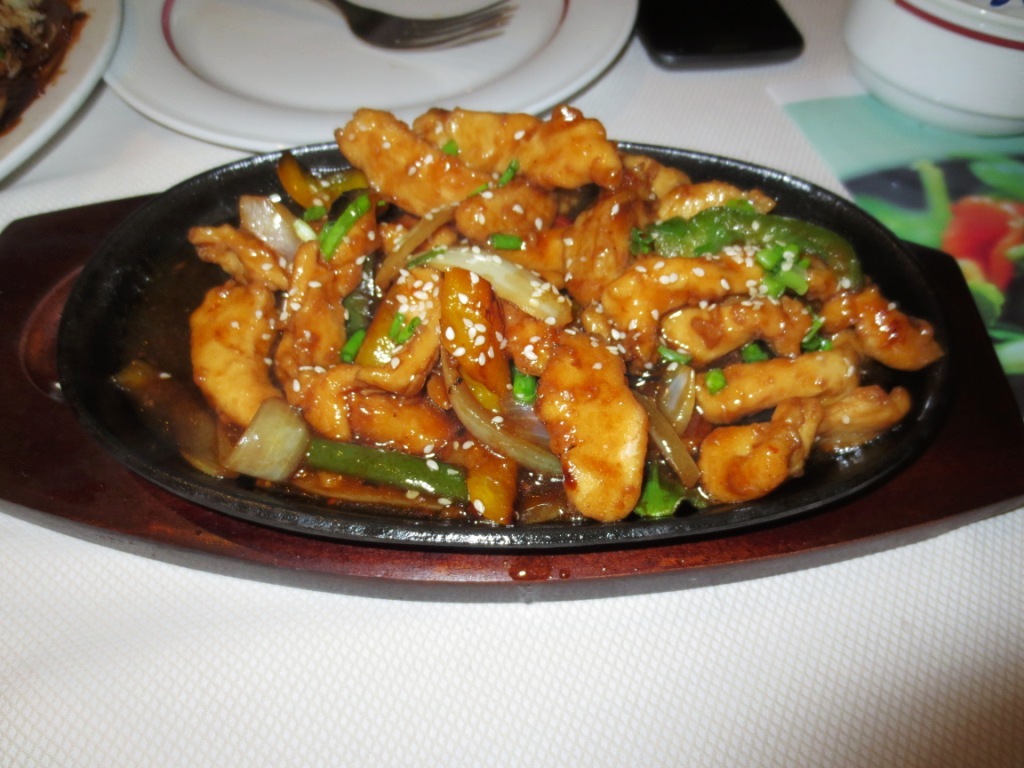 Sizzling Chicken was excellent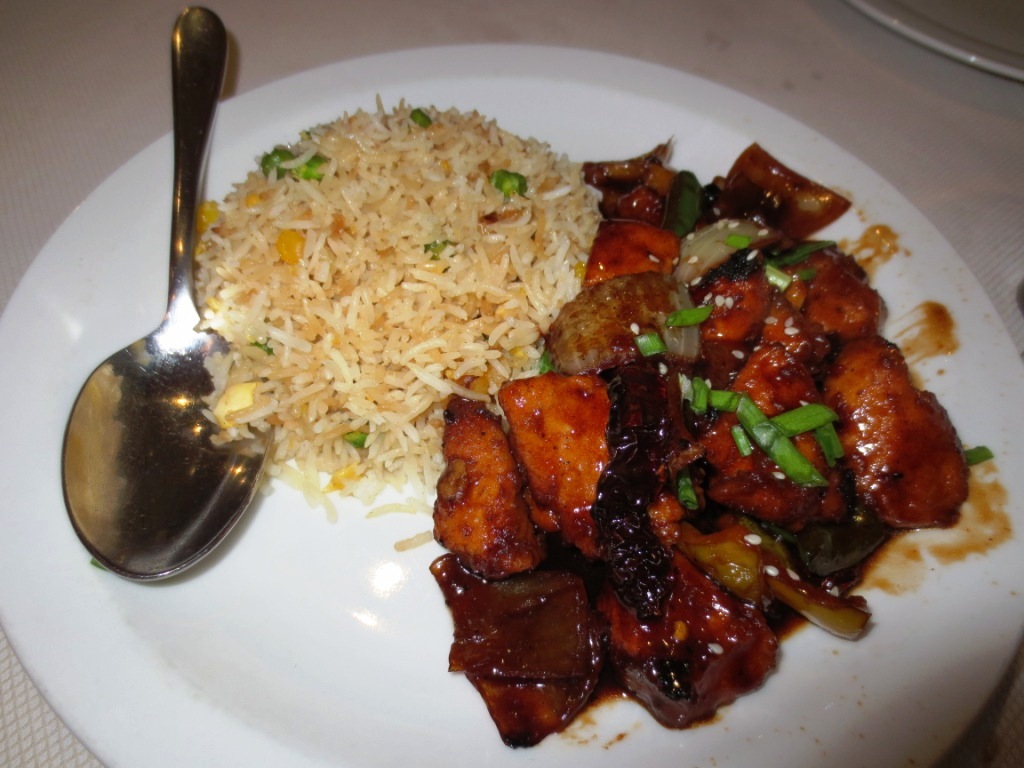 Sichuan Chicken was very good as well.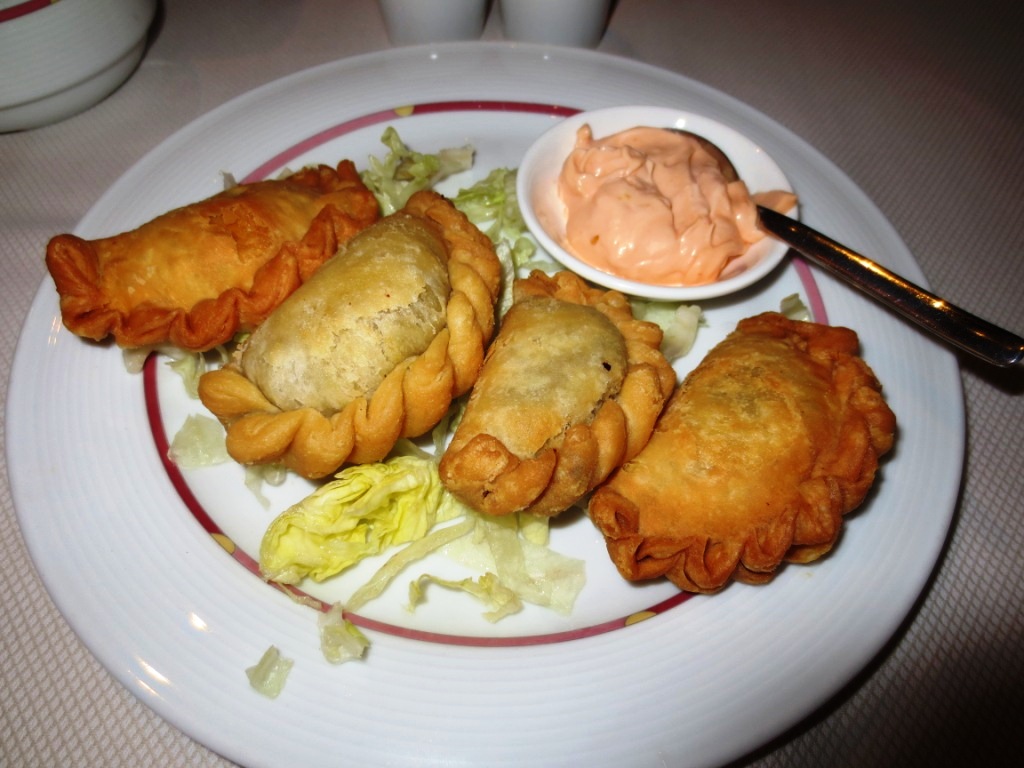 Lamb Sambousik was a bit dry.
Finally we capped off the trip with a ride on the Singapore Flyer.  We tried to time it so that we'd be able to see sunset but we didn't make it.  Don't forget to bring your Singapore Airline boarding pass here as well for a nice discount.
The views were just awesome and we even got to see a light show going on at the Marina Bay Sands from afar: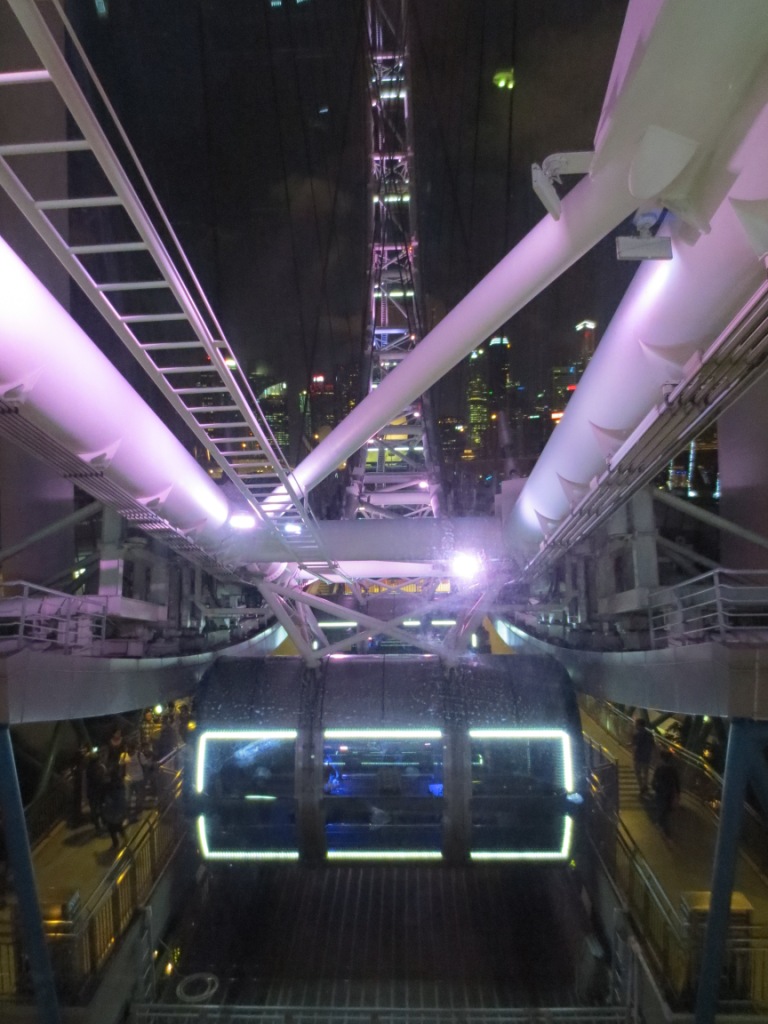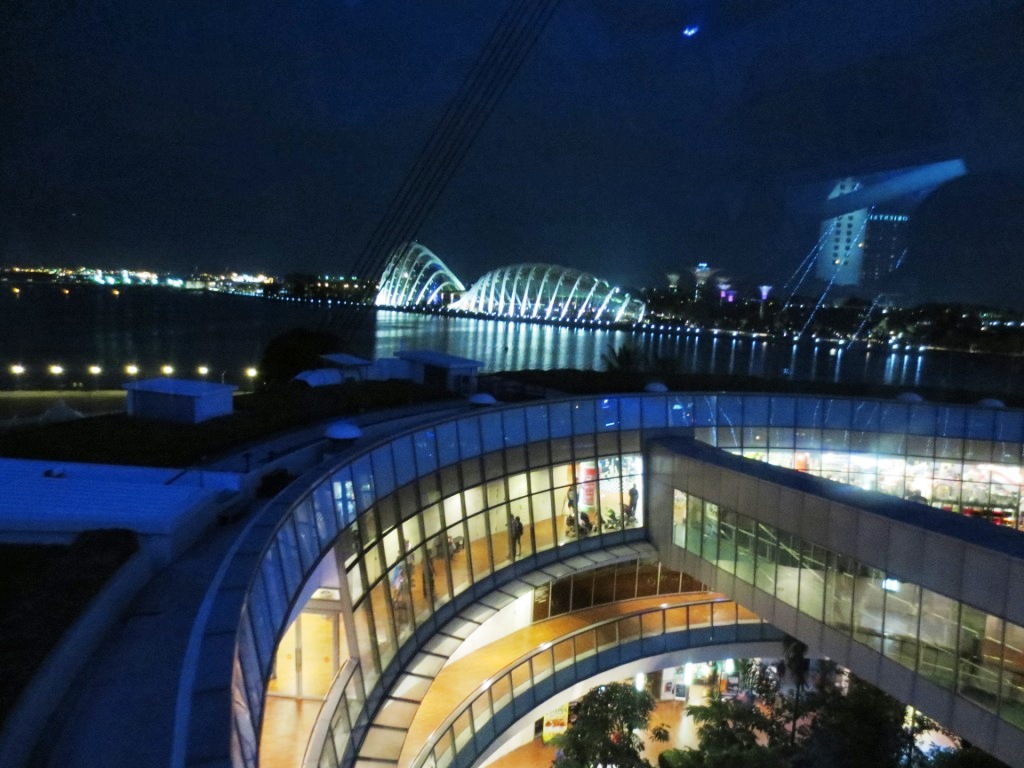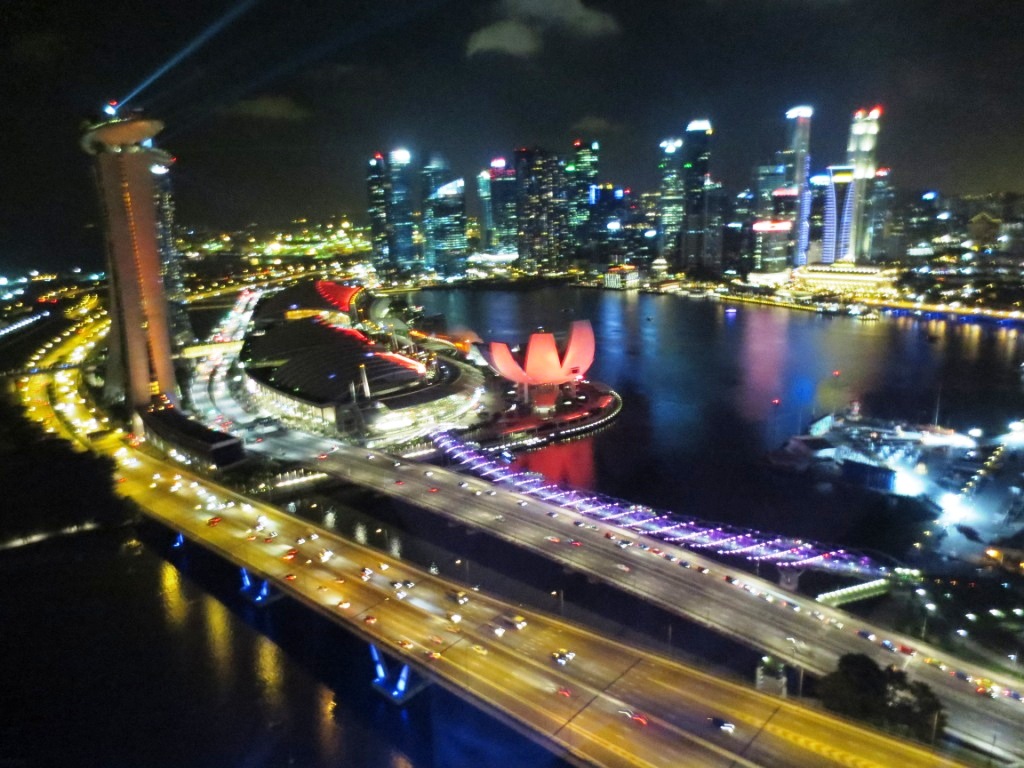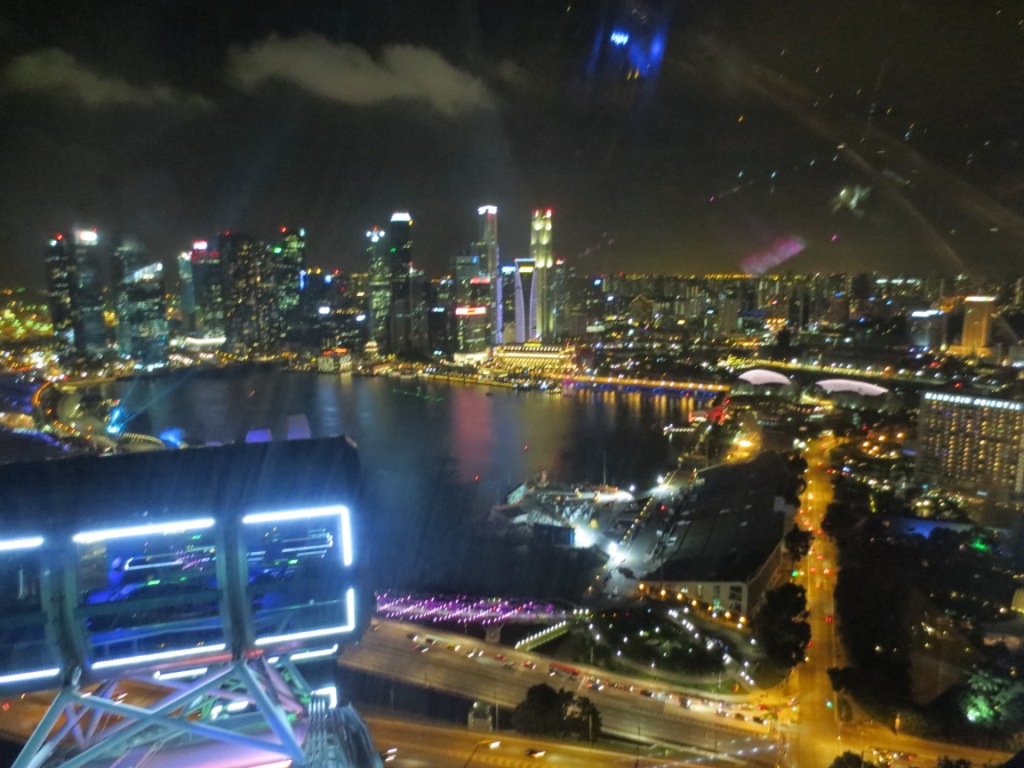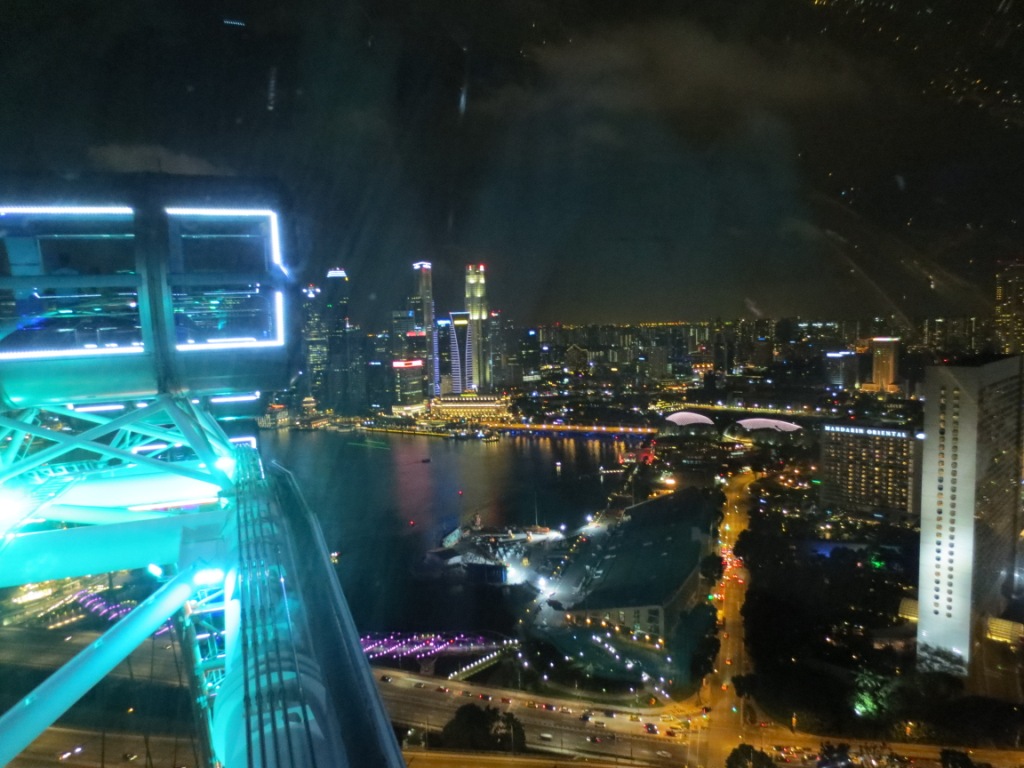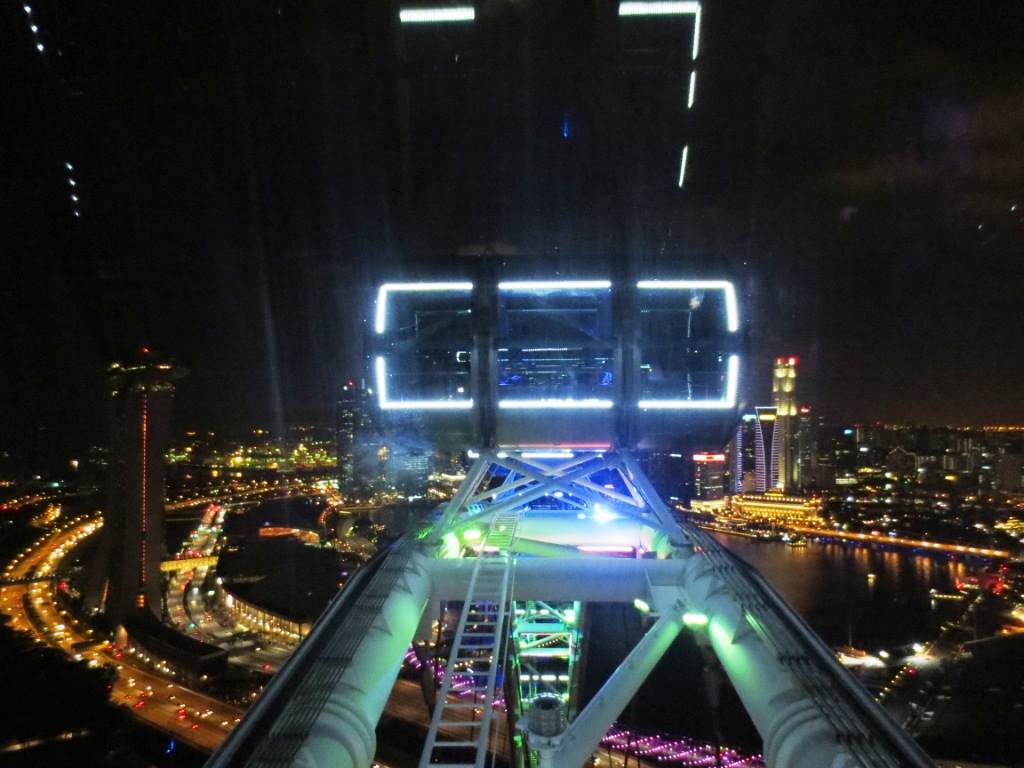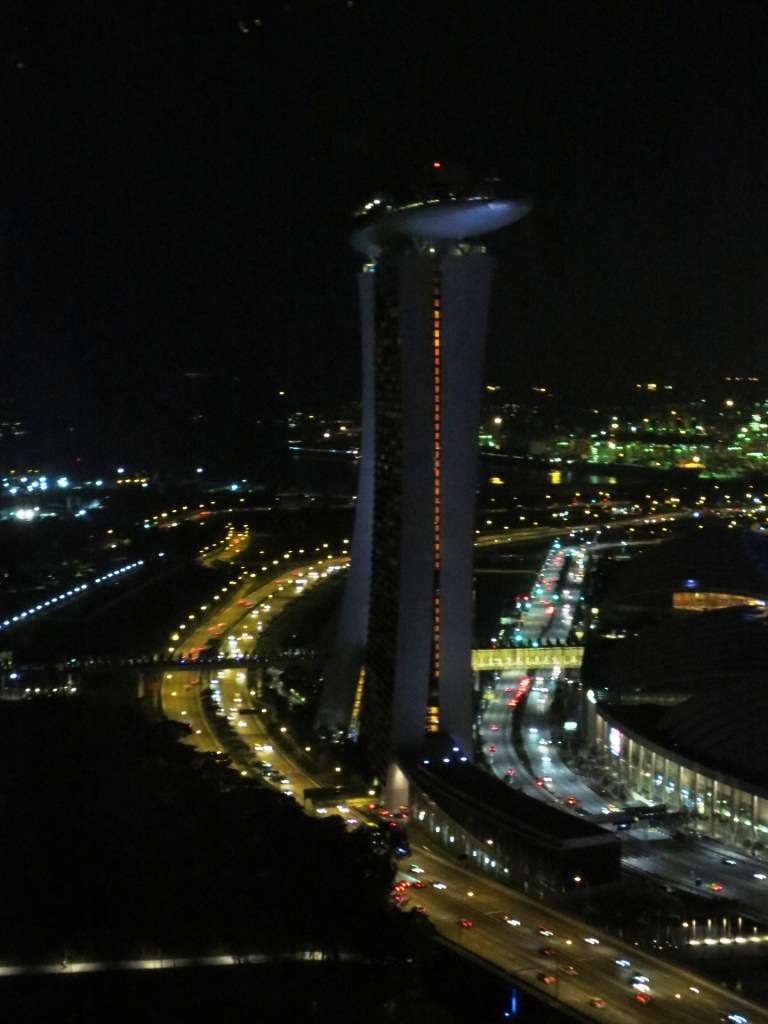 We could have easily spent 4 nights in Singapore without being bored.  There are also lots of great hiking opportunities as well that we didn't have time to touch and there are other islands to visit as well.
The return flight was booked in First Class on Korean via Seoul.  That trip is 95,000 Korean miles plus about $300 in fuel surcharges.  Chase Ultimate Rewards points transfer instantly 1:1 to Korean and award availability is phenomenal, the best in the industry.   You can even fly from JFK to Tel Aviv via Seoul if you wanted 🙂
The Singapore airport is fantastic, there are tons of great retail stores that can keep you occupied for hours if you don't want to wait in a sterile lounge.
The Singapore to Seoul 6 hour redeye flight was on a 777 and the Seoul to JFK 14 hour flight was on an A380.
The A380 completed my Airbus run as I flew on an A319 from Cleveland to Newark, an A340 from Newark to Singapore, and an A330 from Singapore to Male.  Though I still didn't fly on that AHA Airlines Airbus 757 😀
It was the 2nd A380 I've flown on, though it can't compete with the Singapore A380 experience.
I found the first class service to be slightly overbearing, I mean do I really need 4 flight attendants letting me know what the flight time will be?  Also they are very strict about getting up to go to the bathroom when the seatbelt sign is on…and it was on for a long time.
So while I can nitpick about how the service can't compare to Singapore, it still is very good.
The flight to Seoul had full meal service but there were no pajamas on the regional flight. The seat however is very similar on the 777 and the A380.  It's no suite like you can find on Asiana, Emirates, Etihad, and Singapore but it is very nice.
The A380 flight was a real treat.  A big roomy cabin that had only 2 other passengers on-board and really comfy pajamas, slippers, and an amenity kit were handed out as well.  Plus kosher parve Macadamia nuts to snack on.
The bedding on the A380 flight was great and much more substantial than on the 777, though I had a hard time sleeping due to the warm cabin temperature, even after I asked and they turned it a little cooler.
The A380 had an open bar where you could help yourself to Blue Label with a gigantic round ice cube.  There was single malt available for the asking as well.
There were a few other Orthodox Jews I bumped into in the First Class lounge in Seoul who also had used their Chase points to enjoy Korean First.  One was a big DansDeals fan and we chatted for quite some time and he even had me chatting with his friend to answer some of his questions and prove he was with me 😀
I had considered spending a night in Seoul, but wound up bypassing it after not really finding much to do there besides for traveling north up to the demilitarized zone.
First class checkin.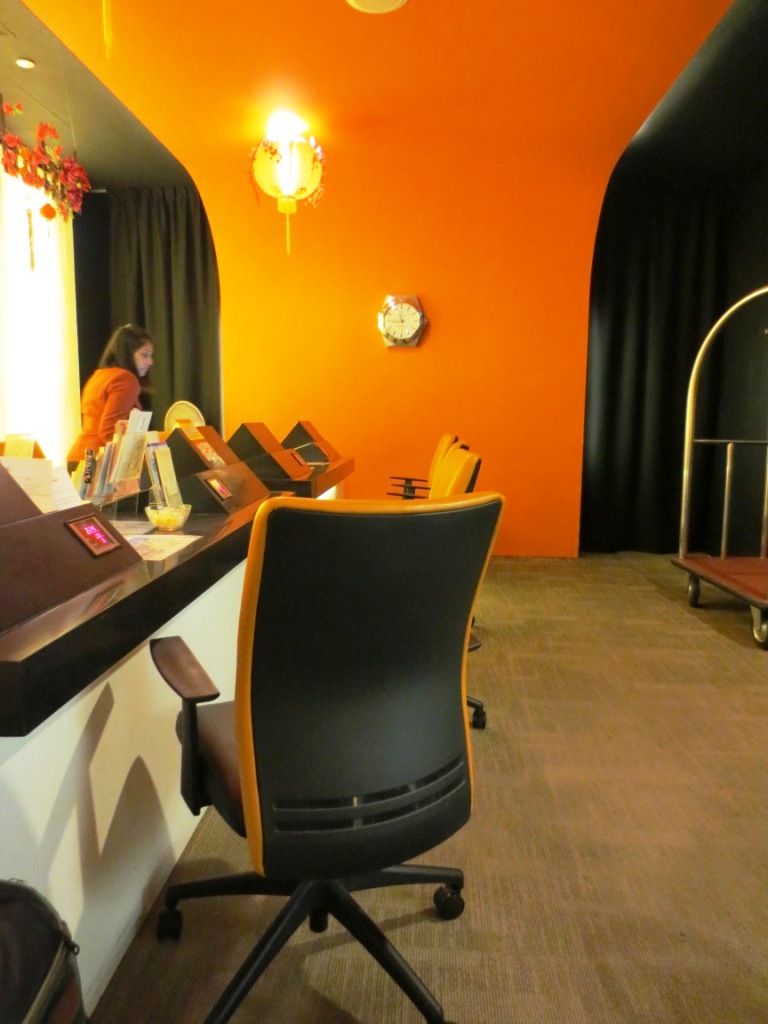 Singapore Harbor
Singapore Airport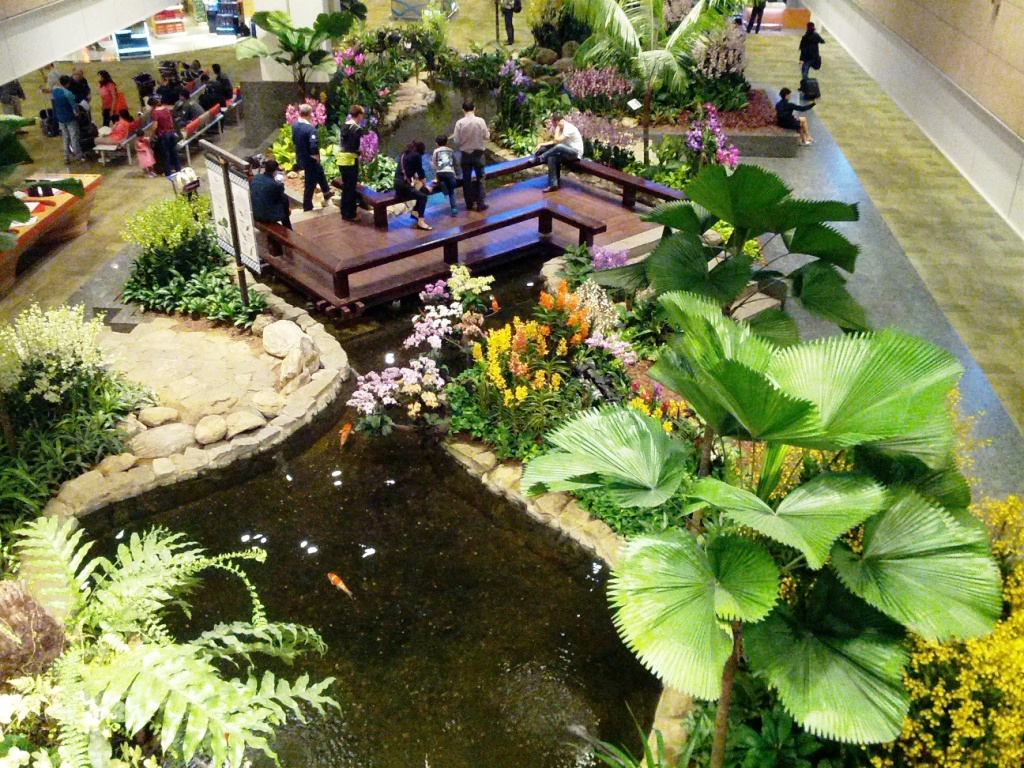 Shower in the Premier Lounge.
Korean 777 First Class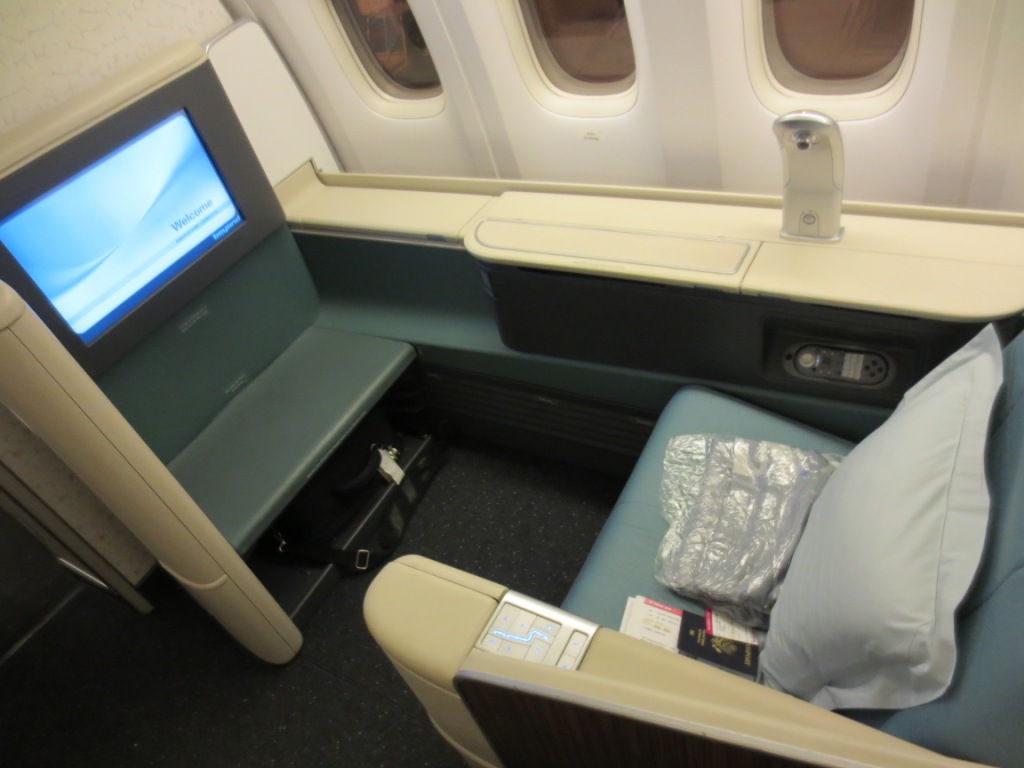 Korean 777 First Class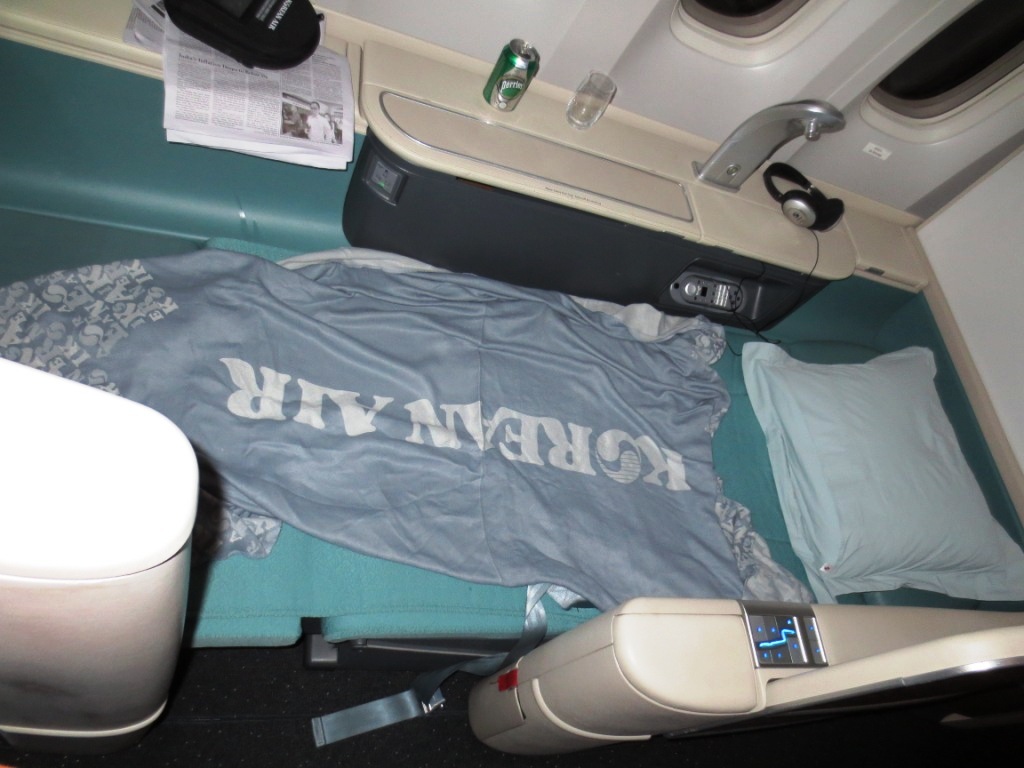 777 First Class Sink with temperature control and motion sensor.  If only all airplane sinks were like this…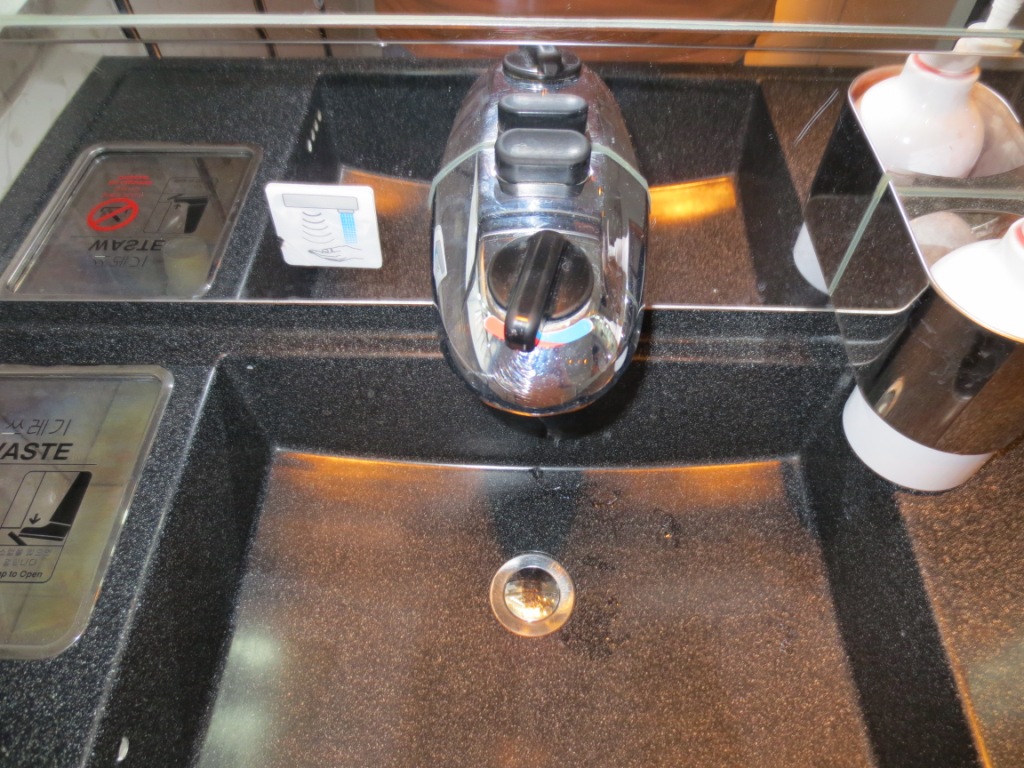 …and had cloth towels.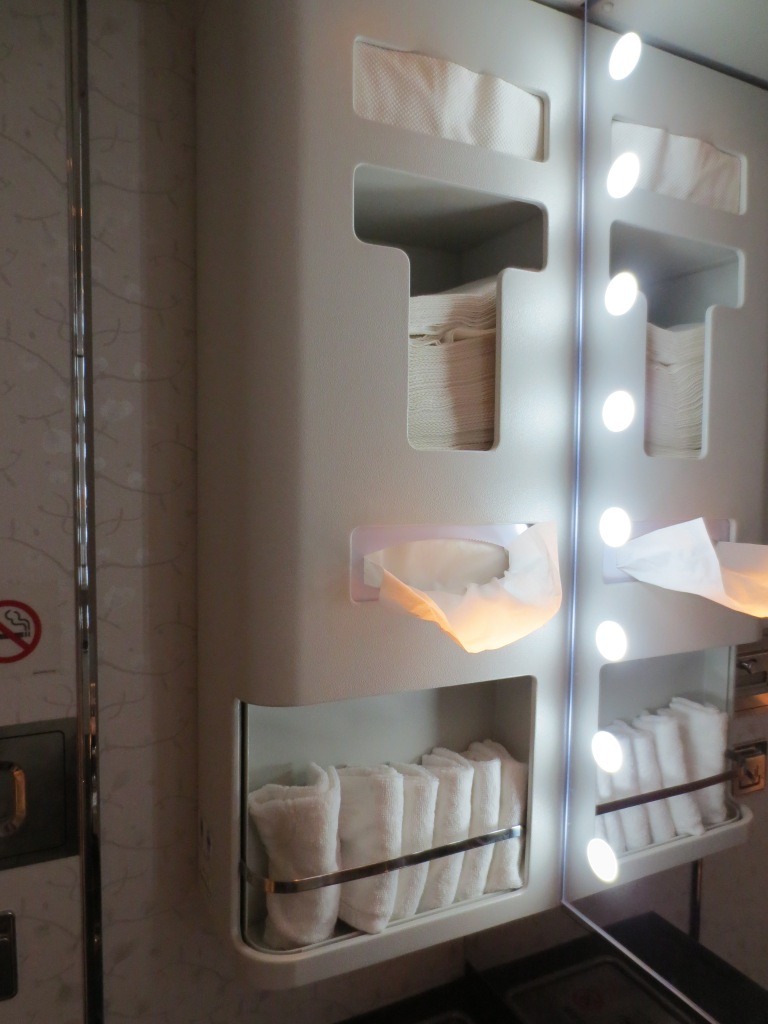 Hermolis Dinner, SIN-ICN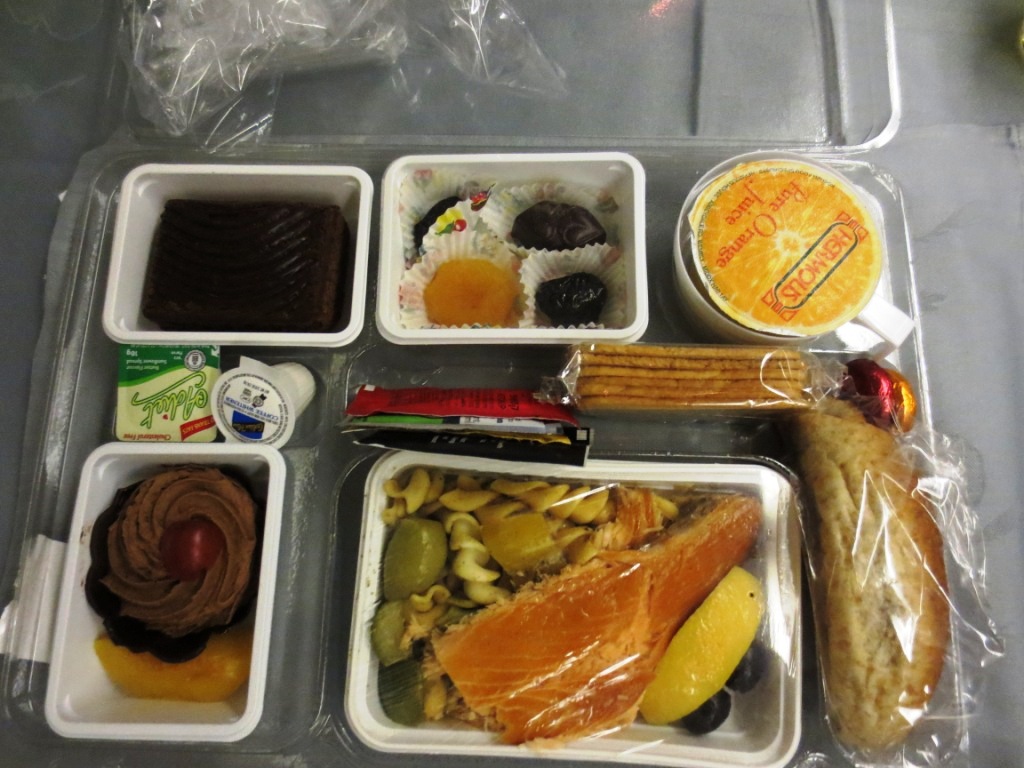 Hermolis Dinner, SIN-ICN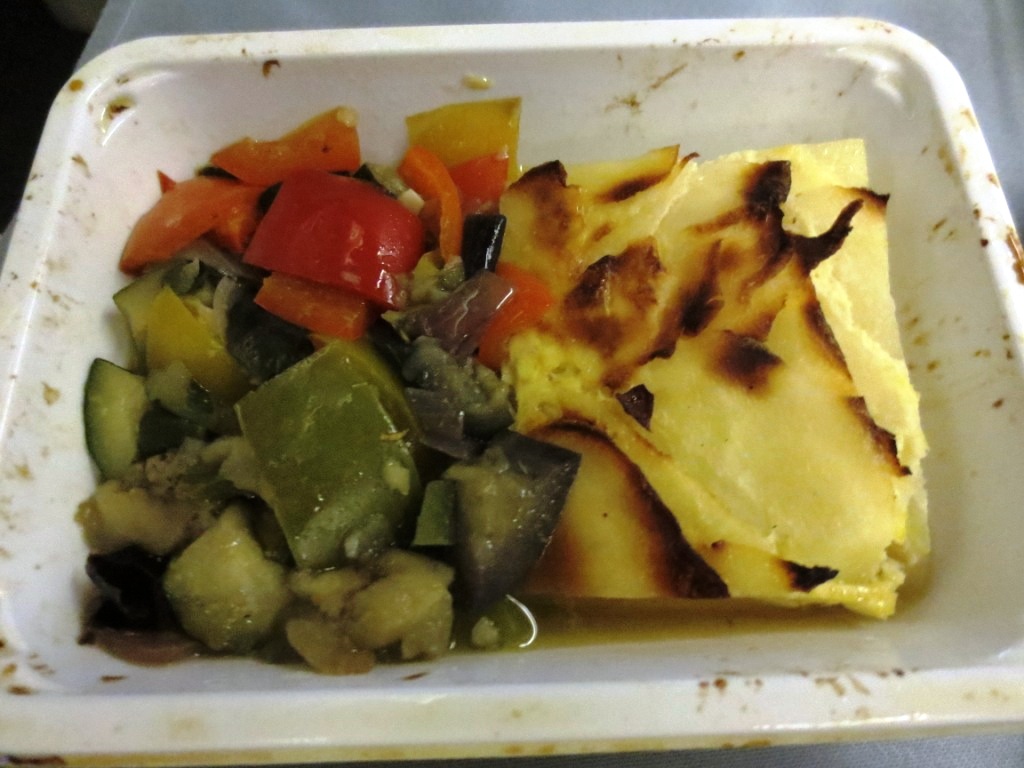 Hermolis Dinner, SIN-ICN.  The stuffed chicken was delicious!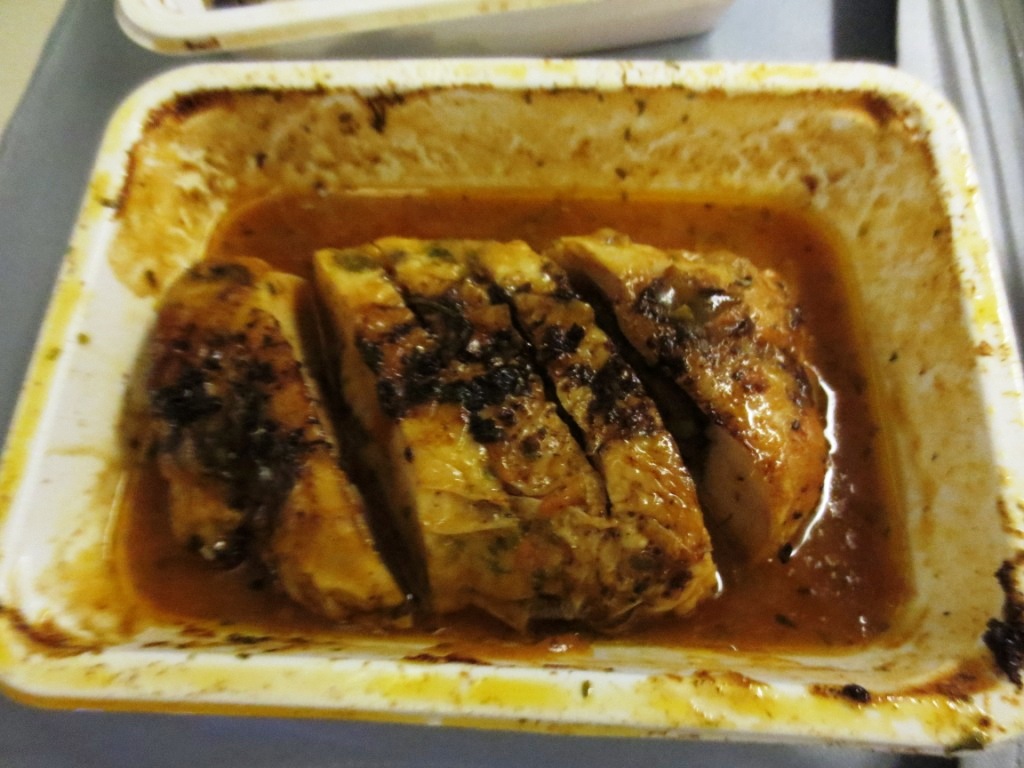 Korean Liquor List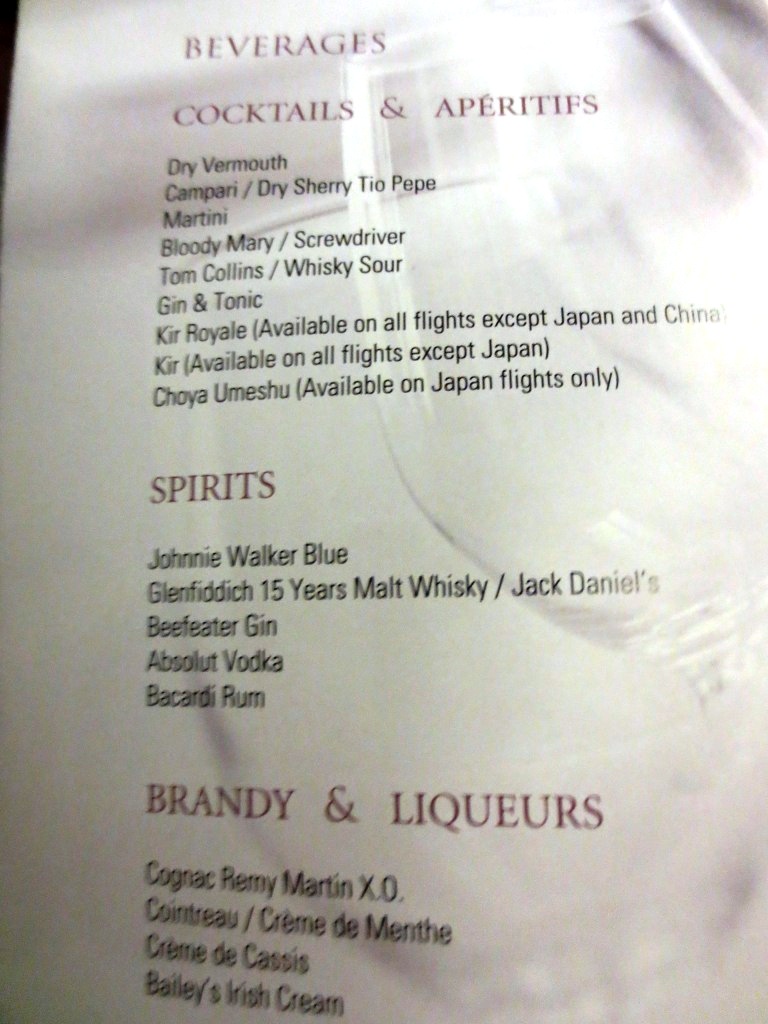 Korean First Class Lounge, Seoul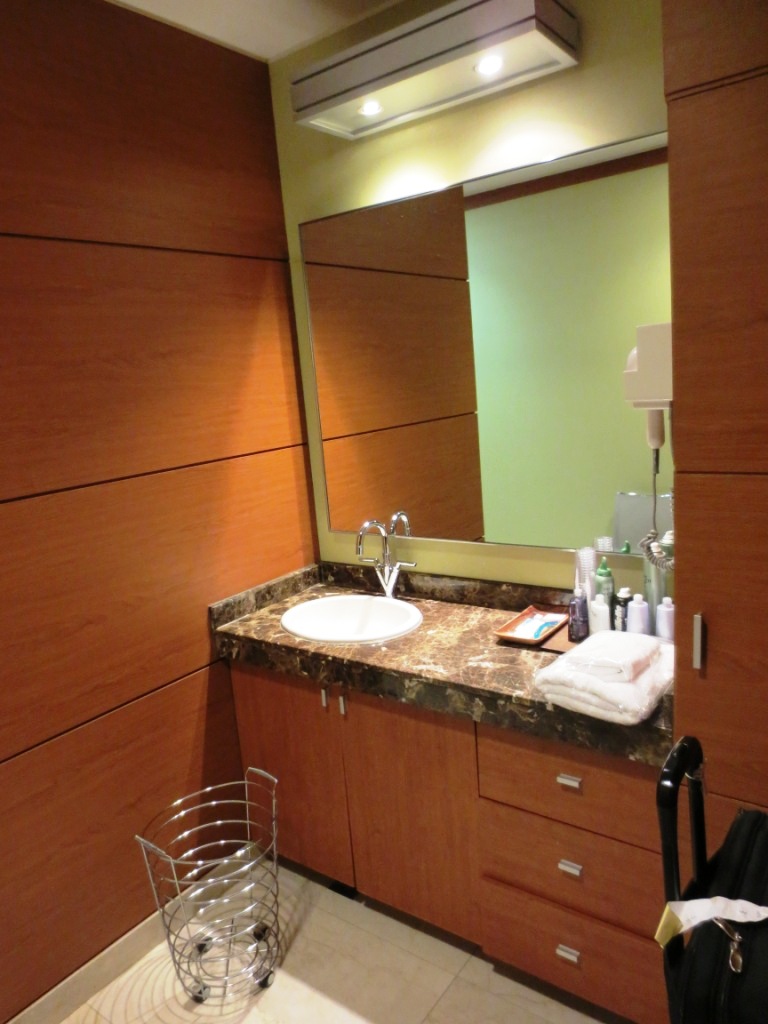 Korean First Class Lounge, Seoul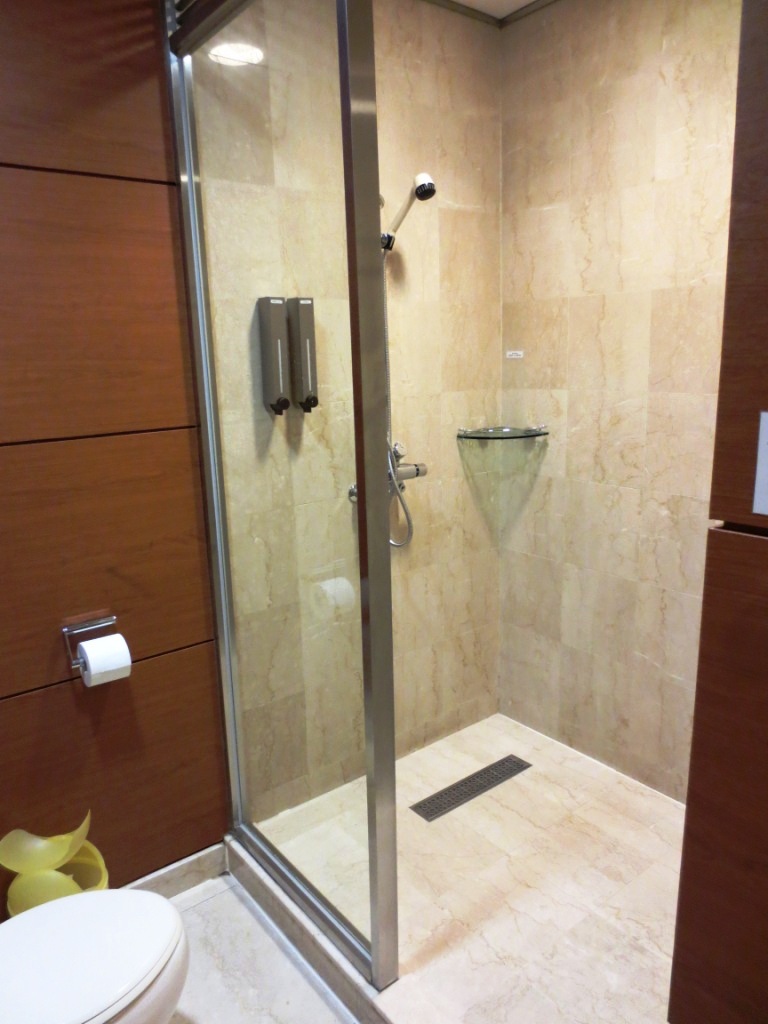 People sleeping the night away in Seoul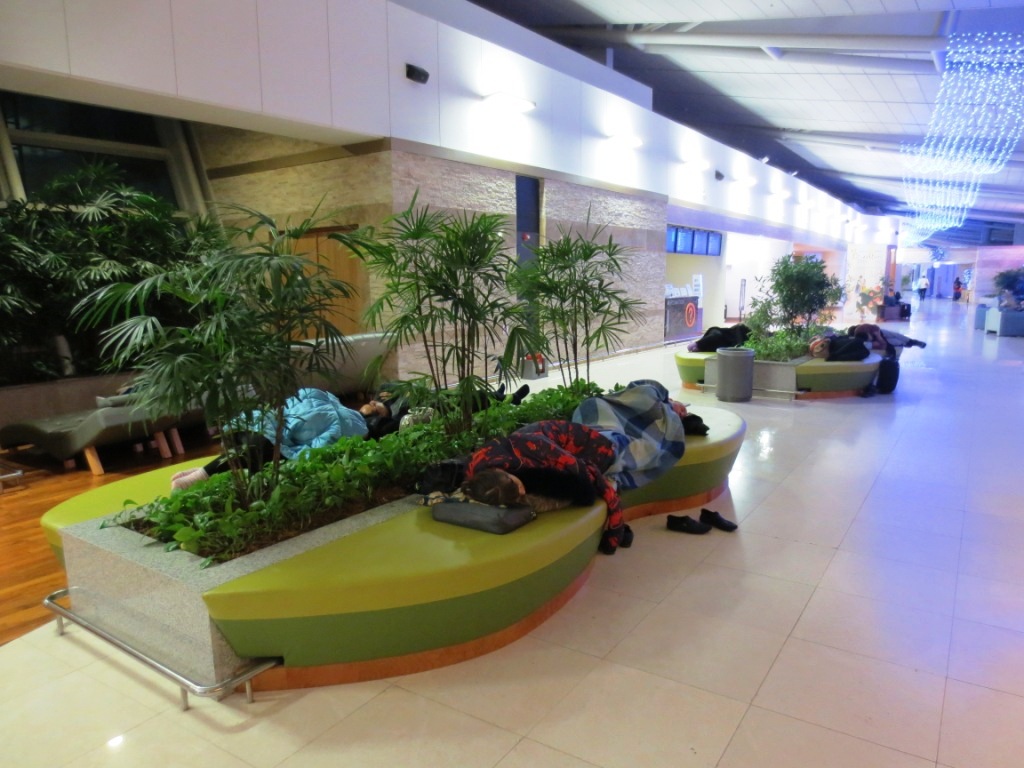 Korean A380 First Class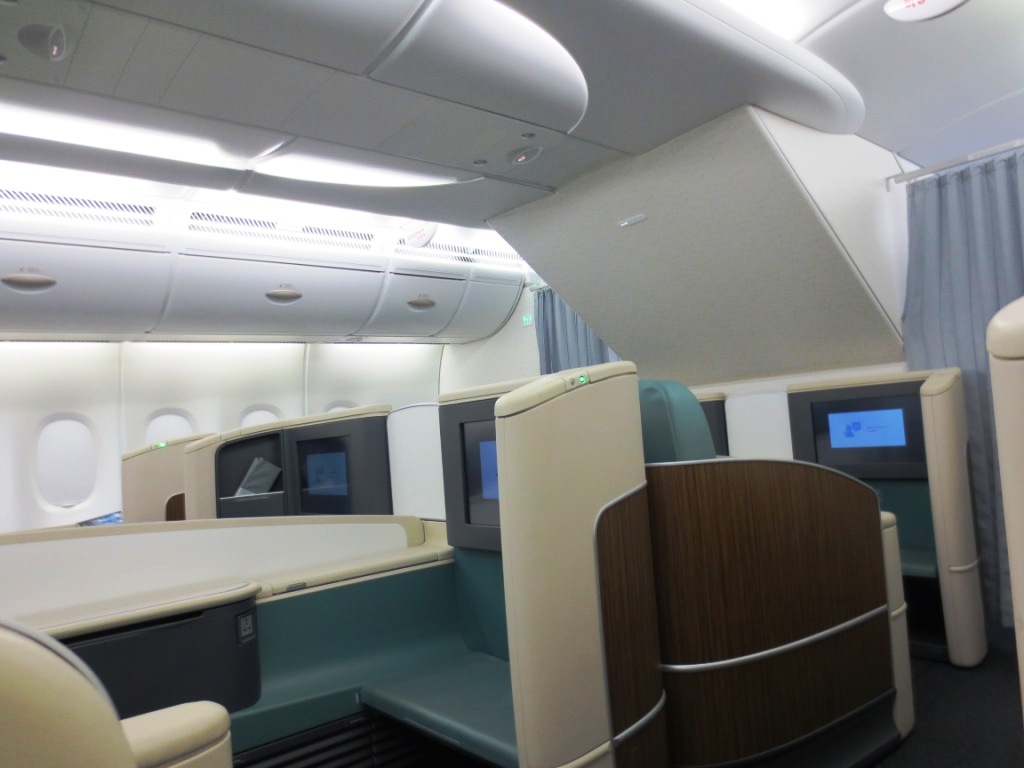 Korean A380 First Class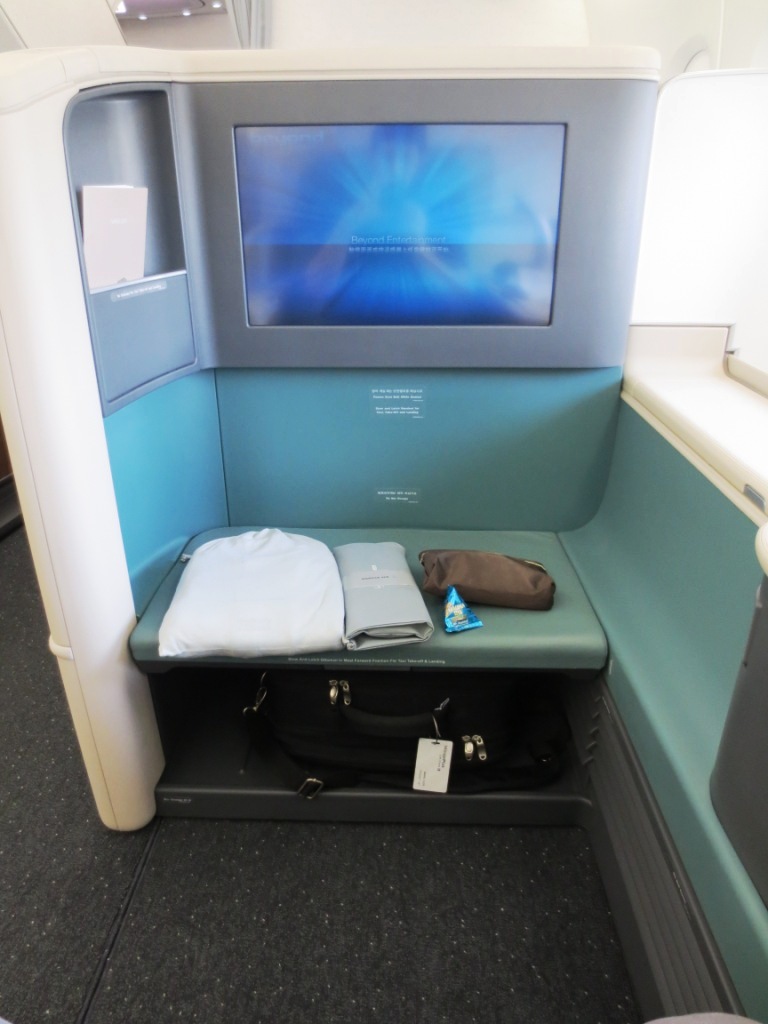 Korean A380 First Class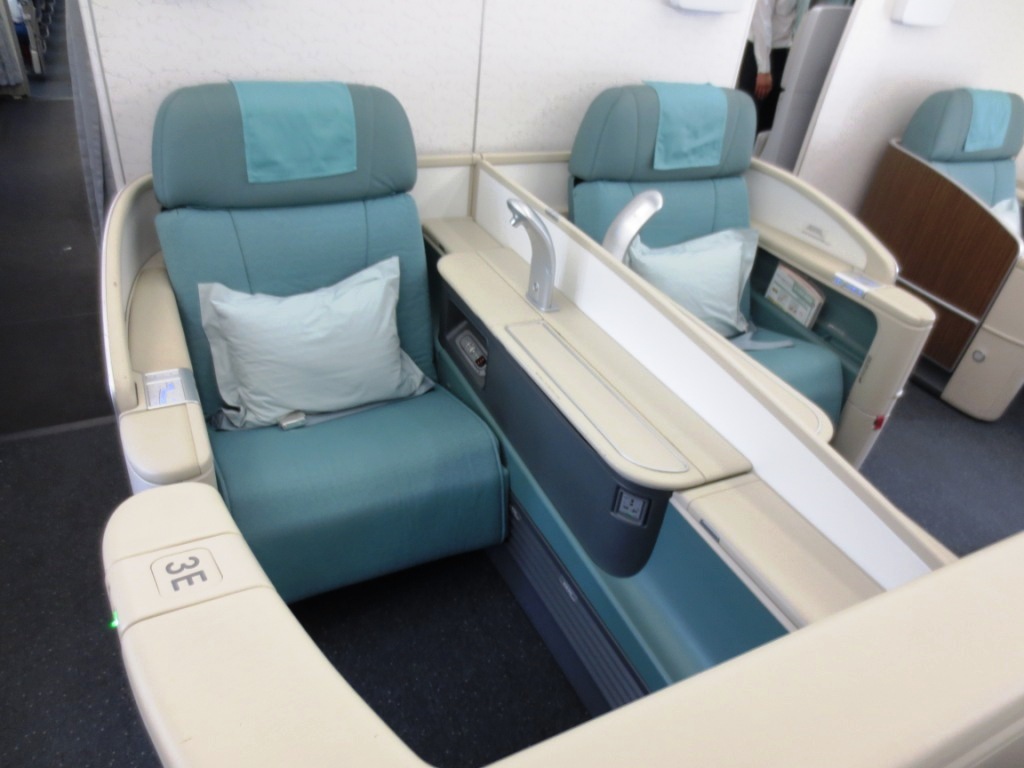 Korean A380 First Class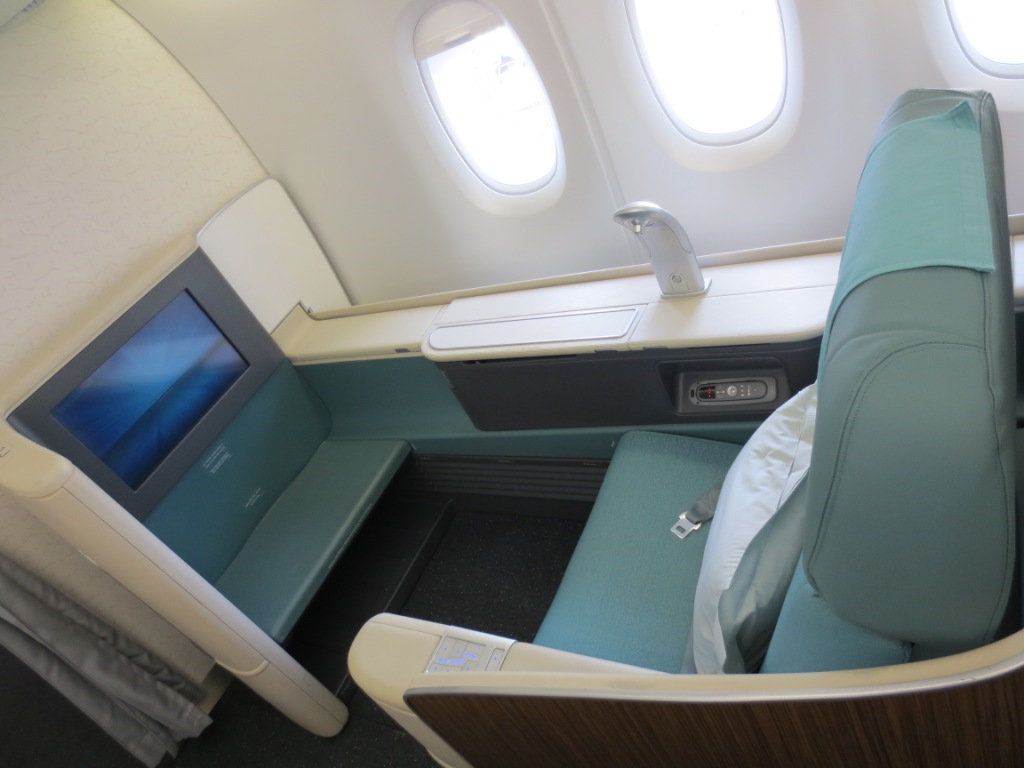 Korean A380 First Class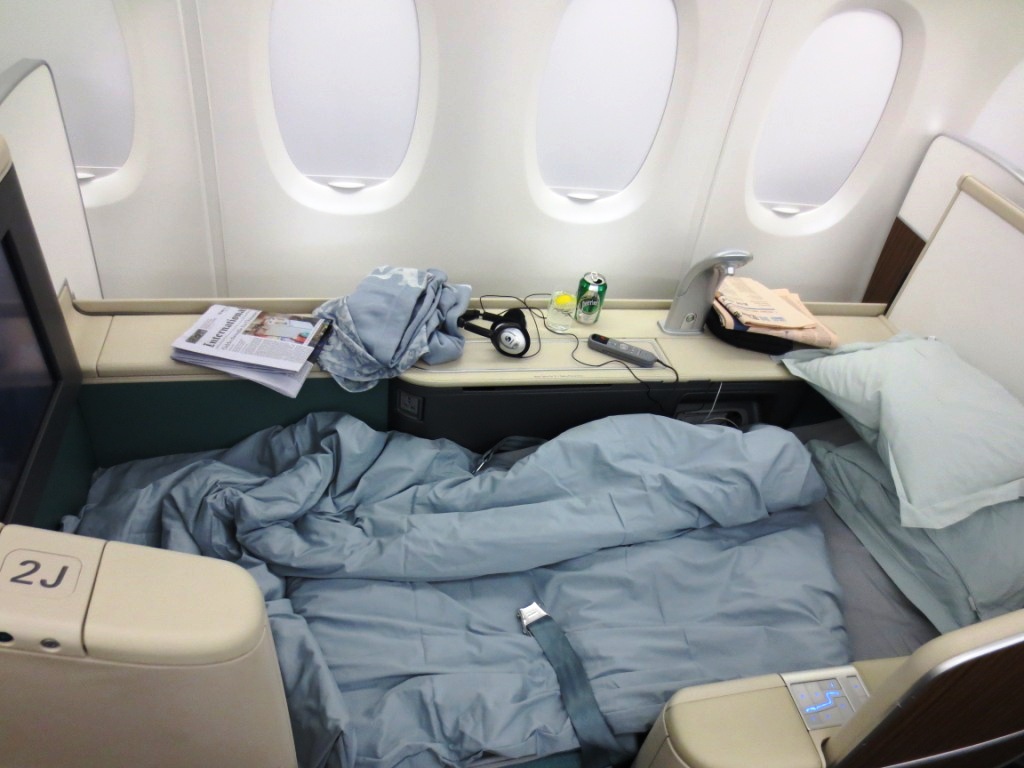 Duck and Single Malt for lunch, Hermolis ICN-JFK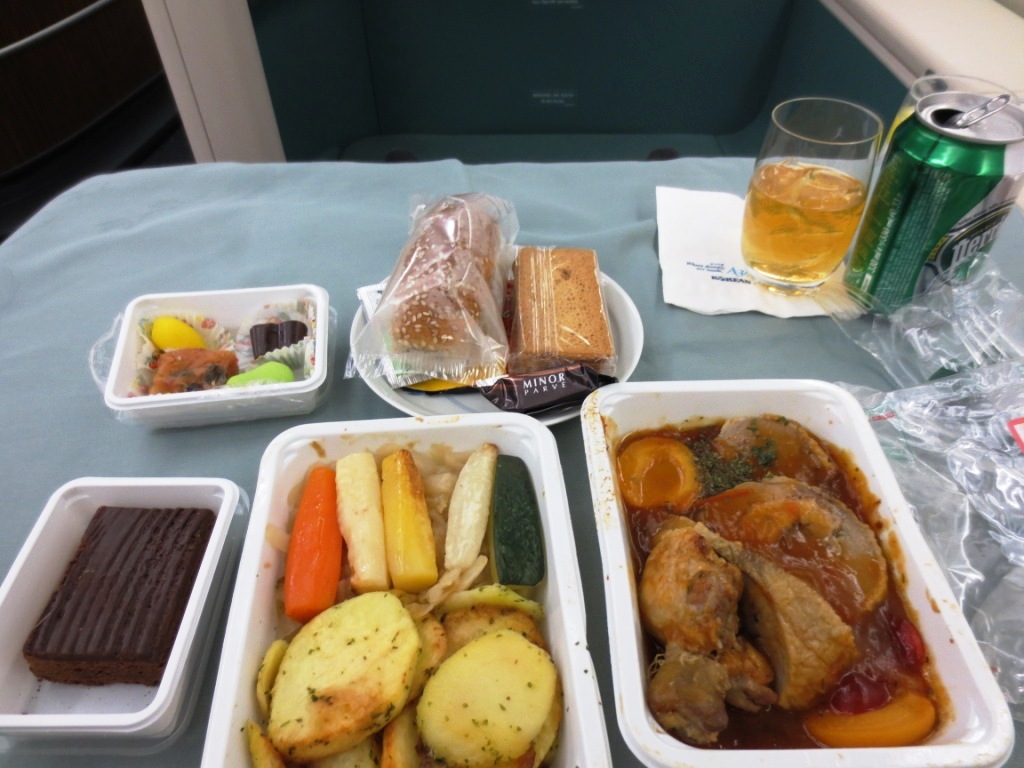 Poached Sole, Hermolis ICN-JFK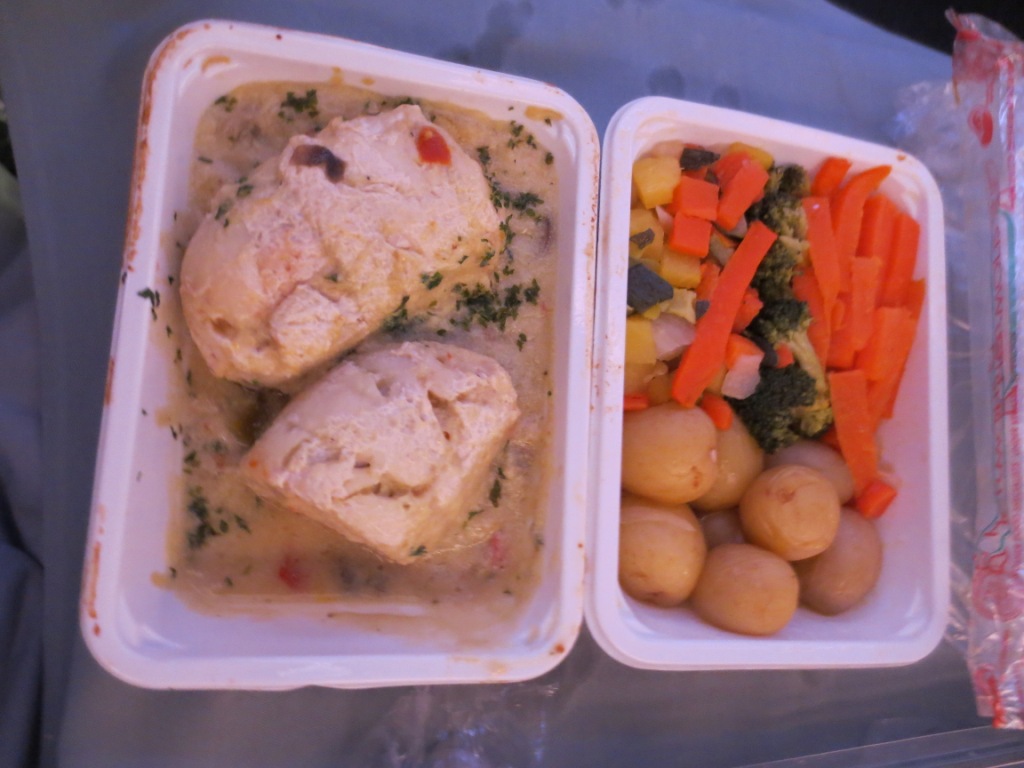 Korean A380 Bathroom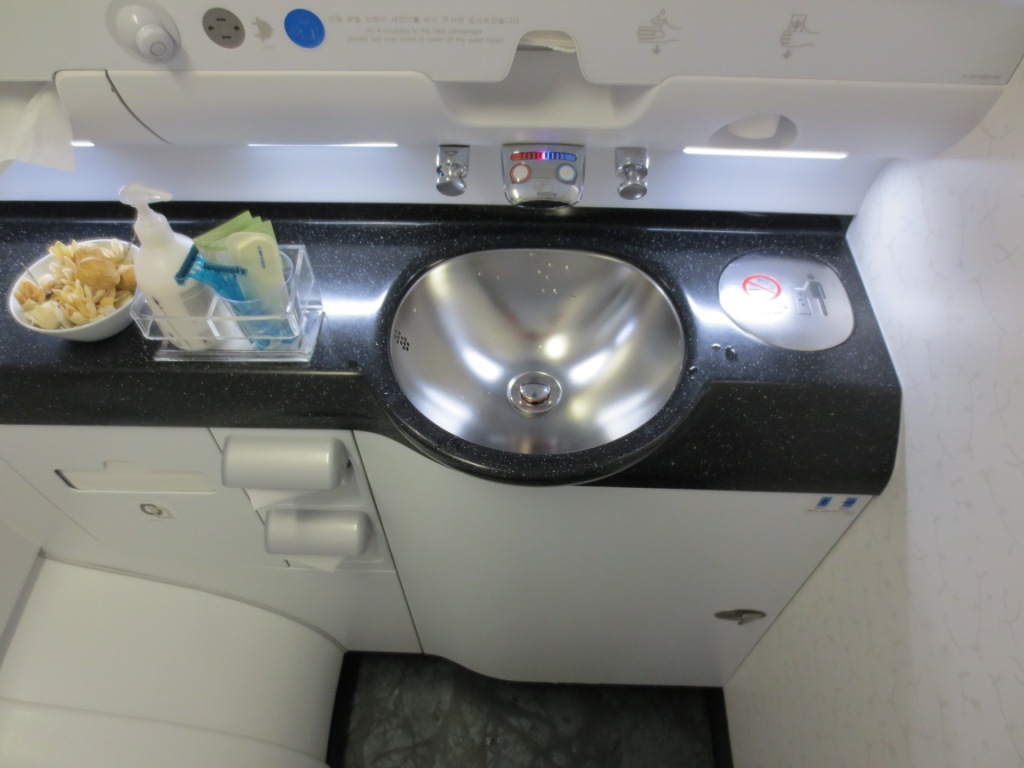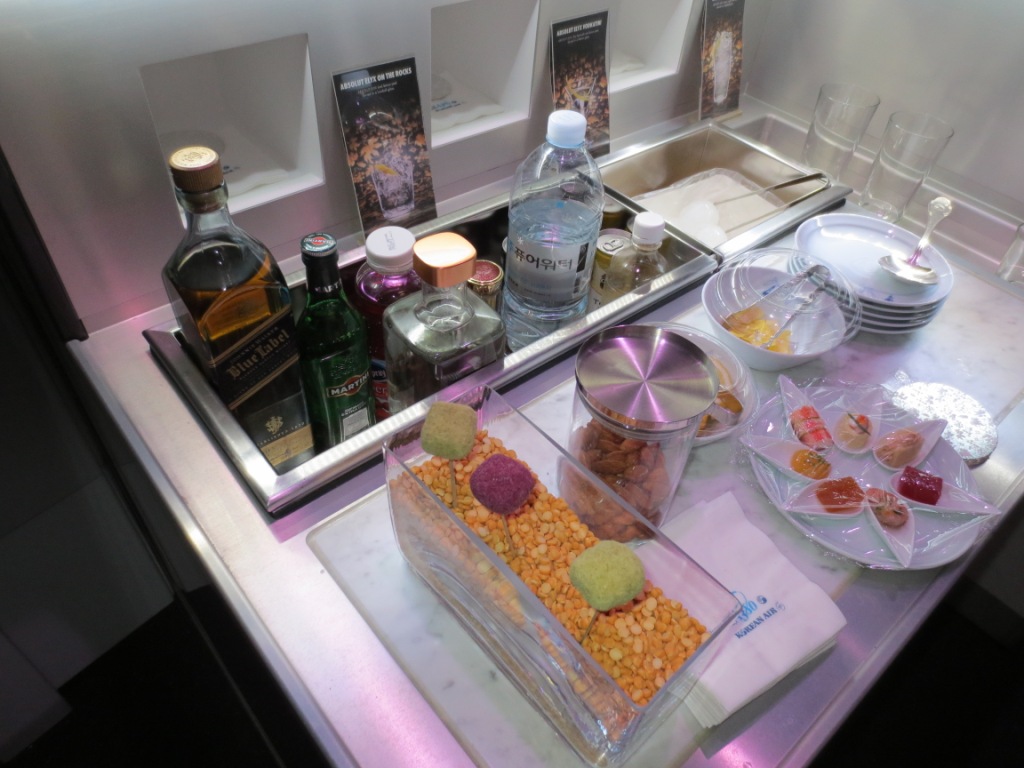 Open Bar, Korean A380 First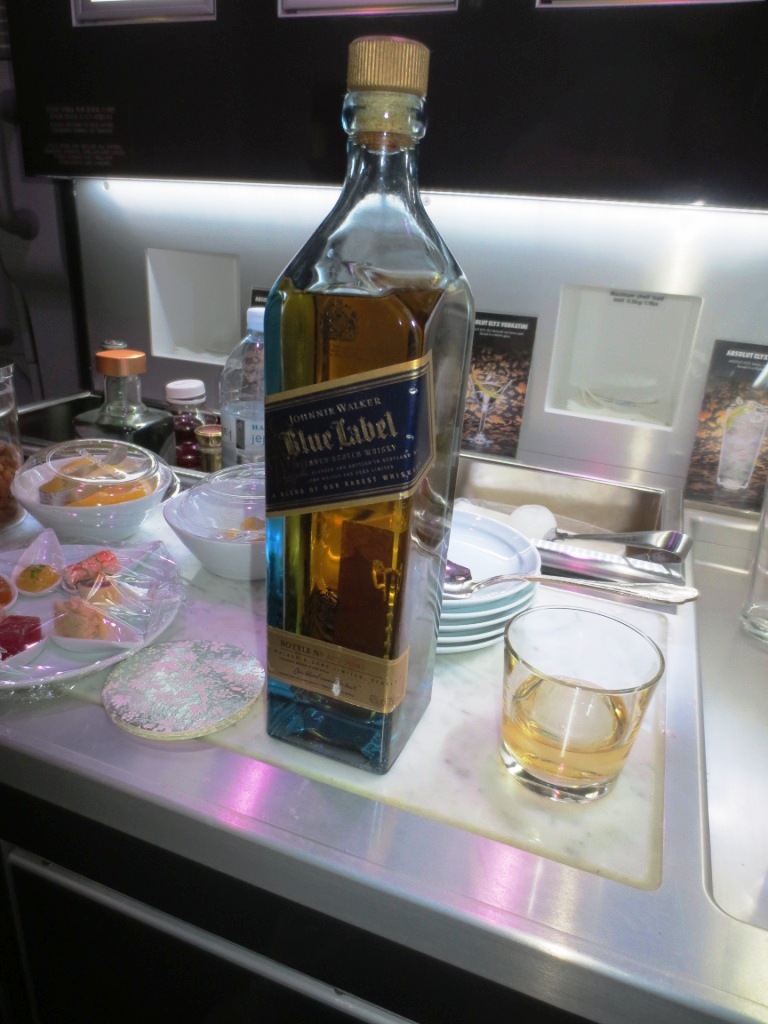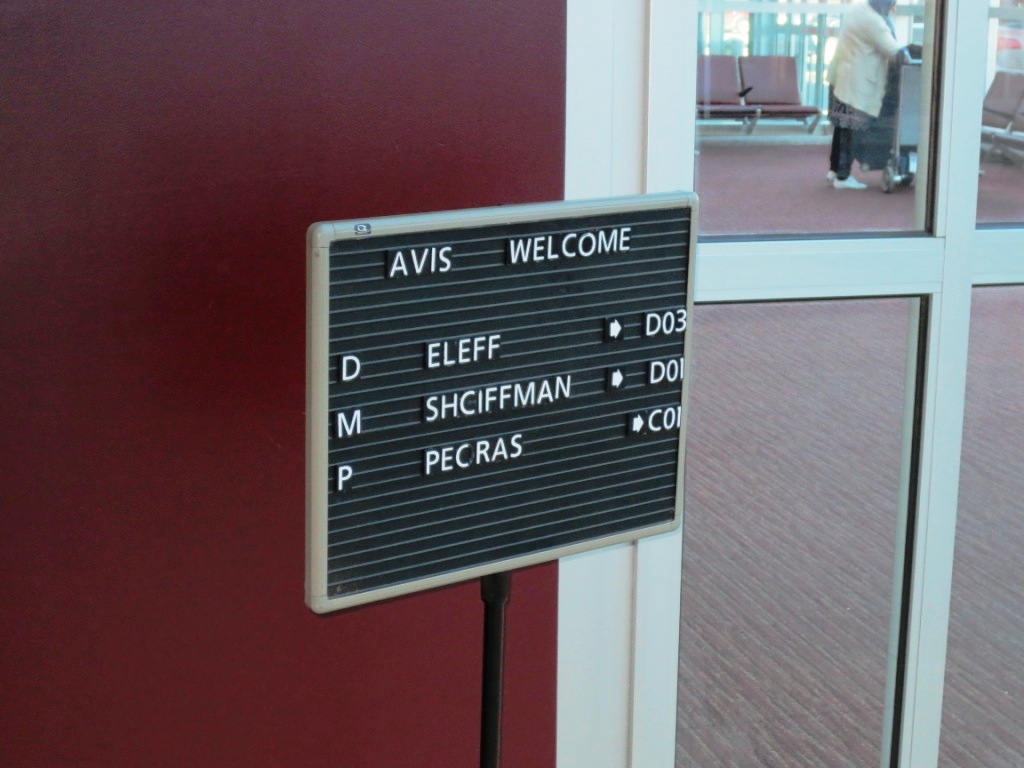 '
The flight left Seoul at 10:20am on Monday and got to JFK at 10am earlier that day, so I got to check time travel off my bucket list, even if it was on an A380 and not a DeLorean.  As there was nightfall on the plane I did daven shacharis for a 2nd time on Monday and wound up putting on tefilin 7 times that week.
The American flight from JFK to Cleveland didn't have award availability so that meant switching airports, but I took advantage of the 5 hour layover to rent a car, daven shacharis at the Rebbe's Ohel, and then catch lunch with 6 DDF guys at Amsterdam Burger Company that was arranged beforehand on the NYC DO thread.  The Mushroom And Caramelized Onion burger and the BBQ Pulled Beef Sandwich were great!  Well, not as good as Clubhouse Cafe, but that place is long gone unfortunately.  A couple guys got the Breakfast Burger which they raved about.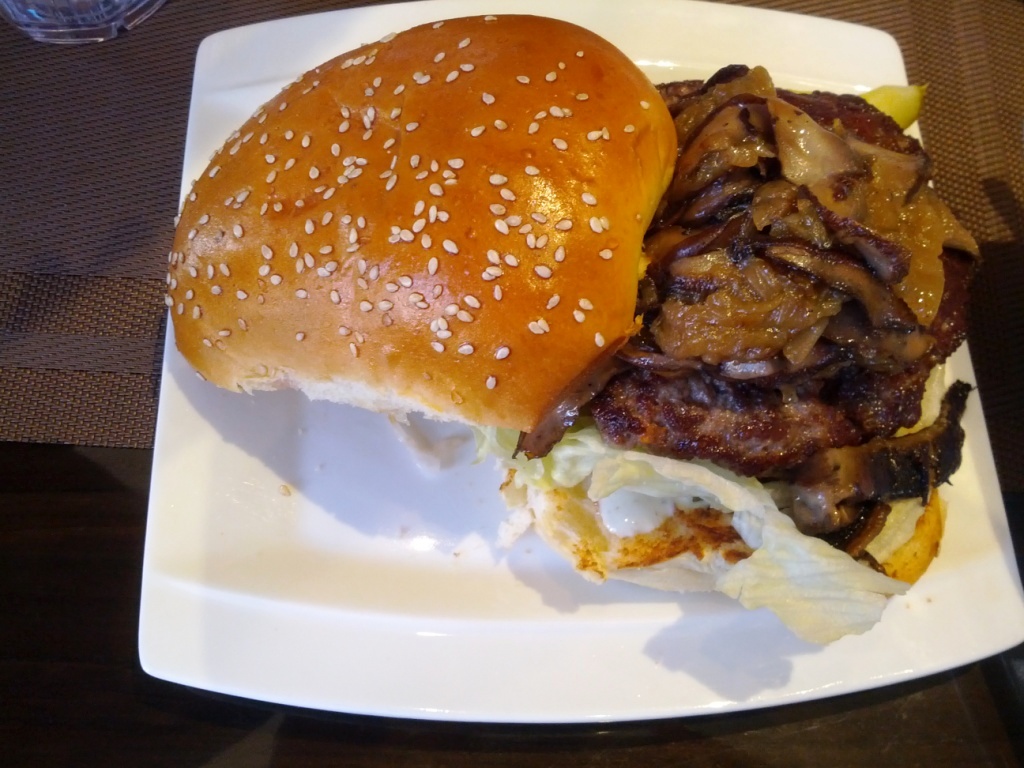 I may only have been away from home for a week, but this was a trip that I'll never forget!  You don't need to be away for a long time to have a trip around the world that will create a lifetime worth of memories.