-Find more articles like this by clicking on the "Trip Notes" tab on top of the DansDeals banner at the top of this site.
—————————————————————————–
Trip Planning:
I've long dreamed of staying in an overwater bungalow.  The main places where they can be found are in French Polynesia (Bora Bora, Moorea, etc) and the Maldives (pronounced Mahl-deeves).  Neither of which are easy to get to and both of which are among the priciest places to stay in the world with few good point options.
The long road to paradise.
I've played the credit card game so long and am sitting on such a stockpile of miles and points that it's hard for me to make the leap and justify travel with real out-of-pocket costs.  In the past couple years I've been lucky enough to travel around the world, From Argentina to the reefs of Australia, from stunning Kauai to romantic Paris, from pulsating Hong Kong to the canals of Venice, from serene Vancouver to ancient Jerusalem.  Always flying and staying in hotels using miles and points.  Experiencing all types of welcoming and unique Jewish communities and learning to appreciate and be humbled by the incredible world that Gd has given us.
Such extensive travels are a whole lot easier when you fly in business or first (less jetlag!) and stay in 5 star hotels all while paying with monopoly money.  Of all the hobbies that people have I don't know of any that can be accomplished with so little out of pocket expenditures than the one of miles and travel.  Flying around the world on a luxury trip that should cost $250,000 but was paid for by opening a handful of credit cards? What can possibly beat that?
Singapore is probably the finest airline in the world.  However they are notoriously stingy about releasing business and first class award seats to their partners.  That means you have to transfer AMEX points to Singapore and cough up cash to cover the fuel surcharges that they assess.  On short trips that's not too bad.  In December I flew with my wife in a Singapore A380 suite from JFK to Frankfurt for about 57K Singapore miles+$200 each in fuel surcharges and flew Frankfurt-Paris-Philadelphia-Cleveland for 50K United miles in business class while using 22K Chase points per night for 2 free nights in the normally $1,000/night Park Hyatt Paris.   But you would need about 175K Singapore miles plus $750 in fuel surcharges to fly from Newark to Male (pronounced Mah-lay), Maldives in business class.

Last July I wrote about exceptional availability on Singapore business and first class using United miles. I redeemed 120,000 United miles for a round-trip business class flight from Cleveland-Newark-Singapore-Male with no fuel surcharges.  United First on an A319 to Newark. Singapore business on an A340 from Newark to Singapore, the longest commercial flight in the world at 18.5 hours.  The A340 only has business class, there are no first or coach seats at all.  The flight is actually being discontinued in November due to low demand.  Then an A330 from Singapore to Male which had coach and business seating.  All I needed to find was an A380 to round out the Airbus lineup 😀
Unfortunately I booked for travel during the week of the Chinese new year, which meant that point options and indeed even paid options were extremely limited.  The best point option, the Park Hyatt Maldives at 22K points, was sold out of overwater bungalows and I wasn't about to fly to the other end of the world without an upgrade option for that.  Normally they charge $350 per night on top of the points to confirm an upgrade in advance from a beach villa to an overwater villa.  Same story with Hilton's Conrad Maldives which normally charges 50K points (they're actually raising this to a whopping 95K points starting for bookings created 03/28/13!) plus $350 for the confirmed upgrade.  The Sheraton and Hilton, neither of which have stellar reviews, were also sold out.  A couple of DDF users have stayed at the Constance Halaveli which has specials starting at about $600/night via travel agents or during limited times on Jetsetter, but they were completely sold out due to the holiday season as well.
As much as paying cold hard cash out of pocket for a hotel room is anathema for me, sometimes you just have to bite the bullet.  To limit the financial sting I changed from staying 5 nights in the Maldives to staying 2 nights in the Maldives and 2 nights in Singapore where I'd be able to stay for free.  I wound up booking an "Ocean Oasis" at the W Retreat and Spa.  They didn't even have any rooms available directly from SPG, but I found availability on a last-minute special on hotels.com and a coupon brought the price down under $1,000.  Insanely expensive and more than I'd ever dreamed of paying for a hotel room, but the other option would have been to reschedule the trip to when the Park Hyatt or Conrad had availability and that would have meant paying extra miles and fuel surcharges to get to the Maldives.  When I added in the fuel surcharges ($750 per person) and extra miles (55K) and the upgrade co-pay (roughly $350 per night) it didn't make any sense to push the trip off.
It's also worth bearing in mind that even once you get to Male you still need to shell out cash to get to your resort.  Most resorts are located on their own island, so you need to take an air taxi to get there which adds another $400 per person.  Same goes if you find mileage seats to Papeete, Tahiti, you'll still need a $400 flight to get to Bora Bora.  Bottom line, these places are not cheap even if you do stay with points.  The only real way to limit your costs is by staying fewer days, but it will still be a budget buster for most, especially if you want to confirm an overwater bungalow in advance so that you don't have to pay upgrade roulette on a once-in-a-lifetime trip.
36 hours of flying:
Sunday, 02/10, United 347, Cleveland-Newark, 4:50pm-6:33pm.
Sunday, 02/10, Singapore 21, Newark-Singapore, 11pm-6:30am+2 days.
Tuesday, 02/12, Singapore 462, Singapore-Male, 9:45am-11:15am.
Tuesday, 02/12, Maldivian Air Taxi, 1:15pm-2pm.
I used to hate connecting in delay-prone Newark.  Once I discovered New Kosher Special, a chinese restaurant that has free delivery to Newark I changed my tune.  The food is well priced and delicious.  Their Sesame Chicken may be the best I've ever had.  Egg Rolls are also very good and Hot & Sour soup (which I consumed in the food court before security) was delicious.
Hot and Sour Soup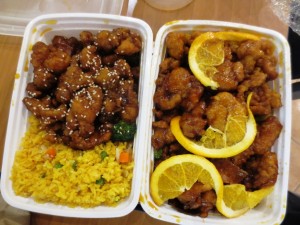 The Sesame Chicken Combo (left) is a better value and tasted better than the Orange Chicken dinner (right).
Singapore uses the SAS lounge in Newark, which did the job if nothing fancy.  There was also an attached Lufthansa lounge that was less crowded that I had access to as a Star Alliance Gold member.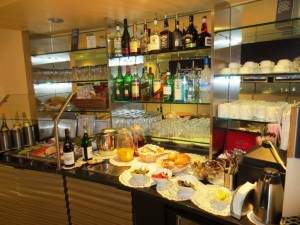 SAS Lounge Newark Open Bar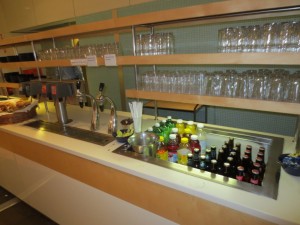 SAS Lounge Newark, always have to appreciate an open soda tap

The A340 that Singapore flies from Newark to Singapore has 100 business class seats, split into 3 sections and a 1-2-1 configuration.  I'd say that seats 30A and 30K in the rear section are the best on the plane.  The rear section of 34 seats was almost completely unoccupied, as most people tend to pick the forward sections.  Plus 30A/K are bulkheads, so they don't suffer from the narrow footwell that so many business seats suffer from.  Personally I have a hard time sleeping in some business class seats due to the narrow footwell and if you do as well you will definitely want to select a bulkhead seat on this plane.
The seat itself is wider and more comfortable than even the A380 Singapore suite! It is not as tall however as a bed and if you are taller than my 5'10" frame or if you do not have a bulkhead you may have a harder time falling asleep than I did.
The Singapore service, as always, was phenomenal, easily the best in the industry.  The flight attendants seem to know exactly when to bring you another glass of seltzer and when to leave you alone.  They had no problem finding space and storing the chinese food in their refrigerator for the flight.
As it's an all-business class flight you don't receive any pajamas, so I brought along my own from a previous flight as did most other people on the plane.  They do give you nice little booties to wear and an eyemask.  The bathrooms are stocked with lots of other amenities and have nice (disposable) cloth towels which are very welcome over the usual paper towels.
There was wifi on the flight but service was extremely spotty and very slow.  For all intents and purposes it was unusable, which was too bad.
The flight flies over the North Pole and never hits daylight, you take off at night and arrive in Singapore while it's still dark.  I never will have an Alef Adar 5773.
I drifted off into 8 hours of solid sleep before watching Argo, which was just a fantastic film, and Lincoln, which any history buff will love.
There were 3 meals served on the flight, typical kosher food when departing the USA, nothing special.  They were able to find some kosher wine which I had requested in advance via email, so that was nice.  The flight never really dragged on for me as I thought it might and indeed I was sad when we started landing, the experience had been that good!
The bottom line is that there's really nothing quite like Singapore, they just do an awesome all-around job and flying with them is like being transported to another era when flying was truly special.  It's something that everyone should experience, even if just on the short flight from JFK to Frankfurt.
If you do want to fly on the longest flight in the world before it's discontinued, consider flying it one-way to save on the fuel surcharges.  For just the one-way Newark-Singapore nonstop leg you'll need to transfer 73K points from AMEX to Singapore and cough up $312 in fuel surcharges. And don't forget to confirm that you can reserve a bulkhead seat!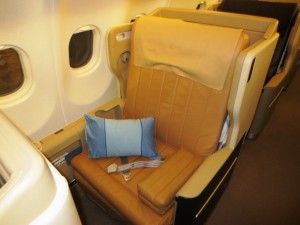 Singapore A340 Business Seat, wide and comfy.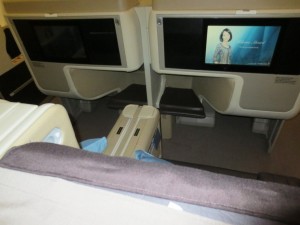 I found the narrow footwell on non-bulkhead seats to be bothersome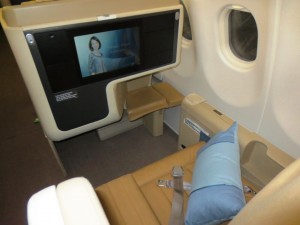 The narrow footwell on a window seat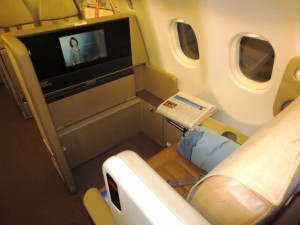 The bulkhead has all the space in the world for your feet. There is a panel that drops down as well for your feet.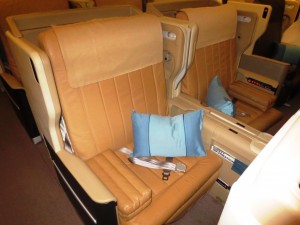 Middle seats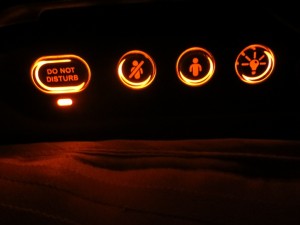 Don't want to get waken up at mealtimes? Just push the DND button!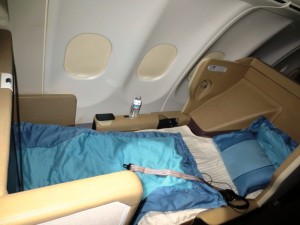 Made into a bed.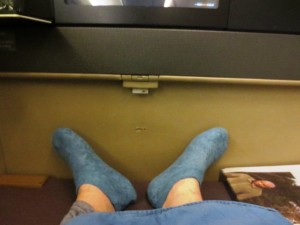 Had to grab a pic of the Singapore "booties"
Chasing the night.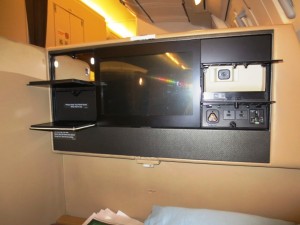 A vanity mirror and lots of places to charge your devices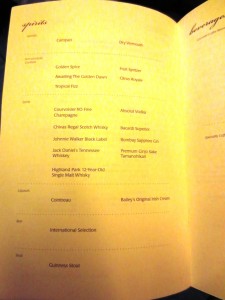 The only part of the menu that Orthodox Jews care about…what's the Single Malt going to be 😀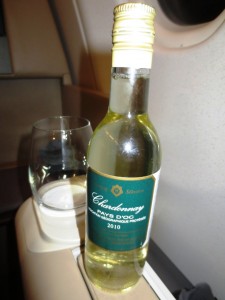 Kosher wine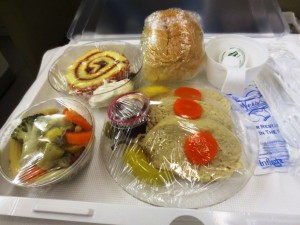 Meal #1, can anyone explain the gefilte fish on a plane obsession? Who thinks this stuff up???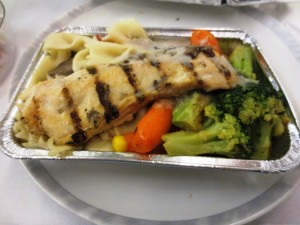 Meal #1, bland dry chicken but the pasta wasn't bad.
Meal #2, pastrami on a roll was good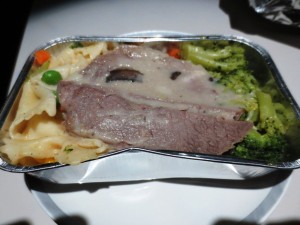 Meal #2, mystery meat!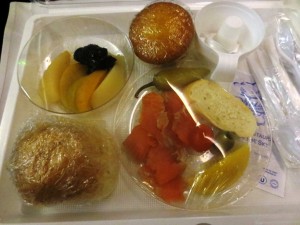 Meal #3, muffin was decent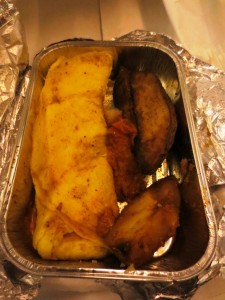 Meal #3, does anyone ever touch the rubbery eggs on a plane?
Upon landing in Singapore on Tuesday morning I had access to their SilverKris lounge.  Nothing fancy but again it did the job.  The shower rooms are quite small, but it felt so great to take a shower after such a long flight.  They had decommissioned pay phone rooms that made for the perfect place to daven shacharis.
The business class from Singapore to Male was pretty good for a short-haul flight and once again the staff on the flight was just phenomenal.  They were worried that they may have trouble sourcing a kosher meal in the Maldives for my return trip and offered to store kosher food in Male for my return.  The Hermolis meal, sourced from London, was pretty good though it was all fish.  The seat itself was quite comfortable, but it doesn't come close to being lie-flat.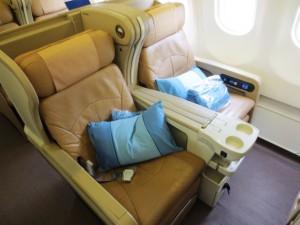 Singapore A330 business class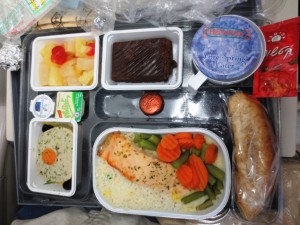 Hermolis kosher lunch in coach, Singapore-Male
Hermolis kosher lunch in business, Singapore-Male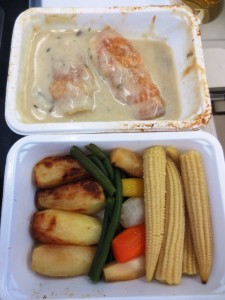 Hermolis kosher lunch in business, Singapore-Male
Arrival:
The Maldives, a nation comprised of over 1,000 islands, is a Muslim country having been converted by force from Buddhism to Islam in the 12th century.  That being said I didn't feel any discrimination even with my yarmulkah and tzitzis on display.
All bags are scanned for contraband items like alcohol and pork.
Upon clearing immigration, a W Hotel representative took us to get our bags weighed.  All bags, even carry-ons are weighed and you are only allowed to bring 55 pounds per person along for free.  Extra weight is charged at $1.80 per pound.  They only charged us for overweight bags on the way to the hotel, not on the return.  There is a wonderful W lounge to wait in while you wait for your next flight.  Tons of delicious exotic fruits along with free drinks and Wi-Fi made the connection time go by in no time.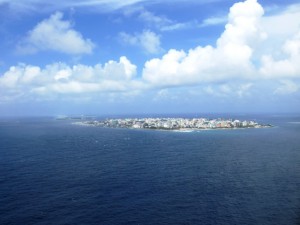 Male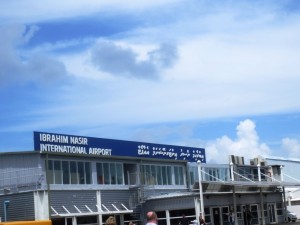 Walking from the plane to the immigration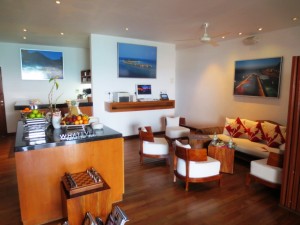 W arrivals lounge
W arrivals lounge
The seaplane you take from Male to your hotel is definitely a unique experience.  If you have noise cancelling headphones you'll definitely want to take them out before handing over all of your luggage as these things are noisy!  It was my first time taking off from sea, but it's just incredible to see a plane take off from the water.  The seaplane cruises along at 160mph at about 3,000 feet in the air.  The plane was taking people to 3 hotels and we were the 2nd stop.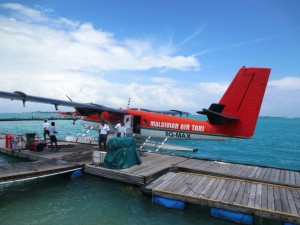 Seaplane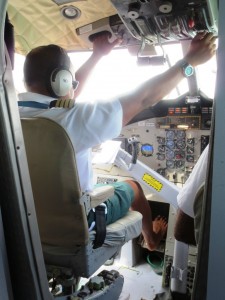 Barefoot? You better believe it!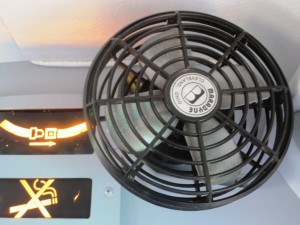 Cleveland rocks!
The W sure knows how to handle arrivals.  About a dozen employees wait for your arrival and wave as you land.  It really is a nice "Wow" touch.  They all introduce themselves as you walk past them, it's quite a show and it's nice to get to meet everyone that way.  After landing they give you a tour of the island via golf cart before bringing you to your villa.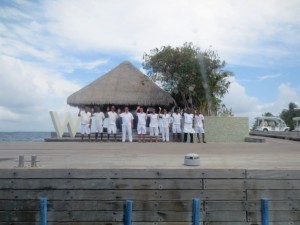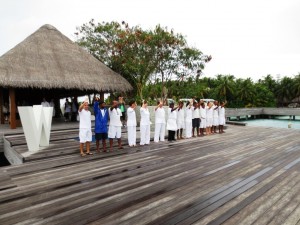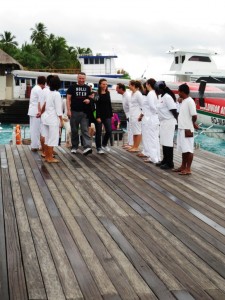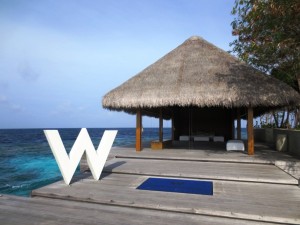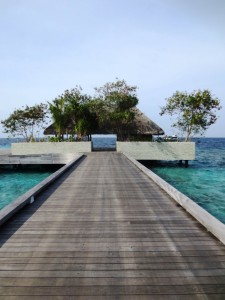 Arrival area
There are lagoon view overwater bungalows and non-lagoon views.  The lagoon view bungalows are much less windy and face pretty turquoise waters, but they have little privacy.  The non-lagoon view bungalows are far more private.  All villas have their own personal plunge pools.
There are also beach villas.  For the life of me I can't understand why anyone would fly to the end of the universe and stay in a beach villa, but they were all occupied.  They have little privacy as the villa next door can see into your pool and lounging areas.
The island is quite small, it takes just 6 minutes to walk around the entire island.  The hotel staff all stay in dormitories on the island, where some live for years at a time.
The whole setting is quite idyllic.  The warm turquoise waters that you can enter right from your villa are oh so inviting.  Although the hotel was completely full, the island itself never felt crowded.  Sunsets are the stuff that dreams are made of.  The nighttime sky is full of more stars than you've ever seen, sitting out and staring up to the heavens is just so serene.
Snorkeling gear is free and you had better go while here.  Putting on the mask opens up an aquarium of wildlife including the prettiest fish you've ever seen.  Did I mention the water temperature is just perfect?  There are marked channels so that you can swim out into the clear ocean without brushing up against coral, and the wildlife in those channels is just incredible.  Plus the main channel in front of the main beach is very protected from the ocean's current.  No, snorkeling isn't easy with a moustache, but using some vaseline can help create somewhat of a seal between your mask and face so that your mask won't leak too badly.
Similar to Hawaii, I found that the ocean was calmer and better for snorkeling in the mornings.
I'm not the world's best swimmer and once you make it through the channel the ocean plunges from a depth of a few feet to hundreds of feet.  I didn't care for the life-vests that they provide in your room that ride up to choke you so I went to the watersports center to get a body vest.  There's normally a charge, but they'll be happy to provide you one for free if you bring it back to them when you finish snorkeling.
We also kayaked around on a glass-bottom boat, which was also free of charge and a fun activity.
Paid activities included boating to your own private island, scuba-diving, nighttime snorkeling, and more.  These activities aren't cheap.  Surprisingly they don't offer Jet-skiing.
There are self-serve supply stations scattered throughout the island with free drinks, snacks, suntan lotion, and beach towels.  So awesome.
The spa is located in a villa overlooking the water and treatment prices were pretty reasonable.
The hotel does have a kosher menu and though they do maintain separate utensils and cookware for kosher items I personally wouldn't trust it.  It's also quite pricey.  For my free Platinum breakfast though they did find items like packaged cholov yisroel cheeses and fruits to enjoy.
After 2 nights and 3 days though I had done more snorkeling, kayaking, and swimming around than I needed to and was quite sore from it all.  I know most people come here from anywhere from 5-10 days but I would definitely get island fever long before then.  I'm not one to just laze around all day, though I did my share of that too.  It's a long way to travel for just 2 nights but I experienced enough to know that I loved it and that I'd return.  I didn't regret having just 2 nights, I was excited about being able to explore another city and eat from an actual kosher restaurant!
The W resort employees couldn't have been nicer and more helpful, so kudos to all of them for making the stay so enjoyable.  They all really put on a friendly face and try to help without being too "in-your-face" that I experienced at places like the S. Regis Kauai.  This truly is a 5 star resort and is probably the nicest hotel I've ever been to.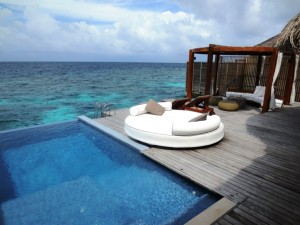 Ocean Oasis Villa.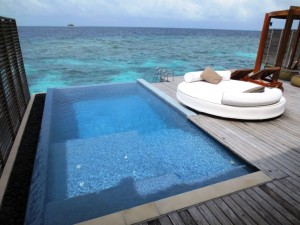 Ocean Oasis Villa.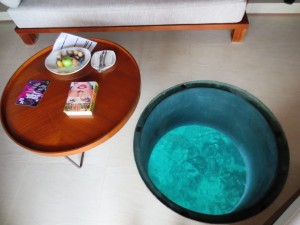 Ocean Oasis Villa, glass-bottom floor.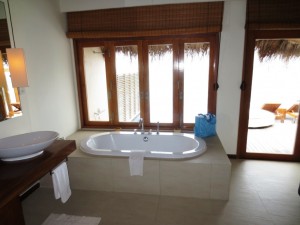 Ocean Oasis Villa.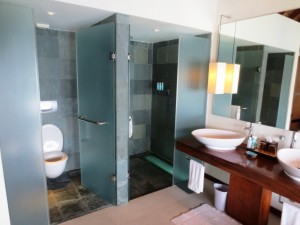 Ocean Oasis Villa.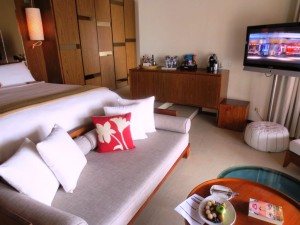 Ocean Oasis Villa.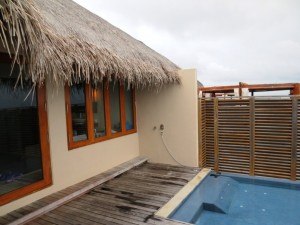 Ocean Oasis Villa, outdoor shower
Ocean Oasis Villa
Ocean Oasis Villa Ceiling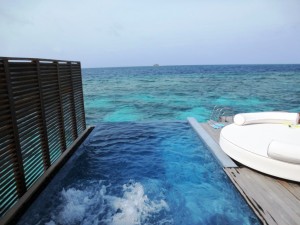 Ocean Oasis Villa jetted plunge pool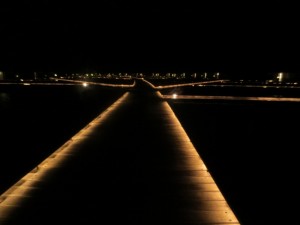 Ocean Oasis Villas at nighttime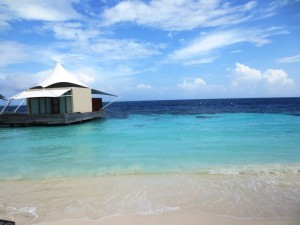 Spa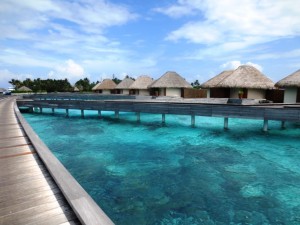 Ocean Oasis Villas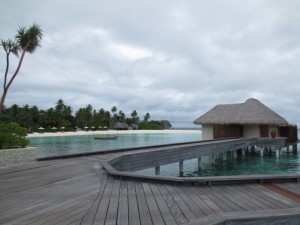 Ocean Oasis Villa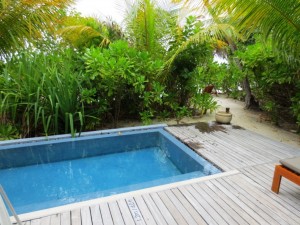 Beach Oasis Villa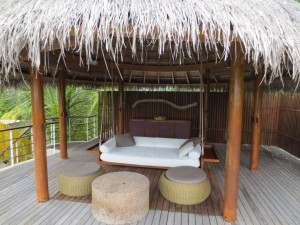 Beach Oasis Villa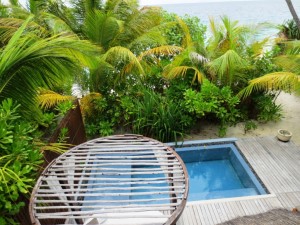 Beach Oasis Villa
 Beach Oasis Villa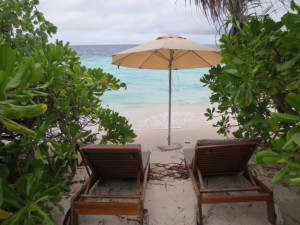 Beach Oasis Villa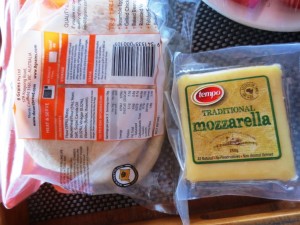 Random kosher items they found for breakfast…with yellow flags!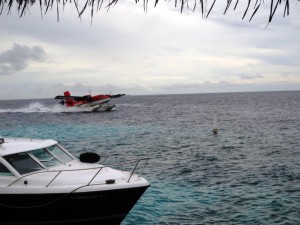 Landing seaplane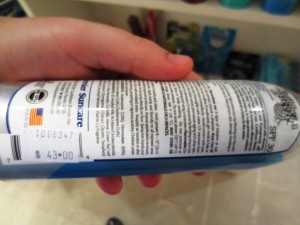 Yup, that's US Dollars. If you want the spray-on stuff bring your own!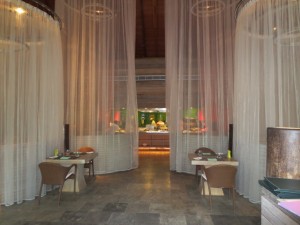 Restaurant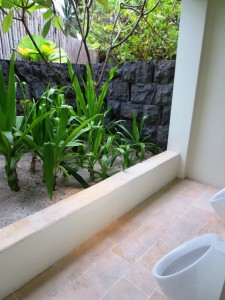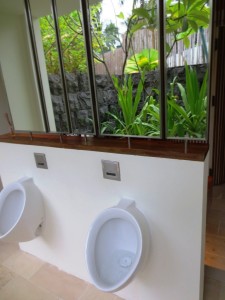 It's not every day that I post urinals, but it's not every day that you see a urinal with an ocean breeze!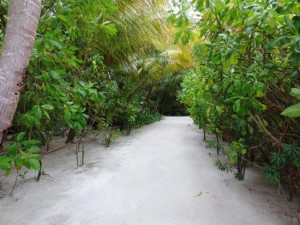 The path that circles the island.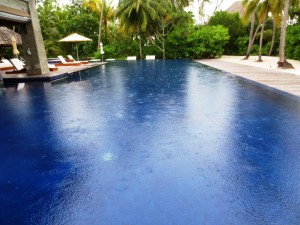 Hotel infinity pool.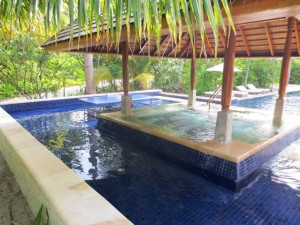 Ping-Pong table in the pool
 Get your toes wet while eating breakfast
Sunset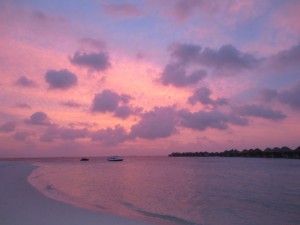 Sunset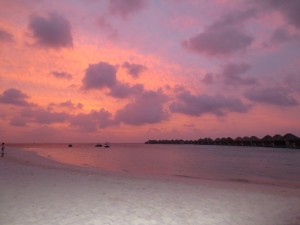 Sunset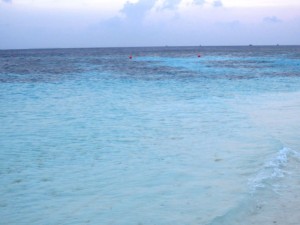 Warm turquoise waters are the allure, the orange balloons mark the snorkeling channel.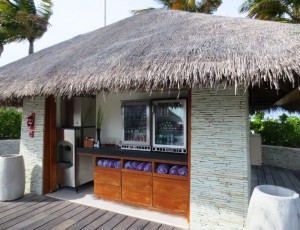 Refreshment huts are located throughout the island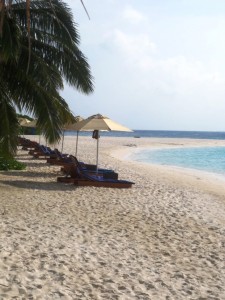 The hotel was full but the beach was not.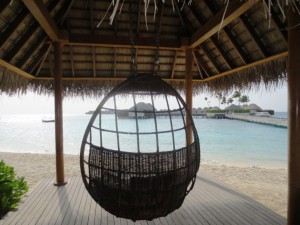 Rock your worries away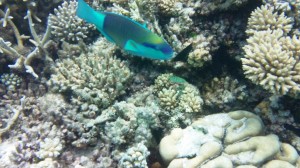 A waterproof camera allows you to capture the magic under the sea. Click on the pictures to expand them but unfortunately a camera only captures a tiny fraction of the experience of being there!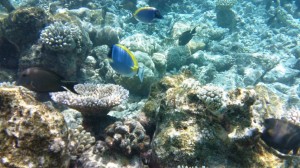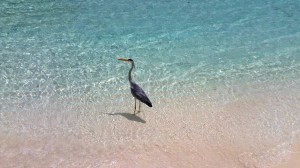 Looking for lunch?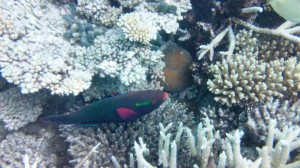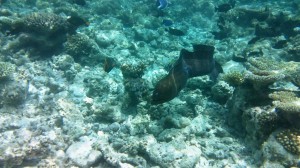 An eel!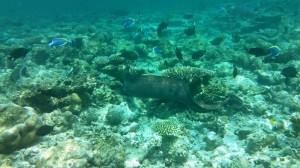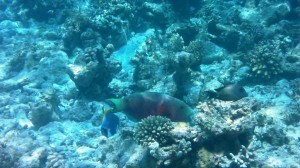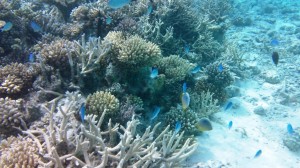 Like being inside an aquarium!
Our seaplane back to Male departed at 5pm and we had a 6 hour layover in Male.  The hotel provides for a free private guided tour of Male, which is accessible via a $1 boat transfer from the airport.  As it was so late most of the markets and stores were closed, though we did get to see the sights of the compact city.  I can't say I'd be comfortable walking around without the guide, but it was fine with him.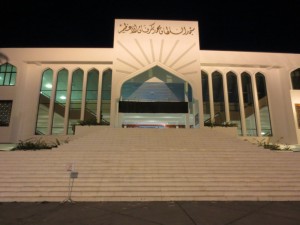 Islamic Centre, Male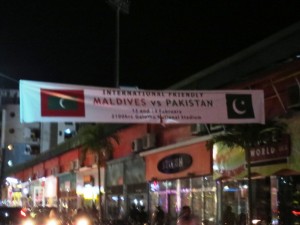 We though better of going to that night's soccer match.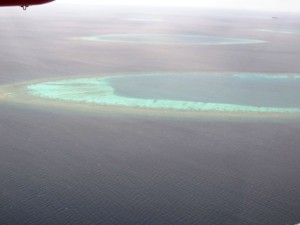 View from the seaplane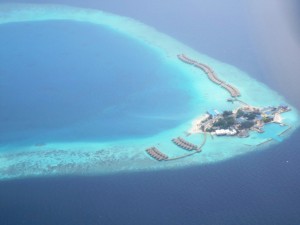 View from the seaplane
Back at the airport there is a generic lounge to wait in that has really slow internet service.  Still it was way better than sitting in the awful and uncomfortable dated terminal.
As there were several empty rows of 4 in the middle of the plane in coach I decided to "rough it" with a ghetto upgrade.  You know the one that is lie-flat due to there being a empty row of 4 to stretch out in.  It sure beat a regional business class product as I was able to sleep without issue.  But before going to sleep came the biggest surprise.  The kosher meal was incredible, the best tasting kosher airplane meal I've had in my life!  It was sourced from Louis' in Sydney and included 2 entrees and delicious snacks and desserts.  Singapore coach service is just great, several rounds of hot towels, great food, plenty of drinks, and friendly service. What a concept!
We arrived fresh and ready to go for 2 nights in Singapore!
Dinner menu.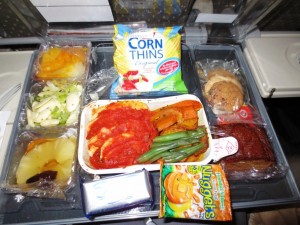 The chicken breast was moist and flavorful, the cookies were great, the honey cake was far better than what you would ever expect from honey cake, the corn thins were a nice healthy snack, and rice-paper nougat reminded me of the fun times we had in Sydney.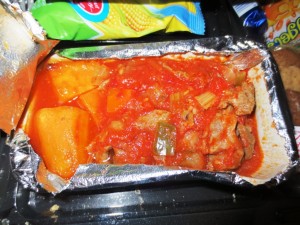 A 2nd hot entree came after the chicken.  Now I'm no expert in Lamb, but it was succulent and awesome!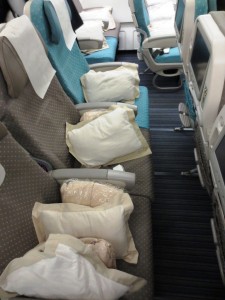 The ghetto upgrade, just find a row of 4 empty seats and upgrade yourself! Checking the seatmap just before boarding was great for locating such rows and just sitting in them upon boarding.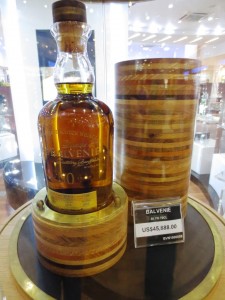 Wow, just wow.