Earn Marriott points on cards like:
---
I've used 8 figures of miles earned from credit cards to fly myself and my family around the world in first class cabins and stay in five star hotels that would have otherwise cost millions of dollars. There's no better hobby in the world. In 2016 and 2017 alone I burned nearly 4 million miles. But just as memorable as a refreshing shower or a couples suite on a plane, are the sports experiences that I've redeemed miles for.
Because who would want to spend a month in a stuffy Manhattan hotel anyway 😉
Daniel Eleff cashed in 1.06 million Starwood Starpoints for right to throw 1st pitch at Game 7. Points = 30+ nights at St. Regis New York.

— Darren Rovell (@darrenrovell) November 2, 2016
SPG Moments allows you to use points for all kinds of neat experiences, and there are some awesome ones up for bid and instant redemption right now.
In 2013 I used 25K United miles for 4 box seats to an Indians game. With one little bonus: In middle of the game I got to run onto the field and steal 2nd base! People around the stadium were shocked to see someone walking around with 2nd base. I got the base signed by several players, including the winning pitcher that night, and it hangs in my office today. It still has the Jacobs Field dirt on it. Truly a thrilling experience for a die-hard Tribe fan.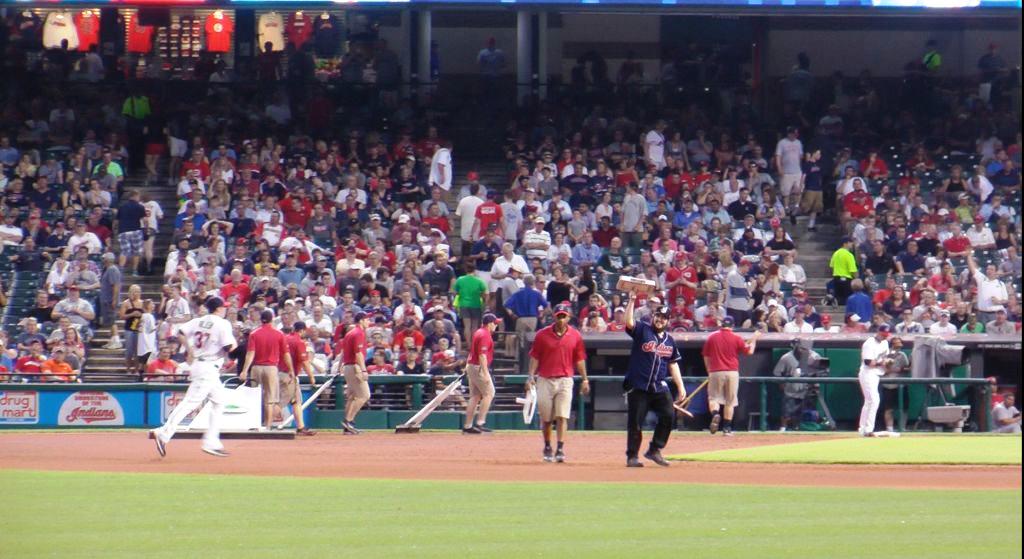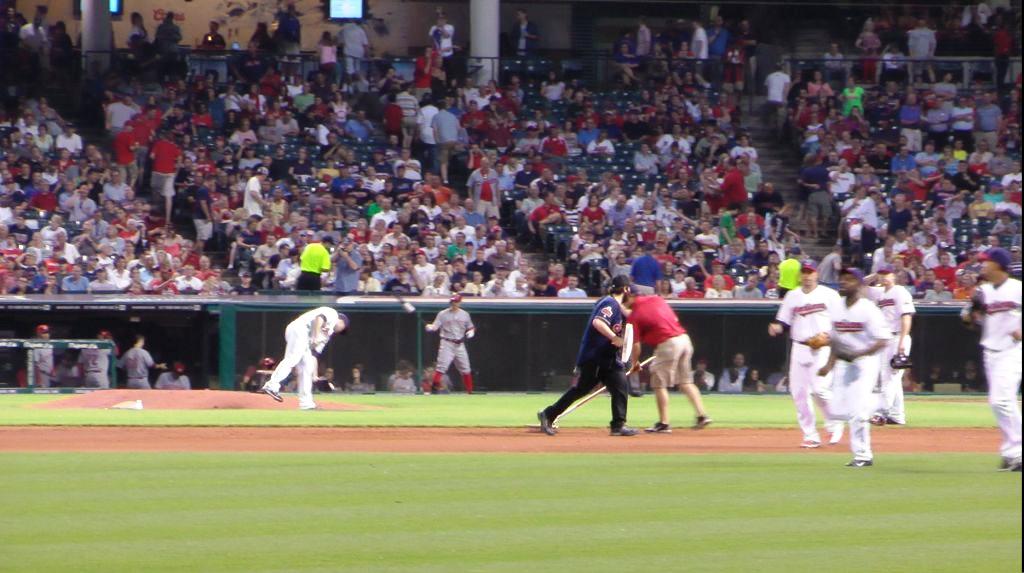 That inspired a reader to give their kid an awesome Bar Mitzvah present for an LA sports fanatic, throwing at the first pitch at a Dodgers game:
In 2014 a DDF member won an SPG auction for the SPG Luxury Suite in Wrigley Field when the Cubs hosted the Yankees. He invited several members to a DO, so I flew to Chicago for the day on a 4.5K Avios award.
SPG even provided kosher food for us in their awesome suite!
In August a team of DDF members got together and bid to play in a softball tournament in Wrigley Field. We had an incredible time playing ball and once again SPG hooked our team up with kosher food.
In October 2016, SPG auctioned off the rights to throw out the first pitch before game 3 in Wrigley Field. I wrote about it then and asked SPG to auction it off again for a game that wasn't being played on Shabbos.
SPG pulled through and I spent 1.06 million of my Starpoints for the experience of my lifetime. I still have to pinch myself to believe it.
I won't rehash it again. You can read all about it here:
My grandfather bid and won 2 World Series tickets for game 2 last year for 124K Starpoints. They didn't say where the seats would be, but they were pretty good seats. For some reason they decided to white out the $255 face value on the tickets, though tickets at that price in that location weren't available to the general public.
SPG came up with awesome seats in the 2nd row Diamond box behind the dugout for my first pitch experience. These seats were a row behind the Cubs owners seats and similar seats were selling for over $35,000 each on Stubhub before the game!
Officially I was only supposed to bring 1 guest with me onto the field, but SPG actually allowed me to bring 3 guests, so I brought my brother JJ, my grandfather, and my wife with me onto the field. All of us got to stay for the rest of the game without needing separate tickets. MLB did not allow me to bring Charlie Sheen, aka Indians closer Wild Thing in Major League, onto the field as a guest…
I got to game 7 at about 7pm and threw out the first pitch at about 7:30pm. After I got to toss the first pitch, Jim Thome got to throw a first pitch as well.
The first pitch auction this year is being offered on Friday, October 26 in Los Angeles. The game starts at 5:09pm PDT, so I'd imagine that the first pitch will take place between 4pm-4:40pm. Sunset in LA as at 6:06pm, so theoretically you could throw out the first pitch and still be home for Shabbos…
Note that Marriott will refund the points used for any games that aren't played.
Here is the list of current sports moments.
World Series moments include:
Last year a DansDeals readers tossed the first pitch before game 7 of the World Series, so if this series goes the distance we may see that offered for the 3rd year in a row.
Will you try to throw out the first pitch at the World Series this year?