DD sports posts:
–Trip Notes: An Indians Fan Playing Ball In Wrigley
–October Redemption Time In Believeland
–But What Would They Do If An Indians Fan Took The Mound?
–Trip Notes: The Redemption, The Comeback, The Renaissance, The Chasedown, The Block, The Shot Part 2, The Tearjerker; Call It What You Want But This Was A Night To Remember
–Can The Cavs End Cleveland's Curse?
–Better Than Any First Class Suite…Taking My Son To His First Ballgame
–Trip Notes: Hall Of Fame Trifecta And Fenway Park In 72 Hours
–Trip Notes: A Father & Son Day Trip To Chicago For A Ballgame And A DO
–Stealing 2nd Base: My Coolest Use Of Miles Ever?
–My First Non-Travel Mileage Redemption
–Take Me Out To The Ballgame…Buy Me Some Kosher Chili And Ribs.
–Manny Being Manny…
---
Follow my travel and sports obsession on Instagram @DansDeals.
On November 2nd, 2008 I married Mimi in Overland Park, Kansas. We were young and naive at 23 and 21 years old, but we were ready to take on the world and life's adventures.
Since then we've had 2 amazing kids that have brightened our life as we explore the world together. I couldn't possibly ask for a better wife or mother for our children.
From our August mileage run to Boston that earned us more than 300,000 miles:
We've traveled from Argentina to Tasmania.  From Banff to Phuket. From Paris to the Whitsunday Islands. From the Maldives to Zurich.  From Sydney to Venice.  From the spiritual hills of Jerusalem to the awe inspiring Mauna Kea and Na Pali cliffs.
All in first class.
All on points.
Sometimes it's been crazy, like when I took advantage of a glitch for free first class tickets to Buenos Aires that required leaving the house in less than an hour. Other times it's worked out better, like when I used miles to buy out an entire first class cabin to Brazil.
Our kids have flown on over 100 flights thanks to the mileage game!
But travel is just one of my passions.
The other big one is sports.
As a 5th generation Clevelander on both my mother's and father's side I'm a die-hard Cleveland sports fan.
As a 90s kid I sent in hundreds of postcards and won tickets to watch the '95 World Series. Earlier that year I got nearly whole team's autograph (Belle and Murray were the holdouts) when we stayed in the Westin Harbour Castle Toronto where the Tribe was staying.
I cried when they lost it in game 7 in 1997 despite there being no crying in baseball.
I had World Series tickets in 2007 that lay unused thanks to Boston coming back from being down 3-1.
I was there when when the Cavs got swept out of the Finals in 2007, though my grandfather and I left a few minutes early when he told me how his dad and him left just before watching the Giants sweep the Indians in 1954.
But he went to World Series games in 1948 as a 9 year old, the last time the Indians won it all. Nobody younger than him can even remember it.
In 2013 I drove with my brother JJ and my grandfather to the NFL, MLB, and NBA hall of fame and then finished the trip by watching Tito's Indians beat up on the Red Sox from the front row of the Green Monster. Enough memories to last a lifetime.
Later that year I got to steal 2nd base in middle of an Indians game thanks to 25K United miles. It was by far my coolest use of miles ever.
Running onto the field in the top of the 7th…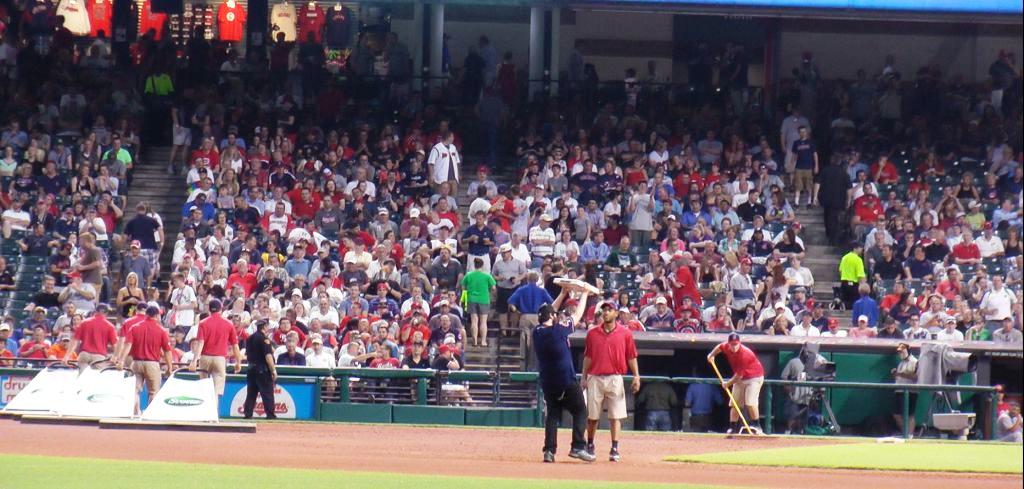 …and stealing second base!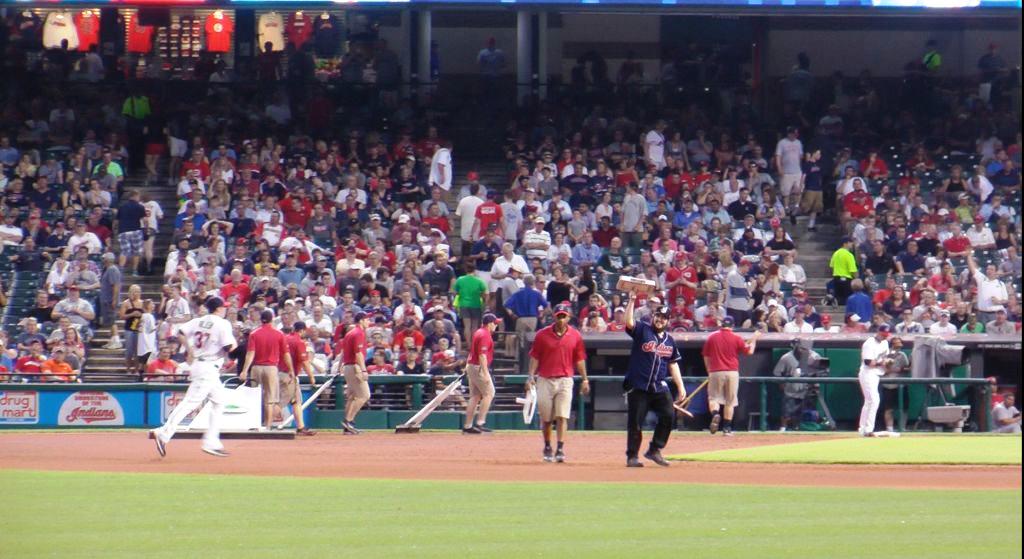 Making off with my loot.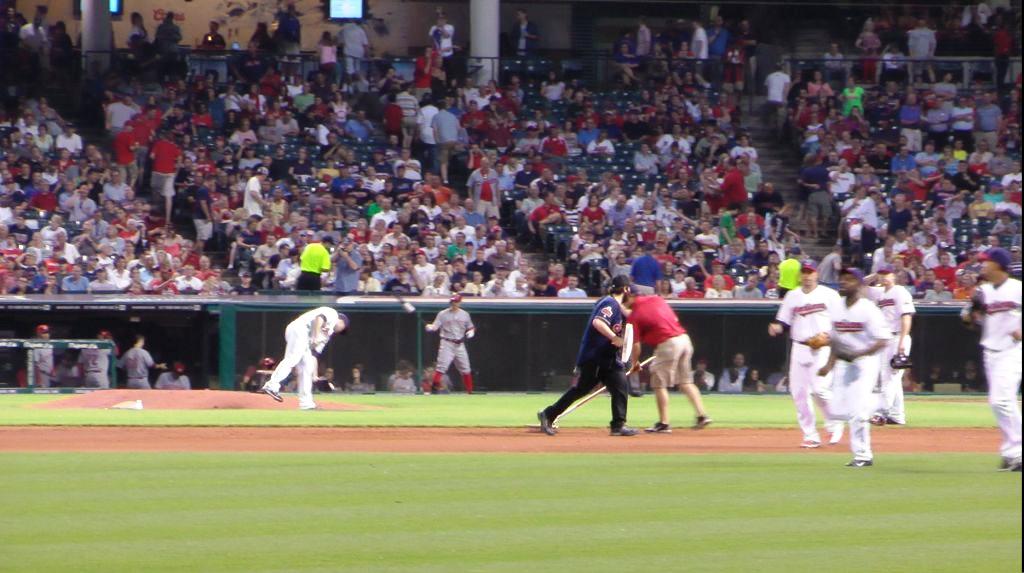 I called to get winning pitcher Justin Masterson's attention after the game by saying that I had stolen second base from the game.  When he looked up and saw the base he was shocked and exclaimed, "I thought you were kidding, you really do have second base!!!"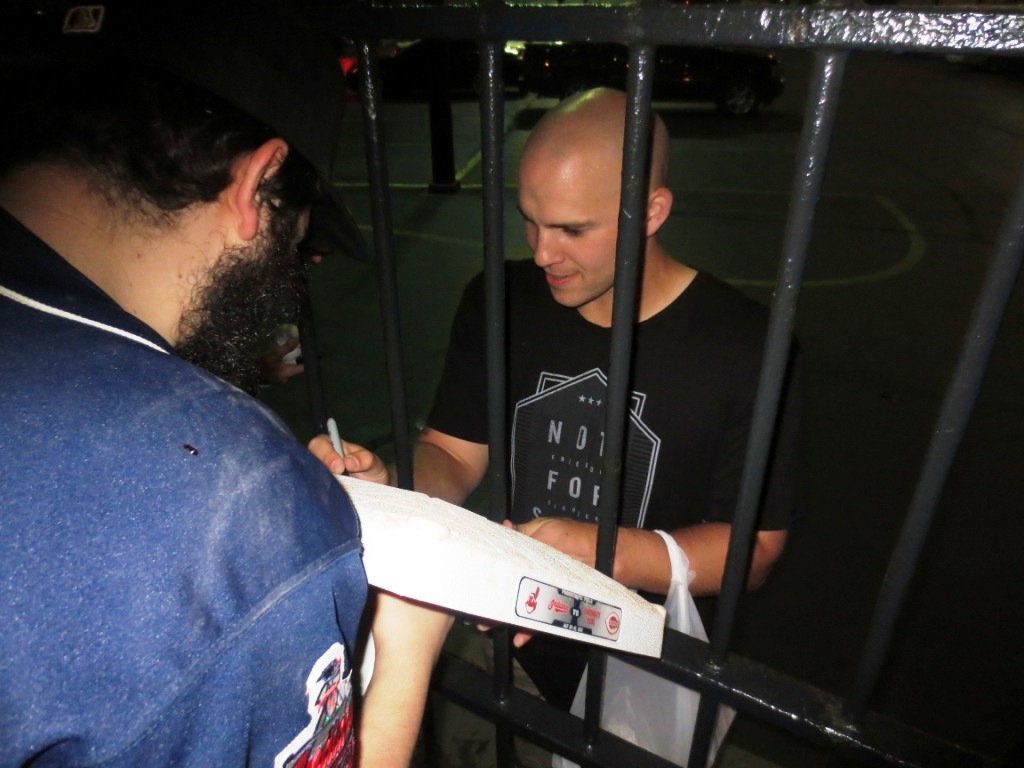 Later that year I watched Salazar try to win the Wild Card game, but the Indians bats didn't show up that night. The Jake was on fire that night, the atmosphere was just like the 90s again.
In 2014 I took my son to his first ballgame. It was an amazing moment for me. By 2015 I was already bringing him to Indians away games. At 5 years old today he knows every airplane type and the Indians starting lineup. His favorite airplane is the 747 and his favorite Indians player is Jason Kipnis.
In June I flew to Oakland and finally got to witness a Cleveland team win it all. The nonstop United flights to and from Cleveland that day were like party buses.
I went to the parade with my grandfather and my son. Another bucket lister checked off.
But the Tribe was always where my heart was. When would their turn be?
Earlier this year I got to play Softball in Wrigley Field thanks to Starwood Starpoints.
Some people didn't like that I put on my Indians hat at a Cubs event. I told them all and wrote online at the time that I was just previewing the 2016 World Series.
Before this series I wrote my prediction on the DansDeals Forums:
And here we are, game 7!
I'm excited beyond anything I can describe in writing.
But just one more thing:
I won a Starwood auction to throw out a ceremonial first pitch before the game tonight!
I'll be pitching just before Jim Thome, who has a statue just outside of the ballpark.
It's a lifelong dream come true.
Now, I'm no athlete. Not by any stretch of the imagination.
It's entirely possible that it will wind up like this, just a bit outside:
But I can take it. Being a meme doesn't faze me. Just the experience to be on the field before game 7 in the World Series will be incredible. And having my wife by my side on our anniversary only makes it that much more sweet.
The only way it could possibly get any better is if the Indians win it all tonight!
Go Tribe!
---
-Bid on your own SPG Moments packages with your Starpoints or Marriott points.
American Express is a DansDeals.com advertiser.
-The Starwood Preferred Guest® Credit Card from American Express offers 25K points for spending $3,000 in 3 months.
-The Starwood Preferred Guest® Business Credit Card from American Express offers 25K points for spending $5,000 in 3 months
---
Join the 75,900 people who follow @DansDeals on Twitter and you'll get a tweet when a deal is posted on DansDeals.com!
You can even have Twitter send you a text message whenever a new deal is posted.