Continued from:
–8 Years Ago Was The Biggest Night Of My Life, Tonight Will Try To Come Close As I Toss A Ceremonial First Pitch At Game 7 Of The World Series
–On The "Value Proposition" Of Spending A Million Starpoints For The Experience Of A Lifetime
–Video And The Experience Of Throwing Out The First Pitch In Game 7 Of The World Series
---
1. I still grin from ear to ear thinking about throwing out the first pitch before Game 7 of the World Series. A true childhood dream come true. Being able to walk onto the field with my wife (on our anniversary no less) and my grandfather made it that much more special.
Points come and points go, but there are only so many moments in life like that. How do you place a value on them?
2. I've always been of the opinion that miles are at their best when they're used for dreams. I've redeemed my miles for countless aspirational redemptions and there's no doubt that's what makes mileage game so much fun. There wouldn't be thousands of DDF obsessives if it was just about a free ticket to Miami.
Things I could never have imagined as a child are coming true.
I would never pay the asking price for a first class ticket, so the exact value obtained is fairly meaningless. My point is that the bottom line value goes out the door when you're fulfilling your dreams.
When I write about flying in a Singapore couples suite for dinner in Paris or about taking the field before game 7 the message to my readers is the same: Dream big!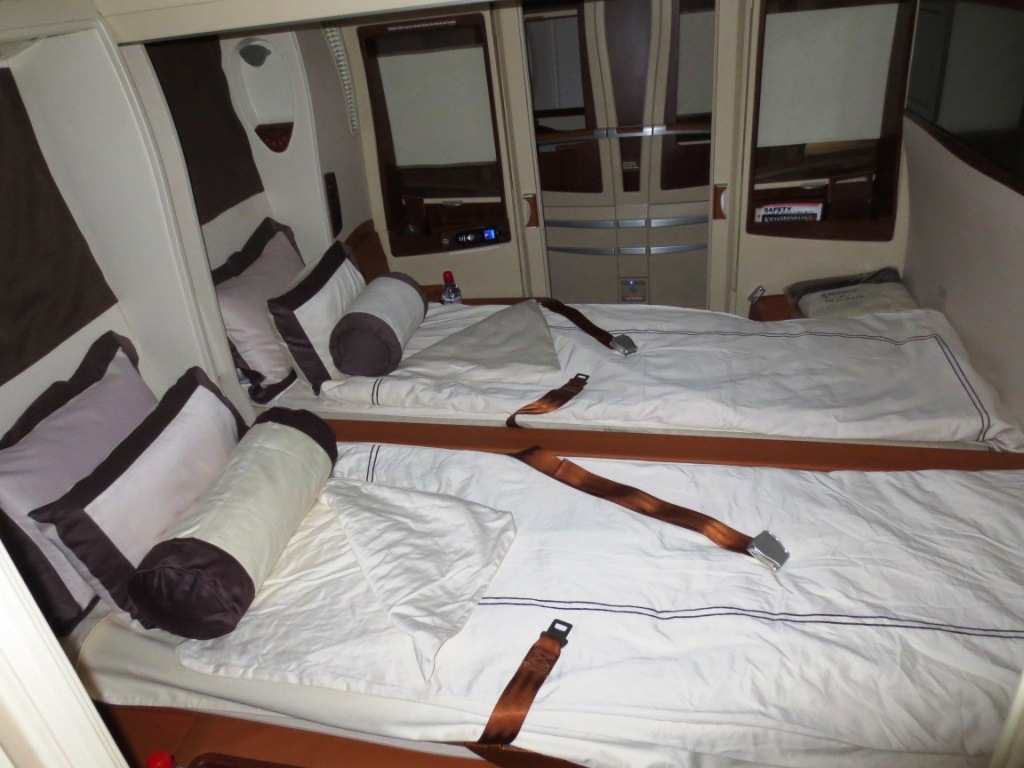 3. I've built up a stash of tens of millions of miles over the past 15 years. Opening hundreds of credit cards, taking advantage of stackable Hyatt faster free nights promos, mileage running stacked with promos like free system wide award tickets of 10K bonus miles per segment, the JetBlue 300K mileage run, Wendy's cups, transferring eBay anything points into miles, manufacturing points with Google Checkout, US Mint, Amazon Payments, gift cards, etc, etc.
I've been able to use over 10 million points to fly in first class on more flights than most people do in several lifetimes. Given that I don't sell the points or use them for others due to the risks involved, the opportunity to use them for this was a dream come true.
If you're not a die-hard Baseball fan then this will probably never make sense to you. Then again there are few people who understood why the United Island Hopper was on my bucket list.
Cloud 9:
4. Apparently some people are shocked that I focus on earning and burning miles and points on this miles, points, and deals blog. They feel the need to point out that my priorities are clearly mixed up.
To be clear, learning Torah, davening with a minyan, and spending time with your family are all important things in the life of an Orthodox Jew. I started this blog while I was studying for Smicha, but that's just not what this blog happens to be about. There are blogs that are about learning and I'm happy to learn something in person with anyone that drops by my local shul. It's just not the focus of this blog.
5. Experiences will always trump things in my book.
Your car and your toys won't last. The memories made will. So I drive a 6 year old Altima and look to make memories.
While on vacation we look for a photographer to take a photo shoot of our family in front of local scenery rather than buy souvenirs. Capturing the memories is better than bringing back clutter.
I take a look back at the day of our wedding and the days that our kids were born. Those are clearly in another class of memories.
But the manufactured memories are still awesome. How can I help but grin as I think about:
The day I flew to San Francisco (on a mileage ticket I had booked months earlier) to see the Cavs finally win a trophy for Cleveland.
The time Mimi and I went on a grueling 14 mile hike but got to experience the stunning Na Pali coast in Kauai in a breathtaking way.
The time spent underwater in Palau's other-worldly Jellyfish Lake.
The trip I took with my grandfather to the MLB, NBA, and NFL Hall of Fames, capped off by an Indians win that we saw from the Green Monster.
The look in Rafi's eyes when I took him on a father-son trip upstairs on a 747 and he got to sit in the cockpit.
The 7th inning when I walked onto the field and made off with 2nd base to the amazement of everyone in the stadium, including the Indians players.
Or the time I walked up to the mound before one of the greatest sports games in history to toss out the very first pitch. There's not more than a small handful of fans in the world that can say they did that in their home stadium before a Game 7 of the World Series.
You can take away my things, but you can't take away those memories.
6. Several commenters were aghast that I didn't just donate the points to charity. I use my miles for myself and my family in order to avoid mileage auditors from looking into my account, which can happen if you book awards for too many people.
7. I wish the Tribe would have won, but being able to bring 4 people onto the field and into the game and then sit just 1 row away from the field for what may have been the best World Series game of all time is nothing to sneeze at either.
8. Did I think of not wearing my Tzitzes out or not wearing a Yarmulkah under my hat?
Not even for a second.
9. Yes, DansDeals traffic was up last week. Way up. No, I never thought I'd see my face on TMZ's home page.
10. I never played in little league or owned a baseball glove. I was a studious little kid and my parents were not into sports. Though I loved the math aspect of baseball and knew the stats of hundreds of baseball players by heart.
My lack of playing ability only made the dream of walking onto the field of a World Series game that much more far-fetched. With just a couple hours to learn how to throw a baseball 60 feet I was thrilled to watch my sinker take a one-hopper to the catcher instead of watching the ball dribble to the plate or go wide right or left as so many YouTube videos show.
Bottom line folks, miles allow you to dream big. And I'll never regret dreaming big.