Post update #5, 11/24: I did not receive any email confirmations this year when using my cards in the same store that has worked for the 2 previous years  and was also on this year's map.  So don't sweat it if you don't receive any email confirmation.  The credit should show up online within a week and even if it doesn't you can always send a secure message to receive the credit manually.
—————————————————————–
Post update #4, 11/23: Tomorrow is the big day!
Post a comment of where you'll be shopping and post whether or not AMEX sends you an email confirmation after your purchase.
You can find a listing of small businesses and charities (and post your own business/charity) that are participating in this post.
—————————————————————–
Post Update #3, 11/18: Registration is now open! Let the fun and games begin…and my manually typing in of 40+ cards 😀
Annual fee? What annual fee? 😉
—————————————————————–
Post Update #2, 11/17: Just a reminder that registration opens tomorrow (Sunday) at 2:00am EST at www.shopsmall.com
I don't think there's any need to stay up late though, I'd be shocked if registration filled up completely before Monday.

—————————————————————–
Post Update #1, 11/07: DansDeals was the first site online to break the news back in September that the $25 credit would return. Finally some 2 months later AMEX has confirmed on their site that it will return.
Registration will be limited and will open on Sunday, 11/18 at 2:00am EST at www.shopsmall.com Still plenty of time to add additional users to your accounts to make your annual fees pay for themselves. In the past registration has stayed open for at least a few days.
In order to qualify this year the small business must show up on shopsmall.com.
—————————————————————–
From American Express: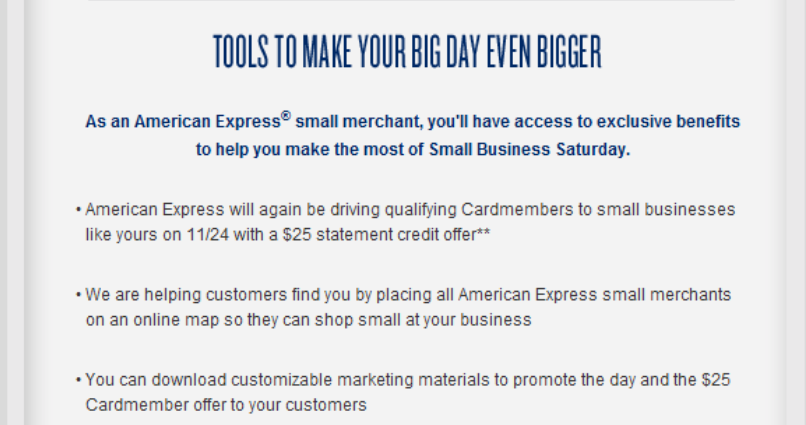 I just finished using the $$$$ of prepaid credit for free groceries I got last year, can't wait for November 🙂
This is the 3rd consecutive year this promotion has run. Here's hoping we see a return of the holiday Gift Chain promotion as well, a promotion that netted me thousands of dollars of gift cards last year 😎
The rules are simple enough, just like the Big Break promo below:
-Registration will be required and I will make a post when registration opens.
-Valid at any small business nationwide on 11/24/12.
-Must purchase $25+ in one transaction for a $25 credit.
-This will work on consumer and business AMEX cards, but not on corporate cards, gift cards, or prepaid cards.
-This will also work with 3rd party AMEX cards like those from Citi, however if for whatever reason you do not get credit automatically getting it manually will be extremely difficult. With AMEX issued cards it's easy to be credited manually via a secure message online.
-This will work with primary and secondary cards from AMEX, but not with secondary cards from 3rd party issuers like Citi. Of course each card must be registered separately but you are able to use the same email address.
-Having a dozen free secondary cards on each of my 4 active primary Starwood cards, priceless 😀
-As I wrote in the post below, while this is a great way to make an annual fee pay for itself and then some, some people have reported being hit with a financial review after ordering too many additional user cards, so don't do it if you don't make any income on the books!
There's still time to signup for additional cards (and add additional users to each of those cards) to take advantage of this annual promotion.
Consumer cards include:
-Starwood Preferred Guest® Credit Card from American Express
-TrueEarnings® Card from Costco and American Express
–American Express® Premier Rewards Gold Card
–The Platinum Card® from American Express
–Gold Delta SkyMiles® Credit Card from American Express
-American Express® Gold Card
-Blue Cash Preferred Card® from American Express
-Blue Cash Everyday Card® from American Express
-Blue Sky from American Express®
Business cards include:
-Starwood Preferred Guest® Business Credit Card from American Express OPEN
-Business Gold Rewards Card® from American Express OPEN
-The Business Platinum Card® from American Express OPEN
-Delta SkyMiles® Gold Business American Express Card OPEN
-SimplyCash® Business Card from American Express OPEN