Related: How To Expedite An Amazon Subscribe And Save Item
———————————————————–
Step 1: Click on this link to automatically activate $1.50 off. Then close the page, there's no need to do anything besides clicking on that link.
Step 2: Click on any product below:
2 Pack: Tide High Efficiency Original Scent
2 Pack: Tide High Efficiency Free and Gentle Unscented
2 Pack: Tide High Efficiency Touch of Downy April Fresh Scent
2 Pack: Tide Non-High Efficiency Touch of Downy April Fresh Scent
2 Pack: Tide Non-High Efficiency Bleach Alternative Original Scent
Step 3: Scroll down the product page and clip the coupon for 50 cents as pictured in the red box: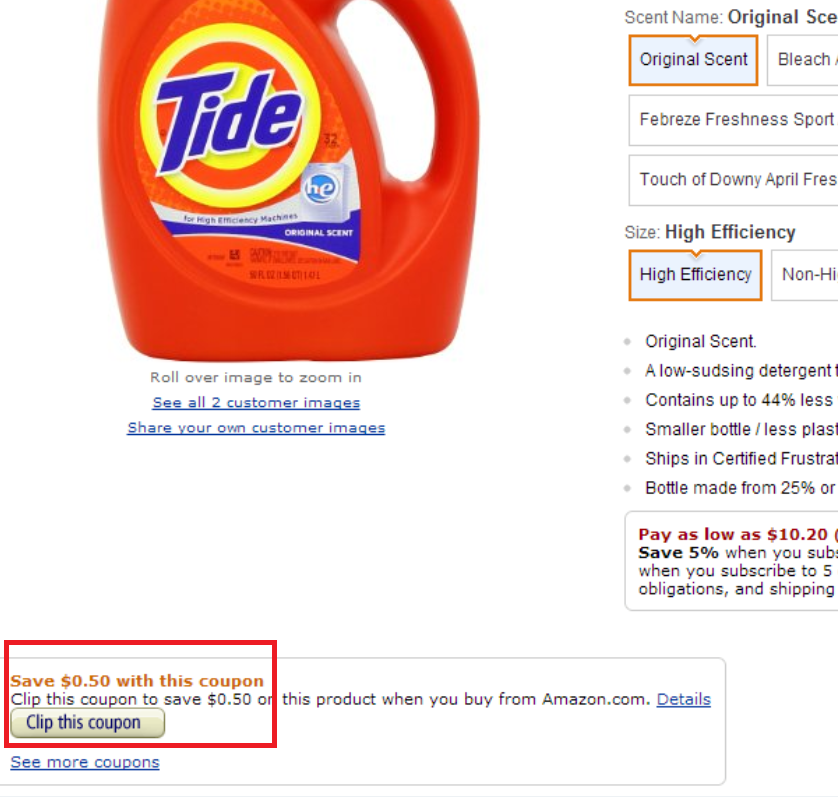 Step 4:  With Subscribe & Save the price is $11.40, less the $1.50 coupon and $0.50 coupon=$9.40. Plus shipping is free even if you don't have Amazon Prime!
If you subscribe to 5 items (including diapers and wipes) then you will save 20% off all Subscribe & Save items, dropping the price to $9.60 less $2=$7.60.
If you add enough items before your next monthly Subscribe & Save order goes out then the price on the Tide will automatically drop to $7.60 as well.
-Select a 1-6 month subscription offer on the right side of the amazon page and select "subscribe now." Do not click "add to cart" or you will not get the savings. You must click on the "subscribe now" button.
With Subscribe and Save you will get free shipping without any minimum purchase and you will get 5% off which will be reflected on the final checkout page.
You can cancel the subscribe and save service with absolutely no obligation or penalty once the item ships. To do so just click here to manage your subscriptions.
With 5% off subscribe and save:
With 20% off subscribe and save:

HT: bubbles, via DDF
——————————————————————————
Save on all your Amazon purchases! You can buy Amazon gift cards (as well as gift cards for airlines, hotels, clothing stores, gas stations, and much much more) at any Office Supply store with your  Chase Ink Bold, Chase Ink Plus, and the Chase Ink Cash Card card to earn 5 points per dollar (worth roughly 9.5% back)!