In case you missed it, bumping for your Sunday reading pleasure 🙂
Some stories and deals don't get their own post, but should get some coverage. Here are some quick takes on stories that caught my eye.
View previous roundups and commentary here.
---
Featured Trip Reports Of The Day:
DDF Trip Report:
DDF member Joel2 was hoping for Hawaii this summer, but wound up in Colorado. He certainly had better views than I did this summer! Did you do any traveling this summer?
DD Trip Report:
Back in 2014 we flew to Brazil on TAM with USAirways Dividend miles and had the entire first class cabin to ourselves, which was incredible.
In part 4 we went to Rio de Janeiro, easily one of the most beautiful cities in the world. We also got really lucky on our connection. Had we missed it we would have been stuck in Brazil for an extra Shabbos and lost out on the first class cabin.
---
Iran Should Win The Nobel Peace Prize 😉
The stunning news last month was the Israel-UAE peace deal, quickly followed up with an El Al flight to Abu Dhabi.
It's incredible to think about how fast peace came between Israel and the UAE.
There's no doubt that peace would never have come if not for Iran and their nuclear aspirations. The 2015 Iran deal completely changed the Middle East calculus for the gulf states. Israel and the gulf states were the main lobbyists against it.
Saudi Arabia and the UAE felt spurned and realized that the US wouldn't always have their back. The realization came that their fight with Iran is existential, while their fight with Israel is not. The upside of aligning with Israel just has too many positive factors, from a military and economic standpoint. And after all, the enemy of my enemy is my friend.
Nobody could have brought together such strange bedfellows besides Iran.
From Dubai to Abu Dhabi to Kuwait, newspapers across the Middle East shared the historic news:
Elli's Restaurant even got an OU hechsher for the 2 days of the Abu Dhabi summit. They say they are working on getting a permanent hechsher in the future and Chabad of the UAE plans to open a kosher certified restaurant as well.
The UAE has also officially ended its boycott of Israel.
I'm looking forward to visiting Chabad of Bahrain, Oman, and Saudi Arabia in the near future!
A well placed source at El Al has informed DansDeals that they will offer free stopovers on their new direct Monsey-Dubai route in Lakewood, 5 Towns, and Brooklyn, just in case you need something picked up for your cousins friends uncle, whose daughter is going to sem, on the way

— DansDeals (@DansDeals) September 1, 2020
---
Turkey Gets Hypocritical Over The UAE Deal
Turkey says they may cut ties with the UAE over the Israel deal.
They call it a stab in the back of the Palestinians, while conveniently ignoring that Turkey has official ties and an embassy in Israel.
It also ignores that state owned Turkish Airlines is one of the biggest carriers in Tel Aviv. Or is that one of the motivations?
Having UAE based Emirates and Etihad flying to Israel may hurt Turkish Airlines more than any other airline.
The people willing to pay a premium to fly nonstop will continue to do so. Sure, some premium passengers may fly Shower Class on Etihad (yes, their A380s will return to service) or Emirates, but most business passengers will still fly nonstop.
It's the passengers who were willing to connect in Istanbul that will likely be much happier connecting in the UAE on Emirates and Etihad. It's not hard to see Turkish Airlines being the biggest aviation loser in this UAE peace deal.
---
Everyone Wants A Piece Of El Al, But Will They Sell?
El Al is broke and wants a bailout. They lost another $105MM in Q2. They've been closed since March, but managed to miraculously open back up this week to fly to Abu Dhabi.
The UAE peace deal is bad news for El Al. People flying east from Israel will be very tempted to fly on world class Emirates or Etihad over El Al.
They don't want to be sold, they just want Israel to spend money and rescue it. That's going to be a tough sell.
They have tried defaming their bidders, but with multiple bidders now in place and an apparent bidding war, there shouldn't be a need for a government bailout.
Meir Gurvitz and David Sapir both put in bids for El Al and Eli Rozenberg put in an even higher offer for the airline. After that David Sapir also put in a higher offer for joint control.
It will be quite the coup if the Borovitz family manages to get a government bailout with this level of private interest.
In the meantime, who had this on the 2020 bingo chart?
https://twitter.com/safier/status/1300050559509188610
---
Israel Blames Boeing For The Lack Of Sky Shield On El Al's Dreamliners
I was very surprised to learn that none of El Al's 787s have the Sky Shield missile defense system installed.
After all, the Israeli government pays for that system and it was announced years ago that El Al's Boeing Dreamliners would come with the system.
This became public knowledge due to El Al flying an older 737-900 to Abu Dhabi instead of their flagship 787.
Israel's Ministry of Transportation is pointing at Boeing for the lack of Sky Shield. They wanted tens of millions of dollars to for help installing Sky Shield on the 787, which was 5-6 times the price needed for the 737s. Israel refused to pay the fee to Boeing and tried to negotiate a lower payment.
I'm just surprised that wasn't negotiated at the time of the order. Manufacturers are much more keen to throw in freebies when it comes to closing a big sale. El Al could have also feigned interest in the Airbus A350 to help get Sky Shield assistance on the 787. I'd guess that it wasn't brought up then due to El Al paying for the planes, but the Israeli government paying for Sky Shield. Why negotiate for something they thought the government would be paying for?
But in the end, it's El Al that flew a humble 737 on the historic inaugural flight to Abu Dhabi. You can be certain that Etihad won't fly a narrowbody plane when they fly UAE diplomats to Israel for the first time!
It will also mean that El Al will be flying 737s to the UAE commercially, competing against luxurious widebody Emirates planes. Good luck with that!
In other news, Boeing has agreed to allow El Al to defer delivery of its final 787 until the end of November.
El Al hopes to relaunch operations between October-December.
---
Shahar Markovitch, El Al's Chief Digital and Information Officer, Has Left The Airline
Yesterday was my last day in EL AL. Now that the company is hopefully starting it's long journey to recovery (with the first step of public offering) I felt it's a good time for me to leave.
(thread below) /1

— Shahar Markovitch (@shaharm) September 1, 2020
I spoke with Shahar at length on a wide range of issues at El Al, though the conversation was off the record and I never was able to obtain permission to publish any of it.
We kept in touch afterward as I was disappointed in the changes he implemented in El Al's new website. His overall approach was to strip out expert level functionality in favor of simplicity, but that missed the point that a company's expert level users are also their most loyal and profitable.
I have heard good things about what he was able to do with the El Al app, but I consider the website redesign, the bugs, and the stripped out functionality like award ticket searching to be one of the worst airline website redesigns of all time.
I don't know if Shahar's hands were tied by management or why it happened that way when there was so much promise, but the end result is not pretty.
---
Austria Offers Citizenship To Descendants Of Jews Who Fled The Nazis
Austria passed a law that will grant citizenship on those that fled the country under Nazi rule. Some 120,000 Jews fled the country after the Nazis took over in 1938.
While refugees were able to reclaim citizenship, there descendants were not able to until now.
Will you claim Austrian citizenship with this program?
---
Bill Gates On COVID-19 Updates
I enjoyed reading this quick and interesting interview with Mr. Gates on COVID-19.
In short, he says that:
We will have several vaccines by the end of the year or beginning of next year, though early vaccines may not provide lasting immunity. And that's OK as they can still restore normalcy even if they aren't the most effective vaccines around.
Vaccines shouldn't be mandated, except for in settings like nursing homes.
The pandemic will be over in rich countries in the first half of 2021 and in poorer countries by the end of 2021.
We're lucky that COVID-19 isn't more deadly or else we'd really be in trouble.
I do think that many schools will mandate a vaccine and it will be interesting to see how that plays out. The real question is, how do we better prepare for the next pandemic? What lessons have we learned?
---
California's COVID Case Number 1
The LA Times has an interesting story on the first COVID case in California, a man visiting Mexico from Wuhan. He wound up spending weeks in Cedars-Sinai recovering. It was a glorious time when Kobe Bryant was still alive and nobody could pronounce hydroxychloroquine or had ever heard of flattening the curve or the new normal.
Alas, the world didn't pay heed to the canary in the coal mine and COVID-19 spread to nearly every corner of the globe. The US failed to ramp up testing availability due to faulty CDC tests and gave bad early advice with regards to masks. 
Will we do better next time?
---
When Should We Become Concerned Over COVID Reinfection?
One of the greatest unknowns today is how long COVID-19 antibodies will last. There are some scattered cases of reinfection, though most are unproven.
The CDC says there are no confirmed reports of reinfection within 3 months.
The hope is that most people have lasting immunity, but that won't be the case for everyone.
One case tracked by the University of Hong Kong is of a 33 year old man who had mild symptoms in March and was reinfected in Europe in August. Luckily he was asymptomatic the 2nd time around.
Yale Professor Akiko Iwasaki explains that is exactly what is supposed to happen. The immunity wasn't enough to stop the infection, but it did provide protection despite the patient having undetectable antibody levels:
2) Patient had no detectable antibody at the time of reinfection but developed detectable antibody after reinfection. This is encouraging. (3/n) pic.twitter.com/8OgylRxPyn

— Prof. Akiko Iwasaki (@VirusesImmunity) August 24, 2020
She argues that because of this, a vaccine, which delivers a higher boost of immunity than actually recovering from the virus, is likely the only way that COVID-19 can be eliminated:
Lastly, while this is a good example of how primary infection can prevent disease from subsequent infection, more studies are needed to understand the range of outcomes from reinfection. (end)

— Prof. Akiko Iwasaki (@VirusesImmunity) August 24, 2020
---
After 14 Years, There's A New Microsoft Flight Simulator
Microsoft has released Flight Simulator 2020, their first update in some 14 years, and reviewers are loving it. If you want to fly planes around in the world with detailed graphics, this is the game for you, just watch out for the 212 story obelisk caused by a fat finger. It will work on your PC or XBox.
An Airbus pilot gives his impressions here:
There's a $59 standard version, an $89 deluxe version, or a $119 premium version. Which should you get?
The included airports and planes may help make your decision. Here is the comparison of which airports can be found in each edition and here is a list of which airplanes can be found in each edition. You can fly into Rio on a 747 with the standard, but you'll need the premium to fly a 787 into London.
---
The State Of Alaska Wants Foreign Carriers To Be Able To Sell Stopovers In Anchorage
Once upon a time, airports like Anchorage and Gander were busy with frequent flights from airlines that needed somewhere to stop on transpacific and transatlantic crossings.
Those days are long gone, but Anchorage was briefly the busiest airport in the world thanks to cargo operations during COVID-19.
Alaska is asking the DOT to allow foreign carriers flying to the contiguous US to drop off and pickup passengers along the way in Anchorage. In other words they want foreign airlines to sell seats on flights between the contiguous United States and Anchorage and then fly from there to their home countries.
It's hard to say if any airlines would want to do that, but that would be amazing.
---
Has Boeing Quietly Renamed The 737MAX?
Boeing finally managed to sell its first 737MAX of the year, but it didn't refer to the plane at the 737MAX.
In the press release for the sale, it called the plane the "737-8" rather than 737MAX 8.
The previous generation 737MAX 8 equivalent is called the 737-800. Boeing has been removing the extra zeros on planes in recent years with the 747-400 being replaced by the 747-8 and the Dreamliners being numbered 787-8, 787-9, and 787-10.
I guess they followed President Trump's advice?
What do I know about branding, maybe nothing (but I did become President!), but if I were Boeing, I would FIX the Boeing 737 MAX, add some additional great features, & REBRAND the plane with a new name.
No product has suffered like this one. But again, what the hell do I know?

— Donald J. Trump (@realDonaldTrump) April 15, 2019
Then again, later in the press release it does mention the 737 MAX and Boeing still calls it the 737MAX 8 on their site.
But I wouldn't be surprised to see it called the 737-8 going forward. Best of all for Boeing, most consumers won't know the difference between a 737-8 or 737-800.
---
An Incredible Peek Into The $4.5MM Ransom Paid By A Travel Firm
CWT was hacked and paid out $4.5MM in ransom to get back their data. It's become increasingly common for companies to get hit like that.
But it's not often that you can read the actual chat of the negotiations and boy is it an amazing read:
But the online chat room where the ransom negotiations took place was left online, giving a rare and *incredibly* interesting insight into how these things actually go down pic.twitter.com/WmkI19Dxt8

— Jack Stubbs (@jc_stubbs) July 31, 2020
Personally I was surprised at how professional and collegial the whole conversation was. From beginning to end, this was treated a business transaction for both parties pic.twitter.com/UyzetQeVab

— Jack Stubbs (@jc_stubbs) July 31, 2020
I really like suggested best staffing practices

— Jack Stubbs (@jc_stubbs) July 31, 2020
"It's a pleasure to work with professionals."

One of the last messages is the hackers offering to wipe the contents of the chat. It was not deleted. pic.twitter.com/cIxsnWug90

— Jack Stubbs (@jc_stubbs) July 31, 2020
Just wild…and scary!
---
Tesla And The FBI Stop A Ransomware Attack
electrek has the story of a Tesla employee that was offered 1 million dollars to install malware so that the company could be held ransom.
Luckily the FBI was on top of the case and tracked it the entire time. Best of all, they got information on who was behind the attack, which will hopefully thwart other ransomware attacks.
---
The Tesla White Hat Hacker That Gained Control Over The Fleet
electrek also has the incredible story of a guy that managed to gain control over the entire Tesla fleet a few years ago. Luckily, he was a good guy.
He won a $5,000 bug bounty for a small leak and then a whopping $50,000 bounty when he proved that he could control anyone's Tesla from his own home. I guess that's the price we pay to have a car learn how to drive itself, but it is terrifying to think about what could happen if a bad guy were able to hack the Tesla fleet.
At any rate, I'm still pleased with the $1,000 that Tesla paid for my bug bounty 🙂
---
Is Elon Musk's Neuralink The Future?
Tesla's Elon Musk unveiled the Neuralink, which is developing an interface between the human brain and a computer.
Musk hopes the system will cure "memory loss, anxiety, brain damage, depression and a long list of other ailments."
He demonstrated the technology on a pig and it's clearly in its infancy.
Much of what Elon says is just talk. He promised that Teslas would be fully autonomous years ago, but they're not even close to that.
But as is evidenced by Tesla's stock price, you should never bet against Elon. And that's worrisome in this case. Sure, there's a lot of good that could be done, but where does it end? Will people who don't want their brain interfaced with a computer be left behind? If this all sounds too Black-Mirroresque, that's because it is.
---
Delta's New Companion Upgrade Means That Non-Medallions Can Have Upgrade Advantage Over Medallions
Delta has added the ability for medallion members to upgrade a companion even if they're not on the same record locator.
But boy is this odd:
"If you and your companion are in different paid ticket reservations that have been linked, upgrades to U.S. 50 domestic Delta One, First Class and Delta Comfort+ work a little differently. For domestic Delta One and First Class, your upgrades will clear based on your individual Member Status and confirmation windows, if available. For example, if Platinum and Silver Medallion Members are traveling together, the Platinum Medallion Member will clear at the Platinum window and the Silver Medallion Member will clear at the Silver window. If your companion is a General Member who does not have Medallion Status, their upgrade will clear at the clearing time of the Medallion Member's Tier. For example, if a Platinum Medallion Member and a General Member are traveling together, both will clear at the Platinum window."
What in the world? I guess that means the Silver or Gold Medallion member in that situation should open a new Delta account without status so that they clear with the Platinum Medallion member instead of with Gold or Silver members?
Crazy that Delta's IT people can't figure out a better solution for that.
---
United Has An Algorithm That Cancels Empty Flights
I often write that that you shouldn't proactively cancel flights until close to departure. That way if the airline winds up cancelling the flight, you can get a cash refund. That is more true than ever now.
United has created an algorithm that seeks to identify flights with low passenger loads where it can accommodate them on other flights.
In normal times airlines don't cancel flights due to low passengers loads, but these aren't normal times.
While all airlines are cancelling flights some 5 or 6 weeks beforehand, United is alone in cancelling them within a week due to low demand, so you may not be able to take the flight you purchase.
At least they also gave us free changes!
---
United Is Ripping Seats Out Of E175s
Airlines can only operate a limited quantity of larger regional jets due to scope clauses that are highly treasured by pilots. Mainline pilots don't want to be replaced with regional pilots and they won't back down from scope clauses that limit the threat to their jobs from larger regional aircraft.
That's how United wound up creating the CRJ-550 by stripping out 20 seats from the CRJ-700 to get the plane to be considered a smaller regional jet that isn't bound by the same rules as larger regional jets. They also get away with having just a single flight attendant on those flights.
United was granted the ability to operate 76 seat E175s, one of my favorite United planes, as part of their January 16, 2016 pilot union's deal. Previously they were only able to fly regional jets up to 70 seats.
However they plan to furlough pilots that were hired before that date, so they contractually must rip out 6 seats to bring them down to 70 seats until they hire back those pilots.
United is now ripping out 6 seats from the back of their E175s based on the expectation that they will furlough pilots from before that date and that there won't be another airline bailout by 9/30.
It's too time consuming and costly to reconfigure the plane, so they won't give the extra room back to the other seats, there will just be empty space where those seats used to be.
Crazy times these are.
---
Will The DOT Come After Airlines Refusing Refunds?
The WSJ covers the story of airlines cheating customers (non-subscriber link). What else is new? But this time they're stealing billions and are directly violating DOT rules.
The examples are egregious, though Air Canada and El Al have been among the worst violators. Will the DOT stick up for their own rules or will they be proven toothless? It will be interesting to see how this all plays out.
---
Southwest: No Need For A Government Loan Or Furloughs
While most US airlines plan on furloughing tens of thousands of workers and borrowing all of the cash they can get their hands on, Southwest has turned down a government loan and has said they won't need to furlough anyone this year thanks to employees taking early retirement and time off.
Now that's how you properly run an airline, as opposed to American spending more than their entire free cash flow on stock buybacks over the past decade before needing a government bailout.
---
747s Are Digging The Mask
Even the Queen of the Skies is donning a mask these days with the slogan "not without my mask." Because masking up sure beat being locked down again!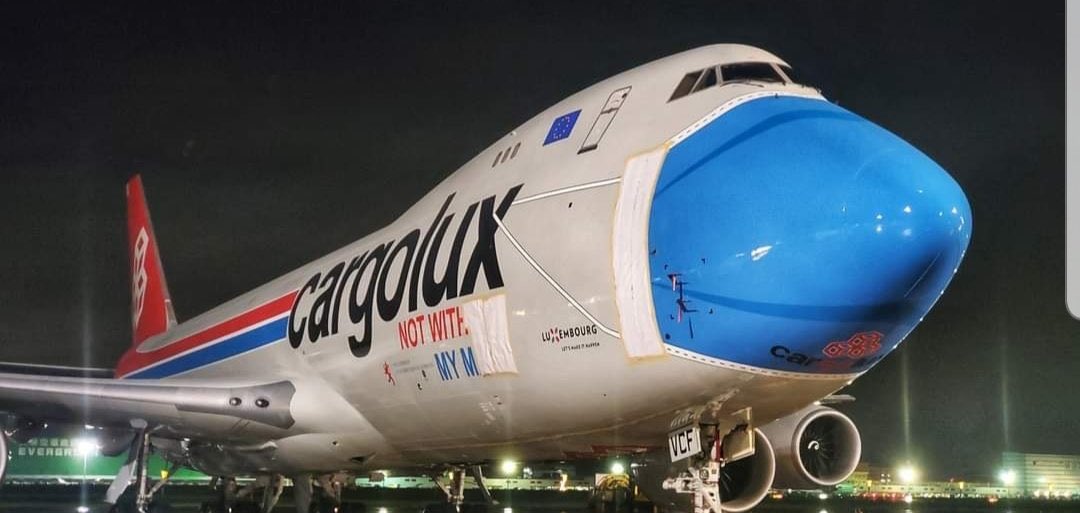 ---
747s Still Use Floppy Disks?
The 747-400 may be on its last legs, but I loved this Verge report that it still gets monthly updates delivered via floppy disk.
Then again the US nuclear command only recently ditched the floppy disk.
My only question is, can pilots play the Oregon Trail while they fly?
---
LaGuardia Rail Link Gets FAA Approval
The new LaGuardia is pretty, but is mostly lipstick on a pig.
However it will finally get a rail link, at a cost of some $2 billion. That won't take you directly to the city, it will just allow you to take a train some 1.5 miles from LGA to the 7-line subway and LIRR stop at Citi Field. I wonder what it would have cost to just give everyone a free Uber for the 1.5 mile ride between the airport and the station?
Will you take the train to LaGuardia?
---
Marriott #Bonvoyed The Green Choice Program
Starwood came up with the Green Choice program and offered 500 Starpoints for waiving housekeeping during a multiple night stay.
Marriott kept it, but only offered 500 points, (equal to 167 Starpoints).
Now Marriott has decided to kill the program.
No great loss as I'd rather get fresh towels than $3 worth of points, but Marriott shows no slowing down when it comes to #Bonvoyed benefits.
---
Has Marriott #Bonvoyed The Ambassador Program?
Marriott's top-tier Ambassador status requires 100 nights and $20,000 spent in Marriott hotels. The main benefit is having a single point of contact ambassador, something that Hyatt provides for hitting Globalist status with no minimum spend requirement.
Gary notes that there have been mass layoffs within the Marriott Ambassador team. Ambassador elites will no longer have a single point of contact, they'll just have access to the general Ambassador team. If I spent the required amount to earn Ambassador status I'd be livid.
But this is Marriott, and being #Bonvoyed is to be expected. Oh how I miss SPG. 🙁
---
Citi: Oops, Can You Give Us Our $900 Million Back?
Talk about a bank error in your favor.
Citibank accidentally sent $900MM to Revlon creditors that didn't expect to have their loans repaid.
Citi has asked for the money back, but most of the creditors are refusing to return the funds.
Citi meant to send an interest payment to the creditors, but wound up paying the whole thing from their own coffers. That's incredible considering that Citi was only an agent and passed on their own funds as repayment for the loan.
Maybe American can share some auditors with their banking partner to help them get to the bottom of things…
---
Can 750 Million Genetically Engineered Mosquitoes Kill Out The Aedes Aegypti In Florida?
A pilot project will release 750 million genetically modified mosquitoes, with the aim of wiping out the disease spreading Aedes aegypti in Florida. Aedes aegypti spreads everything from Zika to dengue.
The modified mossies will produce female children that die before hatching. In Brazil, Oxitec claims that they succeeded in killing off 95% of the Aedes aegypti population.
Locals remain unconvinced and worried about unforeseen consequences. They cite scientists that say the plan was a failure in Brazil as the genes from the modified mosquitoes mixed in with the local population, despite promises that would not happen. Researchers wonder if the newly created mosquitoes can actually better withstand efforts to wipe them out. Oxitec denies all of this.
The Florida plan appears to be moving forward. Let's hope they learned the lessons from Jurassic Park?
---
Nuts, Pajamas, And Gin
Airlines across the globe require vendors to have a big stock of supplies for them, but none of them predicted a scenario like 2020 where demand would go to zero.
GNS, American's nut vendor, was left holding the bag on nearly 2 million pounds of nuts.
The nut company creatively tried to get American to send elites a bag of first class nuts to remind them that the airline of thinking of them, but the bean (nut?) counters refused.
United left GNS with their nuts as well.
Qantas isn't flying internationally until there's a COVID-19 vaccine, so they decided to unload and sell off their stock of premium cabin pajamas and amenity kits.
British Airways Gin was also unloaded at bargain prices.
What will they sell off next?
---
The Incredible Escape From Japan
I've written before about ex-Nissan boss Carlos Ghosn's escape from Japan, but now we know more juicy details thanks to former Green Beret Michael Taylor's account of how he pulled it off.
Incredibly, Mr. Taylor did it for principle and not to make the money he surely could have commanded. Mr. Ghosn is safe as Lebanon does not have an extradition treaty with Japan. But unfortunately for Mr. Taylor, the US does and he now faces extradition to Japan.
The escape was highly embarrassing for Japan and they are likely to try their hardest to make somebody pay for it.
I'm just excited for the movie!
---
Chin Up Japan, Those Are Some Cool Toilets
OK Japan, so you may have let a wanted fugitive escape, but you sure know how to make a great toilet. Japan is now re-imagining what a public bathroom should look like and I'd say they're onto something.
I doubt we'll ever see this in the US, but it sure would be nice.
---
Is There Someone Flying A Jetpack Near LAX?
2 pilots reported seeing a "guy in a jetpack" some 3,000 feet above LAX in their flight path.
I've heard of pilots complaining about laser lights and drones, but a jetpack is a first. Where do I buy one of these things? 😀
---
Move Over Honus, Here Comes Mike
Any sports fan knows that the most valuable baseball card is the 1909-1911 Honus Wagner T206, which has sold for a whopping $3.12MM.
But there's a new king in town. An autographed one of a kind 2009 Mike Trout rookie card has sold for an insane $3.93MM!
It's hard to believe that a modern era card can be worth that much, but I suppose that it's worth whatever someone is willing to pay for it.
Then again, baseball cards have nothing on old dollar coins that may have been used by George Washington. Do you think he used them to earn miles?
---
The Yeshiva University COVID "Flight Safety" Video
YU pulls off a great campus safety video in the COVID era as a play on a traditional airline safety video. Nice job!
---
A 118 Year Old Video Of A German Flying Train
They had video like this in 1902? And trains like this in 1902?
Mind. Blown.
---
Amare Stoudemire Has Converted To Judaism
A few months ago I shared this Omri Caspi interview of Amare Stoudemire
Amare has now converted to Judaism!
This isn't a transition I thought I'd ever see:
---
And You Thought Starbucks Was Expensive?
Nespresso has helped us cut our overpriced Starbucks habit with better tasting lattes at a fraction of the cost.
But the Miami Heat's Jimmy Butler is a barista in the NBA's Disney bubble and charges a whopping $20/cup. Apparently that's a deal in the bubble as he says the price will go up to $30/cup!
blocked out the room number on the off chance it's why this got deleted but JIMMY BUTLER'S BUBBLE COFFEE SHOP I AM LOSING IT pic.twitter.com/hQlW6Qv63b

— sarah j. dudski (@dudski) August 15, 2020
At that price I'd expect the cup of Joe to wash and fold my clothes!
---
Share your thoughts on these stories or post a comment about what other stories that I missed!
---
Previous roundups
Catch up on what you missed!
8/5/20 News Roundup: COVID-19 Updates, United 232 Survivor's Guilt, Hyatt Woes, All You Can Fly Deals, El Al Meals At Home, Corona Cruises, Hyatt In Hana, Clorox Wipes, Lost Baggage, And More!

7/22/20 News Roundup: Israel Flights, COVID-19 Thoughts, Cuomo, AA Adding Flights, JetBlue Ditching Long Beach, Hertz "Improvements", DOT Complaint, Elon's Negative Fine, And More!
Sunday News Roundup 6/28/20: New LGA, El Al Bailout, Hong Kong, Credit Card Approvals, Goodbye Qantas 747s, Buried Treasure, And More
COVID-19 News Roundup 5/25/20: Super-Spreaders, Second Wave, Immunity Passports, El Al In Turkey, Worldwide Restrictions Roundup, Amare Stoudemire, And More
COVID-19 News Roundup 5/12/20: Distancing On A Plane, De Blasio, OU Kosher PSA, True Number Of Deaths, Murder Hornets, Free Eilat Flights, Goodbye $10,000 Bumps, And More
COVID-19 News Roundup 4/5/20: Shifting Origin Story, Billionaires Doing Good, Plague Of Wild Animals, Trapped Away From Home, Chicken Soup For The Soul+More
COVID-19 News Roundup 3/14/20: New Travel Bans, Airline Suspensions, Israel Shutdowns, An Alternate COVID Approach, JetBlue Ban, TSA Changes, Poll, And More
Sunday News Roundup 3/8/20: Flight Tampering, eBay Bans, Centurion LAX, United Refunds, Airline Bunk Beds, Amazon Grocery Markets, Record Flight Times, And More
Sunday News Roundup 2/23/20: Flight Denied Entry To Israel, E-PASS Transponder, Venice #Bonvoyed, MLB, Points Scam, Drone Dome, $10K Bump, Cuba Trip, And More!
Sunday News Roundup 2/16/20: New US Airlines, Cruise Quarantines, #Reclinegate, Yiddish Harry Potter, Aeroplan Infant Awards, And More!
Sunday News Roundup 2/2/20: Coronavirus, RIP Kobe, Something Smells At American, Super Bowl Saturday, Stuck In Iran, 15K Lie-Flat Transcon, And More!
Sunday News Roundup 1/19/20: Pilotless Flights, El Al Diversion, Mobile Boarding Passes, MLB Cheating, Handy Credit Card, United Backdoor Link, And More!

Sunday News Roundup 1/5/20: Kosher Thailand Hotel, Mexican Jail Mileage Run, Jeopardy GOAT, Fugitive Ex-Nissan CEO Escape, EgyptAir Coverup, And More!
Sunday News Roundup 12/22/19: #KosherAntarctica Cruise, The Residence, AA Shutdowns, TWA, Amazon Israel, NY Small Claims Change, United Cape Town, Backdoor Marriott Links+More!
Sunday News Roundup 12/15/19: Jersey City Terror, TLV Hotel, Bonvoyed, Protect Your Ring, Check Your Passwords, And More!
Sunday News Roundup 12/8/19: 8 Quick Takes On Travel; DansDeals Interview, Falklands Tanya, Aegean Devaluation, Travel "Nightmare," Airline Meals, Near NFL Forfeit, And More!
Sunday News Roundup 11/24/19: 10 Quick Takes On Travel; Phone Charging Scam, AMEX Loves Sapphire, Making Amtrak Great Again, Hyatt Private Island, And More
Sunday News Roundup 11/17/19: 12 Quick Takes On Aviation And Travel; Dubious Marriott Claims, TWA Ice Rink, A380 Failure, Mileage Ban, And More
Sunday News Roundup 11/3/19: 9 Quick Takes On What's Going On In Aviation And Travel; Airbnb Scam, Cathay's Tel Aviv Plans, United Plays Dirty, 747 Farewell, LAX Uber Disaster, And More