DDF user Emkay reported on DDF 4 days ago that Google was integrating the ability to send money into Gmail.  DDF user magnus then posted that Google is temporarily not charging any fees to send or receive credit card payments.
The payment are considered a regular purchase and will earn miles.  You should probably avoid using Citibank cards however as they are notorious for changing online purchases into costly cash advances.
They're rolling out the ability slowly, but if you receive a payment from someone you'll be able to send money to anyone else within a few minutes.
I still don't have the ability to send directly from Gmail, but once someone sent me a penny, a red "Send Money" button appeared when I went to http://wallet.google.com/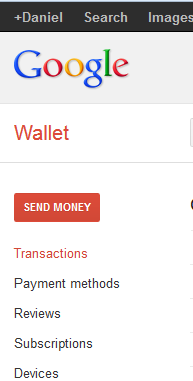 I have created a temporary board on the DansDeals forums with conga lines where forum members can get in line to receive a penny from the person before them in line and then they will pass on a penny to the next guy once their account is enabled to send payments.
Of course I used my grandfathered Chase Freedom Exclusives card so that I'll earn 11 miles for sending that penny 😀
There is a hard limit of $9,999.99 that you can send at once.  If you try entering more than that you'll get this cute message: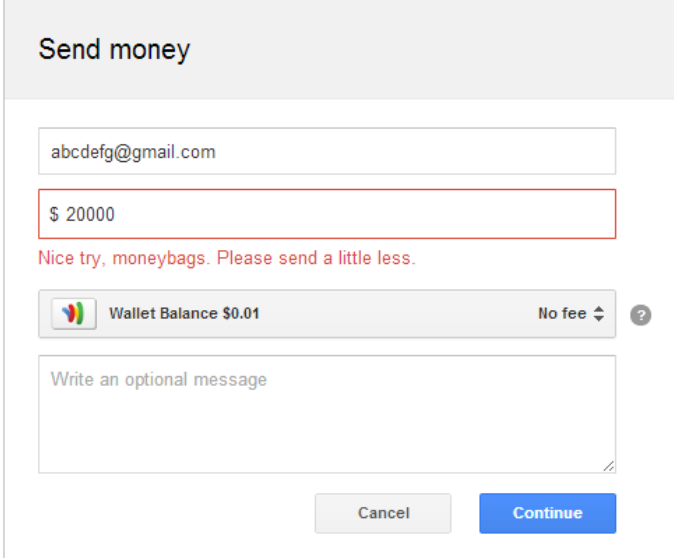 While there doesn't appear to be any limit on how much you can send in total, Google is not going to like it if you send very large amounts or if you pass money back and forth between accounts and they will likely close your Wallet accounts if you do that.  So take it easy and don't go sending $5,000 to meet a spend threshold in one shot unless you're willing to risk testing the limits and possibly losing your ability to use Google Wallet.  Hopefully they'll warn you before closing your Wallet account but they don't have to.
It's unknown when the free processing promotion will expire.  Hopefully it will last for years like the $1,000 in free processing that Amazon Payments lets you do every month 😀
You just gotta' love the plethora of manufactured spend methods we have today to meet those climbing spend thresholds.  Between this new development, Amazon Payments, Bluebird, Vanilla Reloads, Vanilla Debit cards, Visa/MC gift cards with pins (that can earn you quintuple points and) that can be cashed out via WalMart ATMs, Bill Pay, or even Money Orders this is truly a golden era.  Perhaps not as scalable as those gold dollar coins I used to get by the truckload, but cards are a whole lot lighter than coins!