The entire site is buy 1 item, get 2 items of equal or lesser value for free today only. One of the best uses for this is on their wrinkle-free dress shirts which are normally $87.50 each and will be 3 for $87.50 with this sale, or $29.17 each.  Another good use is on their dress pants.
If you also want free shipping you have to spend $195 after the discount. If you are just ordering shirts that means ordering 9 shirts to get free shipping, but you can always return items to a store or online with no time limits!
Do not use any coupons or it will invalidate the buy 1 get 2 free promotion and you won't be able to delete the coupon without clearing out your browser's cache and cookies or browsing incognito.
Dress Shirt Categories:
Traveler Wrinkle-Free 100% Cotton Dress Shirts
Traveler Wrinkle-Free 100% Cotton Tailored Fit Dress Shirts
Stays Cool Wrinkle-Free 100% Cotton Dress Shirts
Executive 100% Cotton Dress Shirts
Traveler Wrinkle-Free 100% Cotton Short Sleeve Shirts
Consumer Reports ranked Jos A. Banks Traveler Pinpoint 100% Cotton wrinkle-free cotton dress shirts higher than any other brand, and they tested them against Brooks Brothers, Lands End, Nordstrom and more!
Click to enlarge: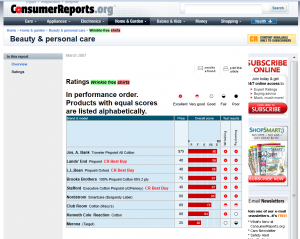 Shipping is free on $195+ orders and you can make returns or exchanges in-store or by mail.
——————————————————————————————–
The following deals of the day must be made in a separate order as you can use a $10 off coupon on them, but you can't use any coupons with the shirt deal. The Buy 1, Get 2 does not apply to deals of the day.
Deal of the day for 12/11 until about 11:59pm PST: Executive suits for $129 after the $10 coupon.
Another deal of the day is this Imperial Blend 3/4 Length Topcoat or the Big and Tall version of the topcoat with a fine blend of wool, camelhair, and silk for $139 after the $10 coupon.
Use the following coupon code in your cart next to promotion code 1 for $10 off $75+ orders: SAVETEN
"Your satisfaction is the cornerstone of our business. With 105 years of manufacturing expertise, we guarantee our clothing to be of the finest quality. Every item will give you complete satisfaction, or you may return it for a refund."
There is no time limit for returns to Jos. A. Bank!