I started planning this trip a couple months ago.  The only part of Europe that I've explored until now was London, so it seemed like a logical place to check out.
I've been on the Business/First hybrid class offered on airlines like Continental and Delta before and they are very good, especially when you get an aircraft with lie-flat seats.  However as those airlines only offer 2 classes of service it's not a true First class experience.  This time I wanted to experience the real thing, a true First class.  When you travel this way the plane ride becomes a great part of the experience and you can arrive refreshed and ready instead of jet-lagged and exhausted.
First class is where miles change from being a currency worth a couple of cents each to many times that.  After all a coach ticket to Europe runs about $1,000, business about $5,000, and First about $15,000.  However with miles the difference is far less pronounced.  Using Air Canada miles for example the cost for a US-Europe round-trip ticket is 60,000 in coach, 80,000 in business (or BusinessFirst on carriers like Continental), and 100,000 for First class on planes with 3 classes of service.  Thus each mile is worth 15 cents instead of just 1.7 cents each.  And of course 80,000 Starpoints becomes 100,000 Air Canada miles.
There are a number of carriers that offer true First service between the US and Europe.  Using the Star Alliance the options I was looking into were:
-Lufthansa from multiple cities to Frankfurt on a 747-400 (B744)
-Swiss to Zurich from multiple cities on an A330-300 (A333) or A340 (A343)
-Singapore from JFK to Frankfurt on a 747 (B744)
-Turkish from JFK to Istanbul in a suite on a 777-300ER (B77W)
Searching for Star Alliance award flights online is very convenient thanks to ANA (login required), Continental, and Air Canada's award search engines.  Between those 3 search engines you should almost always be able to find award availability searching through dozens of partner airlines.
The other nice thing about mileage tickets is that you can make multiple stops for the same rate.  Air Canada for example allows 2 stopovers in addition to the destination city.  Unfortunately Air Canada wouldn't let me keep backtracking like I wanted to, so I used USAirways miles to book the ticket.  They let me go to 2 cities for as long as I wanted and let me connect in as many cities as I wanted to for up to 24 hours.  Plus with USAirways you can hold a ticket for 3 days and that hold gets automatically extended every time you make a slight change to your held itinerary, even if you change it back again.  The only problem is that some agents make issues with the number of stopovers and connecting cities that you have, but no other airline seems to be as liberal as USAirways when it comes to the amount of connecting cities you can add on.  The main thing is to avoid carriers that charge hefty fuel surcharges and United that blocks out award availability even if it should be available.  That leaves Air Canada, Continental, and USAirways as good airlines to book Star Alliance tickets with.  ANA is good as well if you only want to travel on Continental, United, and USAirways as they have very low mileage rates don't collect fuel surcharges on those carriers.
Based on recommendations from dansdeals.com/forums members we stopped in Zurich for a sub-24 hour stop which doesn't count as a stopover as it's under 24 hours.
My wife still had no clue where we were going until we used the lounge in Chicago.  I specifically avoided the Swiss lounge at first and opted for the SAS Business lounge down the hall.  However upon entering it they asked if we were going to Zurich and the secret came out.  We checked out the Swiss lounge (our 3rd lounge for the trip) and then were escorted onto the flight.
Swiss First is amazing.  There were only 4 passengers flying First and we had our own dedicated flight attendant to attend to our every whim.  The service was second to none.  He took pictures for us and made sure our glasses were never empty.  He even went out of his way to find lots of fresh fruit, berries, and even kosher Swiss jams to accompany our mediocre kosher meals.  You can choose to eat dinner restaurant style, with one passenger sitting in their seat, and the companion and the ottoman.  There is plenty of room for a table to be set up in the middle for both people to eat facing each other.  And then you can even push the ottoman back and forth giving the other diner a fun ride 🙂  We also got a very comfortable set of Pajamas and slippers as well as a nice amenity kit.  After doing some damage to their collections of fine 18 year old old single malt scotches he made our bed with duvets, down blankets, and down pillows and I had the best 6 hours of sleep that I'd ever had on a plane.
Upon landing in Zurich there is an arrivals lounge for First Class passengers to take a shower or even a nap, and grab a snack.  We weren't even asked a single question at customs, they just stamped our passports and waived us through!
I have to give a shout-out here to "Chuchem," a member of the dansdeals forums who went above and beyond to make our quick stay in Zurich excellent.  He picked us up at the airport, dropped us off at the train station, made us sandwiches for lunch, and kept our luggage safe the whole day.  He also got us special $35 passes that allowed us to use all of the trains, street-cars, and boats in Switzerland for the day.
We headed straight for picturesque Lucerne.  The train system in Zurich is very easy to navigate and figure out, even for non-German speakers.  The only issue we had was that we were sitting in the train cabin marked "1." When they came around to check our tickets we were told to please move to the "2" cabin as "1" denoted First class.  Could've fooled me because they seemed exactly the same…if they want to see First Class try flying Swiss!
The main activity in Lucerne is to take a very steep cogwheel train up Mount Pilatus. It was unfortunately very cloudy in Lucerne that day and we confirmed with the tourist desk that there was no view from Pilatus at all (they even showed us the current view via webcam!) Instead we took a very relaxing boat ride down Lake Lucerne which is surrounded by snow-capped mountains. Even the boat had a "1" class and a "2" class…quite the class society they have here! There is also the very nice old-city of Lucerne and old-city walls to walk around, as well as centuries-old bridges that span the lake. Bathrooms required payment ($1-$2) but of course there are Starbucks all over, even in the old city, with their clean and free bathrooms. All in all Lucerne was a neat place to see.
We took the train back to Zurich and then took a street-car to our hotel, the Park Hyatt Zurich. The street-cars are very clean and efficient, every stop has a sign with the times of the upcoming cars and a clear map of the system. There was a stop just a block away from our hotel. The hotel is brand new and is stunningly beautiful. Rooms normally go for $700 or more per night, but it's for these hotels that makes Hyatt's "Faster Free Nights" so lucrative. The spa is free for all guests and had tons of goodies in it. The room was large and had a rain-shower and jacuzzi.  They awarded us with 2,500 points in lieu of the free breakfast that we couldn't have because it wasn't kosher.
Chuchem and his wife had us over for an excellent steak dinner at his house nearby the hotel and he showed us some of the pictures from his recent trip to China. He wrote up a trip report for it on the forums. After seeing the First Class Suites on Turkish that he had I regretted not trying harder to fly via Istanbul!
We caught a street car to the train station in Zurich and then a train to the airport. The whole thing with connection time took just 40 minutes and cost just $6/person. Very easy and convenient. All in all it was neat seeing Switzerland, it's really a beautiful country and the cleanliness, efficiency, and punctuality of everything is quite the site to see. And hey, it was just a free sub-24 hour stop on our mileage ticket!  I could've done without all of the secondhand smoke though, which was completely out of hand. They must have really strict smoking ad laws though as signs always had a nice picture of people smoking and then big letters under them saying "SMOKING KILLS!"
We were connecting from Zurich to Paris via Munich as no direct award flights were available.  Officially you can only enter the First Class lounge in Zurich if you are connecting to or from a First Class ticket that day or if you have HON Circle status which requires flying hundreds of thousands of miles per year in premium classes..  As our connecting flight was in business (there is no First Class on intra-Europe flights) I wasn't sure they would let us in, but I handed them the boarding pass from Chicago-Zurich from 2 days before and we got in without a problem.  The lounge is very nice, but I'm sure people who don't keep kosher enjoy it much more.  The private work offices had nice 13″ Vaio laptops to work on.  They escorted us to the very front of the security line a few minutes  before the flight.  My wife had seen the Munich boarding passes that they gave us as the beginning of the trip and was still under the assumption that we were spending shabbos in Munich, little did she know what would happen to us in the Munich airport on our stopover to Paris…to be continued.
Pictures: (Click to enlarge)

SAS Business lounge in Chicago…attempting to perfect our self-timer skills.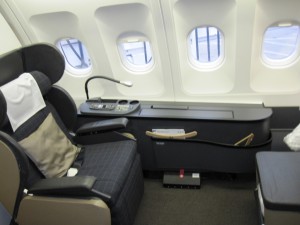 Swiss A340 First Class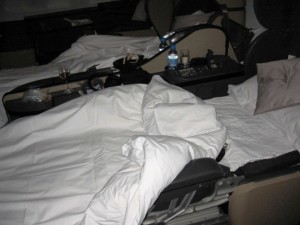 Swiss A340 First Class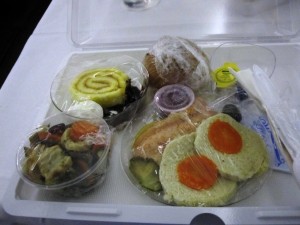 Please stop serving gefilte fish on flights! What's next…Cholent?
Kosher dinner-main course.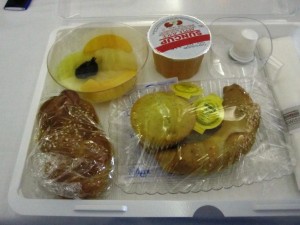 Kosher breakfast.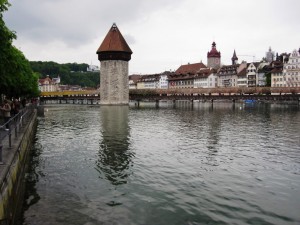 One of Lucerne's bridges.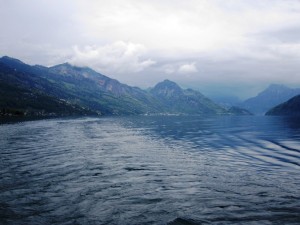 On Lake Lucerne.
Park Hyatt Zurich.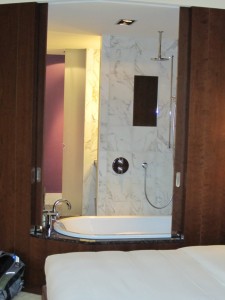 Park Hyatt Zurich.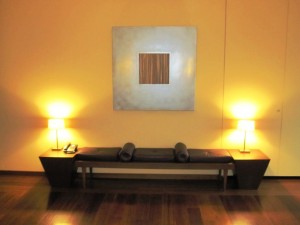 Park Hyatt Zurich.
Zurich street-car sign. at the Park Hyatt stop.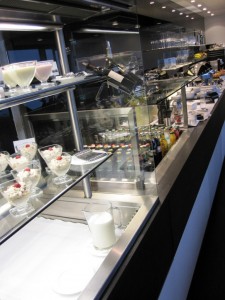 Swiss Zurich First Class Lounge.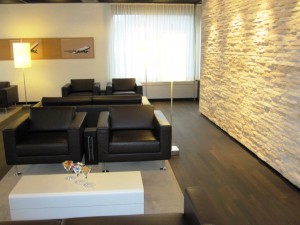 Swiss Zurich First Class Lounge.