Update, 09/11/12: Just wanted to share a success story.  A friend of mine was booked on miles to fly on USAirways to Israel before Yom Kippur.  A few weeks ago I noticed that United opened up saver coach award seats and switched him over (and reported the availability in this DDF thread). After switching him over he told me that he really would like to go in business so I called back, had them deduct 20,000 additional miles from his account as if there was saver business space, and they waitlisted him for BusinessFirst on the same flight on which he was confirmed in coach.
Yesterday United emailed him to tell him that he's now confirmed in BusinessFirst, not bad for peak holiday travel season!
20K miles to have a lie-flat bed on a a 10+ hour overnight flight? I'd take that in a heartbeat!
Have your own success story? Post a comment!
——————————————————
Originally posted on 08/20/12:
Continental had a policy informally known as "Plan B for BusinessFirst" that was simply awesome.
The way it worked is if you found coach saver award availability you could call them up and request to pay for BusinessFirst and be waitlisted for a BusinessFirst seat. For Newark to Tel Aviv that means paying 120,000 miles instead of 80,000 miles for coach.
A nonstop coach ticket that costs $1,600 for 80,000 miles isn't a bad deal at about 2 cents per mile, but a BusiniessFirst ticket with a lie-flat bed and upgraded food that normally costs $5,000 for 120,000 miles is a much better deal at a value of over 4 cents per mile.
It's no secret that Tel Aviv is a very hard award ticket to find nonstop availability for, especially in Business class.  While seats often open up close to the flight, most people like to plan in advance.   There are a smattering of seats available though, and they can be found by searching for nonstop flights between EWR and TLV on United.com
I was curious if the Plan B process still works, so I found award space in November and had United call me up. Most of the reps in this department used to work for Continental so I said straight out that during the Continental days I was able to pay for and be waitlisted for BusinessFirst when there is coach saver availability and was wondering if this is still possible. The agent knew exactly what I was talking about and how to set it up.
After just 5 minutes on the phone and paying 120,000 miles and $45.10 tax I had this all set up for me: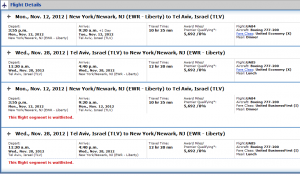 The agent said that this will work for BusinessFirst or Global First awards.
Here's things to keep in mind:
-This only works on United operated flights, not on partner award flights.
-Be sure to request that the phone booking fee be waived as this can't be done online.
-The waitlist will keep checking for BusinessFirst awards until 24 hours before the flight.  At that point you will be removed from the waitlist.
-If you have not cleared at 24 hours before the flight you'll want to go to the airport as soon as you can to be added to the airport upgrade standby list.  It is crucial that you explain to the agent that you a "Displaced BusinessFirst passenger."  This is true because you have paid the full BusinessFirst rate already.  The agent should give you "PR-1 status" which gives you top-priority status and moves you to very top of the upgrade standby list, ahead of employees and everyone else trying to upgrade with miles+cash.  If one agent won't put you on the list as a displaced BusinessFirst passenger with PR-1 status then find another one who will.  With this status the odds of you getting into BusinessFirst are very high.
-If the agents in the airport are all clueless you should direct them to look up "gg onestandby" in their system (they'll know what this is) and look around line 81 which spells out the details of the procedure for this award. (Parenthetically, when trying to get a gate pass to access a club when I'm not flying I sometimes need to tell an agent to look up "gg checkpoint line 53″ which instructs agents to give you a security pass for you and your guests to access post-security United and USAirways clubs even if you aren't flying.)
-If they need to verify that you are really on a BusinessFirst award then have them call up the reward desk.
-If you do not clear into BusinessFirst just contact United after the flight and they will refund the extra miles you paid for BusinessFirst.  For EWR-TLV this means a refund of the extra 20,000 miles each way they charge to fly in BusinessFirst saver over coach saver.
-If you are on a connecting flight you should be waitlisted for First Class on all of the connecting flights.  Say you are coming from Los Angeles, even if you clear into first class on the LAX-EWR flight, as long as you don't clear on the international EWR-TLV flight you will still get the 20,000 miles each way refund!