I never really trusted Aeroplan. They were sold off by Air Canada to become its own company and that was part of the reason why it worried me.  Most airlines control their own mileage programs.
In 2010 I wrote that I don't accumulate Aeroplan miles because they scare me. And that was even though at that time you could fly in first class to Europe for 100K, Asia for 120K, or Australia for 140K and have 2 free stopovers along the way.
A year afterwards in 2011 they devalued their miles by significantly raising the miles required for long-haul awards. Those 100/120/140 rates became 125/175/185.
In 2012 they added fuel surcharges to book travel on Adria, Air Canada, ANA, Asiana, Austrian, LOT Polish, Lufthansa, TAP Portugal, and THAI. (There is currently no fuel surcharge if you redeem their miles for travel on the following carriers: Aegean, Air China, Air New Zealand, Avianca/TACA, Brussels, Copa, Croatia, EgyptAir, Ethiopian, EVA, SAS, Singapore, South African, Swiss, TAM, Turkish, United, and USAirways. That can change though without notice.)
Effective 01/01/14 there are more changes for the worse:
-Travel from the US to Israel and the Middle East will go up from 135K business/190K first to 165K business/230K first. Coach remains 80K. Compare that to Star Alliance partner United requiring 120K in business and 150K in first. Plus United never charges fuel surcharges.
-Travel from the US to Australia will go up from 135K business/185K first to 160K business/220K first. Coach remains 80K. Compare that to Star Alliance partner United requiring 135K in business and 160K in first.
-Rates to Asia will go up significantly as well with rates on some routes a full 95,000 more miles than United would charge and that's before Aeroplan fuel surcharges on select carriers!
Aeroplan does throw a couple bones.
-You will be able to book one-way travel for half the rate of round-trip travel starting 01/01/14.  United already does that.
-Aeroplan miles will no longer have a 7 year expiration policy effective 01/01/14.. They still require activity every 12 months (compared to  the industry standard 18 months) but at least they won't expire regardless of activity anymore.
I'll concede that there are a few nice things about Aeroplan:
1. They have one of the best lap child policies out there. You pay a flat fee of just $50 in coach, $100 in business, and $125 in first for a lap child. Compare that to 10% of the paid fare with other airlines.
2. They allow for 2 free stopovers
3. There are no expedite/close-in fees.
4. Cancellation of an award is just $90 but you need to do it more than 21 days before departure or else you'll have to pay a $90 date change fee to make it after 21 days and then pay an additional $90 to cancel it.
Want out of Aeroplan? It's not too late!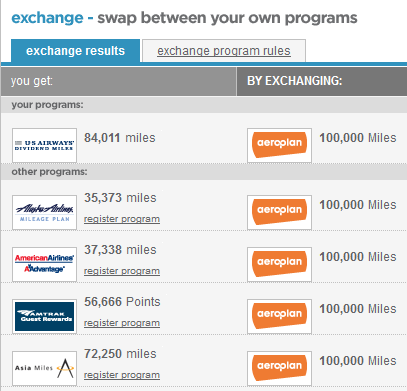 If you open a Points.com account you will be able to transfer points from Air Canada Aeroplan into USAirways at a 100:84 ratio. This is much better than other typically terrible points.com exchange rates.
You need to transfer a minimum of 15,000 points.
15K Air Canada would net 12,601 USAirways miles. 100K Air Canada miles would net 84,011 USAirways miles.
You can learn more about the value of doing such a transfer and about United versus USAirways miles in this post.
Note that currently USAirways is part of the Star Alliance but in the not-so-distant future they will become part of American and the OneWorld alliance. Overall that's probably a positive thing for USAirways miles and it may even be worth transferring American Express Membership Rewards points via this method before it's too late.