1. As I've mentioned several times, Air Canada, Delta, and United continue to offer $643 tickets from cities like Chicago and Washington DC to Tel Aviv this winter.  Other cities like Houston and Los Angeles have tickets for just $712.  Deduct the miles you'll earn for flying and those are some great airfares for Israel.
Use the ITA Matrix calandar search option to find cheap travel dates if you're flexible.
2. Delta, El Al, and United have round-trips from NYC to Tel Aviv for $949 with tax, great prices for nonstop flights.
Sample dates:
-11/18-11/28
-11/24-12/04
-12/01-12/09
-12/12-12/25
-12/31-01/15
-01/05-01/16
-01/19-01/28
-02/02-02/10
-02/09-02/17
-02/16-02/26
-02/23-03/03
-03/02-03/10
-03/11-03/19
3. If you're creative though you can manufacture a cheaper nonstop ticket from NYC for just $807, though the airlines may not like it and they may punish people who abuse hidden city ticketing repeatedly, so don't do this every month.
You can use the Travelocity multi-destination search page and search for EWR-TLV in flight #1 (sample date 02/09/14) and then TLV-ORD, TLV-WAS, TLV-IAH, or TLV-LAX (sample date 02/17/14).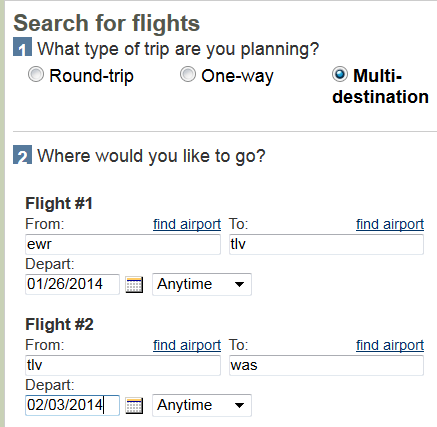 You can choose a nonstop on United from Newark to Tel Aviv. For the return  you can select a United flight from Tel Aviv to Chicago, Houston, Los Angeles, or Washington DC that connects in Newark. Your bags will be tagged to Chicago, Houston, Los Angeles, or Washington DC but everyone, whether their destination is NYC or anywhere else in the world, must pickup their luggage in Newark on the return and bring it through customs. At that point you can either recheck your bags or just leave the airport.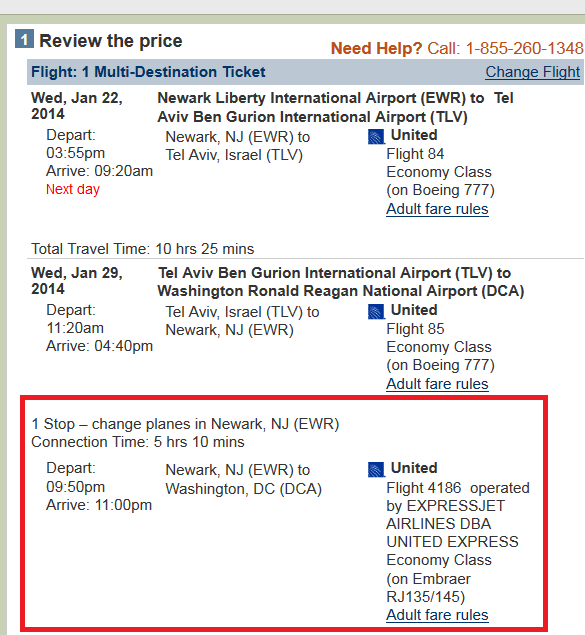 In the red square is a flight that nobody is going to force you to board.
Of course you can always just fly to DC for 4,500 Avios or Chicago for 7,500 Avios and book the flight originating there to save yourself another $164 per person by knocking the price down to $643.  You can still get off the plane in Newark.
Or you can originate in NYC to TLV and then just fly to Chicago on the return for $807, enjoy an awesome meal at Shallot's Bistro or Milt's BBQ and then use 7,500 Avios to fly back to NYC.
Or you can originate in NYC to TLV and then fly to Los Angeles on the return for $807, enjoy a world class meal at Herzog Winery's Tierra Sur and then use 12,500 miles to fly back to NYC.
Of course this will work for dozens of other dates as well. The key to finding valid dates is to first search for a cheap outbound flight date from Newark to Tel Aviv.

Go to the ITA Matrix.
To find a cheap outbound flight from Newark to Tel Aviv just search for a round-trip with flexible dates using their calendar of lowest fares .  Use the following advanced routing code to limit the calendar search to nonstop United flights only: UA
Here is what I searched for that you can emulate: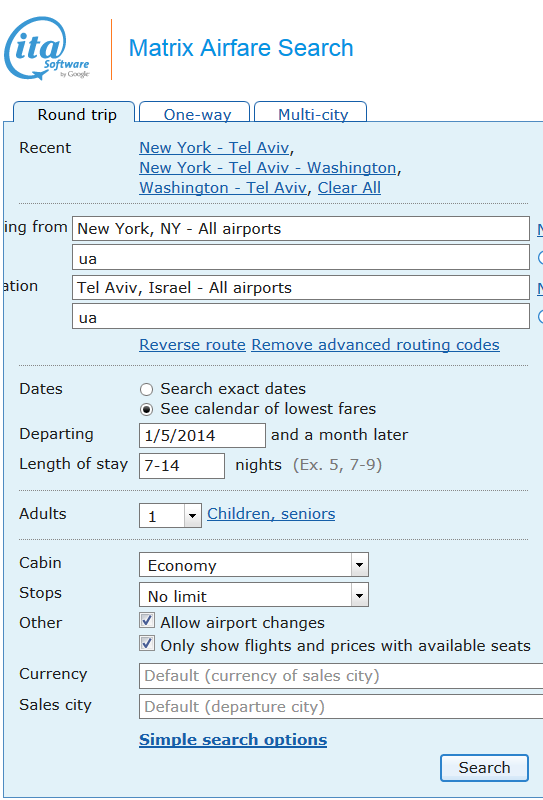 And here is the results page with cheap outbound flight dates.
Once you have that you'll be able to then search for a Travelocity multi-destination search and plugin the cheap outbound date from Newark to Tel Aviv and a cheap return date from Tel Aviv to Chicago, Houston, Los Angeles, or Washington DC.
——————————————————————————
Join the 15,400+ people who follow @DansDeals on twitter and you'll get a tweet when a deal is posted on DansDeals.com!
You can even set up your mobile device to receive text messages (and choose which hours of the night not to bother you) and you'll be the first to know about every deal. After setting up your device be sure to opt into mobile notifications from DansDeals (it's in the drop-down menu next to the blue "Following" button), so that you will never again be kicking yourself for missing another deal!