Monday will be a sad day for Continental fans.  The Wall Street Journal is reporting that Continental and United will announce that they are planning to merge on Monday.
The United name will survive, as will their headquarters in Chicago.  The merger will create the largest airline in the world if it passes regulatory muster.
A merger will mean means higher fares and one less option to rely on for award ticket availability.
Frankly, there's little I like about United.
Granted, I haven't flown them since I swore off them 2 years ago, but still…
-They have an incredibly incompetent offshore call center that makes dealing with their phone agents a nightmare.
-United.com is one of the worst and least functional websites in the industry, far behind the functionality on Continental.com.
-Their clubs aren't nearly as good as Continental's.  Alcohol cost money in United clubs, Wi-Fi is run by T-Mobile instead of an open network, and pests are common occurrences in many United clubs.
-Their planes are dirty and poorly maintained (Via airliners.net, taken on 03/18/10):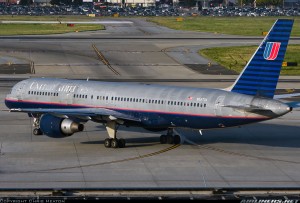 -Their employees seem to be truly unhappy to be working there, many are downright surly.
-They have evil Starnet blocking in place that doesn't allow you full access to Star Alliance partner award flights, even if they are made available for reward redemption.  No other airline does this.
-United doesn't let you make any changes to Star Alliance tickets after departure and charges for routing changes on award tickets.  Continental allows you to always make changes and does not charge for routing changes.
Yes, there are some good things, economy plus, no expedite fees on rewards, but for me the bad far outweighs the good.
My only hope is in the fact that Continental's CEO, Jeff Smisek, will become the new CEO of the merged airline while United's CEO, Glenn Tilton, will become Chairman for 2 years before also giving that role to Smisek.
If Continental's management team will be calling the shots maybe this thing will have a chance to be bearable.
Finally, I see little hope for Cleveland to remain a hub.  Continental and United currently have hubs in:
-Chicago (ORD)
-Cleveland
-Denver
-Houston
-Los Angeles
-Newark
-S. Francisco
-Washington (IAD)
There is a compelling argument to keep pretty much all of those hubs in place except Cleveland.  United already abandoned their hub in Cleveland hub back in 80's.  I'll bet that United ditches Cleveland once again if this merger is completed.
Bad news all around in my opinion…
Goodbye Continental, it was nice flying an airline that cared…