Some stories and deals don't get their own post, but should get some coverage. Here are some quick takes on stories that caught my eye. Let's hear your thoughts about them in the comments below!
View previous roundups and commentary here.
---
Featured Trip Reports:
DDF Trip Report:
Disclaimer: DDF member israshot's trip report of Singapore, Koh Samui, and the Maldives will cause intense wanderlust!
He started writing his trip report back in the beginning of February before realizing that writing trip reports are incredibly time intensive! However, they also serve as an amazing memory book of a trip. israshot recognized me when I visited the Ohel before Rosh Hashana and came over to say hello, which is when I asked him to finish his trip report so I could feature it in a roundup! 🙂
The Conrad Ko Samui is high up on my bucket list:

Waldorf Astoria Maldives:


Marina Bay Sands Singapore, with an infinity pool on the top:
DD Trip Report:
Back in 2013 we flew from the Maldives to the US, with a 2 day layover in Singapore. It's a great city to explore for a few days!
Swimming on the edge of the infinity pool at the Marina Bay Sands Singapore: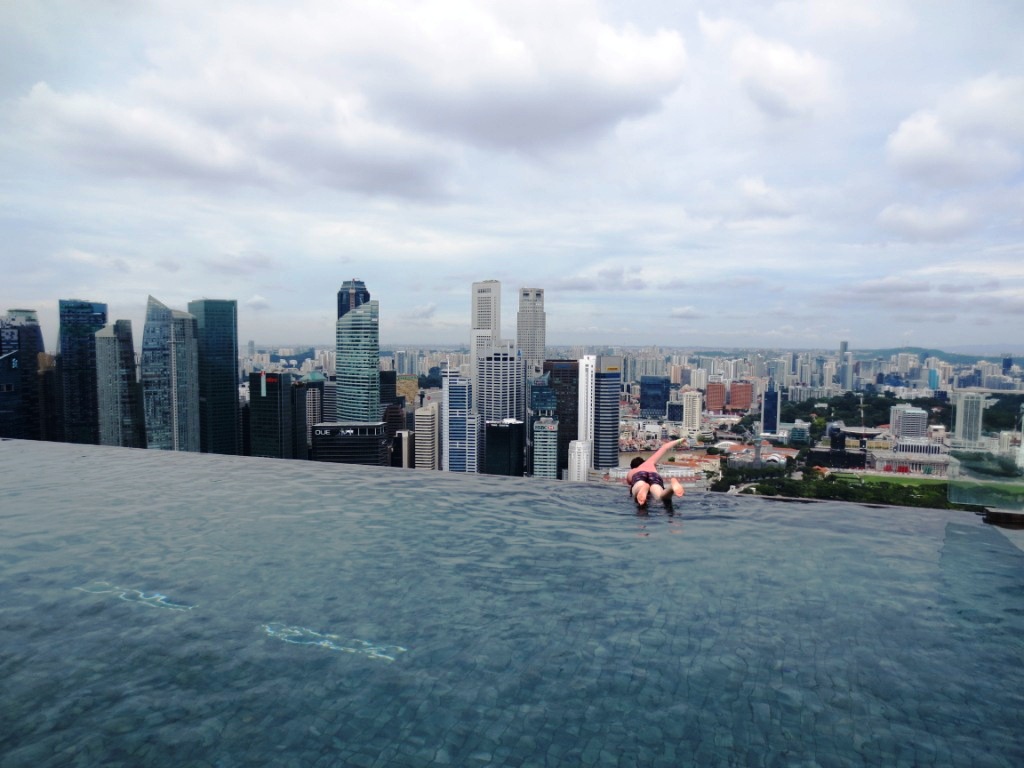 Will The Election Determine If There Will Be A National Lockdown?
As a 2nd wave of COVID-19 spreads across Europe, countries including Austria, Belgium, England, France, Germany, Greece, Ireland, and more are adding restrictions and going back into lockdown. Even Sweden is adding restrictions as cases skyrocket there. The lockdowns in Europe may last longer than a month.
Former Vice President Biden claims that he would be able to get COVID-19 under control, but it's hard to see what that means other than a lockdown. Lockdowns buy time to slow the spread and stop hospitals from running out of beds, but they are also painful to the economy and only temporarily keep numbers low. Then again as time goes on, the better we get at treating COVID-19 and the closer we get to a vaccine. It's certainly a blunt tool in the fight against COVID-19.
President Trump's position has been that it's up to each state to set their own rules. I'd assume that will continue should he win reelection. Will Mr. Biden try to implement nationwide restrictions or even a nationwide lockdown if he is elected president? Will the courts even allow for a nationwide lockdown?
In other lockdown news, Politico notes that NY shut down Hasidic Brooklyn in an effort to control the virus, while NJ worked with Lakewood to keep things open but control the virus. Both approaches appear to have worked, but the Lakewood approach meant that schools, businesses, and houses of worship didn't have to close. The long-term numbers will be watched closely as it's a case that will be studied in the weeks ahead.
Meanwhile, Tablet argues that NYC's haredi community is the only place in the US where there's a sane balance of science and faith.
"How New York's Missteps Let COVID-19 Overwhelm The US"
The Financial Times challenges Governor Cuomo's narrative that he led the nation in responding to COVID-19.
The state's lengthy inaction and infighting proved deadly, as were tweets like this one from Mayor DeBlasio:
Since I'm encouraging New Yorkers to go on with your lives + get out on the town despite Coronavirus, I thought I would offer some suggestions. Here's the first: thru Thurs 3/5 go see "The Traitor" @FilmLinc. If "The Wire" was a true story + set in Italy, it would be this film.

— Bill de Blasio (@BilldeBlasio) March 3, 2020
Meanwhile the state's poorly trained health inspectors are busy fining closed restaurants and schools because they're instructed to issue fines without verifying that the law has been broken:
FLATBUSH: A pair of inspectors, apparently clueless what to look for, first wrote a summons and then walk around Shaare Torah School and find empty rooms. The schools is CLOSED. pic.twitter.com/3xSkoEFftf

— KolHaolam (@KolHaolam) October 26, 2020
Why would anyone want to open a business in NYC?? A cafe in our district today received a summons for having their doors open!

They were adhering to the law by banning indoor/outdoor dining, & they were only open for takeout.

That wasn't enough for this misinformed inspector: pic.twitter.com/vdWIHokOU1

— Councilman Deutsch (@ChaimDeutsch) October 20, 2020
Revealed: How Many People NYC Has Fined For Quarantine Violations
New York has made a lot of noise over their quarantine policies, which are changing on Wednesday.
But how many people have actually been fined for violating quarantine?
You have better odds of winning the lottery!
Will China Take US Hostages?
China isn't happy that the US is prosecuting spies and they are threatening to take hostages in response.
Are the days of free travel between the 2 world powers going to come to a close?
Nikki Haley seems to think so:
China is now resorting to threats to detain Americans in China if we don't back down. Concerning when Biden says "China is going to eat our lunch? Come on, man. I mean, you know, they're not bad folks, folks.They're not competition for us."https://t.co/CrDEJrw9qp

— Nikki Haley (@NikkiHaley) October 19, 2020
On that note, who's ready for Nikki Haley vs Kamala Harris in 2024?
Israir Airlines Looks To Abu Dhabi For Pilot Training
Israir Airlines currently uses flight simulators in Amsterdam.
But Abu Dhabi is closer and cheaper and the airline is in talks with Etihad to use their flight simulators.
I wouldn't be surprised to see Arkia do the same.
Meanwhile, Israir may actually be purchased by a Dubai company.
Israeli pilots training in an Arab country? A UAE company owning an Israeli airline? These sure are interesting times!
Etihad's First Commercial Flight To Israel
Etihad isn't yet selling tickets to the public, but they operated their first commercial flight to and from Tel Aviv:
The UAE Signs With The Eilat-Ashkelon Pipeline
Another reason why the UAE wanted to normalize their relations with Israel has emerged.
The Eilat Ashkelon Pipeline was originally built in the 1960s as a joint venture between Iran and Israel.
Now the UAE will take advantage of it to bypass the Suez Canal to bring their oil to Europe. The pipeline may even be extended from the UAE across Saudi Arabia to Israel.
It's a new day in the Middle East:
https://twitter.com/kh_lorena/status/1318618212683161604?s=08
Will Saudi Arabia Normalize Their Relationship With Israel After The US Election?
The Jerusalem Post reports that Saudi Arabia is now ready to normalize their relations with Israel, but they are waiting until after the elections.
The announcement will be seen as a gift to the winner, as Saudi Arabia hopes to generate goodwill with the winning party.
Meanwhile, flights from Israel can now reach many parts of the world in a fraction of the time previously required:
Who's ready for a grand tour of the new Middle East?
Chabad Recognizes Rabbi 

Levi

Duchman As Shliach To The UAE
Rabbi Levi Duchman has been in the UAE for more than 5 years. Most of that time has been spent operating on the down low, but with the UAE recognizing Israel, times are changing.
Rabbi Duchman has now been recognized as an official Chabad shliach to the region. He is just one of a handful of non-married Chabad Shluchim. I hosted Rabbi Duchman for a meal in my hotel room back in 2017 when I was in the UAE.
He now has a shul with 3 daily minyanim, a school, and opened the Emirates Agency for Kosher Certification, which supervises the Armani/Kaf restaurant in the Burj Khalifa.
He's also fluent in Arabic!
Hatzlacha Rabbi Duchman!
US Citizens Born In Jerusalem Can Now List Israel In Their Passport
The US has had a long standing policy not to identify a birth country for citizens born in Jerusalem.
The Trump Administration has now lifted that restriction and Jerusalemites can now choose to have Israel as their country of birth:
Consistent with President @realDonaldTrump's policy, I am happy to announce U.S. citizens born in Jerusalem can now elect to list their place of birth as either "Jerusalem" or "Israel" on their passports. We remain committed to lasting peace between Israelis and Palestinians.

— Secretary Pompeo (@SecPompeo) October 29, 2020
Say Goodbye To Blocked Middle Seats
At one point in time, nearly every US airlines was blocking middle seats. That era is coming to a close.
Southwest will sell flights to capacity starting in December and JetBlue will be phasing out blocked middle seats in December as well.
That leaves Delta as a holdout, but don't expect them to block seats for much longer.
Airlines were able to block middle seats until now without much of a loss, but with planes filling up again those losses are adding up.
And if people are willing to fly without a blocked middle seat, airlines aren't about to turn down the extra revenue.
You can always buy extra seats if you want to guarantee an empty seat next to you by making the first name of the ticket EXTRASEAT with your last name. You'll even get double your baggage allowance!
American's Widebody Fleet Is Now All Boeing
American inherited Airbus A330s from USAirways. I flew to Paris and Tel Aviv in USAirways business class and thought they were pretty decent seats, but American announced that they are retiring their entire A330 fleet effective immediately.
That means their widebody fleet will consist of just Boeing 777s and 787s going forward.
Delta Retires The 777
Delta flight 8777 from JFK to LAX on Saturday marks their final 777 flight.
The 777 has a higher maximum takeoff weight than Delta's Airbus A330 and A350, which means that they will no longer be able to fly nonstop from Johannesburg to Atlanta, which is weight limited due to Johannesburg's high altitude. Instead they will operate a triangle route between Atlanta, Johannesburg, and Cape Town. That puts them at a disadvantage to United, which will fly nonstop from Newark to Cape Town and Johannesburg on a 787. Delta doesn't have any 787s.
Delta is also phasing out their 767-300 fleet, on their way towards operating an all Airbus widebody fleet.
United Tests Pillows On Newark/San Francisco To/From Tel Aviv Flights
United ditched economy class pillows years ago, but they are back with a trial on flights between Newark or San Francisco and Tel Aviv.
The pillow offering is improved from the old coach pillow and can be used as a neck pillow or regular pillow.
Be sure to give feedback to flight attendants and United online if you have pillows on your flight!
Have you encountered these pillows on United's Tel Aviv flights?
United Brings Back Halfway To Hawaii Game
United long featured a game called halfway to Hawaii that let passengers try to calculate when the plane would make it halfway to Hawaii after the pilot gave all of the necessary factors needed to calculate the time, such as the takeoff time, distance, airspeed, and headwind speed.
I remember playing this game when flying to Hawaii back in 2008, but it was discontinued after that. The winner would win a prize that has varied over the years.
My parents won a magnum of champagne when they won the game on their Hawaiian honeymoon in the 80s, which they wound up giving to a front desk agent who let them stay in their room until flight time.
The game was brought back on the final United 747 flight and the person who guessed closest to when our flight would be exactly half the distance to Hawaii won a $250 United gift card. The winner was just 1 second off of the actual time!
United will bring the game back to all of its Hawaii flights and this time around the winners will receive a Hawaiian-themed amenity kit.
Alaska Will Join OneWorld On 3/31/21
Alaska will join the OneWorld Alliance on 3/31/21.
On the plus side, Alaska and American will get reciprocal elite benefits.
But overall I see this as a net negative.
My worry is the future of Alaska's lucrative award charts. Their award charts are different for every airline and that creates some truly amazing values.
It's very rare for an airline in an alliance to maintain separate rates for each airline. Alaska has dirt cheap mileage rates on some airline partners, but pricey rates on other airline partners.
My worry is that they will make alliance-wide award rates, which will destroy much of the value in the current quirky Alaska program.
United Opens First Class Bathrooms To All
United used to announce to use the bathroom in their ticketed cabins, but will amend that to "when possible."
In cases where the coach bathroom is occupied or the service cart is blocking the bathroom, passengers will now be allowed to use the first class bathroom in order to avoid the spread of COVID-19.
I don't quite understand why social distancing is important on line for the bathroom when United fills every seat on the plane anyway. Anyone have a guess?
United Will Require Coronavirus Tests On Select London Flights
United will make a coronavirus testing trial on United flight 14 from Newark to London from 11/16-12/11 on Mondays, Wednesdays, and Fridays.
All passengers over 2 will need to arrive early and take a free rapid COVID-19 test in order to fly.
It's an interesting concept I suppose, but it means having to go to the airport hours in advance and you still need to quarantine in the UK after your flight. Plus, even a 1% false positive rate on the rapid test means that there will be multiple passengers on each flight that will be denied boarding despite not actually being positive for COVID-19.
If the trial is deemed a success it will be expanded to more flights.
Will you look to take or avoid flights with COVID testing requirements?
The Return Of The 737MAX
The 737MAX has been grounded for 18 months since it crashed twice due to a poorly designed system intended to avoid pilots needing aircraft training.
But European regulators have given it the green light to return and US regulators will do the same this month.
American and Air Canada plan to fly the plane starting next month.
Odds are that with this much scrutiny, the 737MAX is now one of the safest planes in the sky. But will that be enough for you to fly in one?
Worse than its safety record are the uncomfortable slimline seats and tiny bathrooms that airlines equipped the plane with…
A Decade Late, Berlin's New Airport Opens
Berlin Brandenburg Airport (BER) was supposed to open nearly a decade ago. Germans aren't known for being late, let alone a decade late, but everything that could go wrong went wrong.
The airport finally opened, but without any fanfare. Whether that was because of COVID-19 or national embarrassment over the new airport is an open question.
How Airbnb Survived COVID-19
The WSJ has a great article on how Airbnb managed to survive COVID-19.
Bookings fell off a cliff, and no surprise, the company had to trim back to survive. "This is going to be bigger than 9/11 and 2008 combined."
But Airbnb executed perfectly and is now in a better place than most in the travel industry as people want a private getaway more than ever. If anything it may do better than before as it focuses on its core business rather than spending on everything to see what sticks.
US Justice Department Sues Google
The US Justice Department is going after Google for their monopolistic practices.
It will be an interesting case to follow as Google gives away most of its services for free.  Will the courts view a free product that you can choose to use as a monopoly?
Of course offering free services doesn't mean that money isn't being made and Google is dominant in online advertising. Like I said 4 years ago, don't mess with the Google!
Could this be the end of Google as we know it? Or will the government get a token settlement like they did from Microsoft 2 decades ago?
Facebook Bans Holocaust Denial
How involved should social media be in what its users say?
Mark Zuckerberg announced last month that Facebook would no longer allow denial of the Holocaust.
That seems like a reasonable policy change to me, but is it a slippery slope?
WhatsApp Adds Always Mute Setting
For years, WhatsApp only allowed you to mute a conversation for up to 1 year. They finally gave in and added an "always mute" option.
Now if only they allowed groups larger than 256 people!
It's amazing that WhatsApp is as successful as it is, given its numerous limitations. Telegram is a far superior messaging app in just about every way and the @DansDeals channel there now has over 7,000 members. Join the club!
Friends Don't Let Friends Fly Spirit
I've been saying it for years.
And as we saw in May.
And in July.
And now:
Caught on Camera: A fight over whether or not to wear a mask onboard a Spirit Airlines plane that had just arrived in Puerto Rico led to a woman – who police say was the aggressor – being tased by police who are considering filing charges.
pic.twitter.com/2iJeNl12Pn

— David Begnaud (@DavidBegnaud) October 27, 2020
Friends Don't Let Friends Fly Spirit.
Only In NYC: Beware Of Falling Into A Lair Of Rats
As a teenager I spent a few months in a rat and bedbug infested Brooklyn yeshiva dormitory where the meatballs were mezonos and nothing in my room was safe from being purloined by giant rats.
But is anything more terrifying than walking on the sidewalk and falling 15 feet into a vault teeming with rats?
It seems like 2020 has turned living in NYC into a real life episode of Fear Factor.
The Virus That Killed The Jumbo Jet
The fascinating, but sad documentary of the end of the 747:
Microsoft Flight Simulator Vs. Real Life At LAX
Real life graphics really needs to step up its game. 😀
Do you have Microsoft Flight Simulator 2020 yet?
Amare Stoudemire Will Be The Nets Assistant Coach
Recent Jewish convert Amare Stoudemire will join the Nets as an assistant coach:
Six-time All-Star Amar'e Stoudemire has agreed to a deal to join new Brooklyn Nets coach Steve Nash's staff as an assistant coach, sources tell @TheAthleticNBA @Stadium. Nash and Stoudemire starred together in Phoenix.

— Shams Charania (@ShamsCharania) October 23, 2020
So…how will Shabbos work?
Whale Sculpture Saves Dutch Train
2020 has the weirdest news stories.
A train in Rotterdam overran the station and would have plunged into the water had it not been for a plastic whale sculpture that saved it.
The driver was able to escape unscathed.
The sculpture's designer was surprised that it was able to hold the weight of the train.
The name of the sculpture?
"Saved by the Whale's Tail!"
A train that went careening over the end of elevated tracks in the Netherlands was left teetering about 30 feet above the ground. But no one was injured or killed — thanks to a sculpture of a whale's tail. https://t.co/b3f7X8YOuU

— The New York Times (@nytimes) November 2, 2020
Ashley Blaker On COVID-19 Making Everyone Jewish
Of course once we're on Ashley Blaker, I need to include this classic clip:
And what's a sushi comedy video without some Jackie Mason hilarity:
As long as we're on this tangent, I'll leave you with this sushi gem:
🎶 Fishies of the sea, won't you please tell me, what would you rather be — herring or sushi 🎶

This should've won a Grammy. 🐠 pic.twitter.com/9WsmBbAMcT

— D Bash (@DBashIdeas) April 14, 2020
---
Share your thoughts on these stories or post a comment about what other stories that I missed!
---
Previous roundups
Catch up on what you missed!
10/9/20 News Roundup: COVID-19 Second Wave, Flights To Nowhere, Skymiles Mortgage, Airlines Banning Food, Ritz-Carlton Maldives, Home Makeover, Faked Death, And More!
9/2/20 News Roundup: UAE Peace Deal, El Al Sale, COVID Reinfection, Flight Simulator, 737MAX Rebranding, Ransomware, Tesla Hack, #Bonvoyed, And More!

8/5/20 News Roundup: COVID-19 Updates, United 232 Survivor's Guilt, Hyatt Woes, All You Can Fly Deals, El Al Meals At Home, Corona Cruises, Hyatt In Hana, Clorox Wipes, Lost Baggage, And More!
7/22/20 News Roundup: Israel Flights, COVID-19 Thoughts, Cuomo, AA Adding Flights, JetBlue Ditching Long Beach, Hertz "Improvements", DOT Complaint, Elon's Negative Fine, And More!
Sunday News Roundup 6/28/20: New LGA, El Al Bailout, Hong Kong, Credit Card Approvals, Goodbye Qantas 747s, Buried Treasure, And More
COVID-19 News Roundup 5/25/20: Super-Spreaders, Second Wave, Immunity Passports, El Al In Turkey, Worldwide Restrictions Roundup, Amare Stoudemire, And More
COVID-19 News Roundup 5/12/20: Distancing On A Plane, De Blasio, OU Kosher PSA, True Number Of Deaths, Murder Hornets, Free Eilat Flights, Goodbye $10,000 Bumps, And More
COVID-19 News Roundup 4/5/20: Shifting Origin Story, Billionaires Doing Good, Plague Of Wild Animals, Trapped Away From Home, Chicken Soup For The Soul+More
COVID-19 News Roundup 3/14/20: New Travel Bans, Airline Suspensions, Israel Shutdowns, An Alternate COVID Approach, JetBlue Ban, TSA Changes, Poll, And More
Sunday News Roundup 3/8/20: Flight Tampering, eBay Bans, Centurion LAX, United Refunds, Airline Bunk Beds, Amazon Grocery Markets, Record Flight Times, And More
Sunday News Roundup 2/23/20: Flight Denied Entry To Israel, E-PASS Transponder, Venice #Bonvoyed, MLB, Points Scam, Drone Dome, $10K Bump, Cuba Trip, And More!
Sunday News Roundup 2/16/20: New US Airlines, Cruise Quarantines, #Reclinegate, Yiddish Harry Potter, Aeroplan Infant Awards, And More!
Sunday News Roundup 2/2/20: Coronavirus, RIP Kobe, Something Smells At American, Super Bowl Saturday, Stuck In Iran, 15K Lie-Flat Transcon, And More!
Sunday News Roundup 1/19/20: Pilotless Flights, El Al Diversion, Mobile Boarding Passes, MLB Cheating, Handy Credit Card, United Backdoor Link, And More!

Sunday News Roundup 1/5/20: Kosher Thailand Hotel, Mexican Jail Mileage Run, Jeopardy GOAT, Fugitive Ex-Nissan CEO Escape, EgyptAir Coverup, And More!
Sunday News Roundup 12/22/19: #KosherAntarctica Cruise, The Residence, AA Shutdowns, TWA, Amazon Israel, NY Small Claims Change, United Cape Town, Backdoor Marriott Links+More!
Sunday News Roundup 12/15/19: Jersey City Terror, TLV Hotel, Bonvoyed, Protect Your Ring, Check Your Passwords, And More!
Sunday News Roundup 12/8/19: 8 Quick Takes On Travel; DansDeals Interview, Falklands Tanya, Aegean Devaluation, Travel "Nightmare," Airline Meals, Near NFL Forfeit, And More!
Sunday News Roundup 11/24/19: 10 Quick Takes On Travel; Phone Charging Scam, AMEX Loves Sapphire, Making Amtrak Great Again, Hyatt Private Island, And More
Sunday News Roundup 11/17/19: 12 Quick Takes On Aviation And Travel; Dubious Marriott Claims, TWA Ice Rink, A380 Failure, Mileage Ban, And More
Sunday News Roundup 11/3/19: 9 Quick Takes On What's Going On In Aviation And Travel; Airbnb Scam, Cathay's Tel Aviv Plans, United Plays Dirty, 747 Farewell, LAX Uber Disaster, And More