-Find more articles like this by clicking on the "Trip Notes" tab on top of the DansDeals banner at the top of this site.
The flight:
In June I flew with my wife and son to Boston thanks to Jetblue's first mystery coupon bonanza of the year.  When they ran it again last month I thought much bigger (let's just say that 4BMs are now for sissies) and nabbed free tickets to Aruba for my wife, son, and my mother as well…might as well get some babysitting out of the deal as long as tickets were free!
While Aruba wasn't our top choice for our first trip to the Caribbean, there are very few Jetblue flights to the Caribbean that leave late enough in the day from Boston or JFK to allow for connections from Pittsburgh. The other options all involved staying in NYC overnight twice, Jetblue does not time their Caribbean flights well for folks coming from connecting cities.
We flew to Aruba last Sunday and arrived into Pittsburgh late Thursday night before driving back home to Cleveland.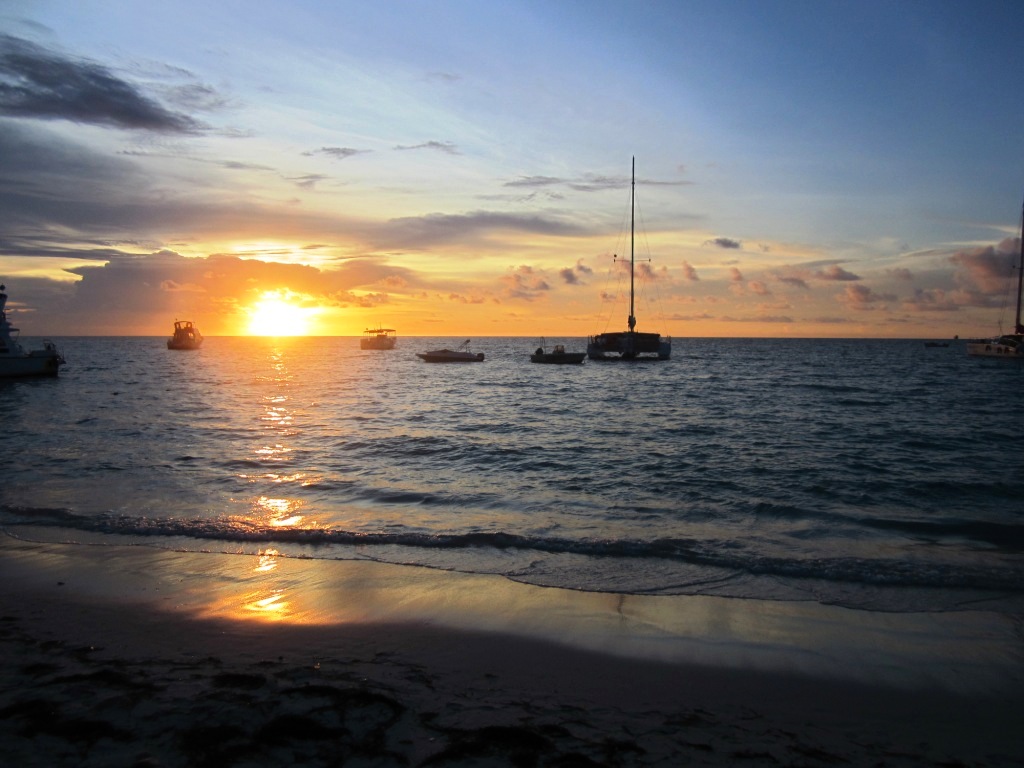 Jetblue had no assignable seats for the flights to Aruba when we booked the tickets, only the "even more space" seats available for purchase.  I naively thought that they would have to give us those seats for free at checkin, but it turns out that Jetblue blocks out the last row of seats and that's what they assign poor saps like myself who try to freeload.  By the time I found that out at the airport there weren't even any seats left to upgrade to.  Bring your stink-shield due to the proximity of the bathroom, these seats barely recline and there was a line of people waiting for the restrooms right next to our seats for the majority of the flight.  I made sure to pay the $55/seat fee to confirm seats in row 2 for the return trip right after landing.
This was the first trip we went on since Rafi grew out of his Chico Keyfit 30 infant carseat and boy do we miss it!  Flying with it was a breeze, it snapped into our Uppa Baby Vista frame with ease and we would bring it onto the plane and gate check the frame.  We bought a Britax Hi-way 65 convertible carseat and it's a beast.  Significantly heavier and bulkier and it won't snap into a stroller.  I bought a GoGo Babyz Travelmate to wheel the convertible carseat through the airport in addition to the complete Uppa Baby stroller.
Having a carseat though on the flight was still worthwhile.  Rafi slept like teenager in it.
The Britax is great in our car, but it's just too bulky for traveling. Anyone have some suggestions for what to travel with for a 15 month old?
Jetblue's DirecTV service doesn't work at all once you are not flying over the US48, but they do have free movies on international flights.
Jetblue's service and free snacks are great, but boy their flight map channel is terrible.  It's mostly ads and you can barely tell where you're flying over.  It never tells you the current time or when you are expected to arrive.  Major disappointment.
Beware that you need to allow a ton of time for your return flight from Aruba as you must clear about 4 customs checkpoints and you must go through full security twice!  I don't know of any other airport where you have to go through full security twice like that.  We returned the car 2 hours in advance and made it to the gate while they were already boarding.
Airport food:
In JFK we were able to pick up pretty decent kosher food from the various CIBO stands, just like CIBO has in LGA.  They have granola parfaits, mozzerella sandwiches, shnitzel sandwiches, etc.
I also picked up a bag of Deep River Maui Onion Kettle chips and they are AWESOME (and not just because I'm a sucker for anything with Hawaii in its name).  I had never seen them before in a store and was about to stock up on some at $2 an ounce when I checked Amazon and found them for less than a fourth of the airport price.
Some restaurants in Lawrence deliver to JFK, like Wok Tov and Sushi Tokyo.  We ordered Chinese meals and sushi from Wok Tov.  The Sesame and the Sweet and Sour Chicken were very good as were Peanut Butter noodles with chicken and Mango Avocado sushi.  The Lemon chicken sauce though didn't do it for me, I haven't had a good Lemon Chicken since Abba's was forced out of their building in Cleveland a few years ago.  The Sweet and Sour and the Lemon Chicken came with the sauce in a container on the side, but luckily the good folks at the TSA didn't notice that I dared bring liquid past them.  But good to know for the future to request the sauce to be in the meal and not on the side where it can be mistaken for something nefarious.
For the record, I've also ordered chinese food when connecting in Newark, New Kosher Special is happy to offer free airport delivery there and has awesome food as well.  I don't even mind connecting in New York anymore!
Rental car:
While in the US I nearly exclusively rent with Avis thanks to my Chairman's status that I got years ago but that doesn't help much in franchise locations like Aruba and prices were quite high.  Hertz actually came out to be the cheapest by using the AMEX Platinum Card code.  The truth is that you probably don't need a rental car in Aruba, but I like to have the freedom to explore a place freely.  Rental cars in Aruba are tiny and old.   They also don't have LATCH for carseats. They also tried raising my rate by 50% but luckily I had a printout of my confirmation.  They still managed to add $25 in "taxes" to it, but after wasting too much vacation time arguing you have to pick your battles sometimes.  I asked about an upgrade from our tiny rented SUV to a real SUV and was told it would be $90 for the rental.  I asked if that was $90 per day or $90 for the rental and the agent confirmed that it would be $90 total.  However when I agreed to that somehow my estimated total went up by nearly $400.  The agent claimed that was due to "taxes."  Keep the SUV and your taxes please…
The gas tank isn't given to you full and you're expected to bring it back at whatever level they give it to you.  The rental car rigmarole is definitely the first sign you're no longer in the states.  Reminds me of the shenanigans they play when you rent a car in Israel.
Traffic can be horrendous around the downtown area, so beware of that if you do rent a car.
Cell phone service:
Verizon's website claims there is CDMA data roaming in Aruba and I signed up for their excellent $25 world data plan like I did when we were in Vancouver in August.  However my phone never was able to use data while we were in Aruba.
The hotel:
The Hyatt Regency Aruba is, incredibly, a top-tier category 6 Hyatt hotel.  Same as ultra-luxury hotels like Park Hyatts in Paris, Sydney, and the Maldives.  It's ridiculously out of place on that perch based on its rates and service.
Rather than burning 22,000 points per night on such a poor value and not being able to confirm a suite I searched and found cheaper rates on Kayak for the Hyatt Regency Aruba than I did on Hyatt.com. I called the Hyatt Best Rate Guarantee line and they took an additional 20% off the lowest rate that Kayak found, dropping the rate to $180/night.  Plus I applied a confirmed diamond suite upgrade which books into the family suite there.
When we went to checkin at the hotel the incredibly incompetent checkin agent denied that I had used a suite upgrade and said that "anyway they have no suites available."  Instead they had a room for us on the Regency Club floor.  Managers of course were "not available."  I called Hyatt Gold Passport and the agent confirmed that I did use a confirmed suite upgrade and that in fact the hotel did have a family suite available.  By this time there were 2 other people in line checking in and the checkin agent refused to talk to the Gold Passport agent until she checked them all in.  Finally the checkin agent took the phone and had the audacity to tell the Gold Passport agent that I had asked to forgo the suite upgrade in order to stay on the Club floor!!!  After hanging up with Gold Passport the checkin agent incredibly continued to berate me for not just asking her for a suite in the first place!?!  Finally after spending nearly 2 hours waiting to receive our room keys we were on our way.  The checkin agent claimed to program our key with Regency Club access, but alas, she did not.
Our family suite was room 607. Avoid it at all costs folks.  The higher floor family suites allow in tons of light through their numerous windows that don't have blackout shades, so expect to be woken up early in the morning, especially in the living room.  It is located right next to the loud elevators, unbelievably noisy ice machine, and 2 housekeeping rooms.  The housekeeping staff was the loudest I've ever experienced in a hotel, I've never had such a noisy room experience.  On 2 occasions during the stay housekeeping knocked on our door despite the privacy sign hanging on the door, both times spoiling Rafi's nap.  To top it off our room looked right over some sort of construction the hotel in undergoing which just added to the overall noise level.
The hotel outsources their wifi to an outside contractor.  It was not useable at all in the bedroom and was painfully slow in the living room.  At times it didn't work in the living room either.
99% of the rooms in the Hyatt have miniscule balconies, barely enough room to stand on.  Forget about relaxing while lounging on a balcony here.
Finally the hotel also offers the slowest service known to mankind.  Emails sent beforehand about kosher meals were not answered until halfway through the stay and even then without the details requested.  We requested and were confirmed a crib, fridge, and a microwave before the stay.  When we arrived I called housekeeping for the items.  It took 2 hours to get the fridge, 3 hours to get the crib for Rafi to finally be able to go to sleep, and 2 days for the microwave.  We requested to have housekeeping make up our room when we all went out but hours later it was still not done and we didn't have our room services that day.
It was also the first hotel I've been to that doesn't give new shampoo, conditioner, and body wash, even though the old ones in the shower were almost completely finished.  Talk about being stingy.
The Regency Club does have kosher Kellogg's cereal along with Tazo tea and moldy fruit.
To be fair, they surprisingly gave full size baby toiletries and the grounds of the hotel are nicely landscaped.  There are 2 pools, a waterslide, and 2 hot tubs.  The hotel is located right on a nice white-sand beach.  There is a modern casino located just off the lobby.  Self parking across the street is free. Beach and pool towels are strictly regulated and you are charged if you do not return them.  When we went to the pool and beach in the morning both were completely empty.
To sum it up though, this was my worst Hyatt experience ever and I would not return.  That the hotel brands itself as a luxury experience is laughable.
Food:
My wife made meals beforehand (Pasta with Meatsauce, Chili with Cornbread, Salmon in Phyllo dough, Calzones, and Lasagna) and froze them.  We heated them up on a simple portable burner.  We also brought along a sandwich maker (which by the way is an incredible way to make day old pizza taste delicious) along with bread and cheese.
Super Food is a great grocery store with lots of imported foods from the US.  Kong Hing also carries a nice selection.  Prices in the store are in Florins, 1.75 of which equal $1.  You can pay and receive change in US currency pretty much everywhere.  Prices in these stores are a small fraction of prices in the tourist areas.  Plus prices in those stores are in Florins whereas prices in the tourist traps are listed in dollars.
Weather:
Everyone said the weather is one thing we could count on.  Being a desert landscape and pretty much always hot and dry.  For the first 2 days that was true but for the last 2 days there were thunderstorms and downpours.  They came pretty suddenly, when we went up for parasailing it was sunny and 500 feet in the air it started to thunder and rain.  So there's definitely no such thing as a sure thing.
The island:
Aruba is very desert-like, with lots of cactus and little greenery.  Of course the white sandy beaches and ocean are beautiful, but I've always been a Hawaii guy and Aruba just didn't do it for me.  I understand that other Caribbean islands are much more green and lush than Aruba, but after experiencing the Hawaiian Islands it's really hard to appreciate a place like Aruba.  No majestic mountains, no jaw-dropping scenery, no hidden waterfalls, no incredible hiking opportunities.  Sunsets were nice, but not like Hawaiian sunsets.  In Hawaii you can experience some local culture, in Aruba it's nowhere to be found.  The air when you step off the plane in Hawaii is so clean and refreshing.  Stepping off the plane in Aruba just felt like entering a sauna.
I bought a Fodor's book on Aruba from Amazon, what a waste of $7.  There are beaches, more beaches, and water activities.  We did take advantage of them, but didn't need a book to tell us about them.
We did get to do lots of fun water sports.  We went Jetskiing, parasailing, got towed on a super mable (don't do it after you eat folks!), and I even tried my hand at stand-up paddling (next time I'll splurge for lessons).  All were very fun and definitely things we could never have done had we not taken a babysitter along.  However all of those things can be done in other places, nothing unique about Aruba though prices seemed quite reasonable.  The water is quite warm and clear which was nice.
I took to Trip Advisor to find some more activities.  We booked a trike tour but they didn't mention that the trikes require knowing how to drive stick-shift, so much for that.  We also tried booking a horseback riding tour recommended on Trip Advisor.  The ranch wrote on Trip Advisor that they offer a 20% online discount but when I called up to ask how to book it with the 20% discount they laughed so hard that I decided to not patronize their business.  Their responses to some of the negative reviews also scared me off.
When you land at the airport there is a stunning picture of people under a stone bridge.  When I Googled it I learned that it was called "Natural Bridge" and it actually collapsed some 7 years ago.  There are other nice sites, like "Natural Pool" but that requires hiring a driver to take you there for a full day and didn't seem to be worthwhile.
We arrived in Aruba on Sunday afternoon and left on Thursday afternoon.  Truth be told it got old by Wednesday and we could have made the trip a day shorter.
I don't really see any need to return to Aruba.  It was a nice warm island, but there's nothing compelling me to return.  But I'm not ready to write off the Caribbean yet.  I may be a Hawaii guy through and through, but the shorter flight to the Caribbean sure was quite nice.  So which island should I hit up next time?  Or am I too spoiled from my extensive Hawaii travels that I'll never appreciate a Caribbean island?
Divi Divi trees and Cacti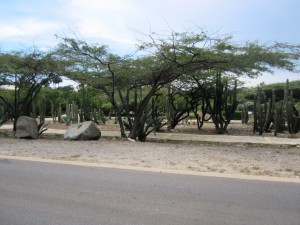 Jetskiing in turquoise waters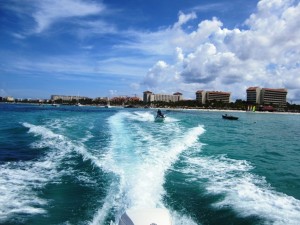 Sunset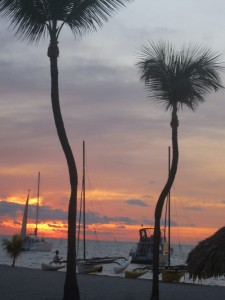 Hotel grounds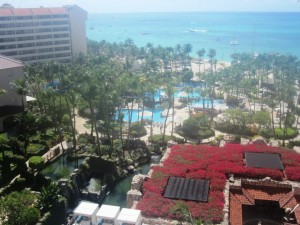 Regency Club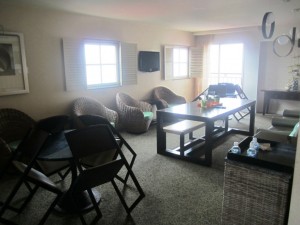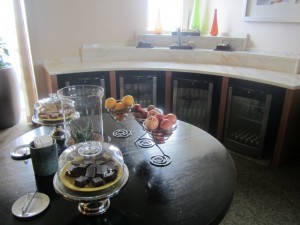 California lighthouse.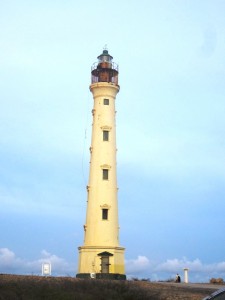 Stuffed like a clown car.