Update: Commenters point out that it is in fact possible to use Air Berlin round-trip between JFK and Israel.  For example you can fly round trip from Tel Aviv to JFK on 10/16 and back on 11/05 for 60,000 Avios and $83 tax.  43K AMEX MR points will get you more than that amount of Avios right now.
Related posts:
-Get A 40% Bonus When You Transfer American Express Membership Rewards Points Into British Airways Avios!
-50,000 Point Signup Bonus For the American Express Business Gold Rewards Card!
-Save $400 On Fuel Surcharges To Israel By Booking Avios Rewards Via Iberia Instead Of British Airways!
-Booking With Avios? Check Those Surrounding Airports!
-Why Using BA Miles To Fly In Business Class For An 80 Minute Flight Can Make Sense.
-Flying With An Infant With Miles In Business Or First Class? Start Collecting Air Canada Or British Airways Miles
-Short-Haul Flights: BA Avios Versus LAN Lanpass.
-BA Miles Are Now Avios…For Better Or For Worse.
DDF user Reuven posted something earlier today that I hadn't realized somehow (and hopefully isn't old news), that BA does not collect a fuel surcharge for travel on Air Berlin.
There are actually lots of flights for which BA does not collect a fuel surcharge, including Alaska, LAN, and pretty much all AA flights that are wholly within the Western Hemisphere. Lots of other fee-free routes also exist, like intra-Australia flights on Qantas.  Plus surcharges are close to nil on Aer Lingus flights that allow you to hop the pond to Ireland without paying crazy amounts.
Personally I love that BA has made short-haul travel so much more affordable, I don't even think twice about spending 9,000 Avios on a short-haul round-trip flight. But this is a neat option for getting to Israel and more options are always good to have. The problem is that on the return there are no connections from Israel back to the US so you would have to book 2 separate tickets and have an overnight stay in Germany to get back home. But then again you can always use American miles for a one-way ticket on El Al or United miles for a one-way ticket back home on any Star Alliance carrier with no fuel surcharges.
For 30,000 Avios plus $21 you can fly from JFK to Tel Aviv via Berlin. That's less than 22,000 American Express points with the current 40% promo. From Miami it would be 35,000 Avios or 25,000 AMEX points.
I also found availability in business from JFK to Tel Aviv via Dusseldorf for 50,000 Avios (less than 36K AMEX) plus $19, though business is only available on the Trans-Atlantic segment.
Of course this will also work for getting to Europe without fuel surcharges as well!
As always you will need to find dates without BA availability and then search partners to get the flights to display on BA.com.
Click images to enlarge.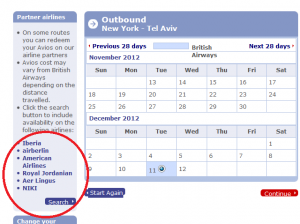 ——————————————————————————————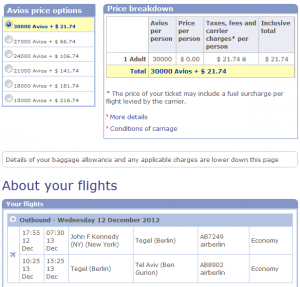 ——————————————————————————————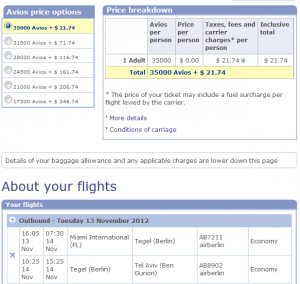 ——————————————————————————————