Update #2: Commenter "Baruch" was able to call BA and get them to book a ticket to Israel with an overnight connection in Germany, thereby saving the extra taxes incurred when booking each leg on separate tickets.
Update: I've added information for business class (from 50K Avios+$20 tax one-way) in the addendum at the end of this post.

Related posts:
–Get A 30% Bonus When You Transfer American Express Membership Rewards Points Into British Airways Avios! (Transfers must be initiated by tomorrow, 01/14!)
-Convert 20,000 Starpoints Into 31,250 British Airways Avios (Transfers must be initiated by today, 01/13!)
-Chase British Airways Visa-Get 50,000 bonus Avios for spending $1,000, an additional 25,000 bonus Avios for spending $10,000 in 12 months, another 25,000 Avios for spending $20,000 in 12 months, an award companion cert for spending $30,000 in a year, plus 1.25 Avios per dollar spent everywhere.
-Which Miles To Use To Fly To Israel?
-BA.com Overhauls Their Award Search Engine!
-Getting To Israel On The Cheap With BA Avios And Air Berlin
-Save $400 On Fuel Surcharges To Israel By Booking Avios Rewards Via Iberia Instead Of British Airways!
-Booking With Avios? Check Those Surrounding Airports!
-Using BA Miles To Fly In Business Class For An 80 Minute Flight Can Make Sense.
-Flying With An Infant With Miles In Business Or First Class? Start Collecting Air Canada Miles Or British Airways Avios
-Short-Haul Flights: BA Avios Versus LAN Lanpass.
-BA Miles Are Now Avios…For Better Or For Worse.
———————————————————————————————————–
I've blogged numerous times about redeeming British Airways Avios for travel on Air Berlin and broke the news that BA stopped charging fuel surcharges on Air Berlin in September.
People have had trouble finding the Air Berlin flights on BA.com so hopefully this article will empower those people to hone their searching skills.
I'm posting this now so that people will be able to lock in these rates via the expiring AMEX and Starwood transfer promotions.  Even if you don't have enough points you can borrow either of those point currencies from AMEX of you can read on to learn about the valus of Avios+Cash options.  The AMEX and Starwood promotions will both likely be back at some point in the future, but if you're looking to travel in the next few months and the Air Berlin flights work for you then it will make sense to lock those promotion now.
More after the jump…

British Airways charges Avios based on the length of each segment (with some exceptions) as follows: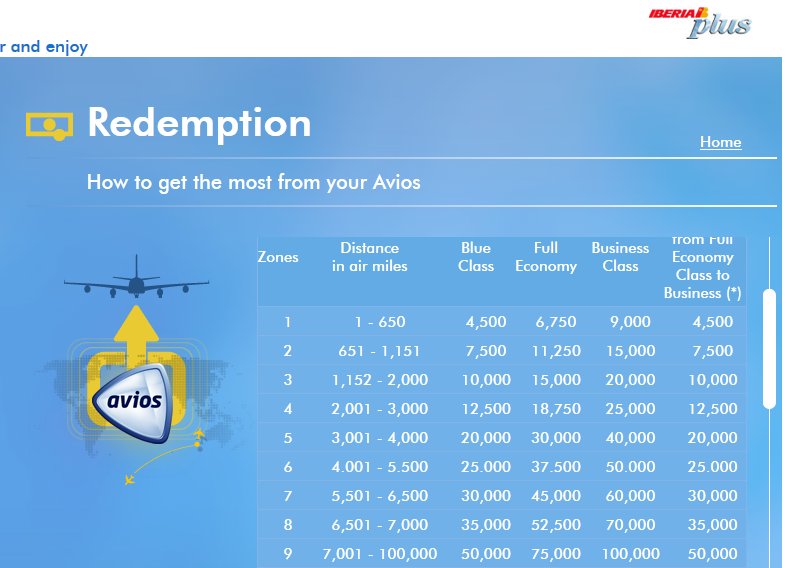 So if you plugin JFK-LHR and LHR-TLV into the Great Circle Mapper you'll see that JFK-London is 3,451 miles apart and therefore it costs 20,000 Avios each way in coach and London-Tel Aviv is a 2,233 mile journey and therefore it costs 12,500 Avios each way in coach.  Of course if you travel via London you'll also be hit up for hundreds and hundreds of dollars in fuel surcharges on top of the 65,000 Avios for the round-trip flight in coach, which is why that's such a terrible deal.
Now plugin JFK to TXL or DUS and you'll see that flights from JFK to Berlin or Dusseldorf are under 4,000 miles in distance as well, and are therefore 20,000 Avios each way.  However because flights from TXL or DUS to TLV are under 2,000 miles those flights only cost 10,000 Avios each way.  Thus a round-trip from JFK to Tel Aviv via Berlin or Dusseldorf on Air Berlin is just 60,000 Avios.  There are no fuel surcharges, just $81 in government taxes.
(The same logic applies to domestic flights, a set price is charged by the leg, thus a flight from NYC to Cleveland, Detroit, Montreal, or Toronto is 4,500 Avios each way, a flight from NYC to Miami is 7,500 Avios, while a flight from NYC to Miami via Cleveland (regardless if you are in Cleveland for 30 minutes or 6 months) will be 12,000 Avios.  A flight from LA to Maui is 12,500 Avios while a flight from NYC to Maui via LA will be 25,000 Avios or from NYC to Maui via Dallas will be 30,000 Avios.   Plus no fuel surcharges apply on LAN and on AA flights wholly within the Western Hemisphere.  Personally I attain more bang for my buck from these domestic flights, but for people who want to use their points to go to Israel, read on.)
Now the issues with finding these flights are that not always does Air Berlin have valid connections from Tel Aviv to JFK and not always do they have award space.
My preferred way of searching for OneWorld flights is on AA.com. AA does not yet have all OneWorld carriers, but they do search Air Berlin, British Airways, Finnair, and Qantas. It can also search for non-OneWorld airlines Alaska and Hawaiian. Alaska is particularly useful as BA.com won't pull up Alaska flights, you need to call in to book those, so searching AA.com first really helps out there.  For other airlines not supported by AA.com I search on sites like Qantas or Cathay Pacific.
In our case you will want to search for award flights from JFK-DUS, JFK-TXL, DUS-TLV, and TXL-TLV.
Let's take 06/02-06/10 as our baseline example.  The cheapest fare for that date is $994 but that's on a subpar airline via Russia.  The cheapest option on a "normal" airline is Air Berlin for $1,130.  The cheapest nonstop is $1,238.
Step 1: Open AA.com 2 different browsers (IE, Chrome, Firefox, etc).  Plugin JFK-DUS on one and DUS-TLV on the other along with your dates.  Be sure to check the box to "Redeem AAdvantage miles."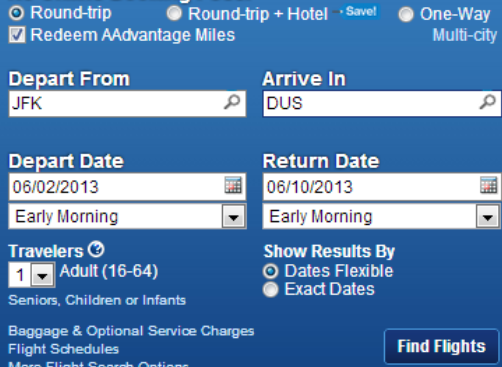 Step 2: You will now see the award calendar.  Click to open the full calendar.  Also select non-stop only so that you will only view Air Berlin flights and not flights on other airlines that would carry a fuel surcharge when using BA Avios.
By comparing these 2 calendars in different browsers you can see which dates to choose.  Select June 2-June 10 for the JFK-DUS browser and June 3-June 10 for the DUS-TLV browser as it takes an overnight flight to get from JFK-DUS but not from TLV-DUS.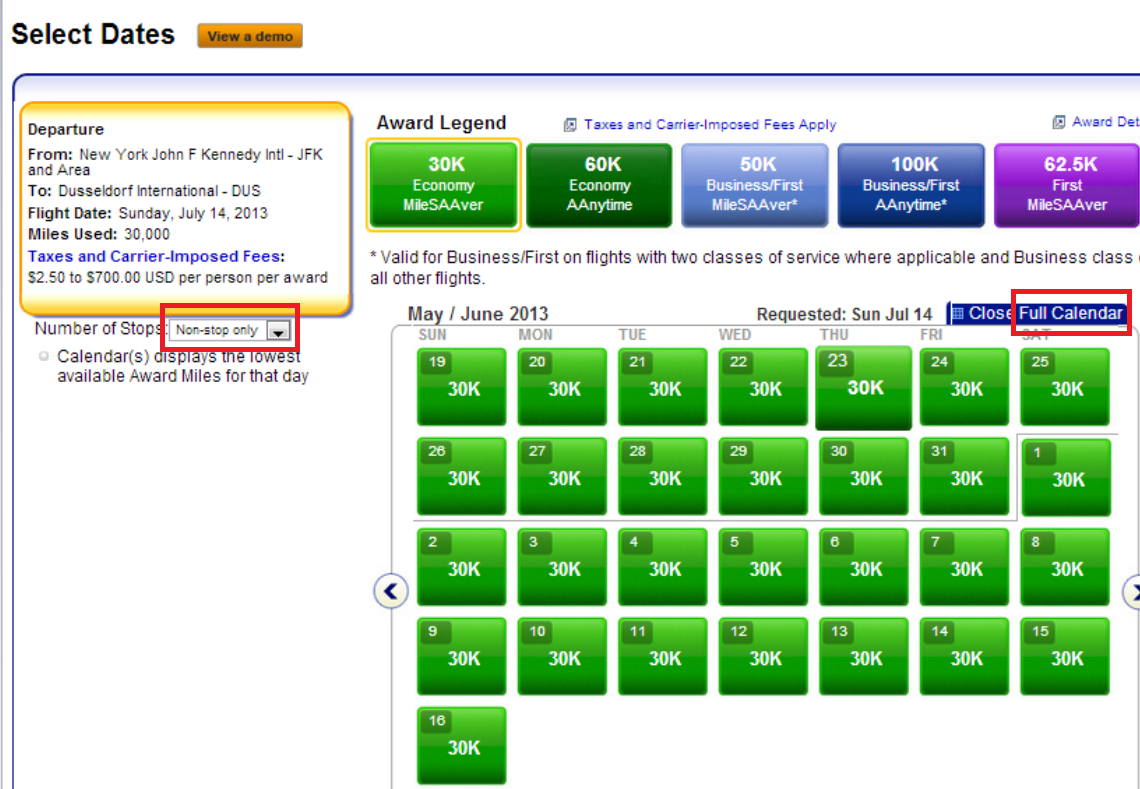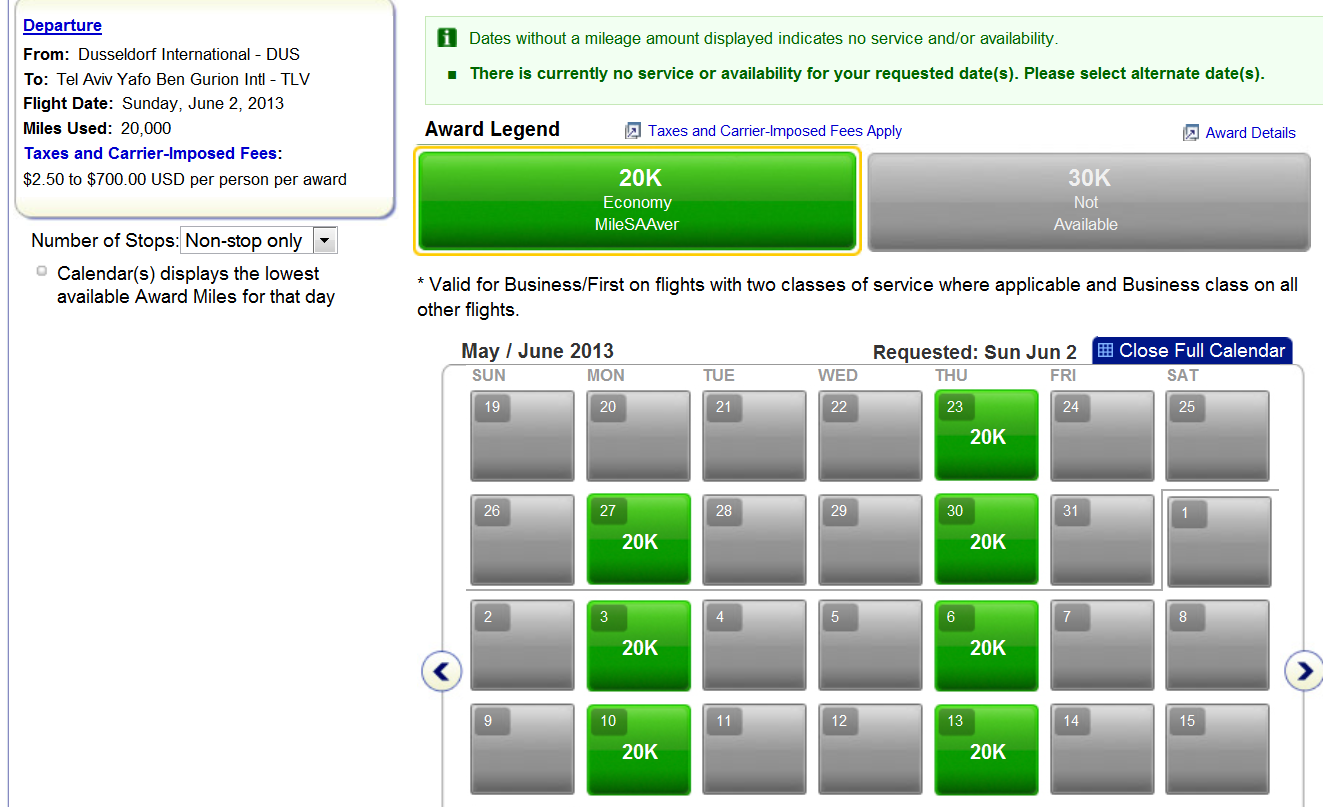 Step 3: Compare the outbound flights to see if they work out without requiring you to spend a night in Germany.  Just eyeballing it this looks great with a 1:15 connection in DUS.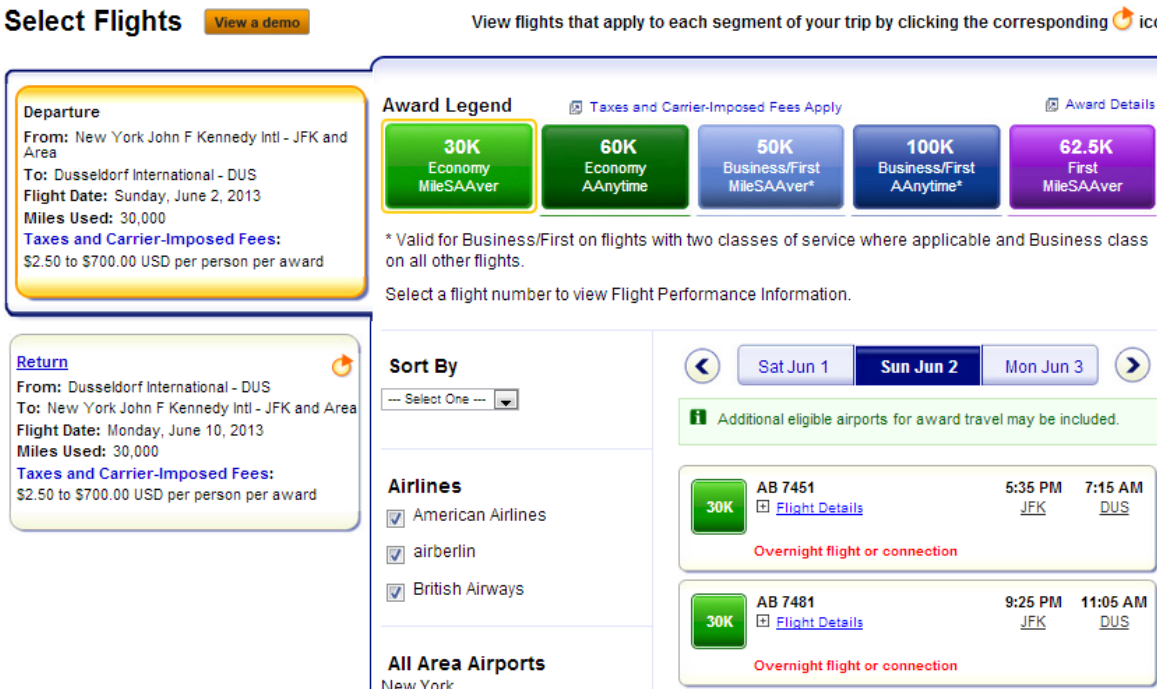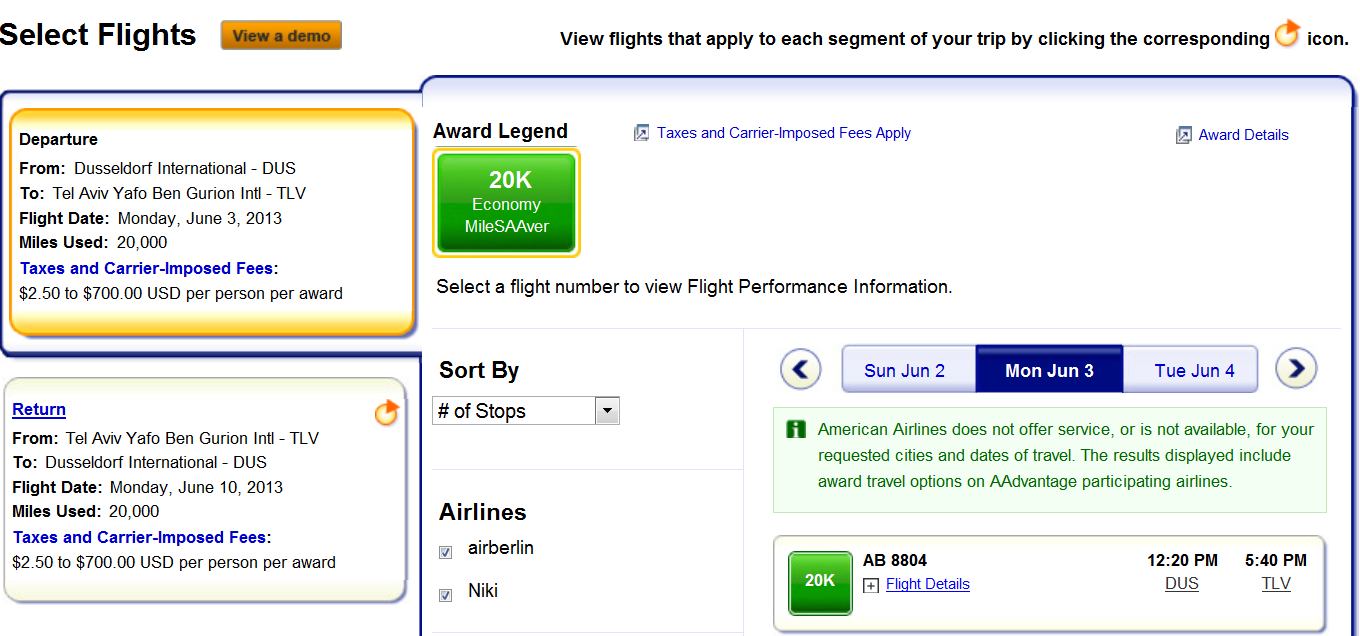 Step 4: Compare the return flights to see if they work out without requiring you to spend a night in Germany. Unfortunately in this case it would require an overnight in DUS as the flight leaves TLV at night.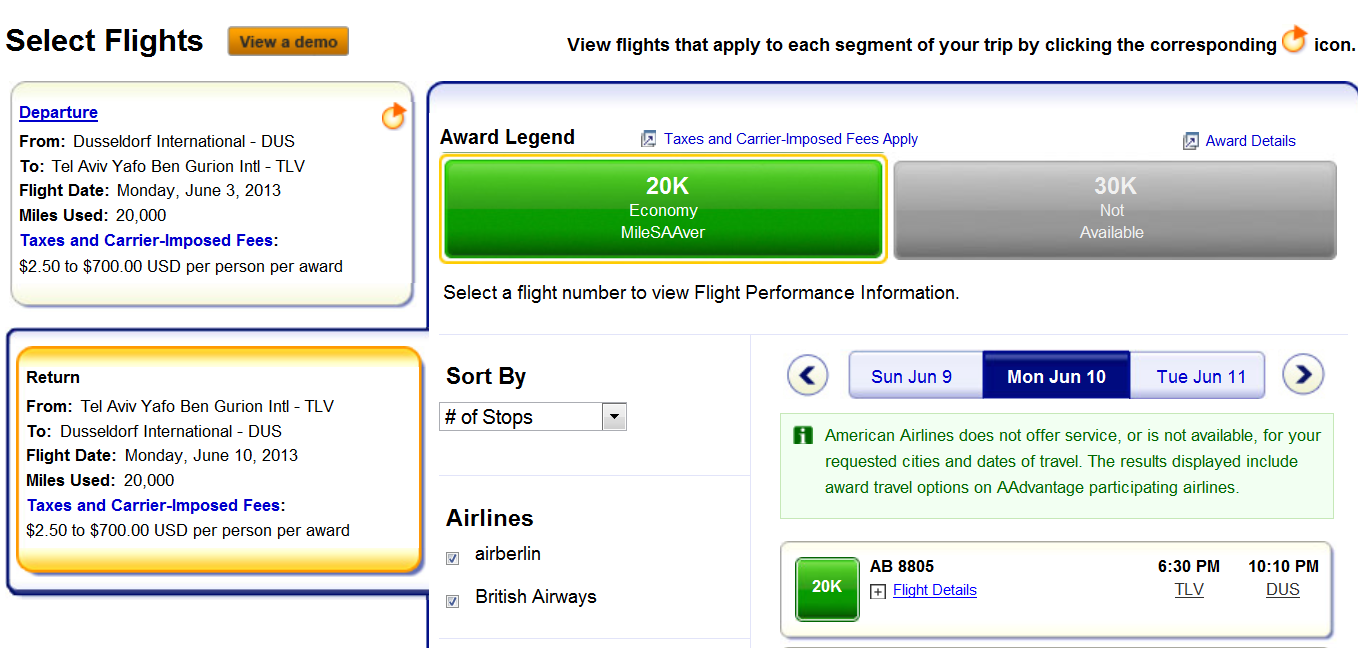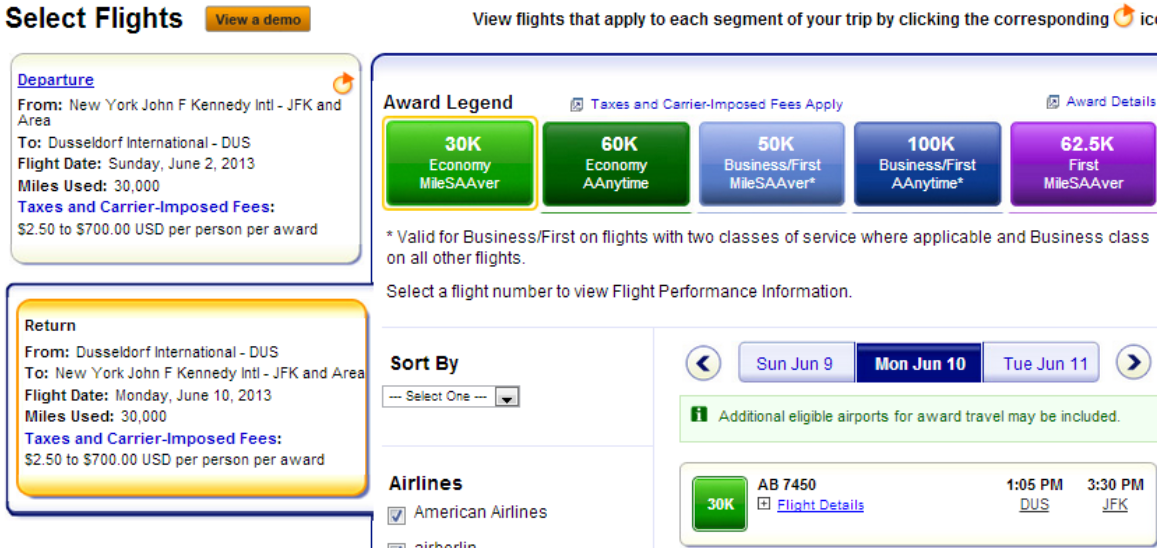 Step 5: Start again from Step 1 and use JFK-TXL and TXL-TLV.  Then compare the return flights to see if they work out without requiring you to spend a night in Germany. This time the times work out.  Beware that Air Berlin is very inconsistent with the flight times and on different dates and seasons they have very different schedules.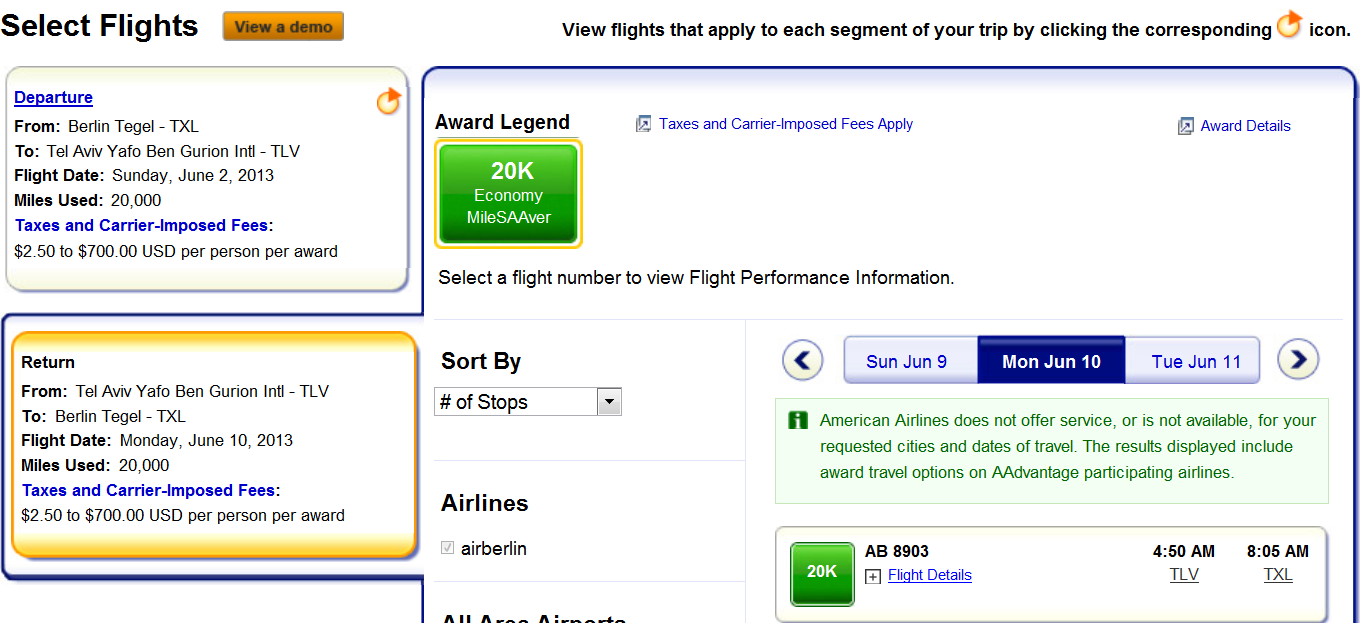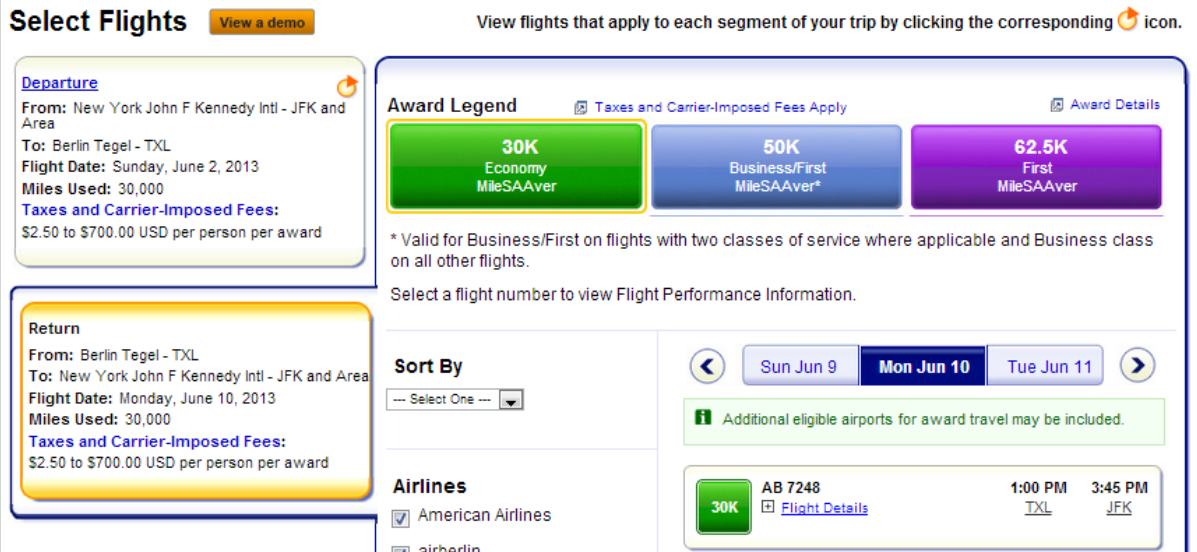 Step 6: Now that we've found a valid date we're ready to go to BA.com to book it!  Login to your Executive Club membership and in the bottom left will be this search engine box.  Just search from JFK-TLV with the dates we previous verified, June 2-June 10 and then be sure to select "Book with Avios"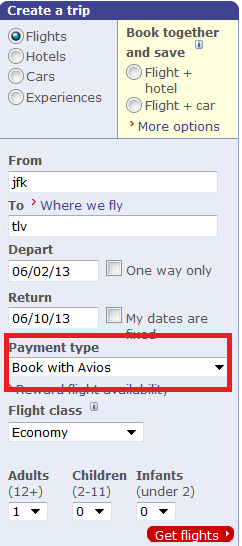 Step 7: Skip by this screen and press continue.  Asking for a stopover in London would subject you to extra miles and fuel surcharges.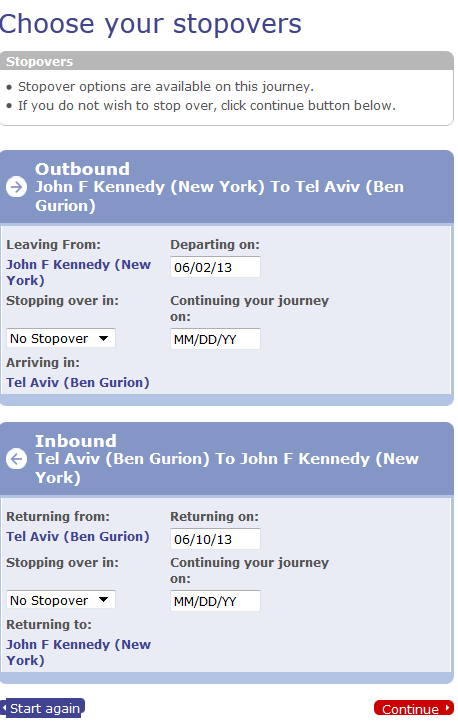 Step 8: BA.com sticks the best option, the Air Berlin flight via DUS with a 1:15 connection, all the way at the bottom under much worse options.  No matter, scroll down and select it.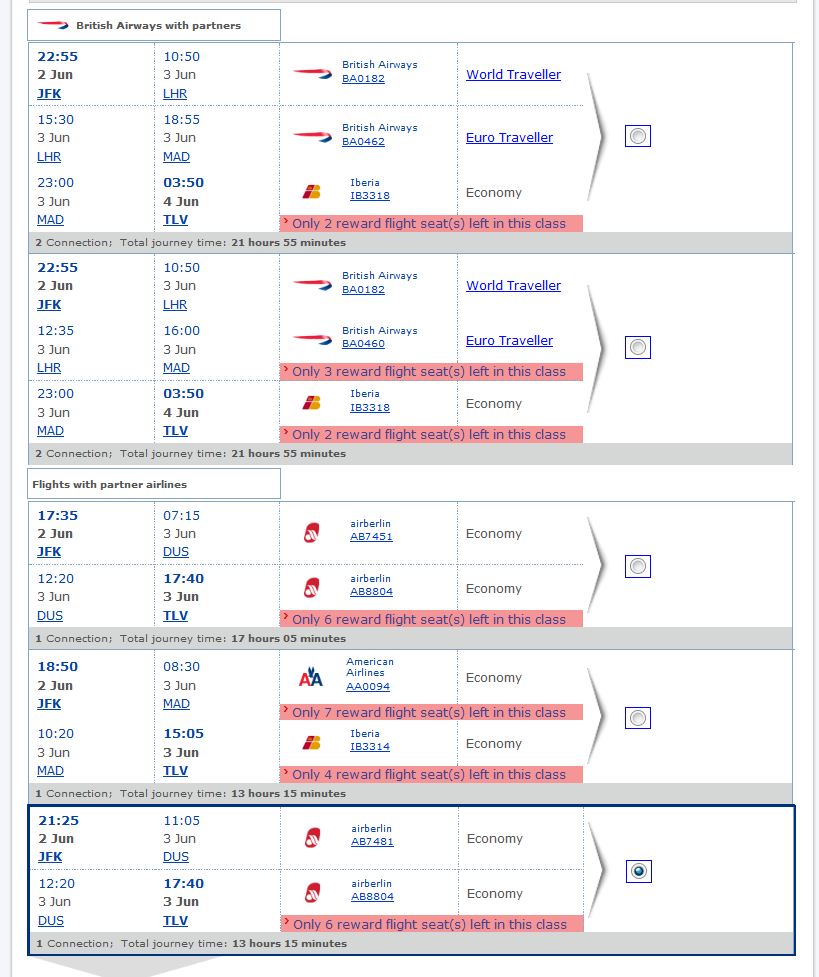 Step 9:  For the return flight there's just the option we found via Berlin.  Grab it!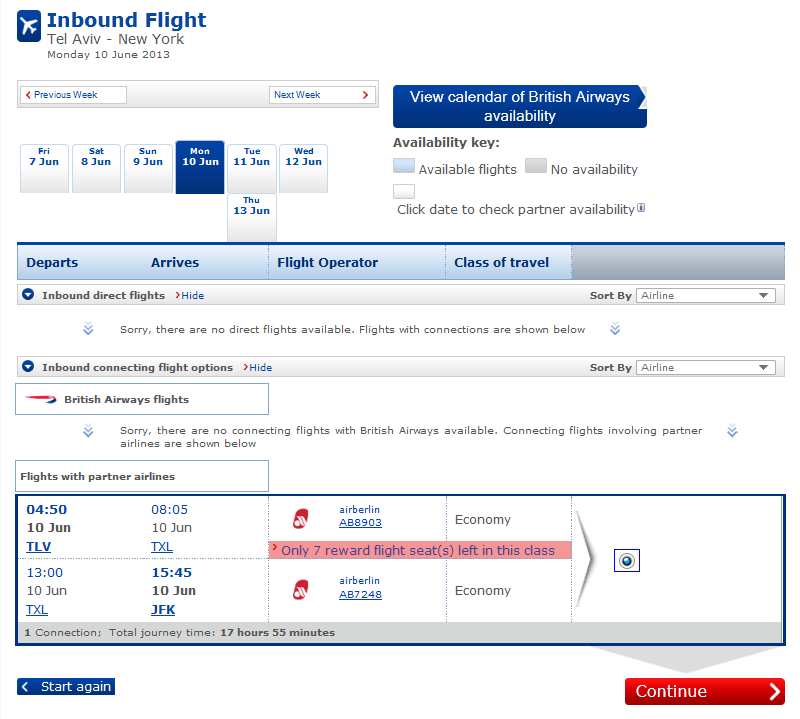 Step 10: You've made it!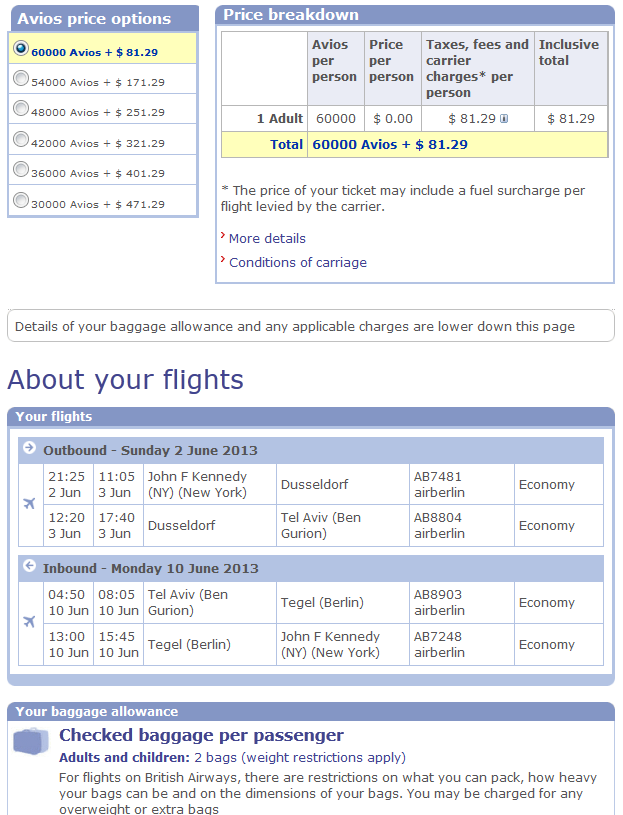 Step 11: Consider the cash and Avios options.  For $390 you can save 30,000 Avios, which is like buying Avios at 1.3 cents each
The value:
A comparable flight for our dates would be $1,130.
If you use 40K SPG and $81 that means 40K SPG is saving you $1,049, or a value of 2.62 cents per Starpoint.  If you do the cash and points offer for 30K Avios and thus only transfer 20K SPG and pay $471.29 then the 20K SPG has saved you $659 or a value of 3.29 cents per Starpoint.
If you use 47K AMEX MR and $81 that means 47K AMEX MR is saving you $1,049, or a value of 2.23 cents per AMEX MR point.  If you do the cash and points offer for 30K Avios and thus only transfer 24K AMEX MR and pay $471.29 then the 24K AMEX MR has saved you $659 or a value of 2.75 cents per AMEX MR point.
This is not factoring for the miles you could have had if you paid $1,130 for Air Berlin flight. However because the flight is in O and P class which are considered "deeply discounted" by both AA and by BA it would only earn 25% of the flown 11,451 round-trip miles, or just 2,745  AAdvantage miles or BA Avios.
A few more things are worth mentioning:
-You can of course stay overnight in Berlin or Dusseldorf and that would make finding awards significantly easier.  You would have to book 2 separate tickets though, one ticket for JFK-TXL-JFK and one for TXL-TLV-TXL for example.  The Avios required would still be 60,000 but you would be subject to some additional German taxes for staying there overnight.
-This works for business class too. Using the same search logic as above I found a one-way flight from JFK to Tel Aviv via Dusseldorf in business class for 50,000 Avios + $20 tax on June 16th. Business class is only available on the overseas flight to Dusseldorf however.
-Finally, yes you can use ITA to search for dates where Air Berlin flies from JFK-TLV with good connections.  See here for how to use codes and then use code:
AB+ / maxconnect 300
If people want I can make another post detailing that process.
Find a mistake? Have feedback? Want to see more or fewer posts like this? Sounds off in the comments!