-Find over 60 articles like this by clicking on the "Trip Notes" tab on top of the DansDeals banner at the top of this site.  Those tabs can help you quickly find popular articles that I've written on miles and credit cards as well.
I've also written trip notes on LA in 2011 and in 2012 that you can check out.
—————————————————————————–
Back in March a good friend of my wife got married at the Hyatt Huntington Beach. Here are some notes from the trip along with my list of must-eat restaurants..
Trips to LA are always all about the food and these trip notes are no exception, if you don't care to read about and see lots of pictures of food then you can skip this one! I really ought to just start calling trip notes on LA and Miami "food notes."
More on the trip, hotels, and my roundup of awesome kosher eateries in LA after the jump…

-Where to eat, LA kosher edition:
$ means to expect to spend roughly $15 or less per person before tax/tip.
$$ is $16-$25 per person
$$$ is $26-$50 per person
$$$$ is more than $50 per person.
Meat:
1. Tierra Sur At Herzog Winery (Oxnard) $$$$
2. La Seine $$$ Rest in peace 😥
3. La Gondola $$$
4. Shiloh's $$$
5. Beverly Hills Thai $$
6. Pat's $$$
7. Jeff's $
8. PKD (Pico Kosher Deli) $
Milk/Parve:
1. Fish Grill $
2. Pizza Nosh (Agoura Hills) $
3. Milk & Honey $$
4. Milky Way $
5. Pizza Mayven $
6. 26 by Shiloh's $$$
7. Nagila Pizza $
Breakfast/Bakery:
1. Cafe Elite
2. Schwartz Bakery/Circa NY
3. Delice Bakery
4. La Brea Bagel
(Beg to differ? Did I leave a place out? Hit the comments!)
-United's new 737-900ERs are really nice.  Great large overhead bins and relaxing cabin lighting.  Then again getting upgraded to first class with free DirecTV is always nice.
-Avis upgraded me to a 5 series. Not bad for a $25/day rental but I can't stand the engine shutting off at every stop, it's beyond annoying.  Call me crazy but I'm far happier with the Altima I drive at home.
-For lunch we picked up my brother from yeshiva and then hit up La Gondola.  Their lunch specials just can't be beat. $10.95 for a Gondola Burger with a side of Fries, Pasta, or Soup.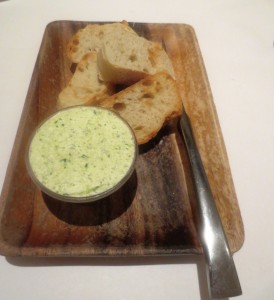 Complimentary bread and garlic margarine are always delicious at La Gondola.
Asian Spring Duck Eggrolls are great…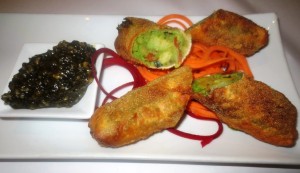 …But the Avocado Eggrolls with cilantro dipping sauce is heavenly. No version of this dish at any kosher restaurant in the world can compare.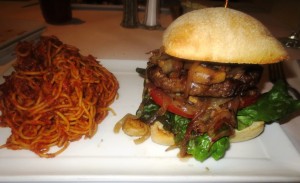 Gondola Burger topped with sauteed mushrooms and onions. Typically the pasta is something light, but this time it was with meatsauce.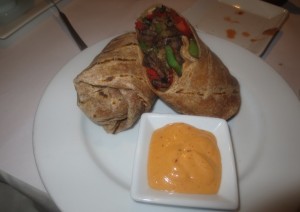 The Steak wrap was awesome as well.  We left too full to even have their Molten chocolate chip cookie with Ice Cream dessert.
-We spent shabbos in Irvine, home to one of the most lively Chabad Houses that you'll find in the US.
-After shabbos we drove back to LA and used 2 Hyatt anniversary nights at the Andaz West Hollywood, a category 4 hotel.  They were full and didn't have any diamond upgrades for us.  In fact our room smelled like mildew but they couldn't get another room for us.  They also don't offer a kosher breakfast for diamond members, something most Hyatt hotels can arrange.   Our room faced the Sunset strip and it's quite noisy, so I'd recommend against getting a room facing that direction of possible. In the end we got a 15K point credit for the problems we had.
We've stayed here before and had a better experience, though that was when it had just reopened as an Andaz.  It's definitely not in the same league as other Andaz hotels which I typically love but then again this was just a redo of a tired Hyatt Regency property and not built from scratch.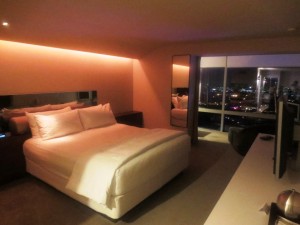 Andaz West Hollywood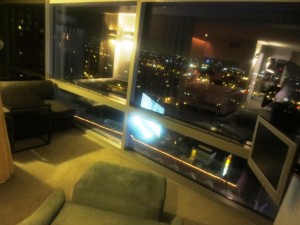 Andaz West Hollywood. They took the balconies in this hotels and enclosed them in glass to create a small sitting room.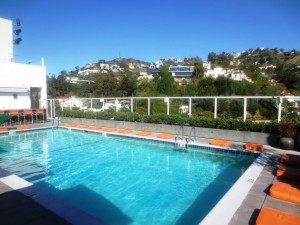 Rooftop pool, Andaz West Hollywood.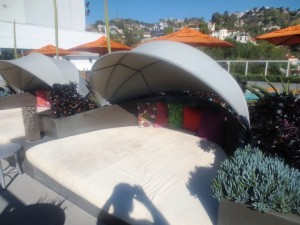 Rooftop pool lounging beds, Andaz West Hollywood.
-For dinner we went to 26 by Shiloh's: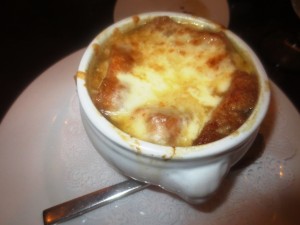 The French Onion soup was very good.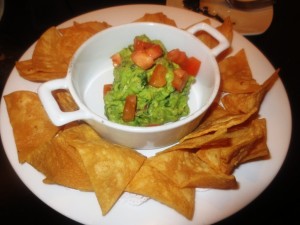 And the guacamole with house fried chips were great,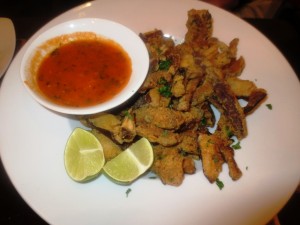 Fried Shitake Mushroom "Calamari" is worth trying out.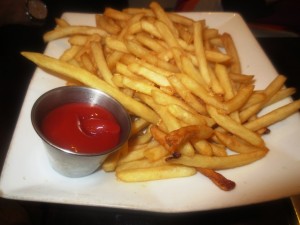 The Garlic Fries are never garlicky enough.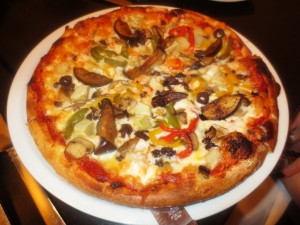 Pizza is just OK.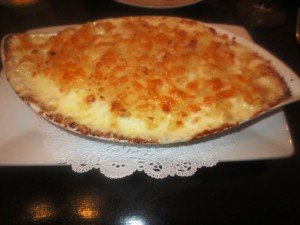 Mac and Cheese is good but extremely rich and creamy.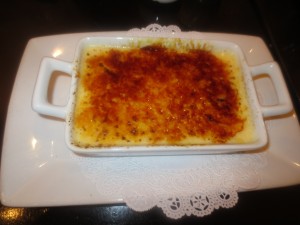 The Creme Brulee is excellent.
The Hyatt Huntington Beach is an aging property on a beautiful beach location.  For a wedding location though it can't be beat.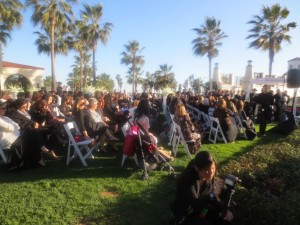 Beautiful grounds for an outdoor ceremony.
The wedding was catered by Pat's and the food was outstanding.  Better than in Pat's restaurant.  But the dessert table was there I went crazy..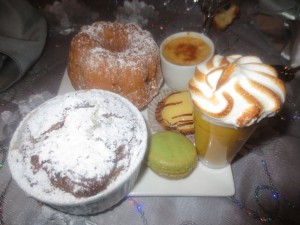 The Bread pudding is outrageously delicious and the Passion Fruit Meringue was amazing as well.
-The LA vicinity has several theme parks but we've been there, done that.  Besides for that there's basically the beach, shopping, and eating.  People will talk up Hollywood and Highland as if it's Times Square but that's laughable.  The 3rd street promenade and Santa Monica pier make for a nice activity though traffic in LA can be horrendous if you go at the wrong times.
-The Grove, an outdoor shopping mall, is usually worth checking out, though on weekends it's packed.  There's a train ride that runs through it that kids will love. CBS is next door and in the past I've been solicited at the Grove and been paid by them to watch an unreleased TV show and rate it.  This time they were doing a shooting for a show in the Grove itself that was quite entertaining to watch.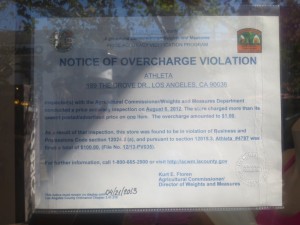 Wow, a city serious about overcharging! Fixed to the front of Gap's Athleta store in the Grove.
-We switched to the SLS Beverly Hills, a Starwood hotel after 2 nights.  The location of this hotel simply can't be beat, you are smack in the middle of everything and just a few minutes away from all of the kosher restaurants.  I booked this while it was still a category 5 hotel at 12K points/night but unfortunately it is now a category 6 hotel, making the use of points there not a great value.  They upgraded us to a terrace room which was nice.  I love the style of the hotel and the staff is great as well.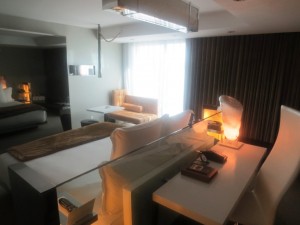 Terrace Room, SLS Beverly Hills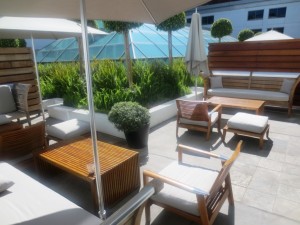 Terrace Room, SLS Beverly Hills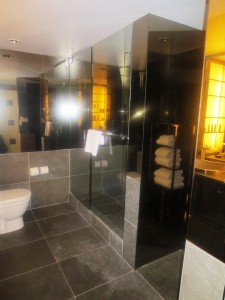 Terrace Room, SLS Beverly Hills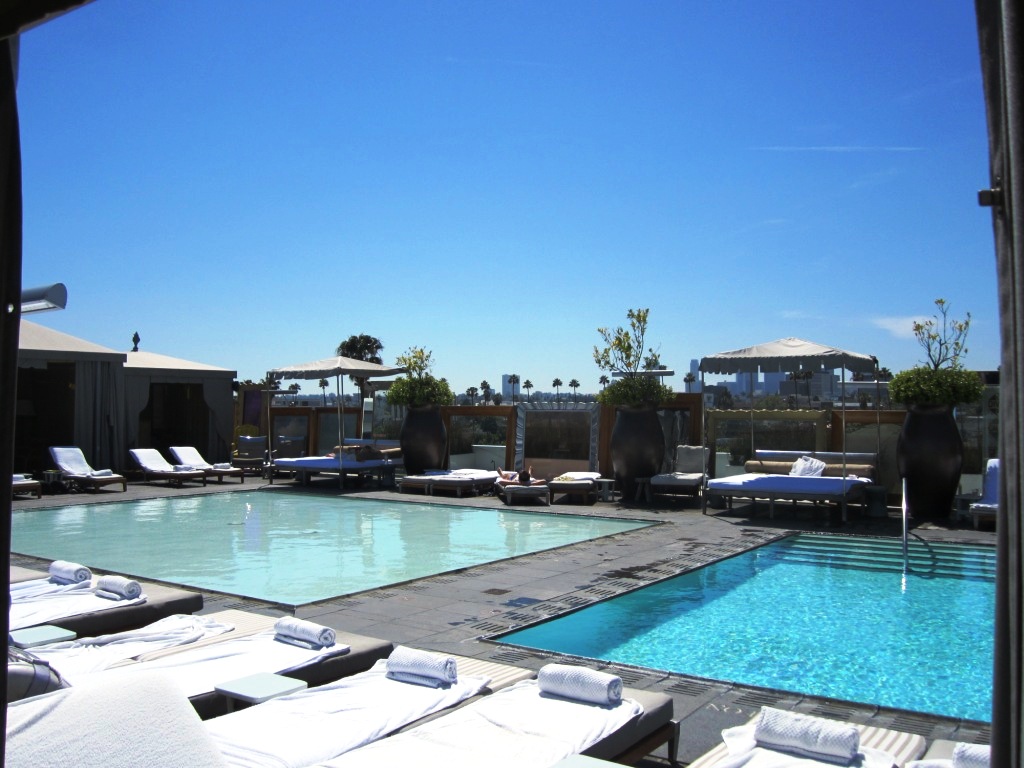 SLS Rooftop Pool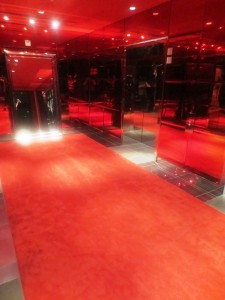 SLS Beverly Hills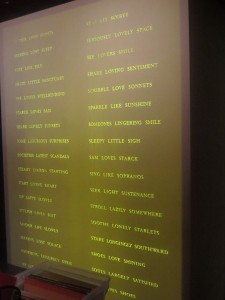 Wondering what SLS stands for?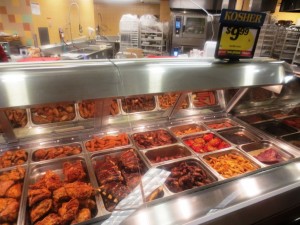 -Ralph's on 3rd and Beverly now has a full kosher counter which means you can pickup some sushi 24 hours a day.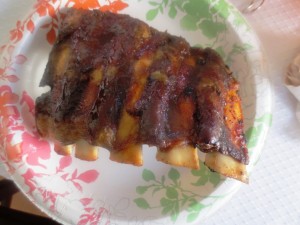 And the ribs from the kosher counter were actually pretty good!
I understand that Western Kosher also has an impressive store on Pico though we didn't make it out there this time.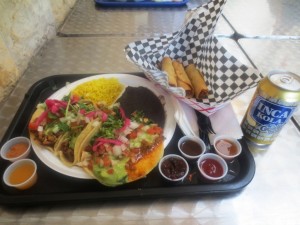 –
-Mexikosher food was different but not something I'm likely to try again.  Not that the food was bad but it just can't compete with the plethora of LA kosher eateries. Some of the good tastings meats also got drowned out in the other toppings that they pile on top. 
About 6 DDF members in LA got together to shmooze over lunch at Mexikosher.  That always makes for a fun time!
-I have been to the Getty Canter in Los Angeles in the past and enjoyed it.  I'm not into art, but the architecture, gardens, and view are awesome.  This time I figured we would check out the Getty Villa in Malibu.  Admission is free though reservations are required and parking is $15.
The collections of antiquities is impressive though the architecture and gardens are just stunning.
Getty Villa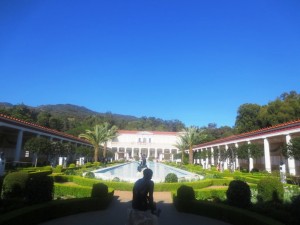 Getty Villa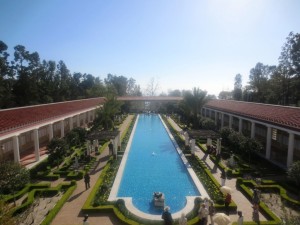 Getty Villa
-We continued on the beautiful PCH from Malibu to Camarillo where we shopped for bargains at the massive outlet mall there.  After some retail therapy it was time for dinner at Tierra Sur at Herzog Winery, possibly the finest kosher restaurant in the world.
In the past I was wowed by their onion rings and asked about them although they were not on the menu.  The waiter went to ask the chef and came back saying it was only available from the bar menu as a side to pulled BBQ brisket sliders.  Umm…yes please!
You are able to order off the bar menu even when sitting at the restaurant and I highly recommend that you do so as it is awesome.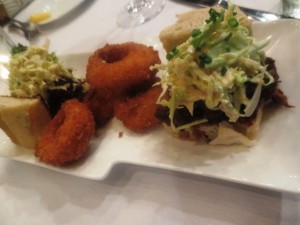 Pulled BBQ brisket sliders and onion rings…out of this world. ($12)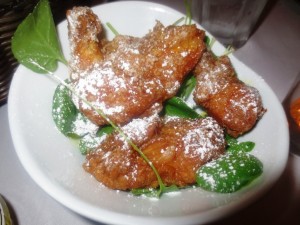 Things you've never tried before, like fried hen in powdered sugar and honey ($10)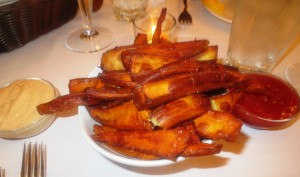 The sweet potato fries and regular fries are perfect ($5)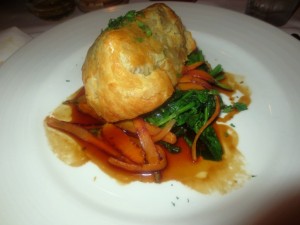 Lamb Wellington is fantastic ($58)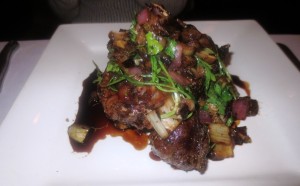 .
Wood grilled boneless rib eye is as good as it gets anywhere ($54)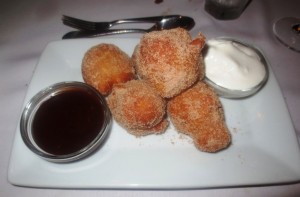 Zeppoli cinnamon donuts with hot chocolate and cream are a delight ($10)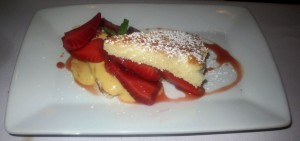 The lone disappointment of the night was the strawberry shortcake, which was merely good.
The menu at Tierra Sur is constantly changing and the lunch menu is very different than the dinner menu.  The flavors you'll try here are what will blow your mind.  My brother ate here a couple nights ago and said that the green bean fries were other-worldly.  Sounds strange to me but if there's anyplace that can pull it off it's here.
Plus there is of course a huge selection of wines and the glasses are actually very reasonably priced.
The next day involved more shopping at the Beverly Center, right next-door to the SLS. And more food of course.
For lunch it was Milky Way.  Leah Adler, mother of Steven Spielberg, owns the place and shmoozes with every diner.  She has run the restaurant every day for decade after decade.
It had been a while since I last ate here.  The menu is very eclectic but the pricing seems to have been frozen in time. At one point prices here were considered high but the menu and the pricing hasn't changed in decades and meals here are quite under-priced.  She's obviously not still running the place for the money but because she loves it.  And she'll love to show off her son's movie posters as well-just ask!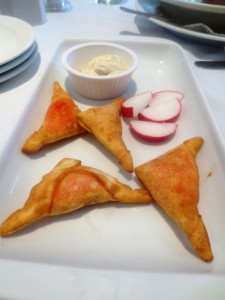 Salmon Puffs are good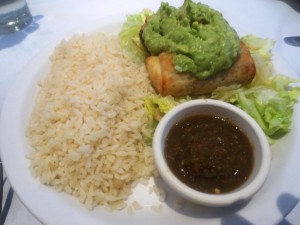 And the Chimichangas are worth trying as well.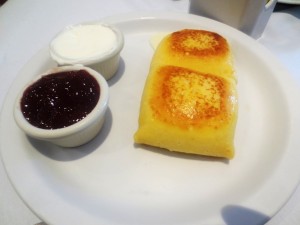 But it's the cheese blintzes that are unreal.  If you like blintzes this dish will delight.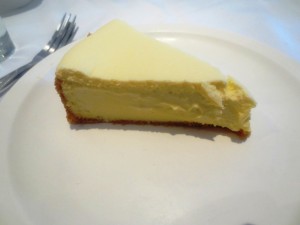 Cheesecake was very good, light and creamy with a nice crust.
I recall the lemon tart being a real treat but they were out of it for the day.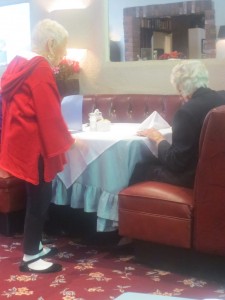 Ms. Adler shmoozing up the diners.
-For dinner it was Beverly Hills Thai along with my brother and one of my wife's local friends..  This tiny restaurant is a relative newcomer to kosher scene and it's fantastic.   Lots of authentic Thai flavors that you've never had before.  Just order up some dishes and see what you'll  like!  And don't forget to make reservations, you'll need 'em!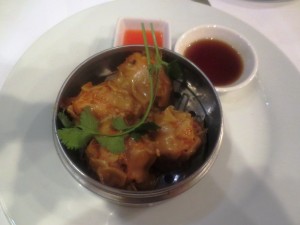 Chicken Dumplings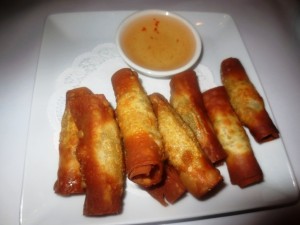 Crispy Vegetable rolls.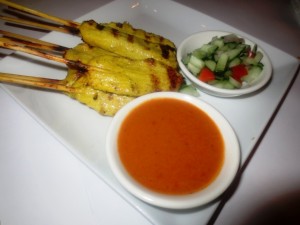 Chicken Satay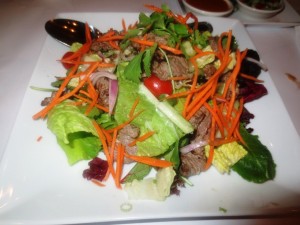 Spicy Beef Salad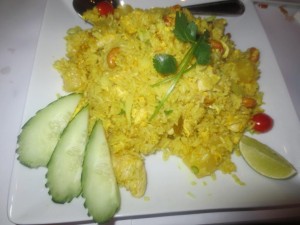 Pineapple Fried Rice…you have to try it to believe how good it is.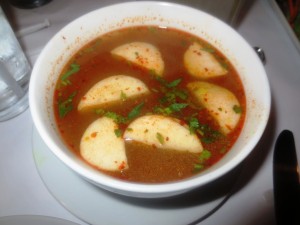 Chicken Tom Yum soup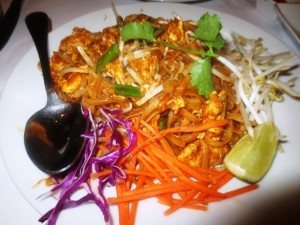 Chicken Pad Thai
Garlic Peppercorn Chicken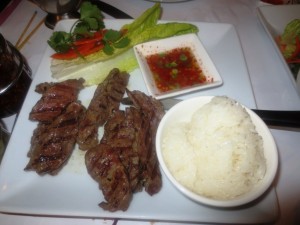 Crying Tiger Beef
Banana Coconut Egg Rolls…different but definitely worth trying