-Find more articles like this by clicking on the "Trip Notes" tab on top of the DansDeals banner at the top of this site.
—————————————————————————–
I headed out for Chicago with my wife and son late this past Tuesday. At less than 7,000 AMEX points per round-trip thanks to BA Avios and the transfer bonus it was a real bargain.
More on the trip, Chicago's hot kosher food scene, and the seminar after the jump…

We have our travel routine down pat there days. It's not nearly as easy as when Rafi was still in his awesome Chicco infant carseat that snapped directly into the UppaBaby but we manage. We brought along our:
–UppaBaby Vista which is bar none the best stroller on the market. Besides for pushing like a dream thanks to its extra large foam-filled wheels it also has a massive basket which will accommodate several large bags so that you'll never look like a bag lady.  We check the UppaBaby under and it does not count against regular baggage allowance.
–Cosco Scenara convertible carseat which is a fraction of the weight of heavy duty seats from companies like Britax.  We use the carseat on the plane to keep Rafi in place and on longer flights it gives him the ability to sleep.
–GoGo Babyz Travelmate to push the Rafi through the airport in his Cosco Scenara.
-The Airspace Lounge in Cleveland finally got their liquor license!  You get a $7 gift card when you enter the lounge for use on food and drinks in the lounge.  You get free access with your Platinum Card® from American Express and The Business Platinum Card® from American Express OPEN until the card expires (even if your account is closed). As I was entering the lounge with 2 guests we got a $21 gift card.
I had a Great Lakes Lake Erie Monster beer which was great. I'm still not happy they didn't put bathrooms in the lounge though but it beats walking to the United Club in Concourse C when you're flying American out of Concourse A even though I miss out on the plethora of free newspapers and ice cold water bottle refills in the United Club.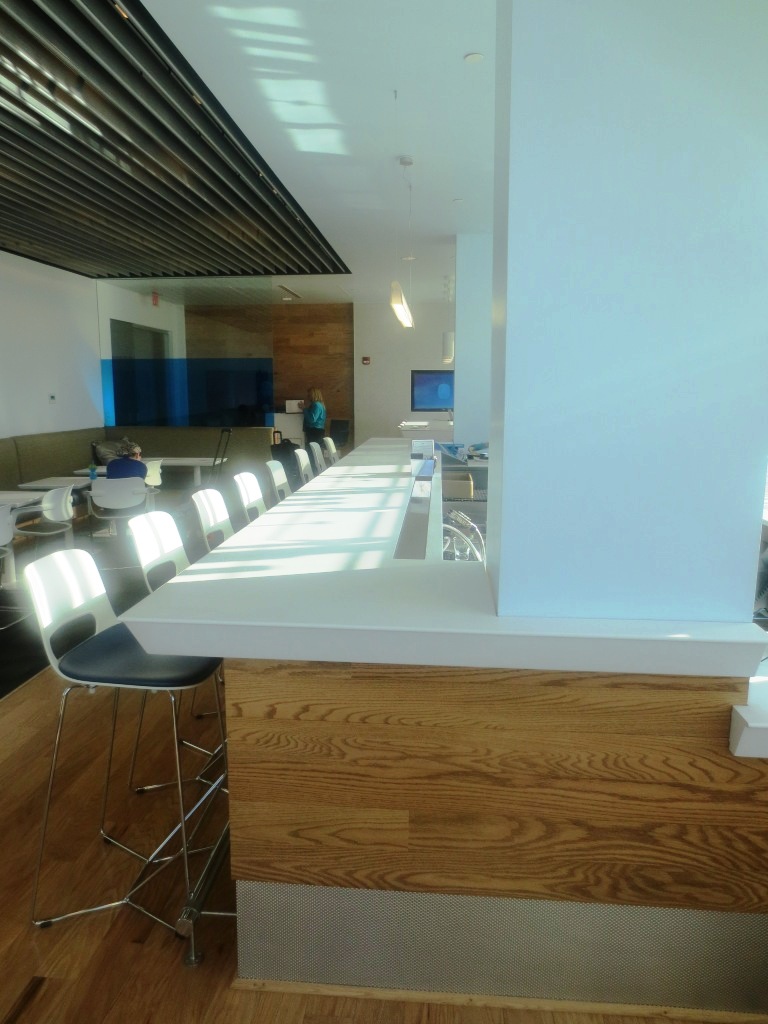 Airspace Lounge Cleveland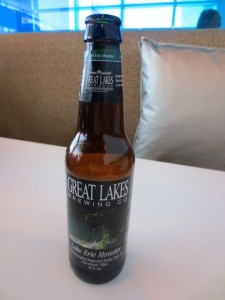 Great Lakes' Lake Erie Monster, on the house. Take that Mr. Heineken from the United Club.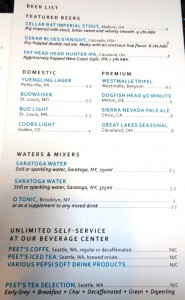 Airspace Lounge Drink Menu (Click to enlarge)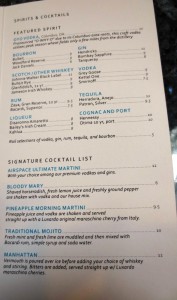 Airspace Lounge Drink Menu
-Avis upgraded me from a midsize to an XTS. Nice car though I don't understand why it costs 2 or 3 times what the Altima I drive at home cost me. Avis is really efficient in Chicago. They had tons of people ready to check in returning cars and as soon as they saw me pull in with the Chairman sticker they had someone ready to chauffeur us back to the airport.
-I used 3 free Fairmont Lifetime Platinum nights and a suite upgrade to stay in the Fairmont Millennium Park. I had to call the hotel directly to have them open up award space for me. It is a nice hotel although check-in and the service in general was very impersonal.  The bathroom had an old looking tub and a tiny shower with poor water pressure. My pet peeves included that housekeeping did not replenish out toiletries even once during the 3 night stay and that the valet texting service to have your car pulled up front doesn't actually get your car pulled up for you. Other than that the location is great and the price was hard to beat 😀
Pictures of our Fairmont Park View Suite: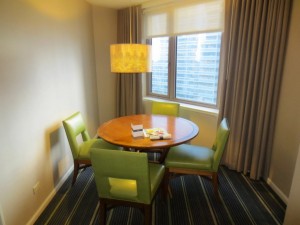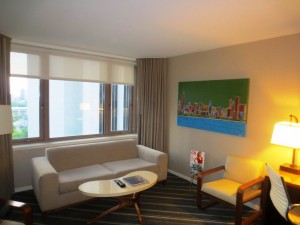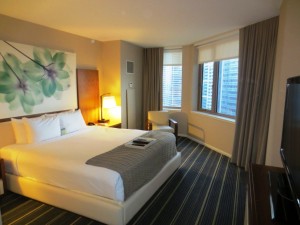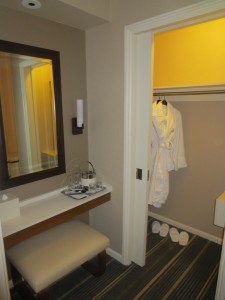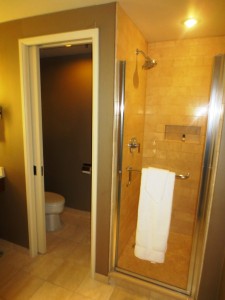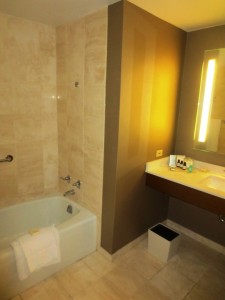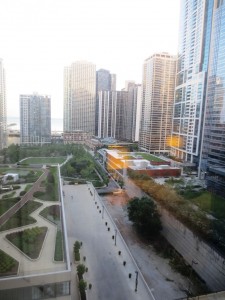 View from the suite.
-Chicago traffic is really bad, it takes an incredible amount of time to get between places even when it's not rush hour.  After coming home from places like that it's always fun when I jump on the I-480 crosstown highway in Cleveland and can cruise comfortably at 70mph and be home in 25 minutes for what might take 2 hours driving in traffic in a bigger city.  Reminds me of just how good I have it home in Cleveland.
-We ate at Shallot's the first night. It's truly a world-class kosher restaurant with a great ambiance. Their sushi is phenomenal and the staff there is just great. It's also probably the most expensive kosher restaurant in the world with premium sushi rolls going for $25 or $30 and signature steaks that can set you back $90. It really is quite good though and they seem to be doing well.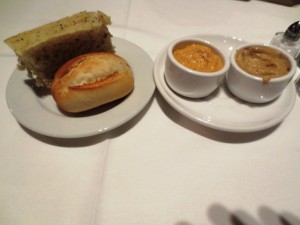 Bread and dips are on the house.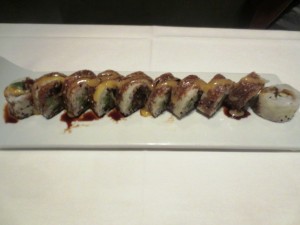 An awesome Spicy Vegetable Roll ($16) with Jalapeño tempura, shiitake mushrooms, asparagus tempura, cucumber, and avocado.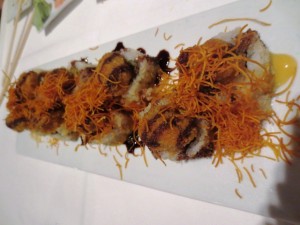 The Dynamite Roll was out of this world. We ordered it with cooked salmon, avocado, asparagus, Cajun garlic sauce, teriyaki & sweet potato flakes. ($27)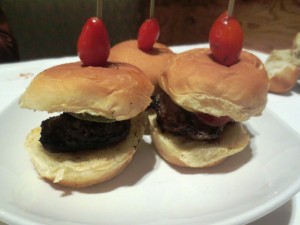 Kobe Beef Burger Sliders are good but not good enough to justify the $24 price tag.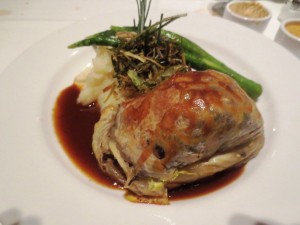 Beef Wellington was perfect, though the price ($80) is hefty.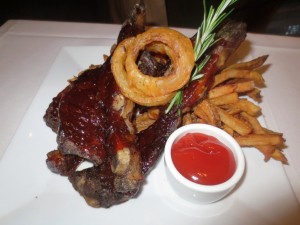 Braised Short Ribs ($39) were succulent and yummy. My wife found them to be a bit too sweet for her taste.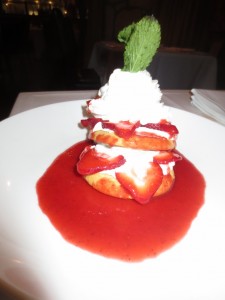 Strawberry Shortcake ($13) made from Snickerdoodles is divine.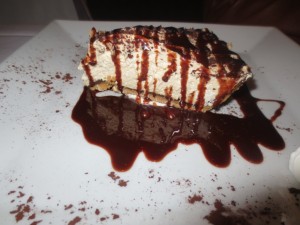 The Peanut Butter  Chocolate Silk Pie ($13) is very rich and very sweet, hard to eat more than a bite!
-The next day we drove up to Northbrook to spend time and have breakfast and lunch with my paternal grandparents.  While there we checked out the Chicago Botanic Gardens which are just stunning.  If you're up north they're an absolute must-see.  Entrance is $25 per car.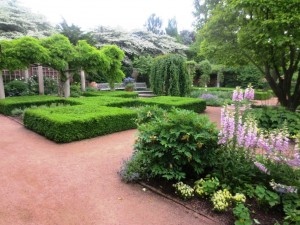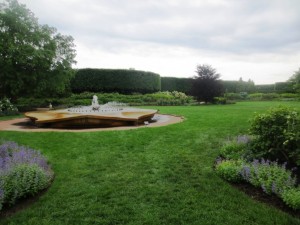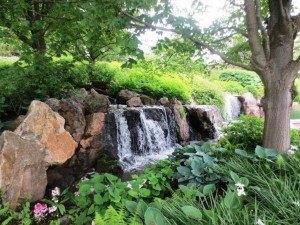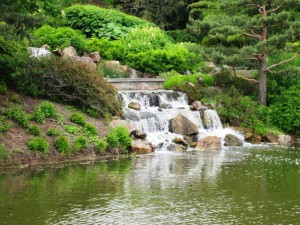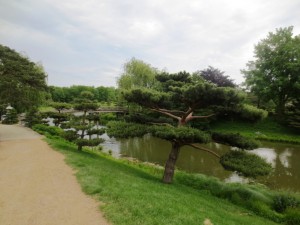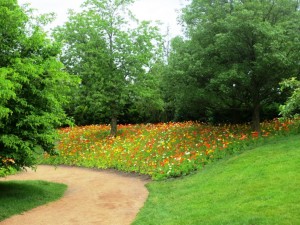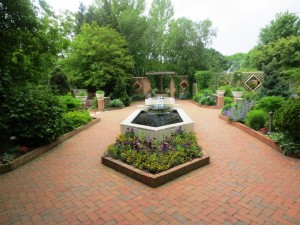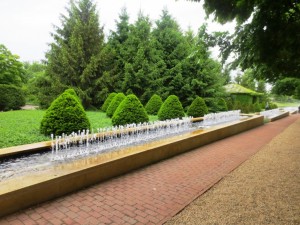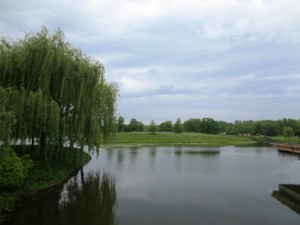 -Late that night we got to go out with my Aunt and Uncle (all of 4 years my senior) to Milt's BBQ For The Perplexed.  It's located in the gentrified neighborhood of Lakeview which is just 10 minutes from downtown.  They also deliver for just a $5 charge. They've been getting a lot of good press since they opened up earlier this year and they have even been featured in American Airline's in-flight magazine.  You need to make a reservation well in advance , lots of walk-up folks were turned away.  They donate 100% of their profits to charities that rotate every month, how cool is that!
But better than their ethics and the nice decor is their food.  Try their spicy and mouthwatering brisket and ground beef chili together with the moist and sweet corn bread and you'll see what I mean.  It is unreal, I can't begin to describe the sensations going on inside my taste buds.
Their Milt's Burger is topped with their awesome chili, chopped brisket, "bacon", crispy onions, and bbq aioli. Perhaps the burger itself is not quite a Clubhouse Burger (may it rest in peace), but the entire combination probably can't be beat anywhere.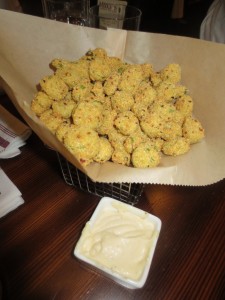 Fried Okra ($4) was really wild, something you need to try.  The Garlic Aioli that comes with it is very good as well and also goes well with the entrees.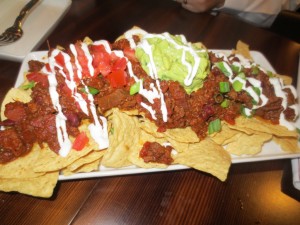 Chili Nachos ($12) were great because the Chili was great  The chips themselves are quite a disappointment. I do wish they made homemade chips or at least provided better tasting chips.  Better off ordering a bowl of Chili and a side of Cornbread to dip into it.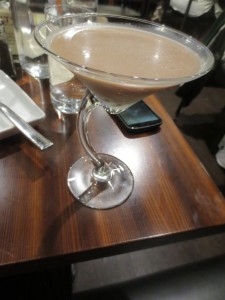 Twixter (Caramel, Vanilla, and chocolate) cocktail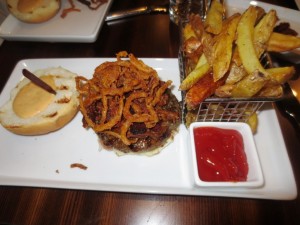 The awesome Milt's Burger ($15 plus a $1 upcharge for Pas Yisroel bread).  The included fries were a bit of a disappointment though.
A great lineup of sauces, though I wish they would give the Garlic Aioli as a 4th sauce.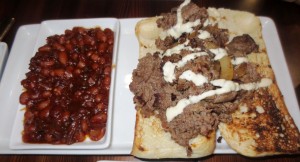 Steak Sandwich ($16) was good but definitely needed the sauces.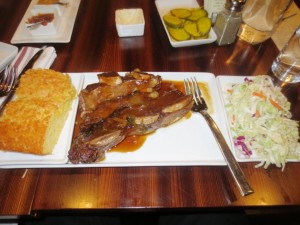 Braised short ribs ($39) are very heavy on the rich BBQ sauce but are quite good.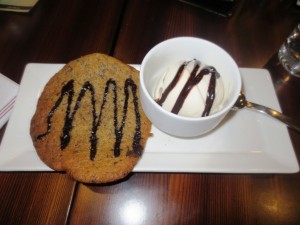 The warm cookie ($5) wasn't very warm and wasn't that great either.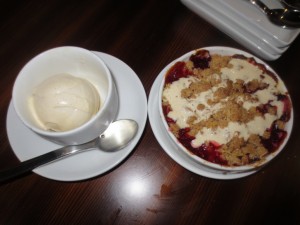 The warm fruit cobbler ($5) was much better, though you have to ask for it as it's not on the menu.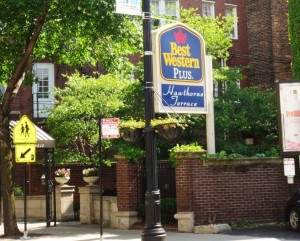 Best Western Plus what exactly? Bedbugs?
-At 9:30pm every Wednesday there are Fireworks at Navy Pier.  We were able to view them perfectly from the hotel room.
-The next day we walked around downtown and got to take lots of awesome pictures in front of the Bean in Millennium Park.  Definitely take some pictures of yourself in the reflection as well as have someone take a picture of you that also captures the city skyline in the reflection.
-After Rafi got to spend some time playing with his cousins in West Rogers Park we got to check out the Jewel-Osco grocery store.  With a kosher chinese restaurant, bakery, deli counter, sushi counter, and several aisles full of every kosher food you can ever want it's a sight to behold.  We picked up some locally produced cholov yisroel specialty cheese to bring back home.
-We went to Illnois Nut & Candy to get some of their awesome Caramal Bombs and English Toffee.  A shame that I can only try the parve versions.
-Our minds were still on Milt's though so we went back for lunch.  I was hoping to try the Rack of Ribs this time but unfortunately they only serve that at dinnertime so I'll just have to come back another time 😀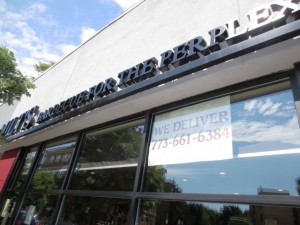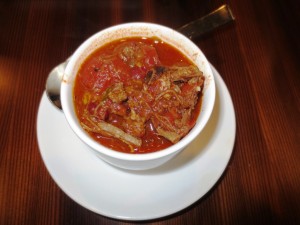 Cup of the famous chili…I only wish they delivered to Cleveland!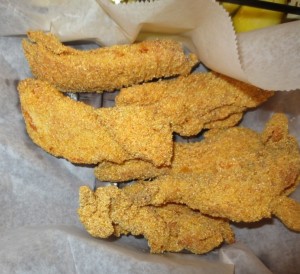 Chicken tenders ($10 with fries) were great in Garlic Aioli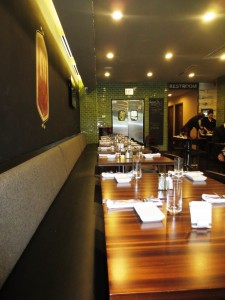 Much less crowded at 3pm than 8pm!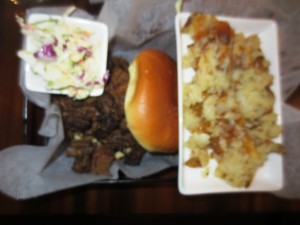 I apologize for this awful of-focus picture, but the smoked brisket sandwich ($16) was great, especially with all of the dipping sauces.  I'm not a fan of the cole slaw, they should get the recipe from LA's PKD. The real standout though are the smashed potatoes which are just awesome!  I'm usually a fries guy but you should skip the fries here and go for the smashed potatoes, you'll thank me later!
-Finally it show-time!
My Aunt Tova was the inspiration for making a seminar in Chicago and she made all the connections to make it happen.  Zev Jacobs of the Kehilla Jewish Education Fund is a consummate professional and made sure everything was run smoothly, it was really smooth sailing thanks to him. Srulie of Srulies Essen Delicatessen, which is also located in the Wi-Fi building, was instrumental in getting everything set up perfectly. Unfortunately I didn't get to try out the food from his place, but from what I hear I'll definitely have to try it the next time I'm in town.
Attendees were treated to a lovely fruit platter in addition to bottled water and pads of paper and pens to take notes with.
Men have outweighed the women at all of the DansDeals seminars but it was closer this time.  The average age was much higher in Chicago than in Lakewood where the crowd was quite young.  We also had a decent amount of non-Jews who came to attend the seminar, so thanks for providing some diversity!  All 4 seminars have had sellout crowds including approximately 150 attendees in Crown Heights in June 2012, 450 in Boro Park last month,  275 in Lakewood last month, and 225 in Chicago.  That's 1,100 people who came to listen to a complete amateur speaker talk the night away…
I spoke for 2 hours and 15 minutes and then answered questions for the remaining 45 minutes.  Airplane cufflinks, kosher Skittles, and 8 United Club passes were given away to trivia winners.  There was a short break for people to leave before the Q&A session and this time we had a microphone that went around the room for people to ask their questions so the Q&A session was far more productive than in the past.
It's always tricky trying to please a crowd that ranges from complete novices to advanced users but I tried to bridge that gap as best I could.  I'm sure I lost many of the beginners in the process, but hopefully they were still able to learn something and realize just how much more there is to learn.  Even the experts told me they learned some new tips on paid and award tickets, so that's always good to hear that I didn't bore some people to pieces.
The crowd was great and asked questions on a wide variety of travel related topics.
I got to banter afterward with an executive from Wilton foods which provides kosher food for airlines like USAirays and for pre-merger United routes.  While on pre-merger Continental routes the blintzes are Cholov Yisroel the United routes from Wilton are Cholov Stam.  It all boils down to money and what the airlines are willing to pay, but he sees the kosher airline food industry consolidating and providing branded meals for each other.  He also predicts dairy meal requests from airlines in the future but the consolidation will probably also bring a switch to all cholov-yisroel dairy meals.  And no, we will never get Hermolis quality meals here in the US because the airlines here are just not willing to pay for high-quality kosher meals.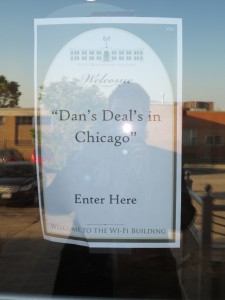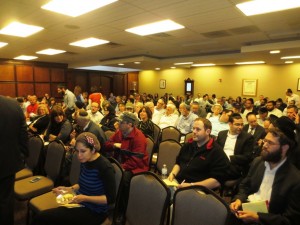 Extra chairs were procured and added to the room to make sure nobody was turned away.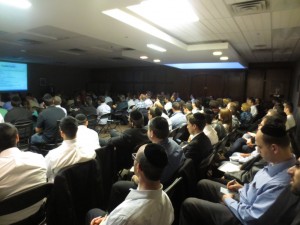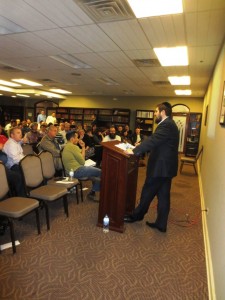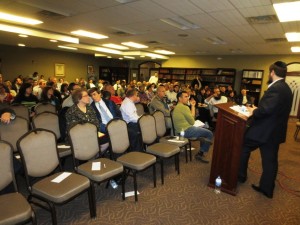 Roughly half the room left before the Q&A session which ran until about 11pm.
You can also see DDF photographer ShmuliT's pictures of the Boro Park seminar Men's section from last month via this link.
-I'm not a fan of early morning flights, but when the only available AA award flight requires that you get up at 5:15 in the morning you do what you've got to do!  The American Eagle gate meant a 20 minute walk and then having to go down a escalator to get the satellite gate.  The good news? There was a Starbucks randomly situated by the satellite American Eagle gate!  And that's always a good thing when you're working on 4 hours sleep.