-Find 70 trip reports like this one by clicking on the "Trip Notes" tab on top of the DansDeals banner at the top of this site.  Those tabs can help you quickly find popular articles that I've written on miles and credit cards as well.
Pictures in this trip report can be enlarged by just clicking on them!
—————————————————————————–
2 weeks ago I went to Banff, Canada with Mimi, Rafi, and JJ, one of my 5 siblings.
Banff is truly a stunning place, albeit overrun by tourists during the peak summer travel season.  Luckily it's not too hard to escape the crowds and traffic.
Lake Bow: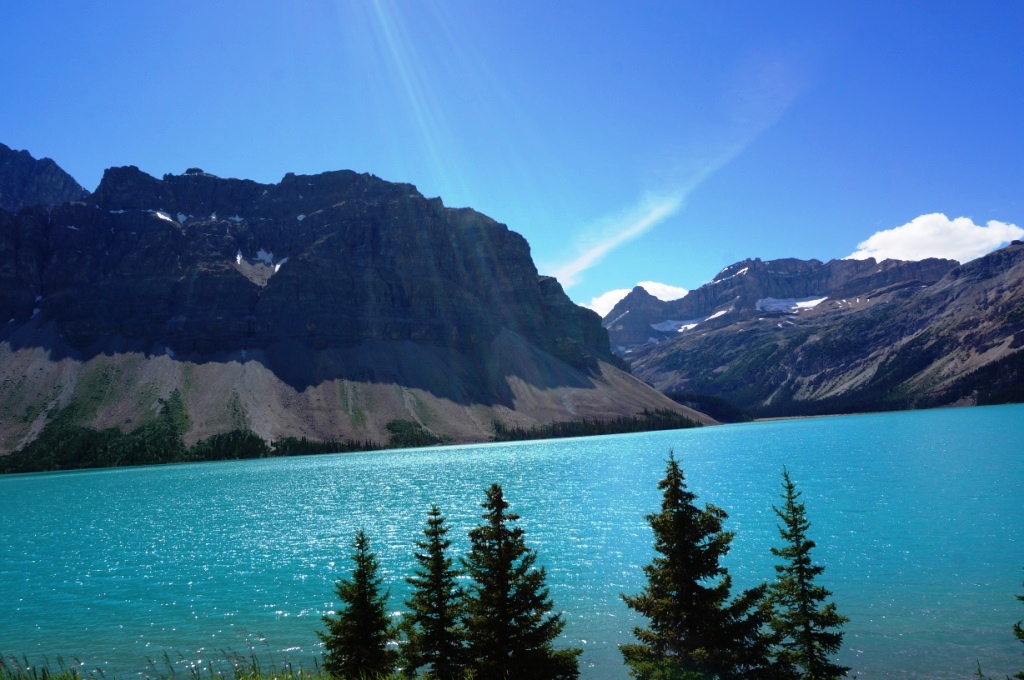 Lake Louise: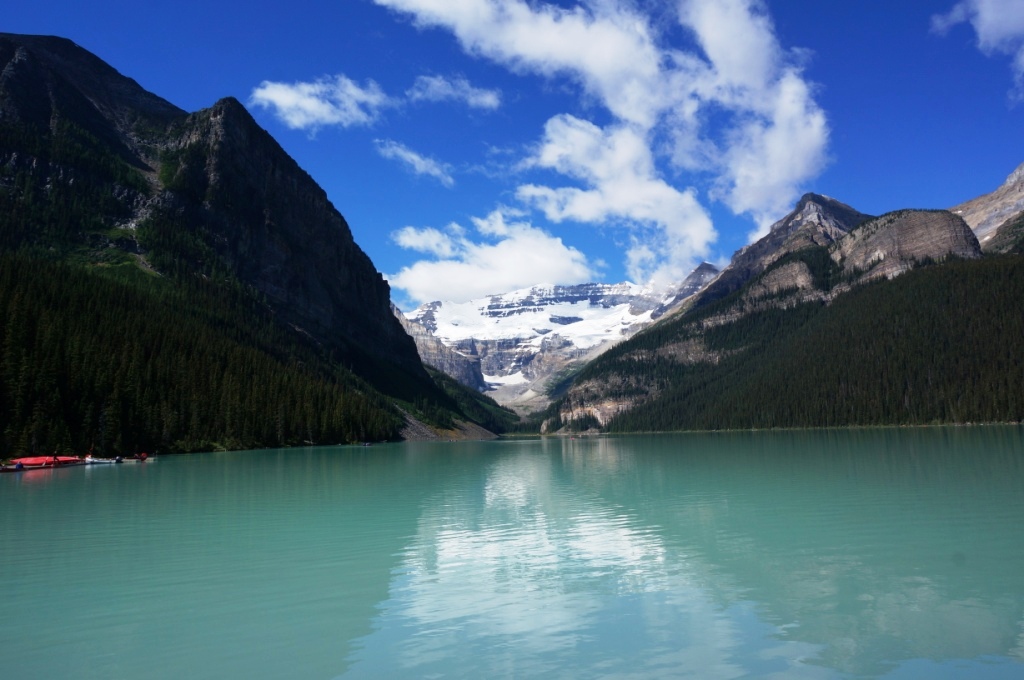 Moraine Lake: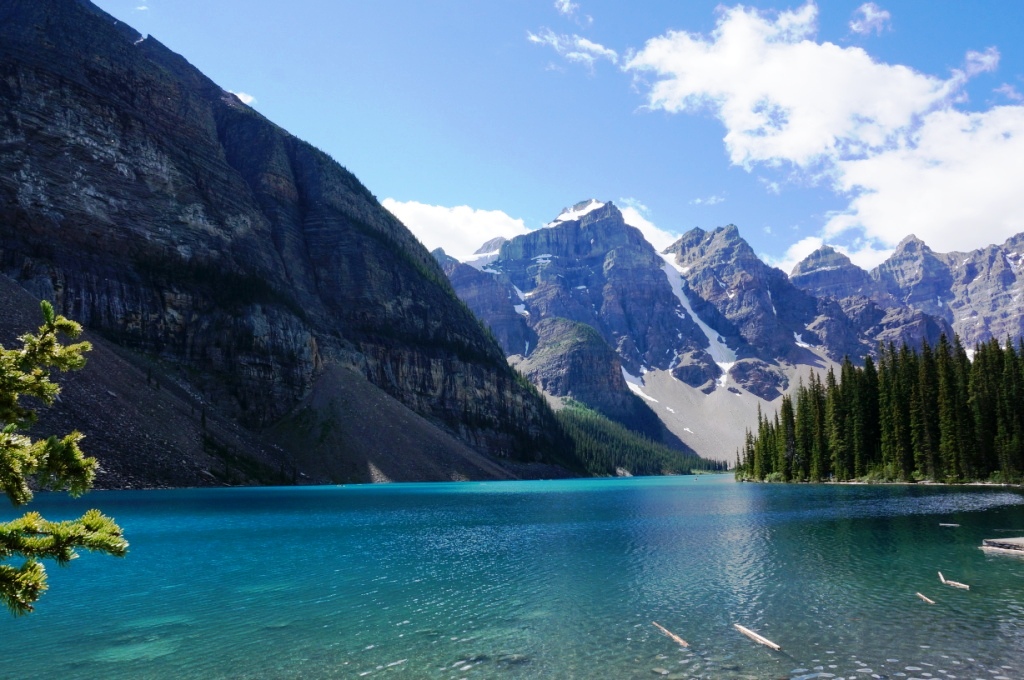 I first heard about Banff from Mr. Jessy, the beloved social studies teacher who taught in Pittsburgh's Yeshiva Achei Temimim for the past 3 decades. Last year was his final year teaching there, the biggest loss for that school since Rabbi Green finished his 2 decade run there after my senior year. I've wanted to go to Banff ever since hearing his ridiculously heavy Pittsburghese pronunciation of "BANFF" and his ravings about the beauty to be found there. This one is for you Mr. J!
Traveling with a toddler:
People often ask me how travel can be worthwhile with small children.  Rafi has now been on 49 flights (I keep track of them here) .  No, it doesn't get much easier though we do have the security thing with a kid down pat by now.  Sure he may not remember the details but I'd like to think that we're leaving an impression on him as he explores the world in ways that not everyone is able to.  He's old enough now that he was asking questions about Banff before we left and 2 weeks later he still talks about the things we did and the hotel we stayed in.
And he's asked to go back there daily since we came home!
This was the first trip we went on since he turned 2 a couple weeks before the flight which meant we had to get him his own ticket.  In the past we've done well getting him a free empty seat with strategic seat assignments like booking the window and aisle while leaving the middle empty.
We always travel with a carseat.  While Rafi was an infant traveling was at its easiest.  He didn't walk or need to move around and we were able to bring his Chicco Keyfit 30, which was a pleasure to travel with as it connects our UppaBaby Vista via an adapter.  It was lightweight and he slept well in it.
Now things are more difficult as he wants to move around more.  I wouldn't dream of bringing his incredible Chicco NextFit Convertible carseat as it's far too heavy to travel with.  Instead we have a Cosco Scenara convertible carseat ($39 from Walmart) that does the trick. It only accommodates kids up to 40 pounds, but it's light as a feather compared to the Britax and much less bulky. We use the GoGo Babyz Travelmate to push the Cosco Scenara through the airport and we checked the UppaBaby Vista with the rest of our luggage.  The Travelmate has recently been discontinued and replaced by the Mini Travelmate which I'd assume works at least as well as the version it replaced though I haven't tested it yet.
Adding to our anxiety levels was that we just started potty-training Rafi in late June. I bought the Safety 1st Travel Potty which allowed us to do activities and keep Rafi in his underwear without worrying about being near a bathroom. And let me tell ya' that kid had a potty with a view on this trip! We brought along several gallon sized ziplocs which attach right onto the seat to hold the deposits.
Rafi was fantastic on the flights watching some Sesame Street, playing with some toys, taking a snooze, and walking up and down the aisles a few times.
Food:
Of course there is no kosher food around Banff. That usually means making food at home beforehand for the trip. Also known as my better half spending hours on end preparing for a trip over the stove. Not that she can't do that as she's proven par excellence on 3 trips to Hawaii including our month-long marathon 4 island honeymoon (paid for with points of course).  But that is hardly ideal.
For kosher travelers there are 2 kinds of trips, there are trips to cities like Buenos Aires, Chicago, LA, Miami, Montreal, and New York that involve indulging in the kosher scene wile also happening to experience the city.  And there are trips to places like Kauai, Yellowstone, or the Maldives where you take in the scenery but you eat whatever local scraps you can find or bring along your own food or meals like La Briute which are edible at best.
Several longtime DDF members (whose taste-buds I trust) highly recommended the travel meals from Pomegranate Supermarket in Brooklyn.  And having Todd Aarons as your culinary director doesn't hurt either. He founded and was the head chef at Tierra Sur, easily the finest kosher restaurant in North America.
Now when I go to eat at a restaurant I don't tell them who I am, though they probably wonder why I'm snapping so many pictures. So full disclosure in this case, when I emailed Pomegranate they supplied me with meals for my trip and I'm free to review them as I see fit. Take my reviews with a grain of salt if you wish or try the meals for yourself to see. Frankly I don't care if a meal is free or sets me back $100, I'll tell it exactly as it is.
Each meal comes triple wrapped in foil and are then sealed in a plastic bag. They are individually labeled to show the contents, rabbinical supervision, heating instructions, and even when the meal is for if you supply them with your daily menu. This allows the hotel to heat up your meals as desired.  You can store the meals in your hotel freezer and have them send it up on a schedule or just keep the meals in your room and call room service to pick them up to heat up.  Hotels can bring the sealed meals back up to your room or serve them in a hotel restaurant. Or you can always buy a cheap toaster oven and do it yourself I suppose.
The meals are very generously sized. A meat meal with an entree, starch, and vegetable of your choice range from $17 and up. Most are about $20 though some are pricier.  The dairy meals start at $12 and are cheaper than the meat meals.  Those come with an even larger entree but without sides.  I think that both are great values.
You can view their travel menu online here. I dealt with Shloime at deli@thepompeople.com. He was fantastic and worked diligently to help with their extensive menu options and taking care of everything.  Tell him I sent you and ask for a DD discount 😀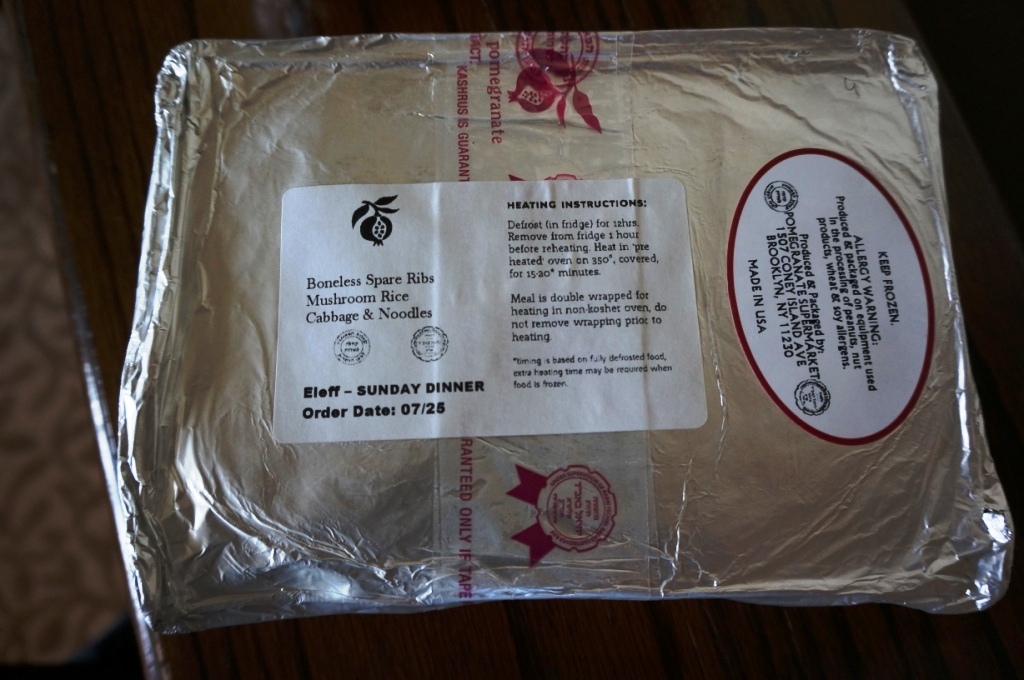 They were also labeled as being a product of the USA, something that's required by Canadian customs. The customs agent asked what was wrong with the restaurants in Banff but after a 15 second explanation they waived us through without ever making us open our bags.
The meals could have been shipped directly to the hotel but due to customs concerns I had them shipped to me in Cleveland in dry ice. We froze the meals for a couple days before the trip and checked them in our luggage. It took some 11 hours from when we left our house until we got the bags in our hotel room but the meals were still frozen solid. I've never had an issue with frozen meals before and this time was no exception despite the summer weather and connecting flights it stays cool in the checked luggage compartment.
More on the meals below.
Flights:
We used 12,500 United miles to fly from Cleveland to Calgary via Chicago. Originally there was only a 6am flight but a 9am flight opened up close to the flight and we grabbed it. United routinely opens up more flights on the day before and on the day of travel, so it pays to keep checking.
A regional jet to Chicago for an hour isn't terrible but 3.5 hours is far too long to be cramped in one. Luckily on the return we flew on a 737 where you can stretch out a bit.
The new United Club in ORD's Concourse F is fantastic with a sleek new look, brand new furniture, a better beer selection, and stylish new bathrooms. I can't wait for the look to be rolled out systemwide.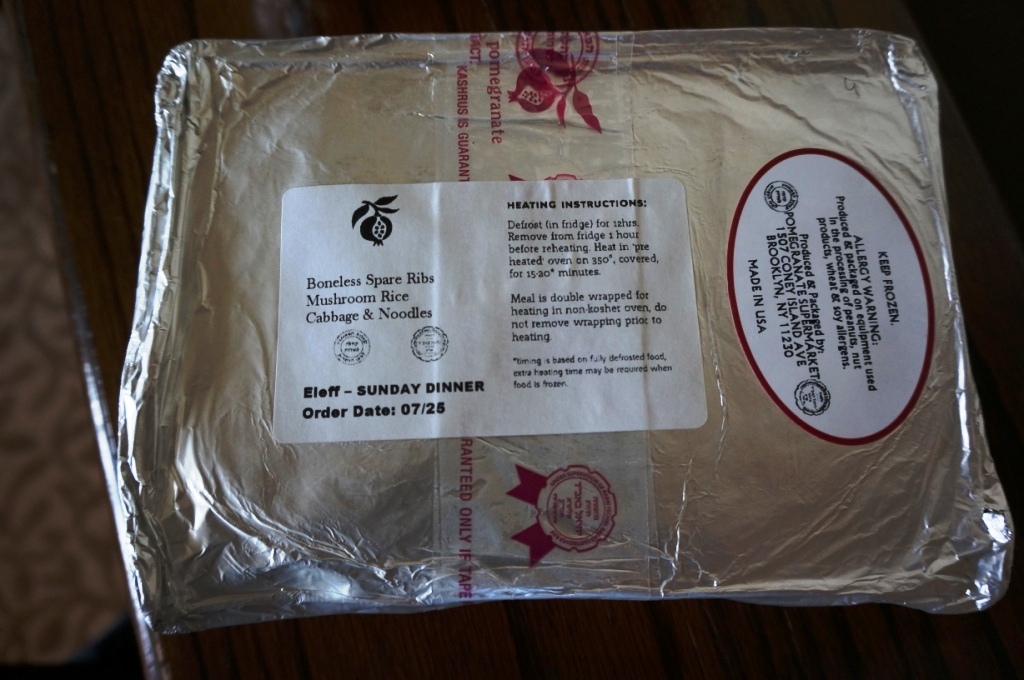 United Club CLE-Family Room. Nothing better than a family room when traveling with a kid: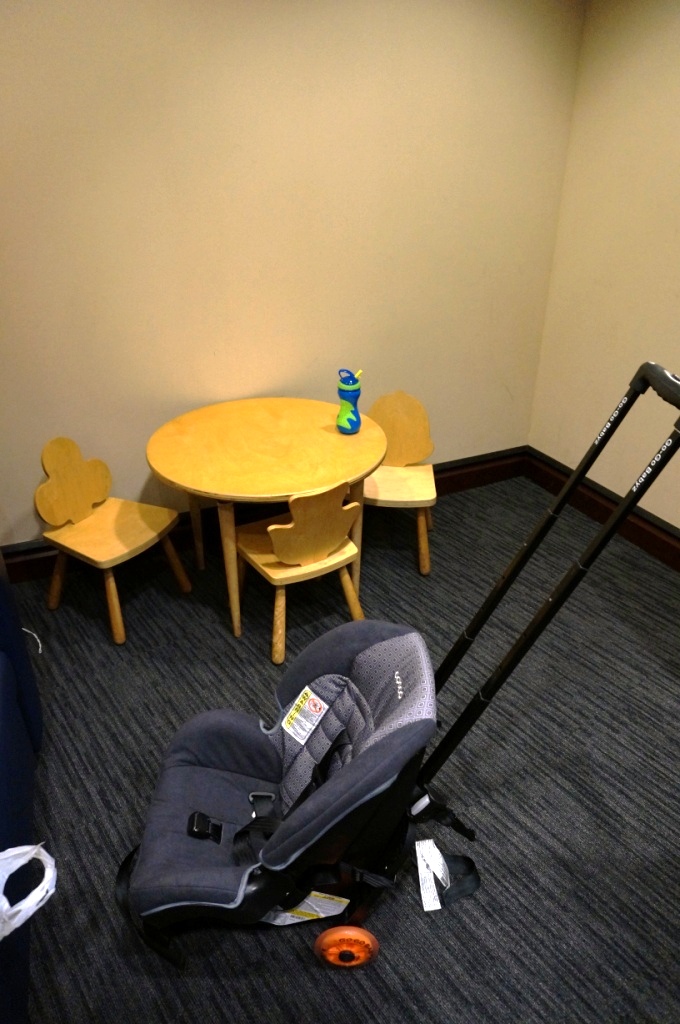 United Club ORD: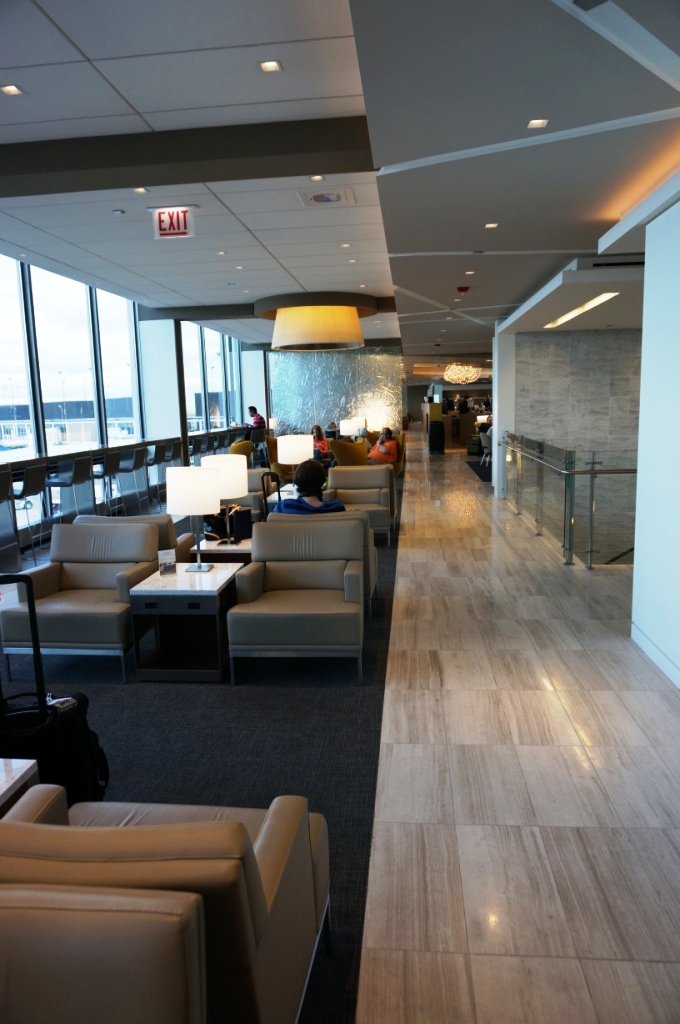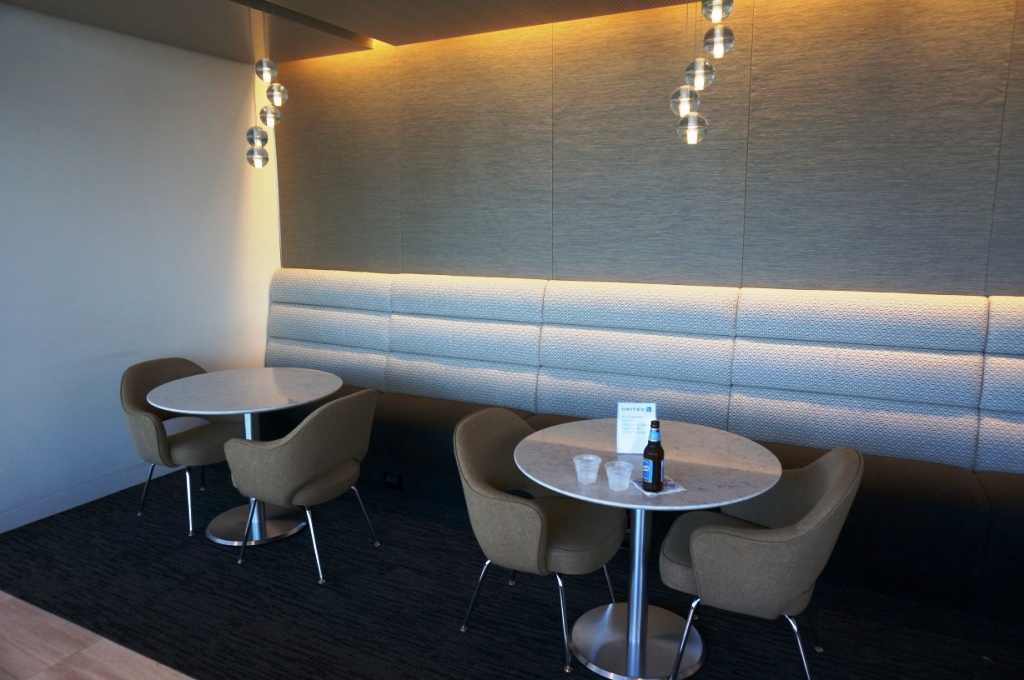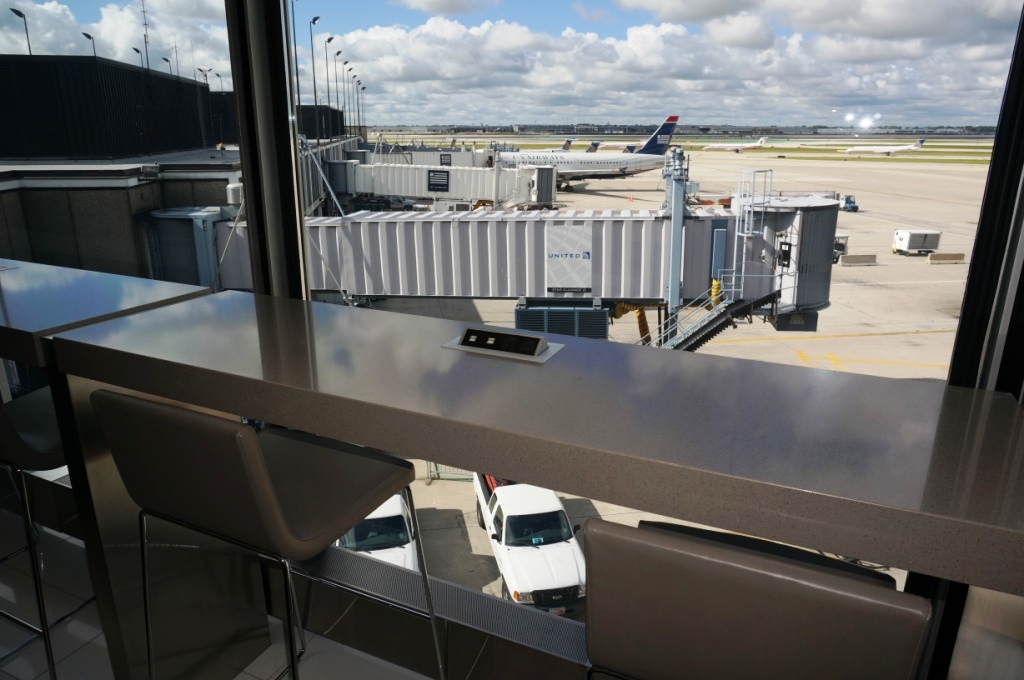 Car:
I used Daily Getaway coupons for a premium car at just $29.70/day instead of over $100/day. We got a Genesis which was perfect for our needs. I didn't hand in the coupon until I returned the car. The rationale being that credit card insurance doesn't cover the rental if you use free day coupons. So had I damaged the car I would have left the rental on my United card with free primary car rental insurance instead of using the coupon.
The 90 minute drive to Banff along the Trans-Canada highway is somewhat boring though excitement is added watching people sprint across the highway. Not something you see back home!
Banff:
The settings are so beautiful around here that it's ridiculous. No camera can possibly capture the grandeur.
There are seemingly endless amounts of hiking trails in the most stunning environs around Banff which can leave you overwhelmed.  Of course with a stroller most of those options are eliminated though it's tough to get a handle on which ones are stroller-friendly.  Having a stroller like the UppaBaby Vista definitely made it easier to hike in places that wouldn't be possible with an umbrella stroller.
We tried to get Rafi back to the hotel so that he would have his daily 2 hour nap in the crib.  That made sure his schedule wasn't interrupted though it made doing activities away from the hotel a challenge.
We brought along my brother JJ to have a babysitter on the trip.  I'm earning miles far faster than I can burn them so it made sense for us to travel with a babysitter.  We didn't take too much advantage of him but it was a huge help. He slept in a suite with Rafi and got up with him at 5:30 in the morning and walked him around town until we got up a couple hours later.  And he stayed in his room with him at night so that we were able to walk around the town and hit up the spa.
The stores around town are surprisingly boring.  You'd think there would be more interesting stores in such a cute little town but it's mostly chain stores and cheap gift shops.
We did however hit up the local Safeway and picked up lots of goodies that are kosher parve only in Canada. Dill pickle chips, cracked peppercorn with balsamic vineger chips, pure maple spread, and other interesting kosher parve finds always make for a fun shopping experience in Canadian grocery stores.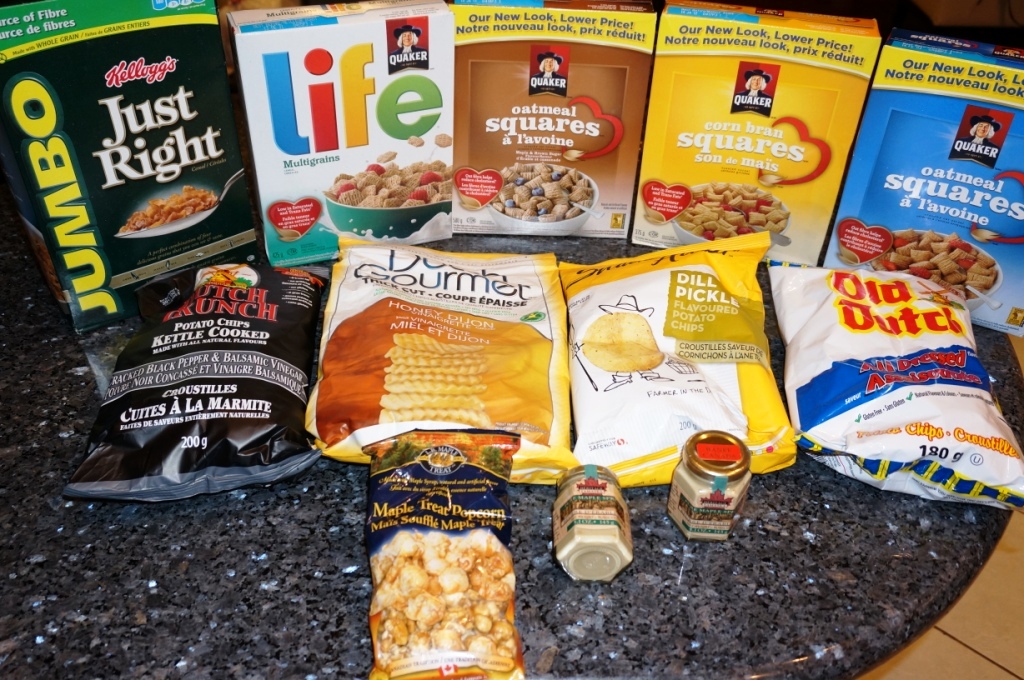 Hotel:
We stayed in the historic Fairmont Banff Springs which is celebrating its 125th anniversary.  Having a lifetime of free suites (along with free massages, nail services, booze, golf, and more)  made that an easy decision. Definitely something I'm happy to have worked to make happen as it really was the deal of a lifetime.
Fairmont Banff Springs (view from Banff Gondola):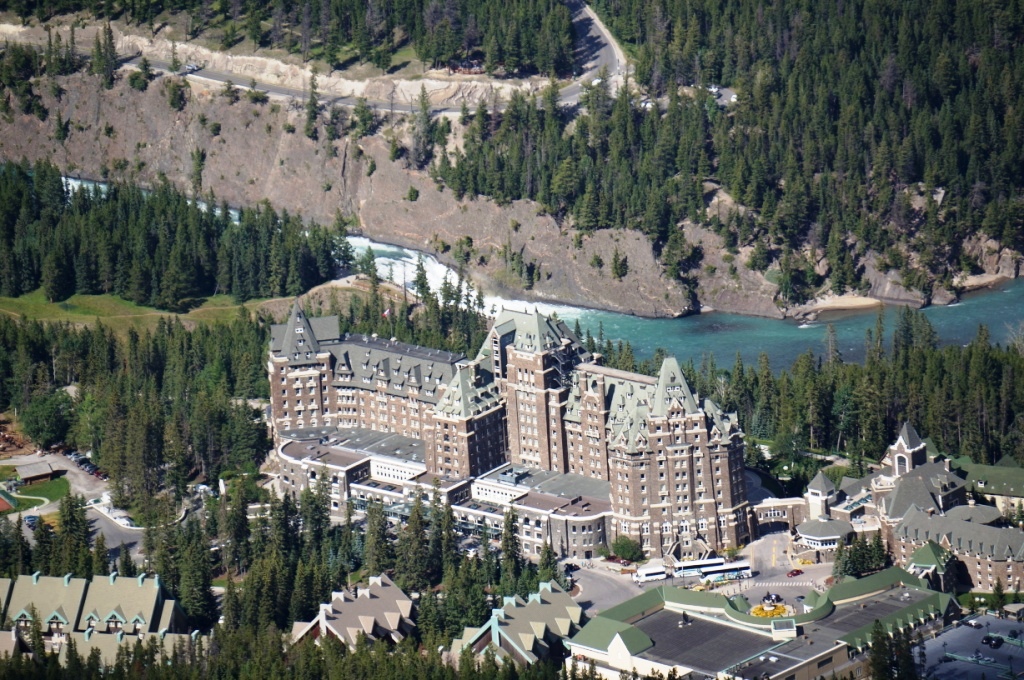 Fairmont Banff Springs: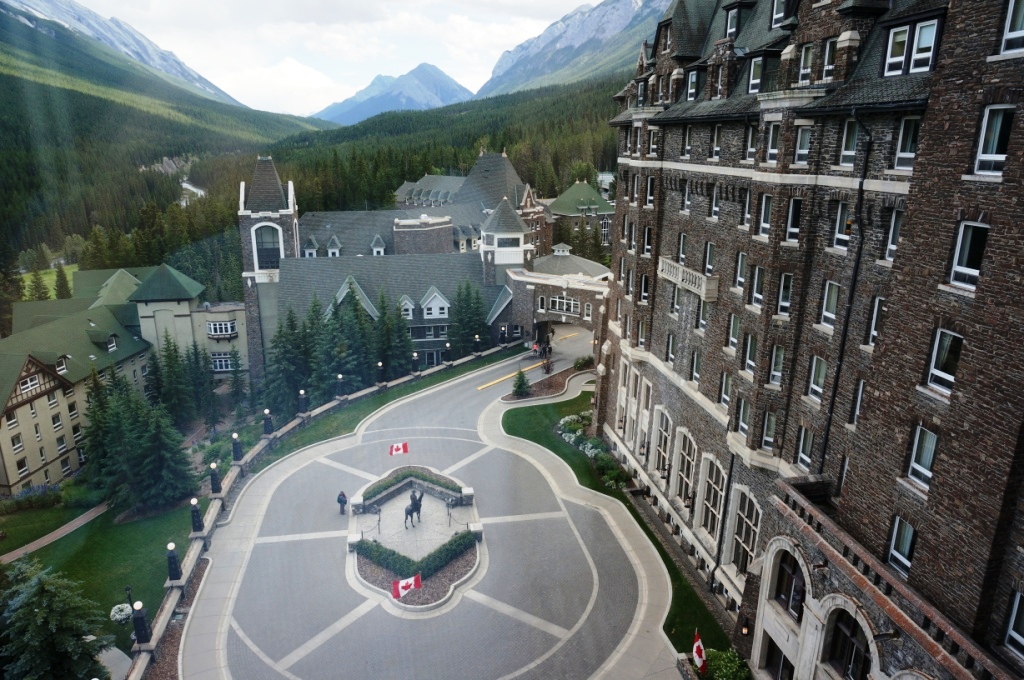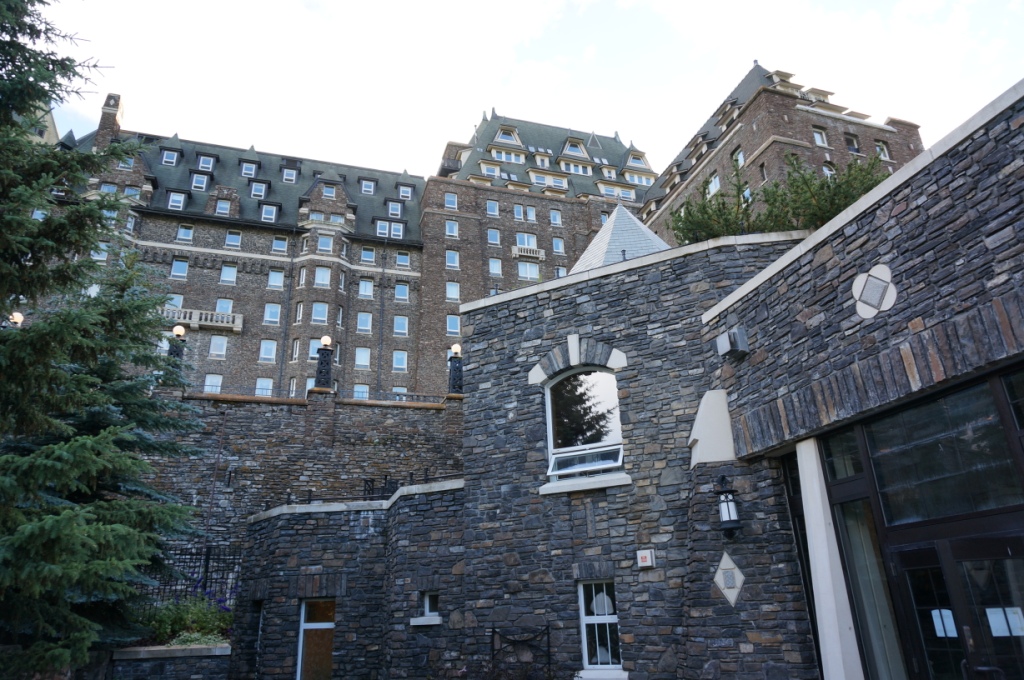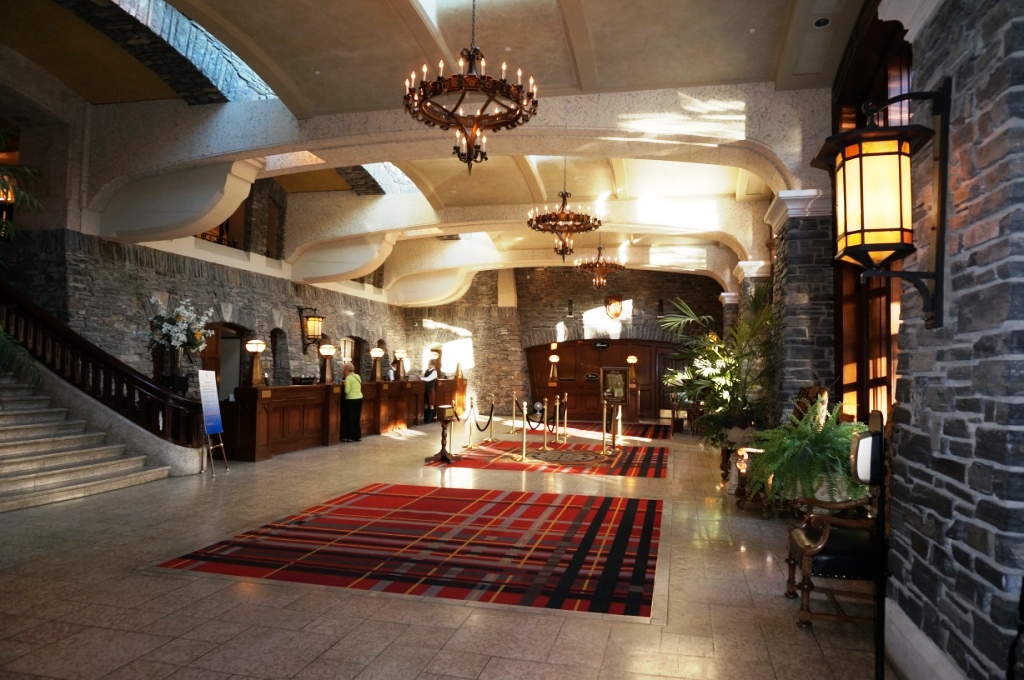 The Fairmont President's Club line will only upgrade you to a Stanley Thompson wing suite, which isn't part of the historic hotel buidling and has poor reviews.  A quick call to the hotel directly though yielded better results and we were confirmed into a 2 one bedroom suites, which normally go for $1,200/night+tax+resort fees each.  The resort fees here are actually cool here as it includes tips for your stay. That's right, employees in the hotel won't accept a tip!
Even better-with the free nights you don't pay tax or resort fees.  I splurged for the $35/night valet parking, easy to do when Fairmont gives you Fairmont gift cards as well with the lifetime status meaning.  Those meant that I paid absolutely nothing out of pocket for the stay.
The hotel is styled after a Scottish castle and is a Unesco world heritage site. While the hotel itself may be grand (if not a bit stuffy) and even a tourist spot unto itself it is far too large for its own good.  It has 770 rooms and while it charges 5 star rates it delivers 2 star service.  Definitely not up to par with service at some of my favorite Fairmont hotels like those in Maui, Pittsburgh, and Vancouver.
It took over an hour to get our room keys.  The room wasn't ready even though it was 4pm and we had originally requested checkin at noon. The room didn't have the crib and fridge in it as was requested and it took several phone calls to finally get that taken care of.
There were extended holds just to reach a hotel operator and often it took multiple requests to get something done.  Items like coffee pods weren't refilled daily unless you called several times to get it done.
Quite honestly there's no particular reason to stay here over other area hotels.
Suite 647

Suite 647 had one tiny bathroom.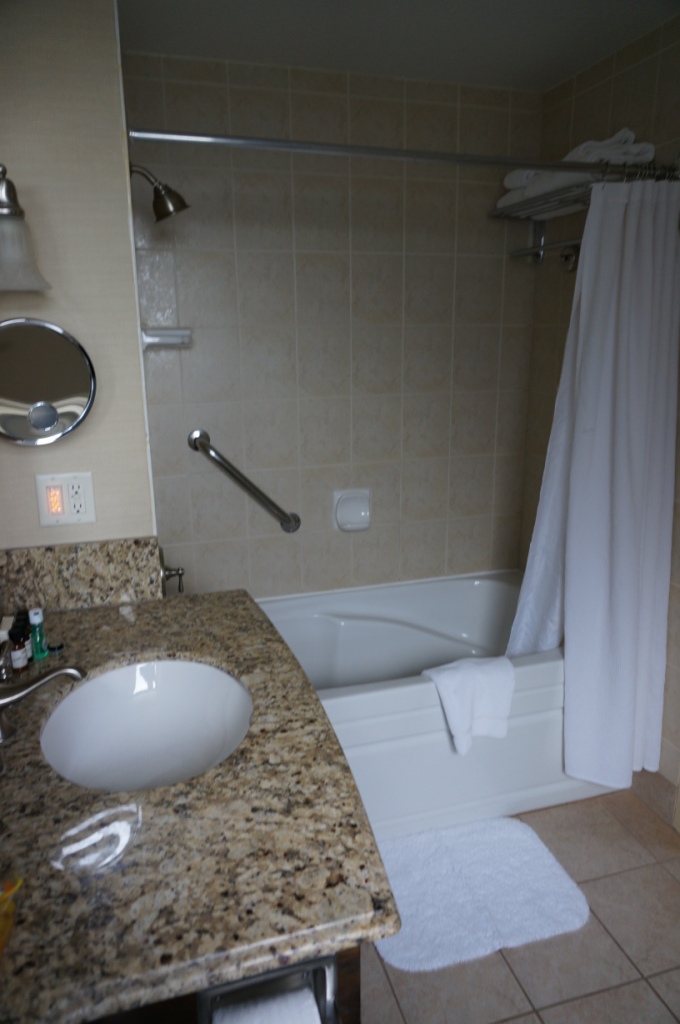 Suite 647 had nice sized bedroom.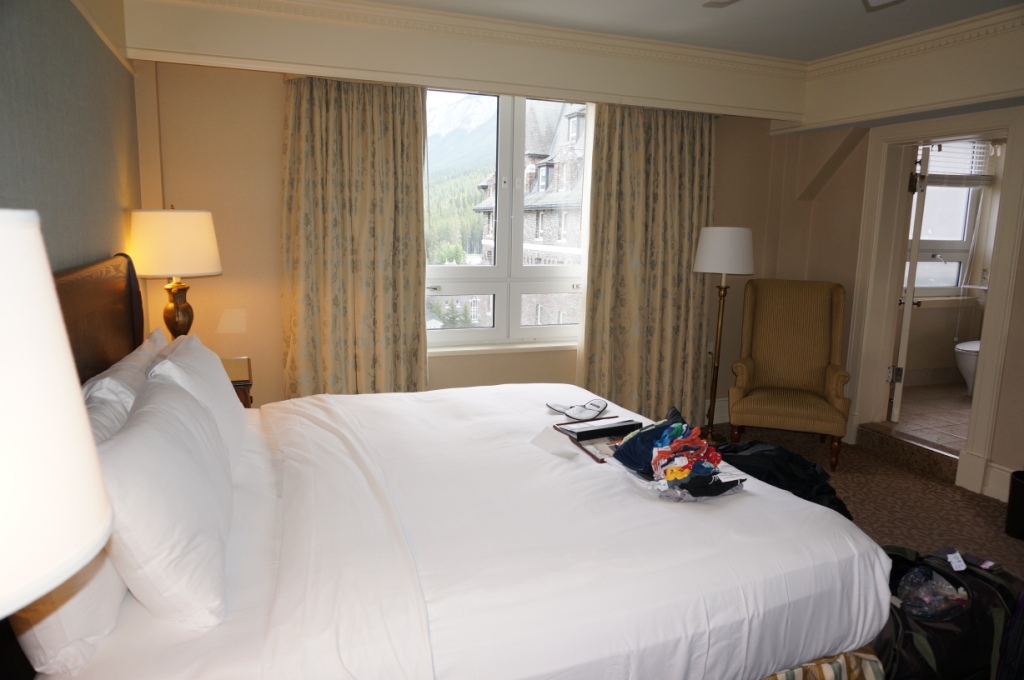 Suite 647 had great living room as well with a separate entrance from the hallway.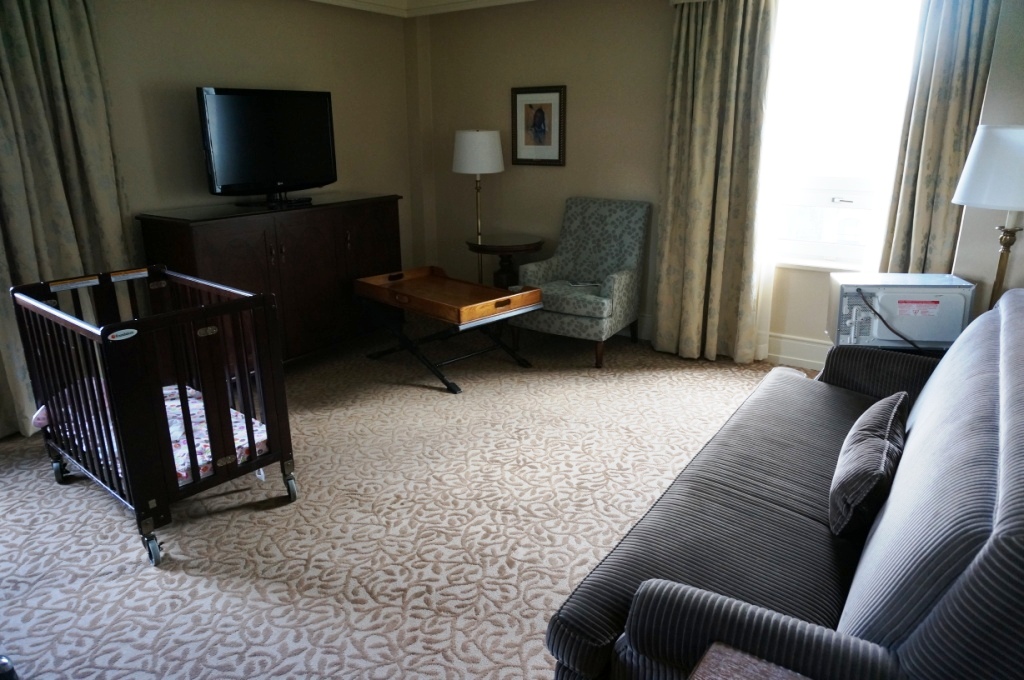 View of Bow Falls/Bow River from Suite 647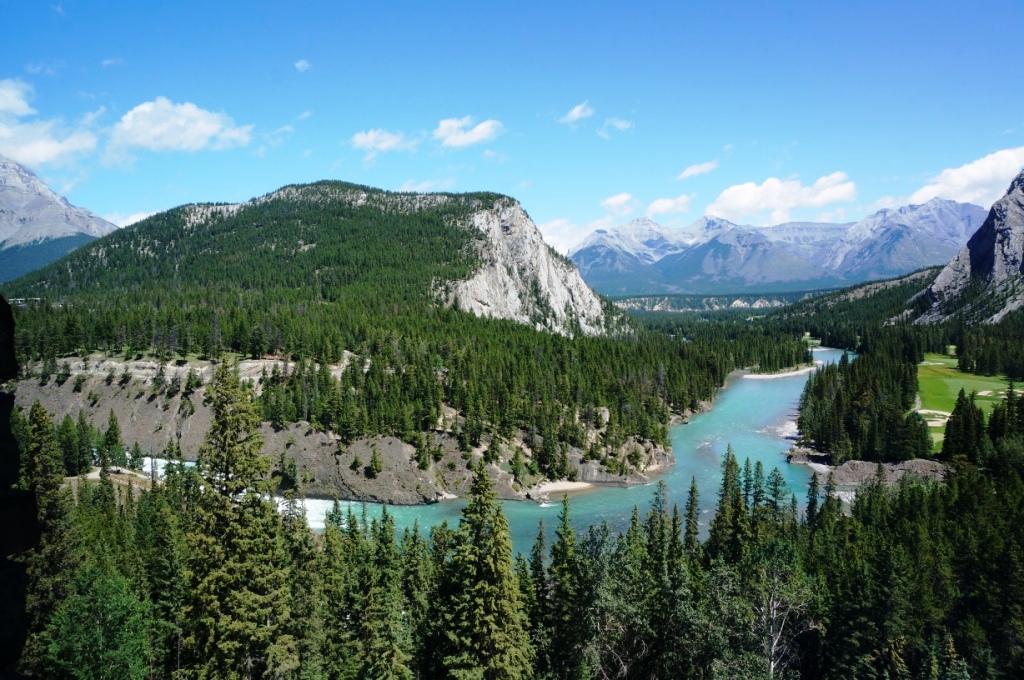 Suite 942:

Suite 942 has a narrow living room that you walk through to get to the bedroom.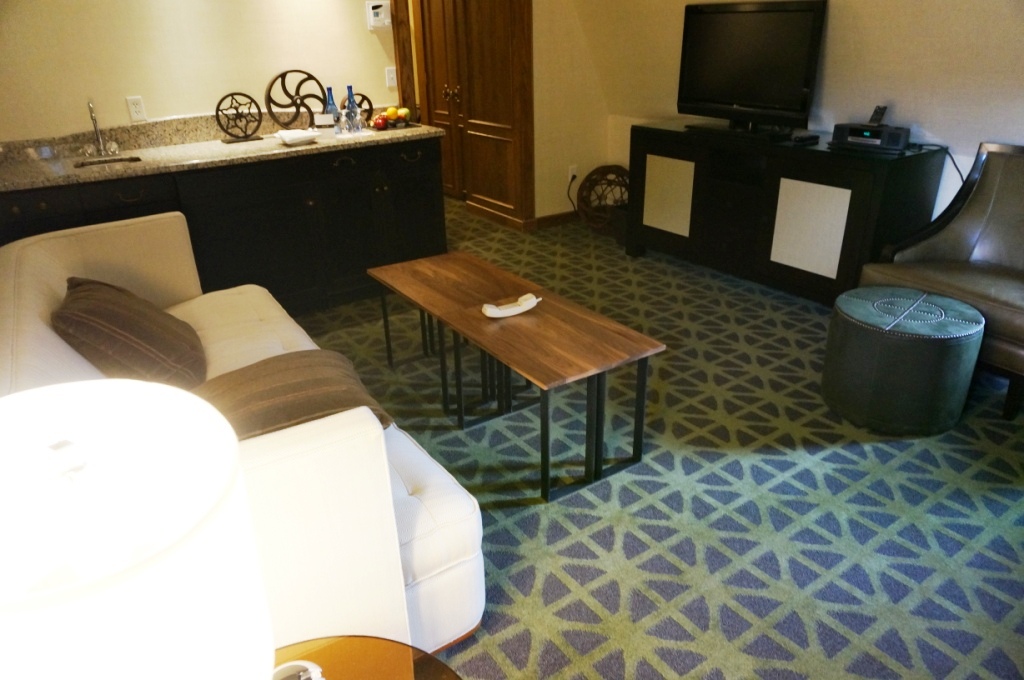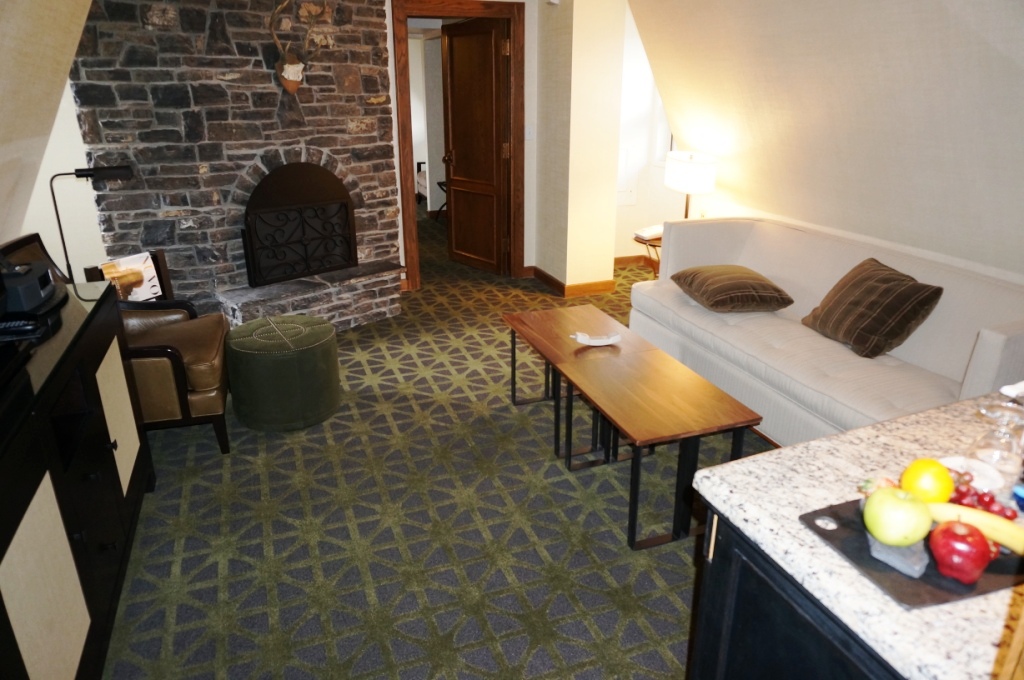 View from Suite 942.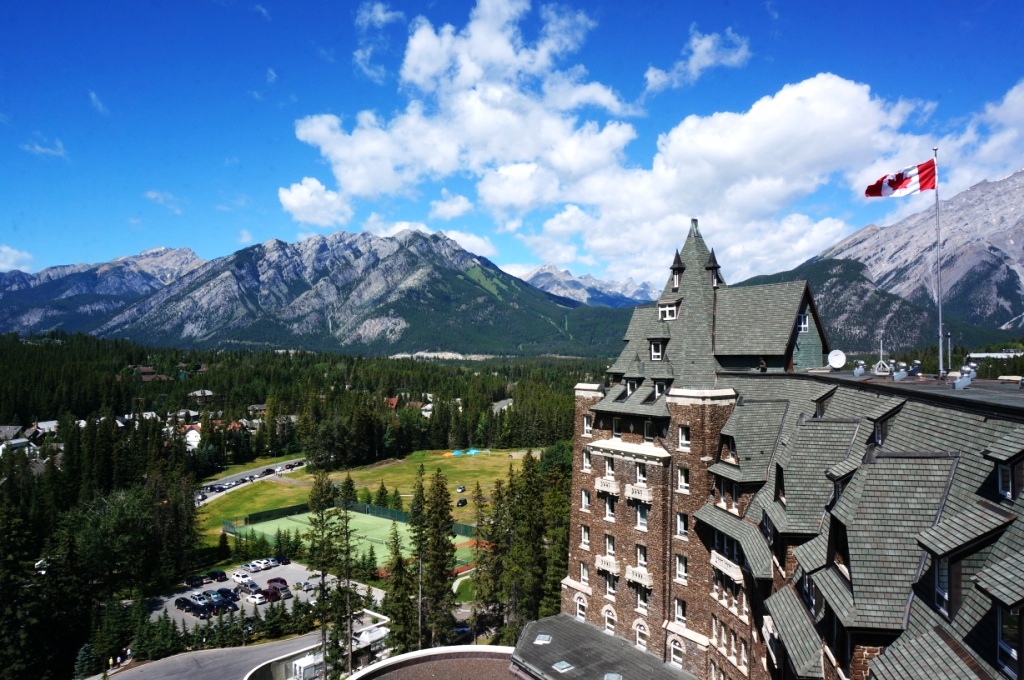 Suite 942 has curved walls due to being at the top of the hotel.  I still have a bump on my head to prove it.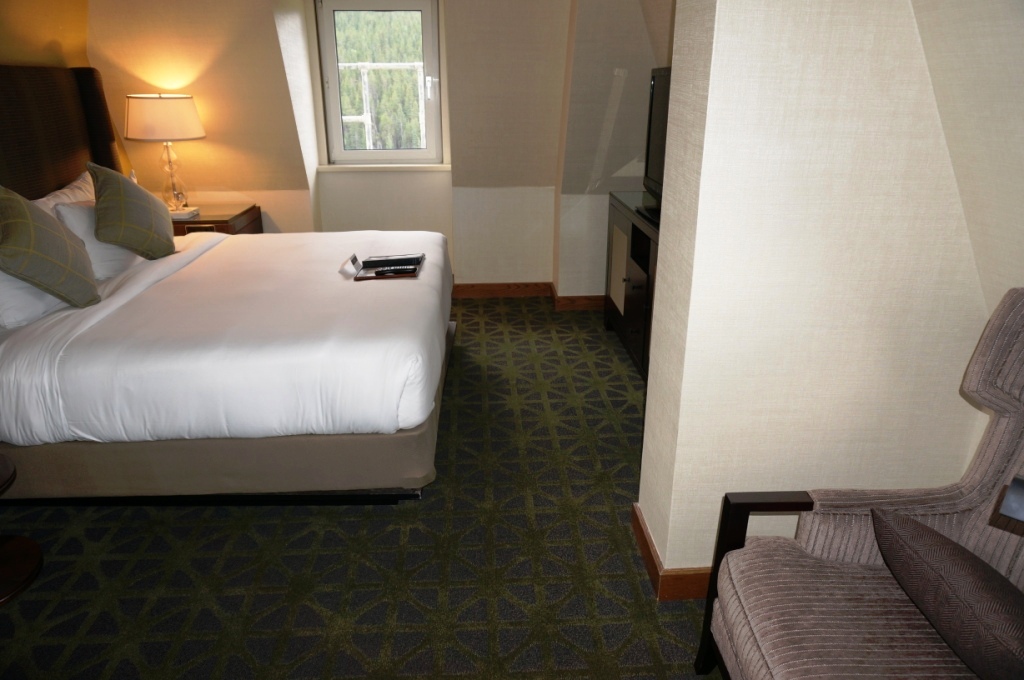 It's not just the rooms on the 9th floor rooms that feel the curvature of the building, the 9th floor hallway does as well.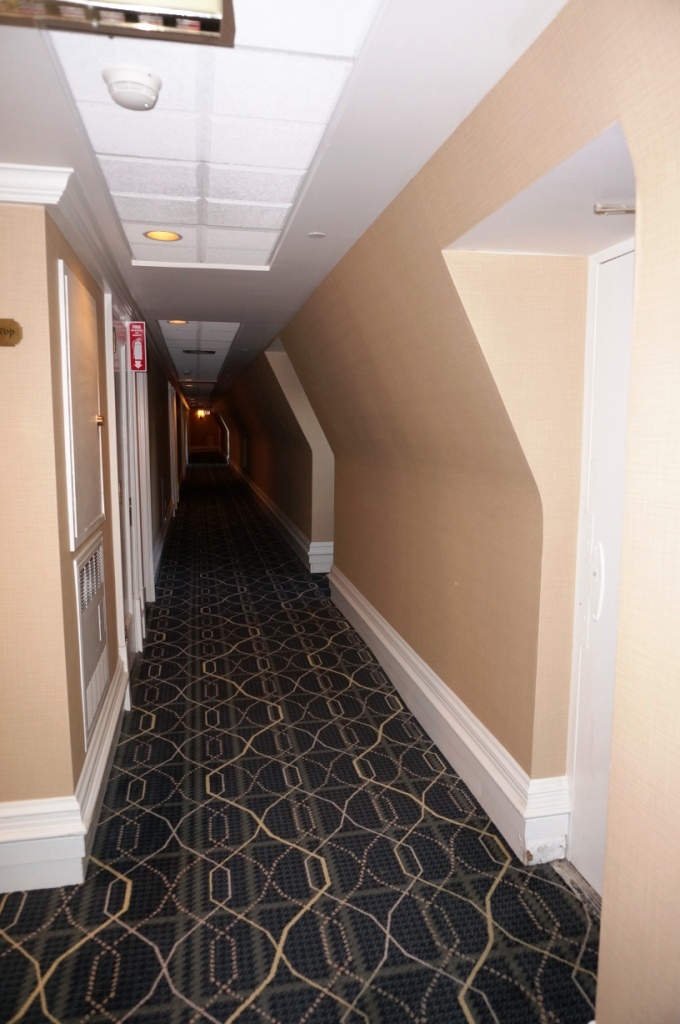 Suite 942 fire escape.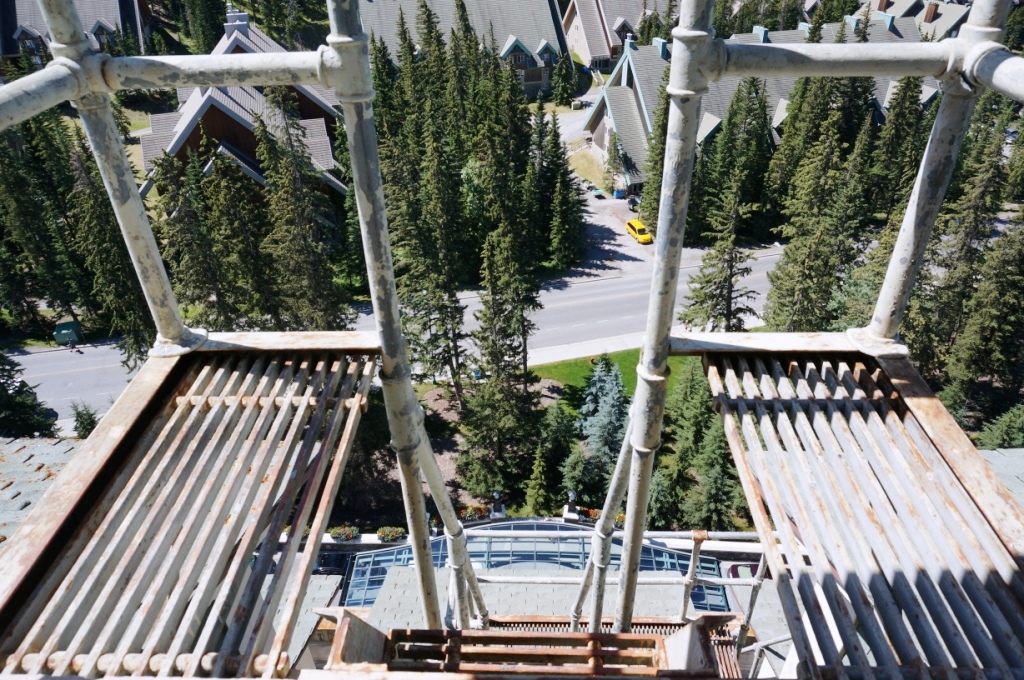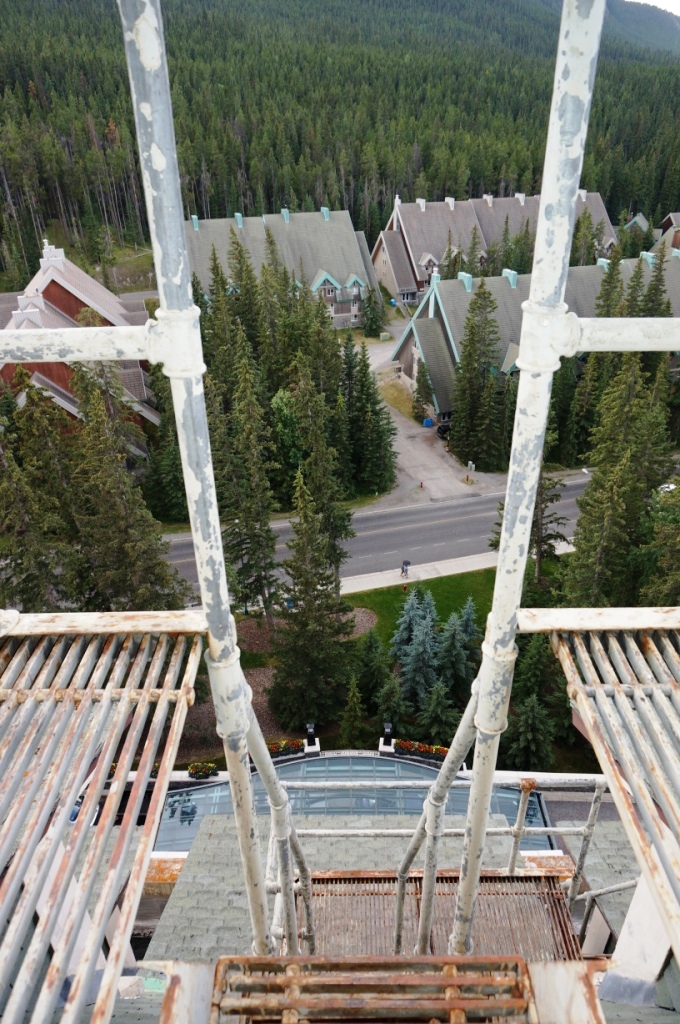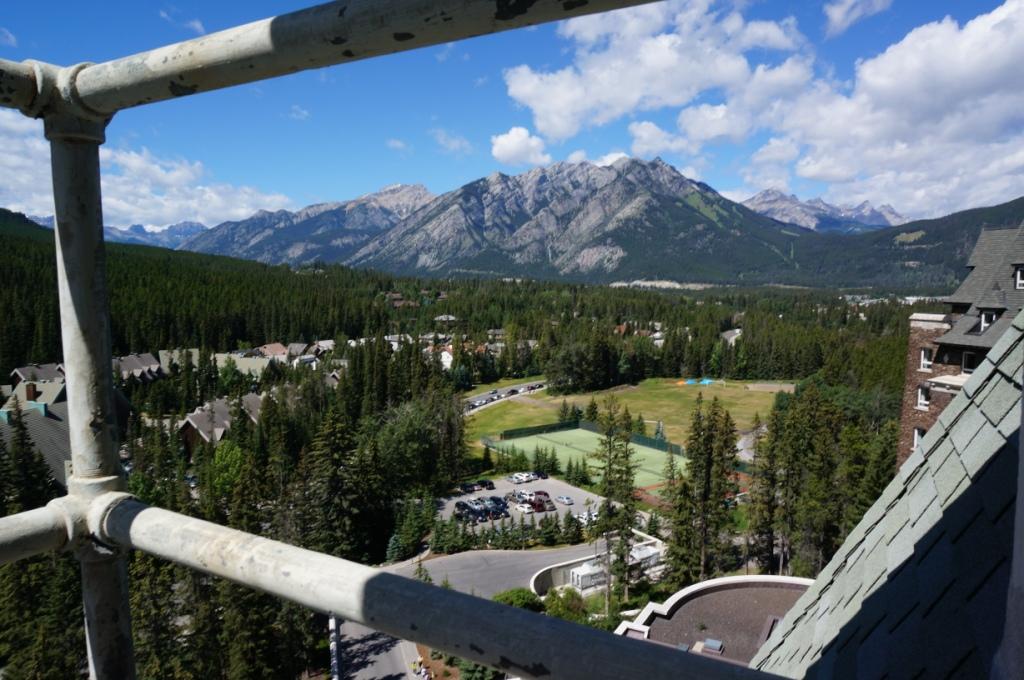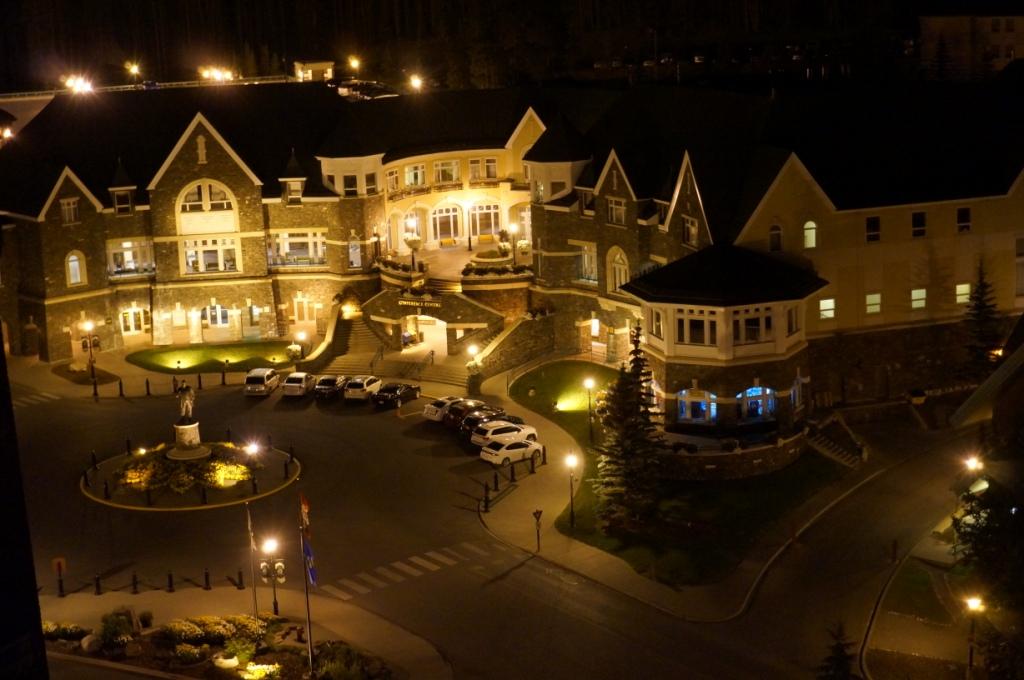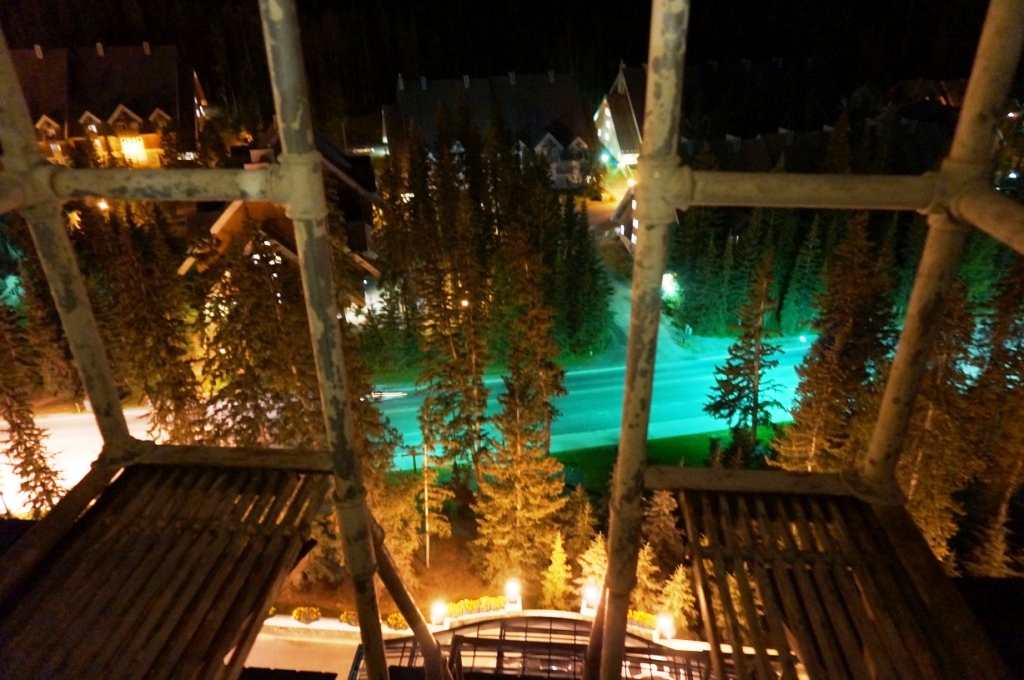 Platinum Amenity: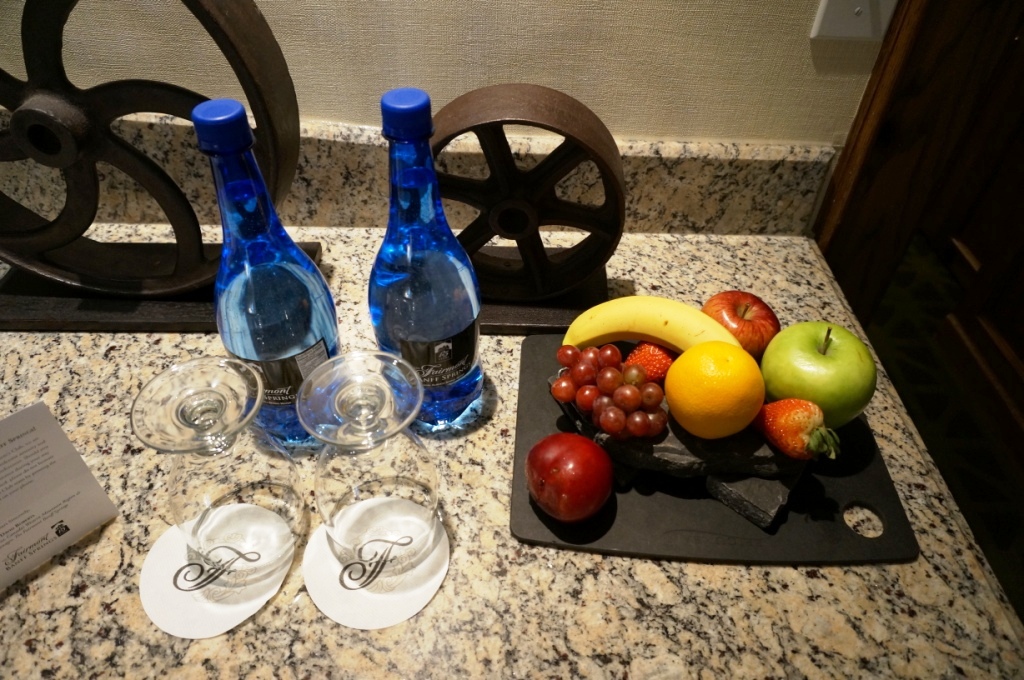 Suite 942 bathroom #1: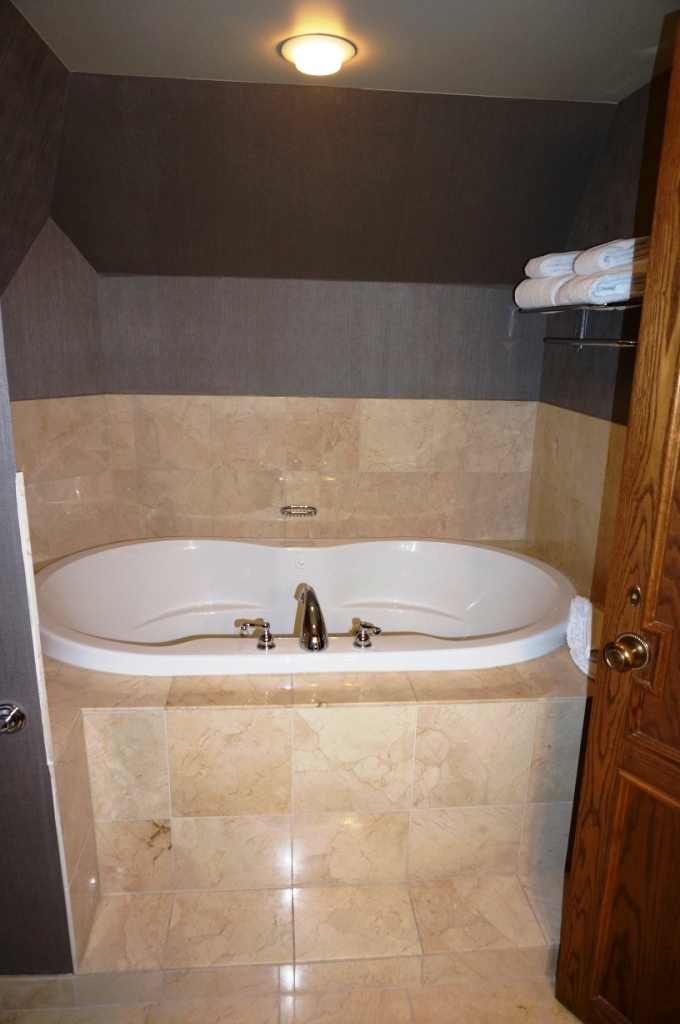 Suite 942 bathroom #2: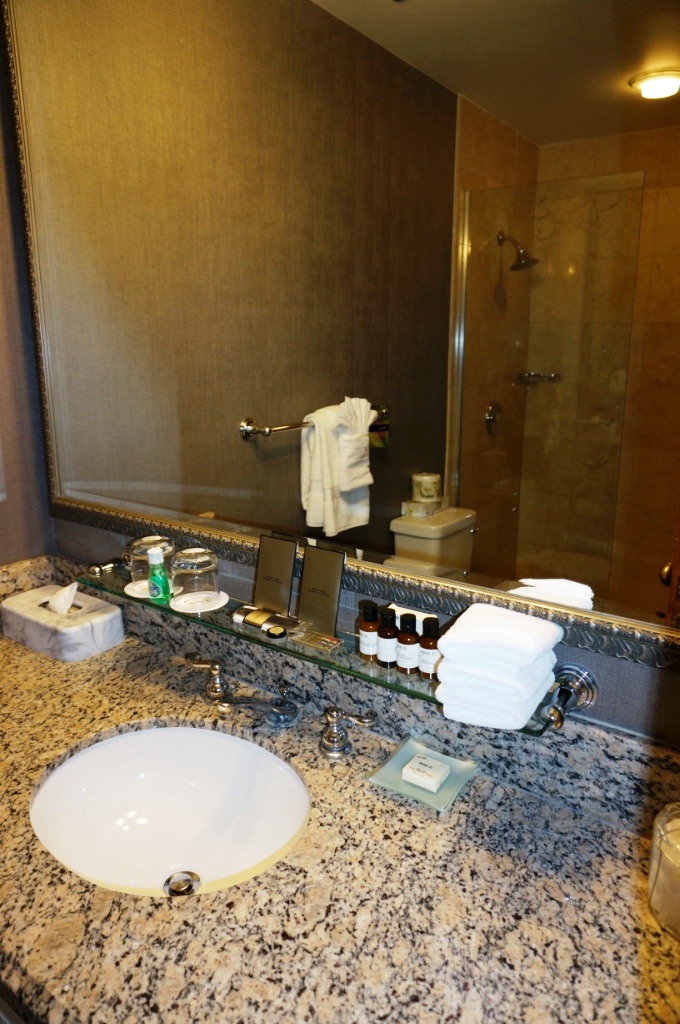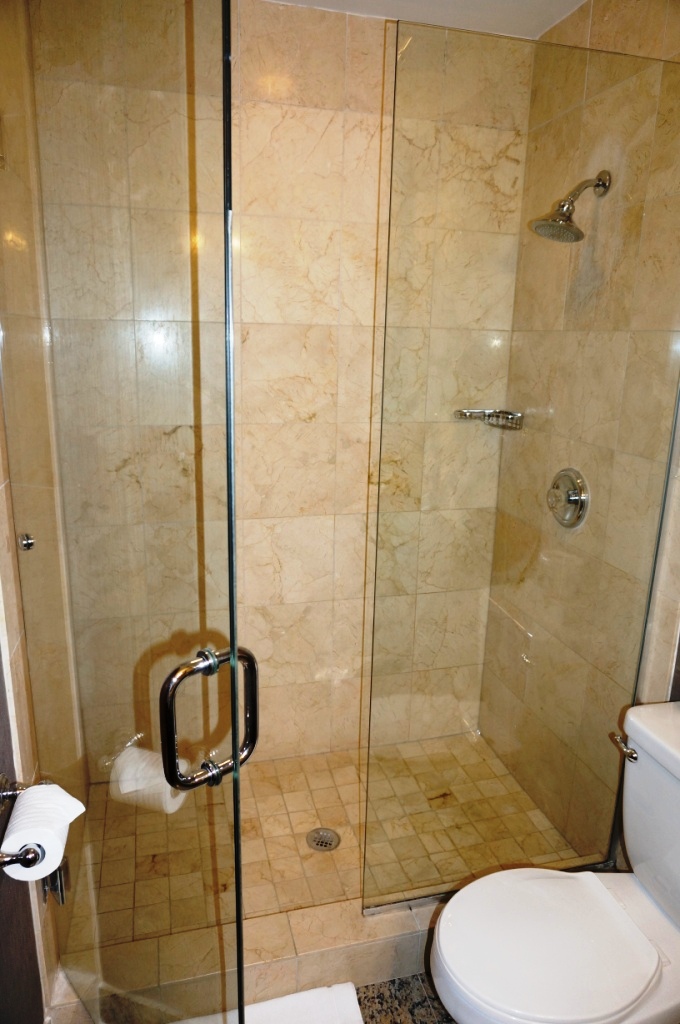 A high-speed bathing suit dryer is always appreciated.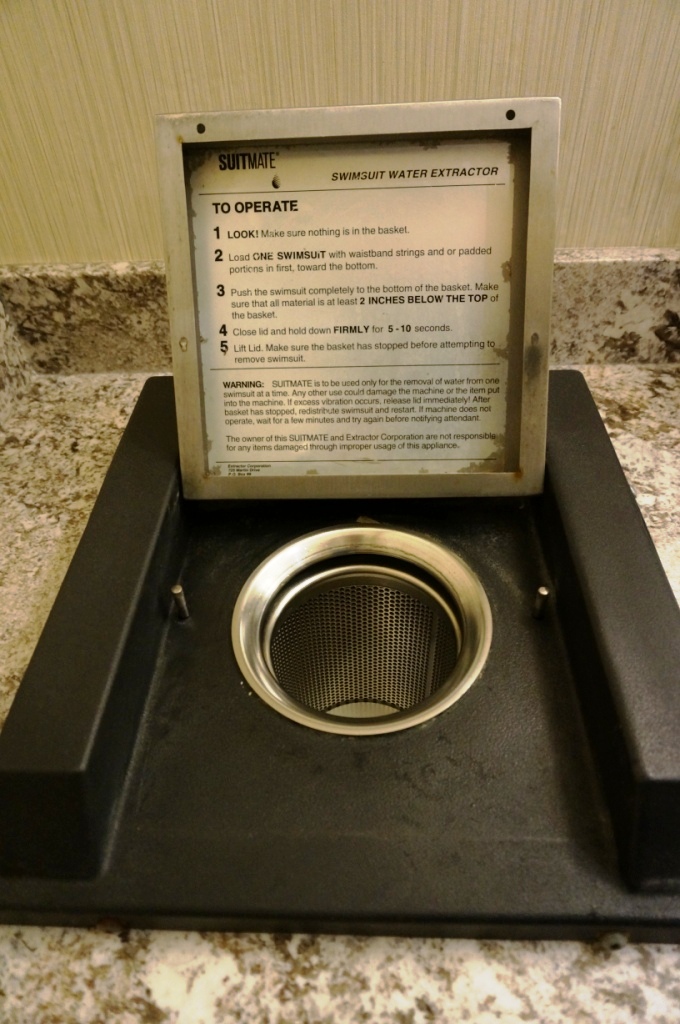 Willow Stream Spa at Fairmont Banff Springs: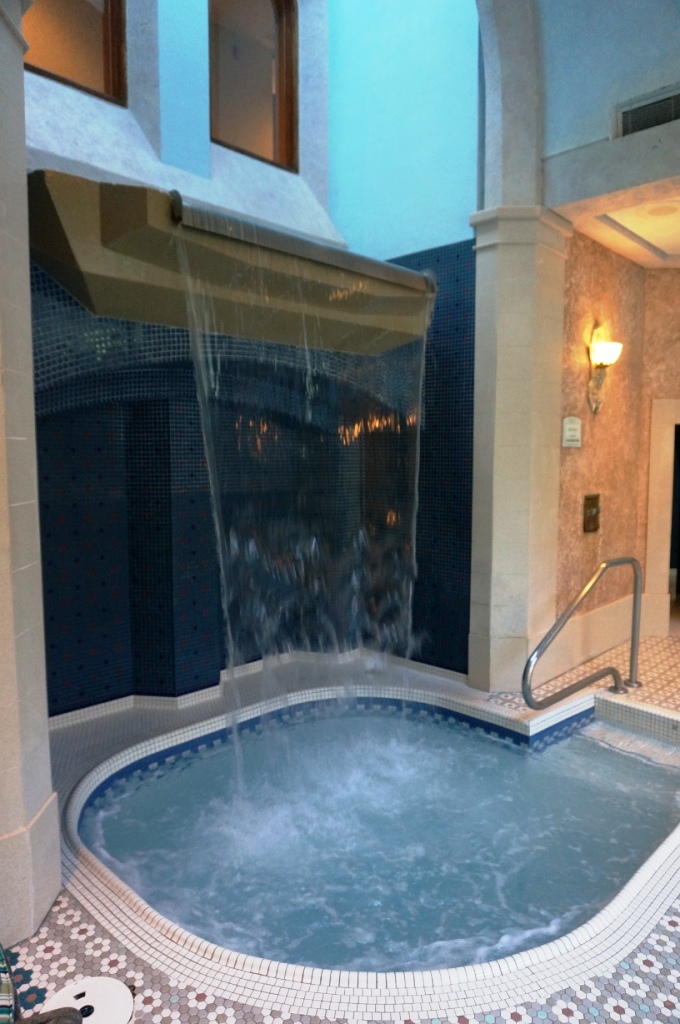 Willow Stream Spa at Fairmont Banff Springs.  The spa facilities are very nice though everything is nice when you're getting a hot stone massage for free: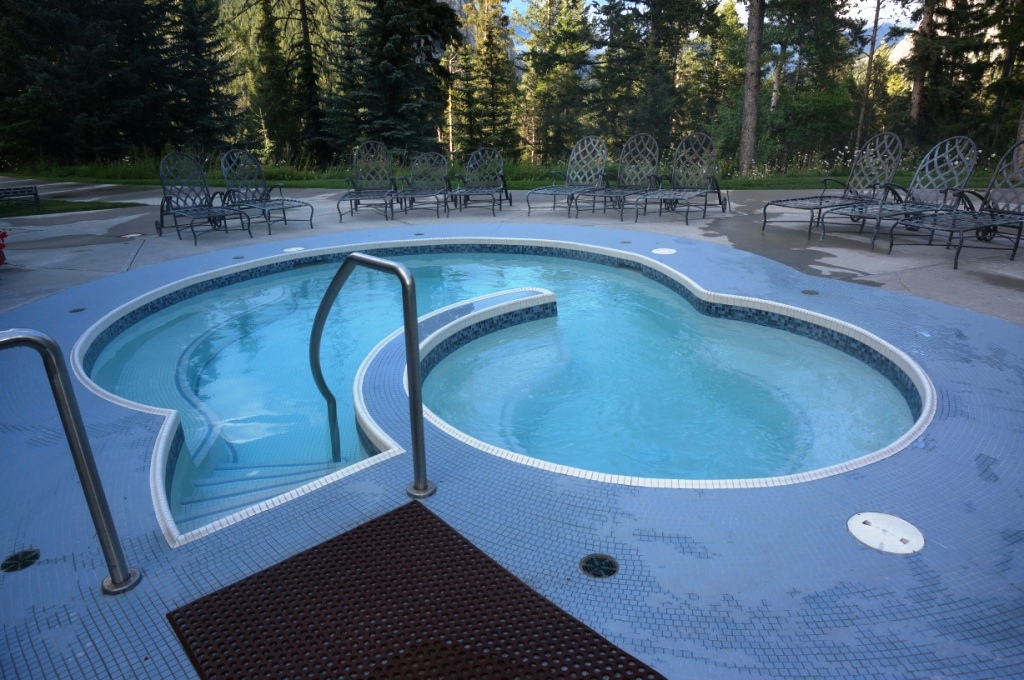 Where we went:
A: Calgary Airport.
B. Fairmont Banff Springs
C. Lake Louise
D. Columbia Icefield Center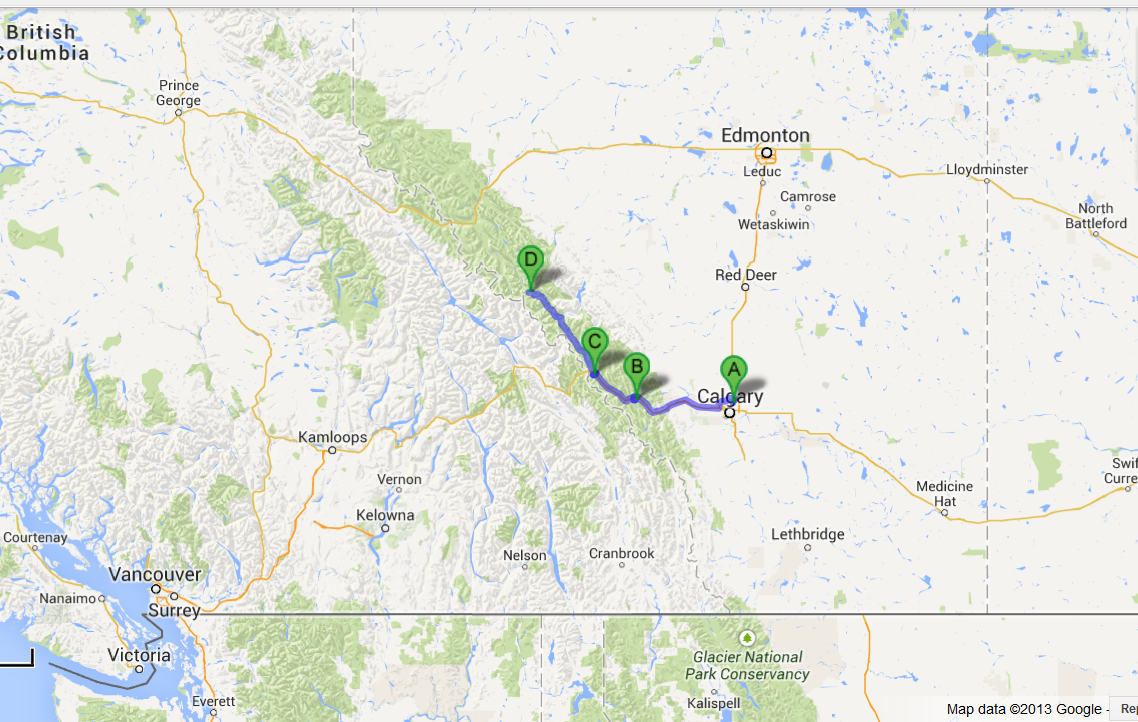 We didn't go to Jasper, another hour north of the Columbia Icefield center. and home to yet another Fairmont hotel.   If you go to Jasper in the wintertime you can often see nature's most stunning show, the Aurora Borealis or Northern lights.  Had it been wintertime I wouldn't have missed that for anything. Alas that dream will have to wait for another time and quite possibly another place in the far north.
For dinner the first night we had boneless spare ribs with wild mushroom rice and popcorn cauliflower.  The ribs were moist and delicious, I'd order them anytime in a restaurant.  The popcorn cauliflower was fantastic as well.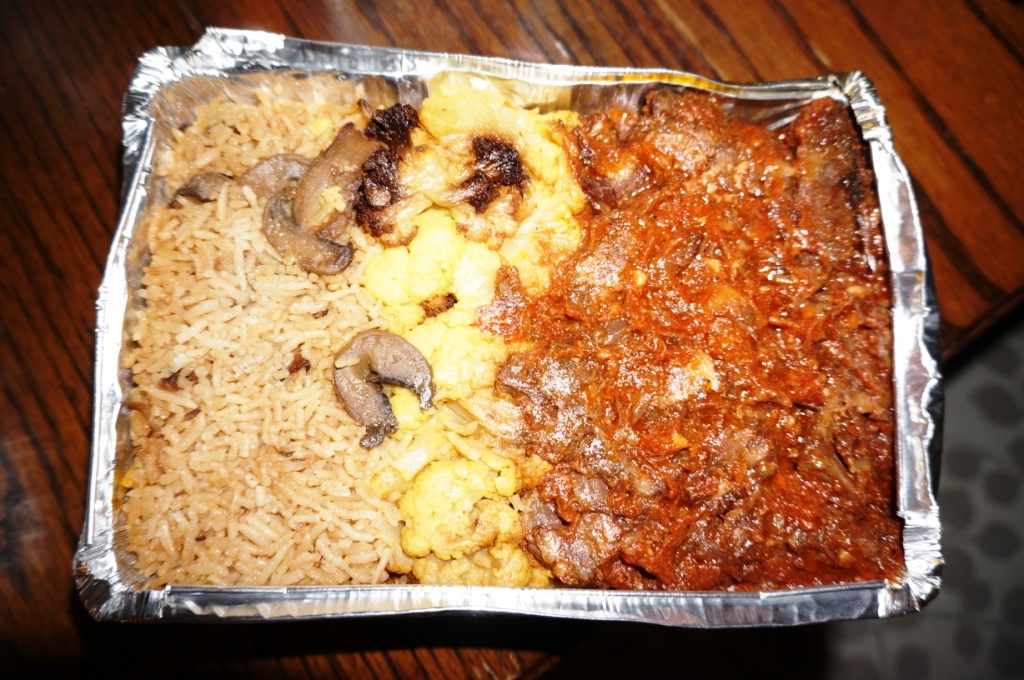 Each meal come with an entree, starch and vegetable.  The portions are humungous, we never were able to finish the meals even though we stuffed ourselves silly.
Sesame chicken, Chicken Tortellini with pesto sauce, and Balsamic Baby Portabella Mushrooms.  The Sesame chicken was good though it could have used more sauce.  The mushrooms were great and the chicken tortellini was very good as well.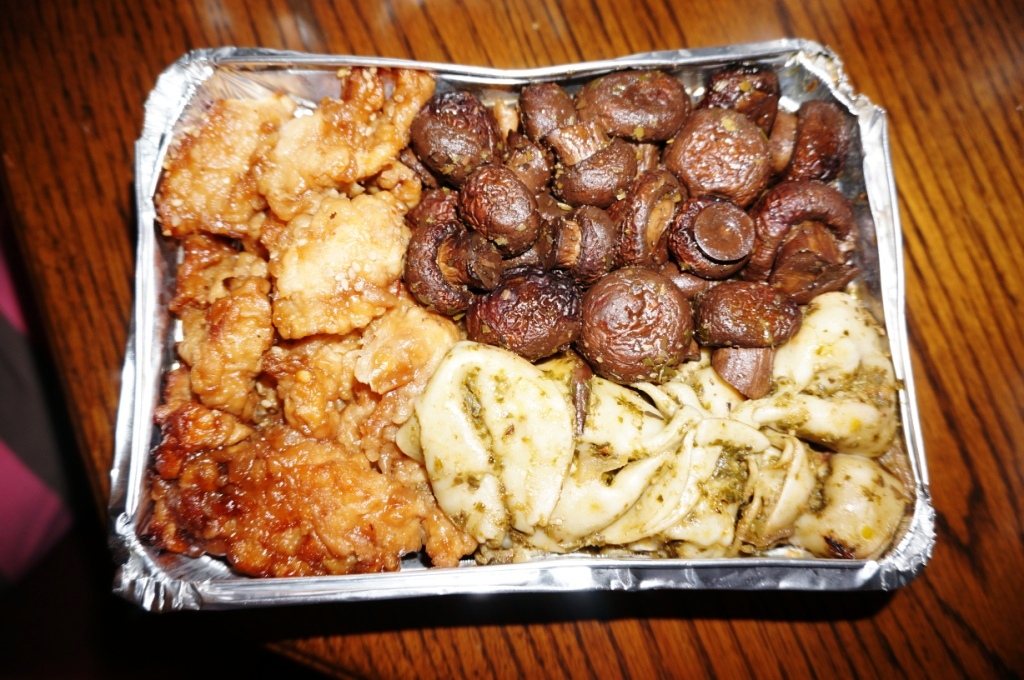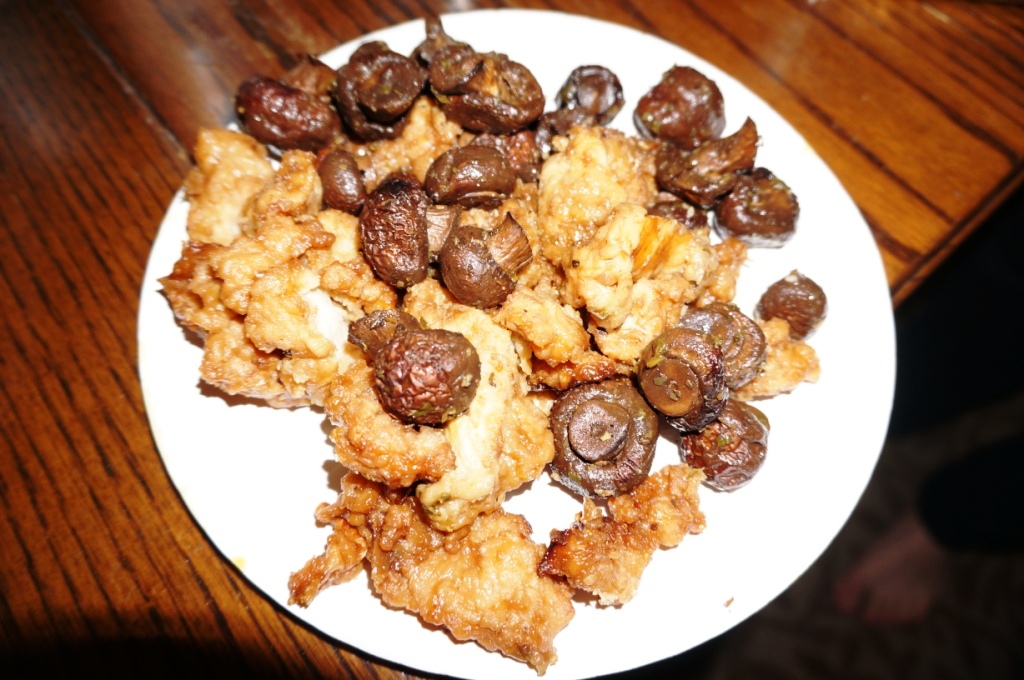 We found a photographer online and took some family pics like we've done on past trips to Maui and Buenos Aires.  These pictures came out awesome and my wife comments how it was worth going through those long flights with Rafi just for them so I can't wait to see how these came out.  We took them Monday morning around the hotel and in the Cascade Gardens in Banff.
For lunch we had Eggplant Rollatini.  This stuff is unbelievable.  Eggplant loaded with ricotta, tomato sauce, and cheese. It's probably the best eggplant dish I've had in my life.  An absolute must try.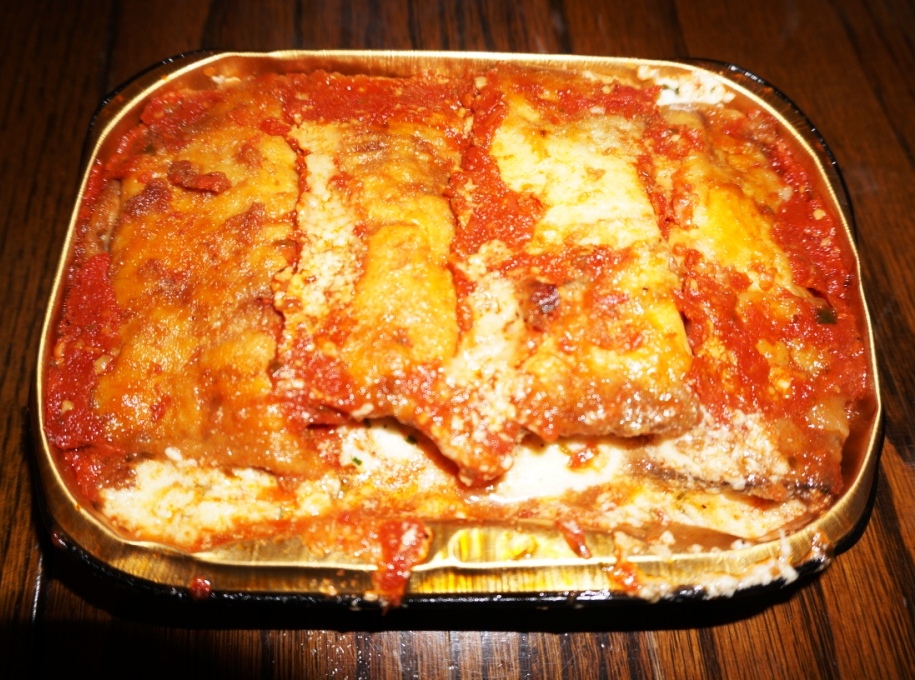 Eggplant Parmesan was the absolute best Eggplent Parmesan I've had in my life as well. It's such a pleasure to eat so well while traveling.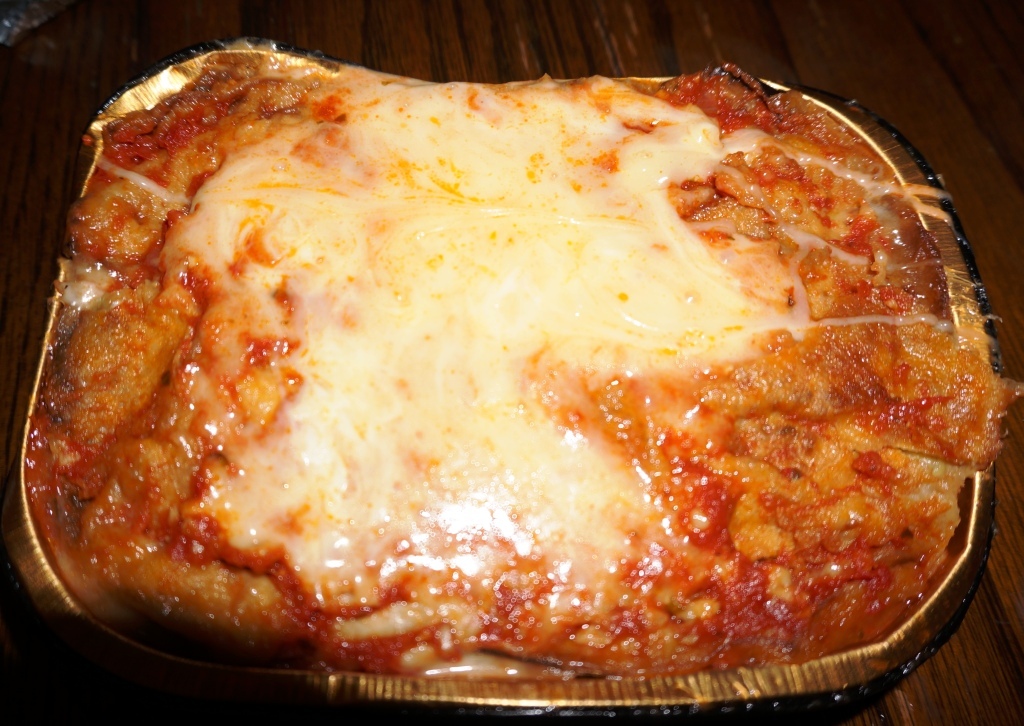 Penne a la Vodka was good, though overshadowed by our massive portions of out of this world Eggplant dishes.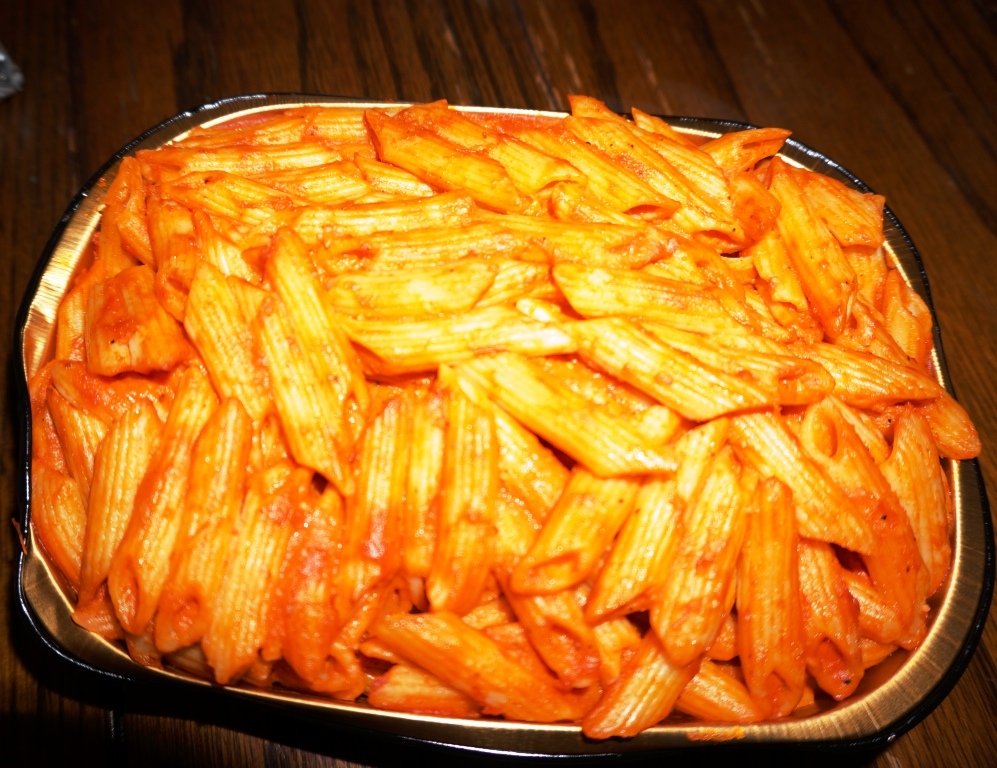 A third of each meal makes for a fantastic lunch.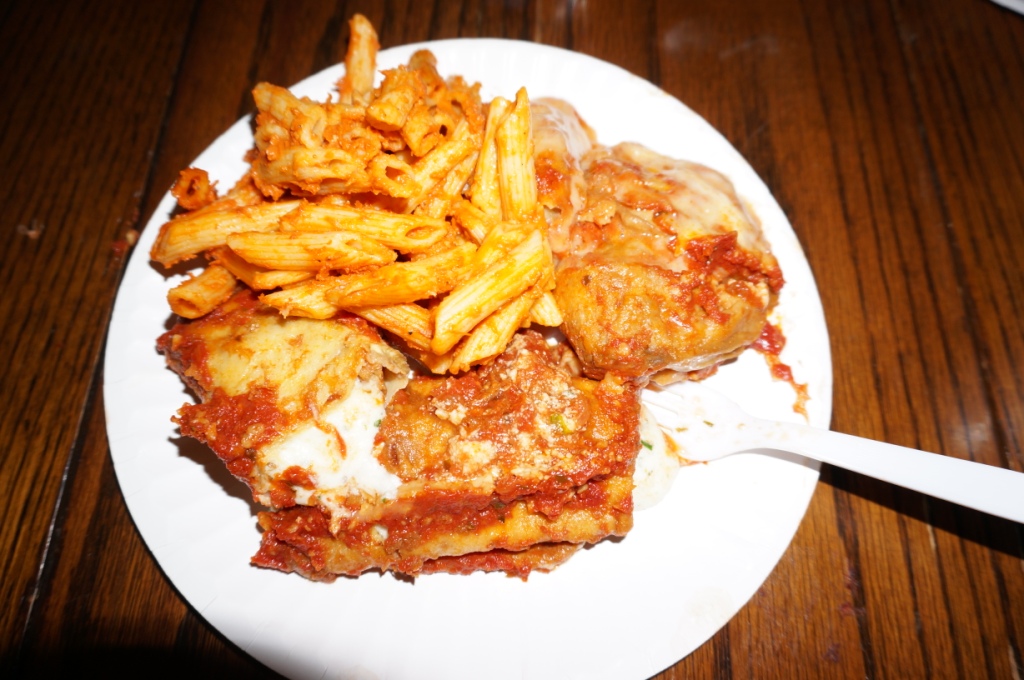 It was rainy and cold on Monday but that didn't stop us from venturing out.
We decided to do the Johnston Canyon hike in the afternoon.  The 30 minute drive from Banff to Johnston Canyon along the Bow Valley Parkway is beautiful but the hike was one of the most fantastic I've ever seen.  You'll be grinning the entire time!
The hike is built along the wall of a canyon overlooking the most beautiful river.  It's a moderate hike and it's doable with a family.  It can be a little steep and narrow in parts but we managed with our stroller even though the rain made it a bit slippery.
I'm told that this is normally a very crowded hike though because of the rain it was not very crowded.
At the end of the hike is a picturesque waterfall, be sure to go through the little cave to see it up close.
If you want to make this an all-day affair the hike continues onto the upper falls and ink pots, though those sections are not stroller friendly.  Along the hike we were spotted by a DansDeals reader and we chatted about our itineraries for a few minutes.
Johnston Canyon Hike: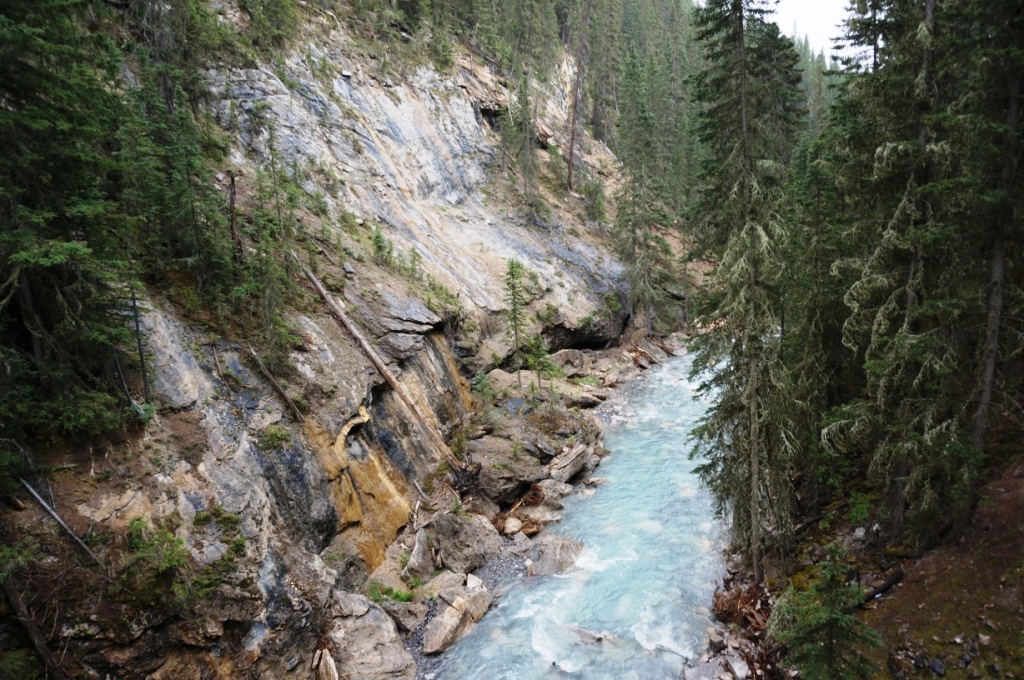 This picture will give you an idea of the steepest section of the Johnston Canyon Hike: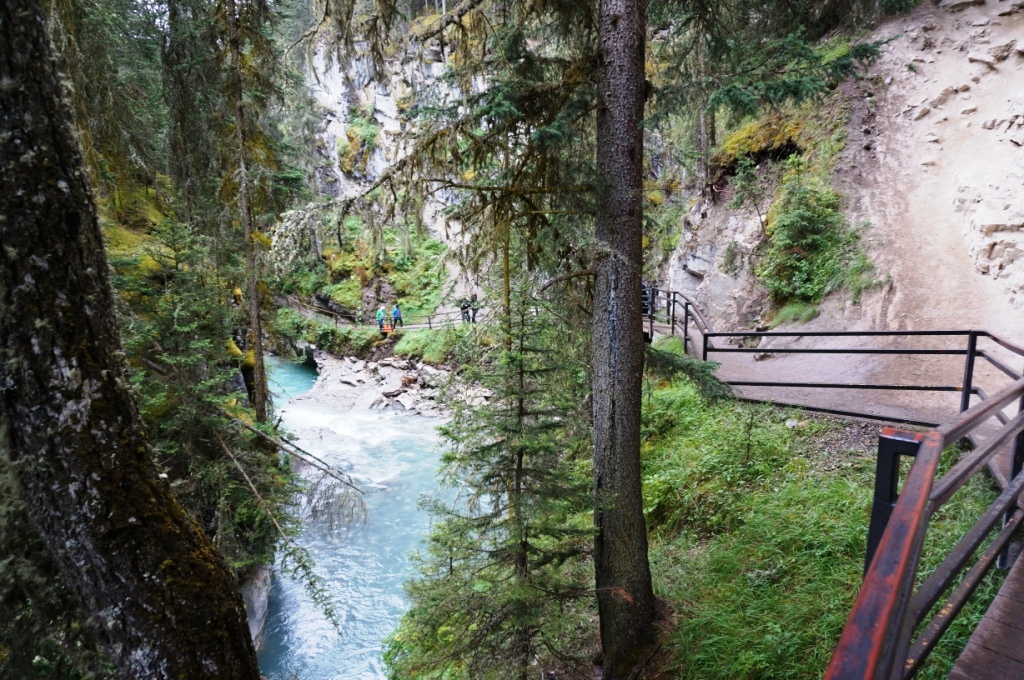 Johnston Canyon Hike: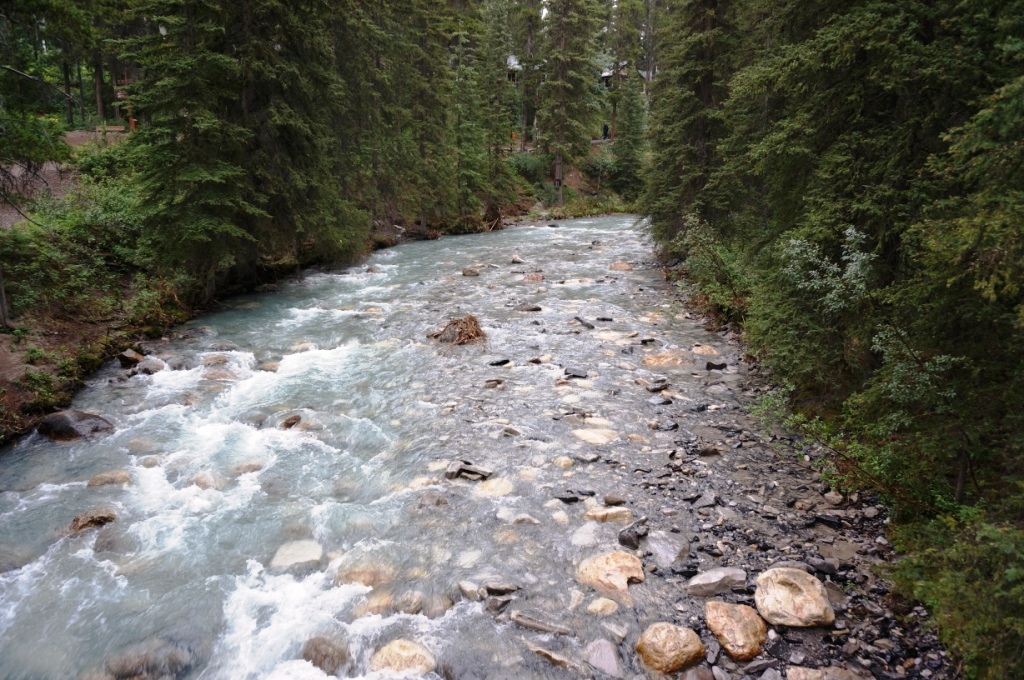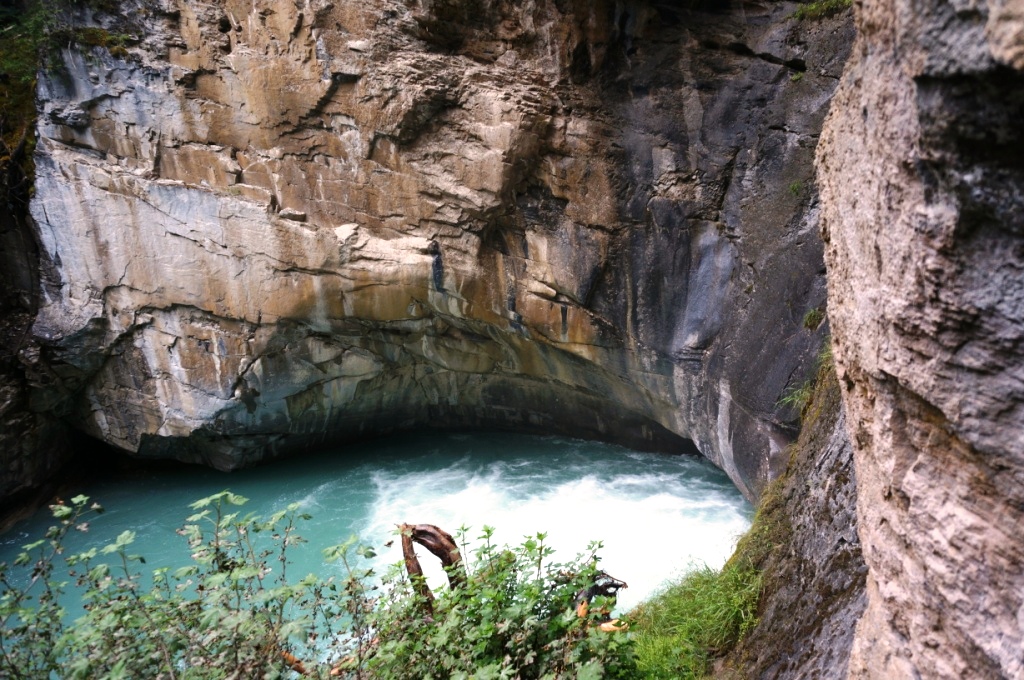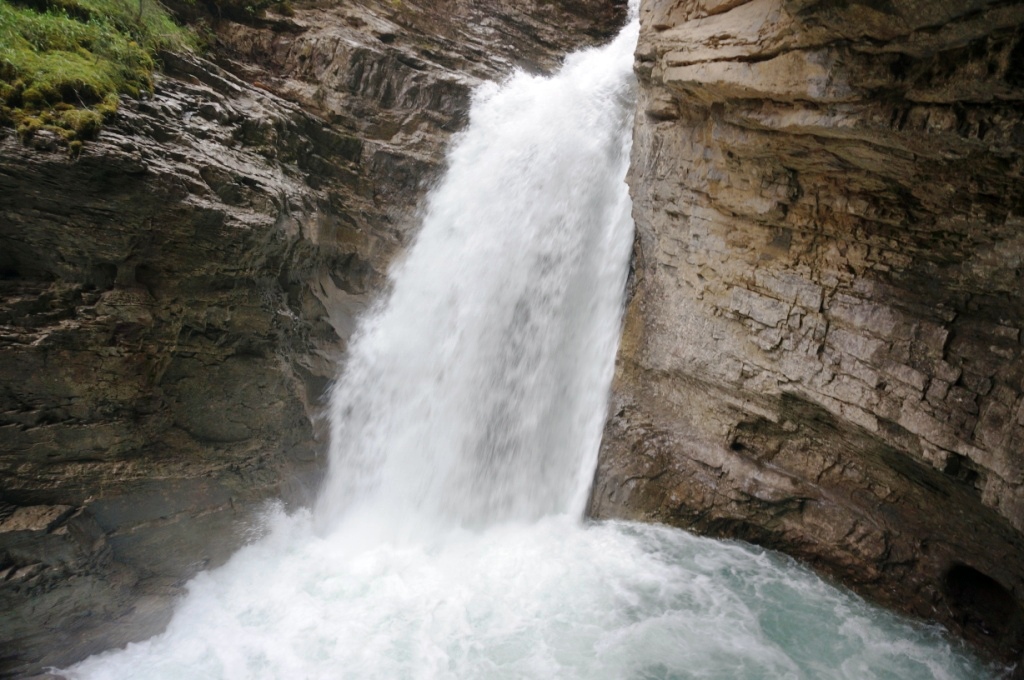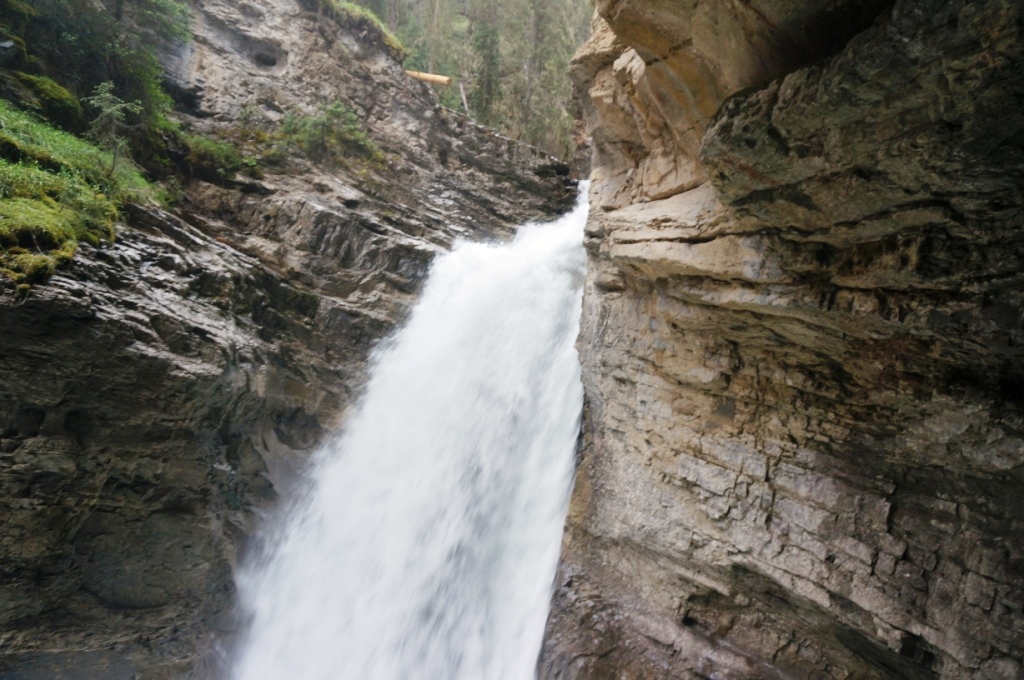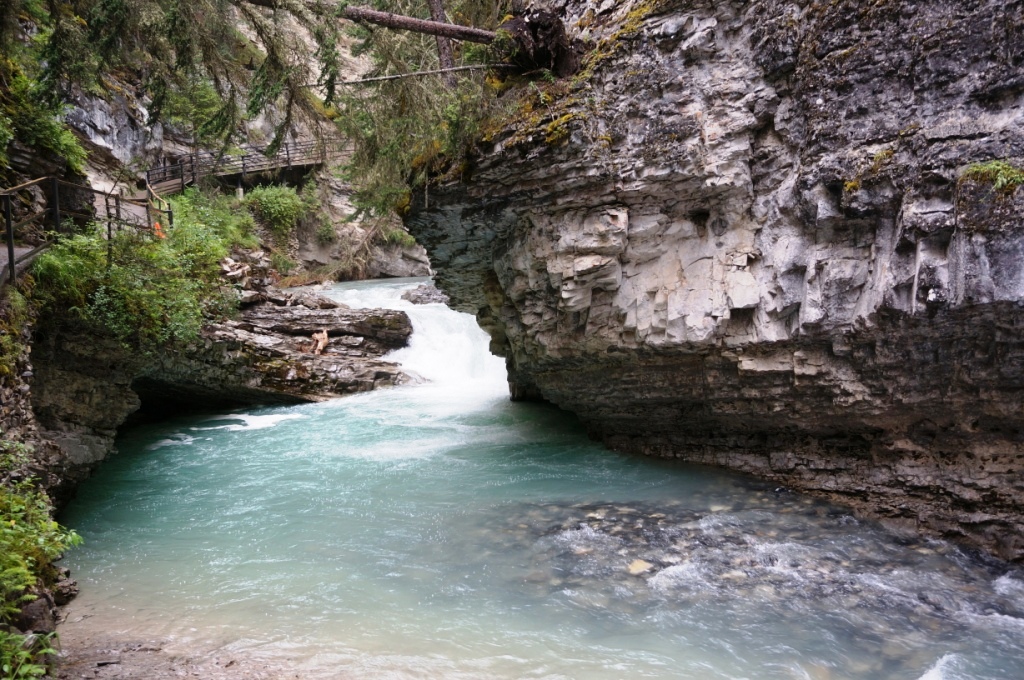 Walking along the edge on the Johnston Canyon Hike: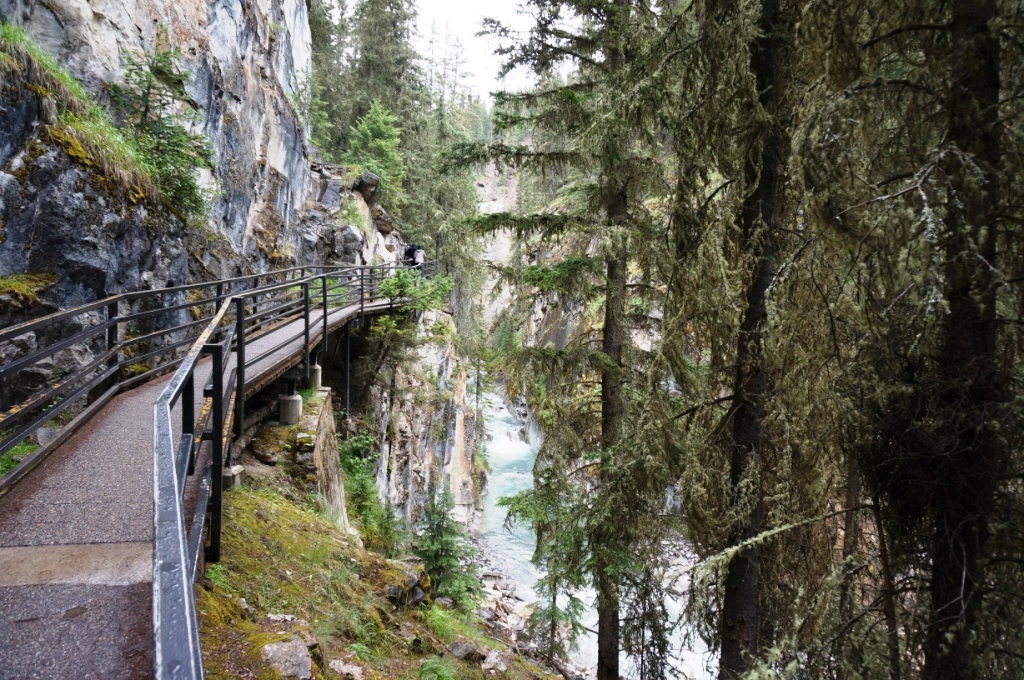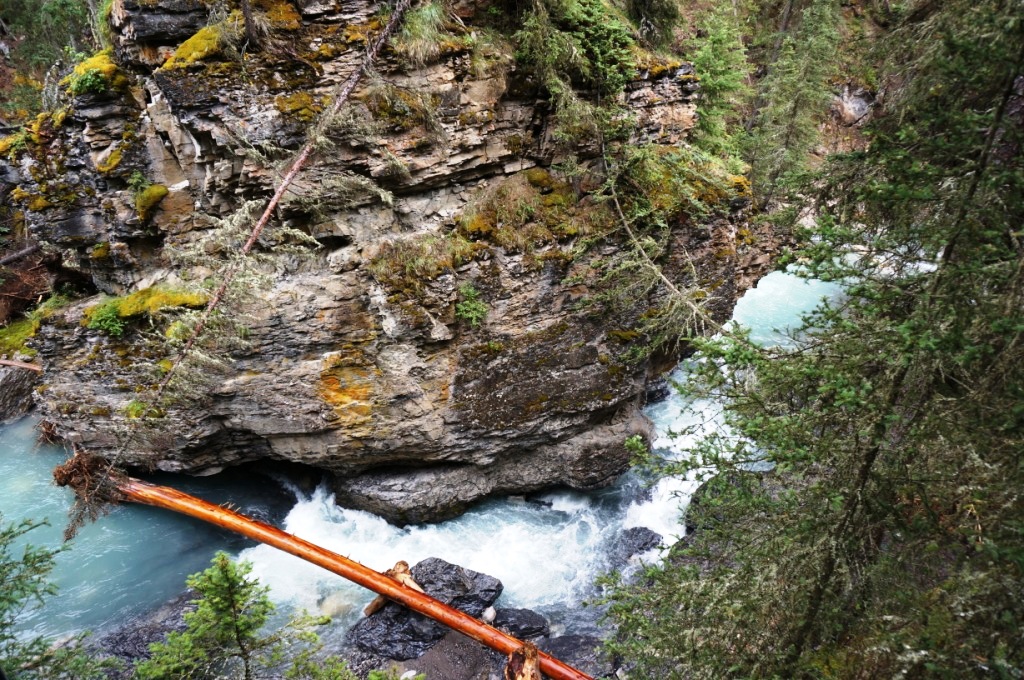 Along the way back home Rafi asked to use the potty so we pulled to the side of the Bow Valley Parkway and took in the view of the "Backswamp" Talk about a pretty swamp!
Bow Valley Backswamp: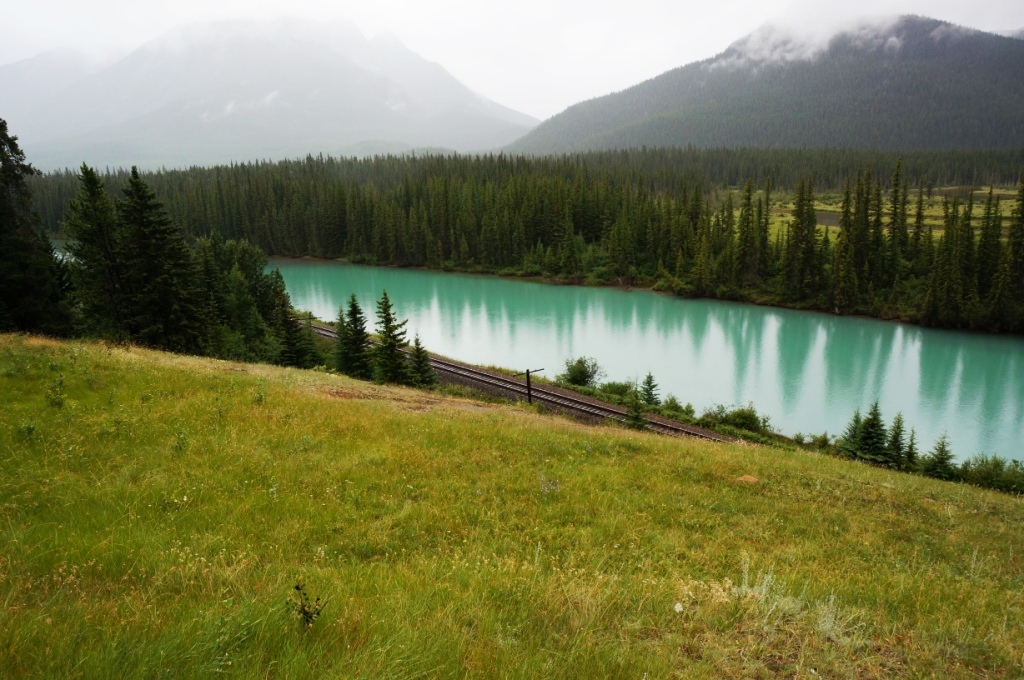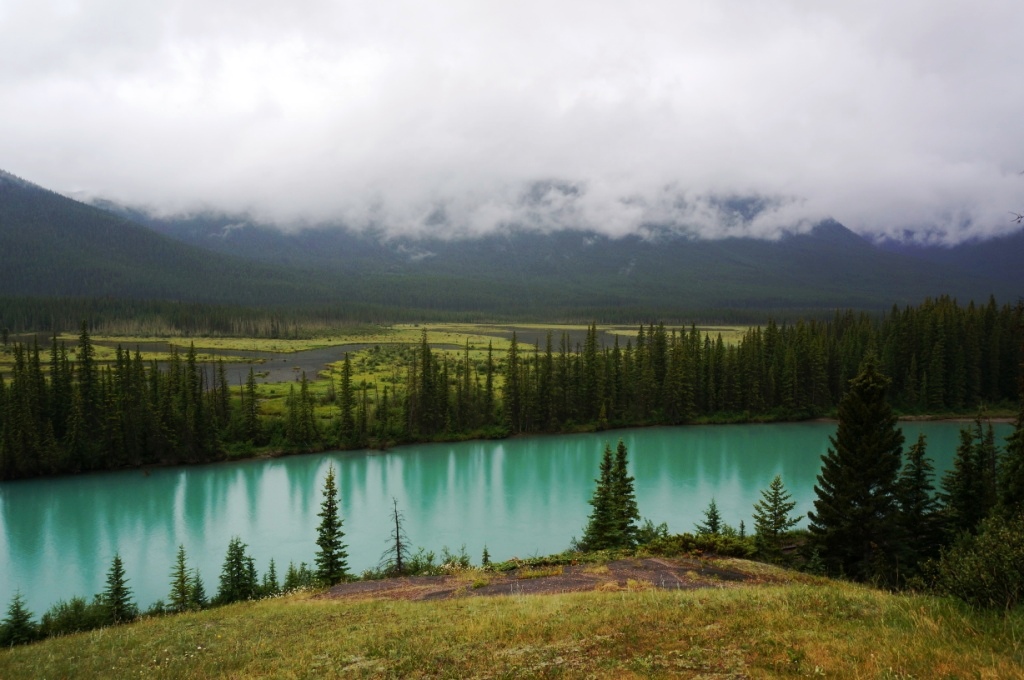 For dinner that night we had Honey Mustard Corned Beef.  This was a truly awesome mouth-watering dish.  Thick juicy slices of tangy corned beef, it's a real treat.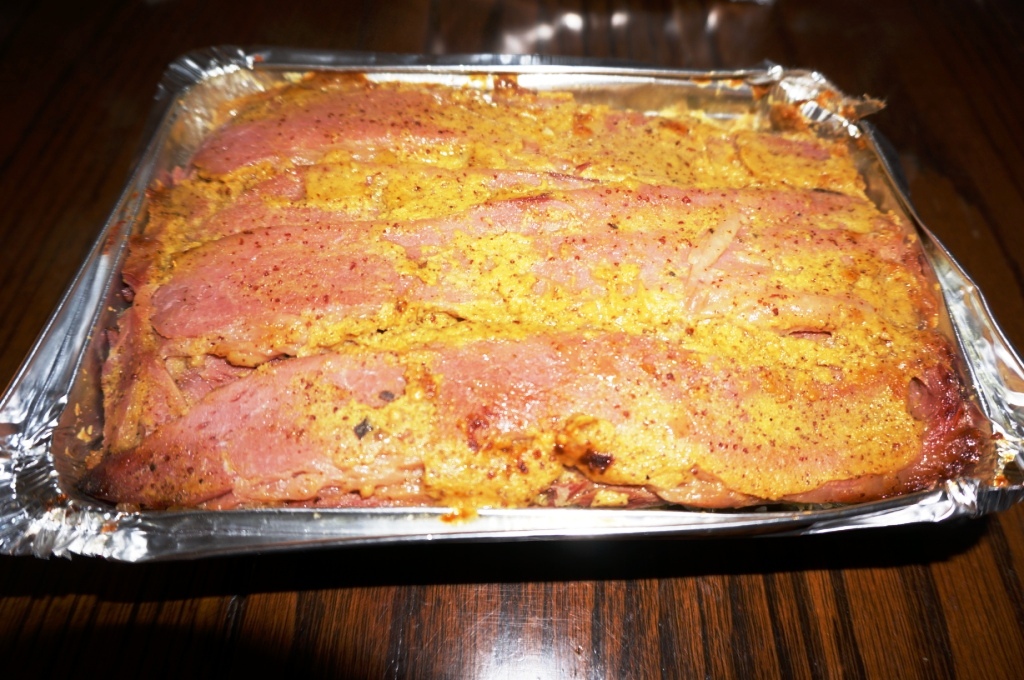 The single meal of corned beef split into 3 generously sized dishes.  Side dishes of good quinoa and green beans came in the package as well.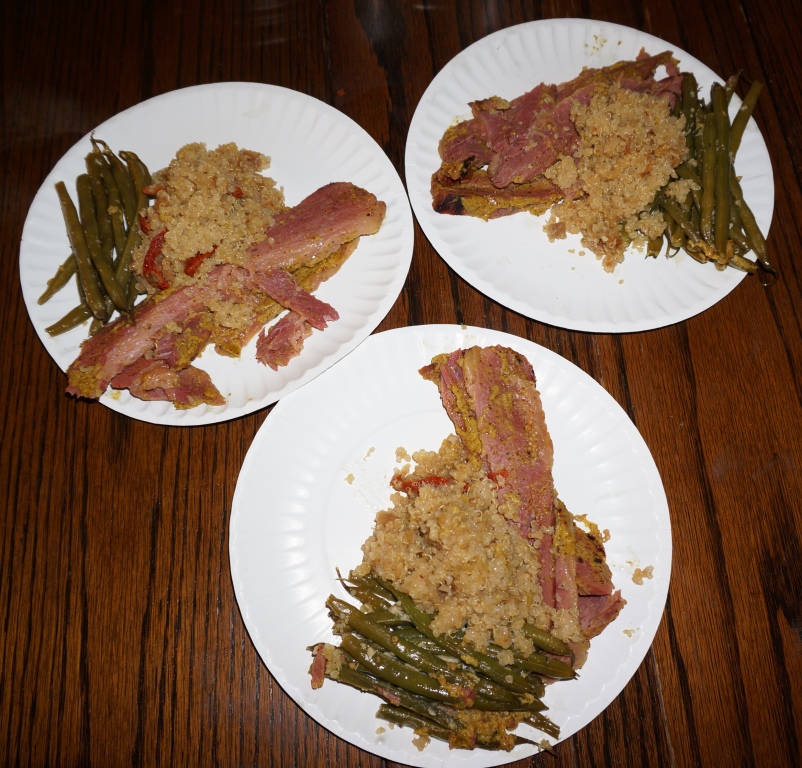 Glazed dark meat chicken stuffed with pastrami was awesome.  The couscous and green beans were good as well: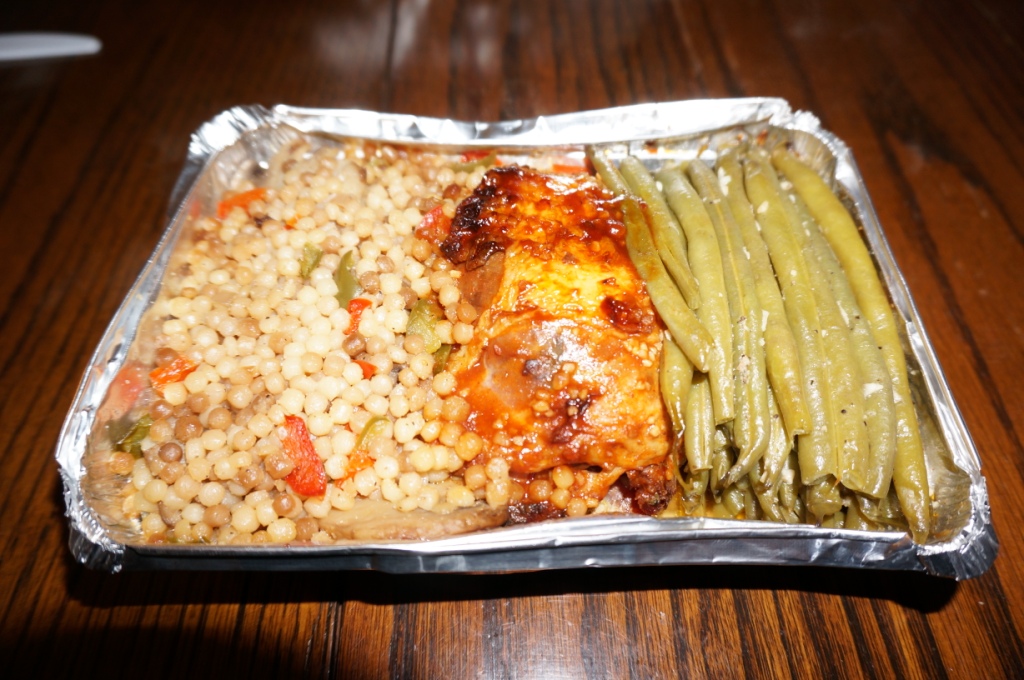 Part of the meal plated.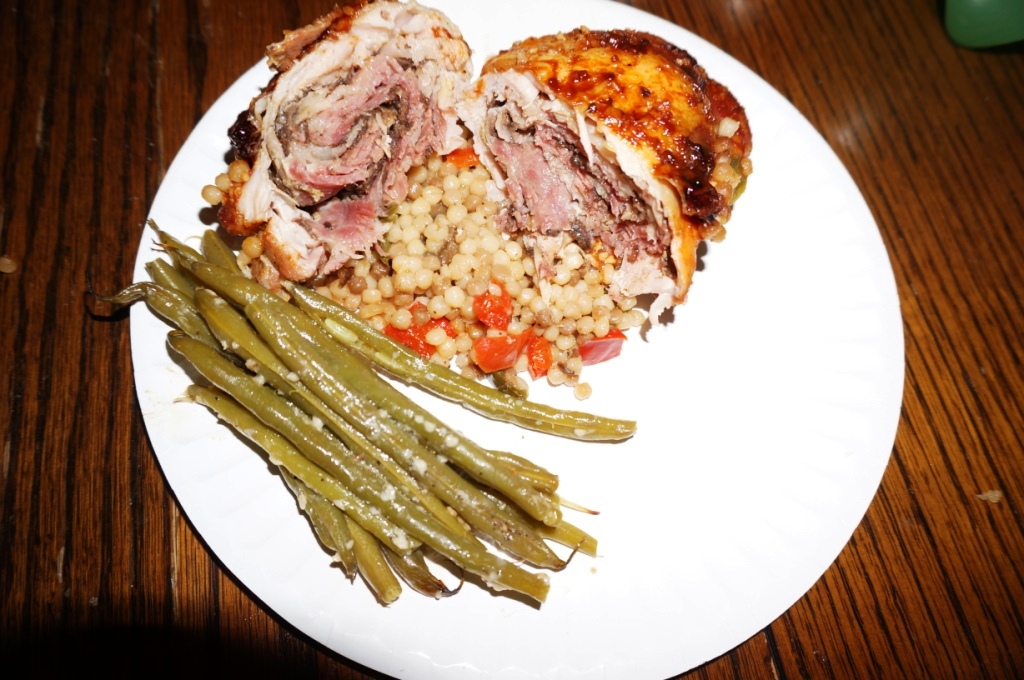 I wasn't such a fan of the Sino steak as it was a bit tough.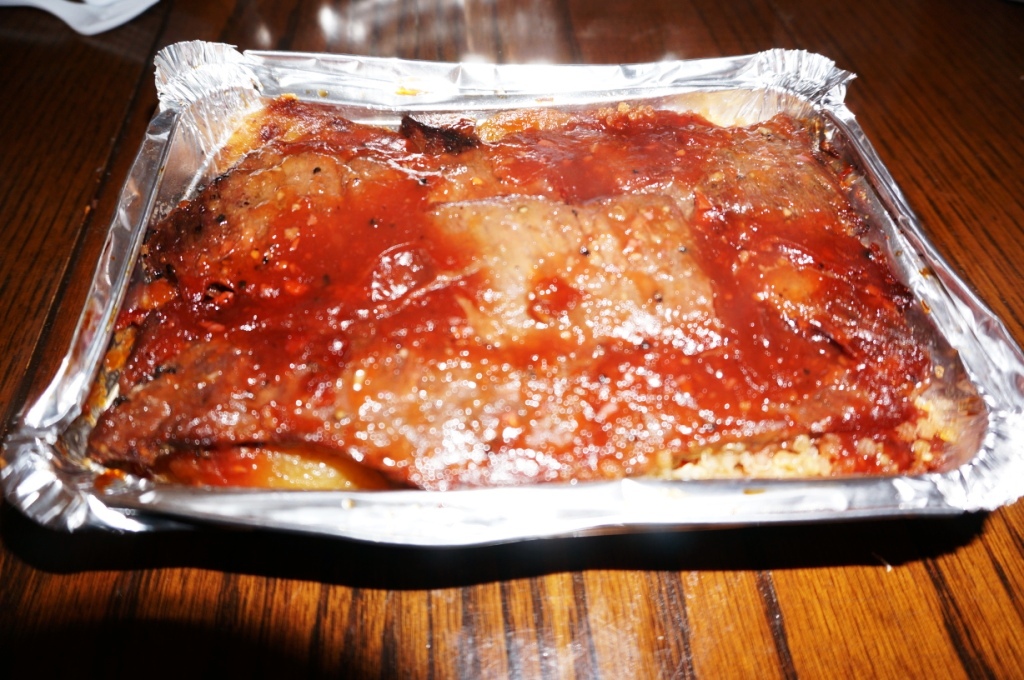 1 of the 3 huge steak slices with roasted candy cane beets and quinoa.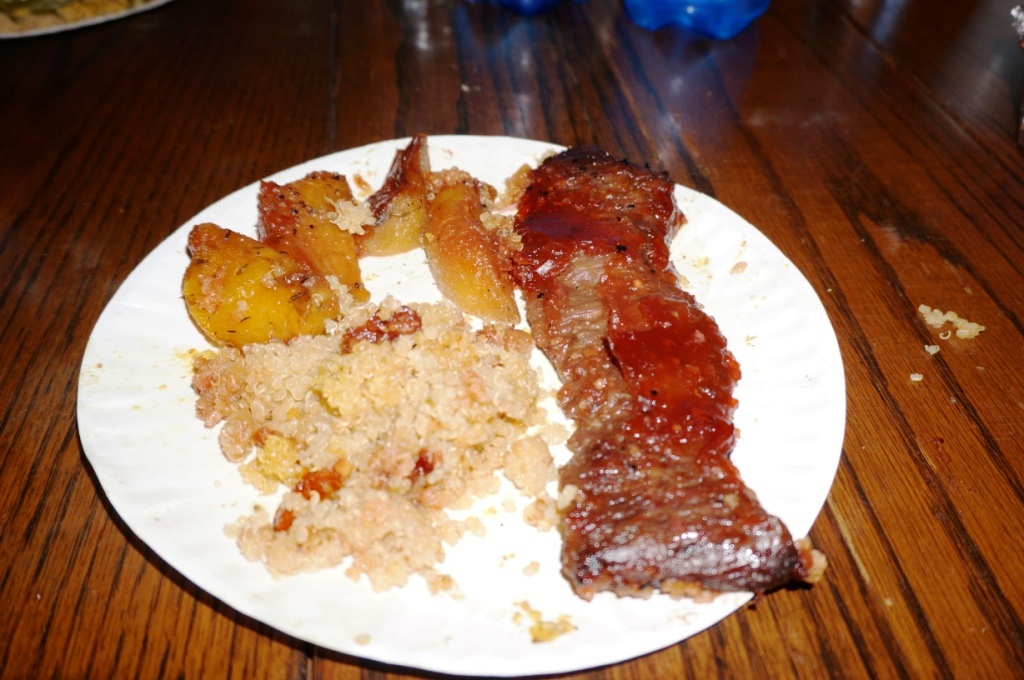 On Tuesday morning we left early to Lake Louise, a 40 minute drive up the Trans-Canada highway.  We beat the crowds which hit and run to grab pics of the lake though you can always avoid the crowds by walking on the trail to the back of the lake.
While it was supposed to be sunny it was still fogged in when we arrived though it created an eerie glasslike feel on the lake.
Lake Louise: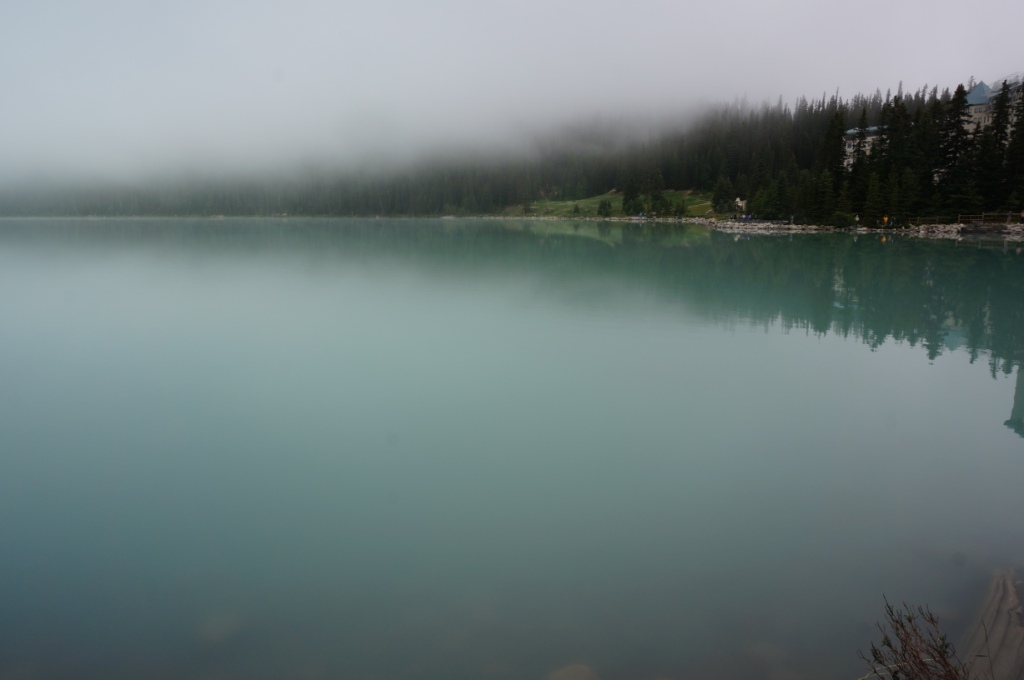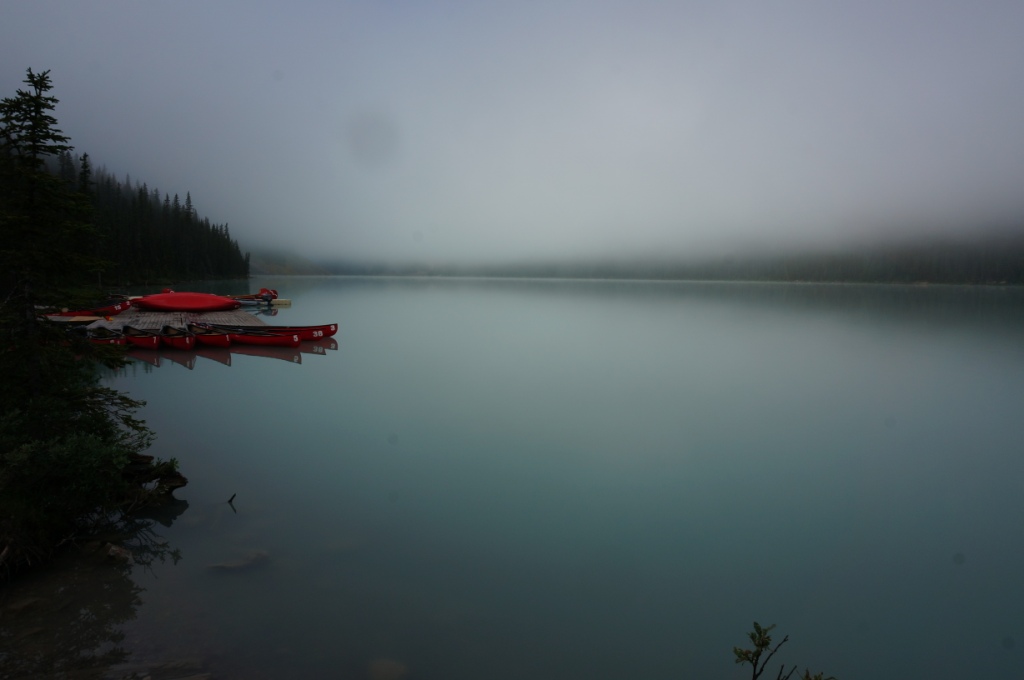 We went to use the restroom inside the Fairmont Chateau Lake Louise.  Fairmont provides free internet for all members of their free President's Club loyalty program.  Best of all you can use the internet for free in any Fairmont in the world even if you're not staying there by just logging in with your President's Club number. It's a pretty sweet benefit!
Fairmont Chateau Lake Louise: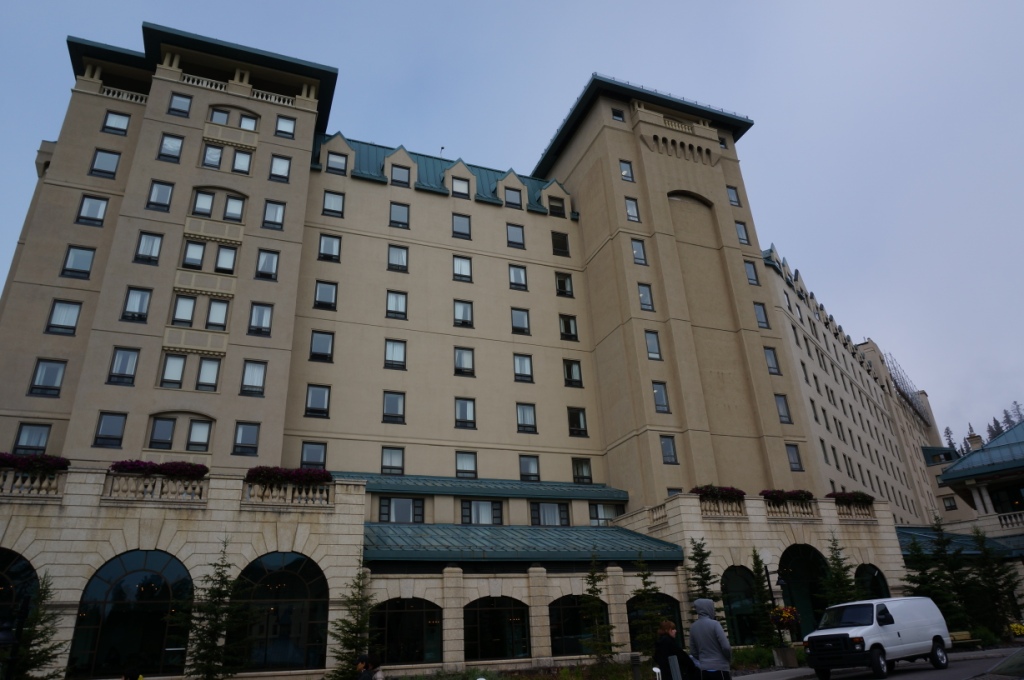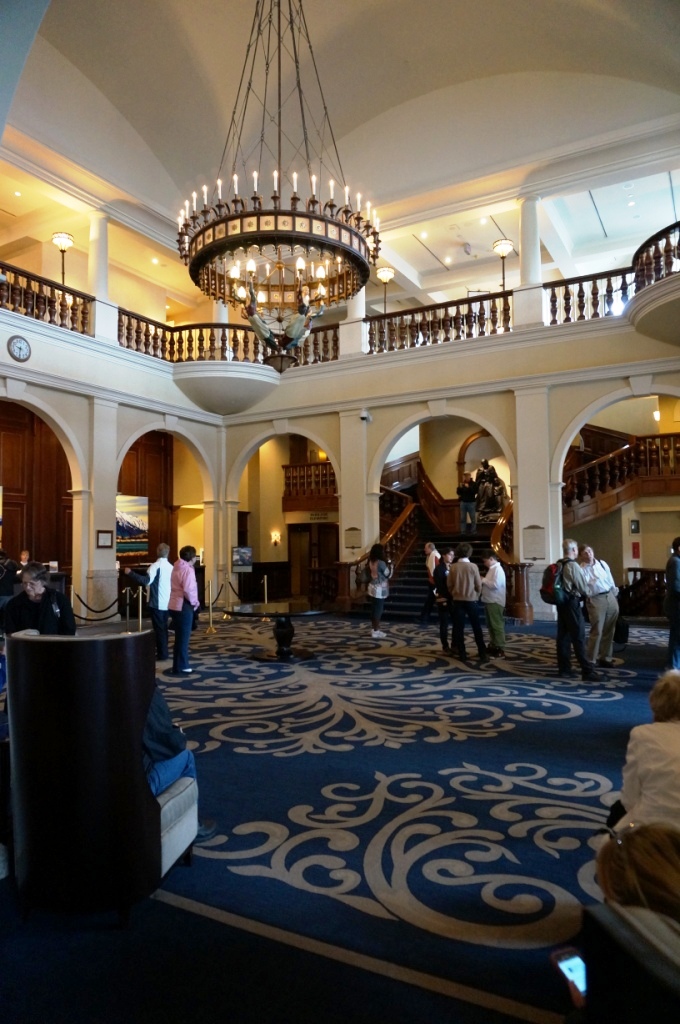 We had debated whether to stay in the Fairmont Banff or Lake Louise but settled on Banff for the more historic setting, nicer confirmed suite upgrade, closer proximity to Calgary for the return trip, and the Willow stream spa.
If I was traveling without the little one we would have switched to try out both hotels but that's just too difficult with a 2 year old and all of their stuff.
We walked along the easily accessible Lake Louise trail until the end.  I'd highly recommend it.
Of course without Rafi we would be taking the gondola ride up to hiking spots and canoeing the stunning lake, but that's the price you pay for traveling with kids.
Once the fog lifted we were able to see Lake Louise in all of its grandeur.  These pictures are a sad joke compared to the awesome beauty of the place.
Fog just beginning to lift: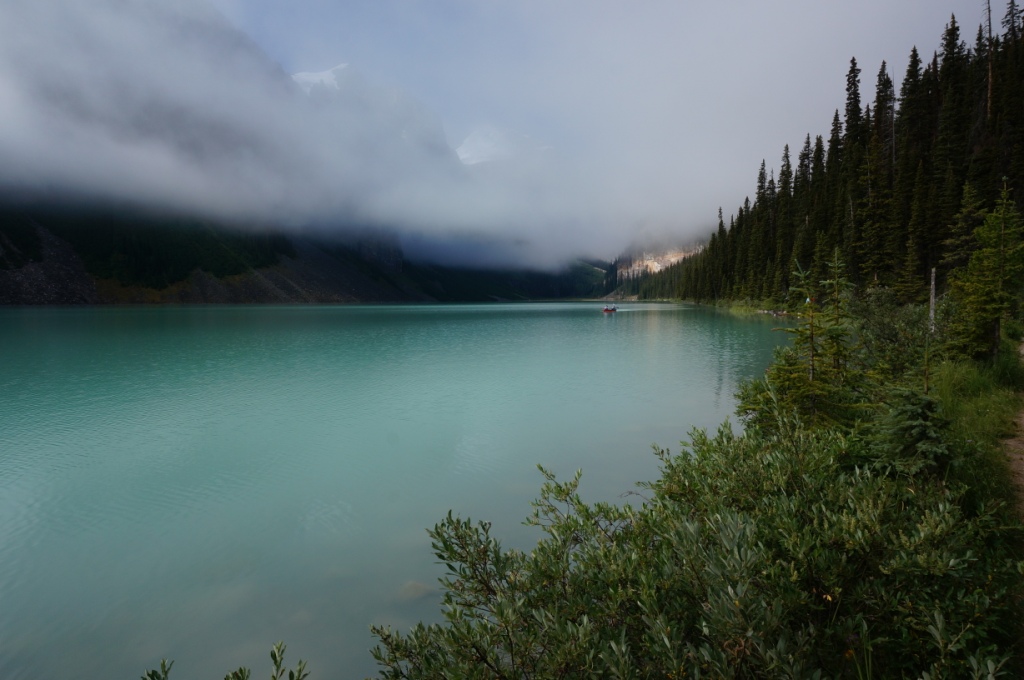 A spider spins a web with a view: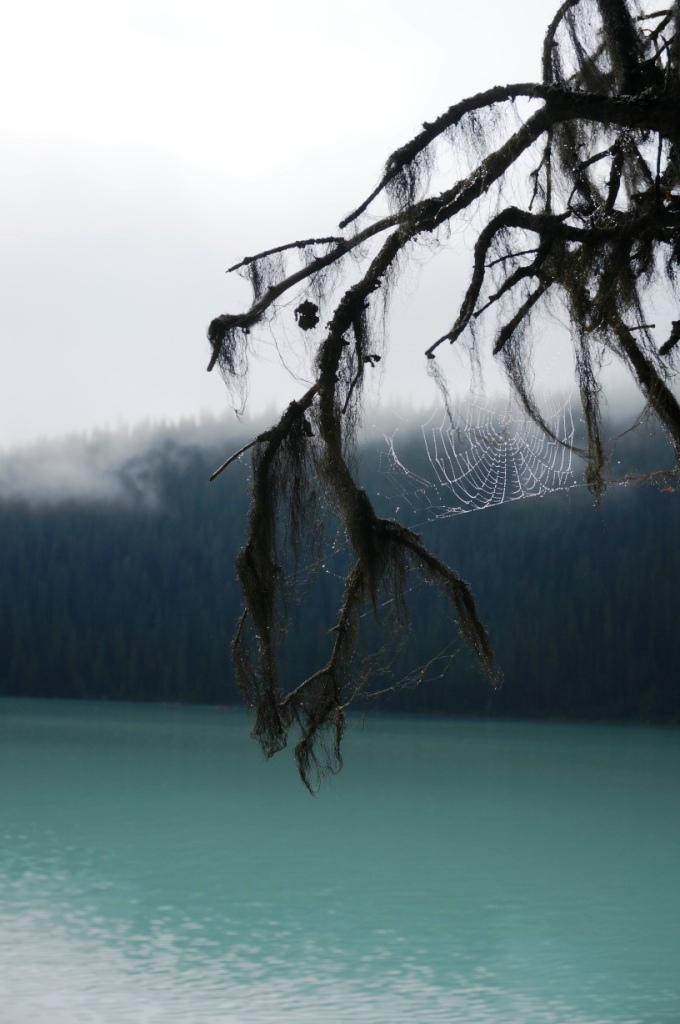 Lake Louise: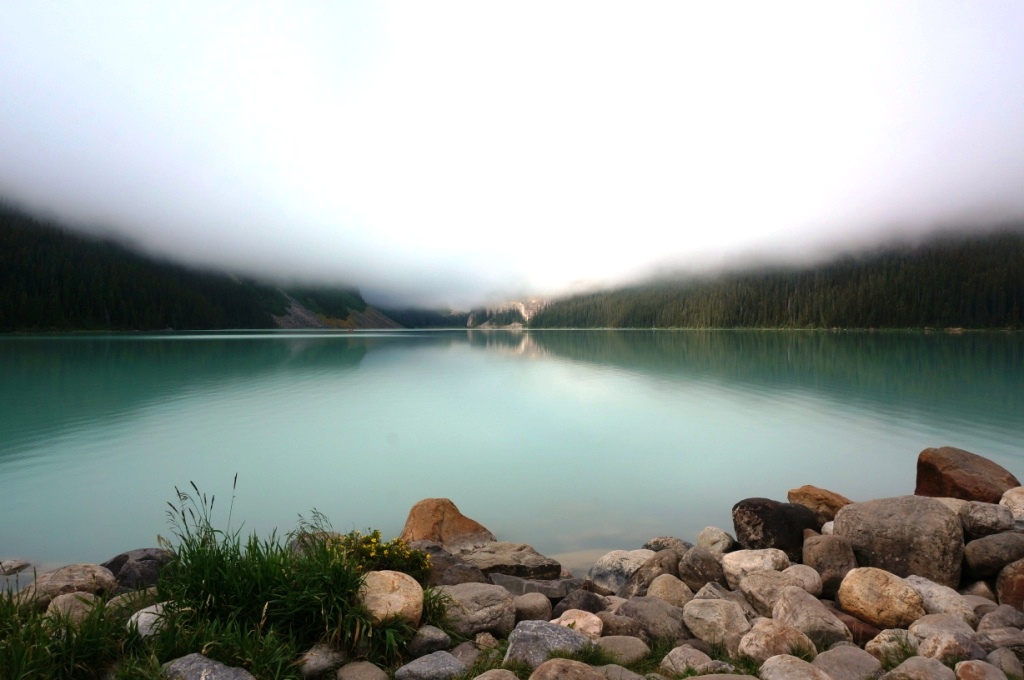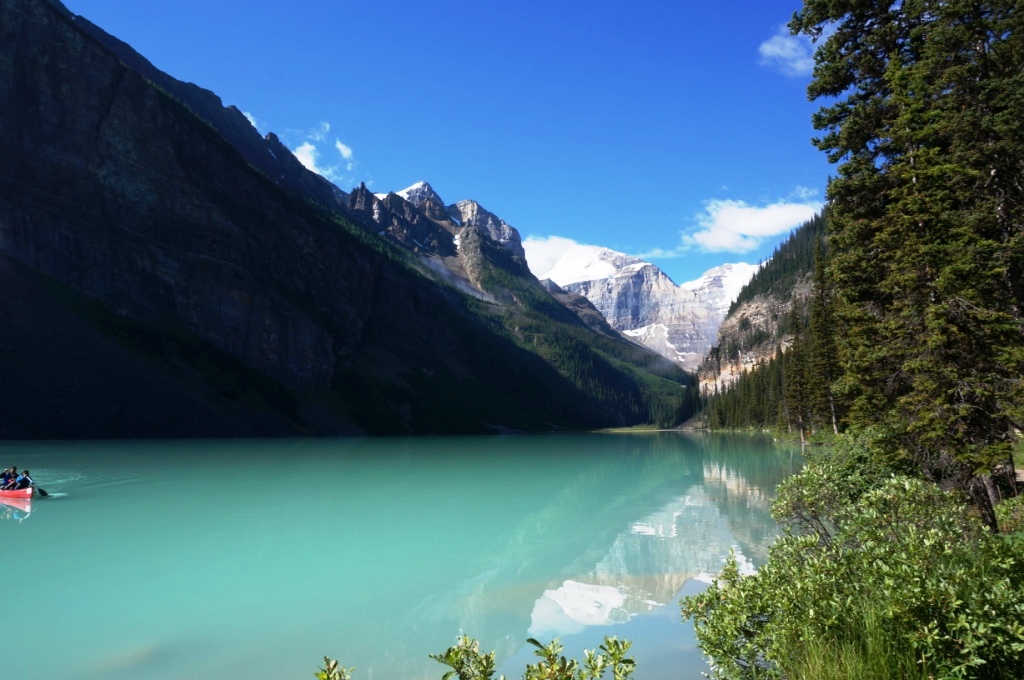 The Fairmont Chateau Lake Louise: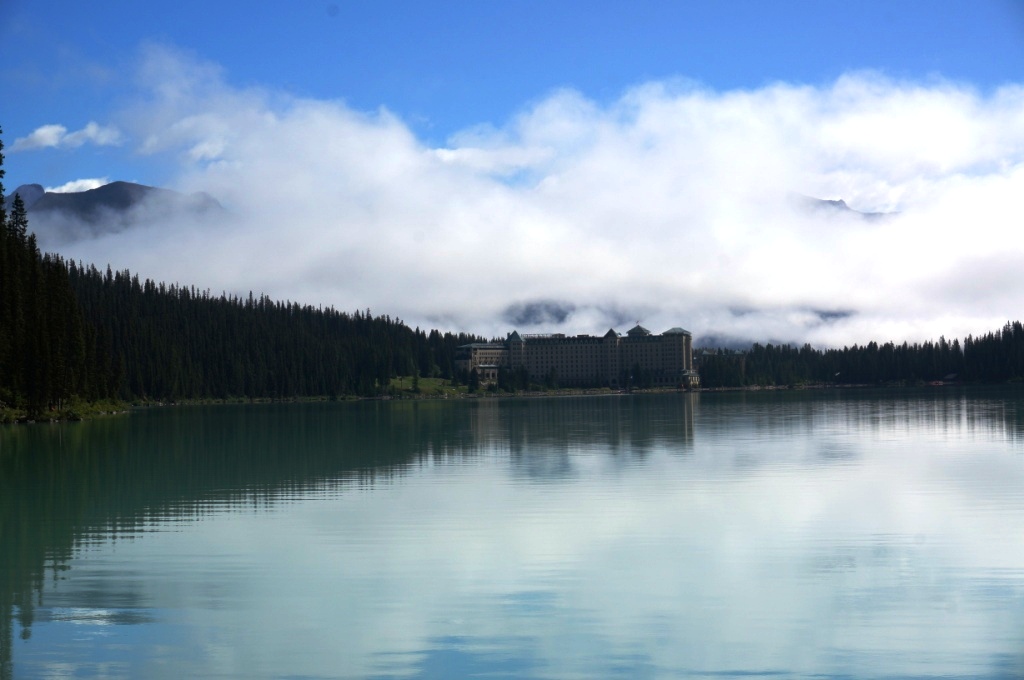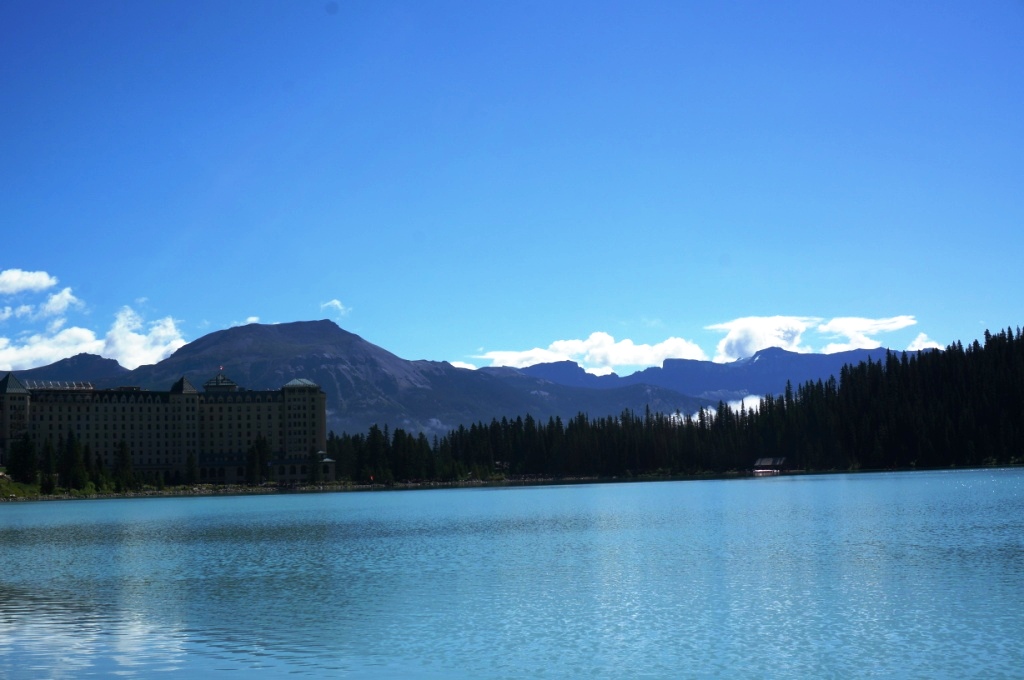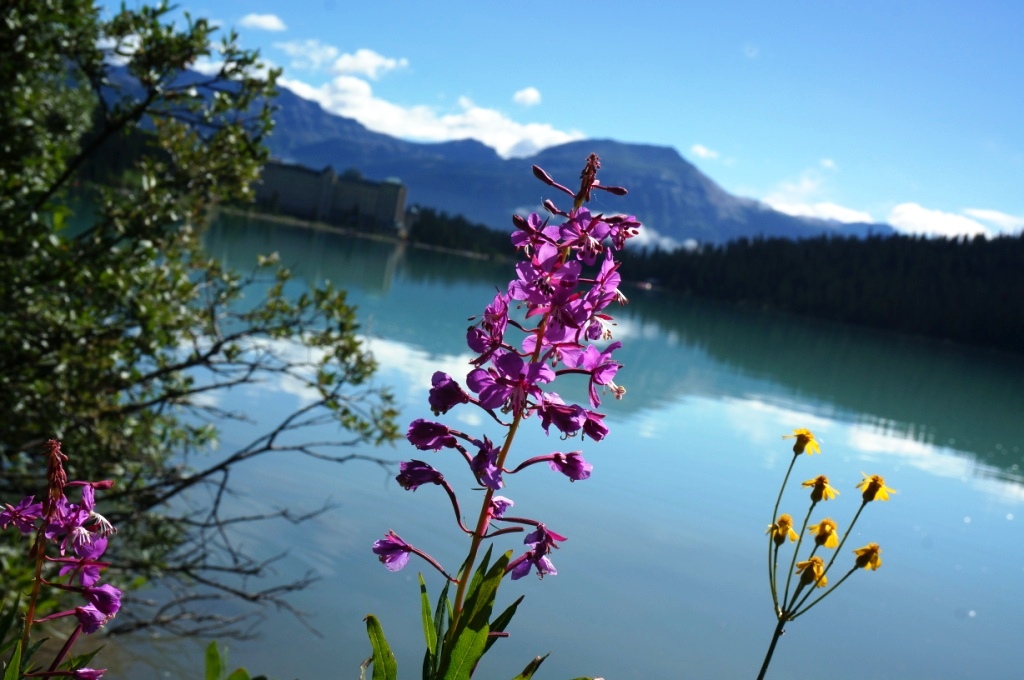 Snow capped mountain reflected in Lake Louise: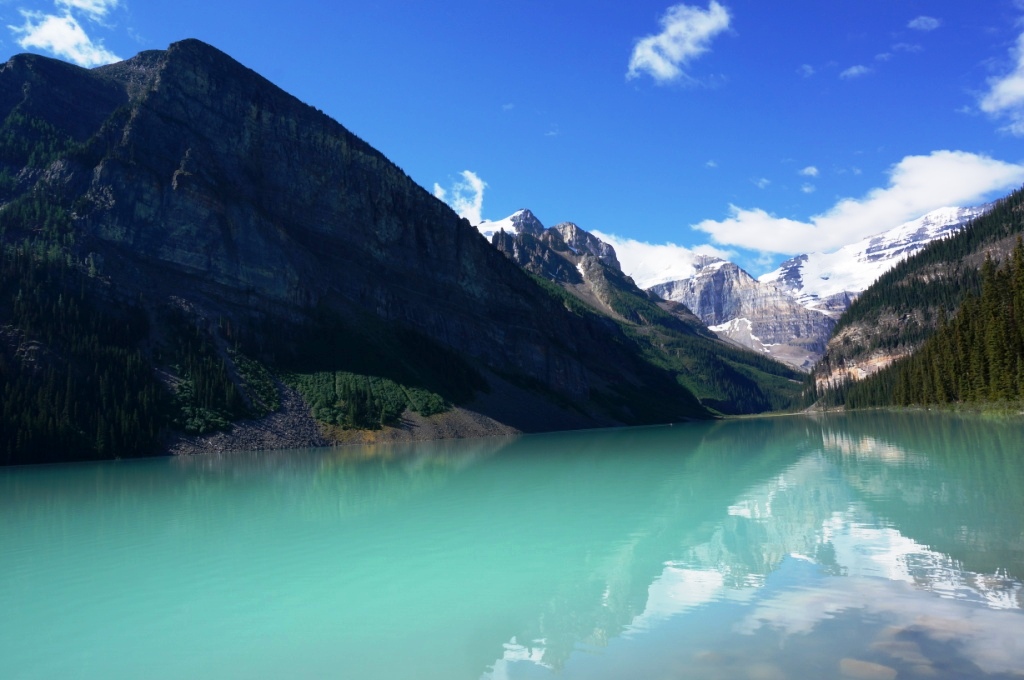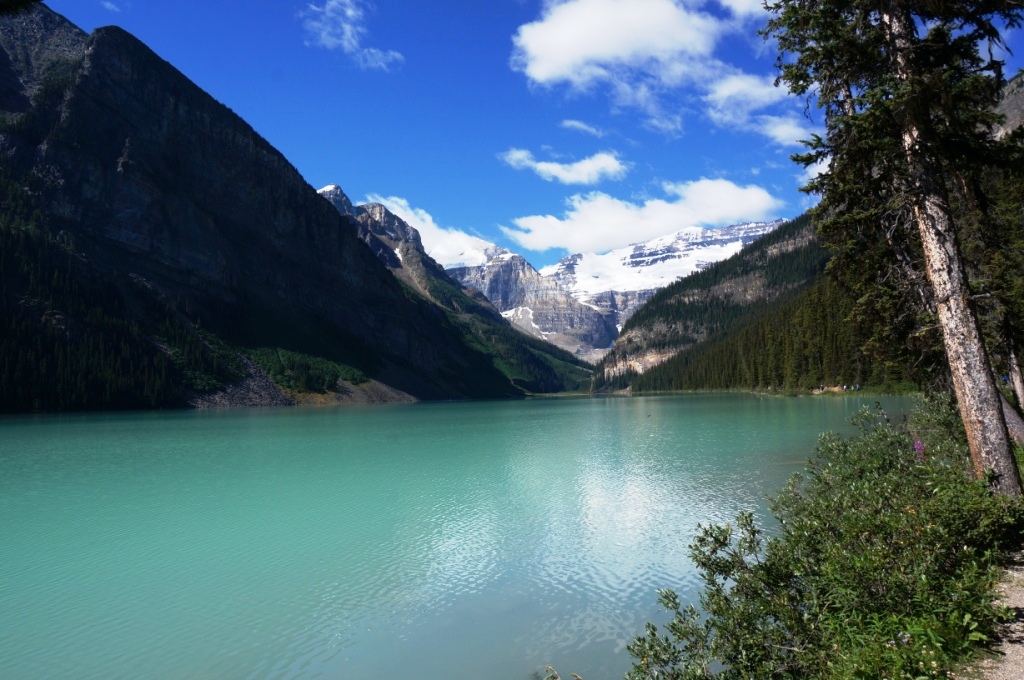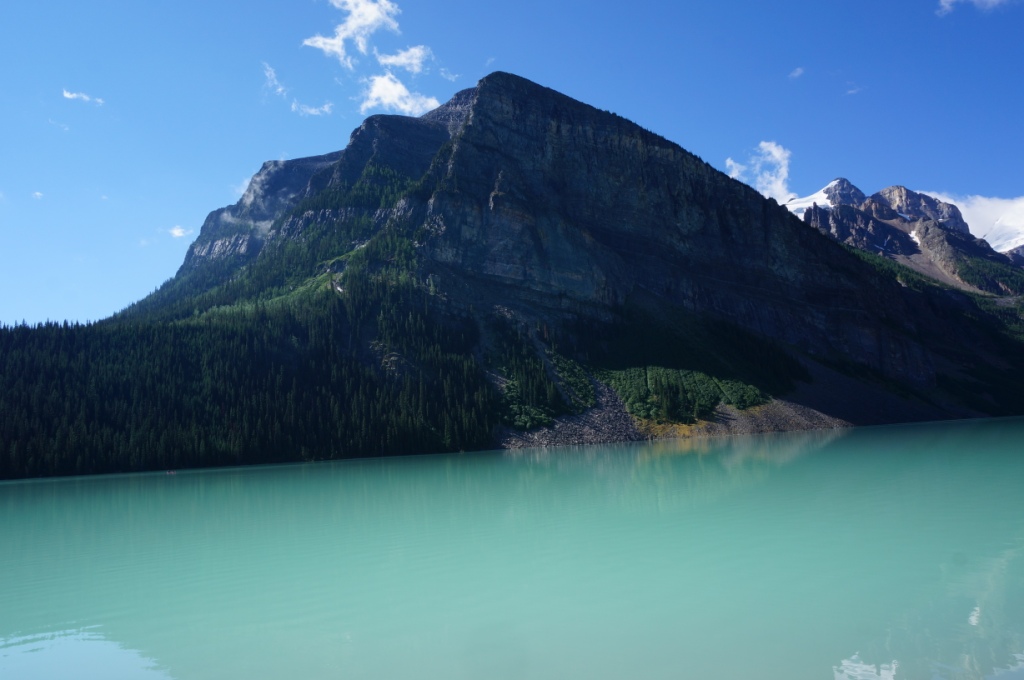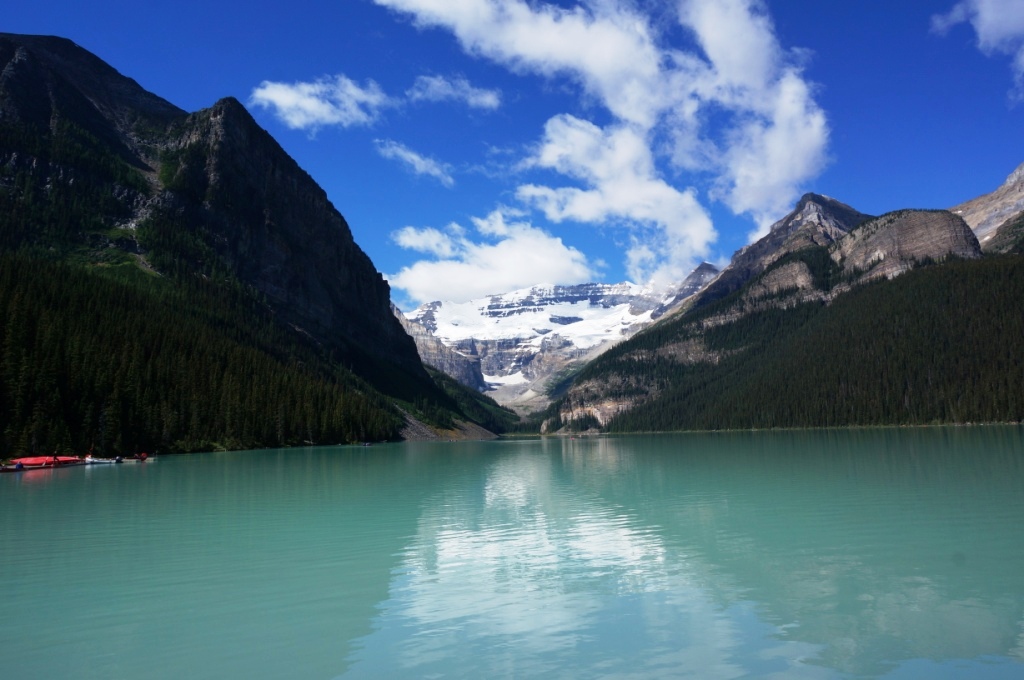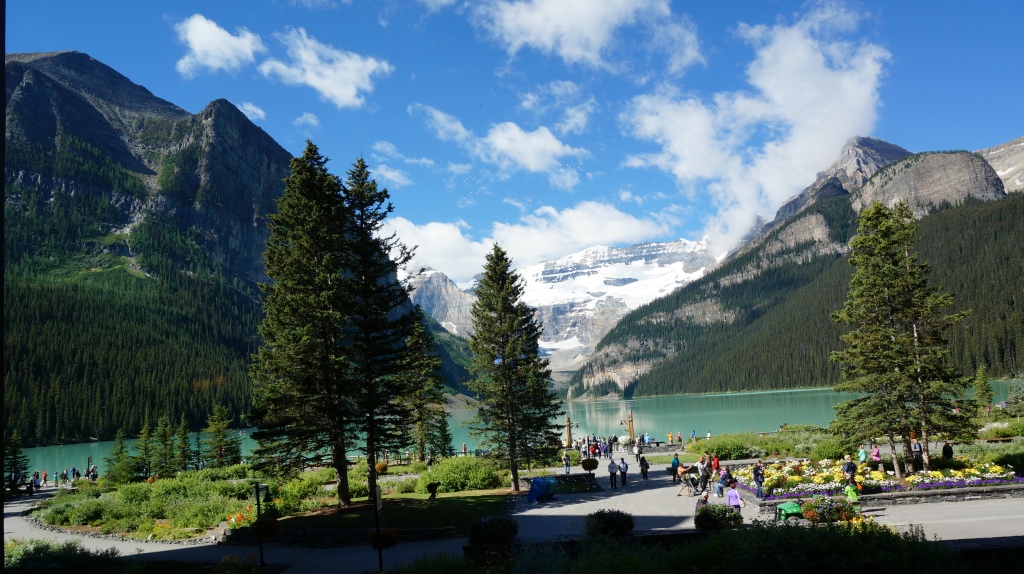 After Lake Louise we drove up the mountain to glacier fed Moraine Lake, 6,000 feet above sea level.  The trail here seemed less accessible and Rafi was tired of being pushed around in his stroller by this point.  We didn't walk around the lake this time as we also wanted to get back to the hotel for Rafi to take a nap in the crib.
There are several incredible looking hikes from Moraine Lake and canoeing as well.  Perhaps we'll return here one day when doing such activities would be feasible.
Taking in and basking in the impossible beauty of Moraine Lake: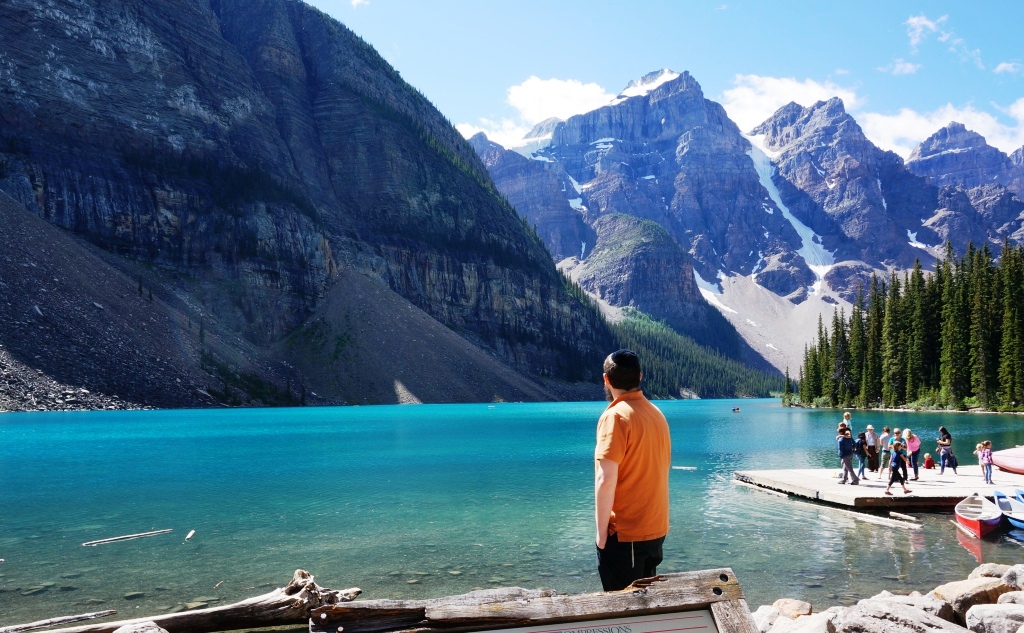 Moraine Lake: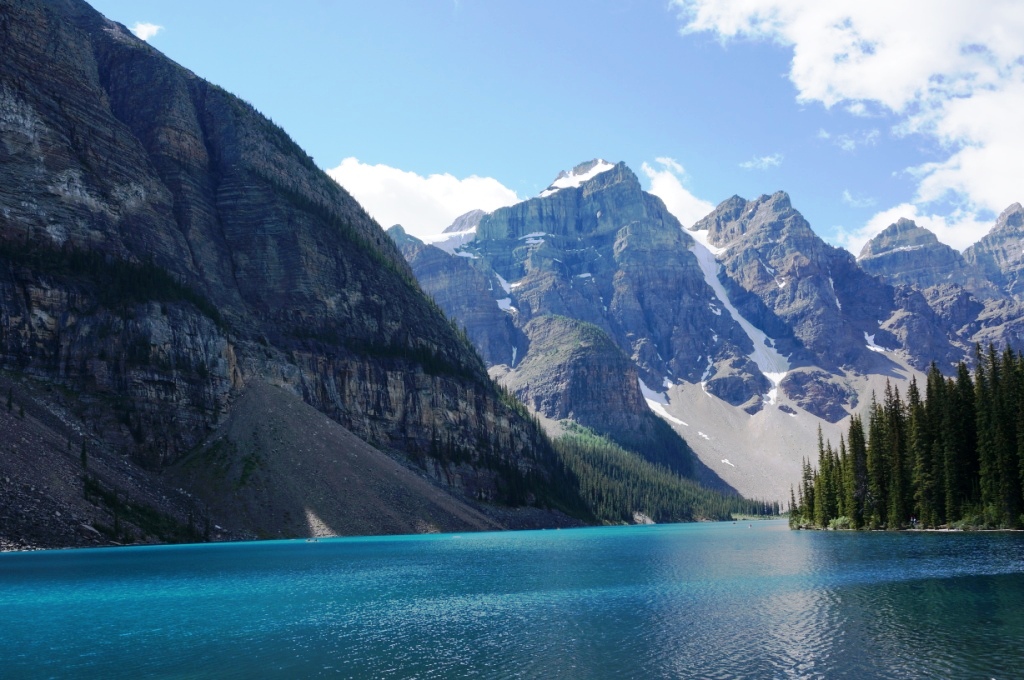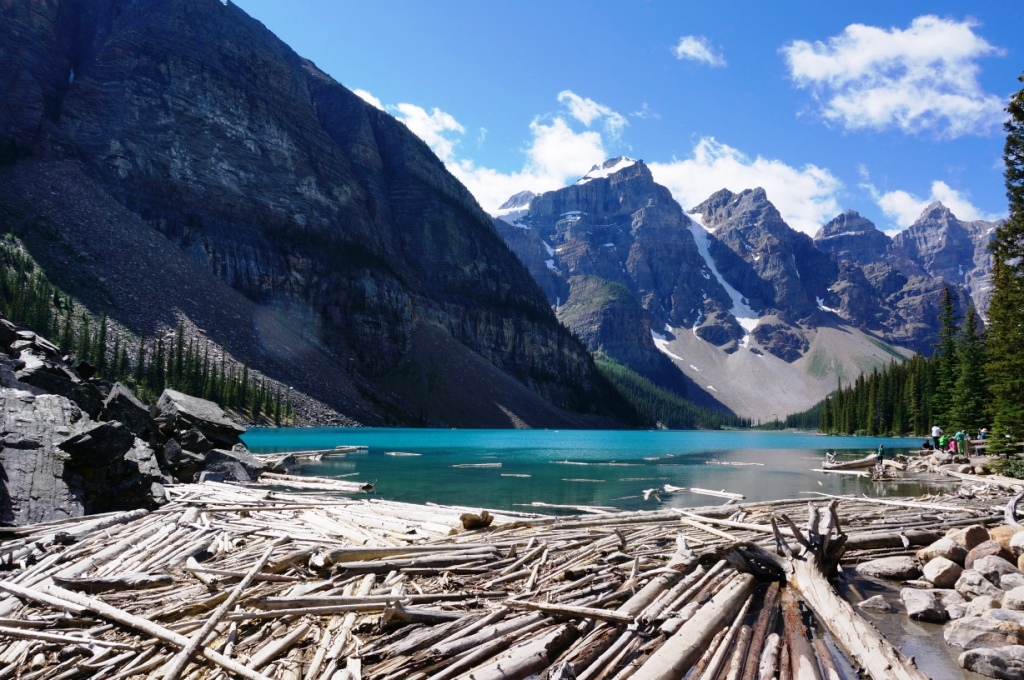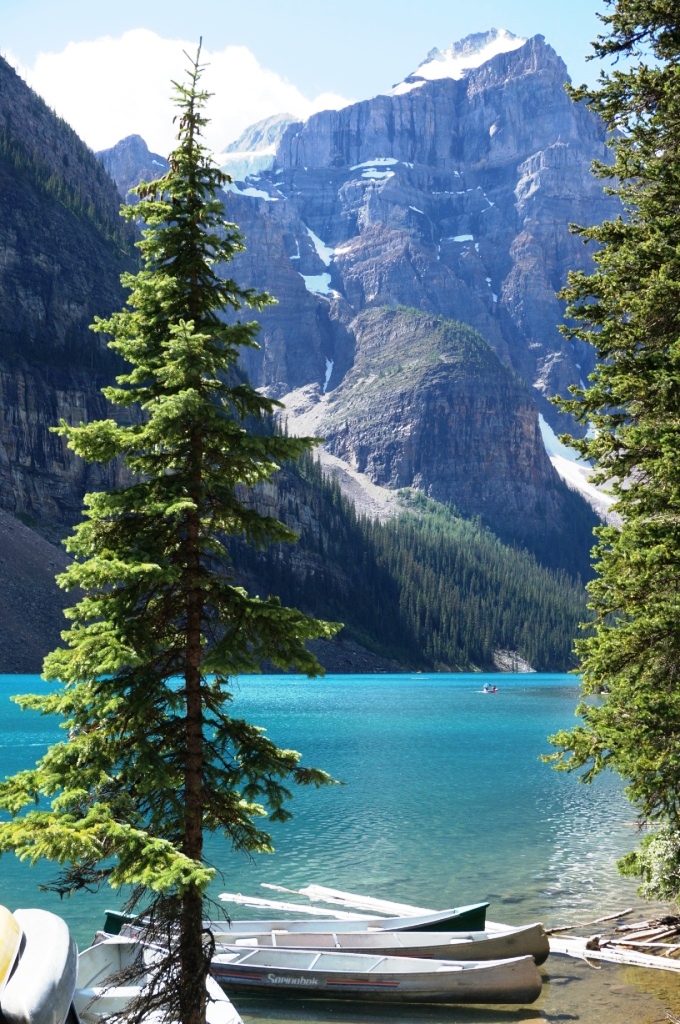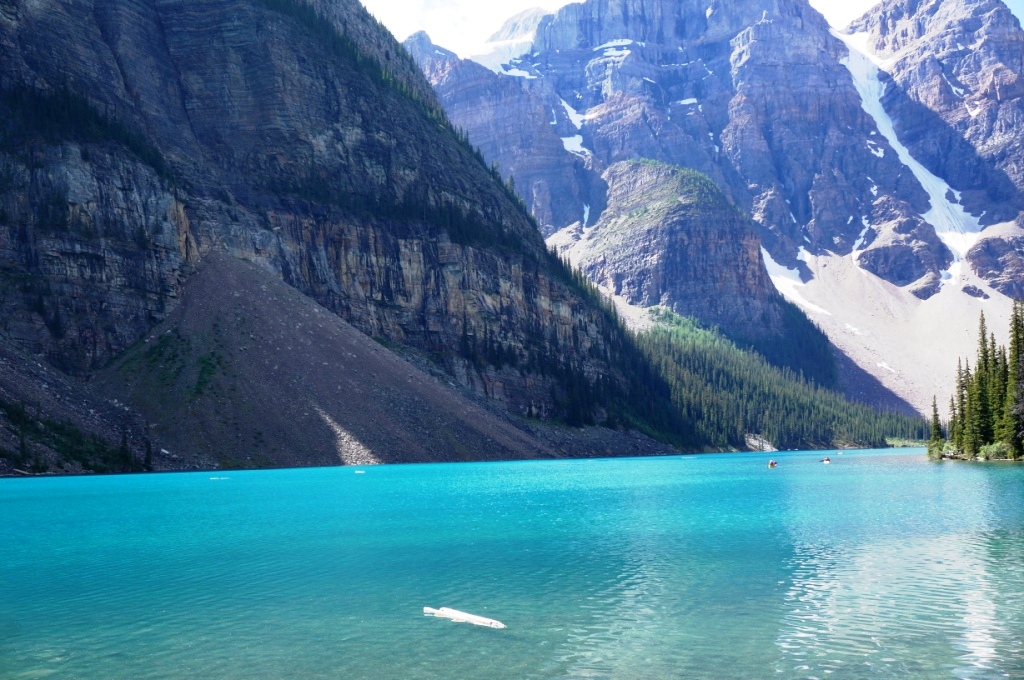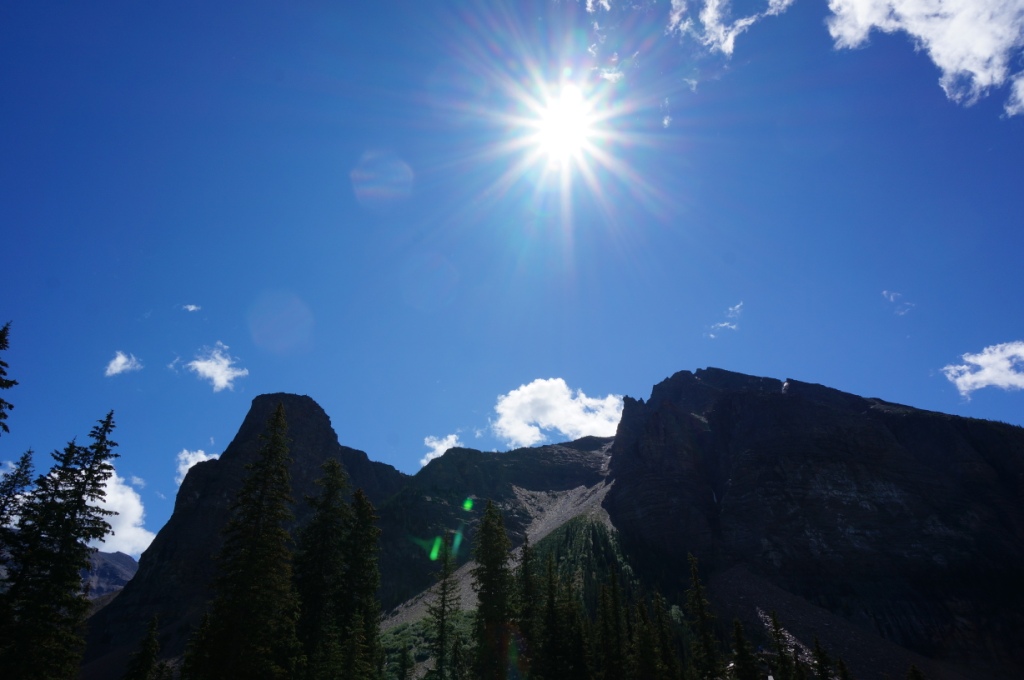 Back to the hotel we went where we ate lunch.
Fettuccine Alfredo was creamy and fantastic: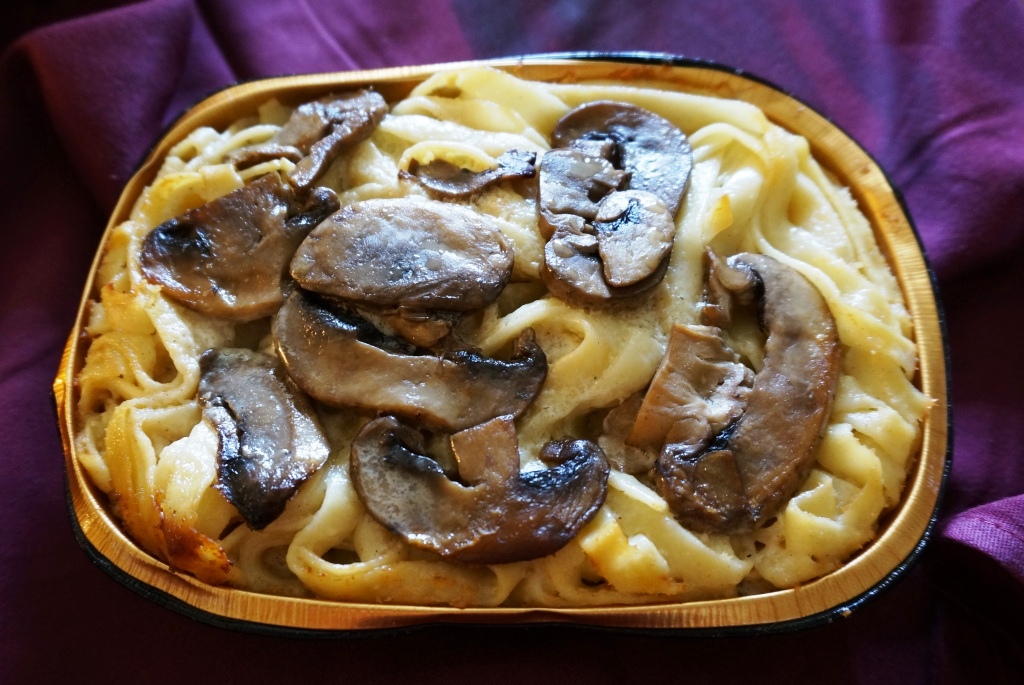 Baked Ziti was delicious as well: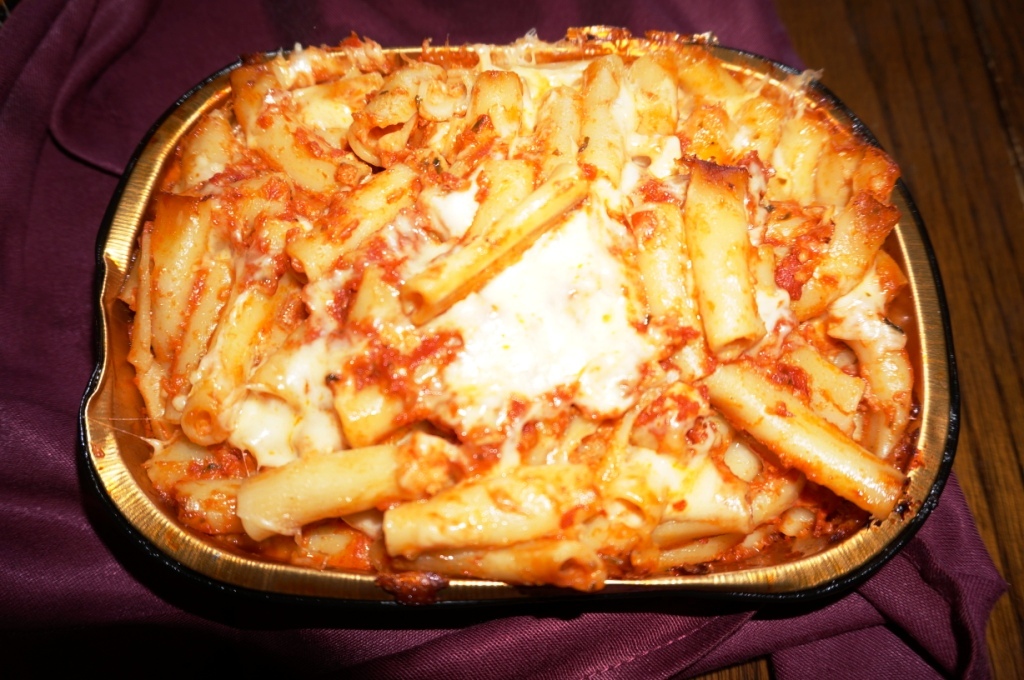 Lasagna was good, but not quite up to par as some of the other dairy meals: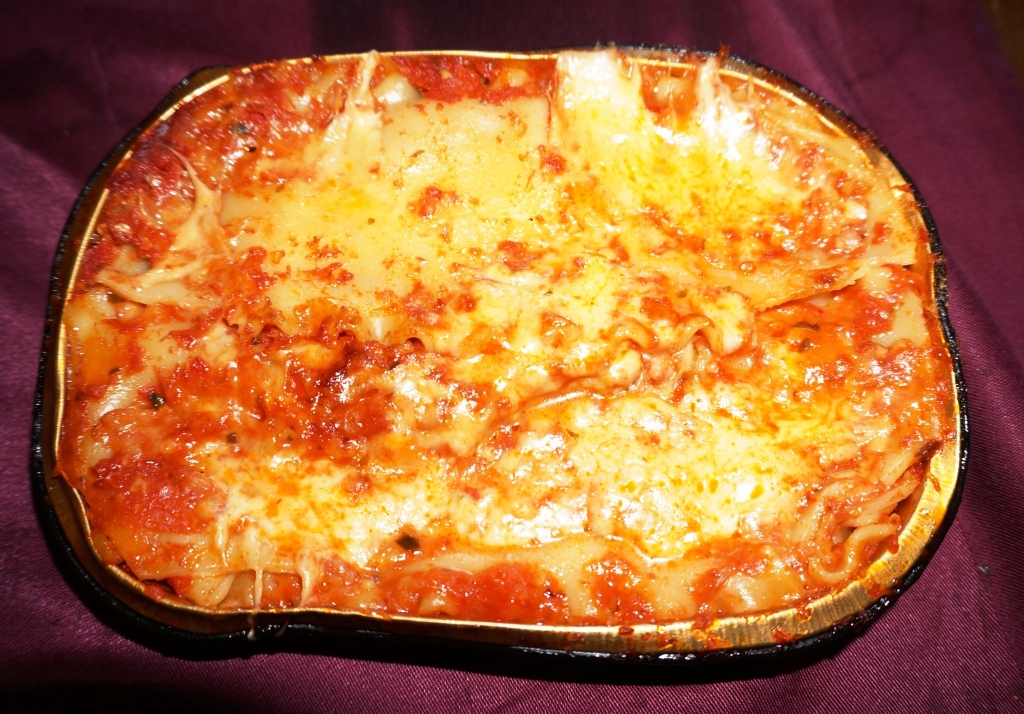 Afterward we went to "Central Park" where Rafi had a great time just running around and letting off steam.
Central Park: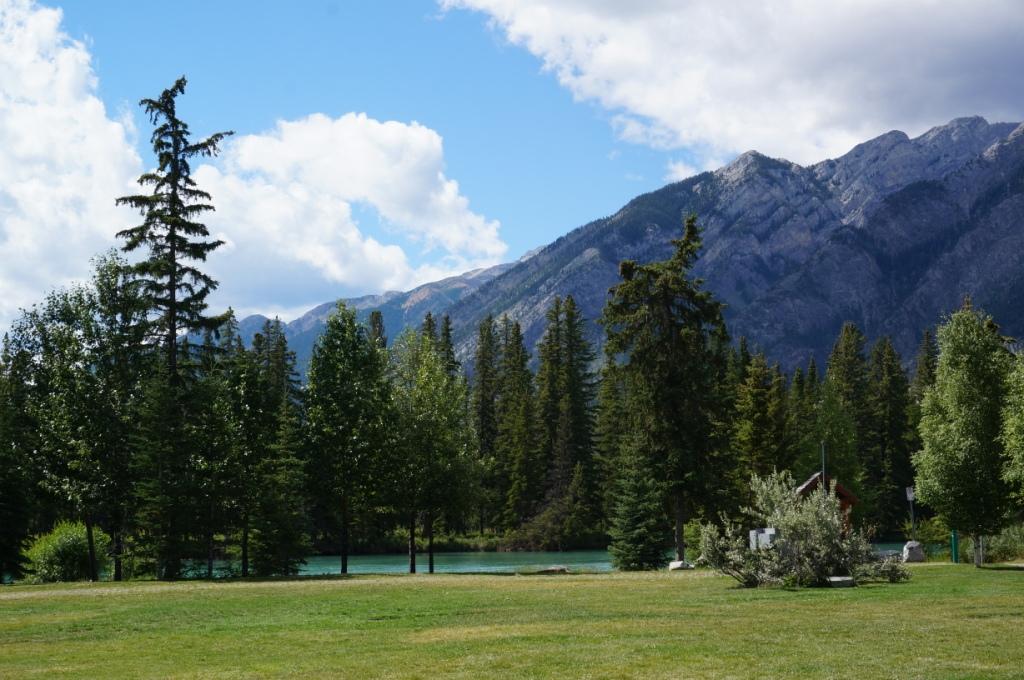 We then decided to hit up the Banff Gondola.
Don't.
It's ridiculously overpriced and the view from the top isn't all that great.  There was a peak you can walk to though when we asked if we would have problems bringing a stroller along they neglected to mention the hundreds of steps it would take to get there.  Perhaps the view from that peak is something though don't plan on making it there with young children.
While there was no line to go up the Gondola there was a 50 minute line to go back down.  Truly a miserable tourist trap experience.  I've heard the Lake Louise gondola is a better experience.
There was a nice discount because we bought a combo pass to both the gondola and the Glacier Snocoach for the next day but still I can't recommend it.
View from the gondola: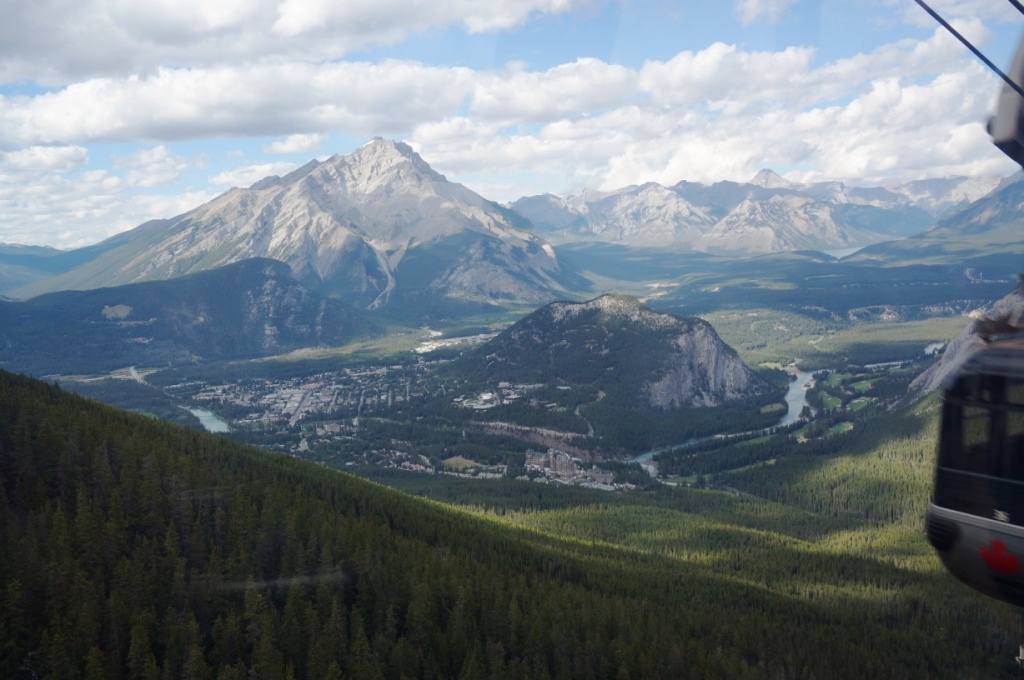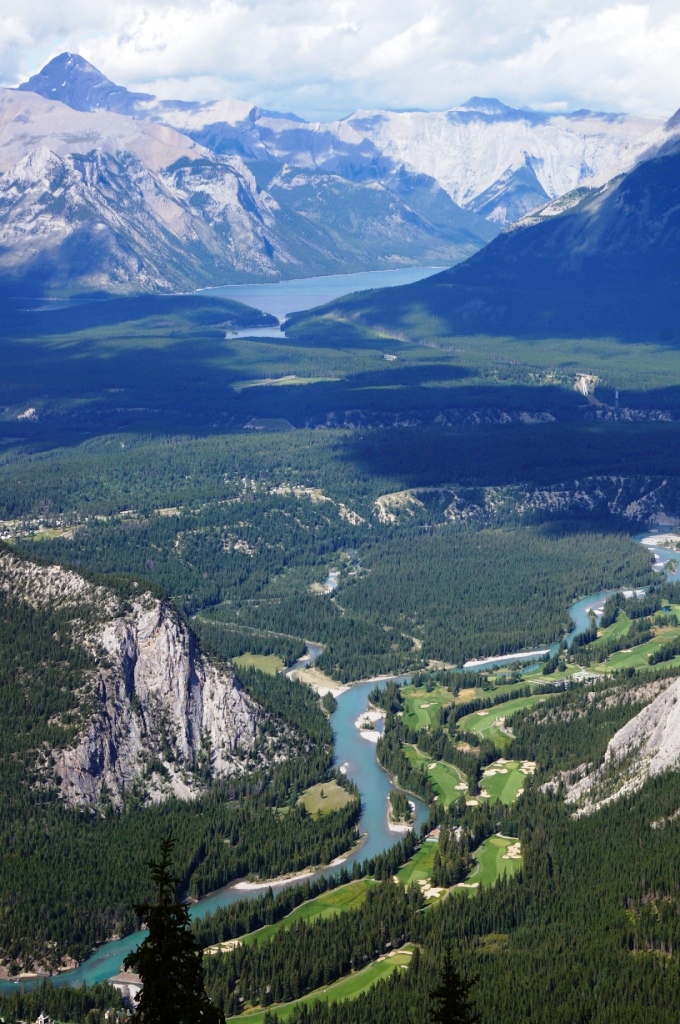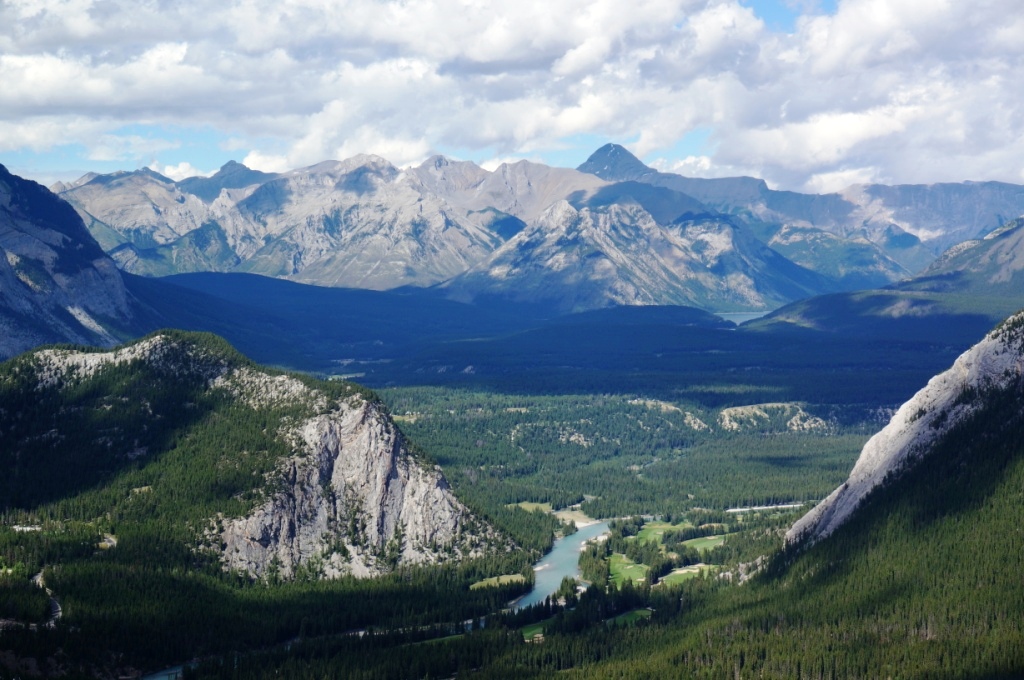 For dinner that night we had absolutely perfect Chicken Marsala though I wasn't such a fan of the Shlishkes. The grilled Portabella Mushrooms were very good: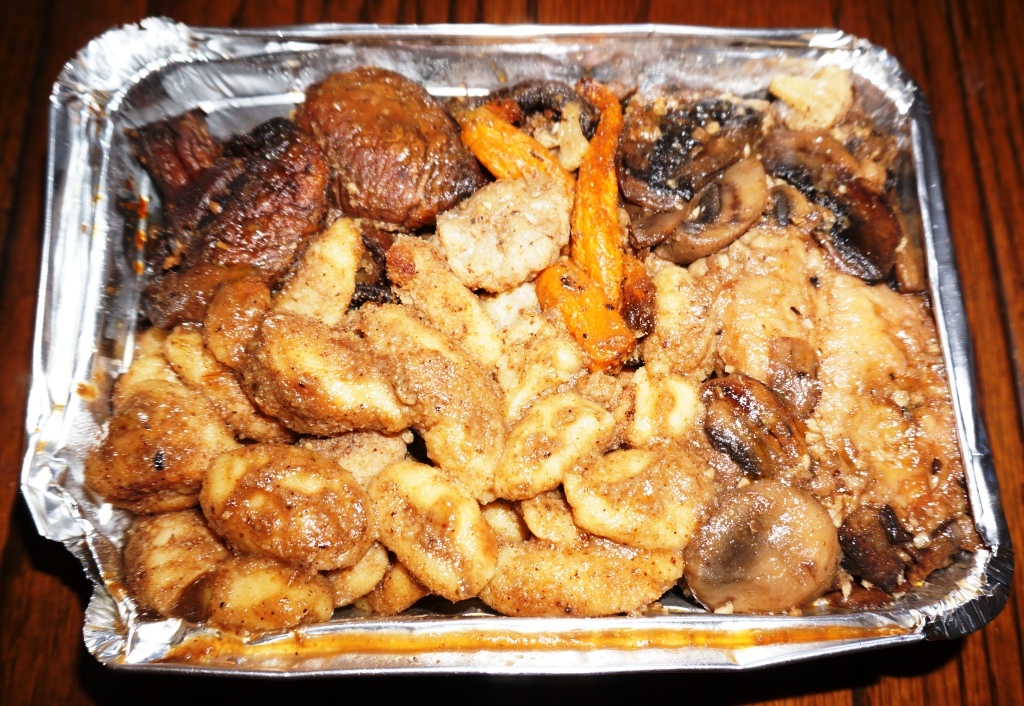 Hot pastrami was very good, but just can't compete with the honey mustard corned beef.  The Garlic mashed potatoes were phenomenal!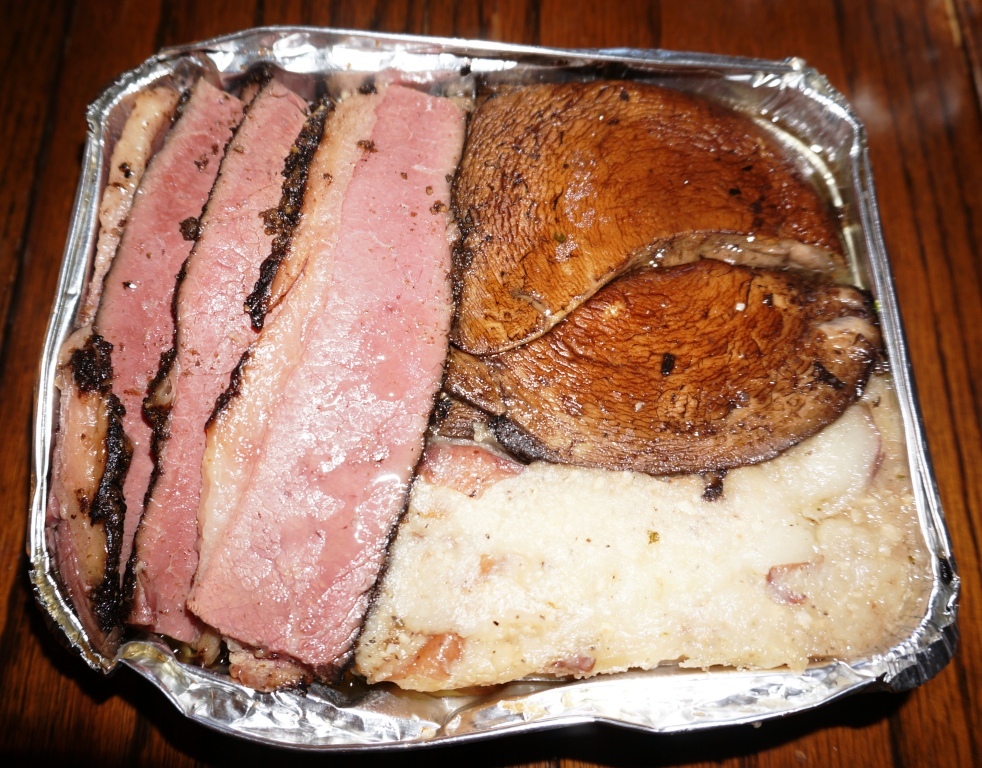 The single meal of hot pastrami split into 3 generously sized dishes.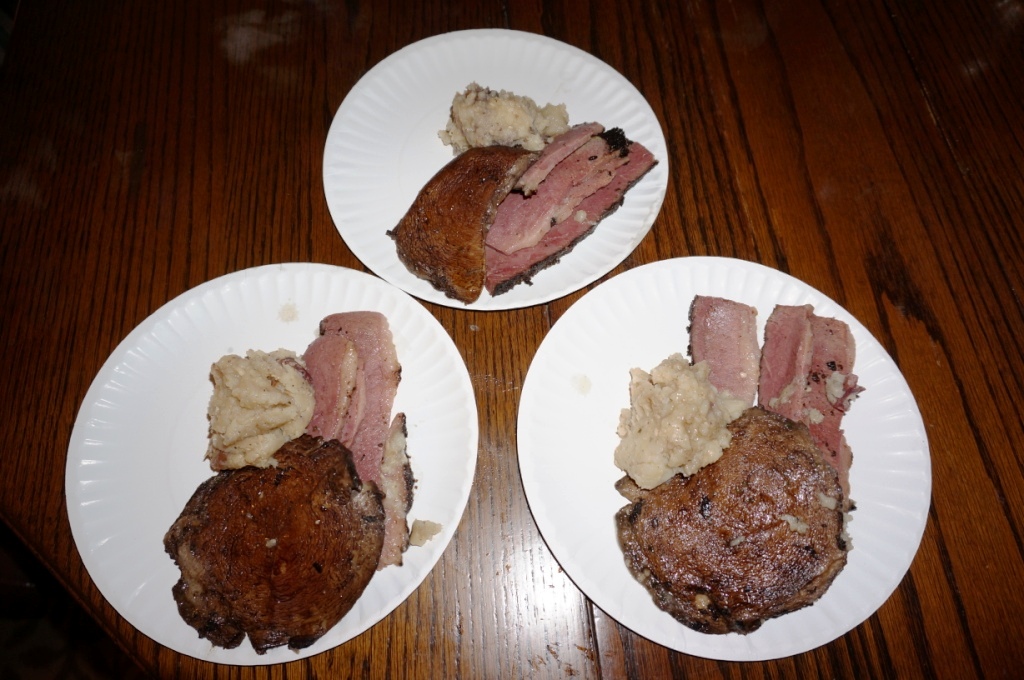 Ancho Marinated Hanger Steak had a fantastic flavor though it got a bit dried out unfortunately.  The grilled vegetables were very good.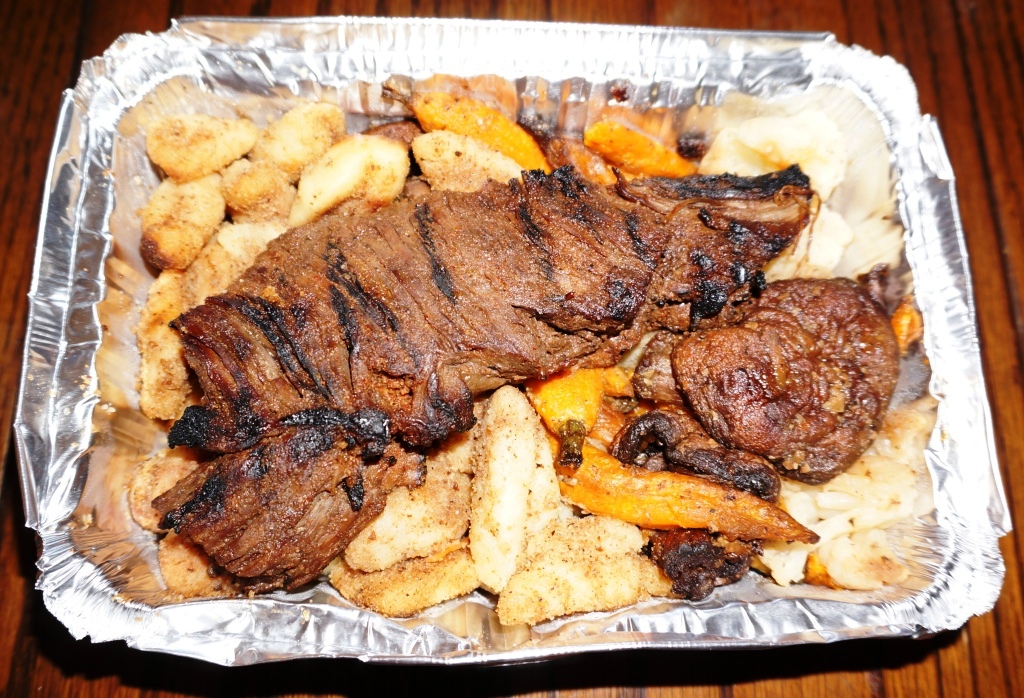 The next day was an all-day drive up the Icefields Parkway to the Columbia Glacier in Jasper National Park.  It's an incredible drive through endless turquoise lakes and ancient glaciers.
As soon as we entered the Icefield Parkway we encountered a bear on the side of the road: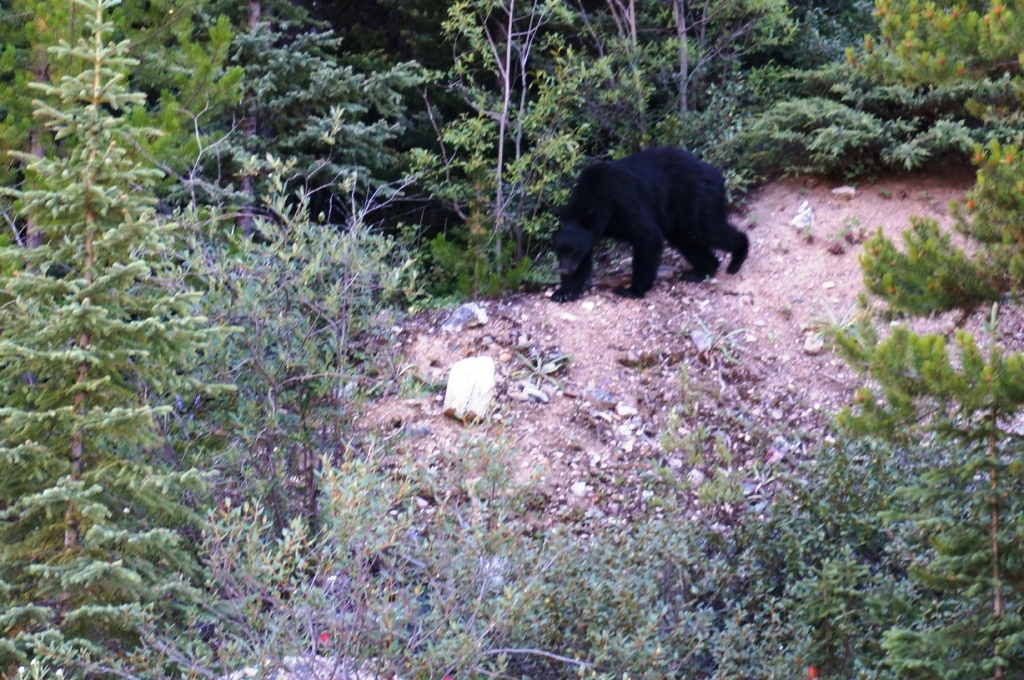 Black bear along the Icefields Parkway: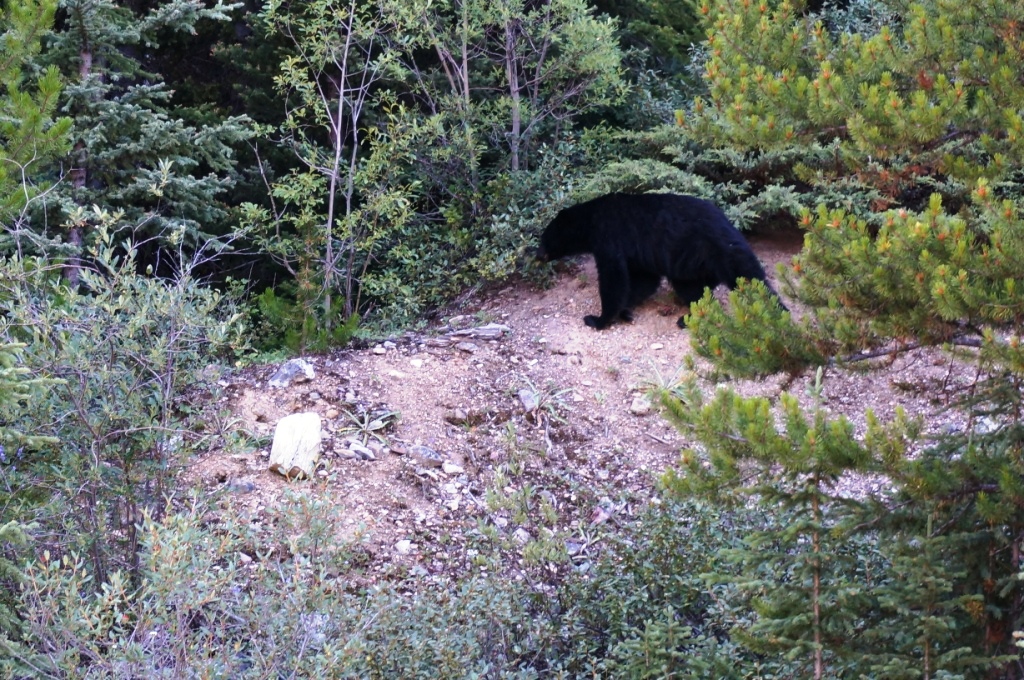 The bear then started coming towards us and it was back into the car.  Unfortunately in the chaos we managed to miss the perfect shot of the bear crossing the highway right in front of our car!
Glacier on the Icefields Parkway: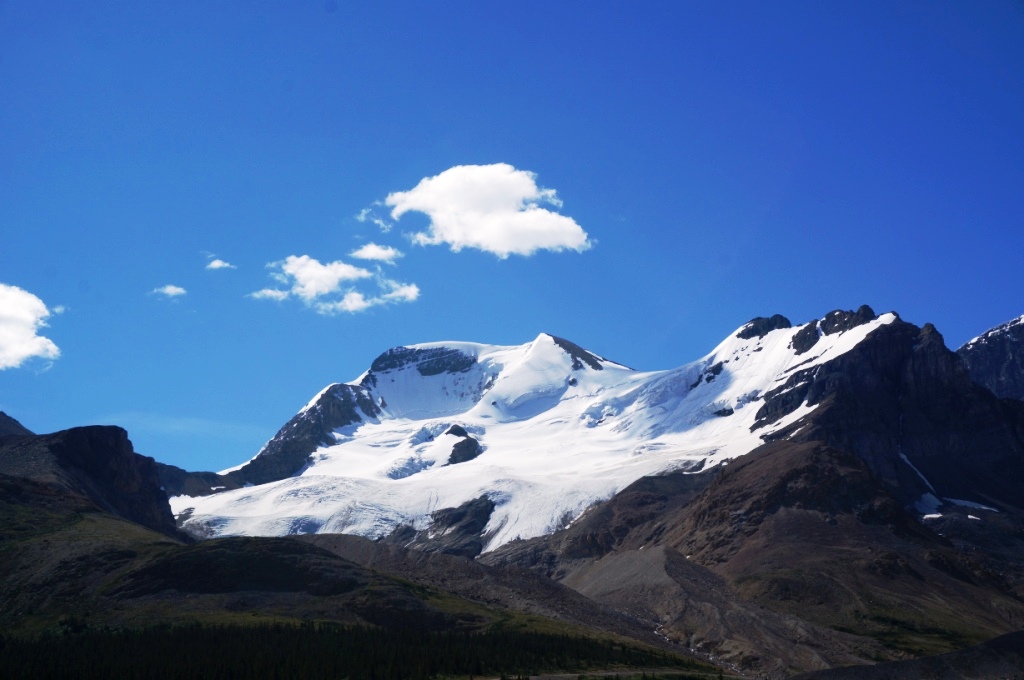 The massive Columbia Icefield stretches across Banff and Jasper national parks. It reaches 1,200 feet deep of snow and get 275 inches of snow yearly.  It feeds 8 glaciers and a triple continental divide with waters flowing into the Arctic, Pacific, and Atlantic Oceans.
It's a 2 hour drive from Banff to the Columbia Icefield Glacier Adventure. Luckily for us Rafi took a great nap on the way up which meant he was great for the rest of the day.  Because he was sleeping we drove past all of the sites along the Icefields Parkway to get to our destination with the intent to catch them on the way back down.  It worked out well as we got there early enough that there were no lines.  When we finished out glacier walk there were already very long lines.
Columbia Icefield: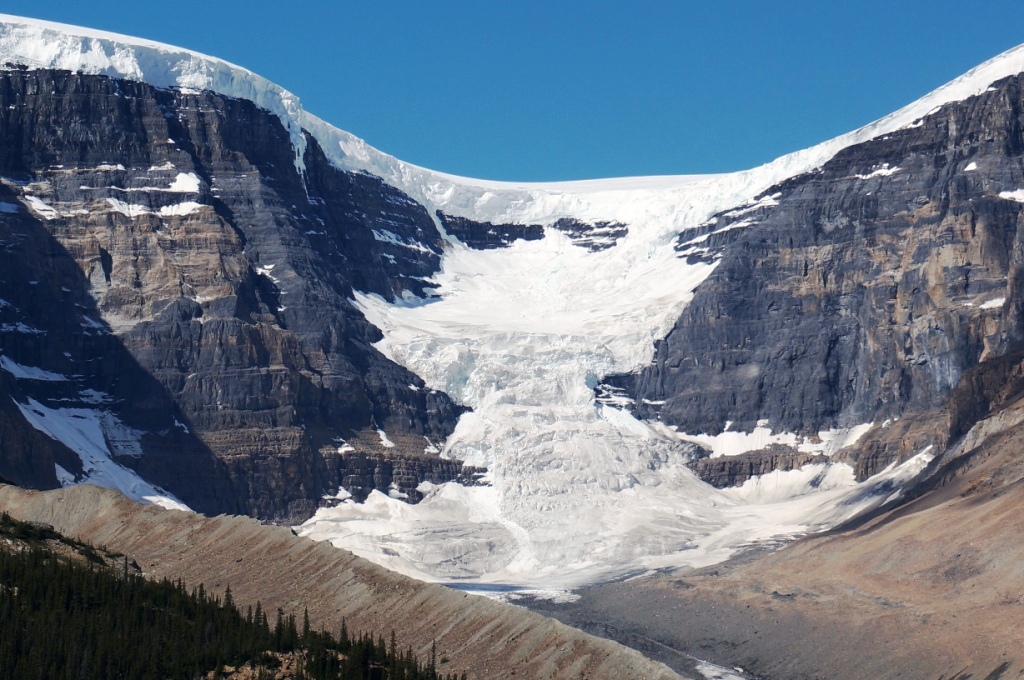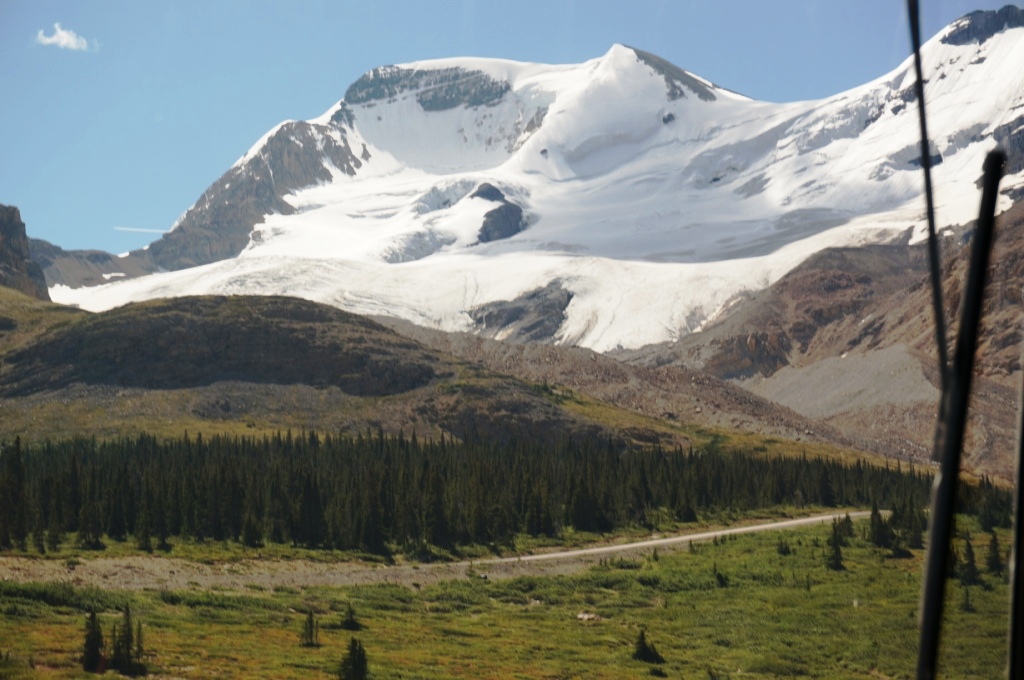 This is the 6 wheel drive SnoCoach that drives up and down impossibly steep grades and onto the glacier.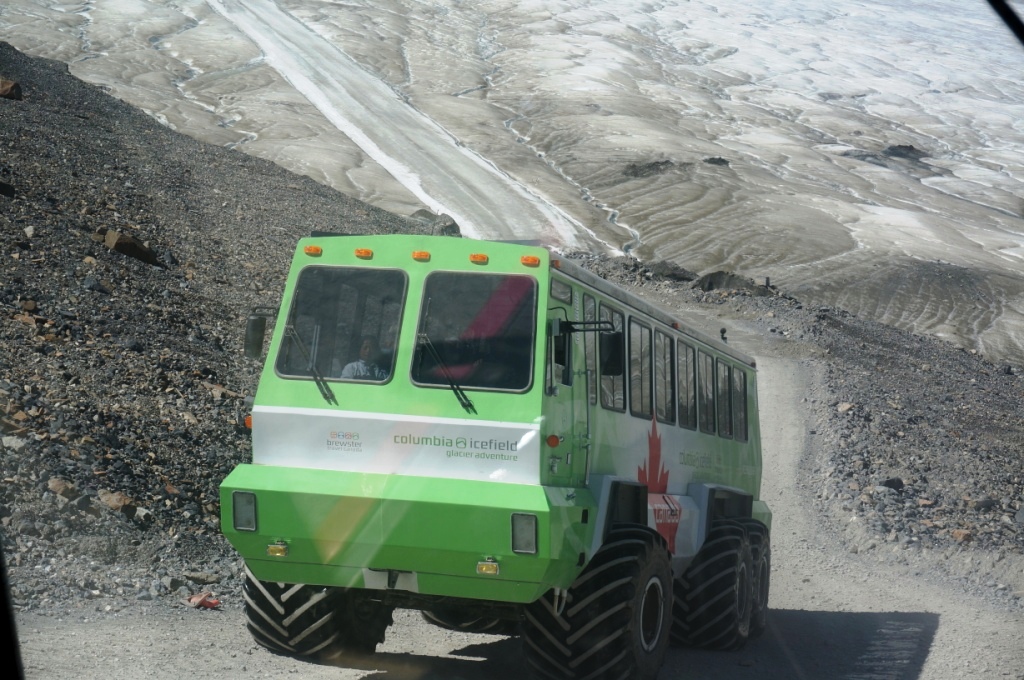 While it may be 80 degrees on the ground it feels much cooler with the winds blowing across the glacier.  You can walk on snow and ice that is over 1,000 feet deep, so that's a very neat experience.  It's hard to comprehend that you're walking on a skyscraper of ice.  We couldn't bring our stroller onto the glacier but Rafi didn't have too much trouble navigating the snow.  It's not very slippery.
Be sure to bring some empty bottles of water as you can fill them up from the melting glacier. It's the most delicious water you will ever try in your life, I guarantee it.
And make sure to walk around a bit.  There are hidden rivers you just have to move outside where the masses are standing around.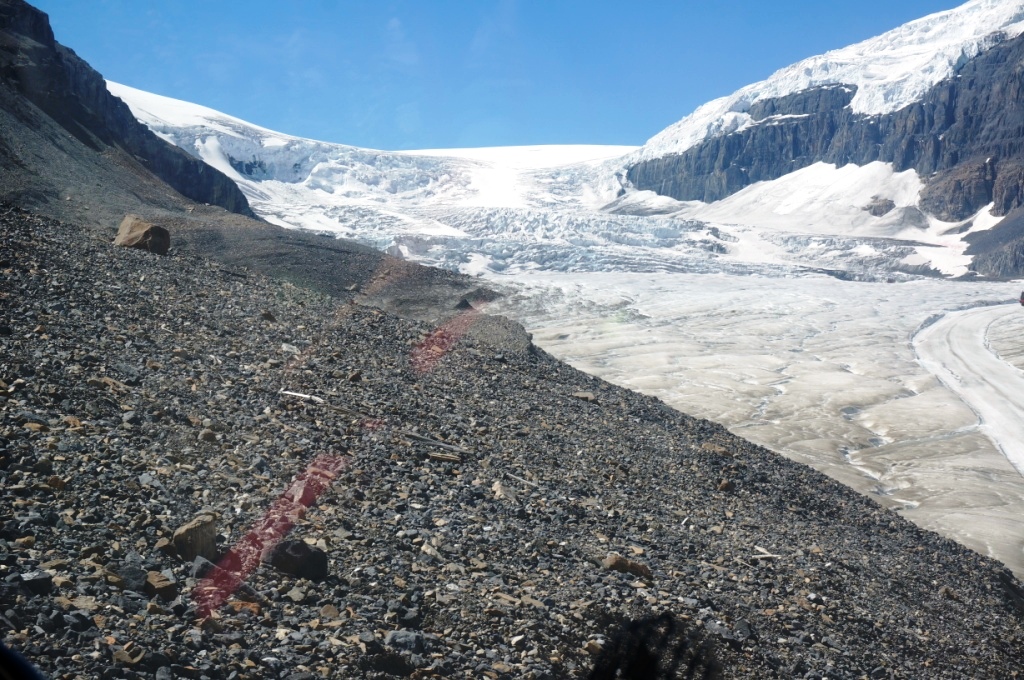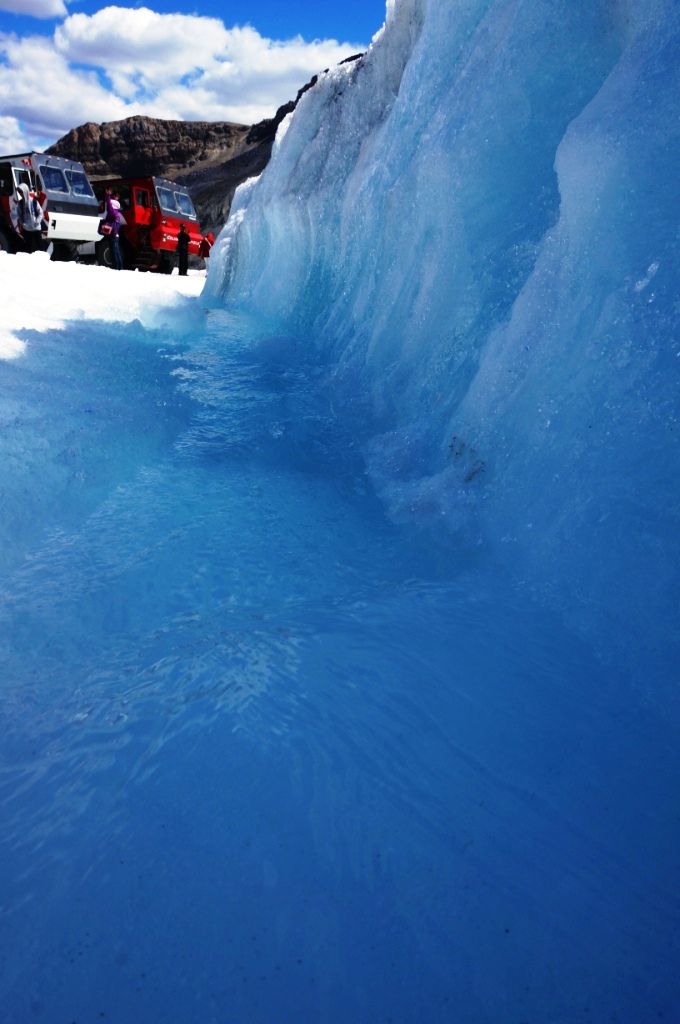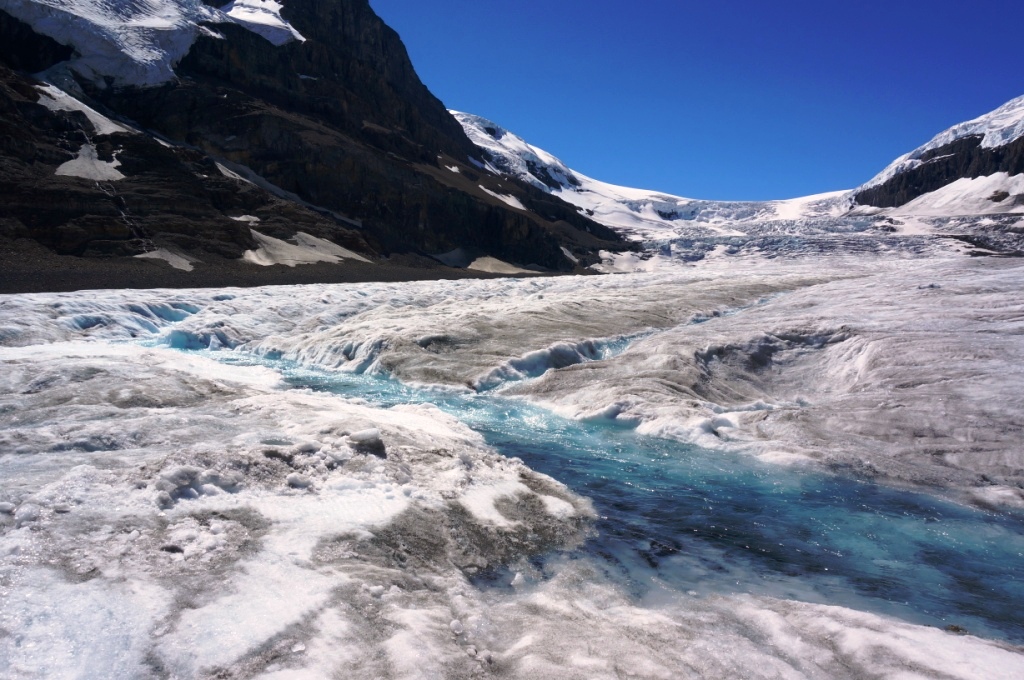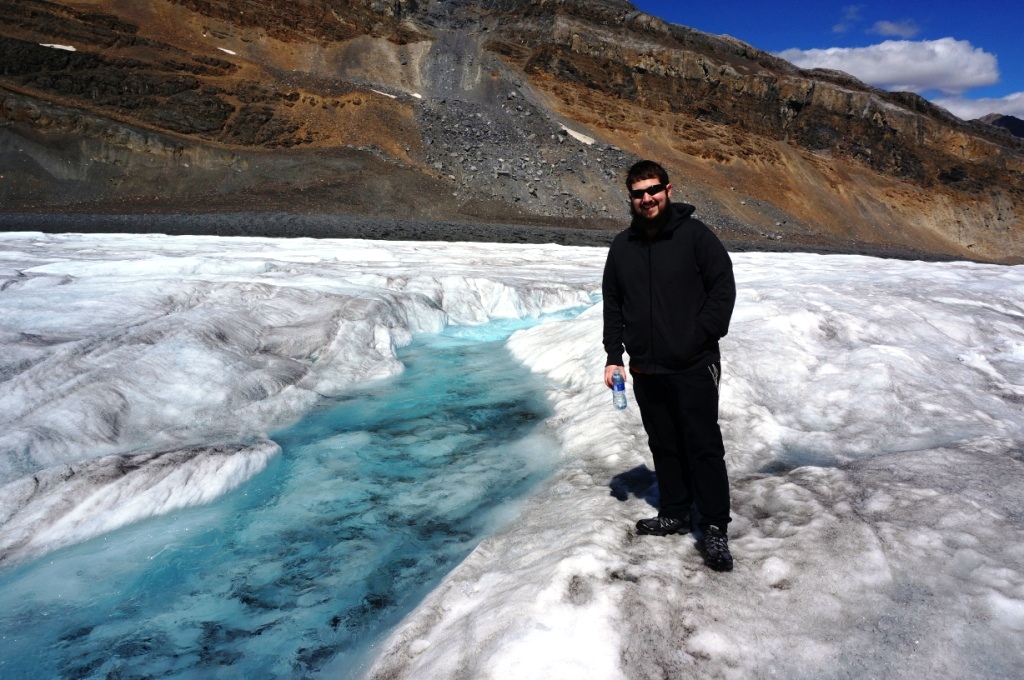 We brought lunch with us: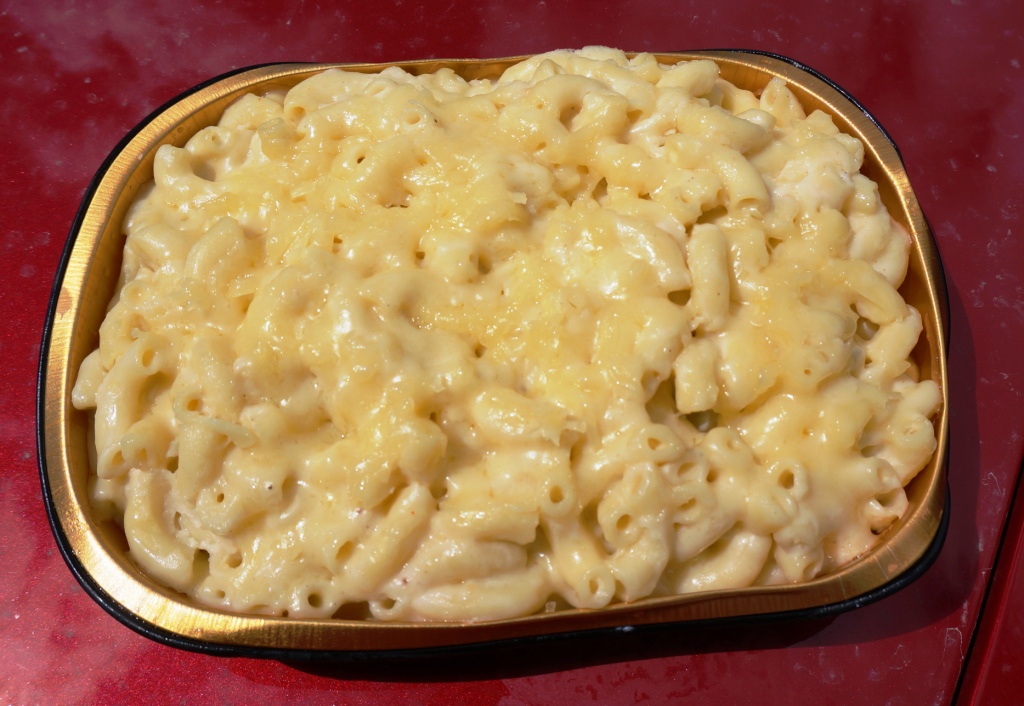 The Mac and Cheese was very good, though obviously not as good as when the hotel heats it up for you.
On the way back we stopped at beautiful Bow Lake right off the side of the Icefields Parkway for pictures: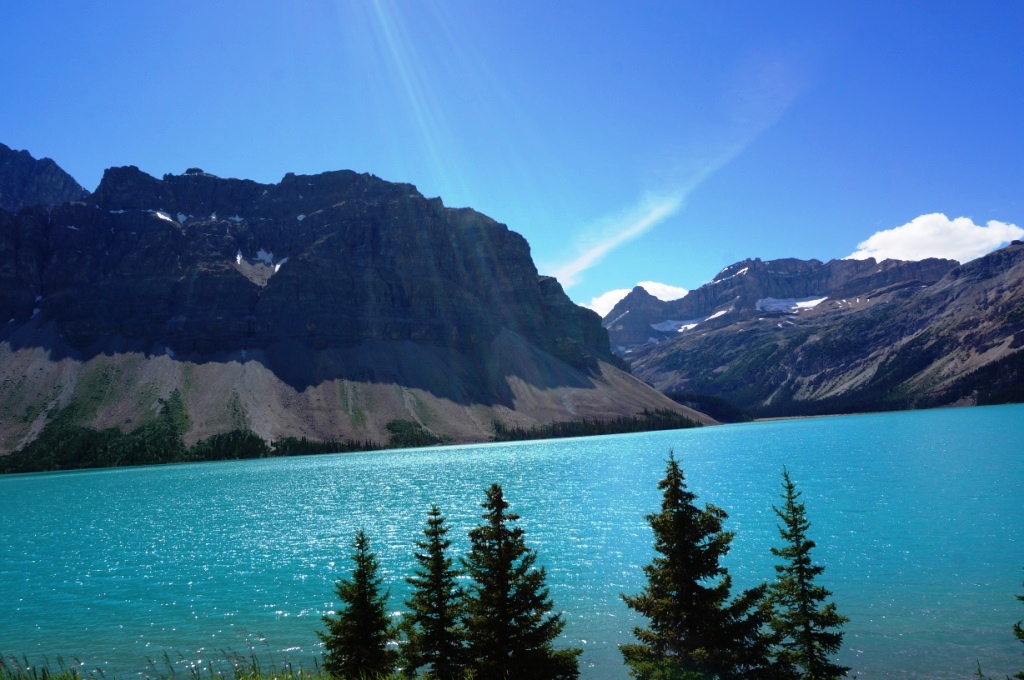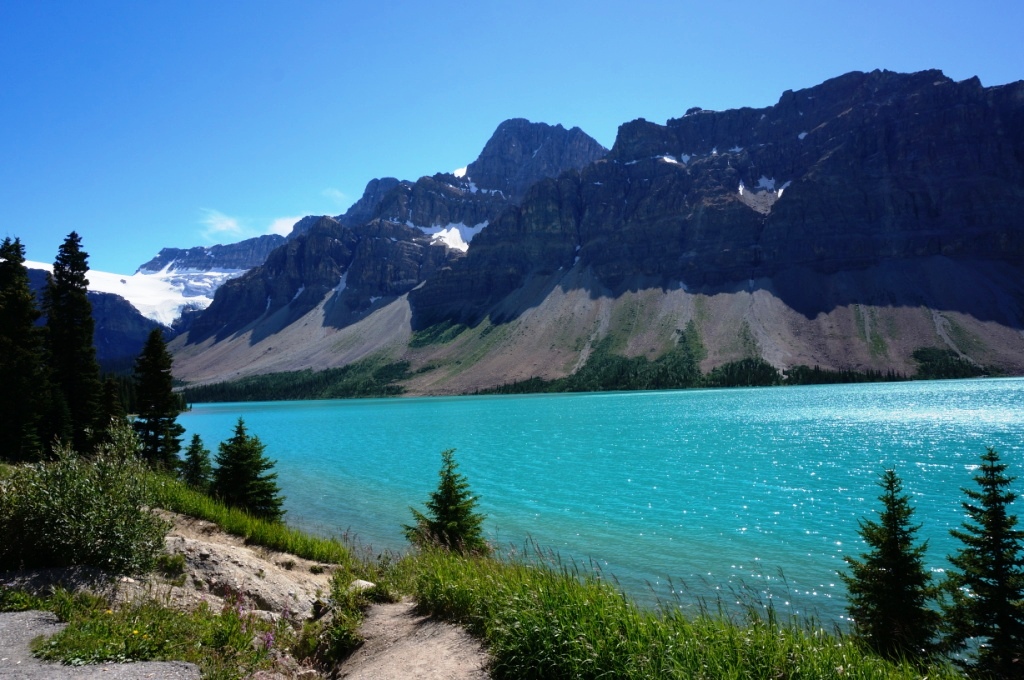 There are several other spots worth stopping at like Peyto Lake, but sort of like the waterfalls along the Road to Hana on Maui you become immune to the most beautiful rivers and lakes that abound.
Back at the hotel we walked down the stairs to Bow Falls and Bow River: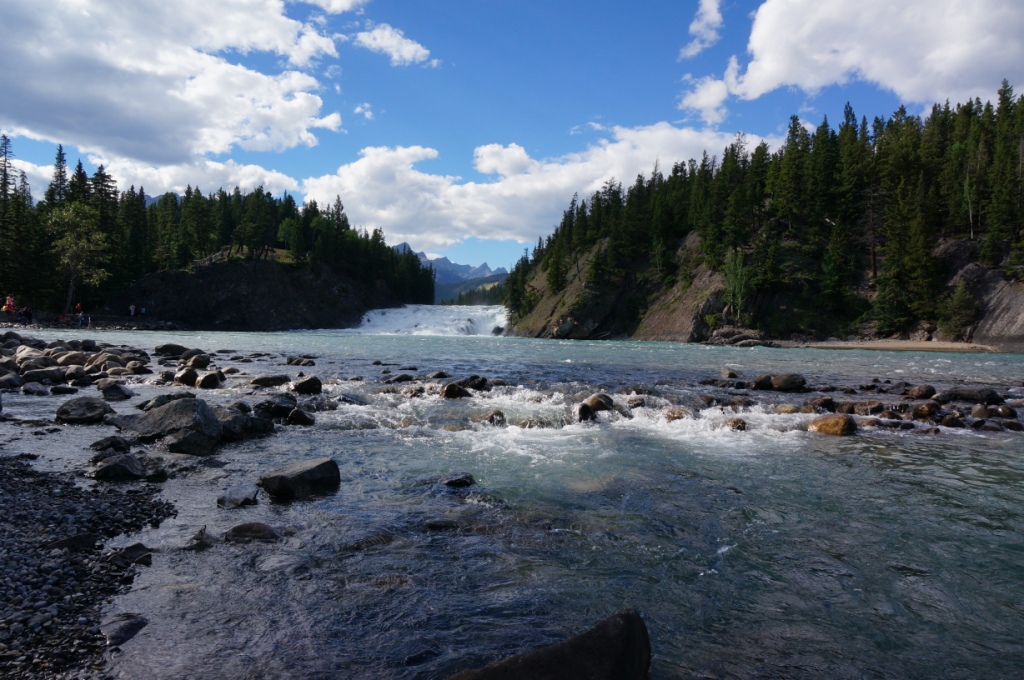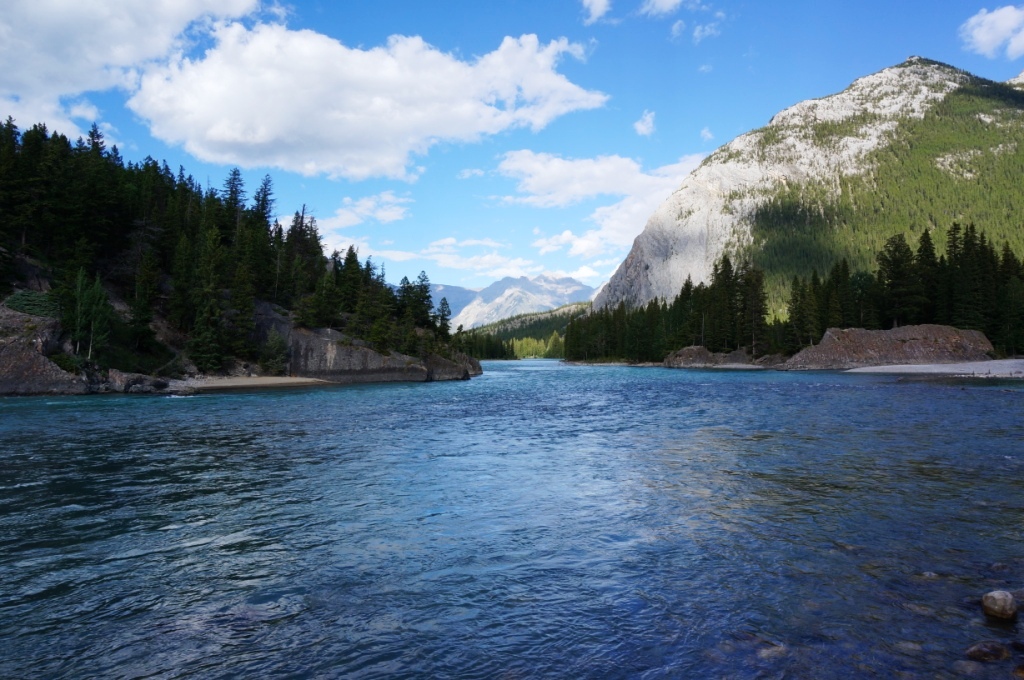 Along the way we bumped into a Caribou (at least I think that's what it is!) :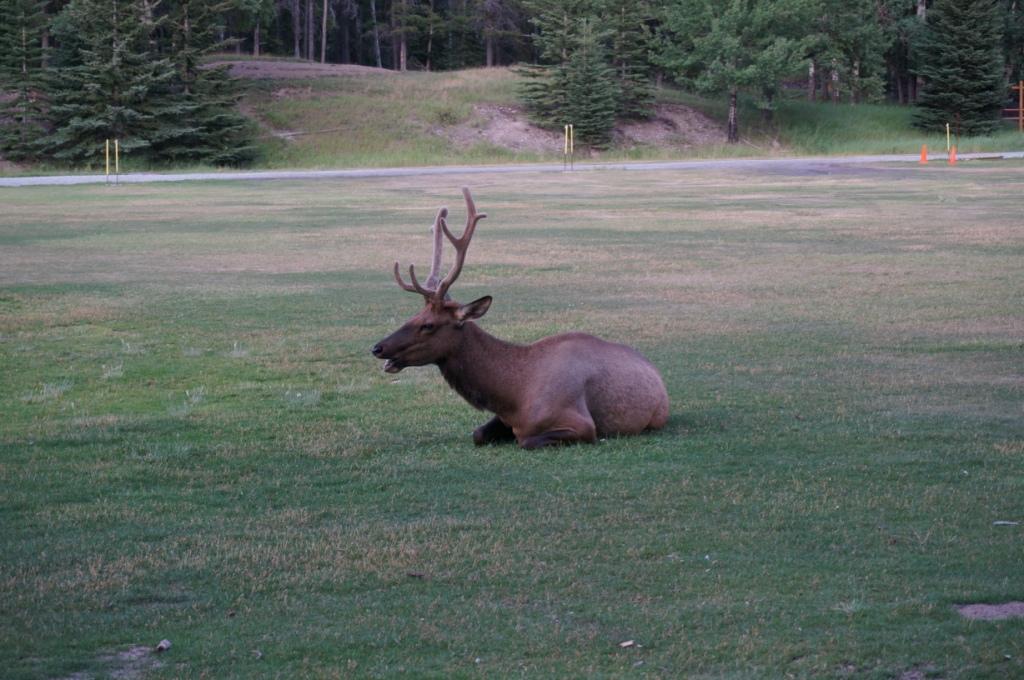 And for dinner: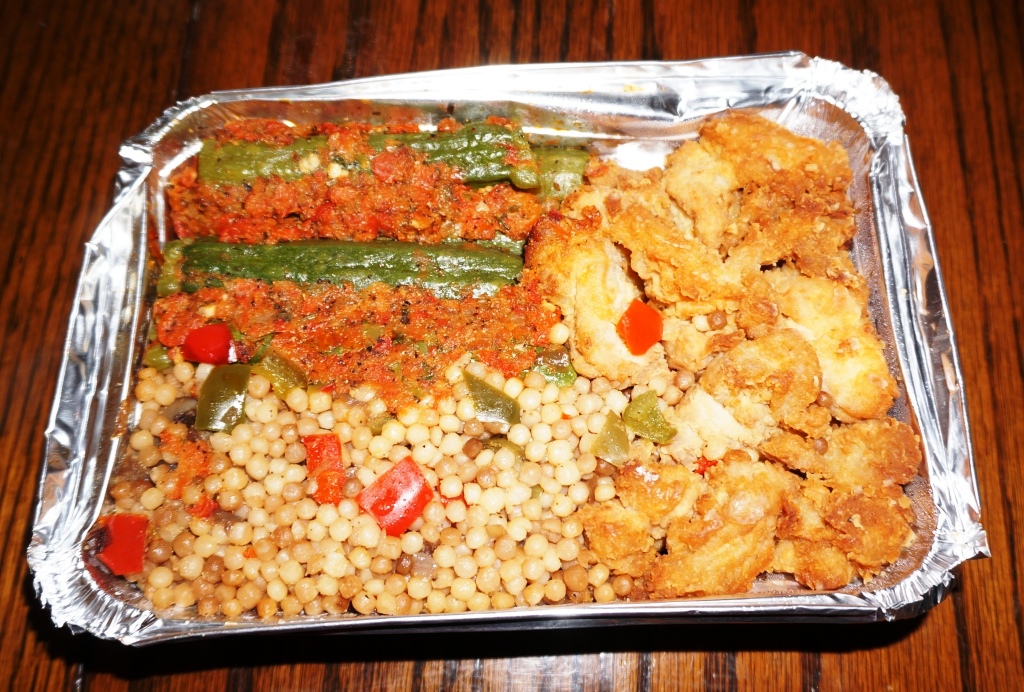 Spicy Southern Fried Chicken Nuggets are outstanding.  The seasonings are just amazing.  The only thing I'd like with it is a dipping sauce so it was perfect that we also had the meatballs below!
Meatballs were very good in a tasty sauce: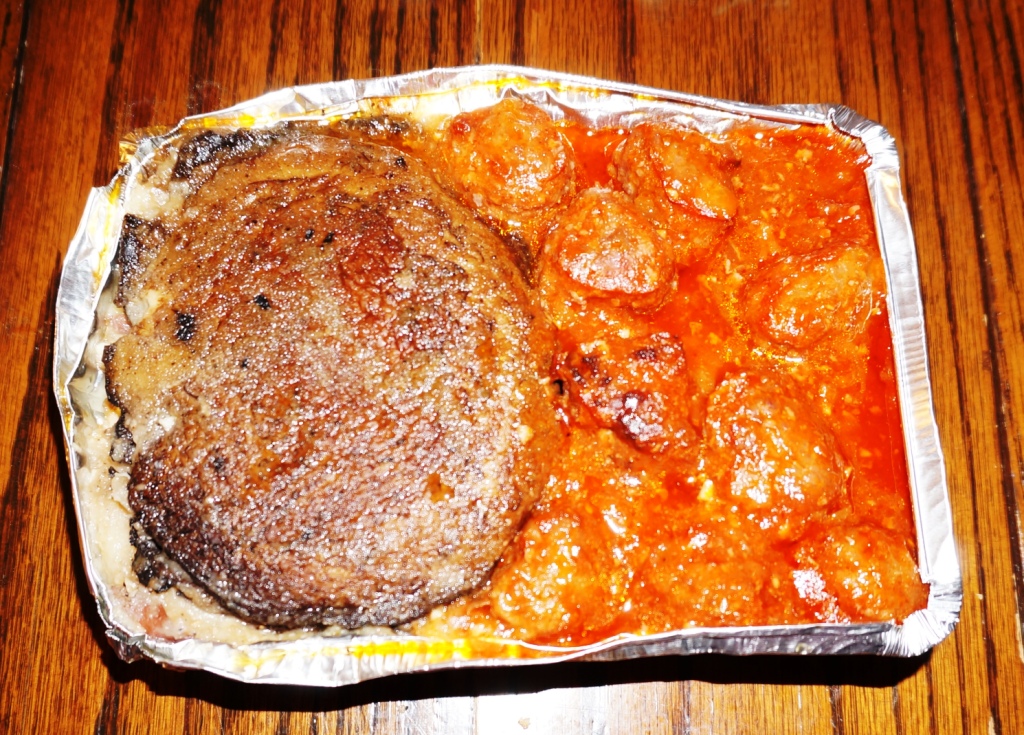 Mini stuffed cabbage were excellent as were the roasted potatoes and garlic string beans: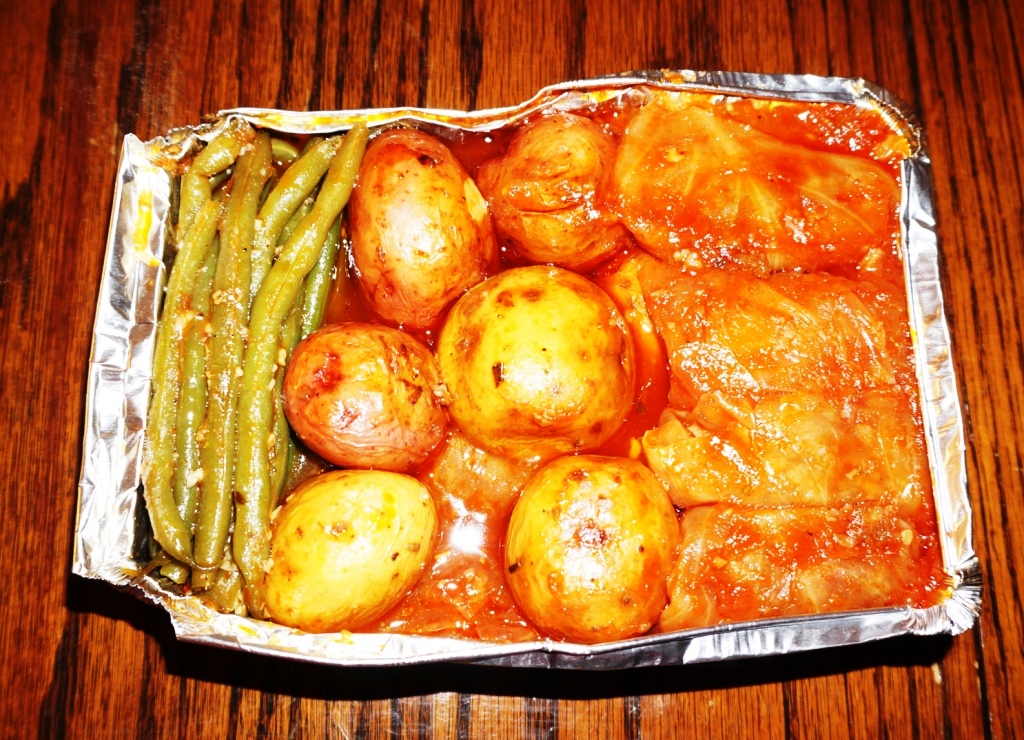 But this was what really blew me away.  The Delmonico steak in a red wine reduction was far superior to the steak that you'll receive in your local steakhouse.  And when a store figures out how to make a frozen steak that is reheated taste better than what most steakhouses serve I'm left completely speechless.  Plus it's packed with 2 of my favorite sides-the garlic mashed potatoes and popcorn cauliflower.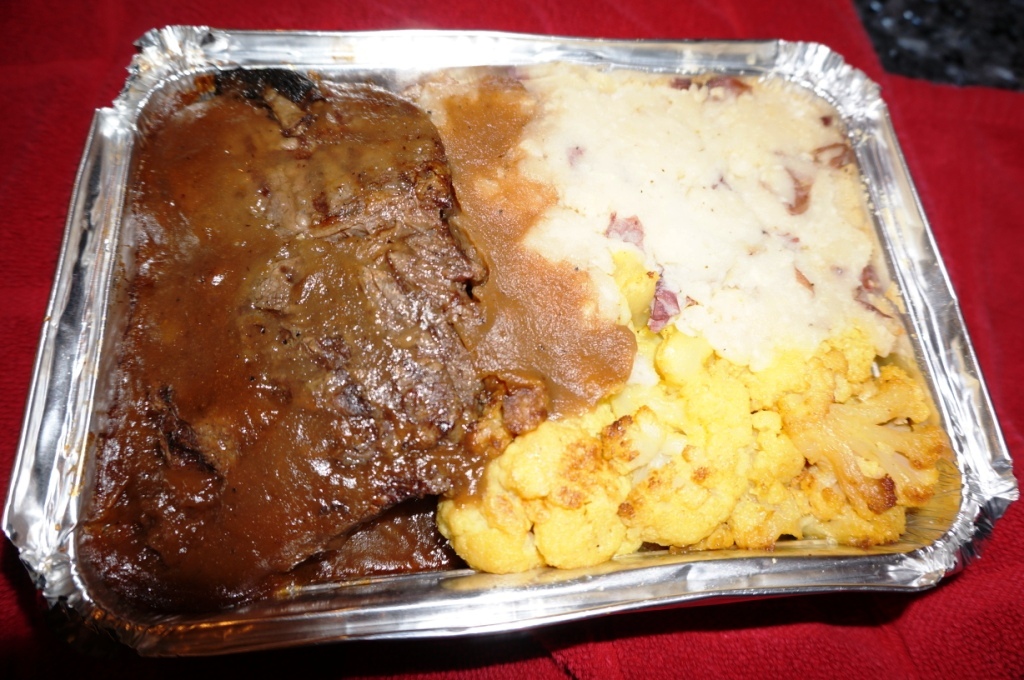 Our flight from Calgary departed at 7:45am so we left the hotel at 5am.  We should have left earlier as we had to gas up the car, return the car, apply the Daily Getaways certificates, check our luggage, clear customs, and clear security.  It was close but we did make it onto the flight breaking just a small sweat.
Rafi was once again fantastic on the flights, sleeping a good portion of it.  We stopped in the United Club once again during our short connection for him to use the bathroom before getting onto the short 50 minute hop to Cleveland.
I will say this, it was really amazing to have true restaurant quality food while in a beautiful place without a kosher restaurant anywhere nearby. Truly the best of both worlds and without a doubt something we will do again.
Thanks for reading my trip notes, I hope you've enjoyed and are inspired to keep racking up those miles and explore the awesome world that we live in!