-Find more articles like this by clicking on the "Trip Notes" tab on top of the DansDeals banner at the top of this site.
—————————————————————————–
-3 day, one-way car rental from Cleveland to Boston: $100
-1 night in the Holiday Inn Express Cooperstown: $70
-1 night in the Sheraton Springfield: $90
-1 night in a suite at the Fairmont Copley Plaza Boston including a bottle of Oban Single Malt Scotch and Valet Parking: $0
-Tickets atop the Green Monstah': $60
-A flight home on Airtran: $100
-Spending 4 days on the most unforgettable sports themed road trip with my grandfather and one of my 5 brothers: Priceless.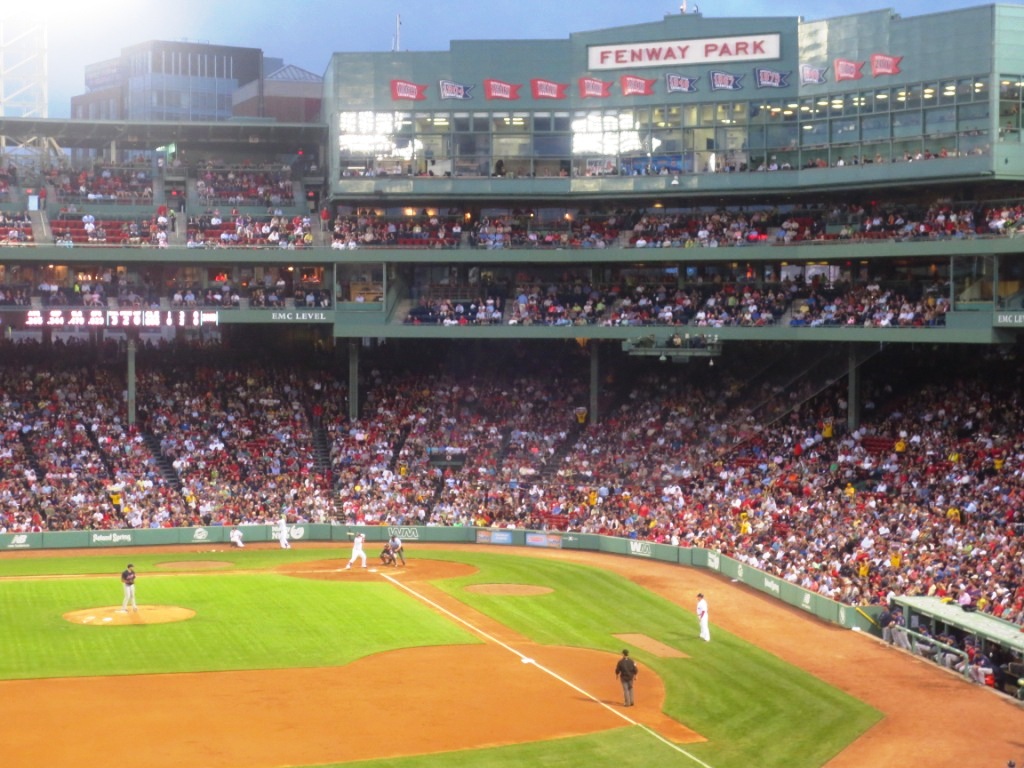 View from the Green Monster
More after the jump…

Background history:
I'm a die-hard Cleveland sports fan. Being a 5th generation Clevelander from both my mother's and father's side will probably do that.  Of course what really did it was my maternal grandfather taking me to countless sports games growing up and instilling a true love of being a sports fanatic.
Baseball has always been my true love though. There's just something magical about sitting out under the stars on a warm summer's night and watching a game with no clock, indeed no rush in the world. Sure many people find that to be a bore and you couldn't pay my father or father-in-law for that matter to go to a baseball game, but so much that we do in life seems to be timed that we're often slaves to our schedule. There are no announcers screaming and goading you to get up on your feet, it's about being able to just relax and enjoy a game with family and friends.
My classmates in the Hebrew Academy in Cleveland can attest to the fact that I knew the stats of pretty much every ballplayer and team out there when I was a kid. I'd bring Baseball Weekly's into school and study them during breaks. As a 5th grader I entered our class into a nationwide fantasy baseball contest where we were featured several times in Baseball Weekly's nationwide leaderboard.
It didn't hurt that The Tribe was an unstoppable force in the mid to late 90's and that I won contests to be able to attend several World Series games. Or that my parents took us to Toronto to stay in the Westin Harbour Castle where the Indians stayed.  As a 10 year old there I got nearly the entire team's autographs and even was gifted free tickets to the game from Manny Ramirez. I screamed during game 7 of the 1997 World Series when Mike Hargrove put in a struggling Jose Mesa to close out the game in the bottom of the 9th and I just may have cried when we blew it. Yes I know there's no crying in Baseball but 1948 was just so long ago…nobody younger than my grandfather in Cleveland can even remember that year when the Indians last won it all.
The inspiration:
Baseball stadiums are so unique that it's fun to attend your team's games in other cities. Fenway Park has always been on my hit-list and earlier this week a plan started to form in my head when I saw the Indians would be in Boston on Thursday night. We would drive and hit up all 3 of the major sport's hall of fames along with the ballgame.
Cooperstown, NY:
We rented a car and set off at 1pm on Tuesday for Cooperstown, home to the (alleged) birthplace of baseball and to the Baseball Hall of Fame. We stayed that night at the Holiday Inn Express in Cooperstown. The indoor pool there was too cold to swim in and the hot tub looked far too murky to enter, but it did the trick for the night. We had brought Chinese food from Cleveland that we ate before turning in for the night.
We entered the Hall of Fame on Wednesday morning when it opened at 9am with a AAA discount thanks to the "official" membership cards they seem to send me every month. In 1997 as a 12 year old this same grandfather had taken me and my 10 year old brother, Dovid, to Cooperstown as well. This time I would get to experience it as an adult along with another brother, JJ, who had been just 6 back then and was left behind. I loved it then and I loved it even more now as an adult. The museum section is done so perfectly and walking through baseball history with my grandfather's color commentary is something I'll never forget. There are 2 large floors of artifacts and films dating back from centuries ago through today and walking through them is, as DDF user Damaxer91 said, like being a kid in a candy store. After spending some 4 hours going through them we took a break for lunch. We brought along delicious jalapeno bagels from the Bagel Shoppe in Cleveland with cream cheese and vegetables that we ate while sitting in the stands of Doubleday Stadium.
The village of Cooperstown is quite remote and you'll need to travel on lots of windy roads whether you approach it from the north or south. It is very cute though, seemingly frozen in time though with lots of great baseball memorabilia stores to explore. And there's a CVS where I'll confess to picking up some Vanilla Reloads along with my Diet Coke. The cashier said that she had never sold one of them before 😀
After checking out the town we went back into the actual Hall of Fame to see the bronzed legends of the game. There's a fantastic gift shop there as well that's worth checking out.
Springfield, MA:
At about 3:30pm we had seen all there was to see and we drove for just under 3 hours to Springfield, MA. There was a Sheraton there and as a Platinum I was upgraded to a suite and had free lounge access. The lounge had several flavors of the Food Should Taste Good tortilla chips along with plenty of drinks as well. We had Brisket Pastrami sandwiches for dinner, watched 42-a very good baseball movie on Jackie Robinson and gutsy Brooklyn Dodger's GM Branch Rickey, and turned in for the night.
On Thursday morning we went to the Basketball Hall of Fame in Springfield, MA. Whereas the Baseball Hall of Fame seemed historic and hallowed, the Basketball Hall of Fame is set in a strip mall between an ice cream store and a bar. It's very modern though that also makes it feels very sanitized. It's still an enjoyable place and seeing the roots of the game and all of the Jewish players from the early days was fun. There are many more interactive exhibits here such as playing virtual basketball, trying your luck at broadcasting, or playing free arcade style hoops. I beat my grandfather and brother in HORSE on the main basketball court and we left about 75 minutes after we arrived. We had brought along avocados and wraps from home but didn't wind up needing them as we decided to wait until 1pm when we would be able to eat lunch in Boston.
Boston:
After the quick 90 minute drive we arrived in Brookline, home to several kosher restaurants. We settled on Taam China where we feasted on egg rolls, awesome hot and sour soup, delicious sizzling schezuan chicken, sweet and sour chicken, and egg foo young. We topped that off with a trip to the Sam Adams Brewery which is free and where you can sample several different types of beers in your free souvenir glass. They told us we would have to wait for an hour but they squeezed us onto a tour leaving right away after a little cajoling.
We used a Fairmont Platinum free suite at the Copley Plaza hotel and were able to apply the free Platinum dining certificated for a free bottle of Single Malt Oban scotch. They gave us the wrong room at first and we had some noise issues with the neighbors at night so they comped the $46 Valet Parking fee.
I waited until 5:05pm to buy our tickets on Stubhub, just 5 minutes before they stop selling seats. The Red Sox have incredibly pricey face value seats and the prices on Stubhub dropped significantly just before the game. The grandstand seats are partially obstructed in places and they are very narrow, so it's definitely worth splurging for box seats. Face for box seats is $100-$150 but by 5pm prices had dropped to under $40. That the forecast had rain in it certainly helped prices drop as well.
The Red Sox added 3 rows of seats on top of the giant Green Monster in 2003 that can accommodate 274 fans including standing room. My grandfather was of the opinion that we'd be better off closer to the field but I had taken a tour of Fenway Park last year and knew that the Green Monster seats were something special. After all you can sit close by in any stadium, but there's just one where you can sit on a monster! The vantage point is unparalleled from monster row 1 seats. True, you are a few hundred feet from home plate, yet you feel immersed in the game in a way that I've never experienced before. When a ball is hit into the outfield and you lean over to peer down 40 feet…it's just a very cool experience. It's not something I can properly explain, it's something you'll have to try for yourself either on a tour or during a game. You can also get Monster standing room tickets for much less money. You didn't hear this from me, but I would go onto Stubhub and note which monster seats are open when they stop selling tickets 2 hours before the game before buying monster standing room tickets 😉
The hotel offers Fairmont loyalty club member free rides in their Beamer to nearby destinations, so we were driven to the game and the cab home was just $6.
You are not allowed to bring any food or drinks into Fenway. As in other stadiums, there is a designated driver stand where you can get a coupon for a free soda. There are also several glatt kosher/cholov yisroel/pas yisroel vending machines though that sell hot dishes like Pizza, Mozzarella Sticks, Hot Dogs, knishes, onion rings, and more. You get 6 onion rings for $4, and they are actually properly browned when they come out. It costs $5 for a hot dog or a knish and they're entirely decent considering they're coming out of a vending machine. It's not gourmet food, but it did the trick for me.
The game itself was awesome. The Indians slaughtered the Red Sox 12-3 and the Sox fans even made a tribute to our manager 😀 If Tito can bring a trophy to Cleveland there's no doubt that the Cubbies will come banging down his door to bring one home for them as well!
Canton, OH:
On Friday morning we took an Airtran flight nonstop from Boston to Akron/Canton. Avis' cars are parked just feet away from the small airport and within 10 minutes we were already in the NFL Hall of Fame. The one-way car rental was $24 and they even picked up the car from my house and didn't charge me for the quarter tank of gas that we consumed.
I used a BOGO coupon from the Cleveland entertainment book for the NFL Hall of Fame. The Hall of Fame itself is very nice with bronze busts of every inductee. There are lots of interesting mementos from the history of the game and of course the Super Bowls. Overall the Football hall is definitely nicer than the NBA hall but can't compare with the Baseball hall.
And with that we drove an hour north back home and wrapped up 72 hours of nonstop sports and bonding that we will never forget.
Coming up next: On Wednesday I get to steal and keep second base in middle of the Indians game. I originally was supposed to do that in middle of a Yankees game in April but it got rained out and I got Field Box seats to several other games in addition to Wednesday night's game out of that. Not a bad deal at all so far!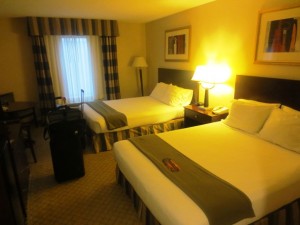 Holiday Inn Express Cooperstown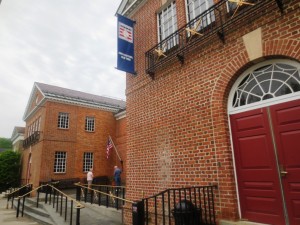 Baseball Hall of Fame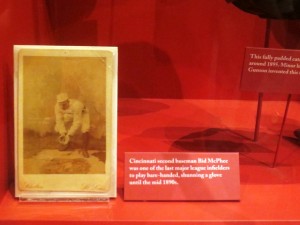 Did you know…that baseball was originally played with bare hands?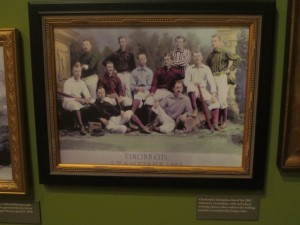 …that uniforms used to be color coded by position?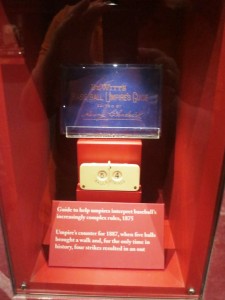 …4 strikes and you're out?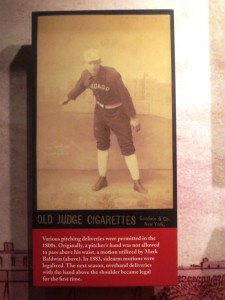 …that pitchers hands couldn't go above their waists?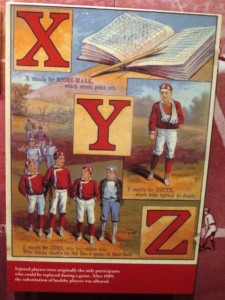 …that player substitutions were only in case of injury?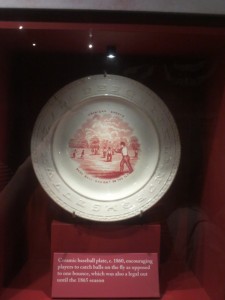 …that a catch off one bounce was still an out?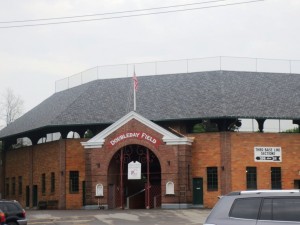 Doubleday Field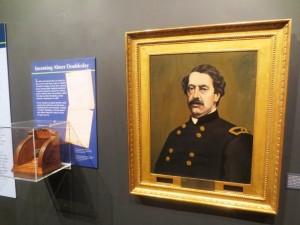 The myth of Abner Doubleday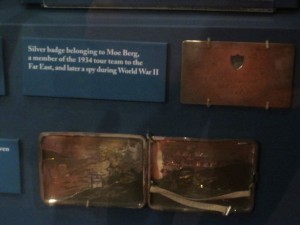 Moe Burg, Jewish Ballplayer and US spy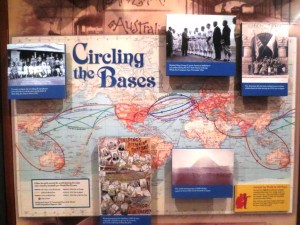 Showing off baseball to the world.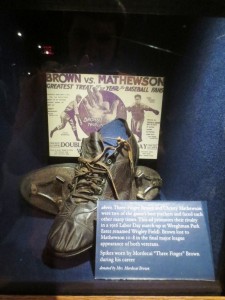 Mordecai Brown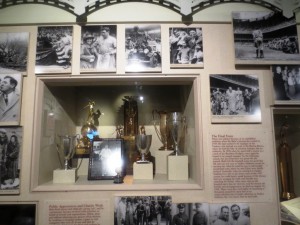 Babe Ruth's Trophies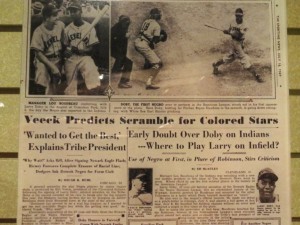 Veeck's quote in the 2nd paragraph in the left column…wow, just wow.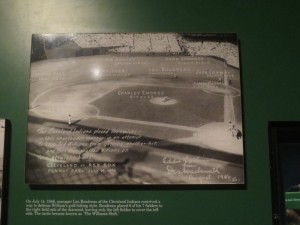 The original shirt play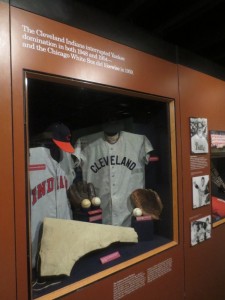 The last championship era.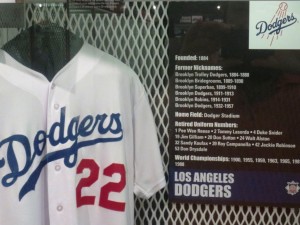 Trolley Dodgers?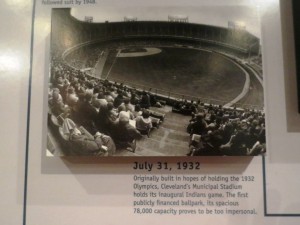 Olympics…at least CLE used to dream big.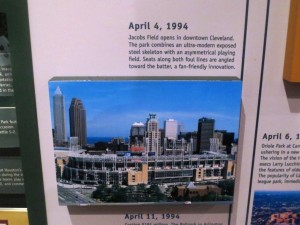 …brought us some good baseball until the Dolans came around.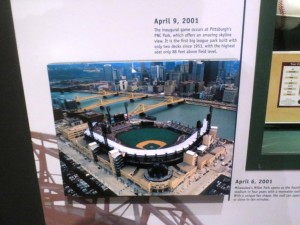 Probably the most beautiful ballpark anywhere.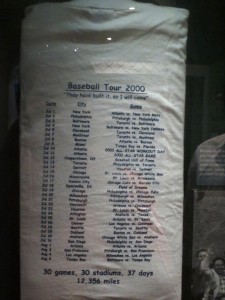 Anyone coming with me?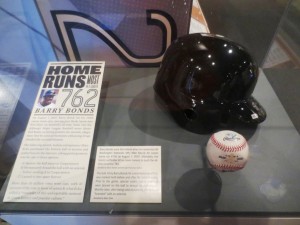 Love the branded asterisk!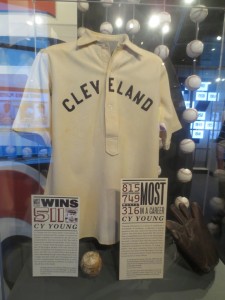 511 wins. Probably the record least likely to ever be broken.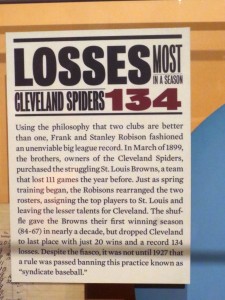 Our luck that they shifted everyone out of Cleveland instead of the other way 😛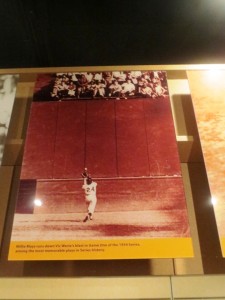 Terms every Cleveland sports fan knows all too well: The catch, the fumble, the drive, the shot, the move, the decision, and they still haven't come up with a name for the '97 World Series or the '07 ALCS.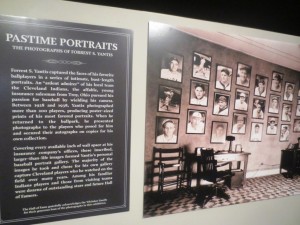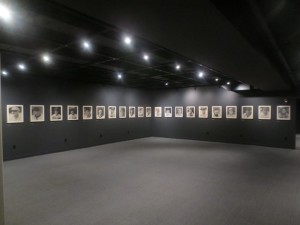 A neat gallery of a Cleveland based photographer's pictures (personally signed by the players) of old time greats.
$$$$$$$. I just had the buy the $10 replica card with stand for kicks.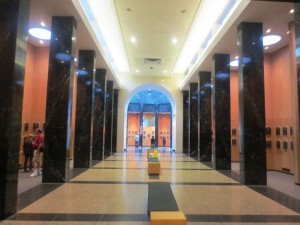 Baseball Hall of Fame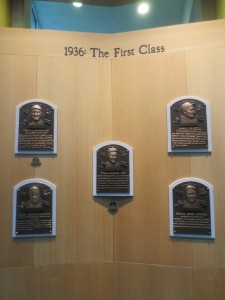 Baseball Hall of Fame
Baseball Hall of Fame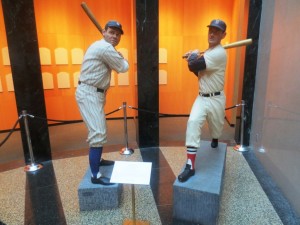 Baseball Hall of Fame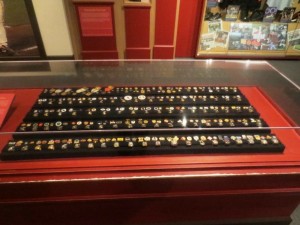 All of the World Series Rings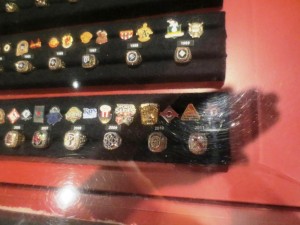 World Series Rings
3 generations of suffering Cleveland fans.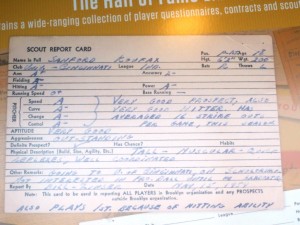 Sandy Koufax's baseball report card.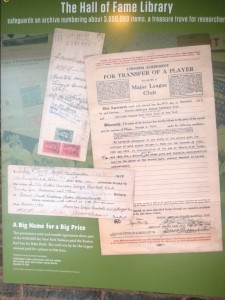 The contract that sold The Babe to NY.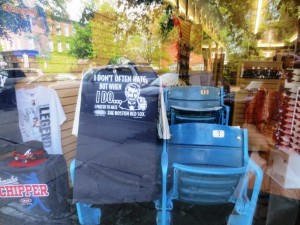 VRs in Cooperstown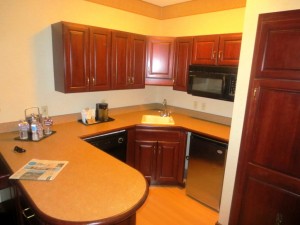 Sheraton Springfield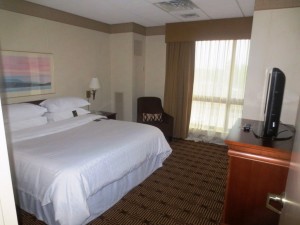 Sheraton Springfield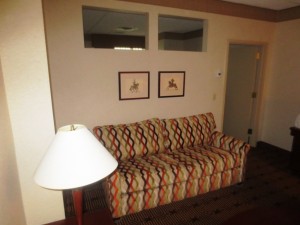 Sheraton Springfield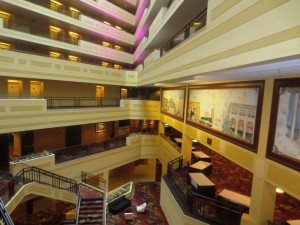 Sheraton Springfield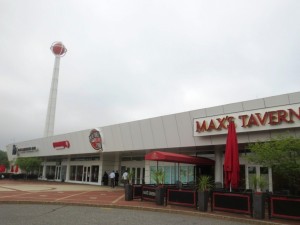 Basketball Hall of Fame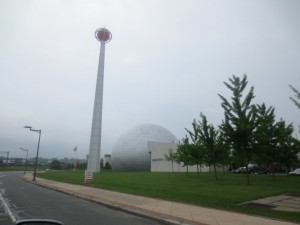 Basketball Hall of Fame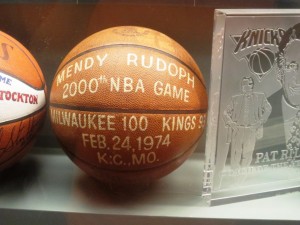 Gotta get some more Mendy's in the game today 😀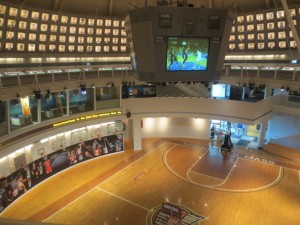 Basketball Hall of Fame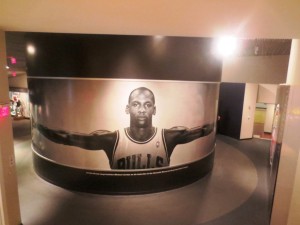 Basketball Hall of Fame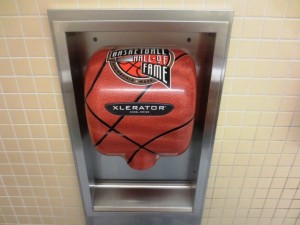 Basketball hand dryer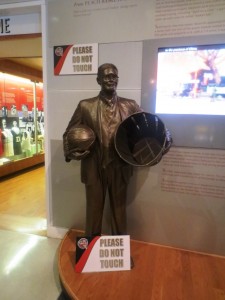 James Naismith, founder of Basketball. It would take decades until someone decided to use a net instead of a basket!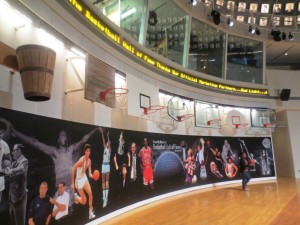 Basket evolution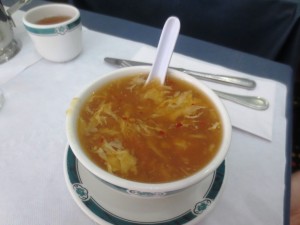 Hot & Sour Soup, Taam China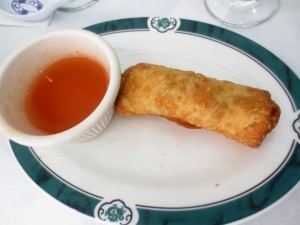 Egg Roll , Taam China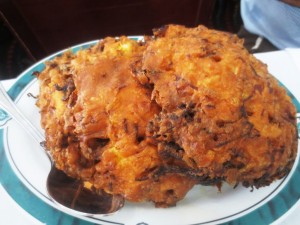 Egg Foo Young, Taam China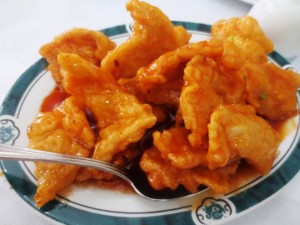 Sizzling schezuan chicken, Taam China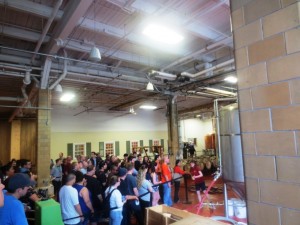 Sam Adams Brewery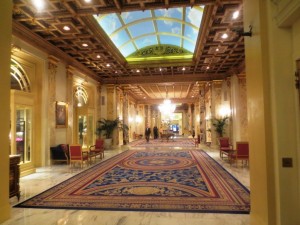 Fairmont Copley Plaza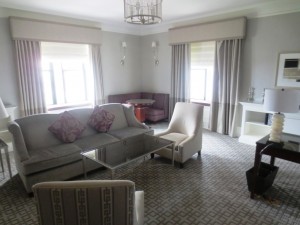 Fairmont Copley Plaza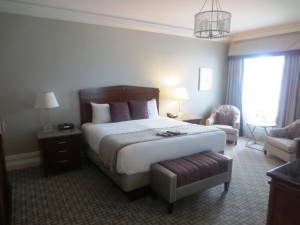 Fairmont Copley Plaza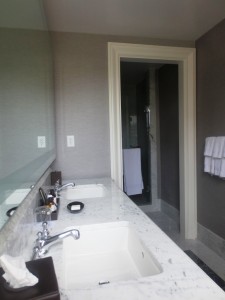 Fairmont Copley Plaza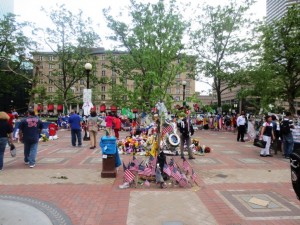 Boston Marathon Memorial in Copley Square. The Fairmont is in the background.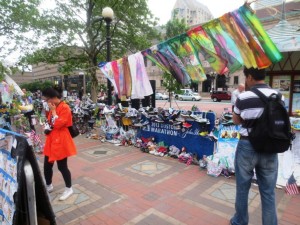 Boston Marathon Memorial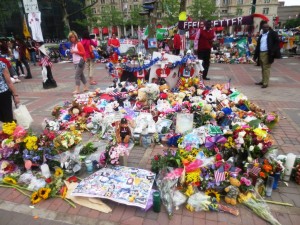 Boston Marathon Memorial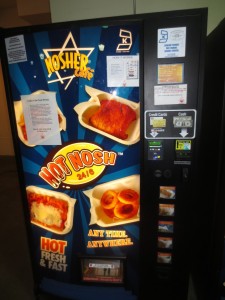 Fenway Park Hot Vending Machine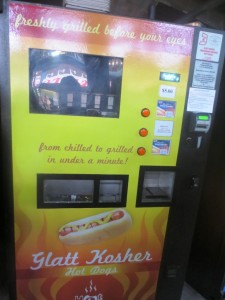 Fenway Park Hot Dog Vending Machine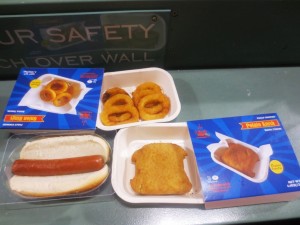 Vending Machine Food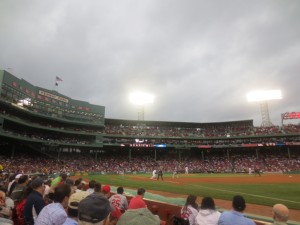 The view from box seats down the line. You're very close to the field but you'll have to crane your neck from the very tight seats to see the action at the plate.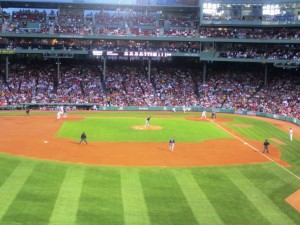 View from the Monster
Fenway Panorama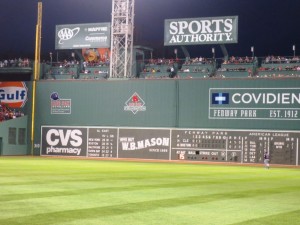 Green Monster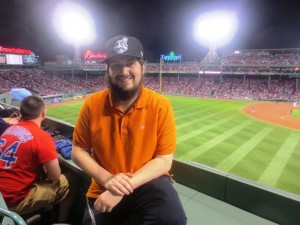 It doesn't get much better than this for a sports nut.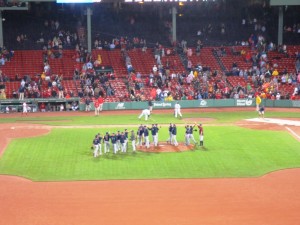 Tribe wins! But here in Beantown it's Sweet Caroline playing on the loudspeaker instead of Cleveland Rocks and Hang On Sloopy.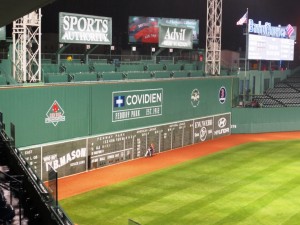 View from the suites.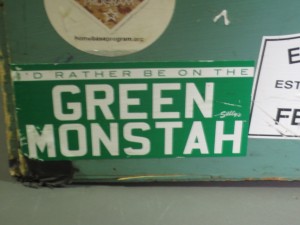 Indeed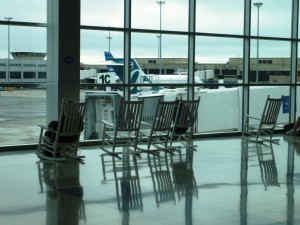 Rocking chairs in BOS to watch the planes.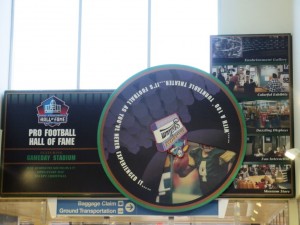 NFL Hall of Fame ad in CAK
Heh, that summed up the trip for me. I guess that is how I would write my last name on a plate 😀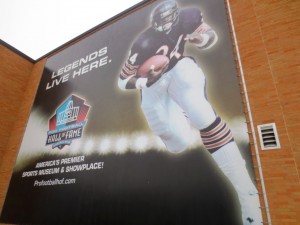 NFL Hall of Fame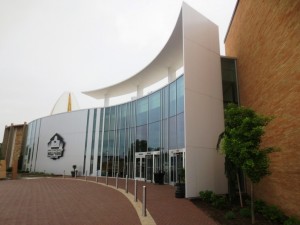 NFL Hall of Fame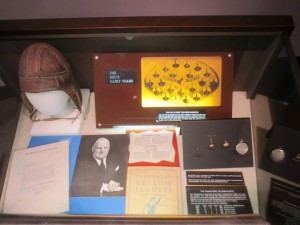 Original NFL team: Canton Bulldogs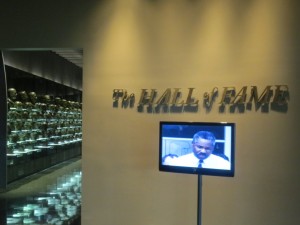 NFL Hall of Fame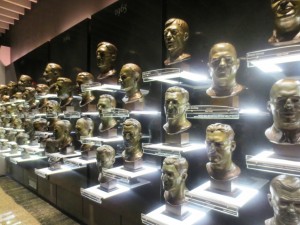 NFL Hall of Fame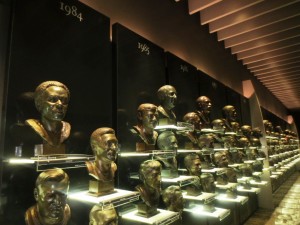 NFL Hall of Fame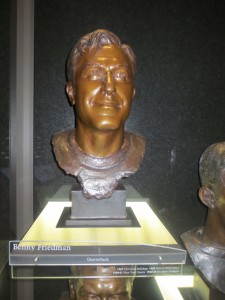 But can he sing?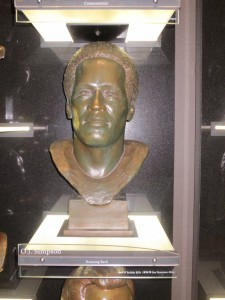 The infamous.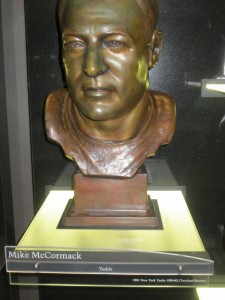 Yanks and Yankees? Who knew?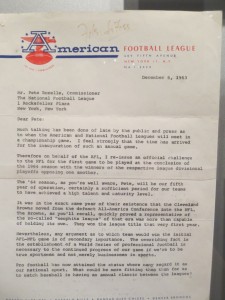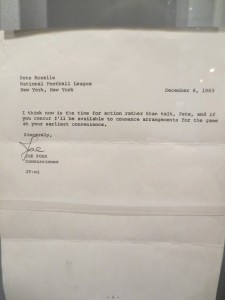 Origins of the Super Bowl
Origins of the Super Bowl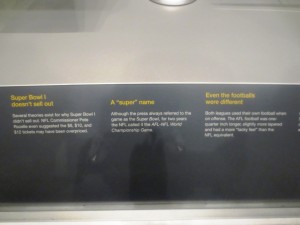 Fun facts of Super Bowl I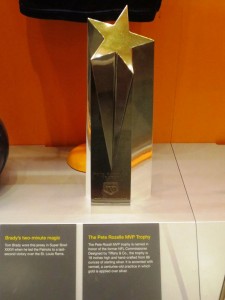 MVP Trophy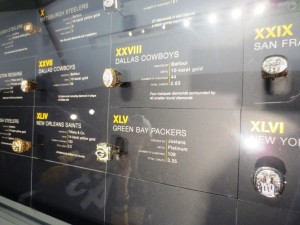 Super Bowl Rings. Surprisingly the NBA Hall of Fame didn't have a ring exhibit.