Related:
-Trip Notes Kansas City: Ribs And Fiber Edition.
-Find more articles like this by clicking on the "Trip Notes" tab on top of the DansDeals banner at the top of this site.
—————————————————————————–
Yesterday Young Israel of Greater Cleveland held a cholent contest.  I was invited to come taste and preview the cholents before the masses.
A couple months ago I was invited to be a judge at the 2nd annual Kansas City Kosher BBQ Competition & Festival. Alongside an Iron Chef judge and Kansas City BBQ Society certified judges I might lack the credentials but I'm no less of a hopeless foodie.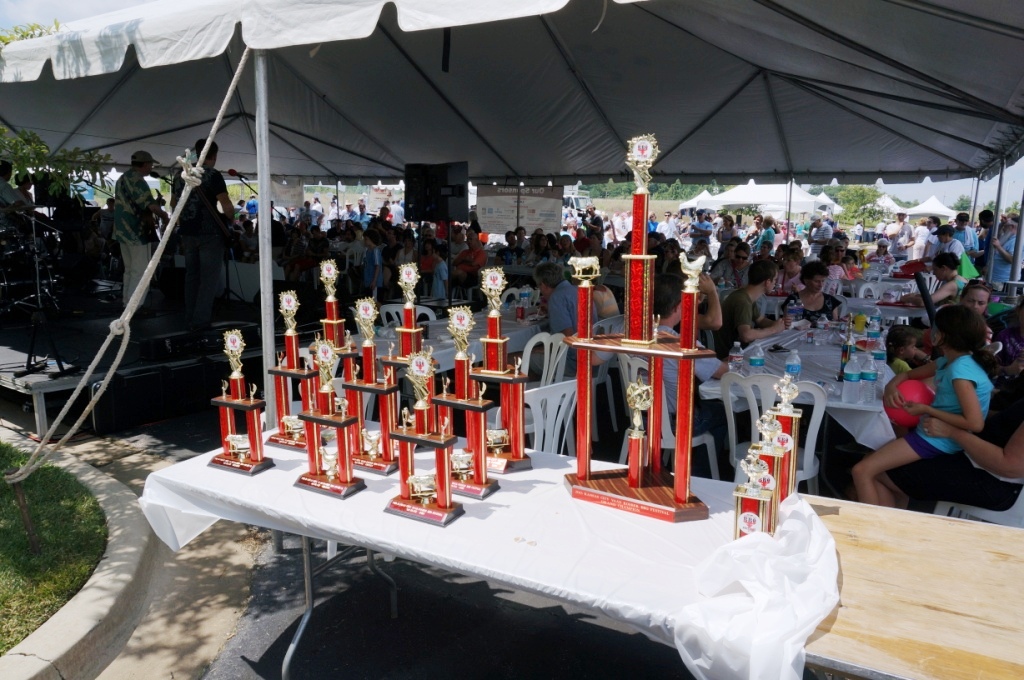 In yesterday's cholent cook-off 12 teams competed.  Each cholent was assigned a number and people got to vote on their favorite.  I thought that cholents number 3, 5, 6, and 1 were the best overall and indeed 6 took first place with 3 and 5 tying for 2nd place.  #3 had a great BBQ flavor and 5 had an awesome and unique texture for a cholent.  Now we just need some recipes!
It's a casual affair and although names weren't listed there were lots of people trying to shmooze people up to vote for them.  And the voting boxes were pretty open for stuffing, though the results seem like they worked.  Definitely a fun event for a shul to pull off.  There are 4 mega shuls that are right next-door to each other in Cleveland, how awesome would it be for them to each hold a cholent cook-off and then for the winner from each shul to face off against each other!
Now onto Kansas City.  I flew there in August by myself just for the day.  It was my first time in Kansas without my wife as she was already past the point that the doctors would allow her to fly.
United has about 4 flights a day between Cleveland and Kansas City on weekdays but none on Sunday morning.  That left me using 9,000 Avios to get there (4.5K for Cleveland-Chicago and 4.5K for Chicago-Kansas City).  I flew home nonstop on United for 10,000 miles thanks to their short-haul chart.  A paid ticket for a same-day turn would have run over $850.
It worked out for the best.  I posted my itinerary on the DDF airport DO thread and it turned out that another DDF'er was flying from Chicago to NYC that morning.  After he told me his matching flight schedule I had Shallot's deliver some of their truly heavenly sushi to him at about 1am and he brought it to the airport where we met at 6am in the Admiral's Club.   I even guested in 2 bochurim headed back to the yeshiva in Toronto.  They protested when I invited them as they didn't want me to waste money… I just chuckled at the notion of a actually paying to go into an airport lounge 😀 A few years ago I invited a couple bochurim I bumped into in IAH to come into the Continental President's Club (the one where you can have your clothes pressed while you're taking a shower) but after thinking it over they told me it wasn't shayich for them to go to a club… I'm still chuckling at that one.
You can read more about that sushi and Chicago's kosher scene in 3 sets of Chicago trip notes from this past year. The United DO notes, the Chicago seminar notes, and the DDF DO Extravaganza notes.
Kansas City is famous for their BBQ competitions and more than 3,000 people attended the Kansas BBQ festival.  Some 20 teams spent all night smoking their meats to perfection.
Lots of changes from the year before.  This time the contest was fully sanctioned by the Kansas City BBQ Society and they take their competitions really seriously.  I mean like deadly serious.
Last year the judging was a much more casual event.  It was outside and the judges saw the teams dropping off their boxes of meat.  One person told a judge what their son's number was and to his credit the judge actually sat out for that round.  But it was a friendly affair and we discussed our thoughts as we tasted and voted.
This year things were completely different.  Judges were sequestered in an indoor room and had to turn their cell phones off.  We never saw teams drop off their meats.  Instead they dropped off their meats in another room where the numbers were changed to make sure that everything was honest.
There were 4 tables of judges and each table judged 5 random teams.  The judging process took 2 hours as there is a 30 minute break between each type of meat.
There was also a class beforehand this time learn about how to properly judge.  Food was graded on presentation, taste, and tenderness: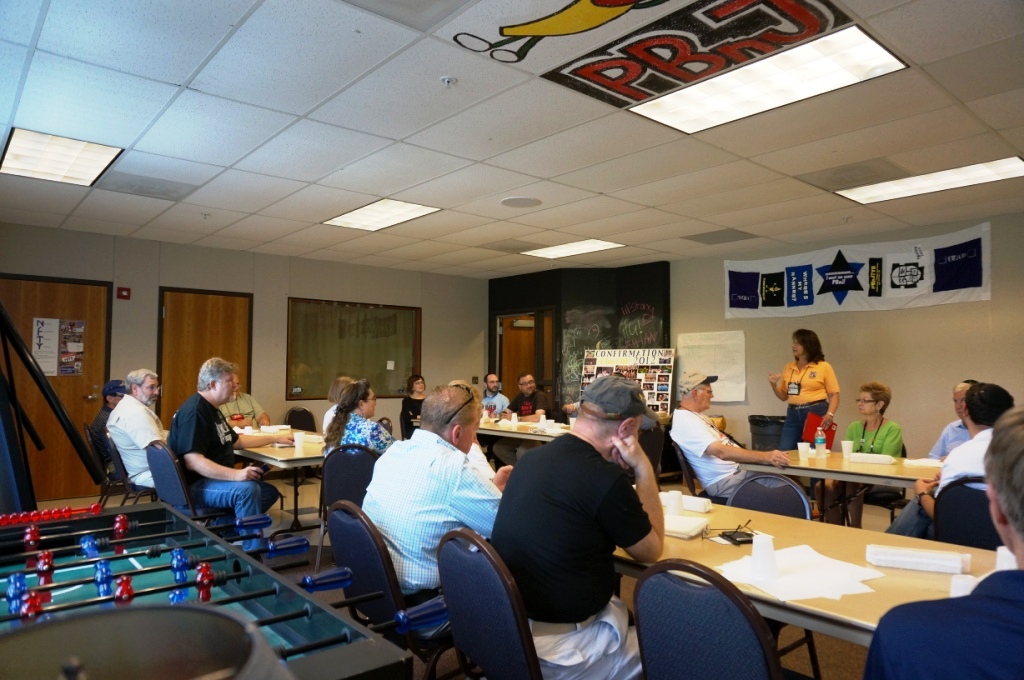 And I made plenty of rookie mistakes.
I didn't put my water bottle down flat on the table.  Apparently if your water bottle isn't down it might block the view of the meat from someone.  I still don't understand this one.
I licked my finger by instinct.  Apparently this is also a big no-no.  Everything is eaten by hand but you need to have a wet paper towel to wipe those fingers.
Talking is also a no-no.  Write down your scores but don't share your thoughts with anyone.
Don't eat too much of each sample.  Someone told me to pace myself lest I be too full for the next courses.  Clearly they don't know my stamina 😀
You can always tell the pros because they come prepared with several ziplocs to bring home the remainders of their samples.
I had to get special permission from one of the Kansas City BBQ Society representatives to take pictures and still got yelled at by a different rep.  Guess I asked the right one for permission 😉
But boy was the food delicious.  I mean this is meat like you've never had it before.  Some of these teams compete every week in contests and they have this stuff down pat.  They love the challenge of having to do everything kosher under strict supervision.  And I love getting to try kosher food that I can't try anywhere else.
The teams were told that they were going to smoke brisket, chicken, and ribs.  They only found out at the event that they would also be smoking turkey breast!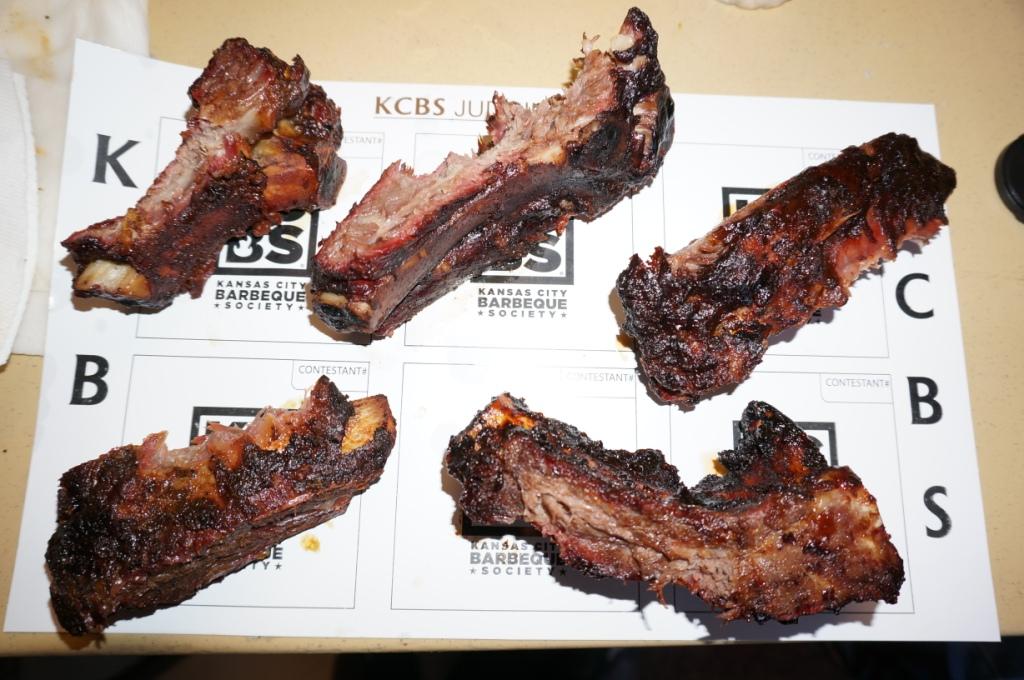 Gooey delicious ribs.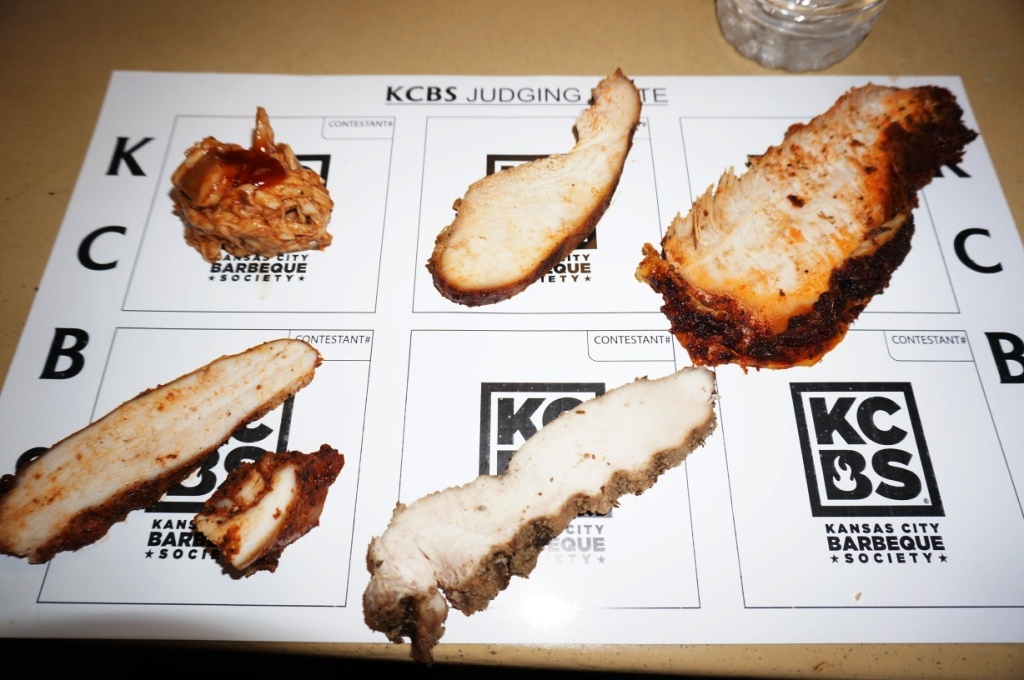 Turkey Breast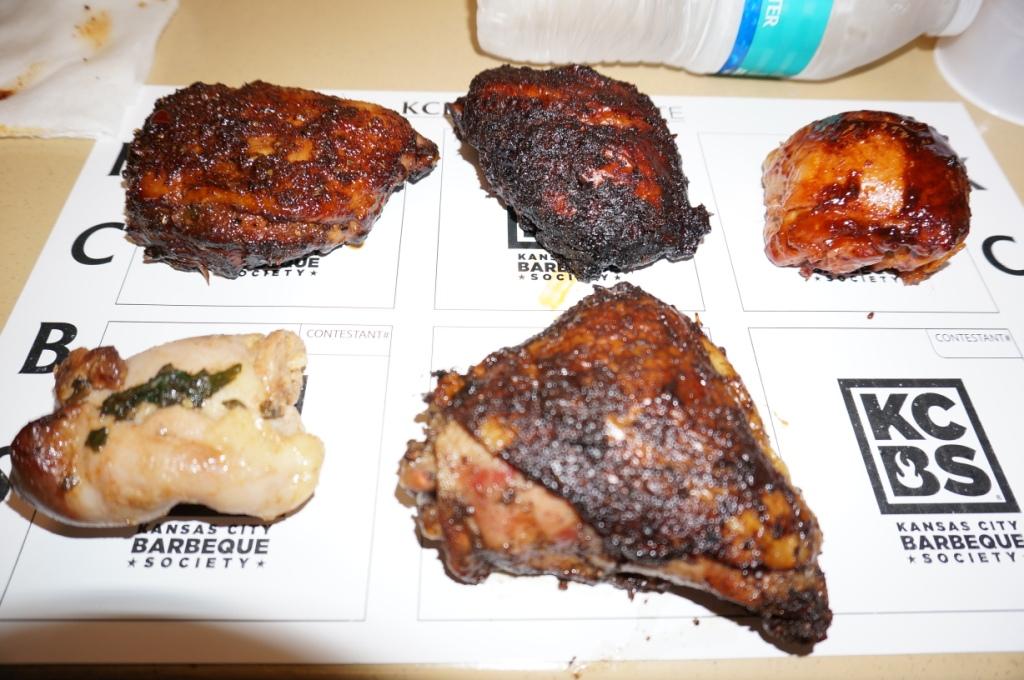 Chicken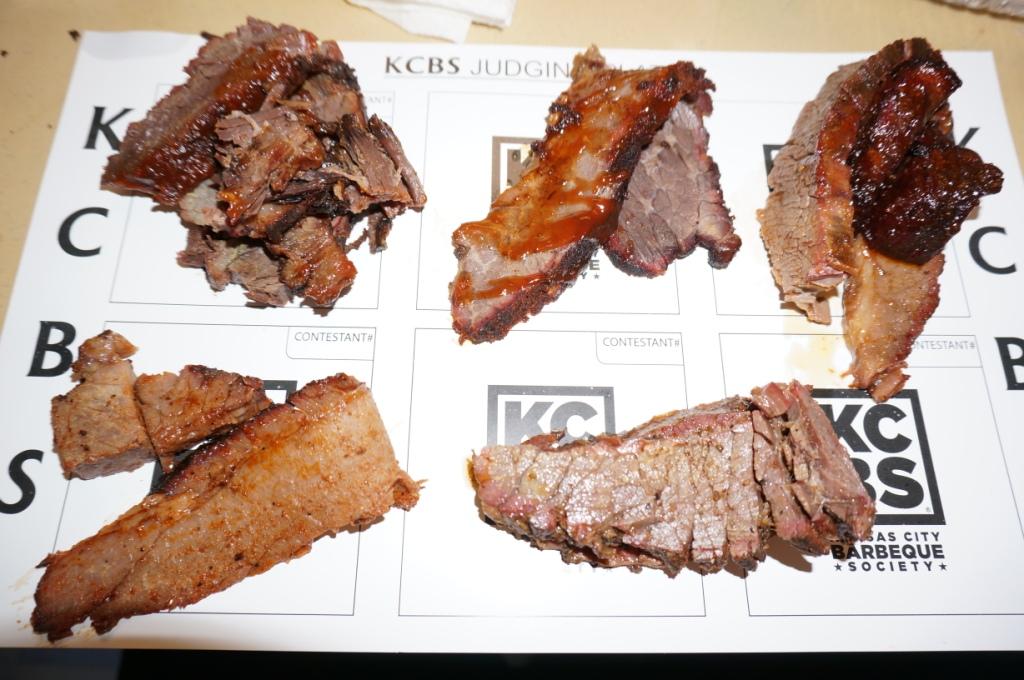 Brisket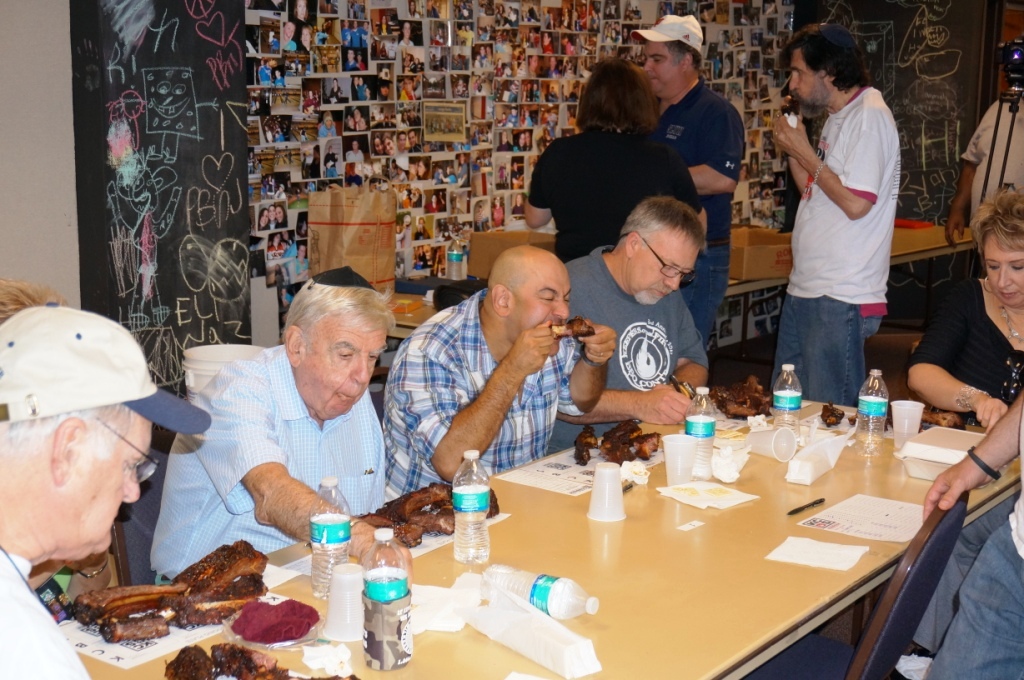 Iron Chef Judge Simon Majumdar chows down on some ribs.
Simon was a blast to chat with and he's a real road-warrior.  He loved the kosher BBQ concept and meeting new people through the medium of food.
He plans on returning to the event next year with a film crew.
Judges: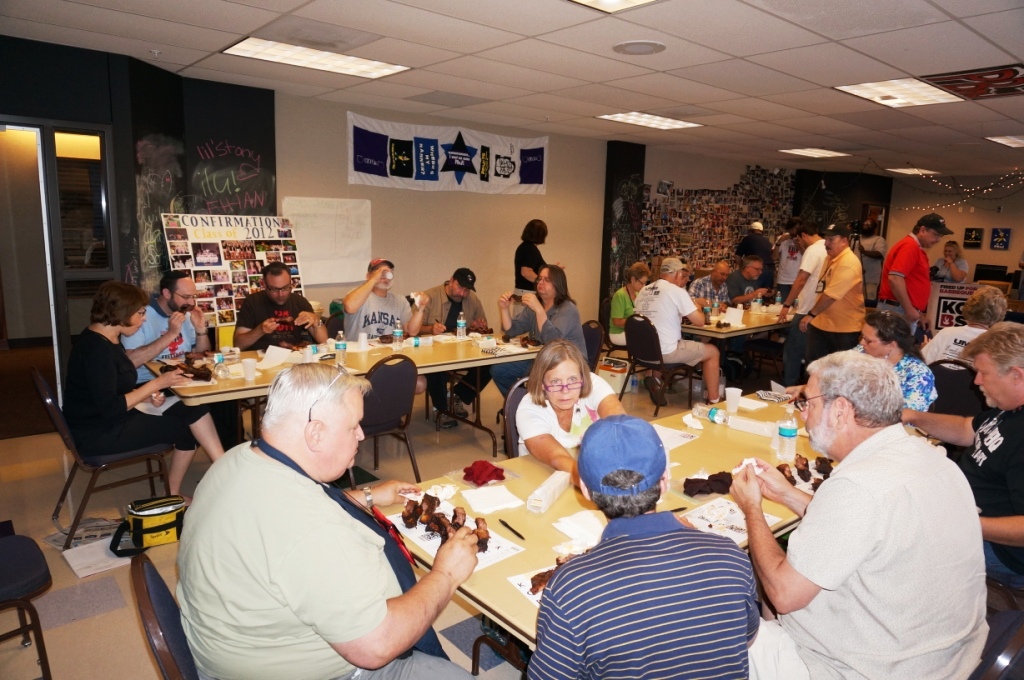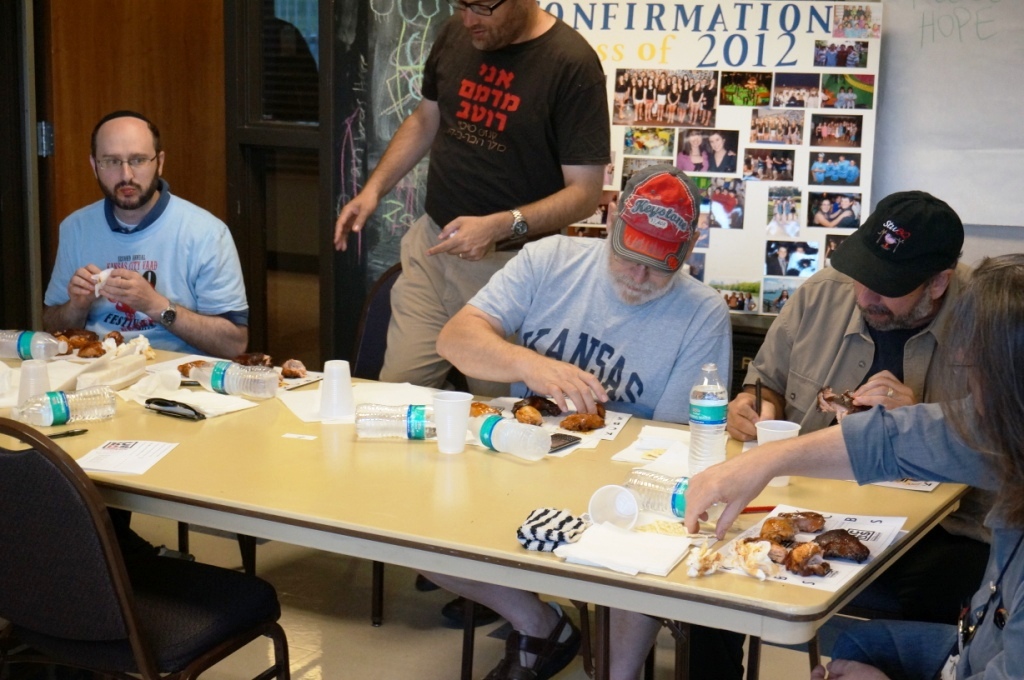 Finally it was time to go out and check out the festival!
The Milk and Honey team that won free entry thanks to the promotion we ran in July was not able to smoke the competition.  But hopefully they'll keep improving their technique and improve as several other teams did between the first and second year.  At least I was able to help them find Delta saver award availability so they were able to pay with Skypesos.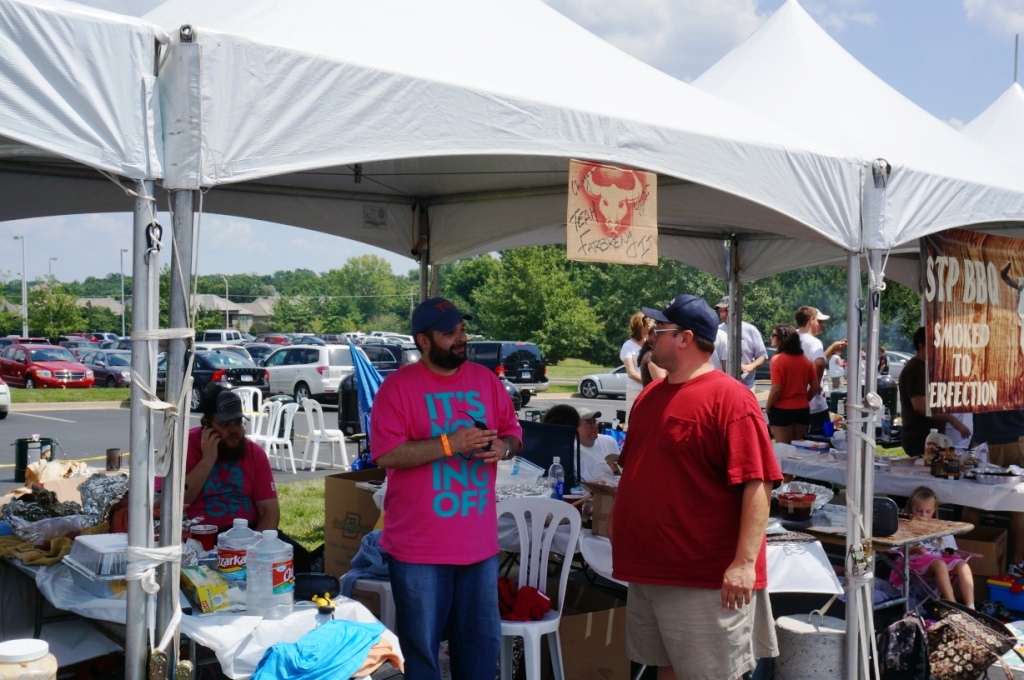 Team Farbreng It from Chicago didn't have much luck last year but clearly they learned a few tricks in the meantime…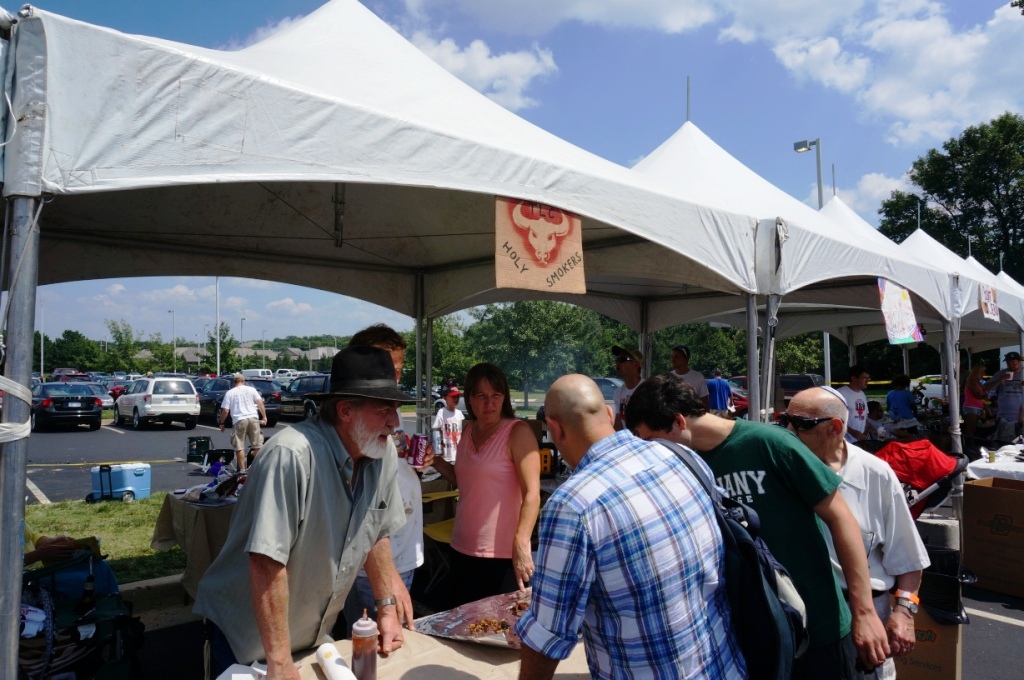 Simon chats and samples food from the TLC Holy Smokers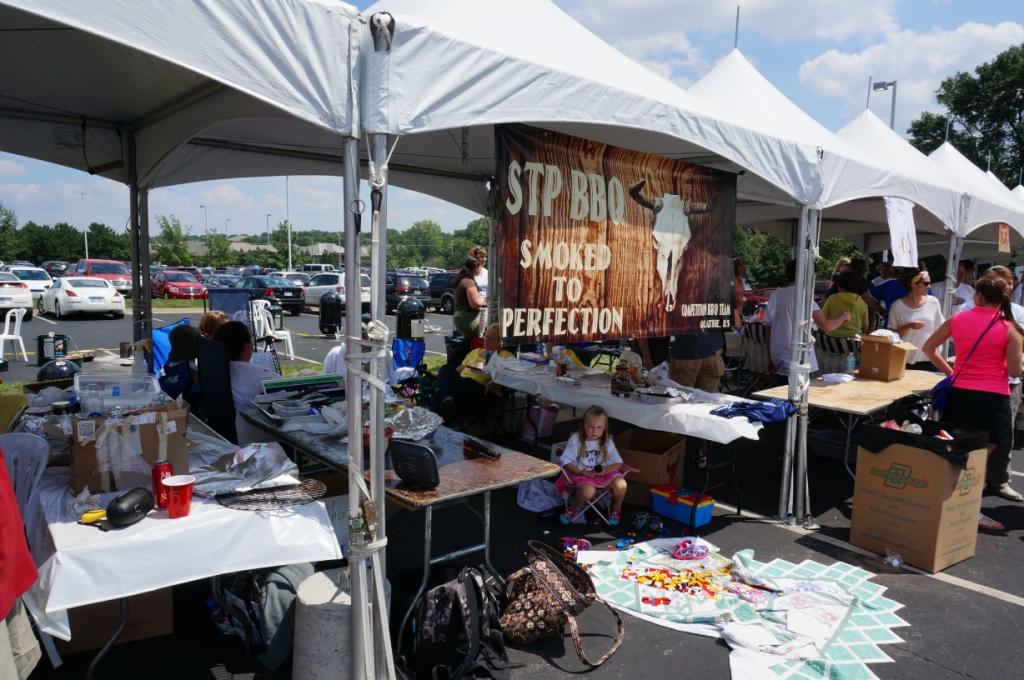 STP stole all honors last year but only medaled in the chicken category this time around.  Pretty shocking as their ribs last time were phenomenal.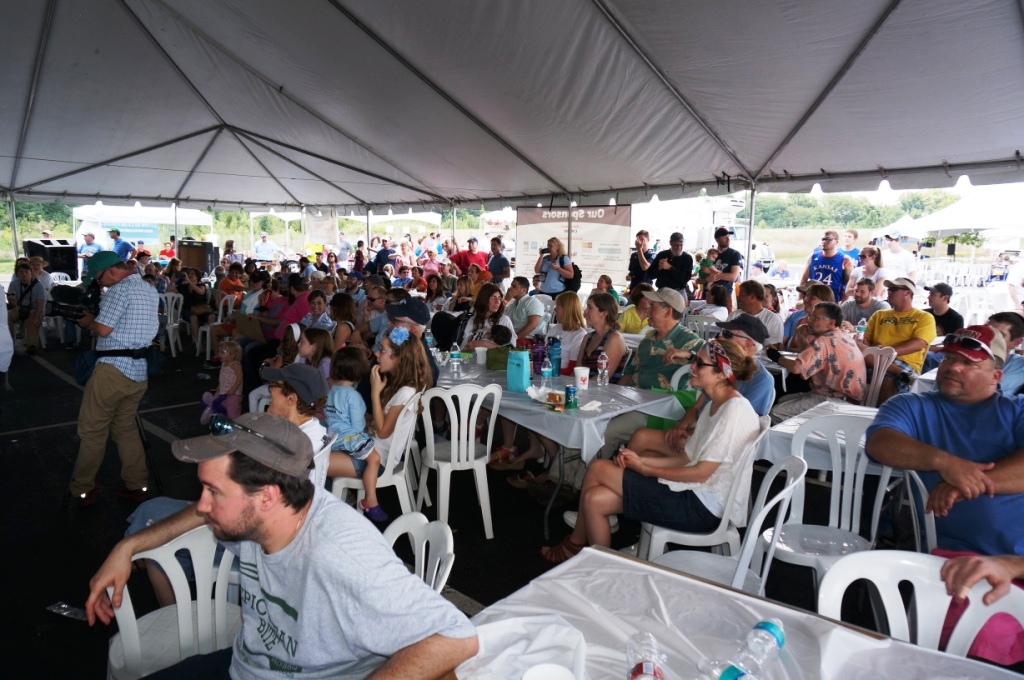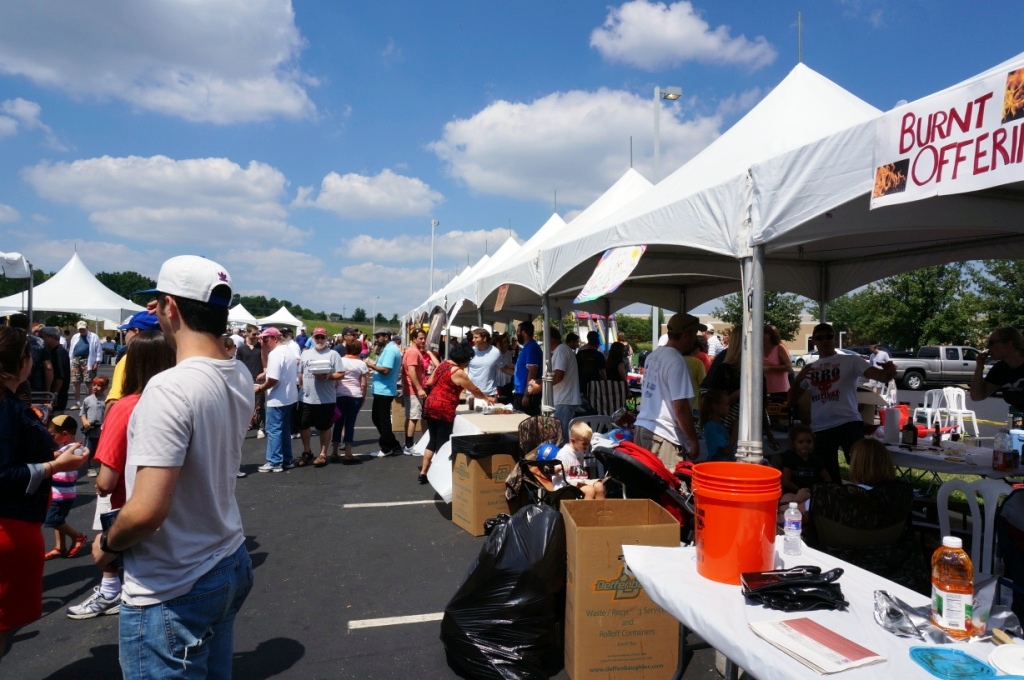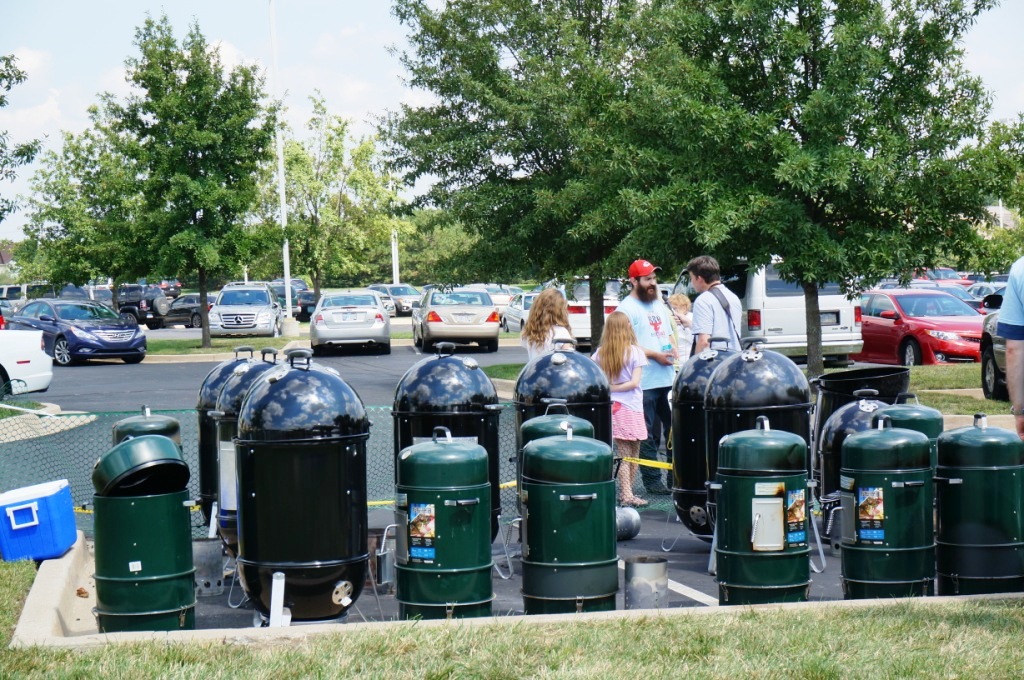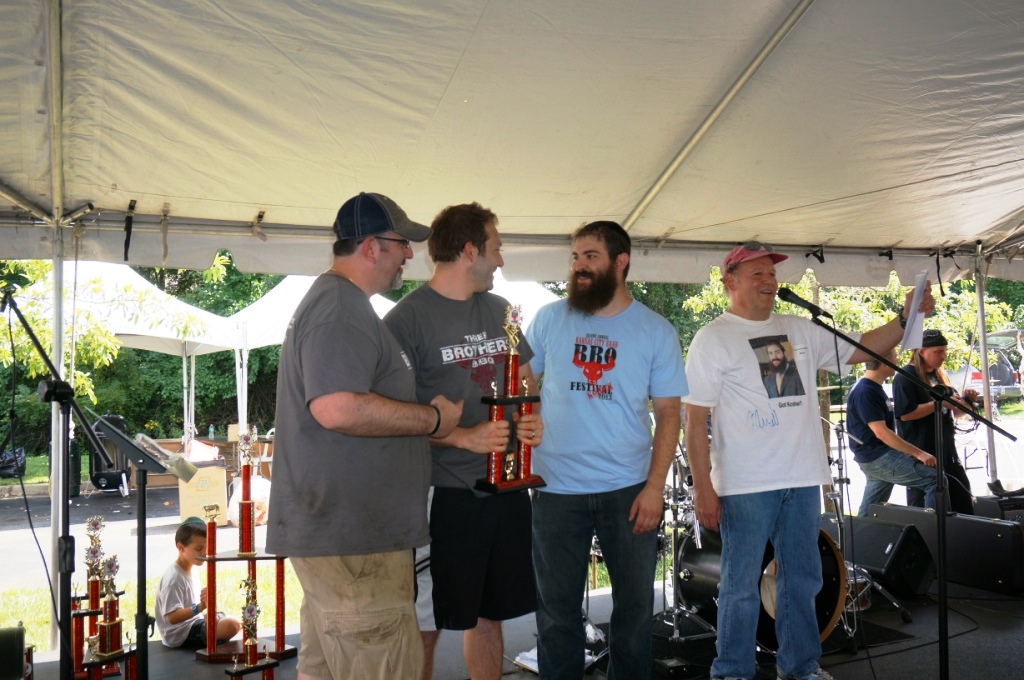 3 Brothers BBQ medaled in Ribs and Turkey.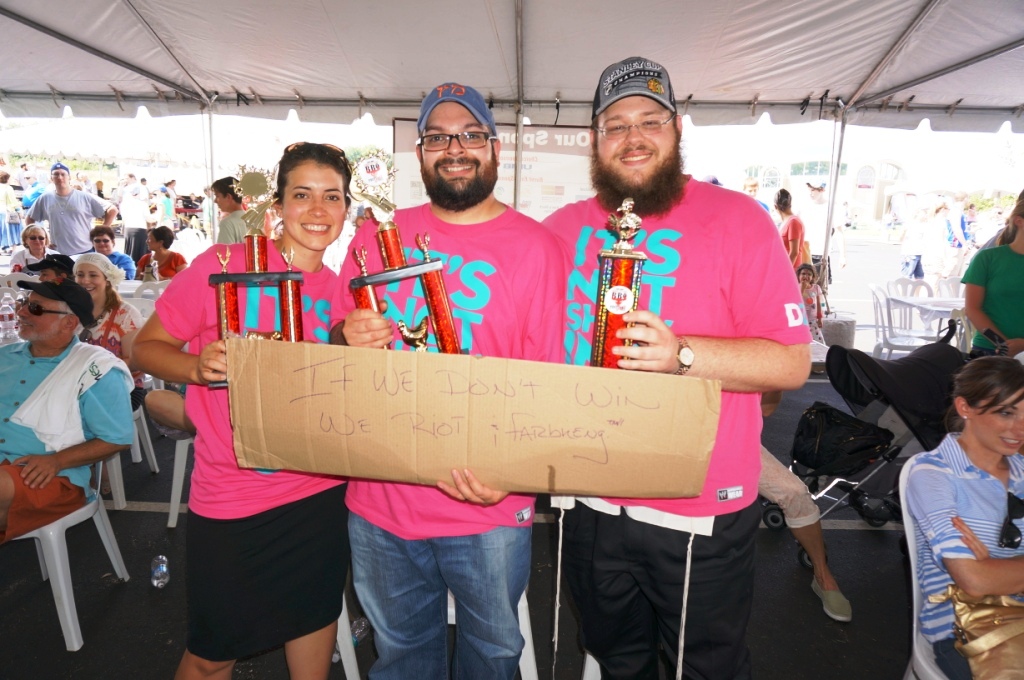 Team Farbreng It medaled in Chicken, Brisket, and Turkey. A poor showing for ribs kept them from medaling overall.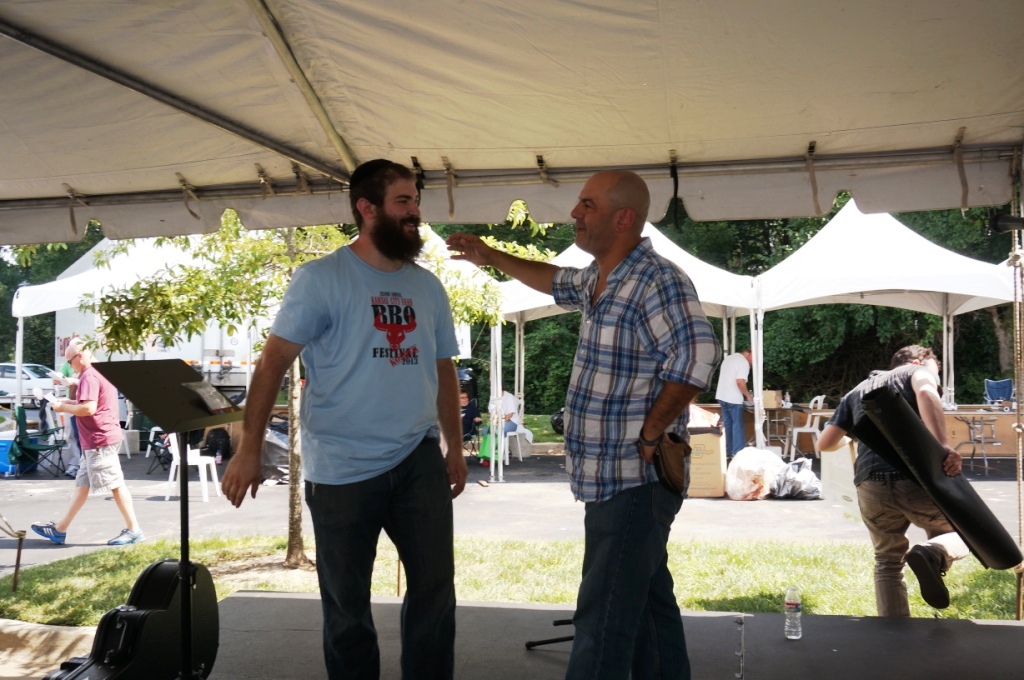 Organizer and Executive Director of the KC Vaad Mendel Segal with Iron Chef Judge Simon Majumdar.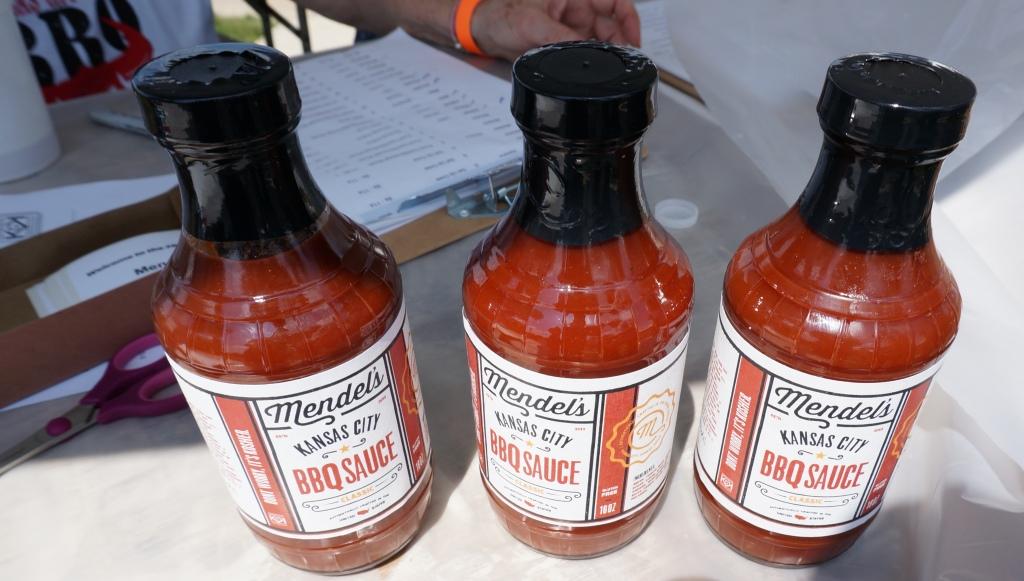 Mendel has bottled his own BBQ sauce and it's the best I've ever had.  Slightly sweet with a subtle kick and not overloaded with smoke.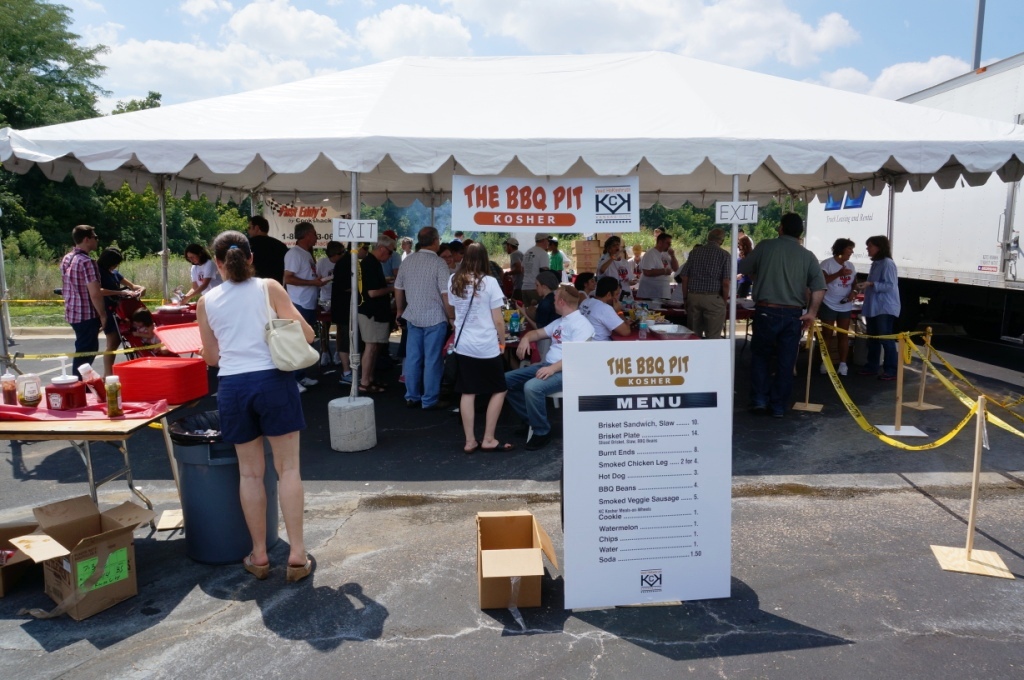 Attendees could buy Mendel's smoked brisket by the sandwich or take home a whole brisket.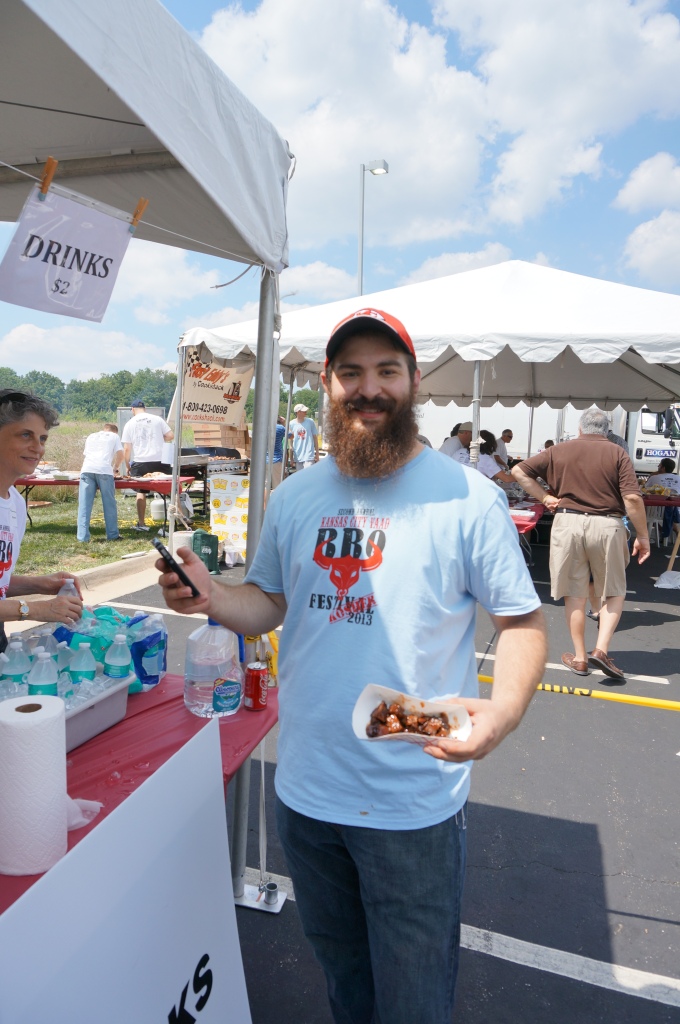 Mendel with his fantastic "Burnt Ends" that were sold at the event.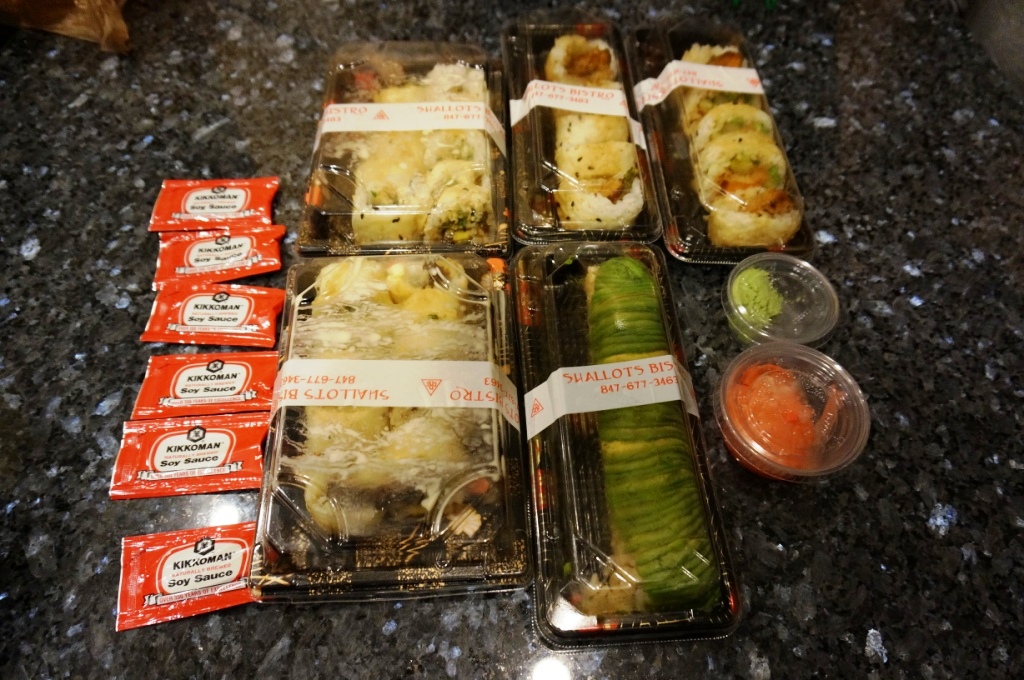 Brought home the Shallot's sushi which my wife and I feasted on that night when I got home.  And we're still working on the awesome whole smoked briskets that we have split up in our freezer as well 😀