-Find more articles like this by clicking on the "Trip Notes" tab on top of the DansDeals banner at the top of this site.
—————————————————————————–
I've written extensively about a couple of these DOs including the United MegaDO+DDF DO last November and about the fun of some 2 dozen DDF guys attending the wedding of a fellow long-time DDF poster.
I'm a foodie. I'm a sports fan (If you read this article on my coolest use of miles or this one of the Hall of Fame trifecta trip you just may have figured that out already ;)). And I've got a boatload of Avios which make nonstop short-hops pretty much free and easy.
Every now and then I like to meet up with fellow community members who participate in the DansDeals Forums, also known as a "DO" (pronounced like the word due).  They've happened from LA to NYC to Jerusalem.
So last week I posted in the Chicago DDF DO thread:
This Sunday?
8:10am: AA3249
11am: Sushi at Shallot's
1pm: Indians@White Sox
5pm: Milt's
9:55pm: AA2868.

Am I nuts?
Apparently not completely, as 8 members, including several from outside of Chicago, expressed an interest in attending.
More on the DO after the jump…

While most DDF DOs have centered around a meal and last a couple of hours this was going to be the first whole-day affair.
Just 5 days after writing that post I was meeting up with other guys who were flying in from other cities (all thanks to dirt cheap BA Avios mileage rates with no last-minute booking fees) in the airport.
Unfortunately Shallot's is not open for lunch on Sunday so there would be none of their world-class sushi for us, but no matter as Milt's BBQ is the perfect place to grab a mouth-watering Milt's Burger, bowl of brisket chili, or a smoked brisket sandwich.
After the 8 of us got to greet each other over a delicious lunch it was off to the ballpark.
One of the attendees turned out to be hooked up with the White Sox and scored 8 free Magellan Scout Seats directly behind home plate and front row parking passes for the group. These seats are the White Sox' equivalent of the Legends Suites in Yankee Stadium which I blogged about here.
They are not sold individually and cost a whopping $22,000 per seat for the season!
He even got DansDeals up on the scoreboard!
The Magellan Scout Seats come with unlimited free food. Not quite as useful for Orthodox Jews as the full kosher catered affair in Legends Suites, but that didn't matter for everyone in our group. 😀
Of course the rest of us enjoyed the free drink service, something that Legends Suites don't provide. Let's just say we did a nice amount of damage to their Blue Moon tap supply. As in they completely ran out of it by the end of the game!
During the game waiters come to take orders for free drinks and food.
The waiters even came around to spritz water on you if you want!
Masterson pitched his 3rd shutout of the year as the Indians completed a 4 game sweep to move into a 1st place tie with Detroit.
The game went by quickly so we called Steve's Segway Tours and booked a last-minute tour of downtown Chicago.
Our guide, April, was phenomenal. She could tell that we wanted to ride around more than we wanted to be talked to. April brought us to same great places to ride around like the Bears' Soldier Field and a place called the Playpen which was great to ride in. She kept a loose leash on the group which made for a great time for all.
The DDF member who recommended the tour had been with them before and got the owner to allow us to ride them in top speed mode. It's a whole lot more fun when it's not stuck in the lower modes that most tour places leave you in! In top speed mode it doesn't push back when you want to accelerate, it just moves like you'd want it to.
Finally it was off to dinner at Milt's once again. If you'll recall from my Chicago seminar Trip Notes, I had missed out on Milt's Smoked Ribs as they only serve them at dinnertime as they need to smoke all day.
We all had the Smoked Chicken and Vegetable Soup which was a delicious soup. The chili fries were excellent as well and I recommend that over the chili nachos as the nacho chips they use are exceptionally bland. They really ought to be home-fried chips or at least better tasting than they are.
I ordered a Caiparinha which was far from authentic. Boy do miss NYC's Clubhouse Cafe…
We ordered up a slab of ribs without realizing just how huge they were, and they are massive. Only one of our NYC based attendees was actually able to finish it. The half slab of ribs would have been plenty. I thought the ribs were good, but they just couldn't compete with the outrageously good items that I mentioned we had for lunch. They come with 3 sauces (KC BBQ, House BBQ, and Carolina Mustard) but you simply must ask for their Garlic Aioli which is phenomenal with just about everything they make. I wish they made it a standard sauce.
Now here's the bizarre part. I brought home my leftover ribs and stuck them in the oven the next night and they were significantly improved. When I went to tell this to the other guys via email I saw that one guy had already written the same thing! When I concurred another member who was eating his ribs in NJ thirded our opinion, confirming that we weren't nuts. Maybe they just need to smoke them longer or pop them into the oven afterward? Beats me as I'm no chef, just a critic 😀
For dessert we had a caramel topped chocolate mousse which is not on the menu-you'll just have to ask for it. And trust me you'll want to as it is awesome.
Milt's isn't located in a traditionally Jewish area and the clientele is quite the melting pot. The fact that it was opened by a guy who donated all profits to charity makes it that much cooler. If you go be sure to make reservations well in advance as this place consistently fills up.
And of course I couldn't come home empty-handed without bringing some treats home for my wife and son. I brought along 2 Milt's Burgers (they come loaded with brisket chili, crispy onions, and "bacon"), 2 chopped smoked brikset sandwiches, and 3 bowls of chili.
Now I don't know what's going on in the kitchen there, but something in my Milt's bag triggered an explosives alarm and I got the most thorough pat-down of my life. The TSA agents were joking around with me though and wanted to know where I got such "explosive 3 alarm chili." 🙂 It did smell really good and the TSA agents were making plans to try the place out.
And then it was back home to Cleveland again. Just another day on the job here at DansDeals 😀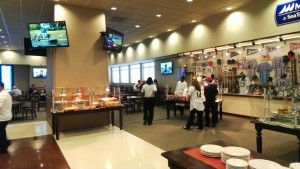 Magellan Scout Seats Lounge
Welcome DansDeals Group!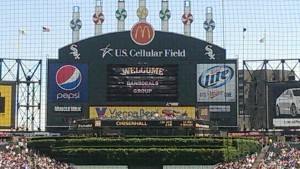 Zoomed in
Getting spritzed!
Close to the action.  So close that when you go out from the seats you'll be directly on TV walking down the hallway.
Walking past the Indians luggage in the underground to get to the seats
Having fun in the sun!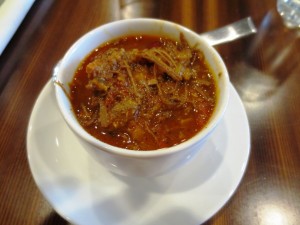 Cup of Brisket Chili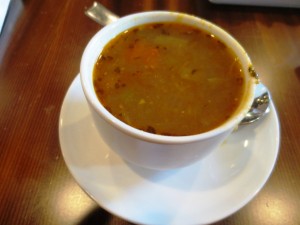 Cup of Smoked Chicken and Vegetable Soup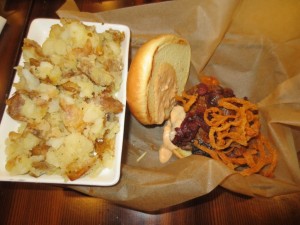 Milt's Burger with Smashed Potatoes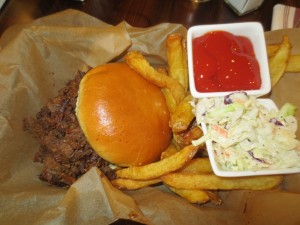 Chopped Smoked Brisket Sandwich with fries.
Chili Fries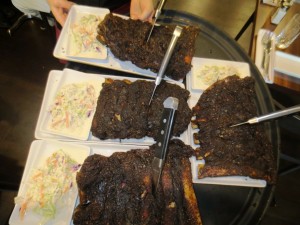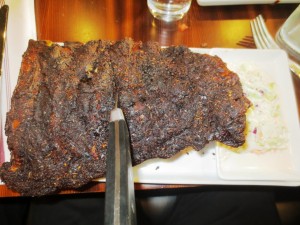 Slab of Ribs. But where's the Flintstones mobile?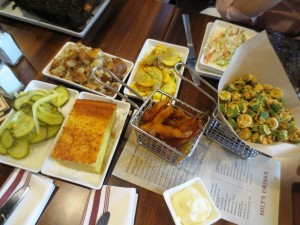 Assorted sides. Sweet potato fries are better than the disappointingly bland regular fries. If you get cornbread as a side be sure to ask for it to eat together with your chili appetizer.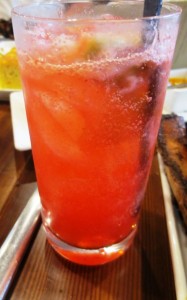 The Caiparinha didn't bring me back to Brazil.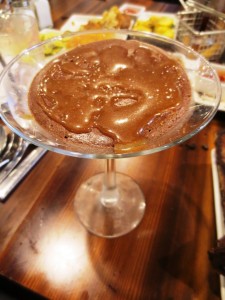 An awesome Caramel topped Chocolate Mousse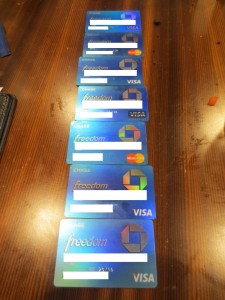 5.5x 'Nuff Said 😀