-Find more articles like this by clicking on the "Trip Notes" tab on top of the DansDeals banner at the top of this site.
I flew last week to Chicago to experience the tail end of Star MegaDo 4. Hundreds of frequent flyer enthusiasts from forums like Flyertalk and Milepoint get together and fly around the world together and meet with various airline and hotel executives. Star of course refers to Star Alliance. A DO (pronounced like the word do or due) is simply a get-together while a MegaDo is a really big get together. Space to attend these events is always quite limited and there is a cost from $1,000 up to $5,000 depending on how much of the event you want to attend (domestic or international+domestic) and what class you'll be sitting in on the plane. Participants were treated to flying a brand new United 787 Dreamliner among many other goodies.
I was invited to attend the United portion of the DO in Chicago for free so that's what I'll talk about. United billed it as their "inaugural" DO, so this will likely become an annual event. I'll also cover the hotel I stayed in, the local DDF (DansDeals Forum) DO, and a small part of the local kosher scene that I experienced.
This is not my typical vacation trip report, rather it is a long and technical trip report about United Airlines. If you slog through it I'd love to hear your feedback in a comment and whether I should cover other such events in the future.

More after the jump…

United DO:
Participants were able to choose between a tour on Thursday of airport operations, in-flight catering, and a Headquarters tour. I went for the headquarters tour. I'm not sure I made the right decision as some of the pictures from the airport experience looked really awesome, but I did learn a great amount of fascinating info from the HQ tour.
The Boiler Room:
United is based in the 110 story Willis Tower (formerly known as the Sears Tower) in downtown Chicago and occupies some 25% of the building. After going through airport security we were split into groups of 5 to tour the 28th floor, which is the nerve center for United Airlines. This purpose-built room wraps around the building and people can reach out to other departments without going through a single door. From here the employees control every aspect of the airline and make sure that United's half a million daily passengers are going to arrive where they are trying to get to on time.
It's interesting to note that from here Continental lives on. Continental and United still run on completely different systems. While employees that assign crews for subsidiary Continental aircraft use Cosmos, employees that assign crews for subsidiary United aircraft use a system called Unimatic. In fact earlier on Thursday United was nearly ready to cancel the entire headquarters tour as Unimatic suffered a complete failure that grounded all United aircraft and sent the 28th floor into emergency mode. United has not decided as of yet which system will survive but I jokingly asked one of the Continental controllers whether she had sabotaged the Unimatic system that morning 🙂
It is amazing to see firsthand the hundreds and hundreds of employees it takes to keep the airline running smoothly. The information available at their fingertips is incredible. There are people looking at every delay and how it will affect the connection times of everyone on the plane and whether they'll need to call ahead to other aircraft to request a 10 minute delay to wait for connecting passengers. I can go on and on about this part of the tour but don't want to bore you too badly. See the pictures below for more.
Emergency Response:
After this we got to simulate a mock-emergency in their emergency response room where we played the role of various responders. This room is activated in cases like Superstorm Sandy and the Nor'easter that followed it as well as earlier in the day with the Unimatic failure. While every "responder" in the room read off or summarized the script in front of our seats there was a DDF (DansDeals Forum) member who answered the question so thoroughly and casually that some other people in the group asked which position on the floor he just came from before sneaking into the group and the United employes even told him to leave his resume with them 😀
Bio-Fuels:
The next stop was learning about bio-fuels and how fuel make from Algae will revolutionize air travel and stop the increase of CO2 levels caused by air travel. This was interesting for a few minutes but at an hour long it just dragged on and wasn't the reason that I went to a United event.
Route Planning:
Brian Znotins, VP of United's network strategy and a former Continental employee, spoke next about route planning and it was downright fascinating. He joked that while Delta may pick new routes by using a dart and map strategy the way United does it is by forecasting the profit or loss and market share they would make on a new route given the aircraft they have, the loyalty and preference of a customer base to fly United and earn United miles, the schedule preferences, the percentage of passengers that are on business, visiting friends of relatives (VFRs in industry speak), or just on a leisure trip. He went through all kinds of scheduling scenarios and it was interesting to see people's varying preferences for each one. While there is a lot of publicly available data on this there is still a lot of guesswork that goes into route planning but he noted that they have one big advantage over the hotel industry. If a route doesn't work out they can always just pull it!
All of the new planes that United received with the integration are helping to make all kinds of new routes possible as any given route can be profitable or unprofitable with a different plane configuration.
Brian is very passionate and knowledgeable about airline routes. He said that whenever someone talks about a trip they took he'll ask about the routing they took. Another member in the room said that's what we all do as well!
I asked a ton of questions during this seminar and learned all kinds of cool info:
-I asked about the internationally configured 777-200 that just started flying between Houston and Honolulu and that United.com currently shows as flying through the end of scheduling and was told that it will not last long.
If you want to fly to Hawaii in Global First class on lie-flat beds you probably only have a matter of weeks to try that. At just 70,000 USAirways miles (less than 60,000 Starpoints) to fly that class on United it's an incredible bargain.
-Brian said that the reason Delta and American announced copycats of Economy Plus across their fleets last year some 12 years after United first launched it was due to the Continental guys coming over and validating that Economy Plus made business sense and that all subsidiary Continental aircraft would be converted to have Economy Plus.
-The Newark-Tel Aviv route is an anomaly. While most international routes survive or die by their premium class passengers the TLV route is extremely successful in coach but less so in Business, where it is full of upgraders. While the route was once Continental's most profitable the introduction of Delta service to Tel Aviv eroded the profits on the route. When Continental ordered 787s many years ago it was widely though that they would operated a 3rd daily Tel Aviv flight but now that route has been pushed down the list as there are bigger fish to fry. While it seems unlikely for the 787-8 to do a Tel Aviv run it's possible we'll see Tel Aviv flights with the coming of the 787-9 in 2014.
-While on most flights 1 business seat is more profitable than having 3 more economy seats Tel Aviv seems to be an exception and if they had a plane heavier in coach seats it could make more sense for Tel Aviv.
–On DDF we've had some lively discussions about a 3rd United TLV flight from Chicago or San Francisco. There's actually a lot of internal debate on that very topic as the revenue guys think there's going to be a lot of business class travel between San Francisco and Tel Aviv while the network planning guys think Chicago would make more logical sense as more traffic from across the country can feed into it. Of course a 3rd daily flight out of Newark can also make sense as that grabs traffic from NYC as well as the entire country.
-United won't be squishing in 10 seats across on their 777 flights as American is about to do. Painful!
-3 class Global First makes sense in very limited markets and there won't be any future plane deliveries with Global First given the current market. If anything United may look into a new product that in between Economy Plus (which currently features only extra legroom) and Business class.
-Brian spoke about Delta's strategy to save money on leases by flying some 35 year old planes. From United's standpoint they are going after having the youngest fleet possible to save on operational problems, fuel economy, and for customer satisfaction and safety. The day after this seminar Delta's strategy was laid out in the Wall Street Journal, so that was interesting to see.
-United is investing heavily in the 787 as they continue to predict more demand for long-haul nonstop international flights to smaller markets. They're excited to test this strategy out for Denver-Tokyo that's going to be a 787 route next year.
-Brian was asked about the cancellation of the Houston Intercontinental (IAH)-Auckland 787 launch route. If the route was forecast to be profitable than why yank it? United cancelled this route in response to the city of Houston granting Southwest the right to fly internationally out of Houston Hobby (HOU) airport. United said they welcomed Southwest to compete out of IAH but that flying internationally out of HOU would be harmful to Houston. He insists that this was not a matter of retaliation but rather simple math. There would only be a few people a day flying from Houston to Auckland so the vast majority of the flight would be connecting from other cities. IAH has thrived as a hub airport and was in a virtuous cycle as more flights fed into other flights and the airport kept growing. United believes this is because there is only 1 international airport in Houston. Once Houston is split into 2 international airports that will spin IAH into a vicious cycle of fewer routes that will cause other route losses and hub shrinkage as lots of flights will lose a few passengers from international destinations. In a business with tiny margins, a few passengers can be the difference between a profit or loss. Having Southwest flying a route like Cancun-HOU means United will have to cancel some of their own routes from Cancun-IAH and the loss of passengers going through IAH meant that untested routes like Houston-Auckland flipped from a small profit to a forecasted loss.
I'm not sure if I buy the spin, but watching him craft the answer and run through the math was downright fascinating.
-When I asked about the future of the Cleveland hub and the upcoming expiring agreement with the Ohio Attorney General to keep Cleveland a hub Brian said that Cleveland was actually performing well and is profitable. The only reason a hub would be closed or a route would end would be if it was not profitable and if the company did not see a path to profitability.
-Speaking about a path to profitability, a route like Los Angeles-Dallas is operated by a regional jet because AA and Virgin America are involved in profit-killing fare wars. To stay out of the fray United downgraded the aircraft to mitigate their losses. The reason the route is still there is so that their Los Angeles based frequent flyers will still have a United option to Dallas should they want to stick with United. When that fare war ends United would upgrade the route to a mainline flight.
-I asked about Jetblue's newest route, JFK-Albuquerque, and how that factors into decision making. Brian explained that they take a look at their data to see how many passengers fly between NYC and Albuquerque and determine if there's enough of a market to fight for to see if they would need to answer with their own nonstop flight. Factors that would go into determining that would be how many business travelers, who tend to be more loyal to United than Jetblue, there are and if a nonstop flight will cost United enough to justify a fight for the market.
-United prices different flights out of Newark or JFK/LGA based on the type of flight. While a NJ based flyer may be willing to pay a premium to fly out of Newark to fly domestically they know that internationally people are more willing to drive to a farther airport to catch a flight and flights are priced accordingly.
Jeff Smisek's office:
Next we were brought up to sit in the CEO's office and we were photographed in Jeff Smisek's chair. United later presented us with nice desk candy of us sitting at the CEOs desk.
Skydeck:
United bought us passes to go to the top of the tower and experience the Skydeck on the 103rd floor. From up here you were able to do out on the ledge, a glass enclosed room that is suspended over the edge of the building. Standing or sitting on it is terrifying yet exhilarating.
Reception:
-United hosted a dinner for the DO at the Hyatt Regency Chicago. Nope, no kosher meals as it wasn't at least a transcontinental flight 😀 Here you were able to mingle with other frequent flyer enthusiasts as well as with seemingly the entire United executive team.
-There was also a silent auction for charity (I won a Buzz Aldrin autographed kids book and a Captain Sully autographed auto-biography) and there were lots of exhibits to provide feedback on the travel experience to United.
-Martin Hand, United's Senior VP of Customer Experience, was a pleasure to talk to as well. Being a Cleveland guy I once again brought up the future of Cleveland, calling it United's step-child hublette. He joked that as a former Continental guy they love Cleveland and that I shouldn't be calling it that! He said that Cleveland's local business community seems to know that they need to support United to keep the hub and they have been doing a good job doing that so far. He went on to ask why Cleveland folks seem so paranoid as to the future of United in Cleveland. I could've said it was because United had already de-hubbed Cleveland once before in the 1980s before Continental eventually took it over and that nearb cities like Pittsburgh, Columbus, and Cincinnati have seen recent catastrophic hub closures, but I said it's just Clevelanders natural rejection fearing attitude, helped in no small part by LeBron. He and his former Continental colleague loved that response and started laughing out loud and heartily agreed with me and they both said they were shocked by that episode as well.
We also spoke about reports from myself and several other DDF'ers about not getting kosher meals on flights going to Honolulu when we were supposed to (though truthfully getting a $200 voucher is better than any kosher meal) and he's going to look into that as well as the possibility of bringing back kosher meals on domestic first class flights besides for just the NYC-Los Angeles and San Francisco routes.
-I bemoaned with Scott O' Leary, who used to post multiple times a day on FlyerTalk as COInsider about the lack of casual postings directly from the airline since the merger. Continental and Starwood had been awesome at that and it was a shame to lose that. Nowadays its gotten much more official and there's much less info to be gleaned or help to be had in specific situations. While he assured me they're still listening closely it's just not like it used to be.
Panel Discussions:
The following day we got to choose between different panel discussions. You could either choose from Social Media and Hub operations or IT/E-Commerce/United.com and MileagePlus. I chose the latter.
The composition of a mix of former Continental and former United frequent flyers made things very testy at times.
The IT/E-Commerce/United.com panel was excellent. The panel was made up of former Continental and United employees. I was especially impressed with Mark Nasr, a former Continental employee and current managing director for eCommerce at United. He was intimately familiar with all aspects of United.com and the MileagePlus program and spoke his mind very freely.
Subjects that were discussed:
-The former United crowd is very unhappy that ticketing is no longer instant. Mark explained that Continental's philosophy is that they should first do a fraud check and make sure everything is OK and then set up ticketing. He did reassure everyone that ticketing will be sped up but that wasn't enough to stop one woman for harping on for 5 minutes about United not respecting their time and not booking award inventory right away. Mark clarified that even if a partner award ticket does not ticket right away, that space is reserved and can't just be snapped up by someone else in the interim.
-I asked about the lack of Singapore Airlines availability ever since the July 8th fiasco when Singapore released award availability on all of their flights. Mark joked that he's sure none of the crowd had taken advantage of that situation (Ha! I have 6 such awards booked!) but what had happened was that Singapore did indeed have an integration issue and that had caused the glitch that was indeed honored. Since then though United has been working on a fix and within a couple of weeks you will once again see Singapore availability on United.com.
-I asked about the possibility of having an award calendar that displayed 3 colors instead of lopping together business and first class. Mark acknowledged the issue and said if enough people request it from them that it would be updated to include a 3rd color. You can submit that kind of feedback here.
-United is working on a grand overhaul plan for the entire digital experience, including United.com and the United apps. No timetable was given but it sounded to me like the 2nd half of 2013 is likely.
-United will soon once again recognize phone numbers to identify who you are. Other phone improvements like knowing what you just searched for on United.com and knowing if you just missed your flight to direct you to the right agent are in the works.
-An overhaul of the elite upgrade engine along with irregular operations rebooking are top priorities and are being worked on as we speak.
-United realizes they are not where they should be today but they hope to empower users in the future.
-There are no plans to bring back a longer award hold like AA and USAirways offer. Too many customers were gaming the award hold situation which made it harder for people to book awards. Hopefully phone order sticks around 😉
-United is working with Lufthansa to fix the phantom first class award availability when you search United.com. In the meantime the decision was made to continue to display it rather than yank all Lufthansa first class awards from United.com as they felt people would prefer that solution. The room seemed to agree.
-I brought up the huge mess caused by the reservation splitting that occurs when an elite member is added to the upgrade list. I wrote about that issue back in April and it continues to annoy many travelers. Mark said they don't have short-term plans to stop the splitting though they do plan to allow elite members to designate travelers on a flights as their companion.
This would allow the companion to choose free Economy Plus seating, check bags for free, and qualify for a companion upgrade regardless of if they were split off of the original itinerary or if they were booked separately.
This fix can't come soon enough!
-EVA airlines is a United partner but award availability won't be displayed on United.com until they officially join th Star Alliance in mid-2013.
-People complained that United.com doesn't email them about schedule changes. It doesn't seem like this will be fixed until the new United digital experience is launched. The idea is that it's not worth investing time and resources into fixing non-urgent issues when they can be implemented in the new United.com.
-I mentioned that United.com's awesome expert mode doesn't stick to my account unless I go back and select it every session. I'm working with Mark to help identify and fix this problem that some others have as well.
-Mark also had some choice words to say about United.com's blue waiting screen 😀 Suffice it to say its days are numbered!
MileagePlus Panel:
I was far less impressed with the MileagePlus session. The tension in the room was palpable and answers from the panel were all very lame. Arguments broke out between the former Continental and former United frequent flyers as well as between flyers and the panel members and it was not pretty.
Some topics covered:
-People want to see the original record locator when they redeposit miles in their account to keep track of refunds. People also want miles to be redeposited instantly. Personally when I cancel an award I go back into the award reservation and click the redeposit button again and it goes back instantly every time.
-Former United flyers were furious that the new United got rid of confirmed regional upgrades for million milers, instead replacing that benefit with companion elite status that some people do not utilize. The panel rep compared that to complaining about elites getting 3 free 70 pound bags if they never check luggage as not every single benefit will benefit everyone but the crowd booed this response.
-A Canadian elite member complained about not being able to open a United credit card and therefore not being able to be upgraded when flying on award flights. Everything was going fine until he went on and accused United of being "racist" which elicited strong boos and "Oh no he didn'ts" from the crowd.
-United has no plan to match Delta's rollover elite miles, which just dilute the value of elite status by inflating elite membership.
-Lots of people complained about systemwide upgrades requiring an expensive W fare while not guaranteeing an upgrade.  Why not have a much more fair system and just allow people to use a systemwide upgrade with a co-pay if they are on a discounted fare? The MileagePlus guys just shrugged.
-Elites complained about non-elites being offered cheap upgrades when it's not being offered at all to elites as they are in the free upgrade queue but may lose out on an upgrade because of that.
-Someone asked why United doesn't charge hefty fuel surcharges like other international programs charged and the room was ready to stone him. Another person asked why on his last day of departure upgrade he didn't receive bonus elite and redeemable miles. The room took their anger out on him next as that's just caused by an occasional glitch…
-I asked about the commitment to maintain expanded elite saver award availability, specifically expanded business award availability for Platinum elites and higher, known as IN class awards. For Newark-Tel Aviv I explained I looked through the entire calendar and there was no extra IN class awards. The old United did not have such awards and Continental used to be more generous with these awards but now they have become hard to come by.
The reps gave me some bogus response about the ability to pay double miles for standard awards (I said I don't think most of us find that useful and one woman gave a mouthful back to me about that) and understanding that Saver awards are not always going to be there when we want them. I was sitting next to another frequent flyer coming from the Continental side, who tried to communicate to them that I was talking about IN class and not typical saver awards. (Saver business to Tel Aviv is actually relatively decent right now). They shrugged it off and another blogger lashed out at me for picking on a problem on a single route and the Tel Aviv route no less. (Don't worry the same blogger made sure to lash out at other questioners as well, which only fueled the already burning tension in the room). I challenged him to find (or build a tool as he seems to be quite capable of doing) to find expanded IN class availability on other routes like Newark to London and Paris but he just rolled his eyes at me and said he's booked in IN before.
Well, I know it was better before and I've booked them as well, but right now from my computer it's non-existent on all of those routes and likely on many others as well. If there's going to be a published benefit of elite status I'd hope to actually be able to find it every now and then.
-Many people in the room lamented that United pulled the ability to redeem mileage for a club membership after the merger. Frankly I was floored that so many frequent flyers would use miles on something with such a poor value. The MileagePlus reps answered that the ability would return next year but that wasn't enough for the room. Multiple people continued to hard on about them getting rid of it this year and here I will admit to smiling when the blogger I previously mentioned lashed out at them for pressing on about a problem that MileagePlus had already said multiple times would be fixed soon.
-In my own personal opinion the United flyers who have been complaining loudly since the merger don't fully acknowledge the advantages their miles have attained after the merger.
Sure, many things have gotten worse for previous Continental and previous United flyer due to merger pains and some poor choices, but it's not all bad as some make it out to be. Many positive Continental mileage policies have survived such as:
-United miles used to have severe routing and maximum permitted mileage rules, now they are extremely liberal. They can also have a stopover and an open-jaw now.
-They used to have to pay a change fee for routing changes, now they don't.
-I have successfully booked Plan B awards for Business class even when there was only coach awards which was not previously doable with United.
-You can now get a gate pass for you and all of your guests to access a club even when not flying that day.
-You can now mix non-alliance partners awards with alliance awards. Not long ago United wouldn't even allow changes to Star Alliance awards after departure and now that's easily allowed and can even be done online.
-Alliance and partner awards are now bookable online.
-While IN availability may be a sore spot for me, these is still expanded XN coach saver award availability.
-United flyers gained lifetime million miler miles by counting all partner miles and not just United flight miles from all years past.
CEO Jeff Smisek:
Jeff capped off the event and although I had to run to O' Hare to catch a flight back home in time for Shabbos the highlights were:
-2013 will be a great year for United with lots of improvements, especially in customer service on all fronts.
-Satellite based WiFi is currently being installed on every airplane fleetwide. "This will not be your grandfather's wifi" in other words this isn't GoGo's US only service but an in-house operation. You'll have internet access worldwide except when flying right over the North Pole. By next year nearly half the fleet will have been retrofitted. He acknowledged that they're late to the game, but no other airline offers such extensive WiFi access. Plans for this include live customer service with the ability to rebook a flight in the air if you'll miss your connection and even to be able to provide your delivery address in case your baggage didn't make it on the flight. Plus they'll be able to offer streaming entertainment on planes like the 747 which sorely need an entertainment solution.
-If USAirways merges with AA then they will leave Star Alliance which will hurt though consolidation is good for the industry as it creates more stable airlines and not airlines go out of business which is ultimately bad for consumers. He let out a Muwahahahahaha evil laugh at the though of another CEO having to integrate 2 massive airlines.
-United needs to sell upgrades, even if they seem too cheap to some elites, to remain profitable.
-He talked about other topics like the need of hubs to earn their keep and remain profitable to survive, that there is no chance of United developing new hubs, the 787 opening up new destinations not previously served, an improved boarding process, an apology for poor operational performance over the past summer, and the reasons for United sticking with Shares, a Continental based system that they owned instead of continuing to pay to license Apollo, United's previous system. Though he regretted that they didn't have a better interface for their United front-line agents in time for the merger though it is rolling out next month. He also had a perfectly executed joke about the infamous "Changes I think you're going to like" line that he used in a past safety video.
—————————————————————————-
Wrapping up:
There was also great chatter from the social media panel about United ramping up there to include reservation agents that can rebook and help you out when needed, as Delta currently has.
Right as I was leaving an attendee came up to me and ask if I was DansDeals.  After I responded in the affirmative he thanked me for the site and for all the good memories of his past life and yeshiva days.  He said that reading my comments on posts is like the Rashi he used used to study on the Talmud.  Though how I have the patience to respond to some commenters was beyond his comprehension.  It all brought a smile to my face!
Thanks to Avis Chairman's status I didn't have to fill the tank and was driven right to the terminal in my car. That way I even had time to stop in the club for a minute before boarding the flight home before shabbos.
All in all though the event was a lot of fun and was a great very informative event for an airline junkie and United flyer like myself.  Would I pay $1,000 to attend?  I definitely would not have before being able to attend this event for free, so thanks to United once again for the invite!
—————————————————————————-
DDF DO:
After the United dinner on Thursday 6 DDF'ers got together for dinner from an open invite that I put out on the DansDeals Forum.  I've done similar forum get-togethers in Cleveland, Jerusalem, Los Angeles, and several times in NYC.  Don't want to miss the next one? The only way to hear about that is by following the DansDeals Forums and the only way to attend is by being a forum member!  We had an awesome time and had great conversations until the restaurant grew tired of us and had to close at which point it continued in the parking lot 😀
—————————————————————————-
Kosher food:
I wasn't in Chicago for very long, but for what it's worth:
-I got to check out Ken's Diner once again. It's looking pretty tired these days and some booths are being held together by duct tape. Definitely not up to the standards it had in its hey day. The recommended Italian steak sandwich on garlic bread was merely OK. I probably should've just stuck with a burger buddy. It's sad to see this landmark go downhill.
-I picked up some delicious parve chocolates from Illinois Nut & Candy for my wife back home. The caramel bombs, turtles, and english toffee are great. Always have to bring back treats for my better half when coming home from a business trip!
-Chicago is blessed with an outstanding luxury kosher establishment in Shalott's Bistro. It features world-class sushi and it truly shines. Ambiance is excellent, try to haggle for a private dining booth in the rear and you'll really be in for a nice quiet meal in comfy chairs.
Try to get Brian as a waiter.  He has an awesome sense of humor and has great recommendations.  He's also a great salesman, I'm surprised noone has tried to hire him away yet!  He will make your meal into an experience you won't soon forget.  I was undecided on the soup specials and Brian brought me a sample of the different choices.  Shalott's has a signature steak collection that features ultra-premium cuts of meat that are cooked perfectly and will melt in your mouth and I recommend springing for it.  There are other signature steaks, like the Patron, that aren't even on the menu, you'll just have to ask about them and about the night's specials. Desserts were mostly impressive as well. Hit the pictures below for my thoughts on everything.
You won't leave this place on the cheap though, this is quite possibly the most expensive kosher restaurant I've ever been to. Figure on paying $12-$30 per sushi roll and $50-$100 for steaks. Your wallet may leave this place a lot lighter but it's worth the treat.
—————————————————————————-
Hotel:
I stayed in the Hyatt Regency downtown for $130, though I paid with Hyatt certificates that I bought at Costco back when they still carried them at a 22% discount. I could have also used my Hyatt card's annual anniversary free night as it's only a category 4 property, but hopefully I'll get a chance to use that at other category 4 bargains like the Hyatt 48LEX in Manhattan, the Andaz West Hollywood in Los Angeles, or maybe even the Park Hyatt Melbourne.
The Hyatt Regency Chicago is absolutely massive, consisting of 2 huge towers constructed in 1974 and 1980 and housing over 2,000 rooms! There is a bridge connecting the hotel towers.
You can go to their facebook page for a code to mention to receive $17 off valet parking (bringing the price down from $52 to $35) and free WiFi.
I communicated with their Facebook team in advance to receive a kosher breakfast in lieu of the standard Diamond breakfast and they confirmed that for me though I wasn't able to find out what would be served.
At checkin I asked about the possibility of a suite upgrade and was upgraded to a junior suite. Their junior suite is just one large room with a living room area. The room did look a little dated and dark with a small bathroom, but was otherwise perfectly functional. The view of the city was quite nice.
There was a Regency Club with snacks on the 35th floor of the west tower.
If I recall correctly from my childhood, this Hyatt Regency used to have an awesome kosher Sunday Brunch many years ago.  I'd love it if someone could confirm that.
This Hyatt also has a pretty awesome looking kosher wedding plan.  Anyone ever been to a kosher wedding there? I'd love to hear if it's as good as the brochure makes it sound.
From the hotel I was able to walk to nearby Millennium Park which is very nice and features the awesome cloud (locally known as the bean) sculpture.
Pictures (Click to enlarge):
Gathering together at Willis Tower
Operation Bridge at United HQ
Keeping tabs on what's up in the air.
An eye on system status systemwide and at the hubs…including LGA?
A MegaDO Welcome
United HQ Room
Continental/United rivalries don't just occur online and on the planes, they're split down the middle right in this room!
Time for me to upgrade from 2 to 3 screens!
Every flight, how many people, how many bags, down to telling the ramp folks how to load the cargo so that the plane isn't nose heavy.
Drilling down into a delayed flight shows who will miss their connection and if there are enough people going to the same flight to warrant delaying that plane.
Color coded flight delays
United HQ Room
In-house meteorologists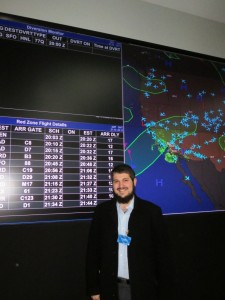 Too bad for those folks trying to get from Maui to San Francisco, they'll have an unexpected stop in Honolulu according to the big board!
United Emergency Response room.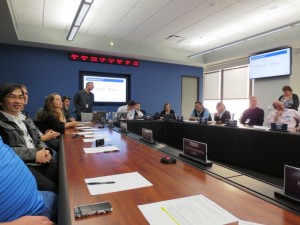 United Emergency Response room.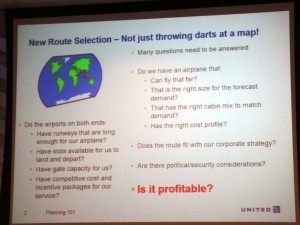 Route Planning Slide.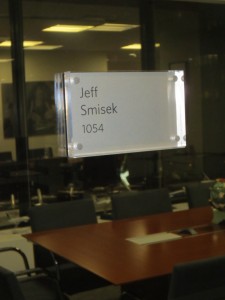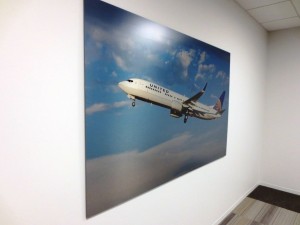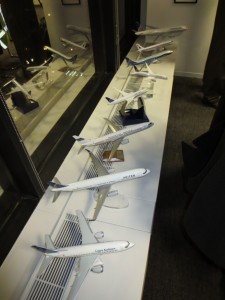 Jeff Smisek's office toys.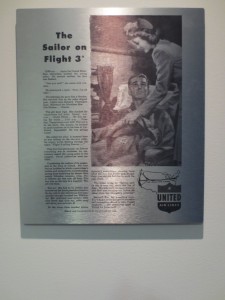 An old United ad…zoom in if you want a real laugh from a bygone era!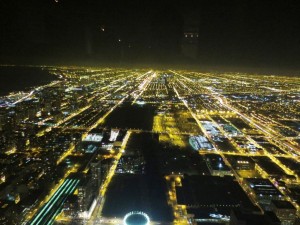 View from the Skydeck
The ledge will be terrifying if you have a fear of heights.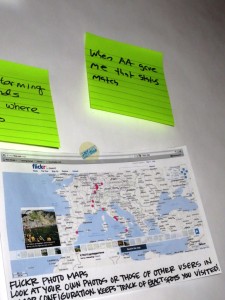 Seen on the giant feedback wall of what people love about traveling, "When AA gave me that status match"
A special promo for DO attendees: Get miles for flying to 20 airports or the most airports.  Plus Global Services if you fly the most elite qualifying miles.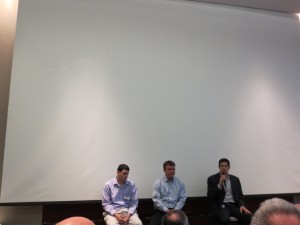 IT/E-Commerce/United.com panel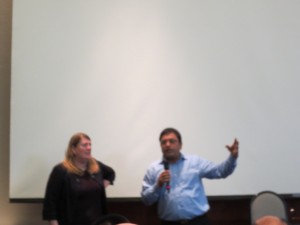 MileagePlus panel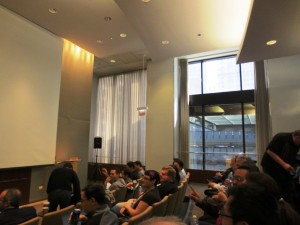 Part of the panel audience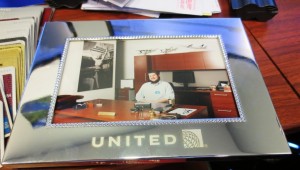 A gift from United, sitting in the CEO's desk.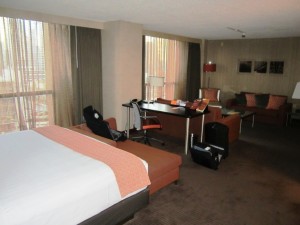 Hyatt Regency Chicago Junior Suite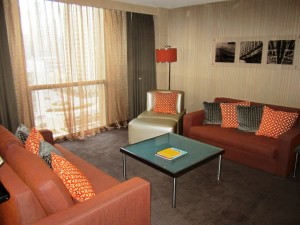 Hyatt Regency Chicago Junior Suite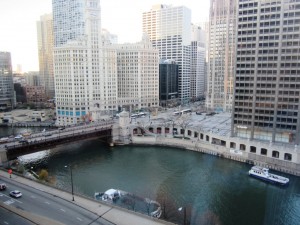 View from the Hyatt Regency Chicago Junior Suite
Regency Club, Hyatt Regency Chicago
Breakfast at the Hyatt Regency the first day was a Bagel, Cream Cheese, Lox, Onion/Tomato, Omelet, Fruit, and water.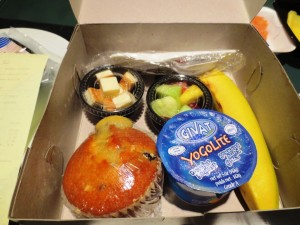 Breakfast at the Hyatt Regency the second day was an Omelet, Cheese, Blueberry Muffin, Yogurt, Banana, Fruit, and water.
Ken's Diner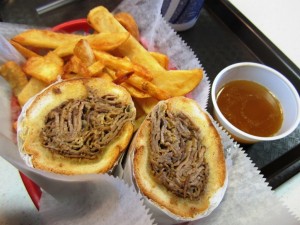 Italian Beef on Garlic Bread, Ken's Diner.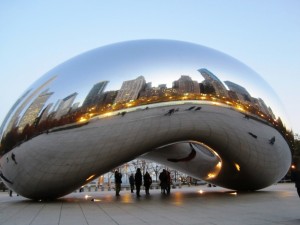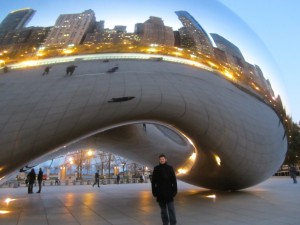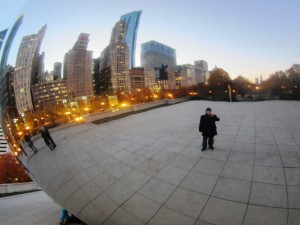 Catching my reflection at the bean in Millennium Park.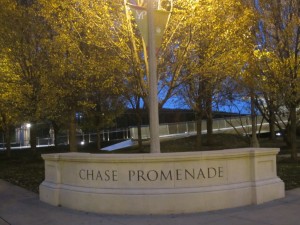 Every inch in Millennium Park is sponsored…think they accept UR points though?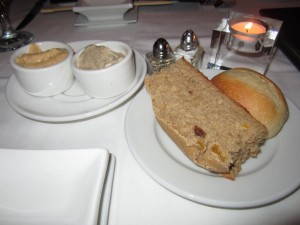 Shallot's bread and dips are provided free of charge.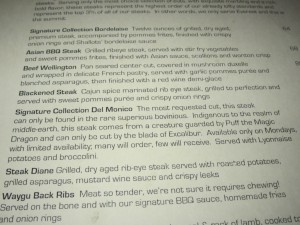 Part of Shallot's signature steak collection menu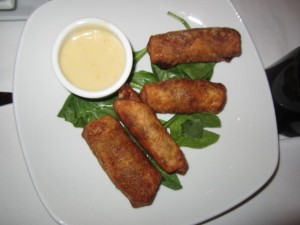 Shallot's Avocado Eggrolls ($12) are good, though nothing can compare to the version served up by LA's La Gondola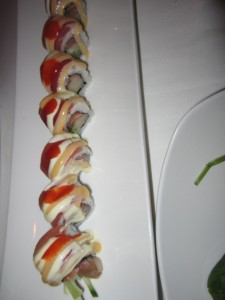 Crazy Maki, $18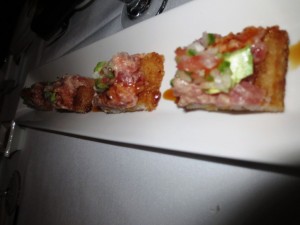 Rice Cracker, $12, was delicious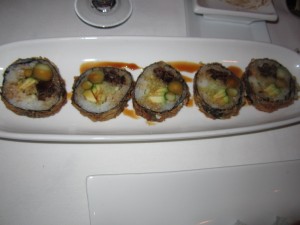 Vegetable Tempure Maki, $12, with shiitake, asparagus, cucumber, and avocado is very good as well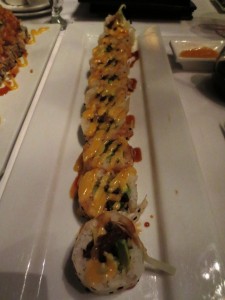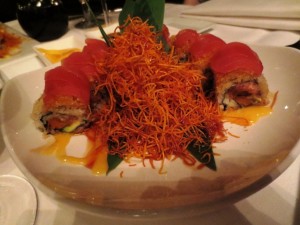 Red Crunch, $25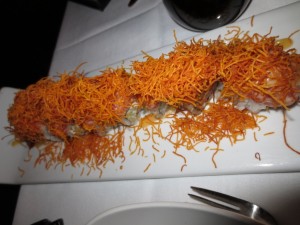 Lion King, $18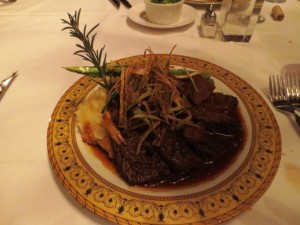 Wagyu Roast Beef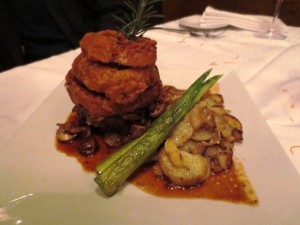 Chef's Special Steak topped with Onion rings, $55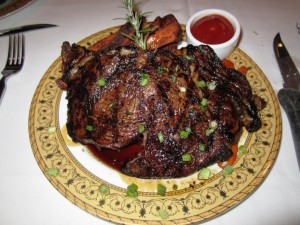 Asian BBQ Steak with sweet potato fries, $68, is out of this world.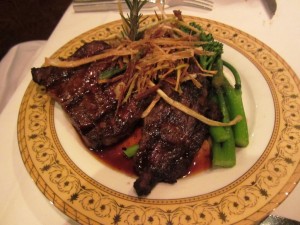 Wagyu Petite 7 oz Steak, $48, was perfect.
Strawberry Shortcake, $13, is heavenly.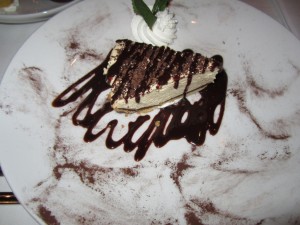 Peanut Butter Silk Pie, $13, was creamy and delicious.
Black Hat with passion fruit sorbet, $13, left what to be desired compared to NYC's Le Marais' version.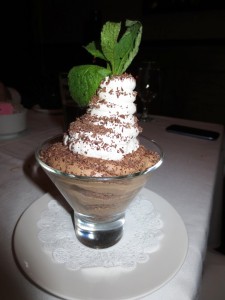 Mocha Crunch Parfait, $13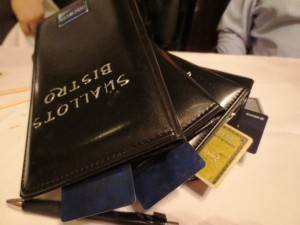 The guys without a Sapphire Preferred were harassed 😀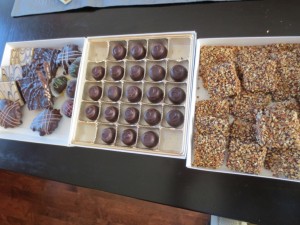 Chocolates from Illinois Nut & Candy