Update, 07/09: The glitch has been fixed and business and first class availability on Singapore is back to nil.  Congrats to those who booked when everything was open, hit the comments to share what you booked!
If you've ever had your eyes on flying Singapore Airlines you probably know that awards for their business and first class seats are hard to come by.  Singapore Airlines has some of the finest business and first class service in the world.
Yet if you are ready to book now there is awesome availability. This is probably a glitch, so you definitely don't want to sit on the fence too long on this! You can always cancel a ticketed award for 24 hours with no penalties. I don't recommend holding the award as they likely will not honor a held reservation once the glitch is closed.
-Singapore runs a business-class only nonstop flight from Newark to Singapore that clocks in at a whopping 18 hours and 40 minutes. Service on the plane is intimate with just 100 business class seats on the entire plane in a 1-2-1 configuration. This is usually a tough award to get, but it is widely open for nearly all months right now for 120,000 United miles round trip.  And yes, there is Chabad in Singapore.
If you don't have enough United miles you can instantly transfer miles from Chase Ultimate Rewards to anyone's United account.
Just search for a nonstop award flights on United.com from EWR to SIN and you'll get this help calendar to help you find dates: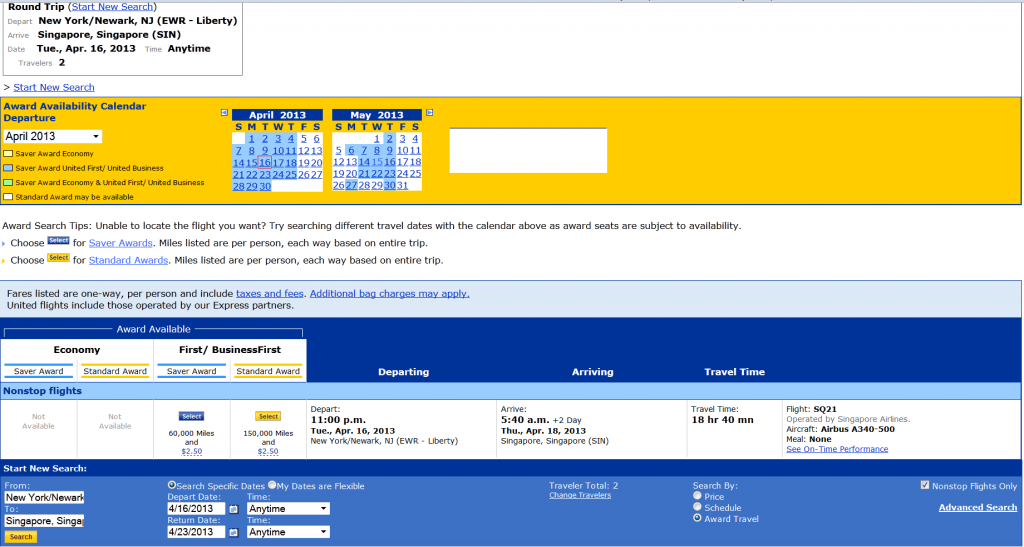 Have your eyes on an overwater bungalow in the Maldives? There's tons of availability for 120,000 miles round-trip from Newark via Singapore and the schedule is very good compared to other methods of getting there.
EWR-MLE schedule:

MLE-EWR schedule:

For example the Hyatt Visa gives 2 free nights that you can use at the Park Hyatt Maldives and other Ultimate Rewards cards like the Sapphire Preferred Visa, Sapphire Preferred World Mastercard, and the Ink Bold all give points that can be transferred to Hyatt where their top-tier award rate is just 22,000 points per night with no blackout dates or capacity controls.
-Want to fly to Europe or experience the A380 jumbo jet? There's plenty of awards from JFK to Frankfurt nonstop on the Singapore for 100,000 miles round-trip.
-Want to fly in Singapore First Class? Their suites are not bookable with United miles, but you can fly from S. Fransisco to Singapore via Seoul or Hong Kong in First Class for 140,000 miles round-trip.
-Or you can fly from Houston to Moscow nonstop in business class for 100,000 miles or in first class for 135,000 miles.
Of course with any of these trips you can also tag on connecting flights to visit anywhere else in the world. I was able to hold awards and then have United call me to add on other saver awards legs for free. And of course you can always stopover in additional places or have open jaws in your tickets as well, though those typically require a phone call to make it happen.