Related:
-Find dozens of trip notes like this one by clicking on the "Trip Notes" tab on top of the DansDeals banner at the top of this site.
—————————————————————————-
I started blogging on pretty much a daily basis on November 26, 2004 in Sao Paulo, Brazil. Hard to believe that it's been 10 years. Hard to believe I'm turning 30 in a few days,
DansDeals is a bit of an eclectic blog, but it consists of things I like and am passionate about. As a kid I collected baseball cards and sold the good ones at shows like the National Sports Collectors Convention. As a 12 year old, I was flipping $5 beanie babies on eBay for $300 the week after buying them, once they were "retired." In 2002, I was studying in yeshiva in LA and negotiated the price of a large group flight down from $350 to $180 round-trip, and got to put all the charges on my credit card for the miles plus I got a free ticket for every 40 tickets I sold. I opened an 18 line corporate Sprint account and rented out the lines to my fellow students at rates far below the regular rate for a single line.
Later that year, I manufactured a million Cathay Pacific Asia Miles for free through the now defunct eBay Anything Points program.
I became a hopeless mileage addict, opening up hundreds of credit cards and racking up tens of millions of miles via every method I could.  I rarely spent them, I looked at them as a way to fund travel once I would have a family of my own.  Sure the devaluations sting, but thanks to the years of savings we can fly anywhere today in first class without batting an eyelash.
More reminiscing on 10 years of fun after the jump:
As part of the Chabad education system, after studying for about 6 years you are sent to a yeshiva somewhere in the world on bochur shlichus. In 2004, I was sent to Brazil to spend a year mentoring and studying with younger students and organizing community activities. I had never been abroad for any extended period of time and I was still getting used to living in a 3rd world country.
Yeshiva days in Crown Heights, laptop tethered for internet with a Samsung i500 palm phone.  Probably posting deals to the long since defunct bochurim.tk forums:
My birthday, November 26th, fell out on Black Friday that year.
I remember the kids in yeshiva asking me if it was my Hebrew birthday (which falls out on the 3rd of Kislev) or my Portuguese birthday.  I mean, I knew I had an "English" birthday, but who knew that I had one for every language 😀
In 2003, I had made money buying insane bargains on Black Friday in stores like Best Buy and flipping them on eBay (those days are long gone!) Meanwhile, on Black Friday 2004, I was in a yeshiva that was broke, where meals consisted mostly of rice and beans, where we were warned not to drink the water, and where there was no toilet paper in the bathrooms.
So when I found a deal for free toilet paper the lightbulb went off and thus was born ctownbochur.blogspot.com. I didn't start it to make a dime, it was just another way to keep in touch with and help out friends and family.  It would take a few years before word of mouth really caught on and I took the plunge into monetizing it.  And to this day I've never spent a dime advertising the site.  It would become ctownbochur.com in 2005, and ctowndeals.com in 2006. Ctown is Cleveland and frankly my site has nothing to do with Cleveland other than Cleveland being my home. So in 2007, I finally nabbed the DansDeals.com domain name. I had tried to buy the domain several times but never got a response. So I watched the domain expiration date like a hawk and grabbed it the second it became available to the public.
The blog has always followed my interests. In January 2005, during yeshiva break I flew from Sao Paulo to Dallas, JFK, Tokyo, Los Angeles and Miami on an AA AVNYC ticket. The AVNYC promo awarded you a free systemwide flight for flying twice between either NYC and Florida or California and tickets were dirt cheap thanks to a massive price war with JetBlue. As for how I got several stopovers on a ticket that didn't allow for stopovers…that's a long story for another time.
From Tokyo to Kyoto:
Before leaving Brazil I was awe-struck by the beauty of Iguaçu Falls, and Rio de Janeiro.  I even ran off a mountain in Rio on a hang-glider:
Later in 2005 I was studying to be ordained as a Rabbi when Wendy's ran a promotion where you earned Air Tran credits for every empty soda cup you sent in. Let's just say I did enough dumpster diving and buying stacks of cups on eBay to have more than 10 years worth of free flights. And not just free flights on AirTran, on any airline out there and I've still yet to use up all the credit…but that's also another story for another time.
In March of 2006 I got my first taste of Hawaii for $87 inclusive of my airfare and hotel and became hooked to the place for life.
In April 2006 I spent 2 days on 14 dirt-cheap flights to take AAdvantage of a couple promotions and an intra-Texas fare war with Southwest to earn elite status and over 100,000 miles:
In May of 2007 I returned to Sao Paulo with my graduate business school and had a terrifying near-death experience after being caught in the wrong place at the wrong time during a sudden favela (slum) uprising against the police.  But somehow with G-d's help I survived and went onto Curitiba and Florianopolis on that trip.
Not a good place to be caught in a cab on the highway:
Santos, Brazil:
August 2007 marked the switchover from ctownbochur.com on Blogger to DansDeals.com powered by WordPress. That same month I finally made it to Israel for the first time since I was an infant.  We went from Banias down to Eilat and everything in between over a month and soaked it all in.  And we flew Continental BusinessFirst for the price of a coach ticket thanks to a glitch I found in the Continental Prestige Pack's $100 coupon.
In early 2008 a fare glitch sent my family packing to Hawaii for under $200 per person.  We spent 2 magical weeks on Maui and Kauai. And yet I knew I was missing something in the picture…
In July I met Mimi and by August I had proposed.  We married on a lovely fall day in November in Kansas City.
How I met Mimi is the crazier part.  Suffice it to say that had I not gone to Brazil for the year then I wouldn't have set off an incredible chain reaction that led us to each other. Hashgacha pratis at its finest.
We went on an incredible honeymoon to all 4 major Hawaiian islands thanks to Hyatt's insanely lucrative annual faster free nights promotion.
The trip was also paid for in no small part thanks to dollar coins, which literally helped me rack up carloads of miles 😀  There were days when the jalopy of a minivan I was driving at the time was saddled down with $60,000 in dollar coins to be deposited at the bank to pay off the credit card they were bought on…
We kayaked Oahu, flew over Kauai and discovered waterfalls to walk under, went to the peaks of Maui and the Big Island, galloped on horses through Waipio, and saw volcanoes erupting and swam in private hot springs near Hilo…
In 2009 we did an encore trip to Hawaii where we went on the most grueling yet rewarding hike of our lives: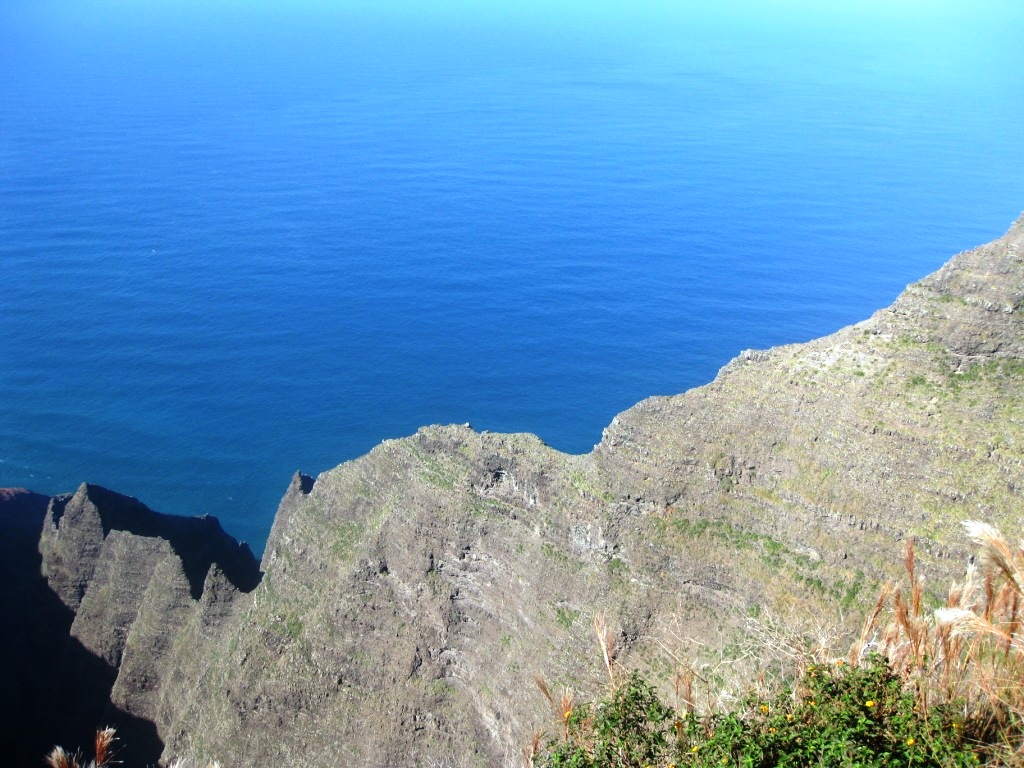 We also flew to Israel for Mimi's brother's wedding. We nabbed saver class Delta lie-flat business award seats back home.  Even got to stay at the Mamilla for free thanks to Sheraton suddenly leaving SPG:
AMEX also gave all Platinum cardholders free suites at the Encore and the Wynn in Las Vegas, so how could we not take advantage of that as well 😀
In 2010 I surprised Mimi with a surprise trip to Zurich, Lucerne, Paris, Venice, and then to Israel for shavuos. It was good timing to fly Swiss and Lufthansa first class, both would get significantly harder to obtain soon afterward.
Versailles:
Venice:
Later that year Mimi threw a surprise birthday party for me. Except she couldn't get me to leave the house to go to it because Expedia was busy giving the world all expenses paid vacations to Vegas!  She ruined the surprise to get me to go, but the party wound up being one big computer fest as I helped everyone who came book free vacations to Vegas. Free airfare, free Bellagio suites, free limo transfers, free kosher restaurant food, free Cirque de Soleil tickets, etc…
View from the room:
In 2011 we'd fly around the world for a month on an American Explorer ticket in Cathay and Qantas first class.  We had routed originally via London and Amsterdam in BA first, but a snowstorm scrubbed those plans.  Still, a trip I'll never forget even if I never did finish writing the trip report for it.  Chiang Mai, Phuket, Tasmania, Sydney, Melbourne, Great Ocean Road, Grampians, Hamilton Island, Hong Kong, Macau…
Tasmania:
Chiang Mai:
Pool villa in Khao Lak:
Great Ocean Road:
Park Hyatt Sydney:
Whitsunday Islands:
Living on the glass in Hong Kong:
I got a lifetime of more free suites, massages, and bottles of single malt scotch at Fairmont hotels than I could imagine thanks to Living Social's generosity and some quick pressure. I've been able to stay in dozens of suites for free, truly the gift that keeps on giving.
And we had Rafi, the most awesome little boy I could ask for.  He's a trooper too, he's been on more than 70 flights including a trip to Miami at 2 months old followed by trips to Hawaii, Vancouver, and Buenos Aires in 2012.
Vancouver was a gift from BMI. Opening up their accounts netted free Avios that could be transferred to British Airways and redeemed for first class flights on Cathay Pacific…good times:
View from our suite at the Fairmont Pacific Rim, the top rated hotel in Canada: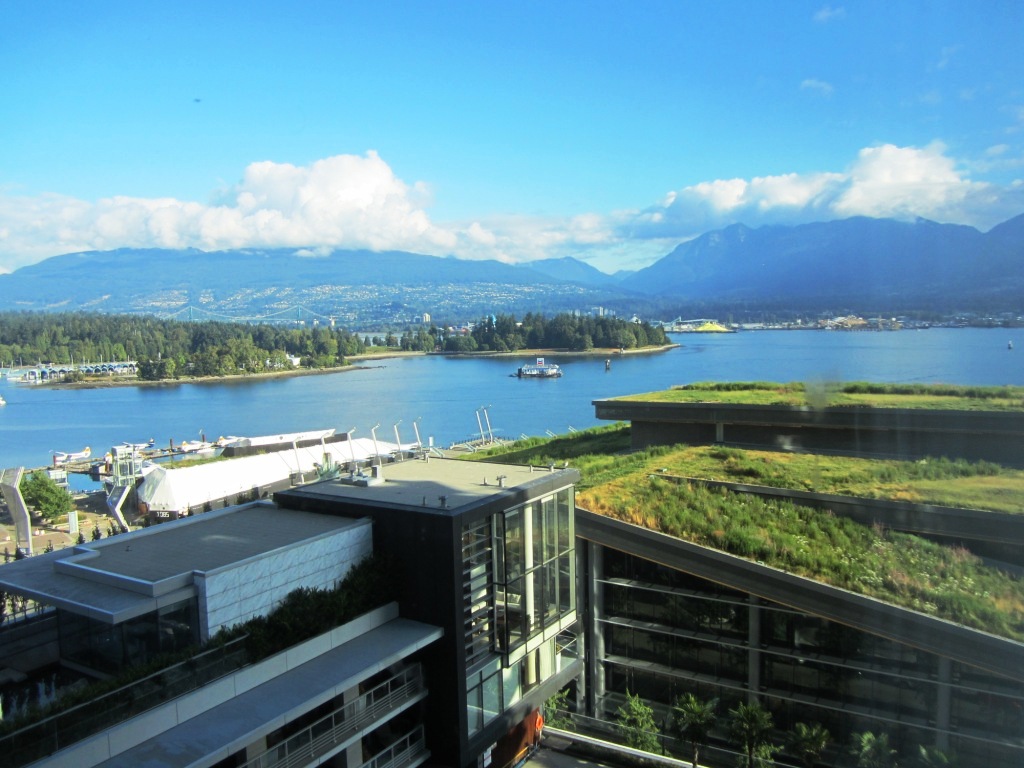 2012 also saw JetBlue giving gifts of their own. We flew free to Boston and Aruba thanks to $300 coupon promotions that worked great with a 17BM 🙂
Boston:
Aruba:
During Rafi's first birthday party I was occupied with United's 4 mile island glitch. Some DDF'ers actually booked tickets to fly right away and went to Hong Kong in first class for just 4 miles.  Something about birthday parties and glitches…
I became a "celebrity" BBQ judge in 2012 and have traveled several times to judge contests in Kansas City and Chicago. And I got a really awesome behind the scenes tour of United's headquarters in Chicago as well:
December 2012 saw Singapore finally release their suites for saver mileage rates. Mimi and I jumped on a plane and spent 2 nights in Paris to be among the first freeloaders to try it out. A couples suite on a plane for the price of opening a credit card, does it get any cooler than that?
In 2013 I finally completed my dream of staying in an overwater bungalow and flying on the longest flight in the world to get there:
Singapore was also a nice treat on the way home: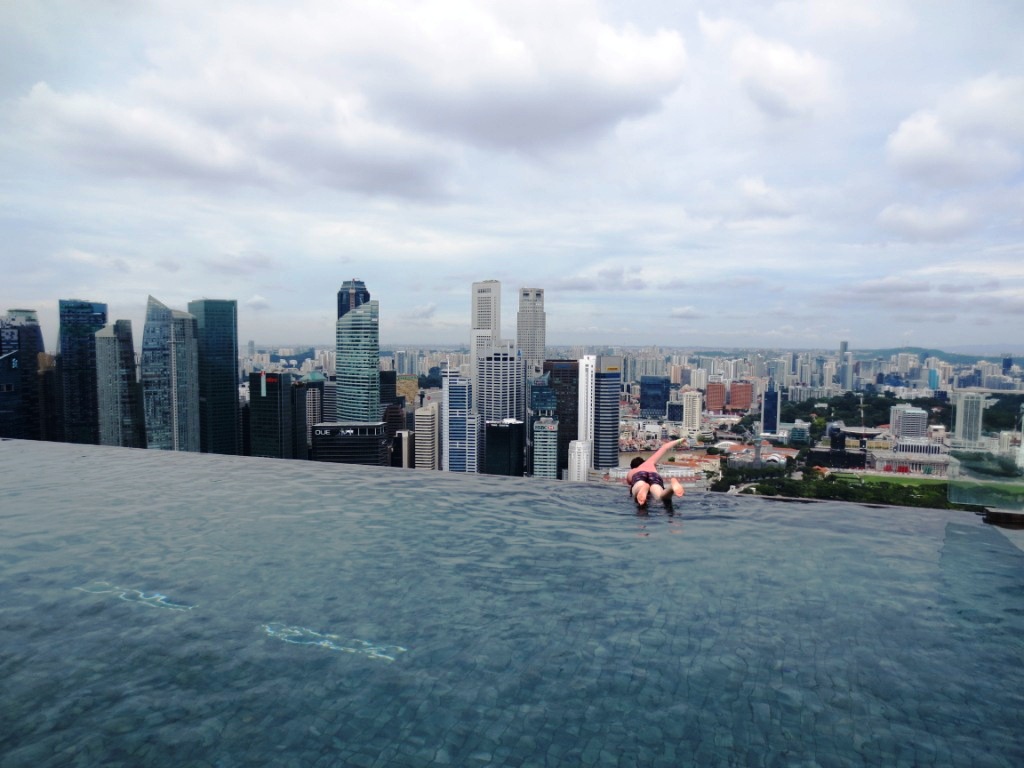 In May I asked Mimi how quickly she could get ready for a flight. Within an hour we were flying to Buenos Aires on a glitch that allowed us to fly there in first class for free. We spent just 1 night there and shocked our first class flight crew by flying back with them the next night!  We manages to eat in heavenly Asian 3 times and take advantage of the insane Blue Dollar market that makes Argentine dirt cheap for foreigners.
Park Hyatt Buenos Aires:
I got to hit the road with my grandfather hitting up the NBA, NFL, and MLB hall of fames and topping it off with watching our Indians dismantle the Red Sox from atop the Green Monster. Can a trip with your Zayde get any better than that?
Later that month I got to use miles to steal 2nd base in middle of the 7th inning of an Indians game. The base is in my office today: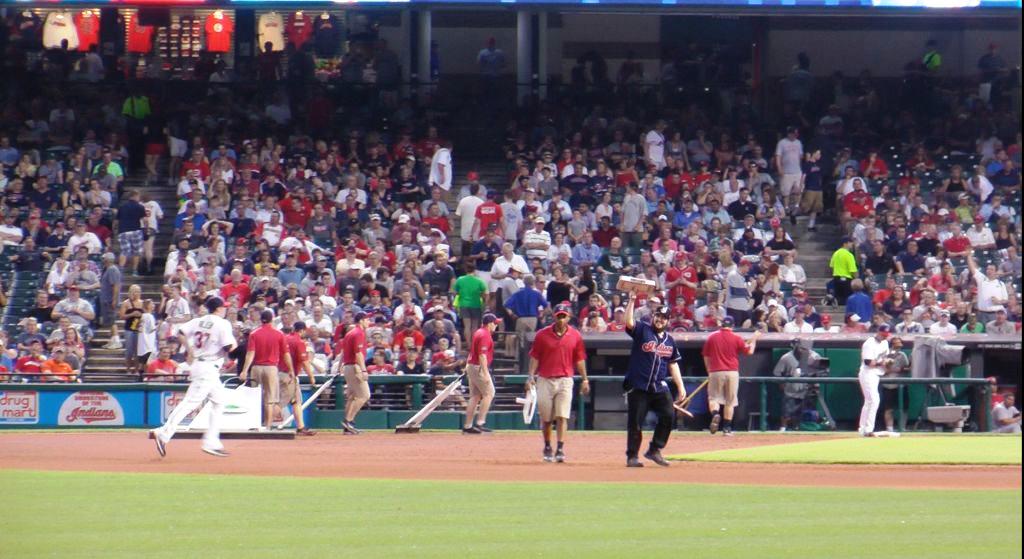 I've always wanted to check out Banff and in July we made it there. One of the most beautiful places in the world. We walked on glaciers, and saw bears and moose in the wild.
View from our suite at the Fairmont Banff Springs: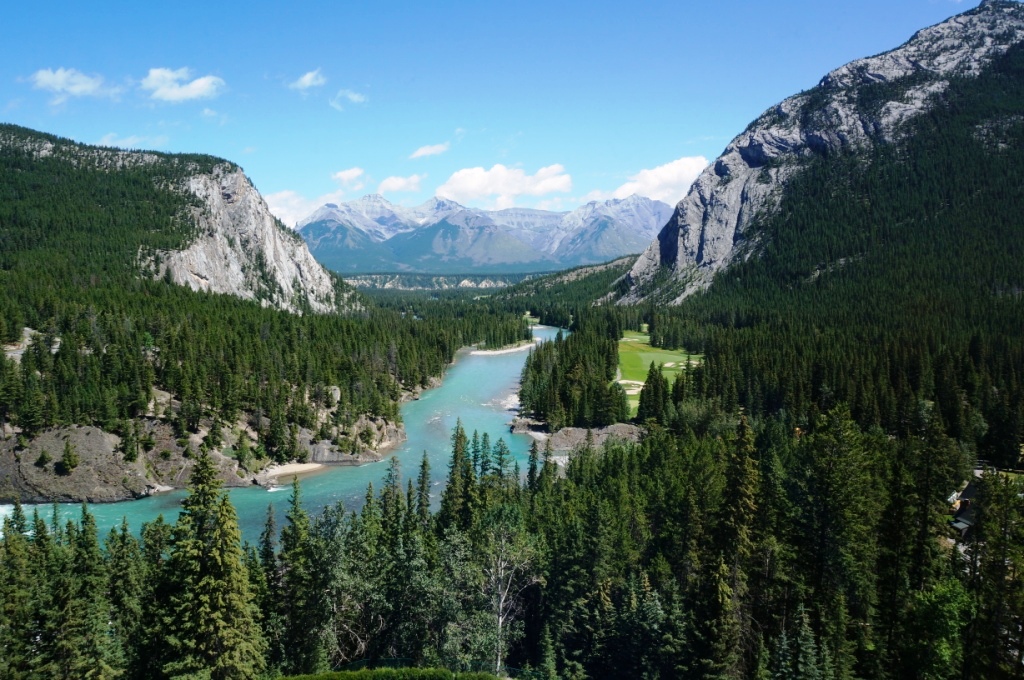 Lake Loiuse: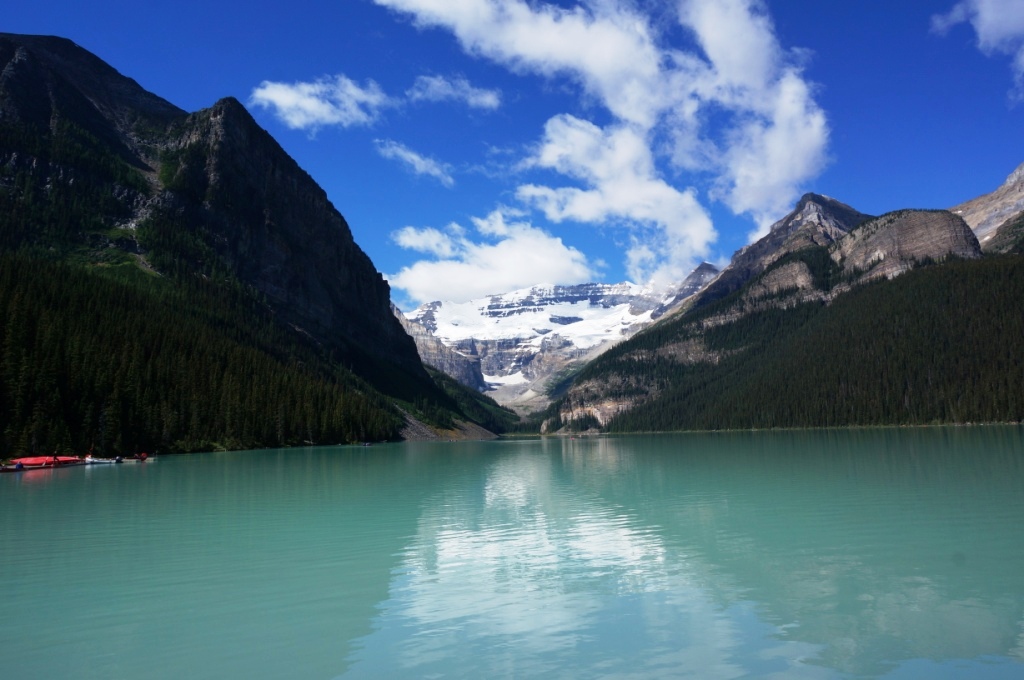 In September we got a wonderful present named Talia, the prettiest little girl I'd laid my eyes on.  And yes, she's been on dozens of flights herself.  After all I just had to take her to Kauai and Maui in 2014.
I got to bring Rafi to his first ballgame this year. And a few weeks after that I brought Talia to her first ballgame.
In the meantime my little blog had taken off and was paying the bills.  Well, the miles I earn take care of the flights and hotels, but I never thought that blogging would be a career choice.  And yet for some reason it's read by 300,000 unique users per month who view the site millions of times a month. And I have nobody to thank as much as my readers and the one above for having one of the more unique jobs in the world.
I've run a dozen seminars and taught tricks to thousands of those attendees. I have a wonderful wife and the cutest boy and girl that anyone could hope for. We've been able to fly around the world in first class many times thanks to the mileage game.  Can I possibly get any luckier?  I'd say it was a pretty neat decade, though it is still totally crazy to have people recognize me in the most random of places.
I thought I'd never return to Brazil after the 2007 incident, but in the end I loved the language, I loved the people, and we decided to make a family trip of it.
A 10 year anniversary trip to my old stomping grounds.
Brazilian carrier TAM is notoriously stingy with premium class awards. But earlier this year they started opening their entire first class cabin for award travel. TAM only has 4 seats in the first class, but you were able to use miles for all of them. Then they announced that first class would be eliminated altogether and I knew it was time for a trip. How often can you have an entire cabin just for your family?
So I burned 500,000 USAirways miles for 4 first class awards on TAM and booked up the entire first class cabin in both directions for myself, my wife, and my son and daughter.
I wanted to explore places in Brazil I hadn't been to, like the Panantal, the Amazon (I have a friend who runs Chabad of Manaus), and Fernando de Nanronha.   But none of those places are particularly kid-friendly and they would all require a lot of travel. So we stuck with Sao Paulo, Iguaçu Falls, and Rio de Janeiro.
To get from Sao Paulo to Iguaçu to Rio would cost $720 per person. Instead I used 25,000 Delta miles for myself and Mimi for those flights on Brazilian carrier GOL. GOL flies kids free, but when I tried to book just the kids on the GOL site it was charging me an unaccompanied minor fee. So I chatted with them online and they set up free tickets for the kids, I just had to call in with the reservation number to pay a few dollars in taxes for the kids.
I tried to book a flight from Sao Paulo-Iguaçu-Rio-Sao Paulo as a Delta stopover award, but it kept pricing out at 37.5K miles and no agent was willing to overrule the computer. It wasn't worth paying an extra 12.5K miles as flights from Rio to Sao Paulo on GOL are dirt cheap, just $35 for adults and a few dollars for kids.
I found the Lonely Planet guidebooks to be the best option to learn about things to do in Brazil. Lonely Planet Brazil and Lonely Planet Rio were both excellent.
Getting to Brazil as an American citizen is no easy feat.  They charge a $160 reciprocity fee. But worse than that, as a Clevelander it seemed that I might have to actually fly to Washington DC and buy money orders from USPS to apply for a visa. Luckily the good folks over at Allied Passport take all of the hassles out of the visa process.  They told me exactly what info they needed, charged my credit card, and they took care of all of the legwork.  I'd use them again in a heartbeat.
Finally it was go-time.  I was a bit nervous to return to Brazil, but excited at the same time.  And I was definitely excited to have our own private first class cabin on the plane.
To be continued…