Find other articles like this by clicking on the "credit card posts" tab on top of the DansDeals banner at the top of this site.
————————————————-
First in a series. In the future I hope to cover topics like building credit for beginners, FICO vs. FAKO scores, credit pulls by state of residence, credit freezing for more card approvals, when to pay your bill to gain points on your credit score, and more.
Have a question about your credit score? Post a comment and I'll try to tackle it in a future FAQ post.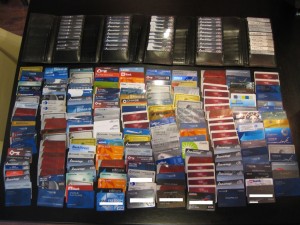 Part of my collection…
————————————————-
Q: Doesn't opening and closing cards hurt your score?
A: Not if done properly.
Opening a card typically entails a credit check, also known as a hard pull, which can lower your score by a couple points. However the "New Credit" category only makes up 10% of your FICO credit score, or 85 of 850 possible points. Even if you theoretically you had zero points in that category (extremely unlikely) you can still have a top-notch credit score by scoring well in the major categories. Payment History makes up 35%, amounts owed and credit utilization make up 30%, length of credit history makes up 15%, and types of credit used makes up the final 10%.
To mitigate the effects of opening a card for a signup bonus I always apply for cards via the "2bm/3bm/mbm method." This means using 2 or 3 web browsers, like IE, Chrome, and Firefox, to apply for 2 or 3 different cards from the same bank, as close to each other as possible.  Personally I'll fill out the application form on all 3 browsers and then hit submit on all of them within a few seconds. This way you can get 2 or 3 cards with just 1 credit pull. There's no guarantee you'll get accepted to all 3, but this increases the odds of getting multiple cards.
An "AOR" or app-o-rama is the process of using multiple 2/3bms from multiple banks as quickly as possible, in order to get approved for more cards from more banks.
Note that when applying for a Capital One credit card you will get 3 hard credit pulls for a card application, while every other bank only does 1 pull.
Hard pulls count against you the most for about 6 months and fall off your report completely after about 2 years.
The bottom line is that by having more total credit which means lower overall credit utilization and by paying those bills off on time your score will easily recover the few points lost for opening the card and your score will be even higher than where it was in the first place.  That's how I'm able to have a top-notch FICO score even with applying for hundreds of credit cards.
As far as closing cards, there are many different options here:
-You can downgrade a card to a free version, sparing yourself the annual fee.  This can be done even after you get a statmeent with the annual fee due.
-You can speak to a retention department who will often be willing to either waive an annual fee, give you miles to stay, or give a spending credit for you not to close your card.
-You can apply for new cards and after being rejected talk to the Reconsideration department and the vast majority of the time they will be willing to approve a new card in exchange for you agreeing to close an older card and move the credit line from an old card to a new card. You can also always get reconsideration to move over part of the credit line of an old card to get a new card approved.
Bear in mind that with cards from American Express there are just so many promotions they run, that they should easily be paying off your annual fee and then some, especially if you add free additional cardholders that can also participate in all of their promotions.
A common misconception is that closing a card hurts your score. This does not have to be the case. Even after you close a card it still remains on your credit report for at least a decade and still helps the average age of your accounts/length of your credit history. When you do close a card if you lose the credit line that can hurt your total credit and credit utilization, however if you close old cards by getting approved for new cards via reconsideration then you can have that entire line moved over to a new card. By doing so there will be no hit to your credit score, at least until that account falls off your report in a decade from now, though by then you will have other older cards to take its place.
You generally should not close your oldest credit card though, as that card sets the date of your credit age and you don't want that to ever fall off your report.
It's worth noting here that AMEX cards actually always backdate the opening to when you first opened an AMEX card, so opening AMEX cards can actually have a very positive effect on your credit score. You can especially use this to your advantage by adding yourself as an AU to one of your parents cards, but that's for another article…