Find more articles like this by clicking on the "Trip Notes" tab on top of the DansDeals banner at the top of this site.
Hopefully you'll find my trip notes helpful for something. If not, just scroll on down and don't let them bother you too much!
We got back last Wednesday from 2 weeks of soaking up Southern California sunshine.
The timeline of our trip went something like this:
-04/03: After having lots of fun dealing with the new United I finally got us switched for free with confirmed standby onto a Tuesday night flight nonstop from CLE to LAX so that we wouldn't have to get up at 4 in the morning to travel the next day.  In the end my seat on the old Airbus was broken, so that caused lots of fun as well. We stayed Tuesday night at the Sheraton LAX for 3,500 points (that I had booked before it rose from a category 2 to a category 3) where they stuck our 4 suitcases each packed with 70 pounds of cooked frozen food in their hotel freezer.  We were upgraded to a corner suite with a wrap-around view.
-04/04: An Avis manager dropped off a Chevy Tahoe for us at the Sheraton and we hit up the Fish Grill location on Pico.  Maybe it was because we were the first customers of the day or maybe the Pico location is just inferior to the Beverly location, but the Grilled Salmon over Angel Hair Pasta with fries was not nearly as good as it was the last time we went to the Beverly location.
After spending a couple hours getting everything we would need for the entire holiday at Western Kosher (thanks Chase Freedom for making grocery stores one of the rotating categories for Q2!) I picked up food for the entire family from Shnitzly's and Pizza Mayven and sped off to Palm Springs. Well, with LA traffic it was more like crawling along, but that's the price you pay for amazing year-round weather I guess?
-We start looking for vacation houses for rent on sites like vrbo.com, homeaway.com, vacationrentals.com, craigslist.net about 6 months before Passover. We know already that The Twin Palms and Deepwell neighborhoods are within walking distance of the local Chabad House, so that makes things easier. After finding a place with sufficient bedrooms and a nice private pool it's just a matter of negotiating a good rate. Orlando and Palm Springs are both communities where there are many houses that people own to vacation in for a few weeks a year and rent out for the remainder so rentals can be very cheap.  This year we landed a stunning house with 5 bedrooms, 4 bathrooms, 2 massive dining tables (1 indoors and 1 outdoors in what was possibly the most idyllic setting for a Passover seder that I have ever experienced), a pool table, and of course a large, private heated pool.
Sure it's a lot of shlepping to do all this, and my dear mother has been cooking since January in her basement Pesach kitchen, but we really have an amazing time with the entire family in a magnificent house for a tiny fraction of the cost of a real Pesach program.  And the weather in Palm Springs is always simply perfect around Pesach.
-04/05: The local Ralph's grocery store had a surprisingly nice selection ranging from Passover Ice Cream to Passover Pizza made from potato starch and I'm definitely a sucker for every flavor of Passover Ice Cream I could get my hands on.  Their wine prices ($9.79 for Moscato) were very good as well.  Best of all during chol ha'moed they marked down everything by a whopping 80%, even on non-Passover items like Silver Polish gloves!
No longer needing the towing space of the Tahoe I went to Avis at the Palm Springs Airport and tried to get a convertible but they were sold out.  In the meantime they gave me a Caddy CTS and promised a Camaro convertible for me on Monday.  Boy was the Camaro fun to drive out in the desert!
04/06-04/14: Pesach in Palm Springs was as relaxing and beautiful as always.  Rabbi Denebeim always captivates the crowd with his speeches, and this year was no exception.  Engaging with personal stories and fun to listen to, there's nobody falling asleep during his sermon!
There's no shortage of things to do in Palm Springs, nature buffs have incredible hikes and scenic drives galore, and there's no end to damage to your wallet that shopping will cause between the high end stores in Palm Desert to the quaint shops that line downtown Palm Springs, and the Thursday evening street fair.  Of course at the nearby outlet mall there's always the small tricks you can do to help alleviate the pain like joining Premium Outlet's VIP club to print up a voucher for a free coupon book or taking stores up on their free shipping policies which also will cause them to drop the tax by shipping out of state…
04/15: After 8 days of Pesach food it was time to head back to LA and start fressing! The drive back to LA on Sunday took less than 2 hours, or about half the time it took to get out Palm Springs on a weekday.
-Our first stop was Basil & Berry, a new Pizza and yogurt bar on Pico.  The menu looks great with mushroom and cheese stuffed crust pizza and lots of innovative toppings and fun sauces and pestos are available as well.  The pizza itself was quite good, but service here is a disaster.  The lady at the counter spoke zero english.  When I ordered eggplant as a topping she was trying to figure out why I wanted eggs on pizza. The restaurant doesn't have any plates!  They were out of caramelized onions on Sunday and when I went back a few days later to pick up a pie I ordered with caramelized onions it had red peppers instead.  The yogurt isn't bad though I preferred Yogo on Melrose.  The yogurt toppings here were also sorely lacking compared to YoGo.
The nice part? 20% off for checking in on foursqaure or facebook!
Pizza: 7/10.
Yogurt bar: 4.5/10
Service: 1.5/10.
-We checked into our hotel, the SLS Beverly Hills, a Starwood category 5 hotel, located on La Cienega just south of the Beverly Center. There are literally dozens of "suggestions" scattered throughout the hotel (and on billboards outside the hotel) of what SLS may stand for (Soft Like Silk. Scribble Little Somethings, Style Luxury Service, See Luxury Spread, in other words it stands for whatever you want it to stand for!) and pretty soon my wife and I couldn't stop coming up with new things that SLS may stand for throughout the day.
We had stayed at the Andaz West Hollywood in the past and I even have a couple free category 1-4 nights that come as a built-in retention bonus feature of the Hyatt card. But service isn't great there, I've read a number of ongoing strange reports of employees protesting in the wee hours of morning outside the Andaz, and the location of the Andaz isn't as good as the SLS.  Plus I've never stayed at the SLS, so I was in the mood to try something new and I was able to get a cash and points room for Sunday night.   I booked the 2nd night using 12,000 points from my wife's Platinum account.
The reason for booking it as 2 separate reservations was multifold.  First of all that way we both got a 500 point Platinum amenity, dropping the cost of the first night down to 4,300 Starpoints+$90 and dropping the 2nd night down to 11,500 points. With paid rates of about $450-$500 after tax for standard rooms, using points are a great value.  Second of all we each got a stay credit towards requalifying for Platinum status.  Third of all I find that the odds of getting a suite are generally increased on one night stays.  At checkin they said that no suites were available just then and that they didn't know when one would become available.  They showed us to a terrace room, but frankly the terrace isn't that exciting.  It doesn't offer any real privacy and the room was small.  I picked up the phone before the bellhop even started unloading our bags and the front desk managed to find a studio suite for us that was just down the hall.
The studio suite was awesome, a very unique and modern design with a nook for the crib.  The bedding in the room is wonderful and the pillows were amazing. Overall I was very impressed with it except for the soap/shampoo situation.  The soap and shampoos were great actually, but they are in large public bottles that stay from guest to guest.  It's a little creepy and gross in my opinion and is quite bizarre to see in a luxury hotel.
Otherwise service in the hotel was excellent.  We were often greeted by name and employees were very friendly without being overbearing.  Valet service was lightning quick and there was never a need to have or recite the ticket number.  The location of the hotel is centrally located just minutes from kosher eateries in the Pico/Robertson and Beverly/La Brea neighborhoods.
The rooftop pool is tiny but was nicely heated when I went for an evening swim and it was completely deserted. I guess the folks who hang around poolside during the day were at the vibrant bar scene downstairs or enjoying the rest of the city's nightlife.
Overall I wouldn't hesitate to return to the SLS and I just hope it doesn't climb any higher than a category 5!
Room: 8.5/10
Service: 8/10
-On Sunday night we walked down down the block from the SLS to LA's latest kosher steakhouse, La Seine, also on La Cienega. (Thanks Mom for babysitting!) I had heard some extremely positive and extremely negative things about this place, so I was quite curious to try it out. The place itself and the ambiance is wonderful with comfortable chairs and booths as well as fireplaces giving it a very cozy feel. We started with Sushi that was outstanding. We ordered short ribs, a la carte off of the tasting menu and a flat-iron steak with fries. The ribs were melt-in-your-mouth but unfortunately lacked much flavor. The steak was perfect and the variety of sauces they brought out with it were great as well. The fries were nearly perfect. For dessert we had a disappointing chocolate trio, which consisted of hot chocolate cake, cold chocolate cake, and a chocolate rum shot, and an incredible hot lemon tart. Service was phenomenal all around.
Food: 8/10
Ambiance: 10/10
Service: 10/10
-04/16: On Monday we hit up the cholov yisroel Coffee Bean & Tea Leaf on Beverly. The Iced Vanilla and Iced Mocha Coffee were both awesome.
-The Grove is always a nice spot to walk around and shop. I bumped into a fanwalking back from the Grove who recognized who I was and thanked me profusely for my Paris trip notes which he studied and copied to a T eating at each of the places I had been to and ordering the same foods down to the Farandole. Now that's dedication!
-For lunch we had the La Gondola special, a Gondola Burger with soup, fries, or pasta for $10.95, which is a great deal. You really can't go wrong here.
For dinner a half dozen DansDeals Forums members got together at La Gondola where we chowed down on Asian Spring Rolls, Avocado Egg Rolls, and their famous Ribs and Chai steak, topped off with a hot chocolate chip cookie with ice cream. Pretty soon folks from tables surrounding us started realizing who we were and started coming over to chat with us, so good times were had by all and the conversation went on for hours longer than the restaurant cared for it to carry on.
Food: 8/10
Ambiance: 7/10
Service: 7/10
-04/17: On Tuesday for lunch we tried out a new Sushi place, Meshuga 4 Sushi. They have a nice lunch bento box special, about $12 for a Miso soup, roll of sushi, salad, rice, and the best part, panko salmon sticks.
The food is decent, nothing to really write home about, but the lunch special is a pretty sweet deal. Service was very good and when I checked in on Facebook my wife and I both got free cans of soda.
Food: 6.5/10
Service: 8/10
-Yogo, on Melrose, can always be counted on for a great variety of cholov yisroel frozen yogurts with a plethora of fun toppings. Definitely worth a visit.
-Of course I couldn't head home without bringing back from cinnamon crumb cake donuts from Cafe Elite or the crumb topping Cheese Danishes from Schwartz Bakery, conveniently located next door to each other on Beverly.
-For dinner we went to an old classic, PKD, or Pico Kosher Deli. After a hot pastrami and homemade onion rings it was off to LAX and a quick stop in the very nice Terminal 7 United Club (boy does it beat the Terminal 6 club I'm used to!). We had the bulkhead again on the A319 aircraft, it's not as spacious as the bulkhead on the A320, but it was still very nice. We had an empty seat for our car seat and Rafi slept the entire red-eye home.
Pictures (Click to enlarge) :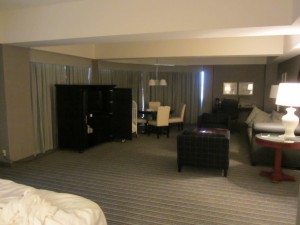 Corner suite at the Sheraton LAX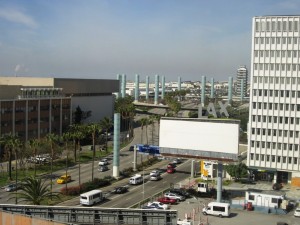 View from our suite at the Sheraton LAX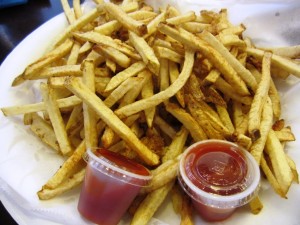 The always yummy fries at Fish Grill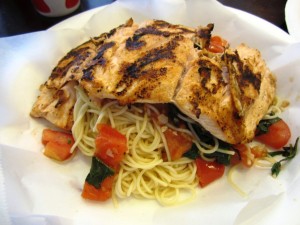 The fish however was dry and the pasta soggy at the Pico Fish Grill location.  Next time it's back to Beverly for me!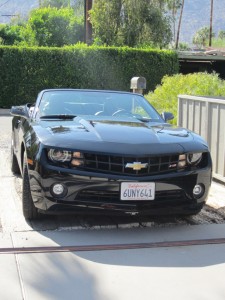 Thanks for the fun times Avis!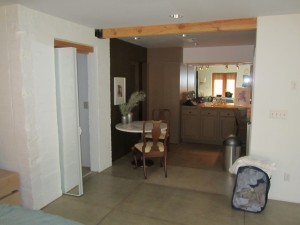 A partial view of the master bedroom in our rented Palm Springs vacation home.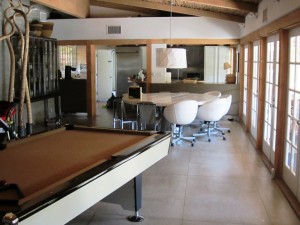 A partial living/dining  room view in our rented Palm Springs vacation home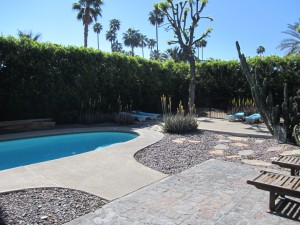 A small part of the backyard in our rented Palm Springs vacation home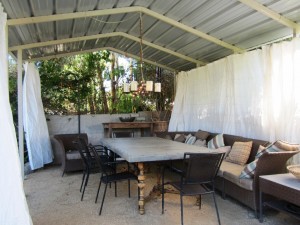 Outdoor dining area in our rented Palm Springs vacation home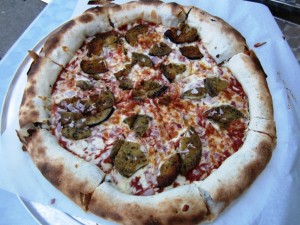 Basil & Berry stuffed crust pizza with eggs, I mean eggplant.
SLS Beverly Hills
Original Terrace room at the SLS.
Original Terrace room at the SLS.
View of the Terraces from the pool deck at the SLS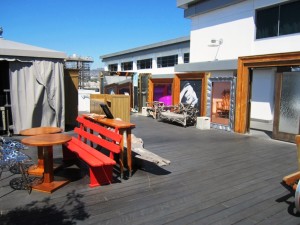 Pool Deck Entrance, SLS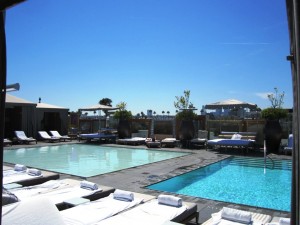 SLS Pool Deck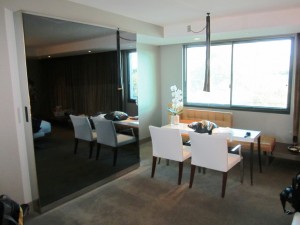 SLS Studio Suite.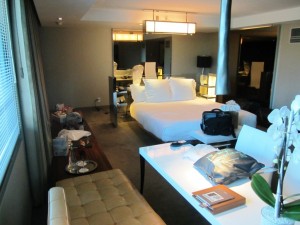 SLS Studio Suite.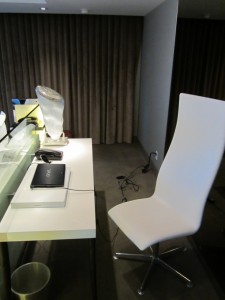 SLS Studio Suite.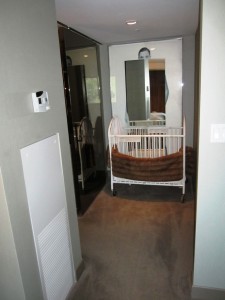 SLS Studio Suite.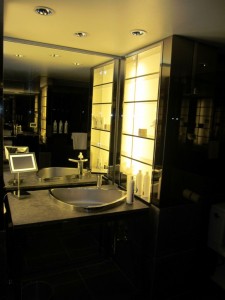 SLS Studio Suite Bathroom.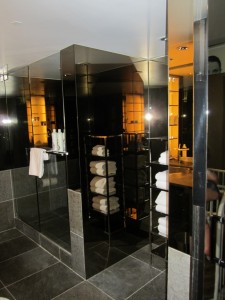 SLS Studio Suite Bathroom.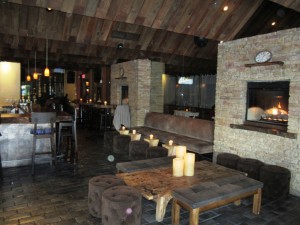 La Seine.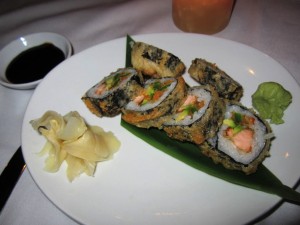 Excellent Sushi ($8, Salmon, Avocado, and Jalapeno in a tempura batter served with a delicious dipping sauce) at La Seine.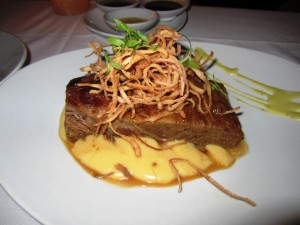 The Bordeaux Braised Short Ribs, $34, melt in your mouth, but the flavor itself is somewhat underwhelming.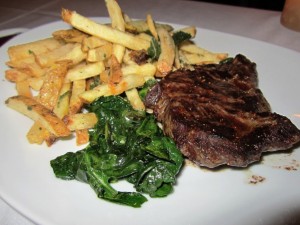 The Flat-Iron steak, $29, was seared to perfection and served with a number of very good dipping sauces and well spiced fries, at La Seine.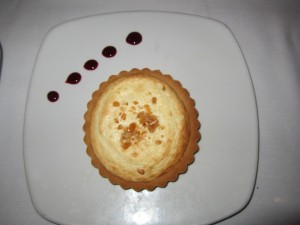 La Seine's Hot Lemon Tart dessert, $12, was out of this world.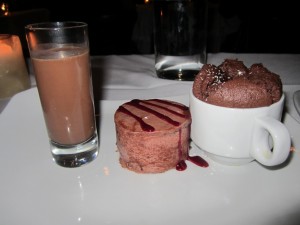 The Chocolate Trio, $8, however was surprisingly merely OK.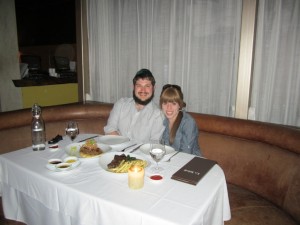 Enjoying a short night out without our adorable little one, at La Seine.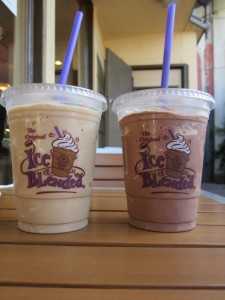 Addictive Ice Blended cholov yisroel Vanilla and Mocha coffee drinks and Coffee Bean & Tea Leaf.
Cholov Yisroel items at Coffee Bean & Tea Leaf.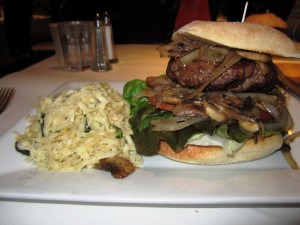 A succulent Mushroom/Onion Gondola Burger with Pasta, $10.95 lunch special plus $2 for the sauteed mushrooms and onions, at La Gondola with delicious Pasta.  The soup option of the day, split pea with artichoke, was even a better choice.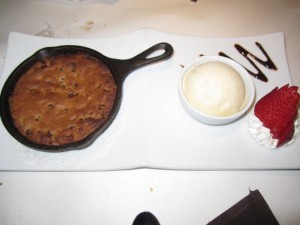 Divine Hot chocolate chip cookie with Ice Cream at La Gondola.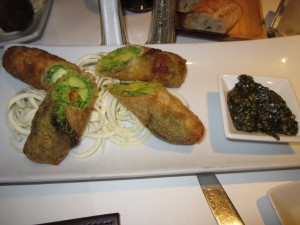 Avocado Eggrolls with Cilantro dipping sauce, $12.95, are a absolute must have at La Gondola.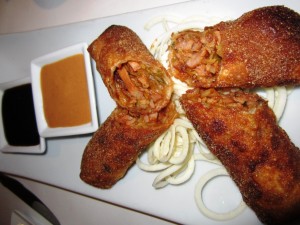 Asian Spring Rolls, $12.95, made with duck and chicken and served with peanut and teriyaki dipping sauces, are an excellent choice at La Gondola.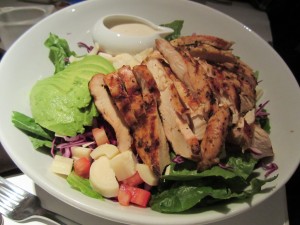 Chicken Salad, $13.95, at La Gondola.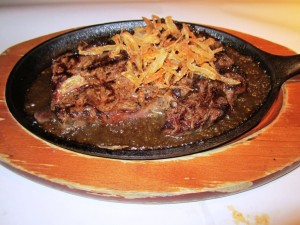 Chai Steak, $38, in a caramelized onion sauce, can be inconsistent at times, but was perfect this time at La Gondola.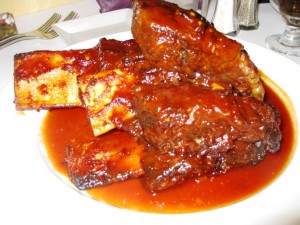 La Gondola's famous BBQ Ribs, $38.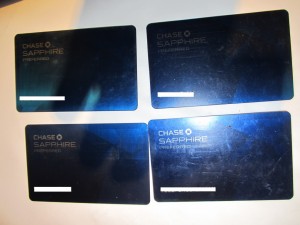 Of course at a DDF meetup we all pulled out our Sapphire Preferred cards, can't beat 2.14 points per dollar!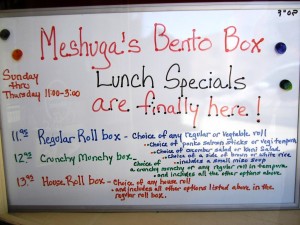 Meshuga 4 Sushi's lunch special.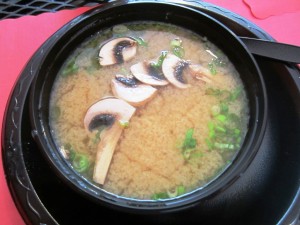 Miso Soup at Meshuga 4 Sushi was quite salty.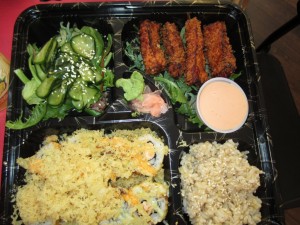 Bento Box from Meshuga 4 Sushi had some great panko salmon sticks.
Yogo with raw cookie dough and chocolate chips!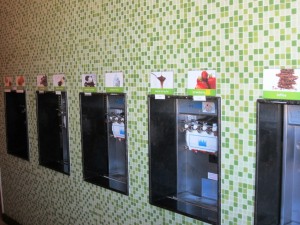 Yogo.
A small sample of toppings at Yogo.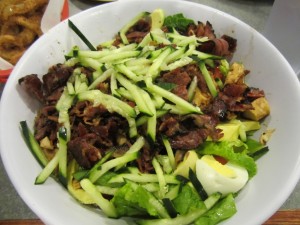 Cobb Salad with chopped chicken breast and grilled pastrami, $13.75, at PKD.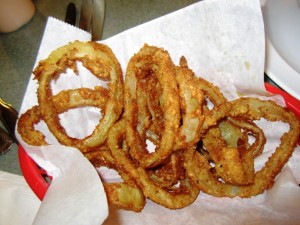 Excellent homemade Onion Rings, $3.95, at PKD.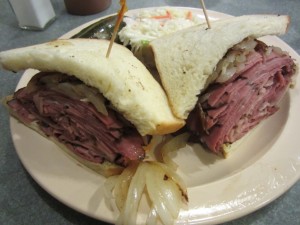 Hot Pastrami, $12.95, at PKD.