My wife and I together with my parents, 5 brothers, and sister-in-law spent Passover in Palm Springs, CA. Here are some random notes about the trip.
How we do it:
-This was our 5th time going to Palm Springs in the past 7 years. I'm not even sure how exactly the tradition began but we were just looking for someplace where we knew we could count on good weather for the holiday. Traditional Passover programs in hotels can cost as much as $5,000/person, so what we do is a budget getaway where the trip for the entire family can cost less than one person at a full-service program.  Of course you don't have chefs taking care of your every whim, but that's the tradeoff!
We start looking for vacation houses for rent on sites like vrbo.com, vacationrentals.com, craigslist.net about 6 months before Passover. The tricky part is trying to find homes for rent that are within walking distance of a Chabad House. After finding a place with sufficient bedrooms and a nice private pool and hot tub it's just a matter of negotiating a good rate. Orlando and Palm Springs are both communities where there are many houses that people own to vacation in for a few weeks a year and rent out for the remainder so rentals can be very cheap.  We found a house this year with 4 bedrooms, a pool, a hammock, and even a putting green and shuffleboard court.
-We bring all of the cooked food with us, 6 bags loaded with 70 pounds each. With that much frozen food a nonstop flight is critical. Continental flies the only nonstop from Cleveland to Los Angeles which means we are at their mercy as far as pricing. It took until just weeks before the flight for the price finally came down from the $400 level to the $200 level.  Constant vigilance is the method to grabbing a cheap flight.  It's always good to search for just one traveler and be willing to break up your group into numerous reservations or else you may wind up paying extra for everyone's tickets by booking together.
-After a quick stop at Avis (I had to use my Chairman status to get them to give my dad a Hummer H3 so he can enjoy the vast amount of off-roading spots around Plam Springs) we split up. My wife and I went into LA to pick up kosher for passover groceries while everyone else went to kasher out our rented house. Dovid Kagan, at Western Kosher made sure to save me a case of those fine super-thin Shatzer whole wheat matzahs and we got just about everything we needed there. We made a quick run over to La Brea Kosher to pick up a few cases of wine (we way overbought, but they were good enough to take back an unopened case!) We had a quick meal at Fish Grill…I don't even like fish that much, but the Grilled Salmon Angel Food Pasta with a huge order of crisp fries was out of this world! Finally we picked up some mediocre Chinese from Shanghai (gotta' fill the Chinese fix after Abba's sadly closed down here in Cleveland) and headed over to Palm Springs.
-Palm Springs is very serene and pretty. It's just under a 2 hour drive from Los Angeles. The weather is always incredible and the scenery is gorgeous. Mountains loom over you from the South and the West which actually causes sunset (and therefore Shabbos/Yom Tov) to be 25 minutes earlier than it should be when calculated based on the coordinates. There are awesome hikes all around in the mountains and in Joshua Tree National Park. We took a walk up the private Cahuilla Hills Dr with a homeowner's permission and the view from the park at the top of the trail of the entire Coachealla Valley is just breathtaking. On Thursday evenings from 6pm-10pm is a fun street fair where they close off the hip downtown area and thousands of people descend to the area to shop the local wares for sale. Rabbi Denebeim, the charismatic local Chabad Rabbi, even has a stand there called "Ask The Rabbi" where there is always a nice crowd of people speaking with him.
-We got rocked by the 7.2 earthquake, the largest I have ever been in.  Kind've scary to see the rafters shaking and the pool emptying itself of its water…
-We finished off the trip with an excellent dinner at Shiloh's.  Shiloh's had been hit or miss for me, but they brought their A game this time!  I had the Black Angus Steak with cracked peppercorn. Each steak is served with 5 dipping sauces.   We shared some delicious key lime pie and bananas foster which were made right in front of us!
Hotels:
Hyatt is running a Faster Free Nights promo and many Hyatt's have killer government employee rates (my father works for the feds) so we had to hit up some Hyatt's!  Plus I had already stocked up on Hyatt certs from Costco at a 20% discount.
My wife and I stayed at the Hyatt Grand Champions in Indian Wells, about a 20 minute drive further into the Coachella Valley from Palm Springs.
The Grand Champions is amazing! The grounds are simply fantastic. There are 8 swimming pools and a couple of hot tubs. There was not a soul using any of them at night, completely empty! There is a hefty resort fee, but it includes some neat stuff like free bicycle usage, game rooms, etc. Parking is comped for Diamonds.
I called ahead to use one of my Diamond Suite upgrade certificates but was told that they were out of suites for the night. When I got there I asked again and was given the penthouse suite without even having to use the certificate! The penthouse was very nice with 2 rooms, 2 bathrooms, a very long balcony, a fireplace, and a nice jacuzzi.
The Regency Club had a great breakfast, but our participation in that was limited to bananas and water. The excellent kosher (but not for passover) Swiss jams were just there to tease us.
After Pesach we drove back to LA and spent a night at the Hyatt Andaz in West Hollywood. The Andaz is Hyatt's answer to Starwood's W hotels. Very hip and trendy. There are also Andaz locations in NYC, London, and San Diego.
There is no check-in desk. Instead you cozy up on the couch in the futuristic lobby while they offer you something to drink and check you in via netbook. There are no magnetic strips on the keys, everything in the hotel is RFID based. Wave it and you can access the elevator, your room, the pool deck, etc.
I had them add the code ANDAZ5 to my reservation. This gives you $50 of resort credit (very handy to pay off the $28 valet charge) and 5,000 bonus points. Officially this code had to have been added before 03/31, but it can apparently still be added by calling Hyatt or any Andaz for travel through 06/30.  I also had them add G3 (1,500 bonus points) and 1W (1,000 points for diamonds). In the end I got 8,400 points and a faster free night credit from the stay.
The minibar is free at the Andaz and even has some kosher snacks along with a nice amount of drinks. Wi-Fi is free for everyone as well.
The high-rise "view" room has a huge open view to the Sunset Strip, all lit up at night.
The pool is on the roof (the highest rooftop pool in LA) and from there you can see LA sprawl out to the South and the houses in Hollywood Hills in the mountains to the north. In addition to pool chairs, there are these great "beds" on the roof with plenty of space for napping in the shade or the sun.
Airline Stuff (non-airline geeks, please skip right on past this part!) :
-Catch 22: In the Star Alliance I have Silver status with Continental and Gold status with BMI. Continental Silver's are eligible for upgrades but only get 2 bags of 50 pounds. Star Alliance Golds get 3 bags of 70 pounds each but are not eligible for upgrades.
However there are many quirks with the free bags and free upgrades that make it extremely complicated.
Continental has 2 upgrade methods, EUA and battlefield. The EUA system runs daily and upgrades elites in advance of the flight. The problem with EUA is that if you are the same reservation as non-elites you won't get upgraded. However in order for your non-elite companions to get the same baggage exemption as you do that need to be on the same reservation.
Officially, if you book yourself together with non-elites and then split the reservation into 2, you are eligible for EUA upgrades and the companions will get the baggage exemption. This does not always work flawlessly.
The other upgrade system, the battlefield upgrade, can be very tough for Silvers as you fall behind even companions of Platinum and Gold members. The nice thing about the battlefield upgrade is that you can check your position on the upgrade list in real-time on your phone at pda.continental.com
-I had my wife, who is Continental Silver, on her own reservation and she received an EUA upgrade in advance from Cleveland to Los Angeles and on the return from LAX to Cleveland.
However I stayed on the reservation with everyone else and thereby forfeited my EUA. I entered in my BMI Gold number before using the online check-in and at online check-in the site correctly allowed everyone on my reservation got 3 bags of 70 pounds each. I was then able to go back into the reservation and re-enter my Continental Silver number to get the miles credited to Continental instead of BMI. However because I checked in with my BMI number I never showed up on the battlefield upgrade list and did not get upgraded.  No Continental agent on the phone or at the airport was able to get me onto the upgrade list.
-My new sister-in-law was impressed at how I have travel down to a science.  The non-elite lines were extremely long and yet we skipped right on up to the the elite check-in counter where we didn't pay a dime for 17 bags, many of which were 70 pounds each! We skipped right on by the long security line and went into the spacious president's club where we had breakfast and davened.  We got to board the plane early in order to secure overhead bin space before finally settling into 6 spacious exit row seats that have a whopping 41″ seat pitch for plenty of legroom while my mother enjoyed first class.  I take it all for granted now, but it really does make the entire experience a pleasure rather than a chore.  If you've seen "Up In The Air" you know what I mean…but he wasn't traveling with 9 people bringing along the kitchen sink for Passover!
-On the return flight, I had selected auto-checkin which still had the last number that I used-my Continental number. Even after changing that to my BMI Gold number the system did not automatically allow 3 bags of 70 pounds. At the airport only after pointing out that my boarding pass said "Star Alliance Gold" and the huge sign that said that Star Silvers get 2 bags of 50 pounds and Star Golds get 3 bags of 70 pounds did the agent go around the automated system and give us the overweight bags for free.
-Why is it that they always offer bumps when I can't take them? From CLE to LAX they were offering $350 and a first class seat for up to 4 passengers to fly on a later flight but we just couldn't arrive any later than we already were.
-The outbound flight had DirectTV with a monitor by every seat with over 100 live TV channels and a number of movies. The cost is normally $6 in coach but the system wasn't working properly for every seat so they made it free for the flight. I noticed many people were trying to figure out how to turn off the TV…in case you're ever wondering you just have to dim the brightness all the way down and it runs off!
-We had Exit row seats both ways, which are free for elites, but Continental now charges $59 for the non-reclining exit row and $69 for the reclining exit row for non-elites.
-All of the rows on the DirecTV plane in the entire "elite section" from the exit row and forward had regular plug outlets which is great!
I think I've written up enough worthless info…hope someone enjoys it!
Pictures: (Click on the picture to enlarge)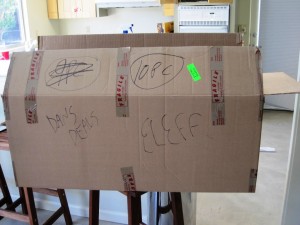 The matzah box on hold for "Dan's Deals"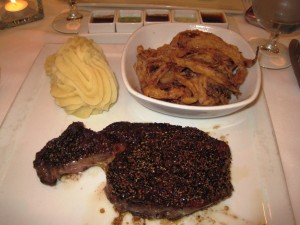 Black Angus Steak at Shiloh's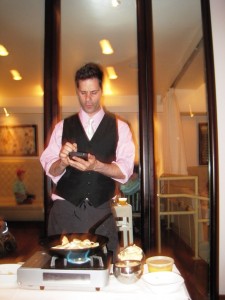 Bananas Foster à la check.
Rabbi Denebeim at the Palm Springs Street Fair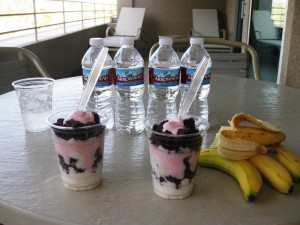 Everybody likes Parfait! Grand Champions Balcony.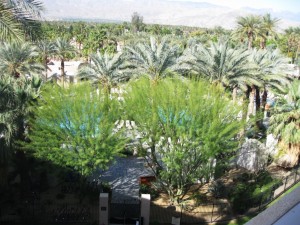 View from Grand Champions Balcony.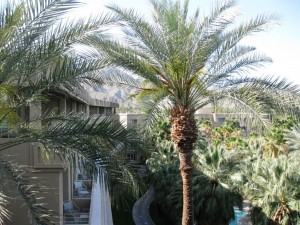 View from Grand Champions Balcony.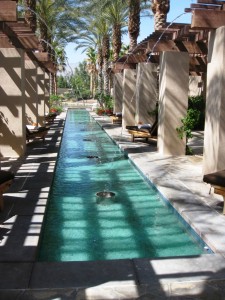 Grand Champions Spa.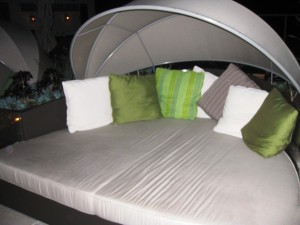 Hyatt Andaz WeHo Poolside "Bed"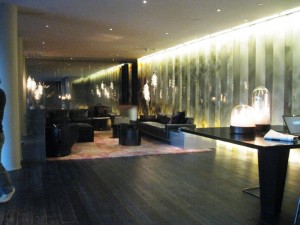 Hyatt Andaz WeHo Lobby.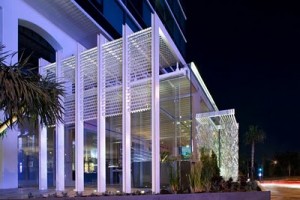 Hyatt Andaz WeHo Exterior, via Google Images.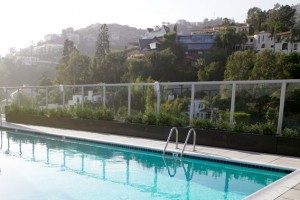 Hyatt Andaz WeHo Pool Deck, via Google Images.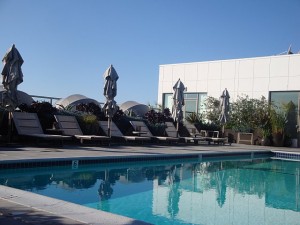 Hyatt Andaz WeHo Pool Deck, via Google Images.