Trip notes part 3 (05/18-05/20), Continued from:
May 2010 Trip Notes Part 1: Trip Planning + Zurich (05/11-05/12)
May 2010 Trip Notes Part 2: Paris. (05/13-05/17)
Random thought from our recent Europe/Israel trip:
-Finding award tickets can be a work of art. We flew from Paris to Israel via Frankfurt, Venice, and Zurich! We had to get to Venice to satisfy USAirways' 125K First Class Europe ticket without using up a stopover in another city. From Venice I used 30,000 BMI miles to get to Israel and back.  Pay for a airplane ticket? Never!
-I bought an international Sim card from OneSimCard for $30 shipped.  The rates are reasonable ($0.45/minute outgoing from Israel to the US, free incoming) and there were free incoming calls in every country that we went to.  It's a bit of a pain using the call-back feature, but you get used to it.  Plus they even give you AA miles for using their service!
-Whenever we had an internet connection I used the heavenly combination of Google Voice and Gizmo5 to make free phone calls to anyone in the US and Canada and dirt cheap calls to everywhere else.
-In Israel, I signed up for Sprint's $2.33 per day ($70/month, prorated over days used) unlimited international data roaming plan which gave me unlimited internet usage there.  I plugged my phone into my laptop and had 3G service that I was even able to make phone calls over for free.  Beware, if you have a grandfathered old unlimited internet plan from Sprint it can be a royal pain trying to get that plan back onto your phone line after switching to the international data plan.
-We arrived in Frankfurt an hour late, leaving us just 30 minutes until our connecting flight. On the flight they told us that we had been rebooked onto a later flight to Venice, which wouldn't have worked at all because we still had more connecting flights to make. After arriving, we had to wait for the bus to take us to the terminal, which left us with less than 5 minutes to run accross the entire A terminal from A1 to A40.
The best thing we did was make a quick 10 second detour to the Star Alliance Gold lounge to ask them to page the gate and let them know we were running. Even though we arrived a few minutes after boarding should have ended, they were waiting for us and cheering us on like at the end of a race 🙂
-The Star Alliance lounge in Venice is basically a dump, although it does have a neat terrace to walk out onto with a great view of the amazing city.
-In Zurich there are no Swiss lounges in the international terminal, there is a "Panarama" lounge though that Star Alliance Gold members can use.
-We finally arrived in Israel at 3:30am. Unfortunately, our bags didn't make it with us, even though we asked in Zurich and were told that they had made it with us so far. The bags did make it on the next flight which luckily arrived a few hours before Shavuos started, so we were able to drive back to the airport and pick them up (they wouldn't deliver them until the next day!) When they finally did arrive, 1 of the bags was completely destroyed…not fun!
-At 69 hours, it was by far my shortest trip to Israel, but it was definitely worth going for Shavuos.
-They moved the car rental location at the Tel Aviv airport halfway to Jerusalem.  Well not quite, but it will feel like it!  Luckily, if you have elite status with Avis you can still pick up your car in the terminal, but everyone else must take the very long shuttle ride to the rental car facility.  Also everyone must return the car to the rental car facility.  Dansdeals Forum user "Steve2" wrote up a nifty shortcut to the facility if you are coming from Jerusalem.
So that's how we spent our first day in Israel.
-We stayed with relatives in Jerusalem for Shavuos which was very nice to experience after all of the superficial hospitality that hotels offer . It was my first Yom Tov in the holy land and it was just amazing. Seeing the throngs of people at the Kotel is awesome!
And what better way is there to hear the 10 commandments being given over than in a shul in the Old City of Jerusalem?
-After the Sheraton Plaza (now Leonardo Plaza) was booted from the Starwood program for not paying their bills, there were no hotels left near the old city that accept points.  I did have rooms booked at the Crowne Plaza for $30 using the Priority Club points workaround but didn't wind up using them.  There's also a Ramada that takes points, but neither of those hotels are close to the old city.
-Last year when we were in Israel we had reservations at the Sheraton, but Starwood moved us to the new Mamilla Hotel which had just opened.  The stay there was a nightmare, but I suppose part of it could be chalked up to the fact that that had opened only a little while before we visited.  There were no refrigerators in the tiny, ultra-modern room and the service was downright lousy.  The toilets in the bathroom were so poorly shaped they actually hurt to sit on!  They charged us $10 when we checked out for when we requested ice that was supposed to be complementary and also charged us for breakfasts that we were told by the breakfast agent would be free.  Dispute resolution is just one of the reasons that I love AMEX though…
-The David Citadel used to be called the Hilton Jerusalem, but that hotel left the Hilton program quite a few years ago.  The good news is that the Waldorf Astoria Jerusalem is finally making some progress, so hopefully that will be open and accepting Hilton points within the next couple years.
-The Cafe Rimon meat restaurant was closed for renovations, which meant this would be my first trip to Israel without devouring their mouth-watering Philly Steak Sandwich!  Don't miss that if you go to Israel when it reopens.
-On the night after Shavuos (1 day!) we were able to take out my cousin who's in seminary in Tzfat and eat at the Cafe Rimon milk restaurant which is always great.  The Belgian Waffle covered in Caramel and Chocolate sauces and Ben & Jerry's Cholov Yisroel Ice Cream is too good to describe!  I've had better french onion soup though. My wife absolutely loved her Rimon Summer Salad which had pesto bruschetta, mixed greens, granola, pasta, feta cheese and nectarines in it. Of course we still had room for some delicious froyo afterward from Katzefet right across from Cafe Rimon on Ben Yehuda.
-The day after Shavuos we spent replacing my baggage that had been destroyed.  We also managed to pick up some Israeli goodies like the Original flavor of Smirnoff Ice (I wish this was kosher in the US), Chewy Nature Valley Granola Bars, Kinominim cereal, and the usual junk food like Bugles, Cheetos, Doritos, and all that other good stuff that we can't get kosher parve back in the US.
-On Thursday we went with my wife's brother's family to Papagaio , a new mehadrin Brazilian steakhouse in Jerusalem.  We got the "Brazilian Table," which is actually called "rodizio" in Portuguese.  For this they give you a red light/green light device that indicates whether you want more food.  They have about 10 different kinds of meats that they roast and keep bringing to the table giving you slices of it anywhere from well done to rare.  There was some debate between the waiters as to the cost of the Brazilian Table.  At first an employee told my brother-in-law that it was only NIS119 (US$30.50) because we had arrived before 6pm.   Then halfway through the meal our waiter told us that there was a mistake and that the cost was NIS169 (US$43.50) and that the 119 price is only if you arrive before 5pm.  When my brother-in-law offered to leave, somehow they managed to correct the mistake back to 119.  They also give you lots of salads and fries included in the price that they hope you fill up on so you eat less meat!  We didn't have the heart to try to use this 10% coupon though after they gave us the 119 price. My nieces had the choice between the 79NIS kids Brazilian table and NIS43 for a shnitzel with fries and a drink…the shnitzel was actually really good!
It's definitely a fun and worthwhile experience (especially at NIS119!), but they are just too slow to bring out the meats.  I liked the "original" version that I had at Mehadrin in Sao Paulo that was just $10 back in 2005 when I was last there.  But for Israel this was pretty good.  Don't bother with the sublime Brazilian Caiparinha drink though, it's neither good nor authentic.  Get that at Clubhouse Cafe in Times Square, NY instead…
-We stopped by "Mamtakalada" in Geulah in Jerusalem to get out fill of sweets like Milk Chocolate covered nuts (Yum!) and Passion Fruit/Spearmint Mentos (Surprisingly good and refreshing!)
-A few Dansdeals Forum members wanted to meet up, so we spent about an hour and a half talking over different mileage strategies and all that good stuff at the Ramada Jerusalem and had a great time!
-We filled up our gas tank (over $7/gallon…ouch!) and left Jerusalem at 10:30pm to catch our 1:20am flight to Brussels which I thought would be plenty of time…at least our gas tank stayed full when we returned the car!
-We arrived at Avis at 11pm and they started checking over the car with a magnifying glass for scratches!  I've never once had any Avis even check over my car before, but here they were unbelievable. (Yes, I know this isn't a corporate ownded Avis location, it's just a franchise)  Unfortunately when we arrived at 4am in the morning I was too tired to walk around the car and make them mark any scratches on their "paper," so I was left holding the bag for some of the tiniest scratches ever seen.  They charged me $120 for it (more than I paid for the entire 3 day rental with their mandatory 3rd party insurance!).  I paid by World Mastercard so hopefully I'll get it back, but I had to spend 90 minutes on the phone filing the claim for it…
-It took over half an hour until a shuttle came to take us for the long ride back to the terminal.  2 shuttles came in the interim but they had their lights flashing which meant they wouldn't pick anyone up.  Finally we made it to the terminal with just 50 minutes until flight time.
-Brussels Airlines computers were down when we arrived, we finally boarded the plane just minutes before they closed the doors…and just enough time to run and pick up some last minute ice cream bars!  They weighed our carry-on baggage and only let us have it because we were in business class.  Their business class from Tel Aviv to Brussels isn't anything special at all, just regular seats with a blocked seat in the middle, although the badatz mehadrin meal was decent and they even gave me my own 2 liter of seltzer…good enough to keep me happy!
Up next: Venice, Italy!
That's all for now, hope this helps people out on their own trips.  I never got around to typing up trip notes from last year's trip up to Israel's amazing Golan region…should I still type them up?  All feedback is appreciated!
Pictures: (Click to enlarge, not all pictures were taken on this trip)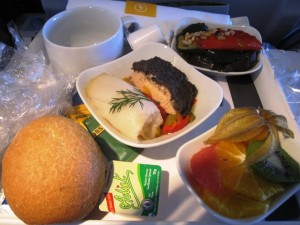 Lufthansa kosher meal, Paris-Frankfurt.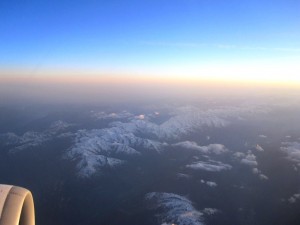 Flying over the Swiss Alps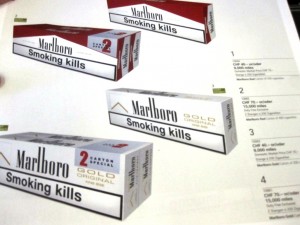 Advertising like this in Europe and people still smoke wherever you go?
Swiss First Class Lounge Entrace, Zurich.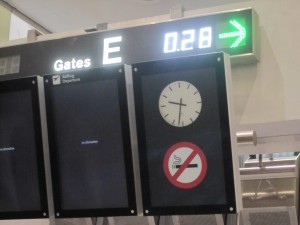 Swiss efficiency on display…when they say 28 seconds they mean it!
Swiss kosher meal, Zurich-Tel Aviv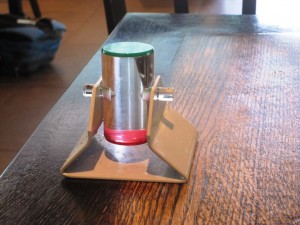 More meat!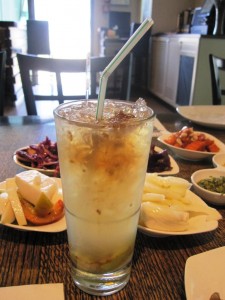 Caiparinha at Papagaio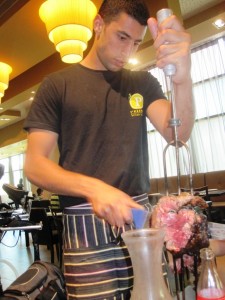 Papagaio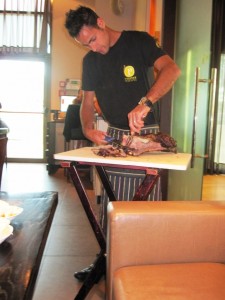 Papagaio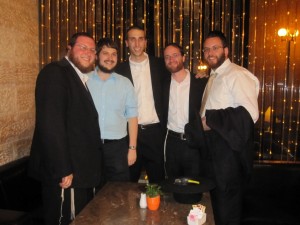 Dansdeals Forum Meetup At The Ramada Jerusalem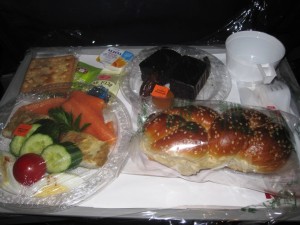 Brussels Airlines kosher meal, Tel Aviv-Brussels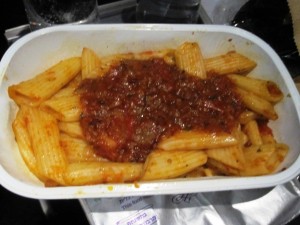 ,
Brussels Airlines kosher meal, Tel Aviv-Brussels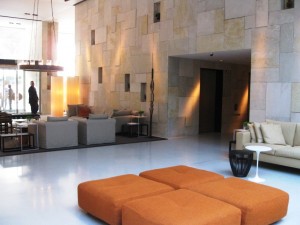 Mamilla Hotel, Jerusalem
Mamilla Hotel Bathroom (A flip of the switch frosts the glass)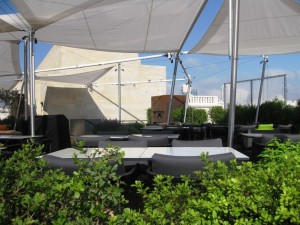 Mamilla Hotel Rooftop, Jerusalem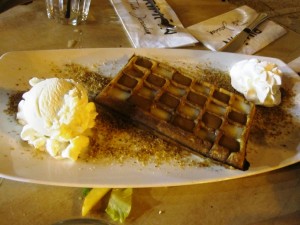 Belgian Waffle at Cafe Rimon, Jerusalem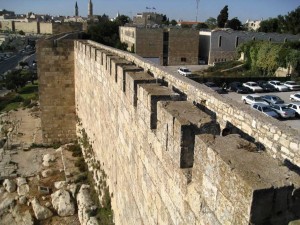 Ramparts Walk on the Old City walls, Jerusalem
My own lounge at Tel Aviv/Ben Gurion Airport.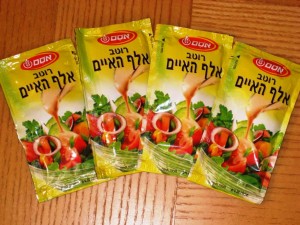 And there's my last name too on the thousand island dressing…