I left off previously last month when we were leaving the Newark Presidents Club in middle of a flying across the country earning miles worth more than the cost of the $78 ticket…
-We were upgraded on the flight from Newark to Houston.  The aircraft was a 777-200, the same airplane that Continental flies on international routes, like from Newark to Tel Aviv. It was my first time being in the BusinessFirst section of that aircraft since Continental switched from their old style BusinessFirst seats to the new lie-flat seats.  It was a pleasure to be able to make the seat into a bed with the touch a button.  There is even a USB plug to charge an iPod for example and a regular 3-prong style plug as well.  I did notice that the cutout where your feet go when the seat is made into a bed varied greatly between seats.  While some seats had huge footwell cutouts, others had significantly smaller footwells.  Bulkheads seemed to have the biggest footwell cutouts.  Each seat has a large LCD with hundreds and hundreds of free movies and TV shows to watch.  You can even control your iPod from the screen.  All in all it's a very nice upgrade from the old-style BusinessFirst seats that Continental had.
-In Houston we went to the excellent Presidents Club in Terminal E and made our way up to the 3rd floor of the massive club.  The showers there are significantly nicer than the ones Continental has in Newark.  There is a closet in each shower room where you can put your clothes into and they are pressed while you shower.  In Newark we had to scout around to find empty seats in the club but on the 3rd floor of Houston's club there were plenty of open spaces.
-We were upgraded on the Houston to Orange County flight as well but this was a domestic 737 configuration.  If only Continental flew the 777 from Newark to the west coast directly!  Continental is retrofitting all of their 737s with hundreds of stations LiveTV and on-demand movies and this flight had that.  In coach they charge $6-$8  for the service with a $2 discount if you use your Continental OnePass Plus card (the same discount applies towards alcoholic beverages bought with the card), but in First the service is free.
-We arrived into Orange County airport Tuesday evening at 10:30pm and Avis had a Caddy STS with just 93 miles on the odometer waiting for us.  We used the $30 Daily Getaways Avis coupons to pay for it.  Best of all-you don't pay all those nasty rental car taxes when you use the $30 coupons!
-That night we stayed at the Hyatt Regency Huntington Beach.  The category 6 property feels slightly dated, but the main draw in that it's right on the great beach.  It's kind of mind-boggling that this could be on the same redemption category as some of the other top-tier Hyatt hotels.  They discounted the $23 resort fee to $17 as a Hyatt Diamond member, though I still don't know what exactly that fee is supposed to cover.   We received a nice suite, but when I turned on the air conditioning it gave off a strong electrical smell and didn't work at all.  We did get 6,000 points though as compensation for that.  The pools are nothing to write home about for a resort property, although perhaps I am spoiled by the Grand Hyatt Kauai or the Hyatt Regency Maui? The property does have a nice Regency Club where they serve a complimentary breakfast.  We ate some cereal and drank Tazo Passion Fruit tea out on the club balcony and went to walk along the nice boardwalk along the beach.  We even rented a 2 person trike and peddled up and down the boardwalk for an hour which turned out to be more fun than I thought it would be!  Overall a fine hotel for the location alone, but nothing to write home about otherwise.
-We drove south to Carlsbad to stay at the Park Hyatt Aviara. Carlsbad is about a 90 minute drive from Los Angeles, although having 2 people to use the carpool lanes definitely helped.  This property was a Four Seasons until last year when they switched to the Hyatt flag.  Although it hasn't been renovated in some time, the property feels much more grand than the Hyatt Huntington Beach.  It doesn't look anything like the other Park Hyatt properties that I have been to in Melbourne, Paris, Sydney, or Zurich, but then again none of those are resort style properties.   All of those properties managed to arrange for fabulous complimentary kosher breakfasts (and even kosher champagne and wine as an amenity!) as a Hyatt Diamond member, but the Park Hyatt Aviara didn't want to hear of it.  Our suite was humungous with a massive living room area, 2 full bathrooms, 2 balconies, etc.  There are numerous pools and hot tubs spread throughout the grounds, and it seemed as if they were always empty.  The service was generally top-notch, although at times it bordered on overbearing.  When we were walking around the grounds and pools, sometimes it would have been nice just to be left alone than asked so many times if there was anything we needed.  Is it really necessary for every pool to be watched over by hotel employees that closely?  There are parts that were nice though, such as always being addressed by your name and being handed a couple bottles of cold water whenever we left the property.
The hotel is not on a beach, but does offer a complimentary beach butler service where they drive you to the beach and set you up with chairs, drinks, towels, and an umbrella.  They failed to tell us that you need to reserve that 24 hours in advance, but they did offer to put all those goodies in the trunk of our car if we could wait an hour.  However when we went to our car after an hour none of those items were in our car.  The valet did get us those items when we asked for it and gave us directions to the beach.  The beach he sent us to was rocky and uncomfortable looking (nothing like Huntington Beach) so we didn't even wind up staying.  If we had more time we would've driven down to La Jolla, but by then we had to drive to LA to stay by friends for the weekend.
-The Ralphs in La Jolla has a full kosher section with a kosher bakery and deli, and kosher foods like fried chicken, burgers, sushi, and grilled cheese sandwiches.  They work very s l o w l y.  It took an hour to get a burger and a grilled cheese sandwich.  Skip the burger-it's not very good.  The fried chicken on the other hand was very good as was the challah.  The kosher section opens early in the morning but closes at about 6:30pm.
-We went to Sea World on Thursday.  It was a gorgeous and sunny typical San Diego day, 75 and sunny.  Brought back some nice childhood memories of Sea World Cleveland before Six Flags and Cedar Point conspired to kill that park.  It was worth the $39 I paid for my tickets, but I can't imagine paying the $70 admission fee that they ask for at the gate!  I did like that they let you take pictures and even videos of the shows.


-No trip to LA is complete without hitting up the kosher restaurant scene!   Didn't have a chance to hit up other usual jaunts like Fish Grill, Jeff's, Milk and Honey, or Shiloh's, but I've included some reviews with pictures below.
-Dovid Kagan from Western Kosher provided me with some of the best roasts I've ever had.  Vacuum-sealed they had no problem surviving the trip home.  Put one of his seasoned First-Cut Brisket Pastrami's in a crock-pot before shabbos and it will melt in your mouth like soft butter.  It just needs some of Cleveland's famous Bertman's Ballpark Mustard to be perfect.  And don't miss his amazing Wagyu beef either!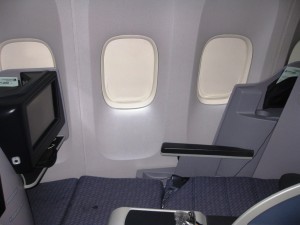 Continental 777-200 Lie Flat BusinessFirst Seat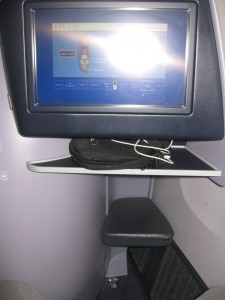 BusinessFirst Seat with a smaller footwell.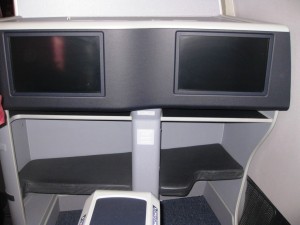 Bulkhead BusinessFirst Seats with larger footwells.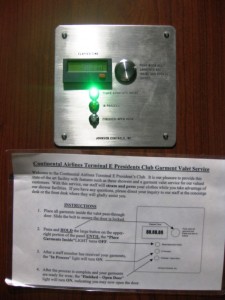 Houston E Presidents Club Shower Garment Valet Closet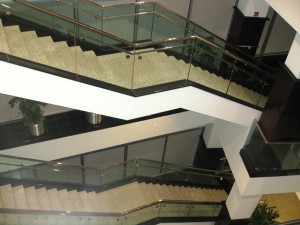 Don't worry…there's also an escalator and elevator in the 3 floor Presidents Club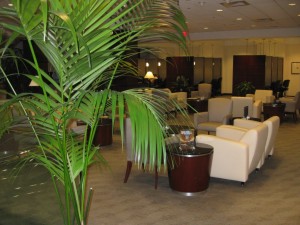 Plenty of space in the IAH E Club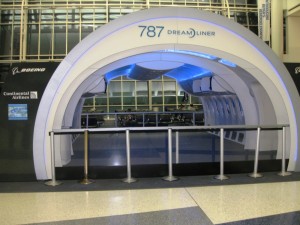 The most anticipated and delayed aircraft ever?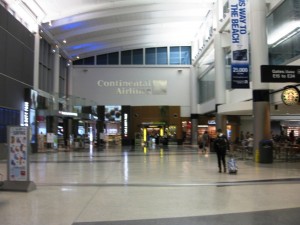 Not for long…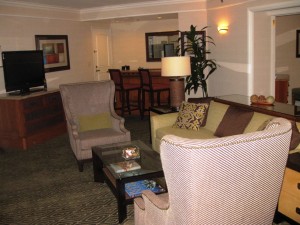 Hyatt Regency Huntington Beach Suite Living Room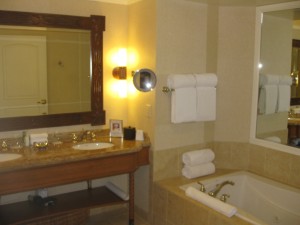 Hyatt Huntington Beach Suite Bathroom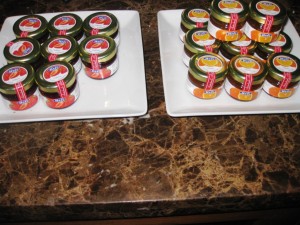 Kosher Hero jams are available in most most Hyatt Regency Clubs…just bring your own bread!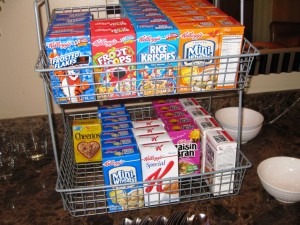 Cereal selection in the Hyatt Huntington Beach Regency Club.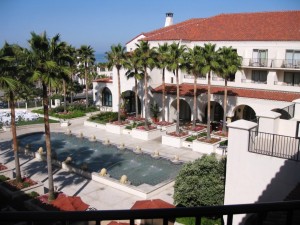 Hyatt Regency Huntington Beach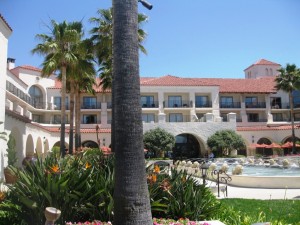 Hyatt Regency Huntington Beach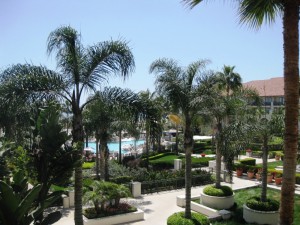 Hyatt Regency Huntington Beach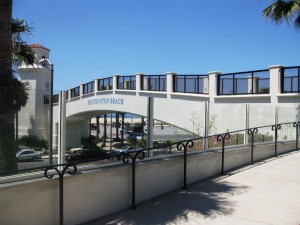 Bridge from the Hyatt to Huntington Beach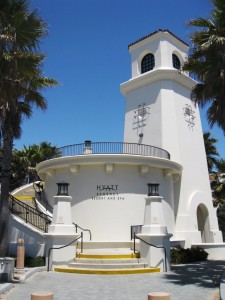 Bridge from the Hyatt to Huntington Beach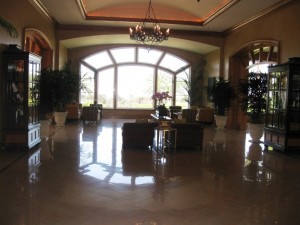 Park Hyatt Aviara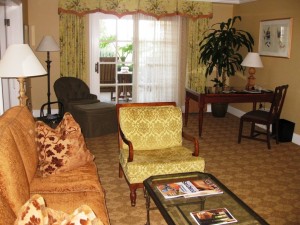 Park Hyatt Aviara Suite Living Room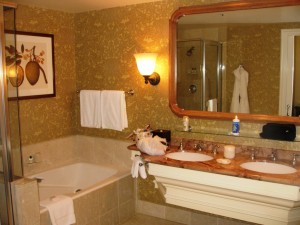 Park Hyatt Aviara Suite Master Bathroom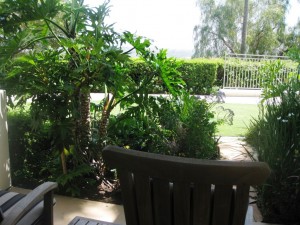 Park Hyatt Aviara
Park Hyatt Aviara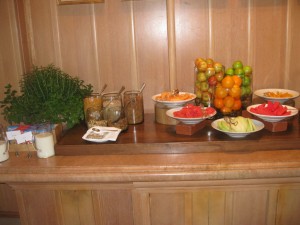 The extent of the kosher breakfast at the Park Hyatt Aviara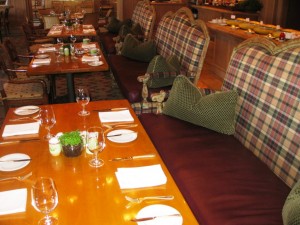 Park Hyatt Aviara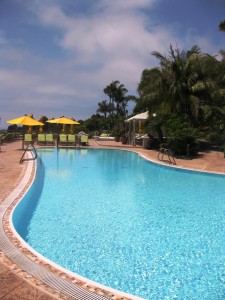 Park Hyatt Aviara Adult Pool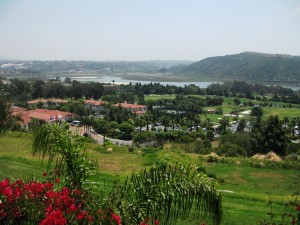 View from the Park Hyatt Aviara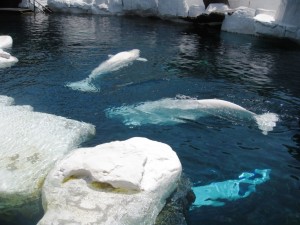 Beluga Whales at Sea World
Shamu for the 21st century?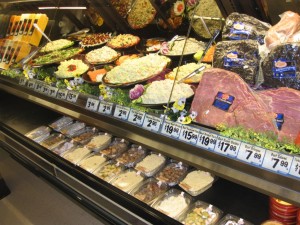 Ralphs La Jolla Kosher Counter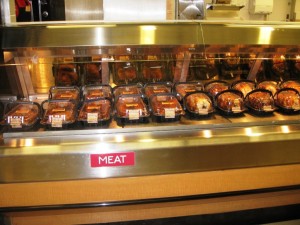 Ralphs La Jolla Kosher Counter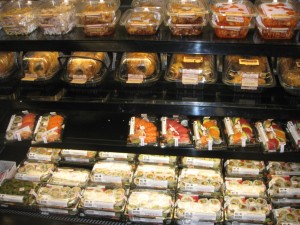 Ralphs La Jolla Kosher Counter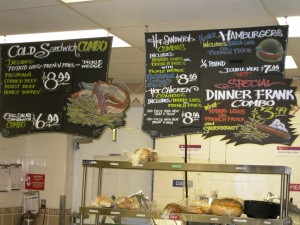 Ralphs La Jolla Kosher Menu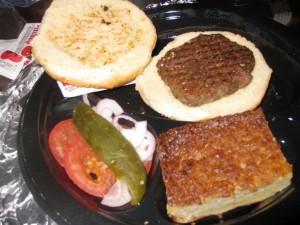 Not a very exciting burger from Ralphs.  And the deep-fryer was broken so it was kugel instead of fries!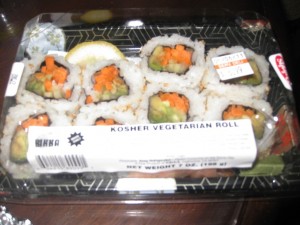 Decent Sushi from Ralphs La Jolla.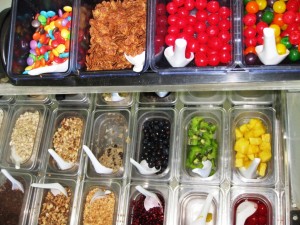 Some of the dozens of toppings at Yogo self-service frozen yogurt.  Top it off with all you want and just pay for the total weight!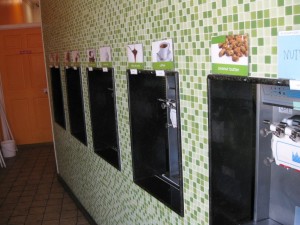 Flavors and flavors of goodness.  So good we had to go twice!
The final creation, Peanut Butter Yogurt topped with goodies…not bad for $3.75!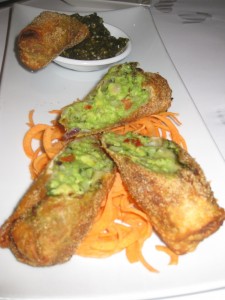 Avocado Eggrolls from La Gondola.  A piece of heaven on earth…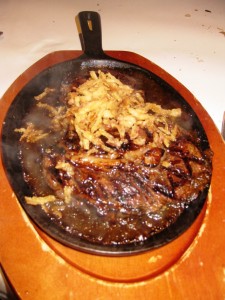 Chai Steak in a caramelized onion sauce from La Gondola.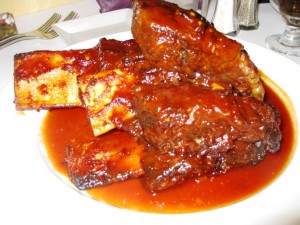 Succulent ribs from La Gondola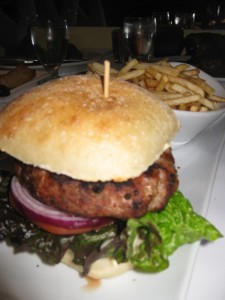 Gondola Burger with fries.
Molten Chocolate-Chip Cookie Souffle from La Gondola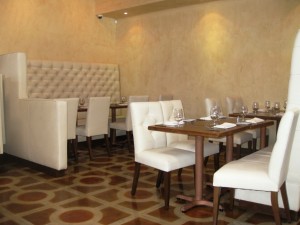 Ambiance is what you pay for at the new "26 by Shiloh's" dairy restaurant.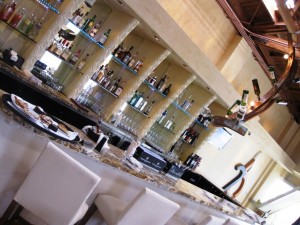 26 by Shiloh's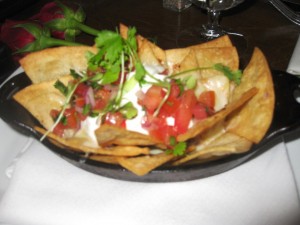 Mediocre nachos at 26.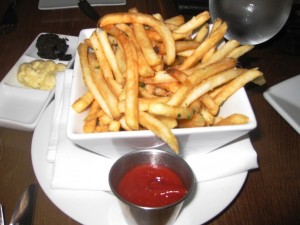 Garlic Fries sounded good on paper…but why so stingy on the garlic?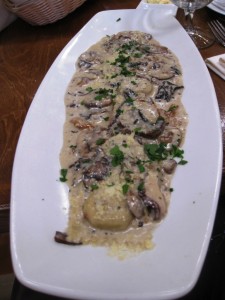 Mushroom Ravioli at 26 were tasty, but not out of this world.
Panini with french onion soup.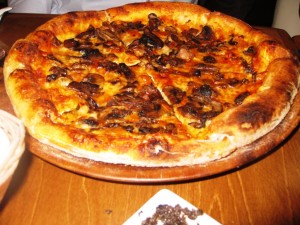 Mushroom Pizza at 26.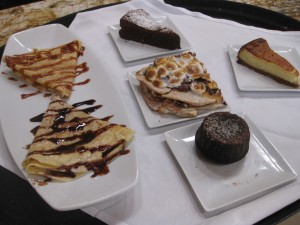 Desserts!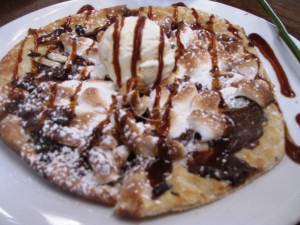 This chocolate "pizza" with toasted marshmallows, ice cream, and caramel was ridiculously good!
The only cholov yisroel Coffee Bean and Tea Leaf in the world!  The Mocha Ice Blend was very good.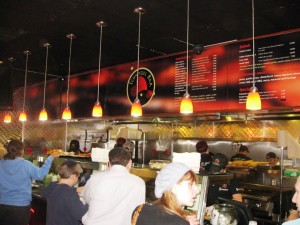 Schnitzly's is a popular new joint.  Their garlic shnitzel in a baguette with fried onions for $9.99 is a massive and delicious bargain and made for a perfect meal for the plane ride home.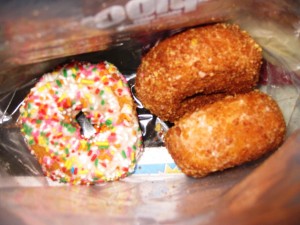 Can't leave LA without bringing home some cinnamon crumb ring donuts from Cafe Elite.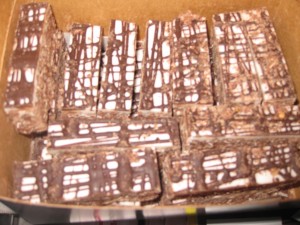 "Kit-Kats" from Schwartz bakery.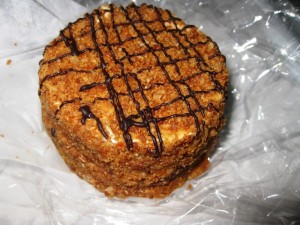 Caramel cake from Schwartz bakery…yummy!  And don't miss their crumb cheese danishes either!