Related posts:
-Up For Grabs: Panoramic View Suite At The Encore Resort By Wynn In Las Vegas!
-On The Road: The Upgrade Dilemma Edition…
-SIZZLING FOR AMEX PLATINUM CARDHOLDERS!!!!!! 2 FREE NIGHTS AT THE WYNN AND ENCORE HOTELS IN LAS VEGAS!!! (Still Alive!)
-Starwood AMEX Linky
-Platinum AMEX Linky
Here is a collection of random thoughts and advice from my recent trip. I'd appreciate feedback in the comments to see if this type of report is worthwhile or not...

Departure: Sunday, 03/15 on Continental flight 757 leaving Cleveland at 8:50pm, arriving in Las Vegas at 10:30pm.
-This may have been the latest east-west coast flight that I've ever been on. It's kind of nice to have a whole day to do stuff before the trip, but when you arrive at your destination you are totally wiped out.
-The sold-out flight was surprisingly light on elites. As of Saturday night Continental had not sold a single first class seat, so all 9 elite members who had tickets on the flight were given complimentary upgrades, leaving 7 open first class seats.
-On Sunday I noticed that Continental had blocked seats in the first class cabin, indicating that coach was oversold and Continental was going to have an op-up situation. An op-up occurs when the airline needs to "bump" people from their coach seat into first class due to too many seats in coach being sold and not enough no-shows in coach. Anticipating this I was waiting at the gate 70 minutes prior to boarding. At 60 minutes when the gate agent arrived I was able to easily land an op-up for my wife just for the asking.
Invaluable tools used: pda.continental.com, seatguru.com and flyaow.com/classamex.htm
-Just as we were about to board the flight the lead flight attendant was knocked unconscious by the errant luggage of a passenger. We were deboarded while 2 ambulances came to take her to the hospital. Continental quickly scrambled for a new flight attendant and the flight took off only 40 minutes late and landed only a few minutes behind schedule.
-The brand new Continental Presidents Club is the nicest non-hub lounge that I've ever seen. It is expansive and has a beautiful view of the Vegas skyline.
-I brought along the lonely planet guide for Vegas as well as the lonely planet guide for the incredible looking Zion and Bryce Canyon just in case…
-Renting a one-way car from Avis the airport: $280 with tax.
Renting a one-way car from Avis on the Las Vegas strip: $170 with tax.
Only problem: The strip location wouldn't open until Monday morning, which meant finding my own way to the hotel on Sunday night.
You definitely want to rent a car in Vegas as there is an abundance of free parking at every hotel, and the good kosher restaurants are over 7 miles away from the Strip, or about an $80 taxi ride round trip!
We wound up with a fully-loaded Saturn Aura with leather seats, which turned out to be a nice mid-size car, perfect considering the amount of miles (over 600!) we put on it in such a short time.
-Supposedly there is some law that the strip hotels can't provide shuttle service to/from the airport. So that left me with the taxi vs. shuttle debate. The hotel said that a taxi should run about $15, so with the shuttles costing $6.50 per person it seemed like a no-brainer to take a taxi…Until I saw the impossibly long line for the taxi.
I had read in the lonely planet guide that the airport porters have access to skip the taxi line and one even offered his services when we doubled back inside the airport after seeing the taxi line. For a simple $2 tip for our solitary suitcase we skipped the entire taxi line.
-The lonely planet guide warned about taxis fare-gouging by using the airport connector tunnel to the interstate for a longer route. Instead it suggested to tell the taxi to take paradise road. Good luck with that though-our taxi driver refused! At 11:30pm, which was 2:30am as far as my body was concerned. I was too tired to argue with the steadfast taxi driver. The fare wound up being $27.50, and incredibly the guy had the nerve to scream at me for not tipping! How about following directions next time buddy?
-It's hard to express just how nice the Wynn and Encore resorts are. To get an idea, they cost over $5 Billion (yes, with a B) to to develop. The Wynn opened in 2005 and the Encore just opened a few months ago. They are true masterpieces. The 2 buildings are attached via an ultra-high end shopping mall.
-The Wynn and Encore hotel checkin areas appear to be chronically understaffed at nearly all times. Surprising for such a luxury hotel…
-We started off the trip with 2 nights at the Wynn. The nights were absolutely free! No tax, no nonsense, no nothing!
At check-in I was given a personalized letter thanking me for coming and offering $120 of breakfast credit, $90 of lunch credit, and a 4pm late checkout. I explained that as a religious jew I wouldn't be able to partake in the food offerings and asked just to trade it for free wi-fi (normally $14/day), which was immediately granted.
As part of the AMEX package we were upgraded to a panoramic view room on the 58th floor, which was quite spectacular!
The room had it all, an amazing view, a coach and workspace, a widescreen HDTV, etc. The bathroom was huge and had 2 sinks, a jacuzzi, a separate shower, and a separate room for the toilet. The robes provided were splendidly luxurious.
-We had no problem checking out of the Wynn and immediately checking in to the Encore. Same deal, except this time I was turned down for the free wi-fi. We were upgraded in the Encore as well to a panoramic view suite on the 55th floor.
-The Encore is brand new and we both preferred the look and decor of the Encore. Also the room layout, with a split bedroom and workspace was nicer at the Encore as well.
I also loved the power panel at the Encore next to the bed. From it you could control the shear drapes, the main drapes, all of the lights in the room, and you could even turn on a privacy light so you aren't disturbed by housekeeping in the morning. Another nice thing at the Encore was the number of available outlets-at the Wynn those were hard to find!
-There is so much to do (Visit Paris, Venice, NYC, Cairo, and French Polonesia) and free shows (Volcanoes erupting, pirates fighting, fountains dancing, circus acts, Carinival, etc.) to go to in Vegas to keep you occupied for days without betting a dime. And that's all besides for other sites and side trips like the nearby Red Rock Canyon, Hoover Dam, or even the Grand Canyon and Zion/Bryce.
-If you look around you will find promo offers at every hotel for signing up for their frequent players card. For example we got $20 of free play at the Excalibur just for showing them our Wynn room keys!
-Tix4tonight offers up to half off on dozens of shows. They have multiple locations throughout the strip and it's definitely worth stopping by before paying retail.
-If you are into gambling it's worth investing the $0.97 to buy a card like the blackjack basic strategy card, which limits the house advantage to under one half of a percent. The casinos allow you to refer to the card while playing. (If you're mathematically inclined it is also totally legal and fairly straightforward to count the cards in play to actually give yourself an advantage over the house. Just do it discreetly as it is frowned upon…)
-Kosher restaurants that we went to:
Adar Pizza: Great location, but breathtakingly overpriced. $15 for a calzone? $7 for fries or refried onion rings? $6 for an ice cream?
The kicker? After returning 2 pitchers of water with highly suspicious objects in them we were offered bottled water-and then charged $4 for it!
Once and done.
Panini Grill: About 8 miles from the strip, the food was very good but the service was entirely incompetent.
My wife's greek salad ($10 was quite good, but I decided on a eggplant parmigiana ($12). What came was literally half of an eggplant, skin attached, with cheese on top. When I asked the waitress where exactly the sauce was, she apologized and brought it back to the kitchen. When they remade the meal the eggplant was still frozen in the middle. At this point they asked if I would just like another meal so I chose one of the ravioli dishes. What came out was entirely different…a plate of spaghetti!
Aurghhh!
Finally they got me the ravioli, which was actually quite nice, and comped us a delicious piece of cake (normally $8). They were friendly and quite apologetic throughout, so I did actually leave a nice tip…
Village Steakhouse: Now this place is a gem!
Service was outstanding, and everything we ordered was made to perfection! One night I got the green peppercorn prime reserve steak and the next night I ordered the orange bbq ribs. Both were absolutely incredible and well worth their ~$40 price tags. The side dishes were even more impressive. The sweet potato fries with maple aioli were out of this world. Best of all a generous portion of them was just $5. The menu was different both of the times we went (both of the entrees I ordered only appeared on one night) which was neat as well. The complimentary bread and dips also changed between the two times that we went. Equally impressive (especially for those who have been to restaurants with me) is that I never reached the bottom of my water glass!
This is also located about 8 miles from the strip.
-On Wednesday I hid the room key to my Encore room in the parking garage in anticipation of giving the room away for that night. Joshua F. was the first confirmed respondent and he had the privilege of playing detective trying to find the hidden room key! Congrats on getting the free night!
-We decided to drive from Las Vegas to Irvine, CA where my wife was to attend a wedding. People there seemed shocked that I would drive. Honestly I can't understand why. It took about 3:45 to drive the 260 miles at an average speed of about 70mph. In order to fly it would take well more than that to return the car, clear security, fly to LAX/LGB/SNA, rent another car, and drive to Irvine.
-Those Virgin America creative floks weren't making up the "somewhere over Zzyzx, CA" place in their promo video. We passed by the sign for it on the drive! Double miles if you can pronounce that correctly!
-I took the liberty of slipping out of the wedding in order to go learn with my brother JJ in his yeshiva for an hour before treating him to a "gourmet" meal at Jeff's gourmet. Mmm now those are good homemade onion rings!
-We stayed in the category 2 Westin LAX for 4,000 Starpoints. The paid rate would have been over $200+tax!
I was upgraded to a terrace suite with 2 rooms and a nice balcony with just clear skies above it. A decent hotel, but it can definitely use better soundproofing!
-We flew back on the red-eye, Continental 634 from LAX-CLE which was a completely sold-out flight. Luckily we were seated in row 14, in which you probably have more leg room than first class, and have the added bonus of being able to recline while the row in front of it has no ability to recline on you!
-Poor timing: With an 11:20pm PDT red-eye return flight, I was on one of the last Continental flights to not qualify for the double elite miles promo ;(
Pictures (Click on thumbnail to expand in a new tab/window):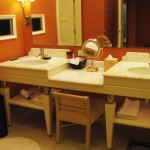 Wynn Bathroom 1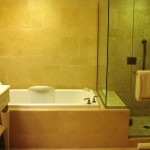 Wynn Bathroom 2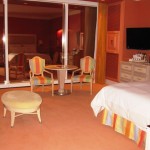 Wynn Bedroom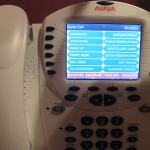 Wynn Phone (personalized)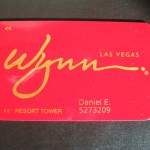 Wynn Room Key (personalized)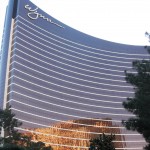 Wynn Hotel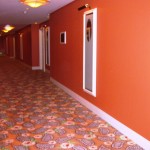 Wynn Hallway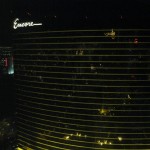 View of Encore From Wynn Room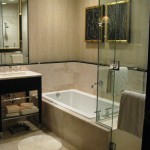 Encore Bathroom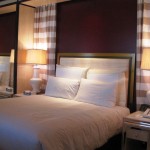 Encore Bedroom 1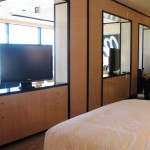 Encore Bedroom 2
Encore Entryway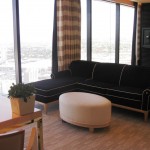 Encore Living Room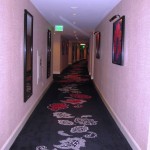 Encore Hallway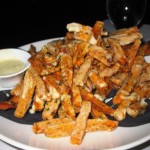 Sweet Potato Fries At Village Steakhouse