Continued from posts made during the trip, "Shaloha!," "Pearl Harbor…70 Years," and "View From The Room…"

Related posts:
Hawaii Trip Notes: Oahu (2009)
Hawaii Trip Notes: Kauai (2009)

Upcoming trip notes posts (Feel free to let me know in the comments which one to write next!):
Hawaii Trip Notes: Maui
Kauai Showdown: Grand Hyatt Kauai vs. S. Regis Princeville
Hawaii Trip Notes: The Big Island
Round-The-World Trip Notes Part 4: Tasmania
Round-The-World Trip Notes Part 5: Sydney
Round-The-World Trip Notes Part 6: Hamilton Island
Round-The-World Trip Notes Part 7: Hong Kong
——————————
Earlier this month my wife and I traveled from Cleveland to Hawaii with our 5 month old son Rafi. He was born in July and I previously blogged about flying with him in September to Miami as a "dry-run" if you will, for a long-haul trip.
The first couple months of Rafi's life weren't easy, he was very colicky and pretty much cried 24/7. A funny thing happened on that Miami trip though. He was quiet for the most part on the planes and he slept through the night for the first time ever at the W South Beach hotel.
Did he like the airplane noise? Was it all the running around with him that tired him out? Did he enjoy the nonstop personal attention from both of his parents?
——————————
Here was our itinerary that I booked a couple of months before the trip:
Th 12/01, Continental 1654, CLE-IAH, 6:00am-8:10am, First
1:25 connection in Houston
Th 12/01, Continental 1, IAH-HNL, 9:35am-2:10pm, BusinessFirst.
1:24 connection in Honolulu
Th 12/01, Hawaiian 334, HNL-OGG 3:34pm-4:11pm, Coach
5 nights in Fairmont Kea Lani, Wailea, Maui.
Tu 12/06, Island Air 425, OGG-LIH, 12:00pm-1:00pm, Coach
6 nights in S. Regis Princeville, Kauai
Mo 12/12, Hawaiian 240, LIH-HNL, 5:40 pm-6:12pm, Coach
1:13 connection in Honolulu
Mo 12/12, Continental 14, HNL-EWR, 7:25pm-10:00am+1, BusinessFirst.
4:30 connection in Newark
Tu 12/13, Continental 1161, EWR-CLE, 2:30pm-4:08pm, Coach
What I paid:
Continental flights=160,000 Continental miles+$20 tax. 4 free checked bags with BusinessFirst.
Hawaiian flights=$320. 4 free checked bags with Corporate booking..
Island Air flight=10,000 Continental miles+$5 tax.  4 checked bags added $90.
Fairmont Kea Lani=5 Fairmont Platinum free nights awards in a deluxe oceanview suite with free confirmed suite award.
S. Regis Princeville=6 Starwood Free Resort Nights at a cost of about $90 per free night, upgraded as SPG Plat to Prince Junior Suite.
Avis Maui, midsize, upgraded to Explorer, $144+tax=$205-$35 coupon=$170.
Avis Kauai, midsize, upgraded to Tahoe and then a Wrangler, $144+tax=$220-$35 coupon=$185.
Flights= 170,000 Continental miles+$345.
Hotels= $540.
Rental Car= $355
Total=170,000 Continental miles+$1,240.
——————————
Full paid value, in case you wanted to book this trip with cash:
CO flights=$9,362. 4 free checked bags with BusinessFirst.
HA flights without corp discount=$370.  Plus 4 checked bags at $68.
WP flight=$224. Plus 4 checked bags at $90.
Fairmont, prepaid 5 night stay in a deluxe oceanview suite with tax=$4,587.
S. Regis, prepaid 6 nigth stay in a Prince Junior Suite with tax=$5,217.
Avis Maui, standard SUV without discounts=$576
Avis Kauai, midsize without discounts=$604
Flights=$10,114
Hotels=$9,804
Rental Car=$1,180.
Total=$21,098.
——————————
-It is not easy to get Continental to let you confirm a bassinet seat!  The 1st row in BusinessFirst can have a bassinet attached to the bulkhead wall, but on both of our flights only 1AB were open.  Actually if you look at the seatmap only 1A was open and 1B is shown as taken, but odds are if 1A is open that really 1B is open as well.  It's no small feat to get it unblocked.  I must have used the HUCA (hang up, call again!) technique at least 16 times to find a sympathetic rep.  The excuses as to why they couldn't be unblocked (it's already taken, it's for the pilot, it's for disabled passengers, it's for passengers with infants but only within 24 hours of the flight, etc, etc) were endless, but if you're persistent you'll always succeed.
-I ordered and confirmed kosher meals for the long-haul Honolulu flights multiple times, but they still managed to lose the meals on the Houston-Honolulu flight.  Good thing I'm married to a Jewish mother 😉
-I don't think my wife or myself got any sleep the night before our 6am flight.  We were both quite frankly terrified of the day ahead of us…
-Rafi's normal schedule was getting up at about 10am for the day, going to sleep at about 11pm for the night, and waking up every couple hours in middle of the night for his pacifier falling out or a feeding.  Needless to say we were apprehensive of what would happen waking him up at 4am to go to the airport.  He slept through all the way to the gate.  At the gate I realized that I really should have booked us a row of coach seats so that we would be able to keep him sleeping in his carseat on the early morning flight to Houston.  It's not like the First Class on the 737 to Houston is special anyway. There were no empty rows in coach but there were rows with just 2 people in them.  However the gate agent and flight attendant refused to allow us to trade with them as they have to go by the "upgrade standby list."  I would understand that policy if we had received an upgrade ourselves, but we paid the miles to fly in First, why should we not be allowed to trade our 2 First Class seats for 2 coach seats?  At any rate Rafi managed to sleep just fine in his mother's arms for the entire flight.
-The family rooms in the United club lounges are lifesavers.  They're only for use for families with kids, you can close the door, sleep on the couches, nurse in privacy, etc.  Truly a great benefit!  We took advantage of them in Cleveland, Houston, and Newark.
-Finally we got onto the 8.5 hour Honolulu bound flight.  You can feel the dread amongst the other BusinessFirst passengers…I know I've been guilty of being on the other side before!  The bassinet was just barely wider than our 18 pound 5 month old and he slept in it for maybe 45 minutes before he wanted to stretch out but there was simply no space.  A better solution we came up with was putting layers of blankets and changing pads down on the spacious floor in front of our bulkhead seats and he played and slept there without making a peep!  We were in utter shock as the entire flight went by without Rafi crying for more than a few seconds.  Other passengers came up to as afterward complimenting us on our parenting skills (as if we could possibly control how our baby acts on a plane) and telling us how nervous they were and how amazing he was.  I think Rafi just liked all the white noise a plane provides!
-The BusinessFirst service that Continental offers from Denver, Houston, and Newark to Hawaii hardly compares to Continental's international BusinessFirst service, but it definitely beats domestic First.  The seats are wide and have a lot of recline and a footrest, but they sure aren't lie-flat.  There are the thin blankets and pillows that used to be found in coach, but are nothing like the more substantial international offering.  There are no amenity kits on the Hawaii flight either.
-After sitting for all that time on a plane we decided to walk the 25 minutes to the interisland terminal instead of taking the shuttle for our flight to Maui.  I had booked an aisle and window and the middle seat was empty, so we were able to bring the carseat onto the flight. Our luggage was checked all the way from Cleveland to Maui.  Remember to always have a copy of your ongoing itinerary to be able to do that!
-We stayed on Cleveland time for the duration of the trip, which meant getting up at 6am or so every day and putting Rafi to sleep around 6pm before dozing off a couple hours later.  We hoped that this would mean no need to adjust his schedule twice in 2 weeks.
-Hawaii before a kid: All-day 15 mile treacherous hikes, kayaking to offshore islands, finding hidden waterfalls to swim in, jetskiing in 30 foot waves, driving to the top of mountains taller than Everest from the base, 4 wheel driving to deserted volcanically heated lava springs, helicoptering around utter beauty.
Hawaii with a baby?  Lounging around the hotel pool, going on short walks, and just relaxing and enjoying the pristine fresh air and beautiful weather.  An entirely different experience to say the least.
-It would be criminal to go to Hawaii without reading and bringing the appropriate "revealed" book for the islands you are going to.
-In Maui we hired a professional photographer to take pictures of us around the hotels grounds and the beach.  It was probably the best thing we did (and our most expensive activity) as the pictures of our little one are just priceless.  I did a lot of searching and found at least a dozen places that will do a photoshoot and give you the entire DVD of the shoot with prices ranging from $150 to $600.  In the end in came down to their galleries of past shoots and we decided on Wailea Photography.  Just as we decided they actually raised their prices from $275 to $399.  Jonelle, who is incredibly talented behind the lens, graciously honored the $275 price and did an awesome job helping set up different poses and taking pictures.  She took pictures for a good 90 minutes (instead of the promised 60 minutes) and gave us a DVD the next day with over 150 awesome high-resolution pictures of our sunset photo shoot.  I can definitely recommend her work, though at the current $399 price I probably would have chosen a less expensive option…so it was a good thing I found that $275 price as we love the pictures that came from the shoot 🙂
-We were able to confirm a crib in advance at both hotels so we didn't have to shlep that along.
-Our 4 checked bags consisted of just a single bag for all of our clothing, a bag with frozen food, a bag with non-perishable food and snacks, and a an extra bag for the carseat base, the beach tent, and various other last-minute items. My wife made all of the food ahead of time and froze it. We brought along 2 burners to heat things up with. I arranged beforehand for an extra fridge in both hotels and to freeze the half of our food that would be going onto Kauai in the hotel's freezer in Maui.
-While there are plenty of kosher dry goods to buy in Hawaii, expect to pay a huge premium to what you pay back on the mainland. Costco is where the best deals are-they have the same prices as the mainland, plus they sell items like kosher frozen salmon filets and the like that could come in handy. Walmart isn't bad but the grocery stores like Safeway can be shockingly expensive if what you want isn't on sale that week.  Some fun kosher parve items that I've enjoyed on previous trips to Hawaii like Maui Onion chips and Itzakadoozie bars are now dairy.
-We bought and brought along this tent to be able to bring Rafi to the beach and have privacy at the beach.
-I'll write more about the Fairmont and Maui in general in a future post on Maui.  You'll also have to come back to read a comparison of Kauai's 2 luxury (and Starwood/Hyatt (Sapphire) points accepting) hotels, the S. Regis Princeville and the Grand Hyatt Kauai.  There's one clear winner as far as I'm concerned.
-The red-eye flight from Honolulu to Newark.  Another flight we were terrified to face.  After 30 minutes trying out the bassinet again it was clear that Rafi wasn't enjoying it.  He spent the next 8 hours pretty much entertaining himself on the floor.  Bizarrely enough he never went to sleep that night, he just seemed too excited being on the plane!  Once again, Rafi did not cry at all on the entire flight!  I honestly can't explain the phenomenon, but we were sure happy about it!
Maybe it has to do with the 26 (!) flights around the world we took while Rafi was in-utero? Any other explanations as during the course of 9 hours at home he is never that quiet!
-We had kosher dinner and breakfast on the Honolulu-Newark flight.  The first course was water logged, but the hot steak wasn't half bad and the chocolate mousse dessert was very good.
-We had a 4.5 hour layover in Newark airport and I ordered food from "New Kosher Special," a chinese restaurant in nearby Elizabeth, NJ.  Lunch specials with fried rice are just $5.90 and I had them put the meals in hard plastic containers so they wouldn't leak.  Delivery requires a $40 minimum order, but is free.  I ordered a bunch of meals and a few egg rolls to get to the $40 and went outside security to pick up the food at curbside.  They only take cash.  I gave the driver a $5 tip and he was so overjoyed by the tip (Do NJ'ers not normally tip delivery people?) he offered to give me a couple bottles of water, but I don't think the TSA would have approved.  The Sesame Chicken was outstanding, a downright bargain at $5.90 and I definitely recommend the place for anyone with a layover in Newark.
-Just I was upgraded on the Newark-Cleveland flight.  They sent a random passenger to give me my new boarding pass and I told him to just take my seat in First.  He went back to the gate agent who told him he could just have the first class seat.  So much for needing to go by the "upgrade standby list."
-Nearly 24 hours after we left the S. Regis we arrived back home.  All 3 of us slept like we had never slept before.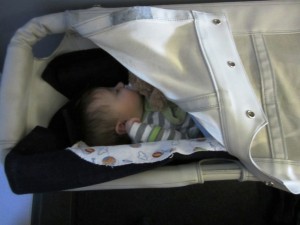 Rafi in a bassinet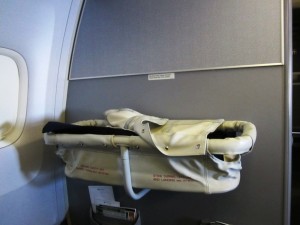 Bassinet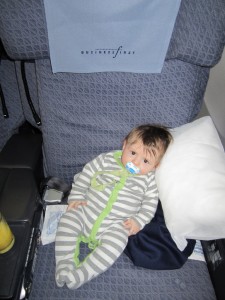 Chillin' in BusinessFirst…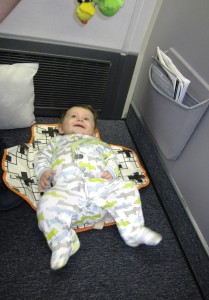 …even upgraded to lie-flat floor seats…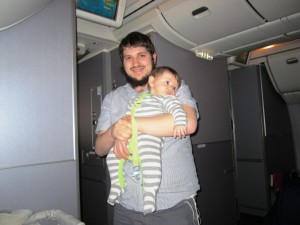 …and getting some Daddy time…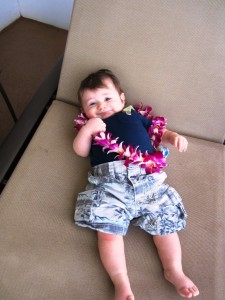 …while catching the Aloha spirit…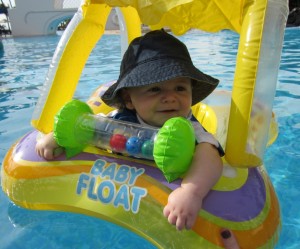 …in his private poolhome…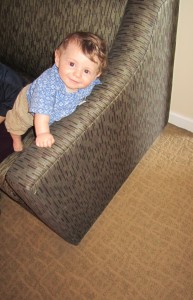 …decked out in his Hawaiian finest…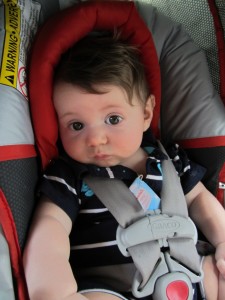 "Please…not another car ride!"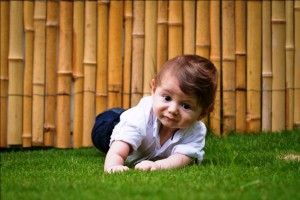 Wailea Photography Photoshoot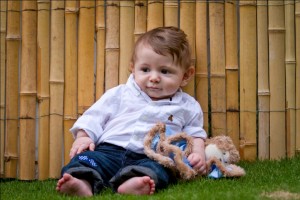 Wailea Photography Photoshoot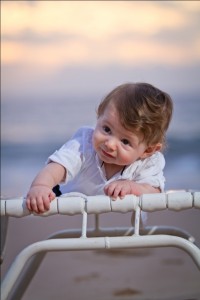 Wailea Photography Photoshoot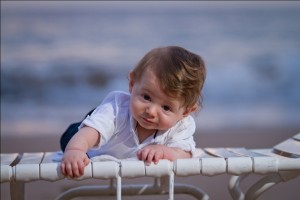 Wailea Photography Photoshoot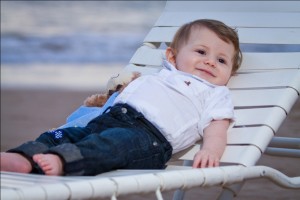 Wailea Photography Photoshoot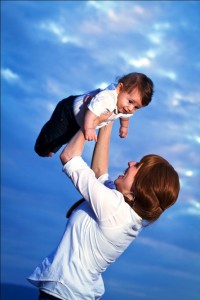 Wailea Photography Photoshoot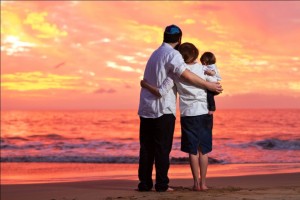 Wailea Photography Photoshoot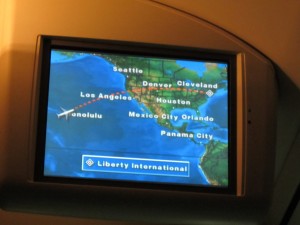 Nonstop to CLE? If only…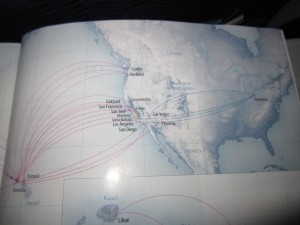 Fly anywhere west of Phoenix you want…as long as it's Cleveland 😀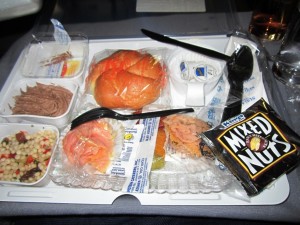 First course of kosher dinner.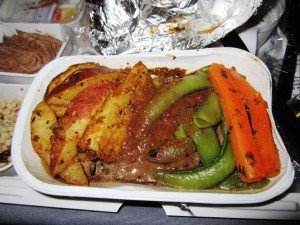 Surprisingly well spiced hot entree.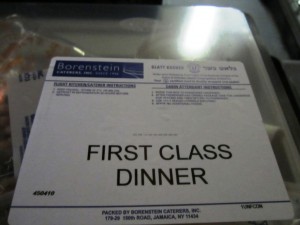 Borenstein…we're no Hermolis, but we're better than Stogels…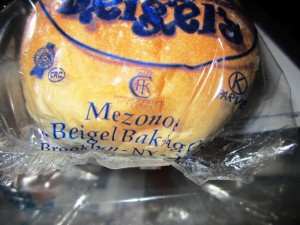 If this isn't kosher enough for you I don't know what is!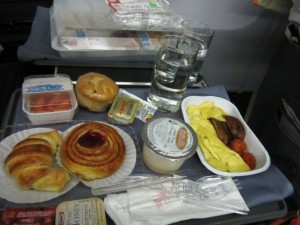 Kosher Breakfast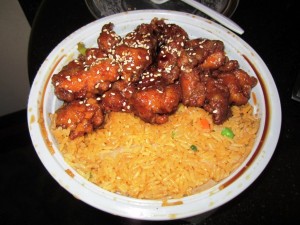 Sesame Chicken with Fried Rice ($5.90) from New Kosher Special.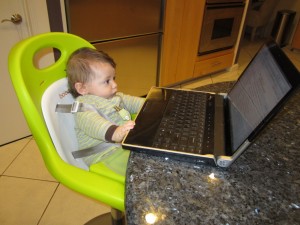 Hard at work typing up this post…