-Before I start rambling, I have to give credit to the Torontonian Dansdeals readers for their 67 (!) responses to my query about what to do in Toronto. Very impressive!
-I was in Toronto for my brother-in-law's wedding and got 2 room suites at the Crowne Plaza Toronto Airport for hotel rooms for the entire party flying into Toronto. The web rate for each suite was about $300/night with tax. I was able to book 9 suites for a total of 26 nights for just $780 total with all taxes! They were all booked via Pointbreaks. You can read about booking PointBreaks hotels for $30/night in the 3rd installment of my Israel trip notes. Not surprisingly when I went back to the site the next day the hotel had been pulled from the pointbreaks list…boy they must have been peeved when they saw that many suites booked up for $30/night!
-Some of the hotel rooms were renovated and some were not.  The renovated rooms were very nice with 2 LCD's and plenty of sitting and working room, see the end of this post for some pics!
-Clearing the Canadian Customs line upon arrival into the Toronto airport was a mess with 30 lines of people all 25 people deep…not fun.  Especially not fun when you get stuck just behind a family that doesn't speak any English.  You clear US customs when you depart the Toronto airport and it was much more efficient with a single line of people.  Clearly the Americans have studied queueing theory. US: 1, Canada: 0.
-Apparently there's a new heavy-handed eco-law requiring all retailers to charge a nickel for each bag that you need. It's incredibly annoying, especially when you already pay for the items by credit card, and then the store remembers that they need to collect the nickel but it needs to be in cash, which means I need to break a US bill to receive Canadian change back…US: 2, Canada: 0.
-In that post with 67 comments of what to do in Toronto there must've been 66 of food stuff and 1 activity. And there was no way that I was going to part with $30-$40 to go up the CN tower.
As I'm a hopeless foodie the comments suited me just fine. 🙂  Here are some of my thoughts on the Toronto kosher food scene.
-The food at the BAYT for the wedding was indeed quite nice.  The attitude of the staff on the other hand left much to be desired.  They were too quick to take food away, would typically ignore any requests made at the table, and actually physically stopped me from taking a chocolate lemon tart from the dessert cart "too early" and made me put it back on the tray after I had taken it! Shockingly bad service!
Other kosher eatery notes:
-A few commenters mentioned the Sushi "Pizza" at D-lite's which sure enough turned out to be a crowd pleaser.  Their french onion soup is served in a bread bowl and the soup itself loaded with onions, croutons, and cheese was delicious.  The bread bowl itself was actually still partially frozen though and was disappointing.
-What's the difference between a kosher Prime Rib steak sandwich ($16.95) and a kosher Philly Steak Sandwich ($14.95)? Absolutely nothing at Miami Grill except the Prime Rib sandwich comes with fries! I got a kick out of that after my sister-in-law and I wound up with the exact same sandwich…it was however a very good steak sandwich!
-The kosher Second Cup location on Clark is not all cholov yisroel but was very proud of having the only cholov yisroel "icepresso" machine in the world (or so they claimed). Little good it did for me as the machine was awaiting repairs when I came to try it out.
-The kosher Sobey's Supermarket is great-tons of fresh made kosher food and hard to find items-it's the first time I've seen the cholov yisroel Nestle Dibs chocolate covered vanilla flavor! Picked up some stuff that's only kosher parve in Canada like the original Aunt Jemima's pancake mix, the all-dressed flavor of Ruffles chips (good recommendation!), and some cereal like French Toast Crunch, and a few flavors of Quaker cereal. I'm sure I missed plenty more though…
-The cholov yisroel location of It's Not Just Yogurt was fun with lots of flavors and tons of toppings. The Oreo flavor was delicious, the strawberry not so much-it had that fake "Israeli style" strawberry flavoring.
-Chocolate Charm's cholov yisroel chocolates were excellent, they even give you a cute little guide to remember the flavors of each chocolate. I just wish that they made more flavors! And is it just me, or does their logo and name seem like something that belongs in Hogsmeade? 😉
-One of my favorite places was Omni Java and Jewels which is also all cholov yisroel. It's a cute place with a jewelry store and restaurant all in one. Their Caramel Cheesecake was absolutely incredible, and the white-chocolate cheesecake was a close second. Also when I asked for a drink recommendation the waitress suggested her personal favorite, an "off-the-menu" cold drink that was some sort of Mocha Frappuchino with Caramel, which was divine!
Bakeries:
So many of the comments mentioned different danishes, so understandably I had to try them all out for my dear readers!
-Richman's: From the comments, "Richman's Bakery – double chocolate danish. An absolute must. You really can't miss it. I have my mother send them to me in Yerushalayim at every opportunity"
With a recommendation like that how could I pass it up? Unfortunately when I went there at 10 in the morning they were already sold out! I settled on a "Chocolate Buffalo." It was not very good.
-Amazing Donuts: I remember as a kid loving the cake donuts from this place so naturally I had to go back and try one out after a few readers mentioned it. But this place, like many others in Toronto apparently, have gone nut-free which means no cake donuts! What a disappointment! With incredible regular style donuts back home in Cleveland at Unger's (no regular style donut can touch their cinnamon version!) there didn't seem to be a need to sample these.
-Grodzinksi: From the comments: "Be sure to go to Grozinsky's bakery on Bathurst and get a cinnamon danish – they are out of this world!!!"
Perhaps a slight exaggeration, but they were quite good, as was the chocolate danish, but the cheese danish was nothing special. Their cookies are so cute that I couldn't help but bring back a handful.
-Hermes: From the comments: "Stop at Hermes for their one of a kind chesse danishes!!" They were quite good, but I'm not sure I'd call them one of a kind.
-I never did make it to Mac's for a slurpee, so did I really miss something there?
-As for the commenter who suggested, "A Farbrengen with Rabbi Wagner at the Yeshiva 3055 Bathurst St.!!!" well I got to attend a sheva brocha at his house, so I think I can count this done as well!
-There were quite a few heated Montreal Vs. Toronto comments, I did find Montreal to be a cooler city to explore, but I was impressed with the extent of the Toronto kosher food scene.
-I still can't believe the horrible gate area that Continental occupies in Toronto…here's hoping they move in with their new Star Alliance buddies soon!
Anyway I had to leave Toronto after all that lest I hear one more Canadian accented "Eh" 😉
Cookies from Grodzinksi's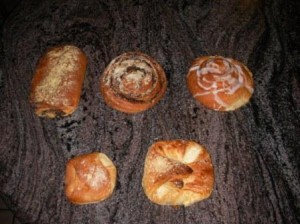 Clockwise from top left: Chocolate buffalo from Richman's, Chocolate Danish from Grodzinksi's, Cinnamon Danish from Grodzinksi's, Cheese Danish from Hermes, Cheese Danish from Grodzinksi's.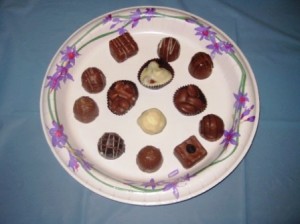 Chocolate Charm!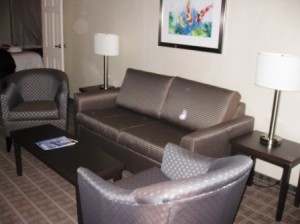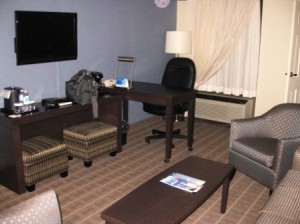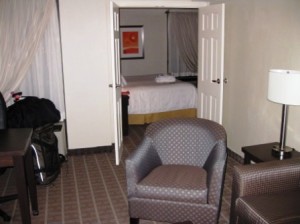 Crown Plaza Room Pictures