Continued from:
Traveling 'Round The World…(But Not Just Yet)
-Round-The-World Trip Notes, Part 1: Khao Lak, Thailand.
-Round-The-World Trip Notes, Part 2: Chiang Mai, Thailand.
-Round-The-World Trip Notes, Part 3: Melbourne, Australia.
Here are some more trip notes from the round-the-world trip my wife and I took for a month between December 2010 and January 2011. Australia had long been on my bucket list, so it was really exciting to finally make it down under!  I hope these notes will prove useful for somebody.  You can read more of my trip reports by clicking on the trip notes tab.
This trip was made possible by AA's unique OneWorld award chart where we flew around the world in first class for the cost of opening up a few credit cards.  With myriad of rules it's not designed for beginners, but it sure is a whole lot of fun to play with!
I helped prepare for the trip down under with info from the Australia Master thread on the DansDeals Forums,
-Fodor's Australia
-Lonely Planet Australia
-Lonely Planet Discover Australia (More of a "cliffs notes" guide than a comprehensive guide, but has great itinerary suggestions)
-Garmin Nuvi GPS Maps for Australia
-I'm going a bit out of order here, but for now I'll skip Tasmania and I'll lump it together with Hamilton Island in a future installment.  Here is an outline of the trip and where the notes on each section can be found:
Trip notes part 1:
Su 12/19/10 AA 3457, CLE-DFW, 11:30am-1:50pm, First
3:05 connection in Dallas
Su 12/19/10 BA 192, DFW-LHR, 4:55pm-7:35am+1, First Cancelled due to London snowstorms.
1:05 connection in London
Mo 12/20/10 BA 270, LHR-AMS, 8:40am-10:55am, Business Cancelled due to London snowstorms.
2:10 connection in Amsterdam
Mo 12/20/10 CX 270, AMS-HKG, 1:05pm-7:05am+1, First. Cancelled due to London snowstorms.
Su 12/19/10 AA 567, DFW-SFO, 5:45pm-7:35pm, First
4:30 connection in S. Francisco
Mo 12/20/10 CX 873, SFO-HKG, 12:05am-6:45am+1, First
2:25 connection in Honk Kong
Tu 12/21/10 CX 713, HKG-BKK, 9:10am-11:00am, Business
1:45 connection in Bangkok
Tu 12/21/10 FD 3027, BKK-HKT, 12:45pm-2:00pm, Coach
2 nights in Khao Lak/Phuket
Trip notes part 2:
Th 12/23/10 FD 3976, HKT-CNX, 7:20pm-9:15pm, Coach
3 nights in Chiang Mai
Su 12/26/10 TG 113, CNX-BKK, 4:00pm-5:10pm, Coach
1:55 connection in Bangkok
Su 12/26/10 CX 702, BKK-HKG, 7:05pm-10:45pm, Business
1 night in Hong Kong
Trip notes part 3:
Mo 12/27/10 QF 30, HKG-MEL, 9:50am-9:45pm, First.
6 nights in Melbourne/Great Ocean Road
Trip notes part 5:
Su 01/02/11 QF 2051, MEL-DPO, 8:30am-9:35am, Coach
4 nights in Tasmania
Th 1/06/11 QF 5720, HBA-SYD, 9:25am-11:10am, Coach.
Trip notes part 4:
4 nights in Sydney
Trip notes part 5:
Mo 01/10/11 QF 5842, SYD-HTI, 11:55am-1:25pm, Coach
3 nights in the Whitsunday Islands
Trip notes part 6:
Th 01/13/11 QF 5863, HTI-MEL, 10:55am-2:50pm, Coach
9:05 connection in Melbourne
Th 01/13/11 QF 29, MEL-HKG, 11:55pm-5:50am+1, First
5 nights in Hong Kong/Macau
We 01/19/11 CX 828, HKG-YYZ, 10:45am-12:35pm, First
2:45 connection in Toronto
We 01/19/11 AA 4533, YYZ-LGA, 3:20pm-4:50pm, Coach
1:05 connection in LaGuardia
We 01/19/11 AA 4674, LGA-CLE, 5:55pm-7:40pm, First
-Sydney is gorgeous, no doubt about it.  Easily one of the most beautiful urban centers that exist.  Its harbour is simply a site that you have to see with your own two eyes as it's just breathtaking.  Definitely worth having on a bucket list.
-After 10 days of driving around Melbourne and Tasmania (on the wrong side of the road) taking in as many sights as possible, we toned it down to just relax in Sydney and do as little as possible. Quite frankly our Melbourne and Tasmania plans were just too aggressive (especially with a pregnant wife) and we were exhausted!
-Instead of renting a car and dealing with the traffic and parking costs we took a shuttle from the airport to the Park Hyatt Sydney.  I booked the Sydney Airport Connect which now appears to be called AirBus Sydney because it was just $20 round-trip.  You get what you pay for.  We were the last stop and it took over 2 hours to finally get to our hotel.  Once in the hotel I realized that I forgot one of my guidebooks in the shuttle but the company refused to contact the driver to look for the book.  On the return trip home they showed up before their scheduled time and left without waiting even for 30 seconds as they pulled away just as got to the door. They refused to provide a refund or to come back and get us.  Not a pleasant experience to say the least so avoid them at all costs.
Hotel:
-The Park Hyatt Sydney lives up to the high standards I have for the Park Hyatt brand.  The hotel is stunning and the location is perhaps the best of any hotel in Australia.  From our balcony we could see both the Sydney Opera House across the picturesque harbour and the Harbour Bridge.  The service in the hotel is excellent although unlike the Park Hyatt Melbourne they are quite stingy with suite upgrades for diamonds.  No matter though as the room and large and the location are view are priceless. We requested and received a room on the ground floor (which is in fact elevated over the pier outside the balcony) so that we wouldn't have to deal with the staircases on shabbos.
-The hotel bought us a daily kosher breakfast as a Hyatt Diamond benefit.  Unfortunately the breakfast, which is catered by Passion8, was not cholov yisroel. Passion8 refused to swap out the unused meals for free, so the hotel went above and beyond and bought us brand new cholov yisroel meals. Major props!
-In another example of the hotel going way above and beyond, the doorman who saw our shuttle company drive right off proceeded to call the shuttle company to ask them to call back the driver but they refused. Without hesitating the doorman made another call and an Audi Quattro pulled up to take us to the airport in luxury on the Park Hyatt's dime…now that's 5 star service!!!
-There is a pool and hot tub on the rooftop, though it has little privacy due to it being in clear view of pedestrians on the Harbour Bridge.
-We thought the hotel was stunning, but the hotel actually closed shortly after our stay and just had a soft reopening last week after a year of renovations. When we return to Sydney we would definitely stay at this hotel again. Rates can go for $1,000 a night, which makes it a great value when using free nights you can get from the Hyatt card or you can transfer 22,000 Chase Ultimate Rewards points from cards like Sapphire Preferred to get free nights as well.
Transportation:
-The hotel is just a short walk to the Circular Quay (pronounced Key) which is the main transport hub for busses, trains, and ferrys.  There's a bit of a learning curve, but soon enough we figured out exactly which busses would get us to the kosher restaurants near Bondi Beach and which ferry could take us to Rose Bay from where you can walk to other kosher restaurants as well.  Public transport is inexpensive (even cheaper if you buy a 10 pack of tickets) and pretty efficient while taxis are quite expensive.  Overall we were happy not to have a car, though now that we have a kid I would definitely have to rethink that equation.
Activities:
-Australia is not a cheap country at all and Sydney is a very expensive city. While historically the US dollar was worth much more than the Australian dollar it was at parity during our trip. Now 100 US dollars only buys 93 Australian dollars. This makes activities like the Bridge Climb, priced at A$200-270, or even a visit to the zoo at A$44 quite expensive. We settled for alternatives. We walked across the bridge for free and gawked and took pictures at those couples who had spent $500 (plus they charge extra if you want pictures and they don't allow you to bring your own camera) to climb to the top.  The people that do the climb often rave about it, though whether that's a function of having spent a few hundred dollars on a climb is debatable. The views of the harbour from the bridge walk make it a free activity worth doing. We had gone to a wonderful animal park in Tasmania for a small fraction of the price of the Taronga Zoo in Sydney.
-The weekend market in The Rocks, the historical district around the Park Hyatt, is quite fun and is a great place to buy souvenirs. There are booths where glassmakers make replicas of the Opera House and the Harbour Bridge right in front of your eyes. You can even take a video of the piece you buy as they make it. And best of all prices are surprisingly reasonable at about A$40 and they can be negotiated as well. The only problem was that although they "guaranteed" that the way they wrap it that it will survive the plane-ride home in your carry-on, when you negotiate too much and have to pay in cash and they don't answer their phone it's hard to get them to honor that guaranty. Luckily I have an awesome wife who took the splices of the Sydney Opera House and superglued the ones that were still whole back together again!
-The vast Royal Botanic Gardens made for an extremely pleasant shabbos afternoon stroll from the Park Hyatt.
-Sydney kind of reminded me of Venice in that it kind of just screams to be explored. We would just hop on a ferry (definitely take a ferry while you're in Sydney no matter what!) or bus, get off at someplace interesting, and just start exploring the city for ourselves without a guidebook. We found all kinds of neat places this way and it's a pretty fun way to explore things for yourself.
Eateries:
-Katzy's in Bondi is as good as it gets for kosher food in Australia. Prices were reasonable and most of the food was very good. After eating leftovers from Melbourne for a week in Tasmania it was good to get any fresh food, but the Ribs I had at Katzy's really hit the spot and were excellent. We took out food for shabbos from Katzy's as well, some of which was good, some of which was barely edible, so beware if you are feeling adventurous when you order!
-Pita Mix has decent Israeli style food. Shwarma and Shnitzel were good, the fries are more like potato chips for better or for worse. A decent place for a bite. Walkable to the Rose Bay ferry. To his credit the owner did introduce me to the nougats from South Africa with the edible rice paper wrappers that are pretty good.
-Bondi Pizza has pretty decent pizza, though nothing exceptional and it's pretty overpriced. We managed to spend $60 on lunch here.
-Krinsky's, located a few stops on the bus before Bondi Beach, was the best kosher grocery store we found in Australia.
-Grandma Moses bakery was nothing to write home about though some of the stuff looked like it should taste good.
-Glick's bagels and bakery goods, next to Krinsky's, are very overrated among the locals, but their Challah is pretty good.
Pictures (click to enlarge):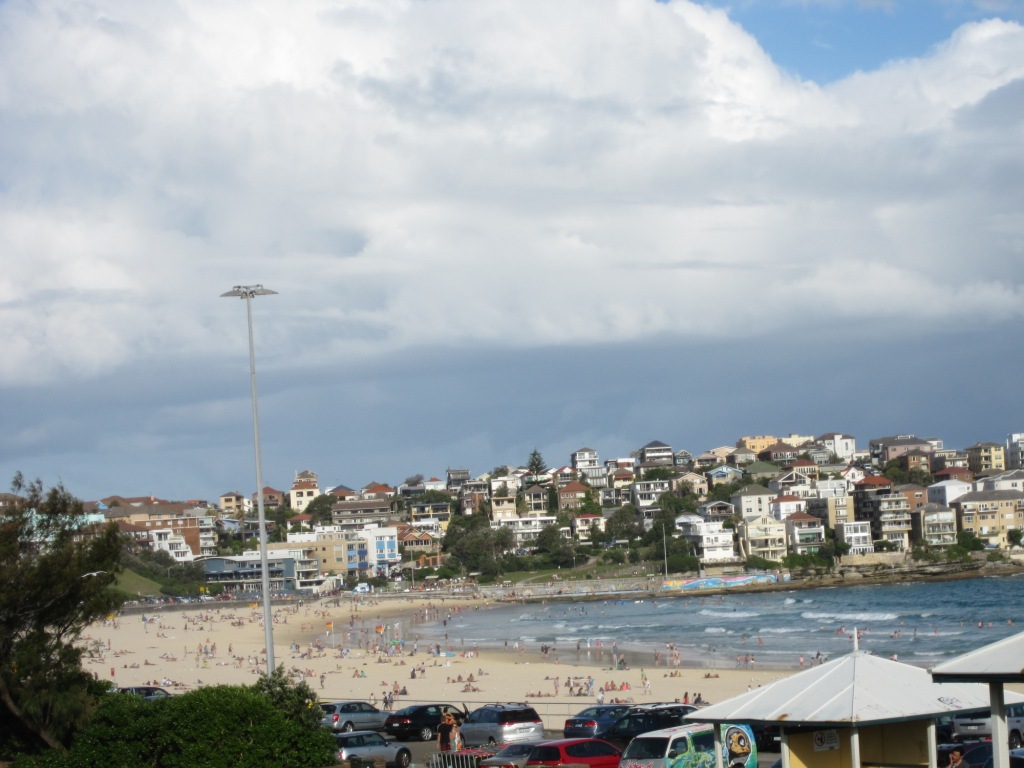 Bondi Beach on a weekday…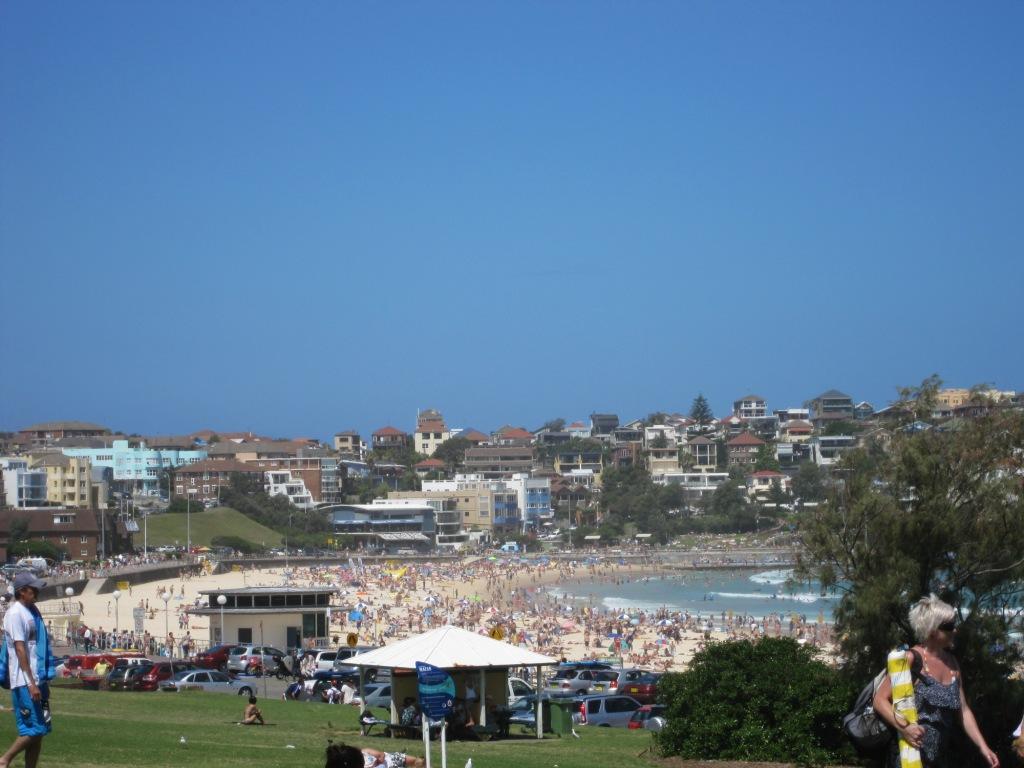 …and on a weekend.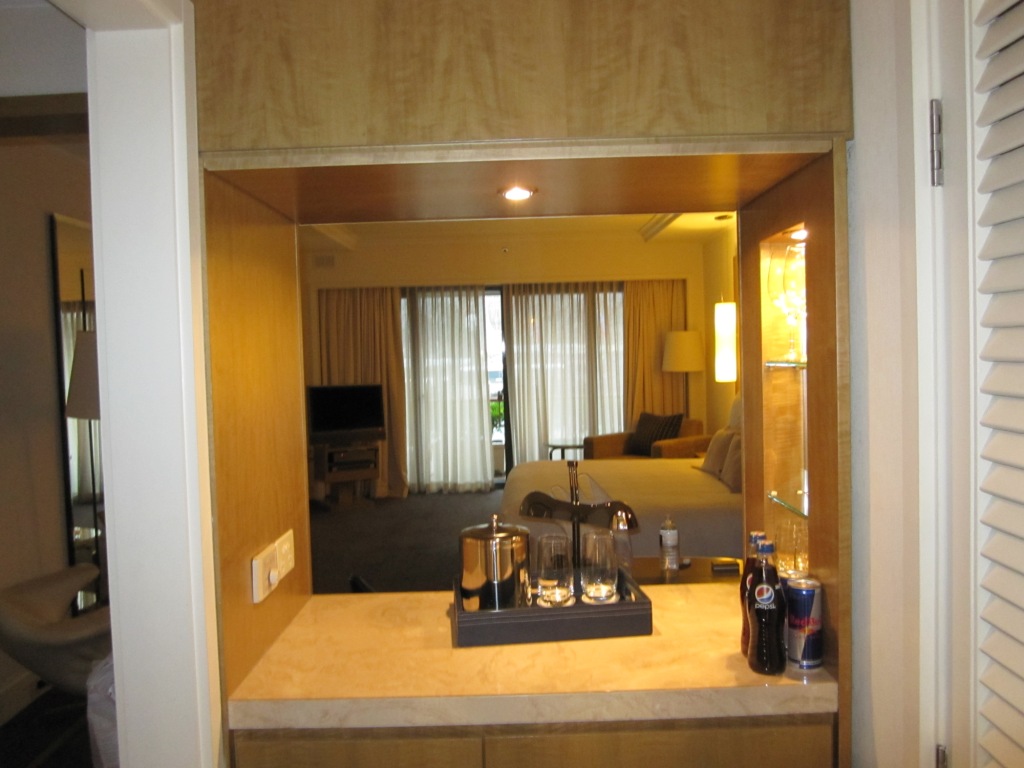 Park Hyatt Room.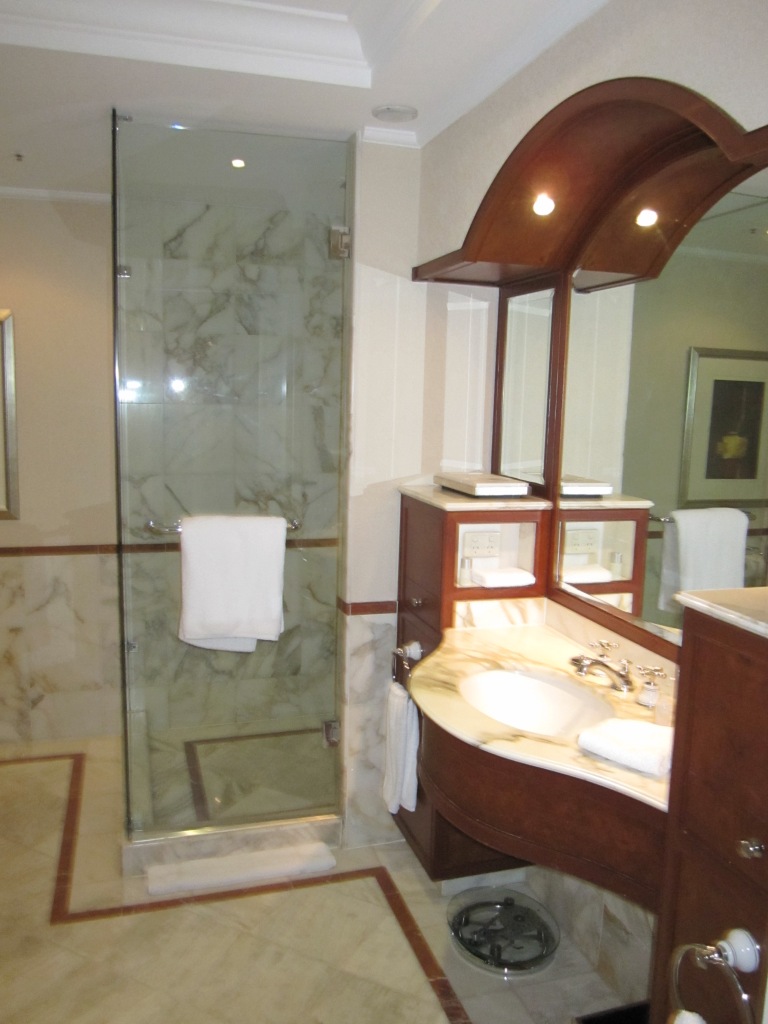 Park Hyatt Bathroom.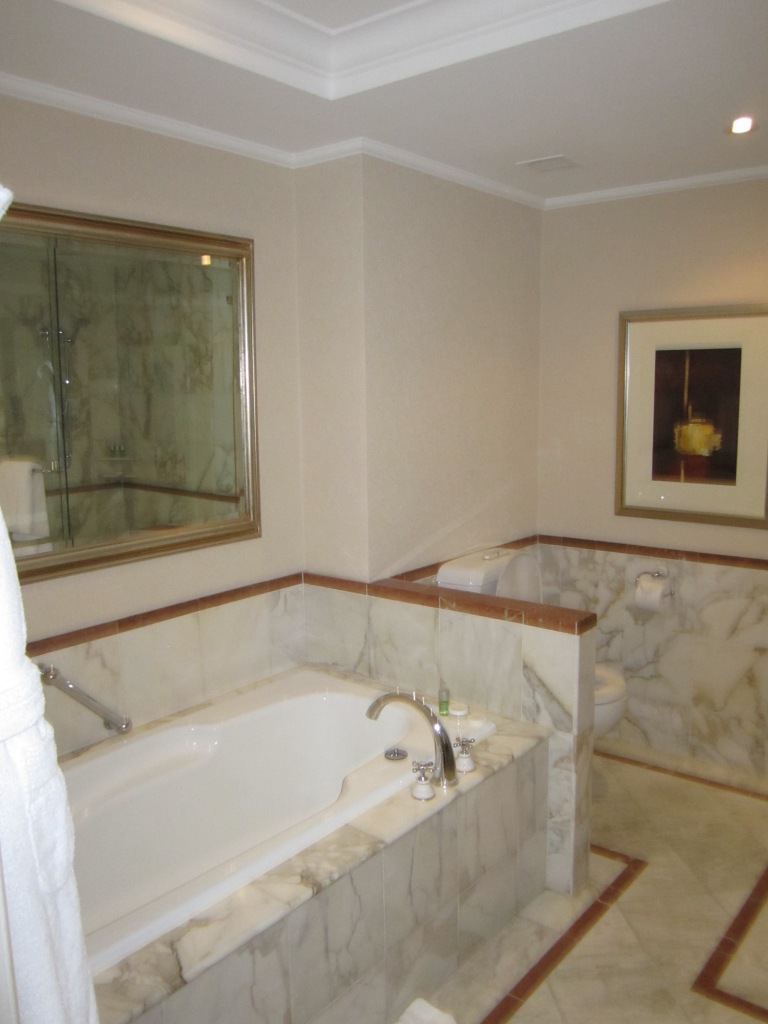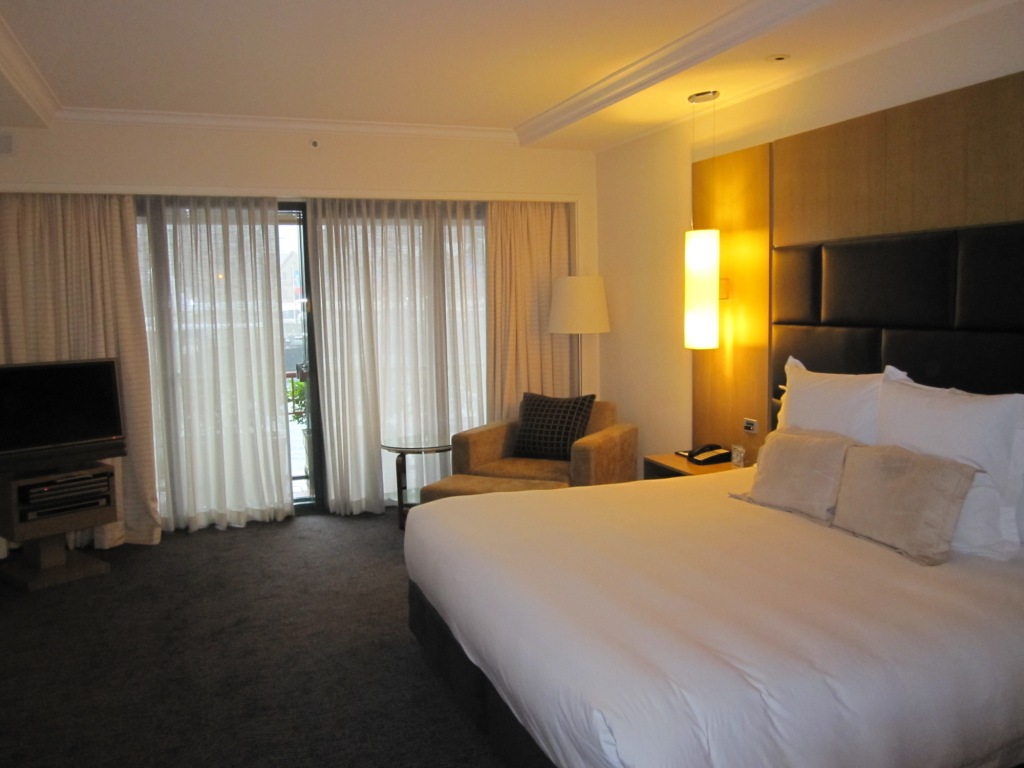 Park Hyatt Room.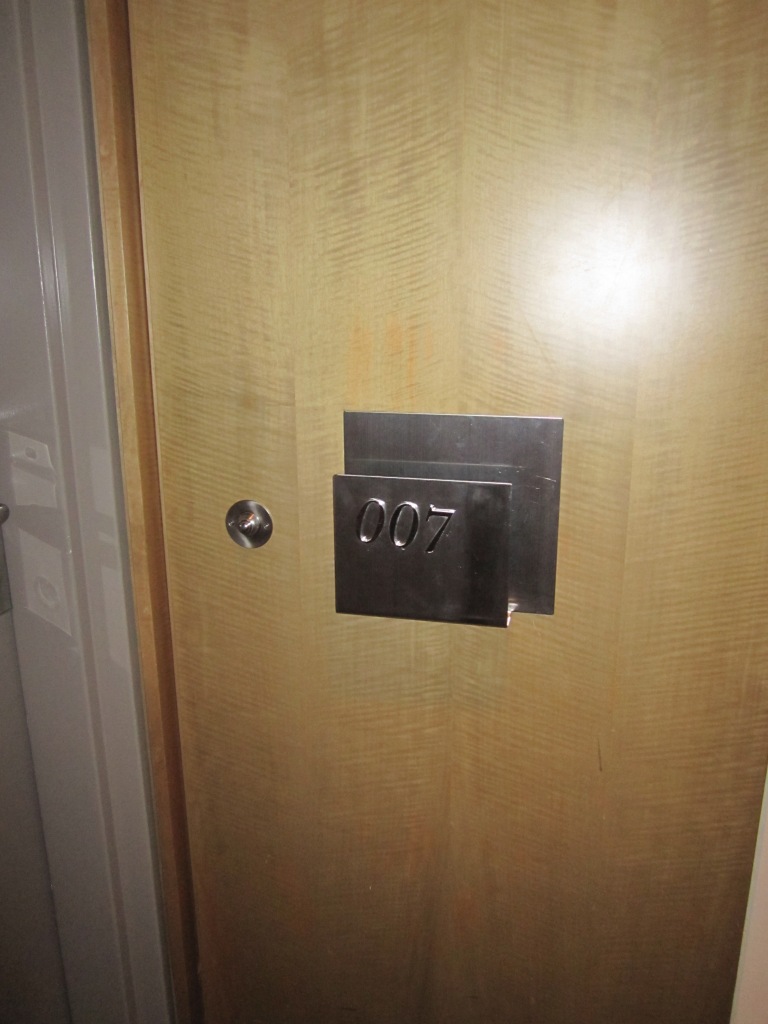 🙂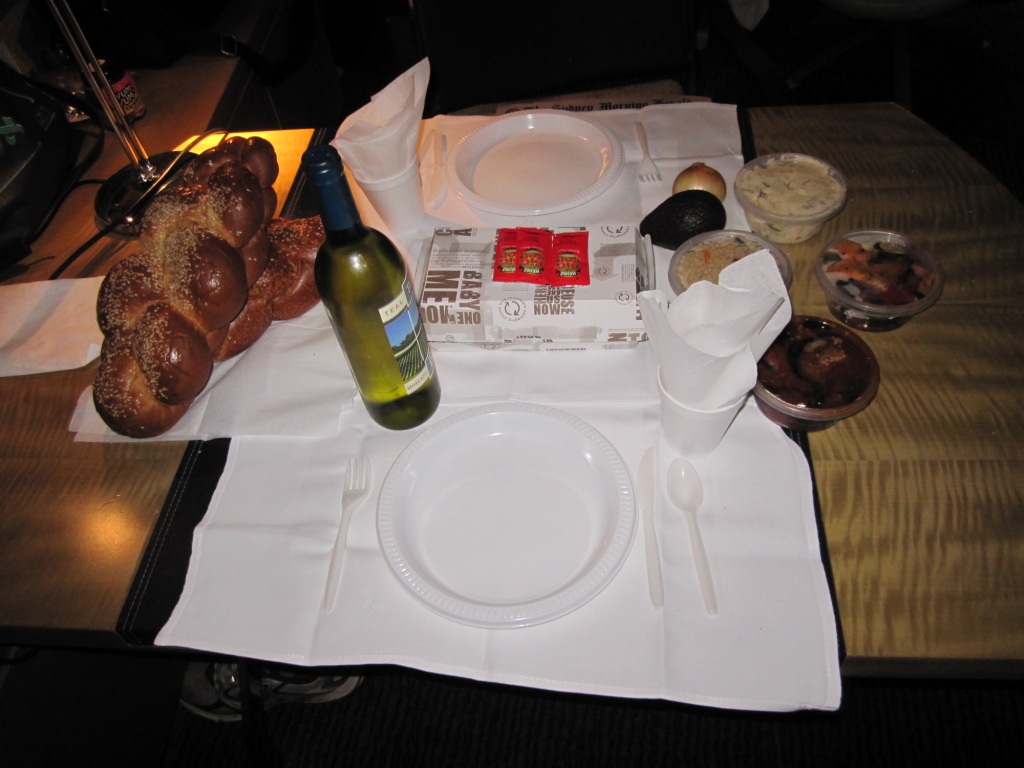 Shabbos in the Park Hyatt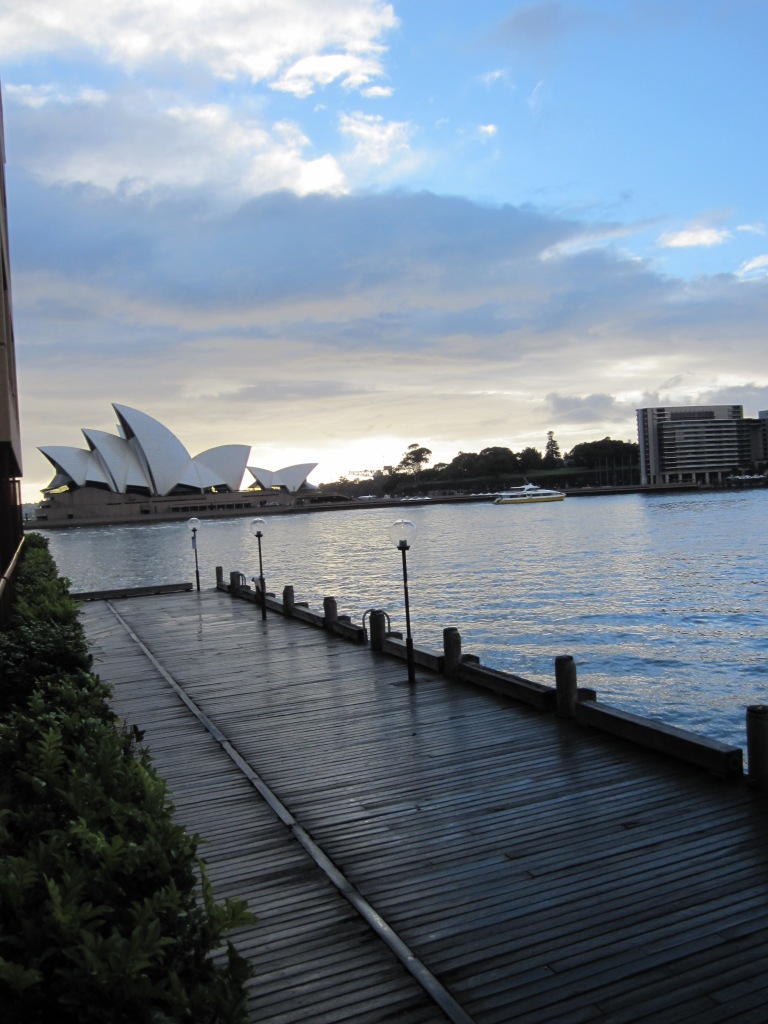 View from the Park Hyatt balcony.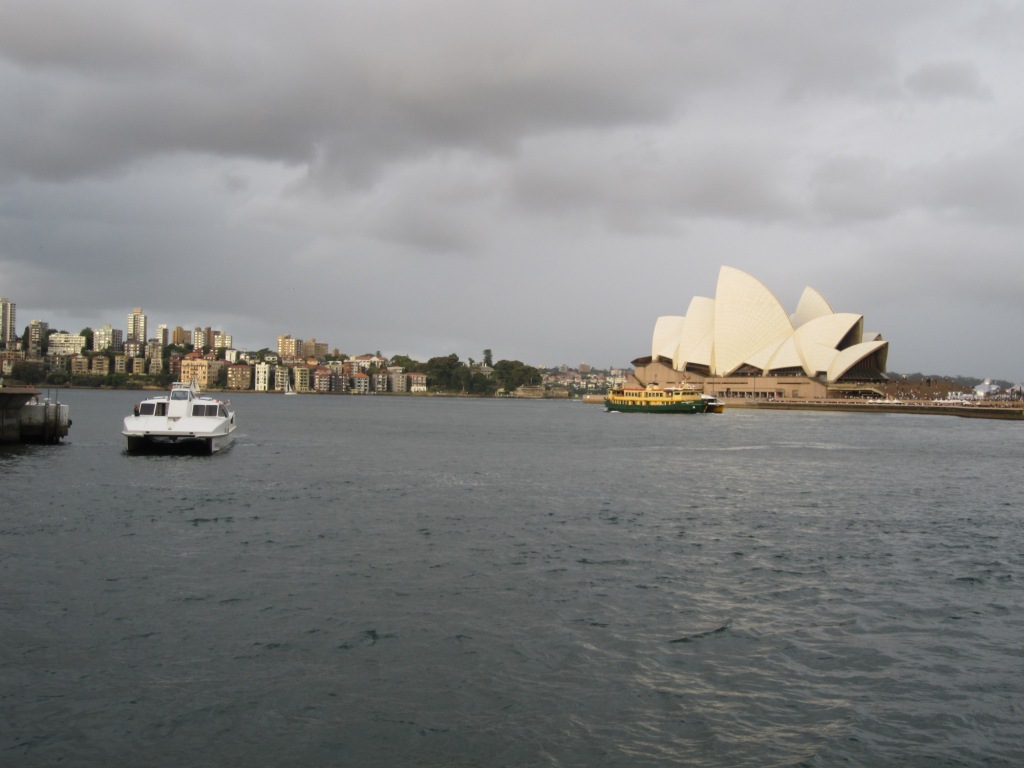 Sydney Harbour, as seen from a ferry.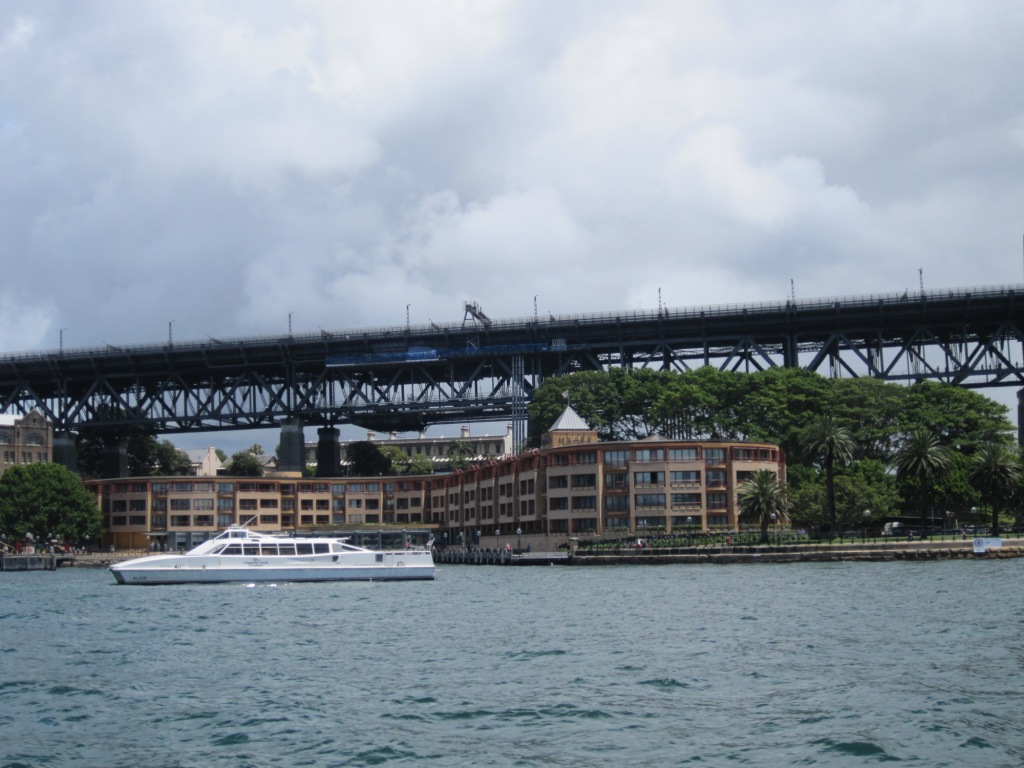 Park Hyatt, as seen from a ferry.
Harbour Bridge, as seen from a ferry.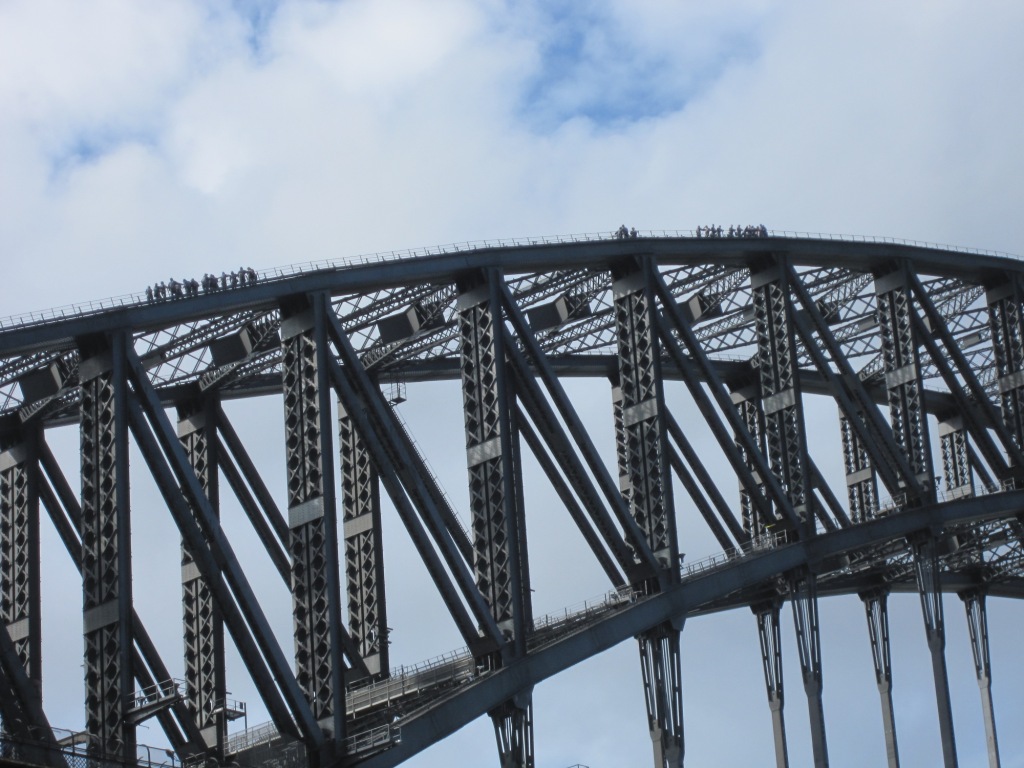 Folks climbing the Harbour Bridge.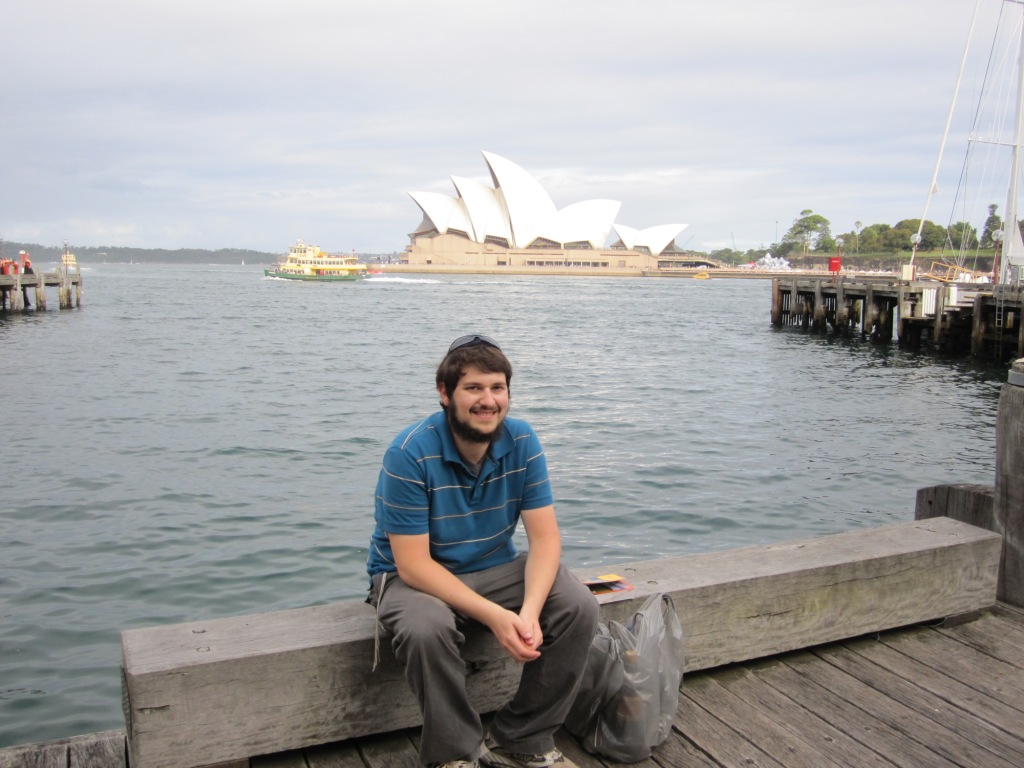 Enjoying the pier outside the Park Hyatt
Harbour Bridge at night.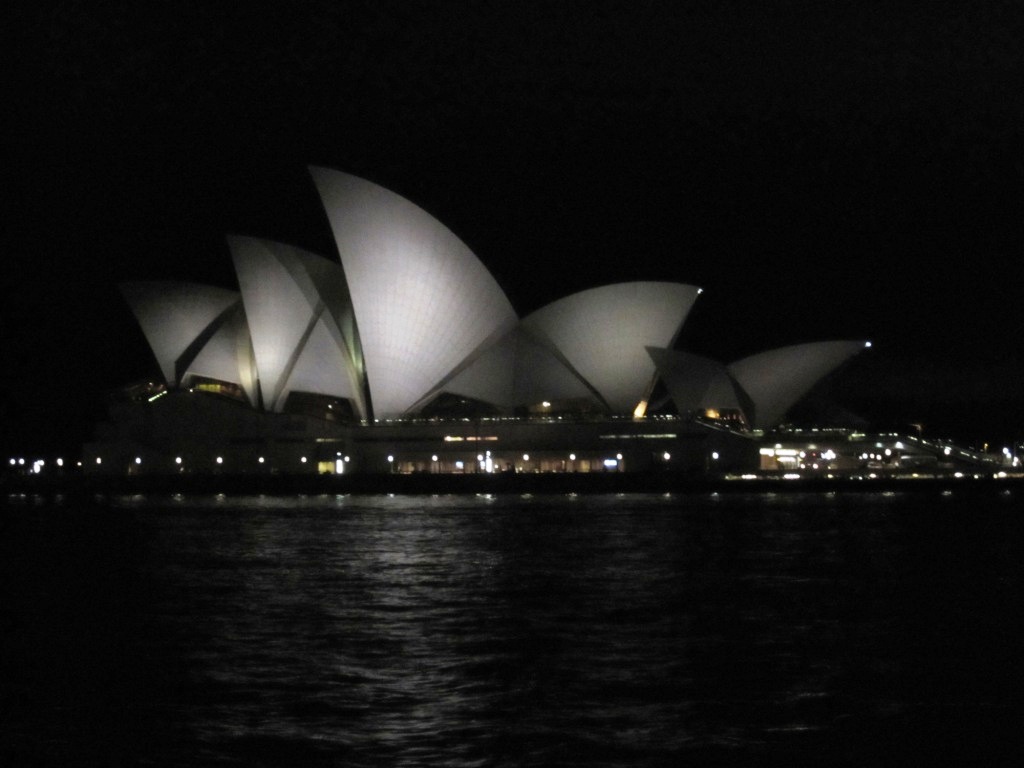 Opera House at night.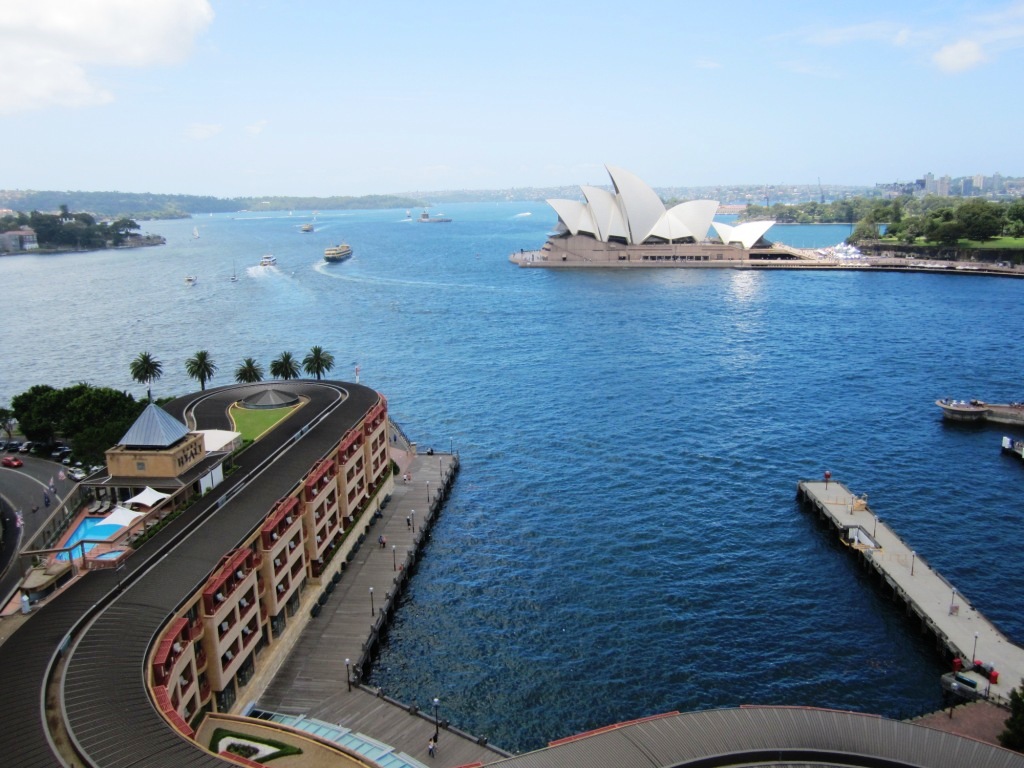 Park Hyatt Sydney and Sydney Opera House, as seen from the Harbour Bridge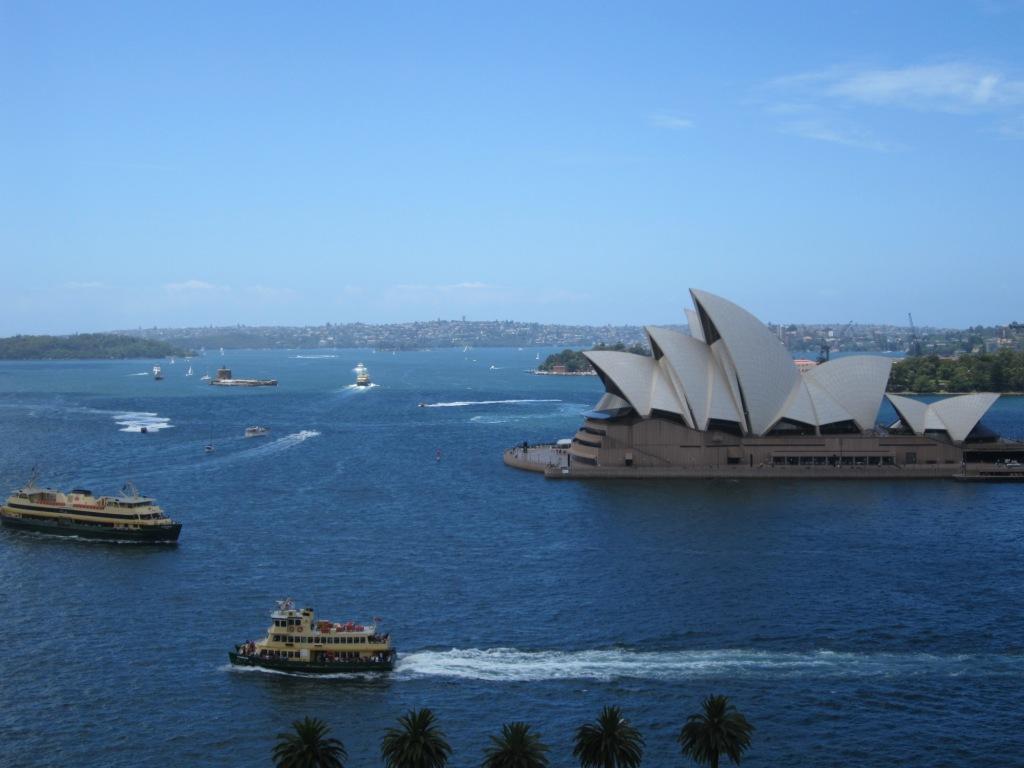 Sydney Opera House, as seen from the Harbour Bridge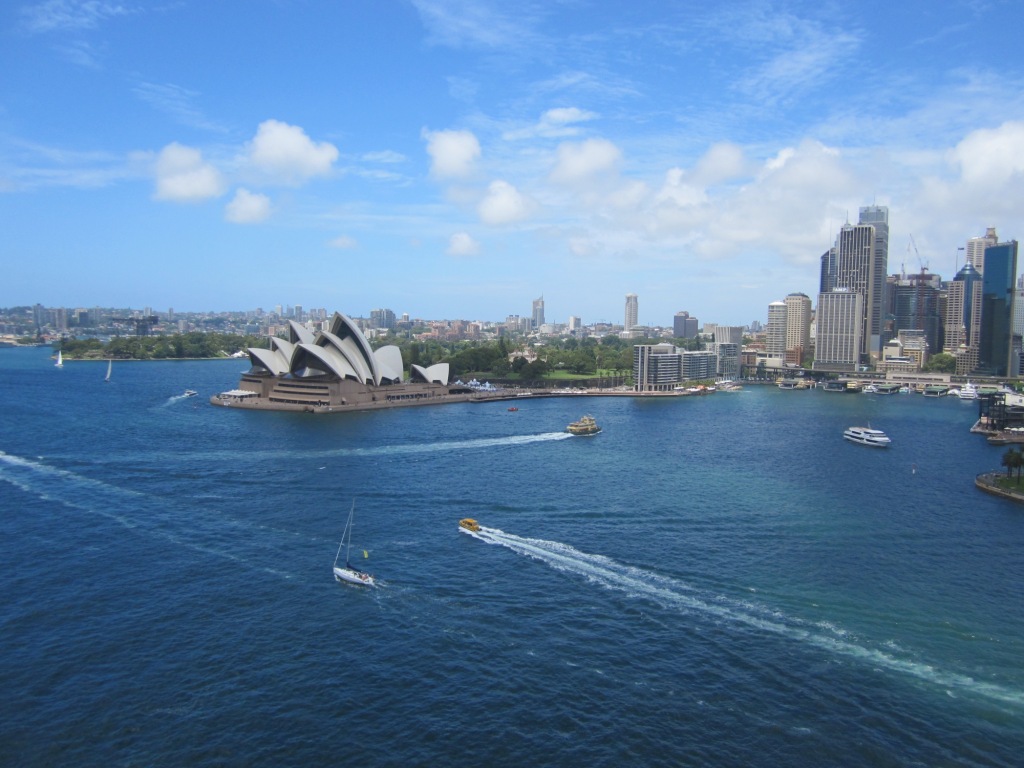 Sydney Opera House, as seen from the Harbour Bridge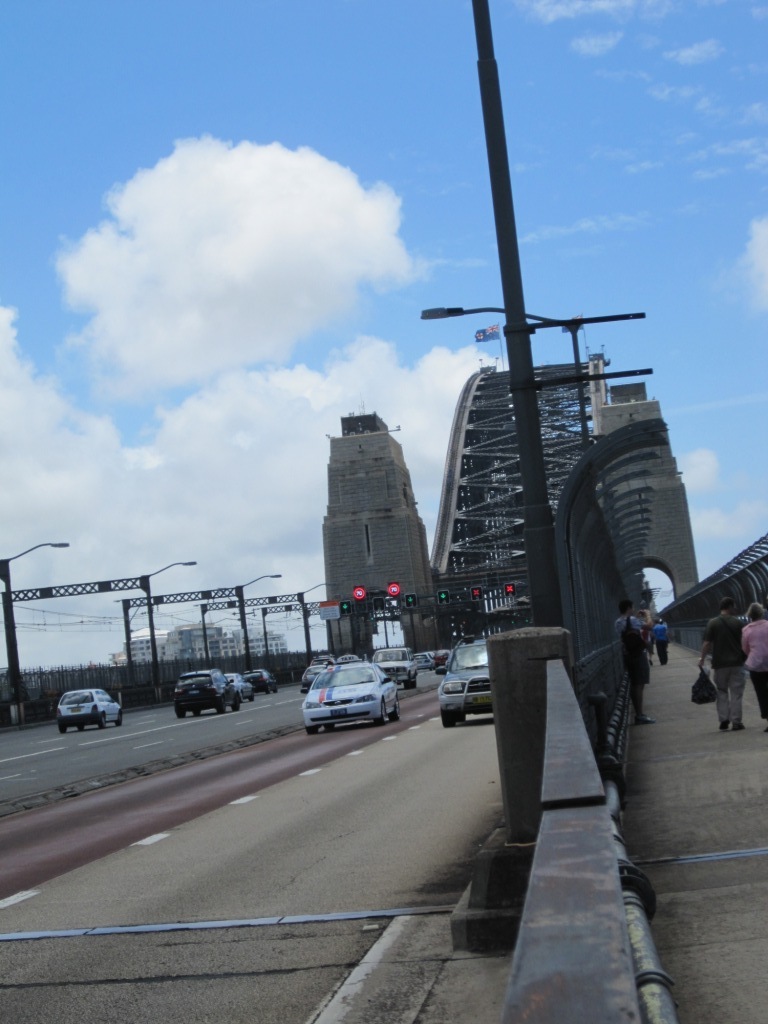 Harbour Bridge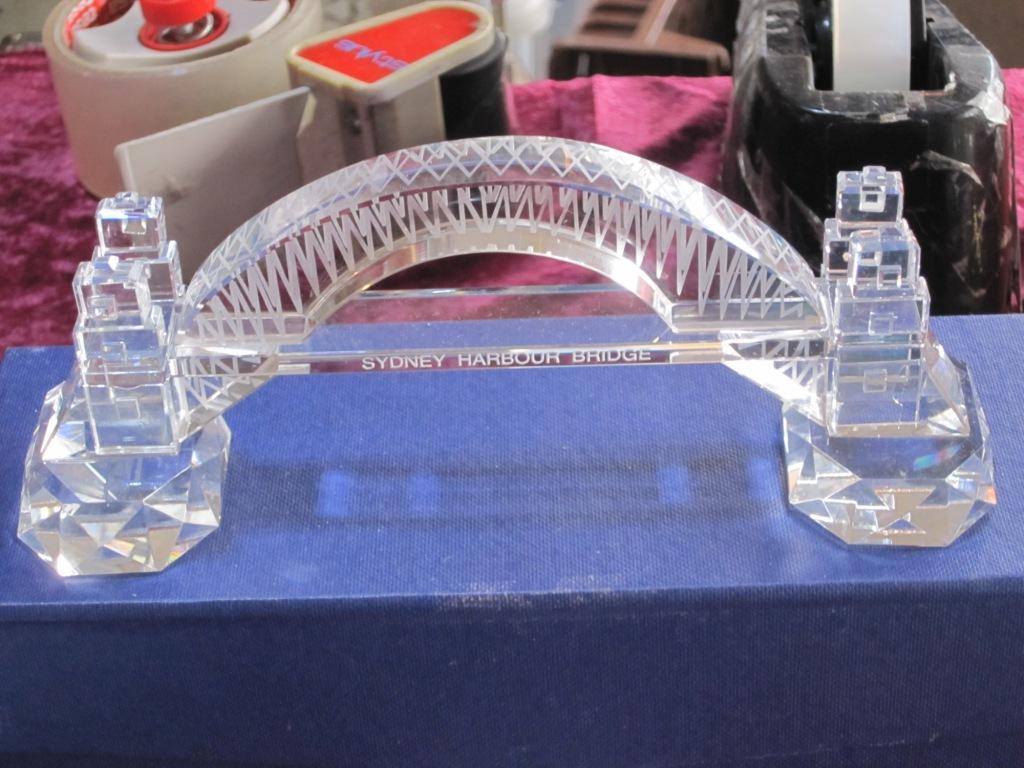 Harbour Bridge, at The Rocks market.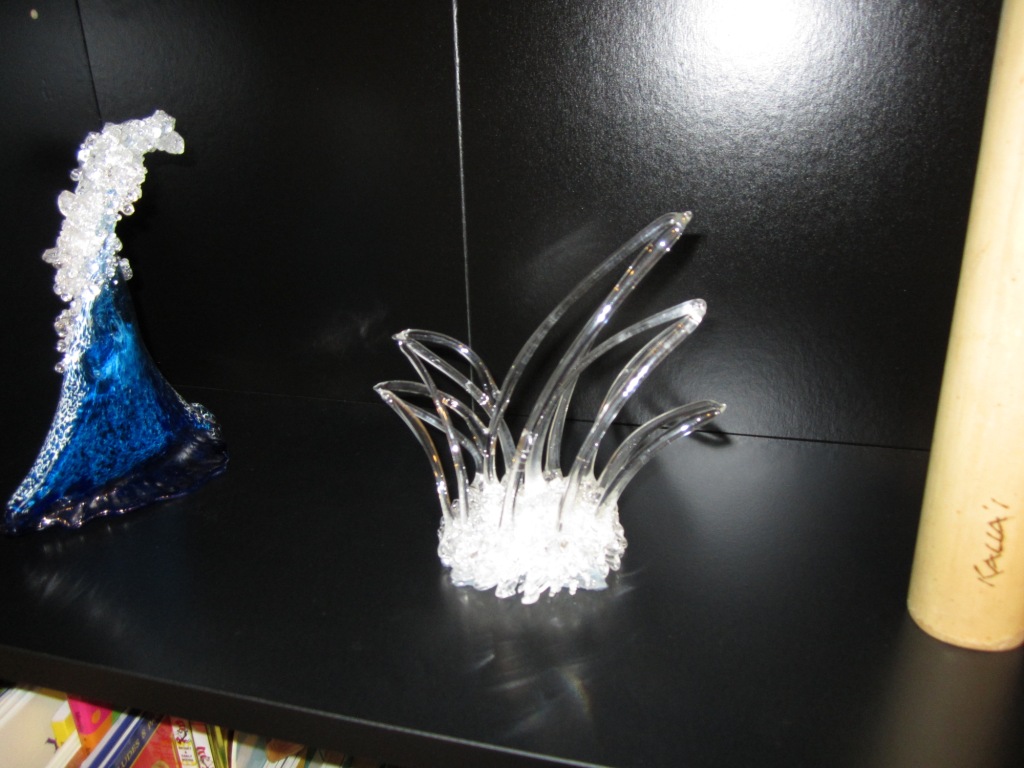 Opera House, glued back together again.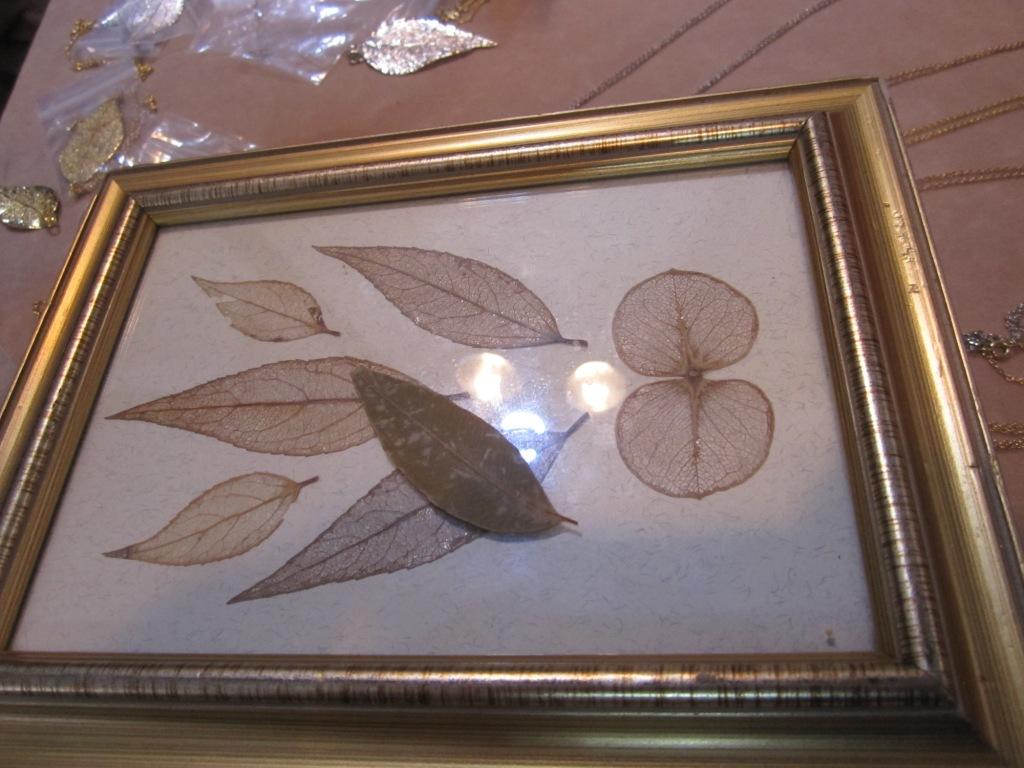 An interesting way to make jewelry, at The Rocks market.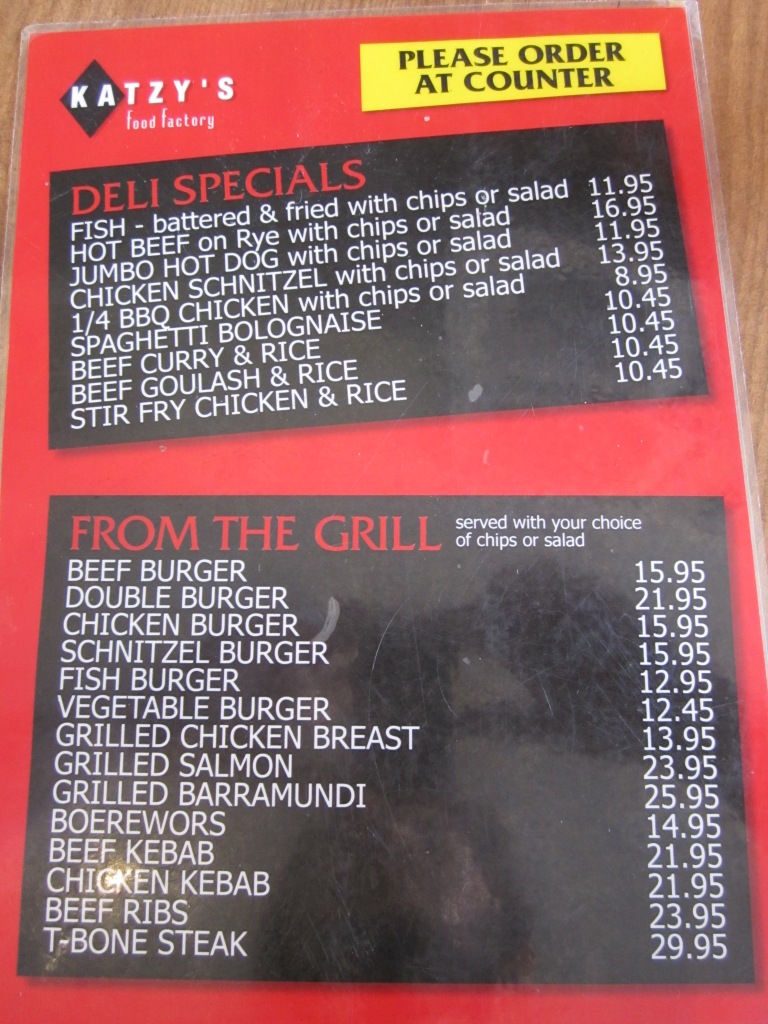 Katzy's Menu 1.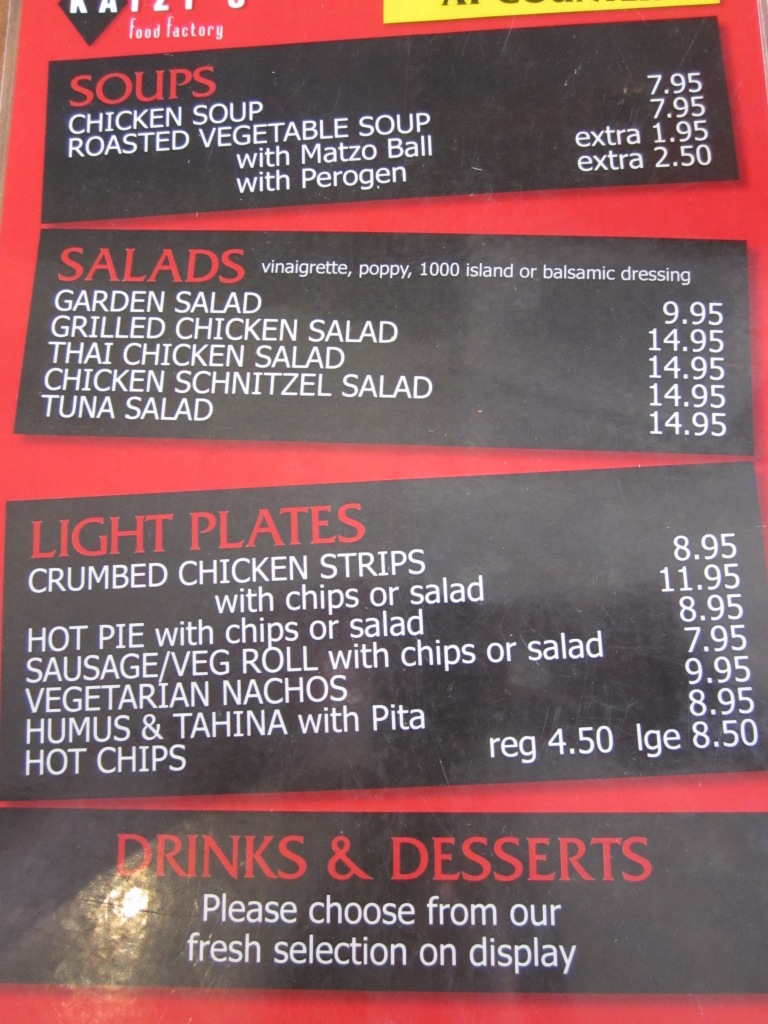 Katzy's Menu 2.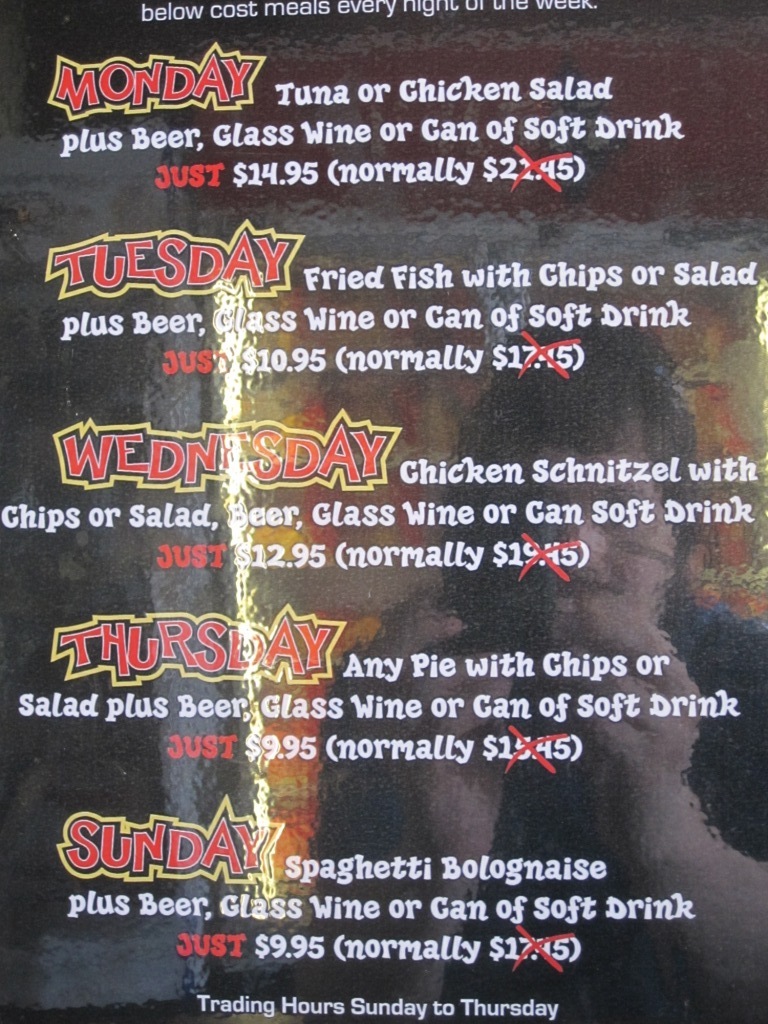 Katzy's Menu 3.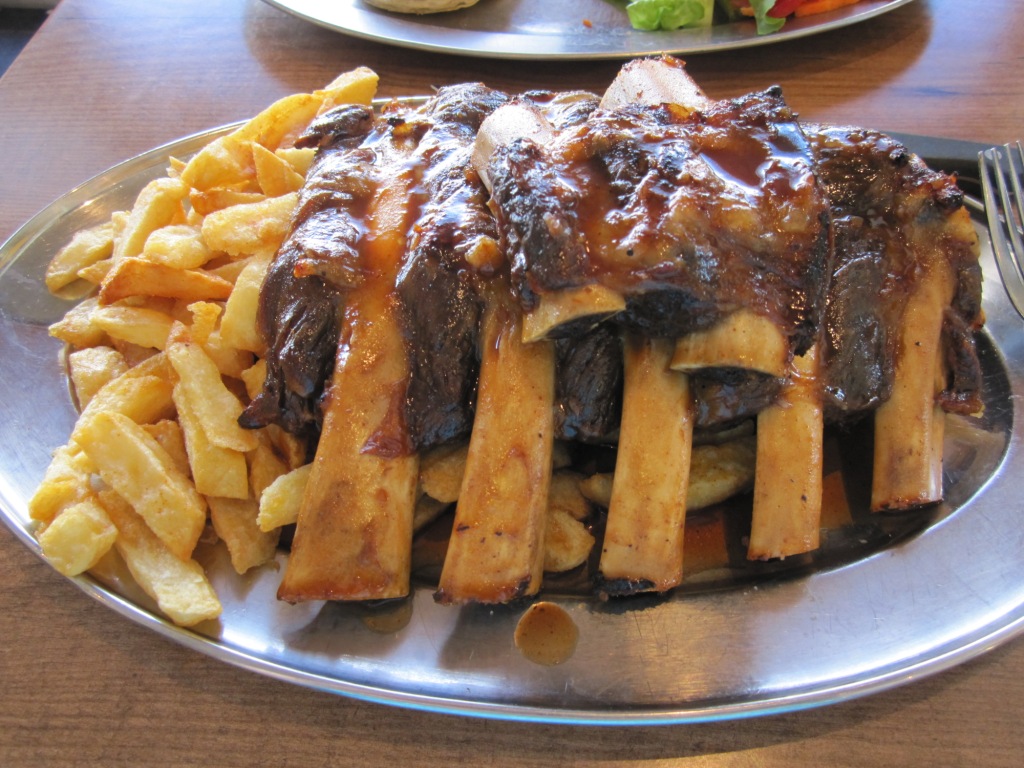 Succulent Ribs from Katzy's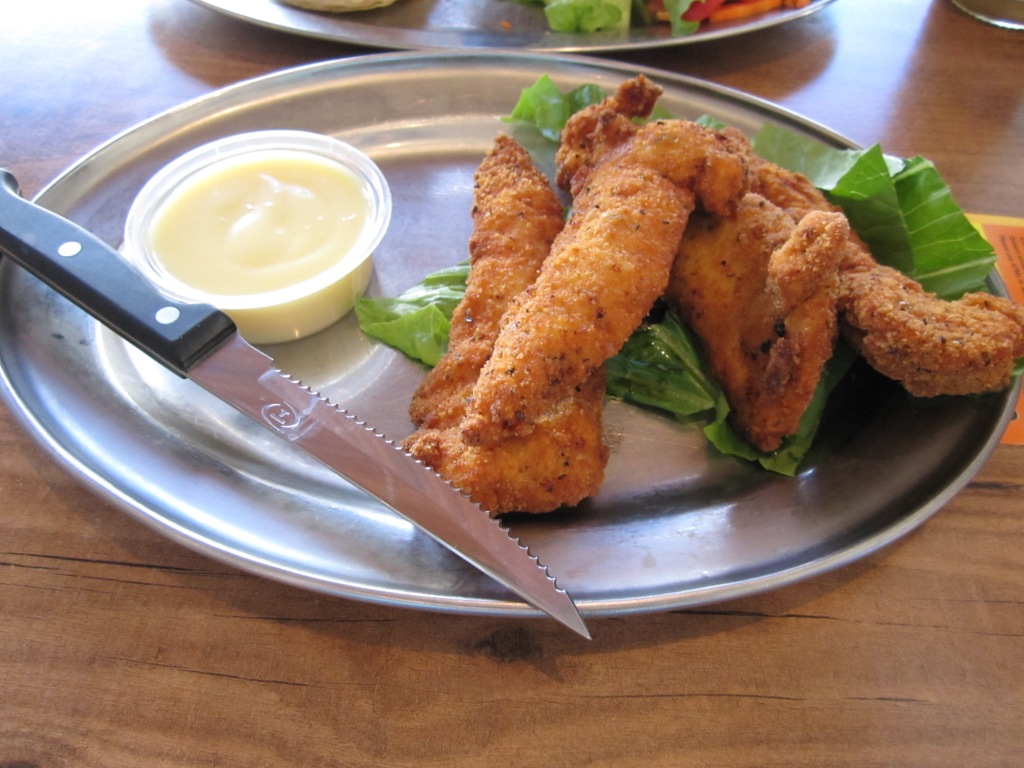 Shnitzel, from Katzy's
Shnitzel from Pita Mix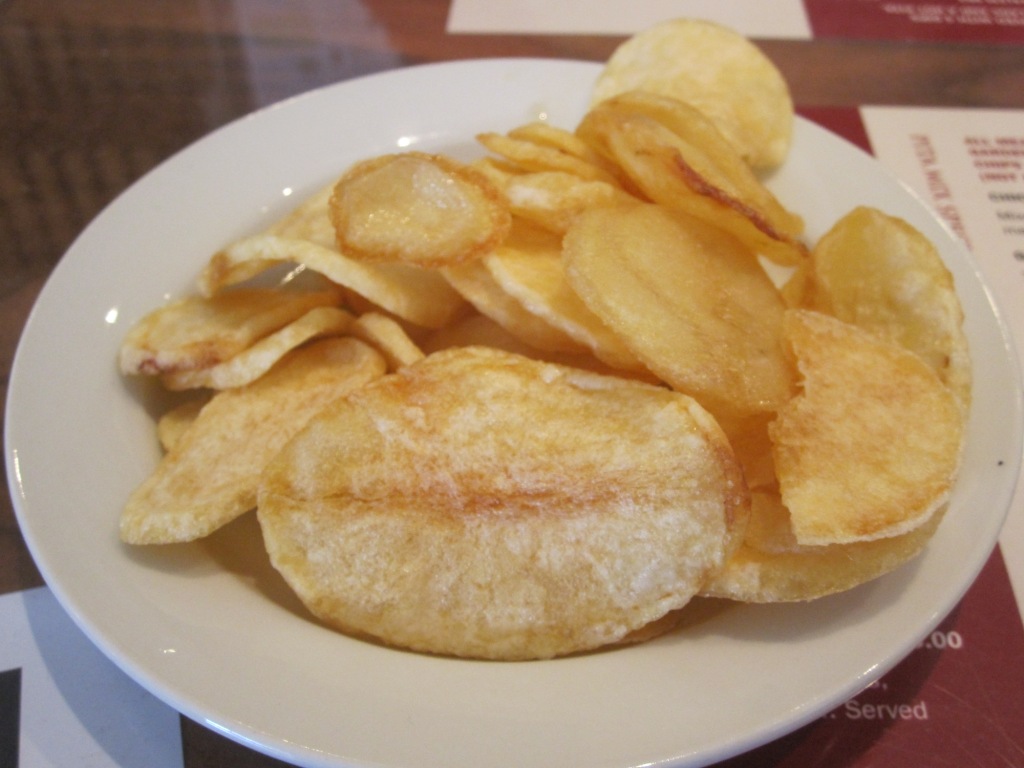 When they said "chips" at Pita Mix they meant it!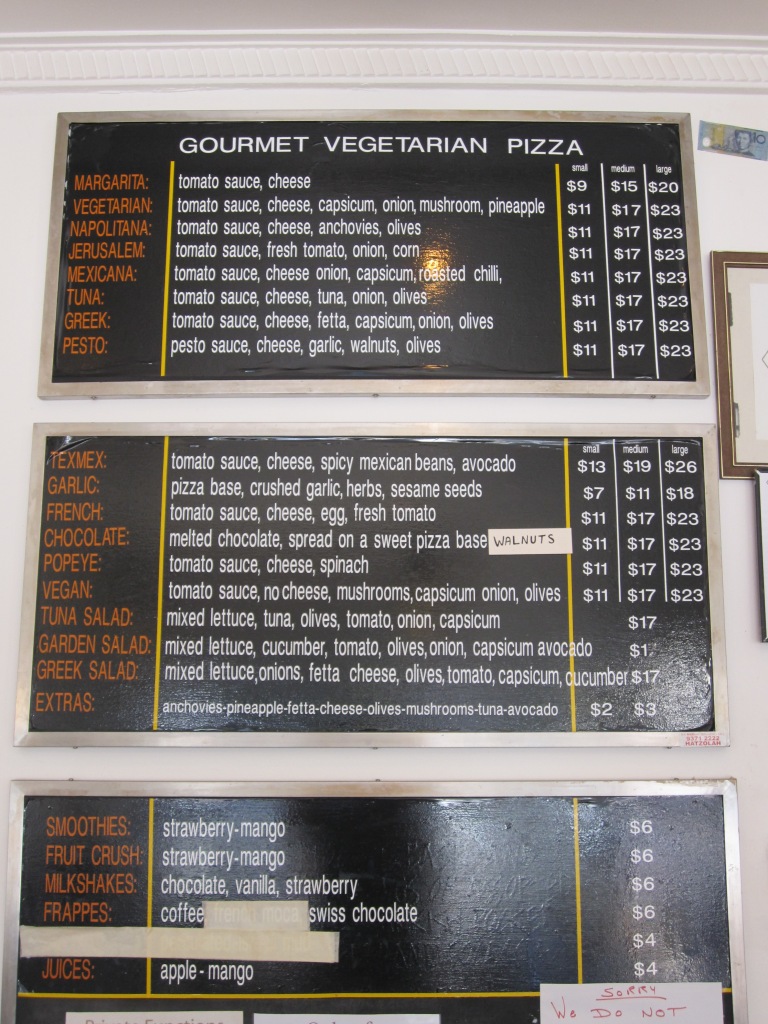 Bondi Pizza Menu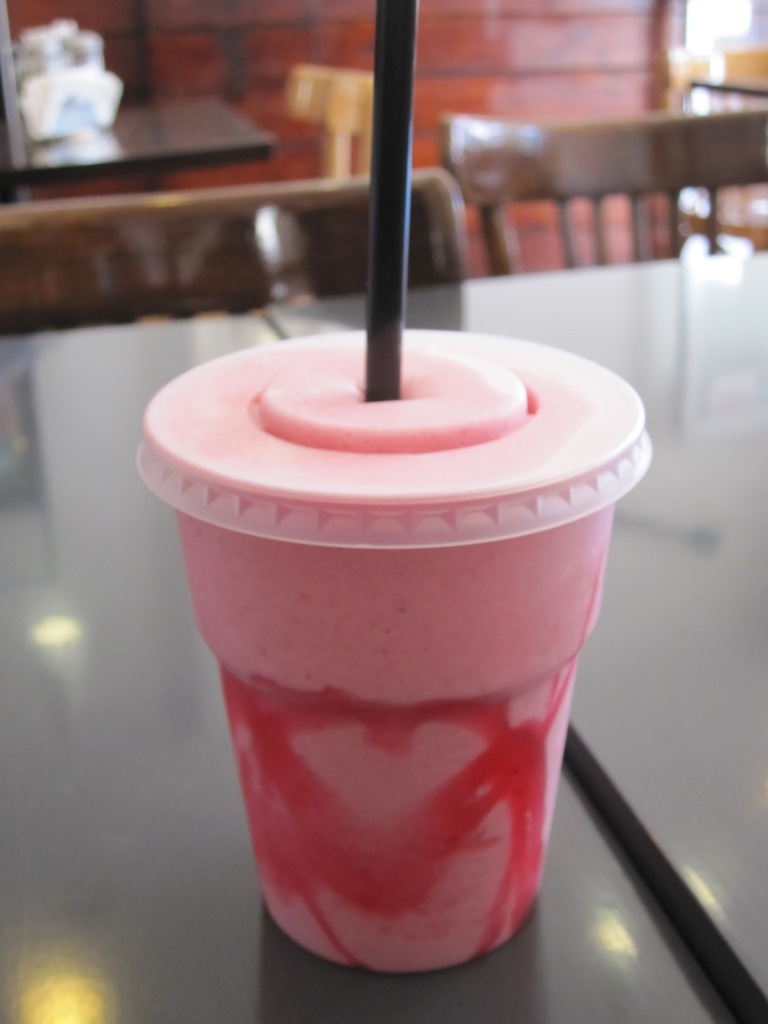 A great, if not expensive milkshake from Bondi Pizza…how did they do the heart?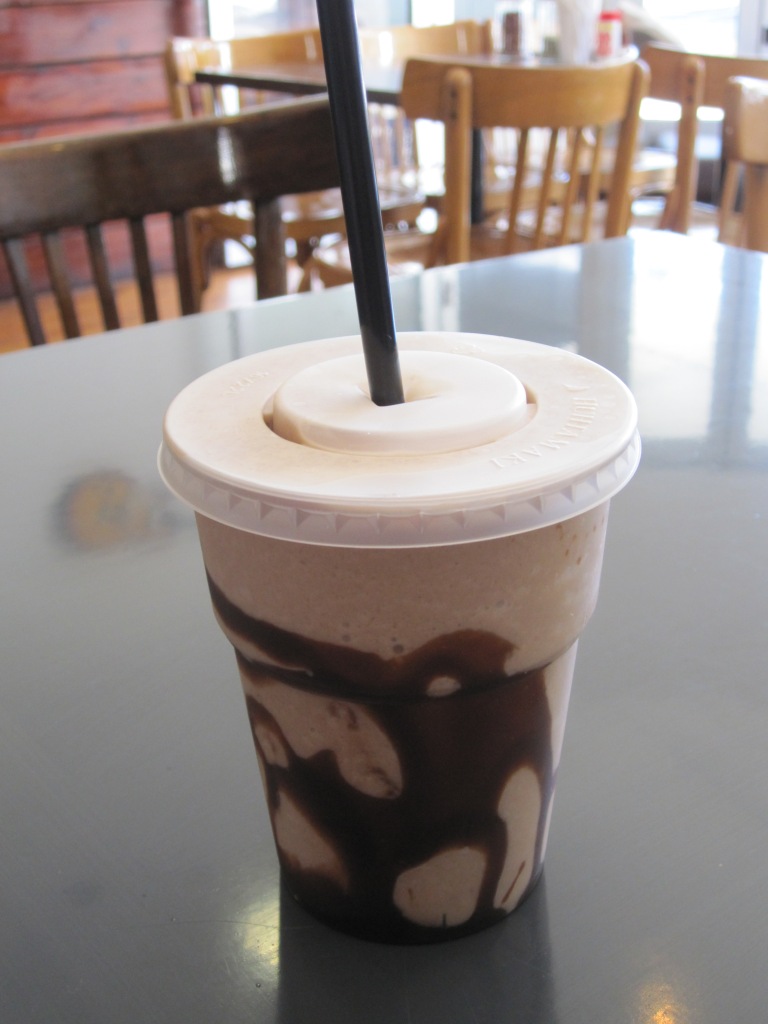 A great, if not expensive milkshake from Bondi Pizza.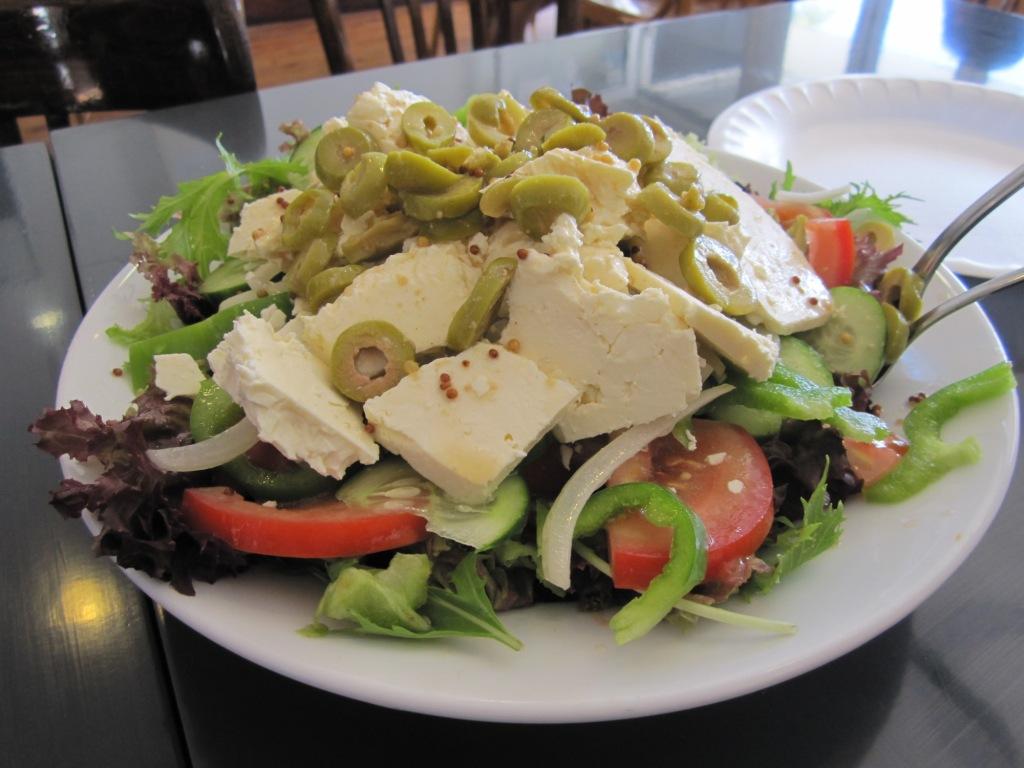 Greek Salad from Bondi Pizza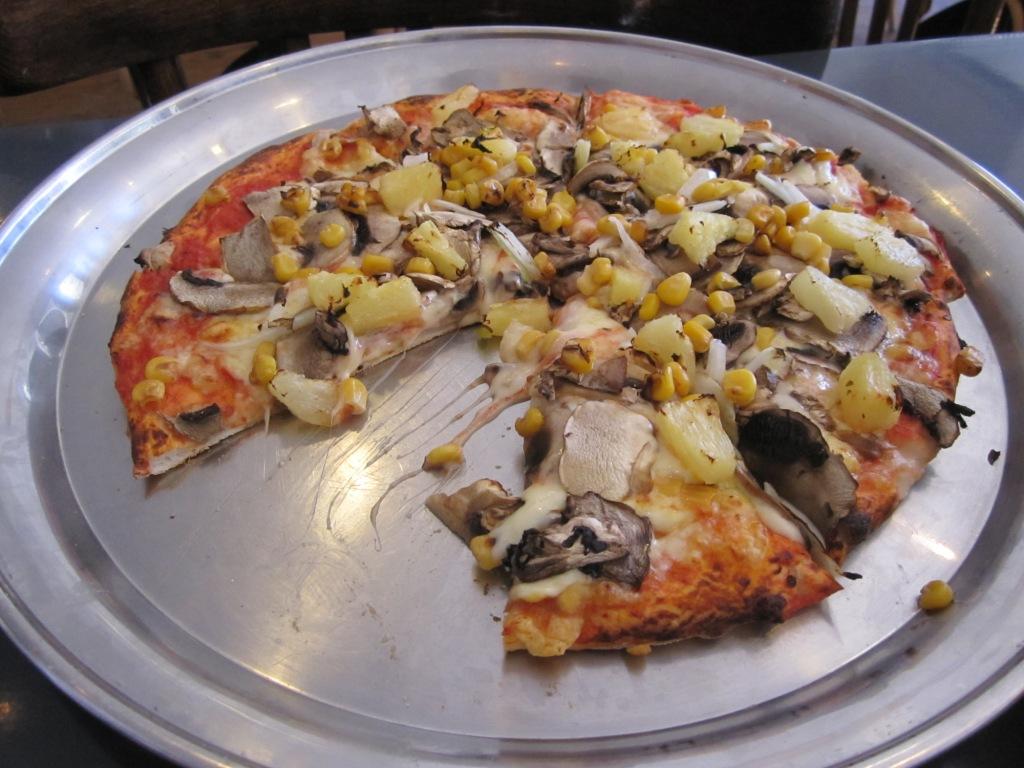 Bondi Pizza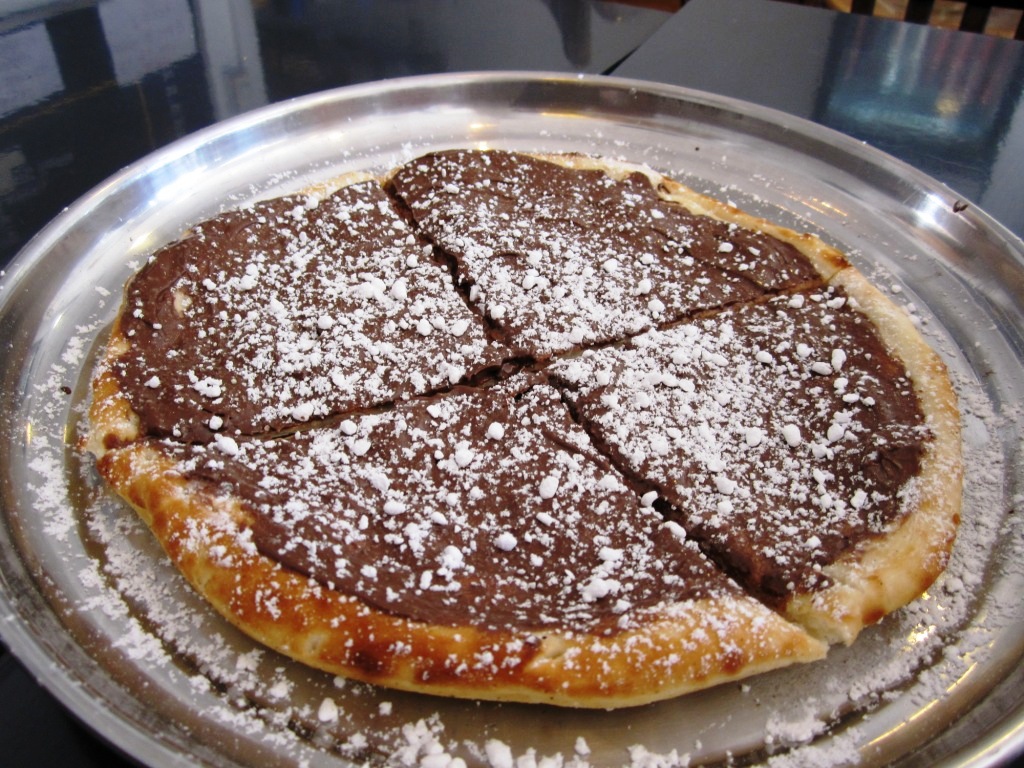 Bondi Pizza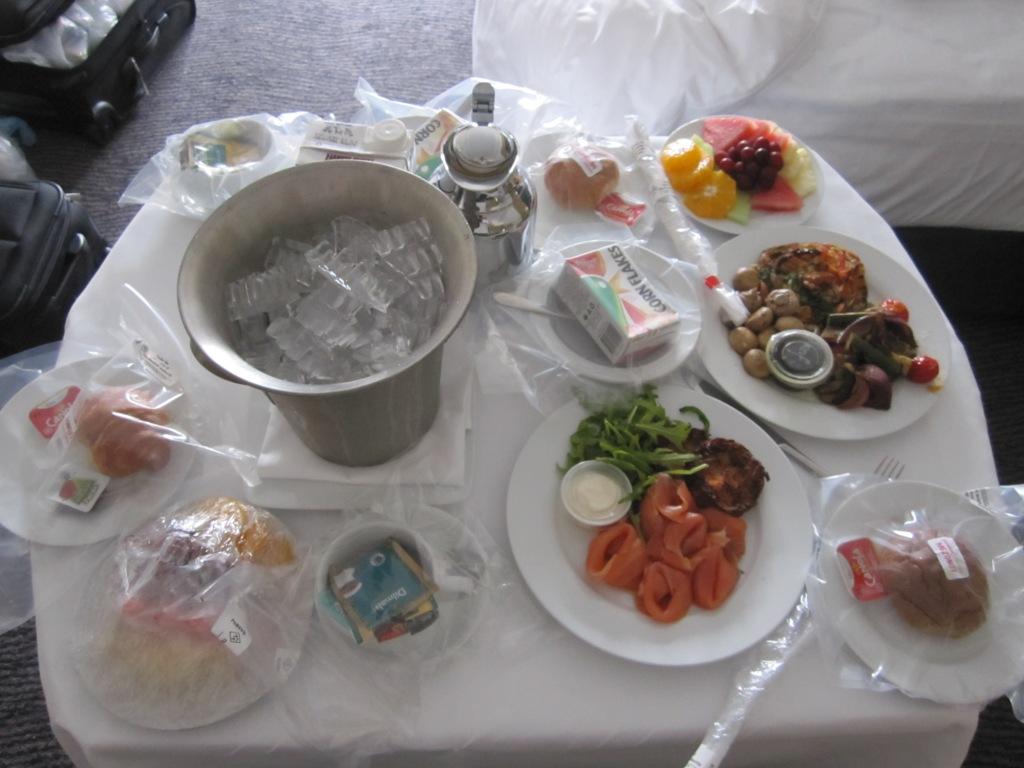 A kosher breakfast from the Park Hyatt