Related: Read previous posts filed under "Trip Notes"
-First off, hats off to all of the Montrealers who helped contribute over 70 comments with great tips for my recent trip to Montreal.  Hope I don't offend too many of you with my trip notes!
-My brother Dovid's wedding was incredible. All of the guys who came to dance from the local yeshiva really made the place lively and last into the wee hours of the night. Choni Milecki played music at his best. I only hope that my duet with Dovid singing Matisyahu's One Day doesn't make it onto Youtube…or you'll see what too much 18 year old Glenlivet and Johnnie Walker Blue Label will do to people.  Speaking of "One Day", NBC just used it a few minutes ago as the background music to their Olympics coverage!
-The best tip I got was the comment left by zalman. Yes it really does work to anywhere in the world.  It saved us $$$ and is possibly the craziest thing I've ever seen!
-For reason I can't explain it just seemed colder in Montreal than the reported temperature.  Maybe it's the constant windiness or something else but it was just bone-chillingly cold.  Definitely should have brought a down coat instead the wool one.
-I have never seen cars caked in salt like in Montreal.  It looked like all the cars on the street had rolled in salt pits or something…it snows in Cleveland a lot but the cars don't look like they did there, what gives?
-In the city of Montreal most of the signs are in French with no English translation. There are numerous small suburbs though where Arret becomes Stop as the signs magically change from French to English. Does eac suburb get to decide whether to be Francophone or Anglophone or does it have to just do with the makeup of the local population?
-Tip: With the numerous different cities around Boulevard Decarie when using a GPS to find an address just select "Search all cities" in Quebec to find the address. If you type in Montreal it won't find a match. In general in Canada it's fun to use the 6 digit Zip Codes in the GPS. When you do that you won't even have to enter a city or street name for it to find your destination!
-Even with my Starwood AMEX charging over 2% to use the card in Canada it's still worth using it. $1 Canadian cost me about 97.5 cents which was better than what change places were offering. Plus I still get Starpoints and have buyer protections (chargeback, stolen/broken goods, warranty coverage, etc.) that you won't have if you pay cash. Even the parking meters take AMEX so I never had to carry any Canadian cash. Some stores don't take AMEX so I fell back on my Continental Presidential Plus card which gave a similar rate.
-Don't waste any money to see the city from the tower in Olympic Stadium.  Instead take a look at the city unfold from on top of Mont Royal at night or drive around the bridges to the Montreal Casino at night where you can see the lights of the city and the brightly lit casino shine beautifully over the water.
-We went to check out the snow tubing ($8) on Mont Royal but the tubing hill looked somewhat small and we really didn't have the proper winter attire so we went ice skating instead ($8 for skate rental).
-We stayed at Priority Club's Candlewood Suites downtown.  Frankly I don't like anything about them.  I negotiated rates with them for our group of about 15 rooms for $59/night for a studio and $99/night for a two-bedroom suite with a full kitchen and living/dining room.  Apparently I did too good of a job negotiating as the sales manager sheepishly called back and said that the manager had rejected the rates and that they were raising them by $30 per night.  In the end we settled on free valet parking (normally $12/day) and extra tables in the rooms so that our group could have joint Shabbos services and meals.
What I didn't realize was that Candlewood does not give any housekeeping, the rooms were in desperate need of renovation, and they give you one lousy bottle of foul-smelling shampoo and make you grovel for more.  No conditioner, moisturizer, etc.  The free internet was ridiculously slow one day and didn't work at all for the rest of the time.  The room keys would randomly stop working and there is no staff to bring anything up to the room,  you have to go down to the front desk to fix any problems.
The only thing going for the hotel was the location.  I walked the half mile to the picturesque Old Montreal and Old Port of Montreal on Shabbos a couple times.  The only issue was that the Candlewood rooms were on the 11th-14th floors so it was a hike getting back up. Old Montreal has a very European feel with its narrow cobblestone streets and small shops.  Definitely worth a walk around if you can brave the cold.  The hotel was just a 10-15 minute drive from the kosher restaurants on Decarie and 20 minutes from YUL airport.
-The Hyatt Montreal is in need of a renovation as well…the guestrooms looked dated and a suite is just an extra connecting room instead of a real suite upgrade.  Many employees had poor English skills as well.
-Flying out of YUL is frankly a pain.  It's a nice hike to get from the car rental return to the US check-in and there are no shuttles. Most of the airline agents are outsourced and don't know all of the correct rules.  The Canadian Air Transport Security agents were downright hostile to us. Whether this was because we weren't Francophone's or because we're Americans is beyond me. They forced us to check all of our wheeled carry-ons due to being oversize, but in the subsequent customs line I saw numerous Canadians with identical bags. The official size limit for carry-ons allowed into the security line is a joke, I could barely fit my laptop bag into the sizer. When an agent questioned my TSA approved laptop bag (the kind where you don't need to removed the laptop from the case) he told me that "I don't give a damn if it's TSA approved, remove it right now or leave it behind."
-Driving in Montreal is like another planet from Toronto. Whereas Toronto drivers were the most courteous that I've ever seen in a big city (Yes most of them really do stop and let you in when you turn on your turn-signal) Montrealers are definitely not.  Also Toronto is a much cleaner city than Montreal.  In spite or perhaps because of that Montreal is far less sterile and "normal" than Toronto, which makes it quite interesting to visit.
-Some of the stuff I saw in grocery stores that are kosher parve in Canada that aren't in the US:
Aunt Jemima Pancake Mix.
Cereal: Cap'n Crunch, French Toast Crunch, Quaker Corn Squares, Quaker Maple Brown Sugar Oatmeal Squares, All Bran High Fiber Honey Nut Medley.
Chips: Lay's Old Fashioned BBQ, Ruffles All Dressed.
I also picked up a number VH chinese sauces that were actually on a big sale at Metro this week.
So what did I miss?
Kosher eateries:
Cheskie's Bakery: Yes, this place mentioned in dozens of comments does live up to the hype on many of the cheese items.
The vast majority of kosher establishments in Montreal are on Decarie, but this is located in the old neighborhood which seemed like it was in between downtown and Decarie. It's worth the short hike out here from either location.
The cheese muffins had an indescribably great flavor. The flaky cheese danish with confectioners sugar and large cheese florets were equally great. You really can't go wrong with any of the other cheese baked goods. The cheesecakes were very good, but nothing extraordinary. The chocolate and cinnamon rogelach were fine, but again nothing great. The Chocolate babka was very good, but their cheese goods are what you can't miss.
Milk & Honey: I went across the street from Cheskie's as some commenters had recommended but they had no cheesecake and the rest of the cafeteria style items didn't look all that great.
Pizza Pita: Very cool pizza shop with an impressively diverse menu.
Everyone went crazy over the Pizza wraps ($2.75). They are egg rolls served with duck sauce and loaded with caramelized onions, tomato sauce, and cheese. The frozen Alaska's (yogurt blended with fruit, $4) and razzles (ice cream blended with toppings, $4) were big hits as well. The felafel plate ($9) was quite good. The Pizza was fine, nothing exceptional.
As for the Poutine ($4.50)…Maybe it's an acquired taste. I enjoyed trying the spicy fries loaded with cheese and gravy but one person in our party named it butane after what it did to everyone's stomachs. Definitely worth a bite but I can't imagine eating much more than that.
Their hours are incredible, until 11pm nightly and until 4am Saturday night! Plus there's a drive-through!
Chez Benny: Overpriced fast food.
The General Tao plate ($18) had lots of food, but was only mediocre. The Shnitzel plate ($14) was better. Most of the menu is only in French.
Mount Royal Bagels: Incredible wood-oven bagels baked fresh right in front of you.
We got Sesame/Onion, whole wheat, Cinnamon (offered without raisins as we ordered or with raisins), Chocolate chip, and Plain. They were unique, delicious, hot, and crunchy. Their sun-dried tomato, and chive cream cheese was great as well.
A dozen bagels are just $6-$7.
And their Cinnamon Danish was one of the best I've ever had-it was divine!!!
Plus all their signs are in English 🙂
Ernie and Ellie's: Oh where to start…
We made reservations for 15 people on Saturday night. We probably should have been prepared by the fact that it took 30 minutes for them to take our orders. The menu pricing seemed bizarre. Chinese meals were about $20 but the all-you-can-eat Chinese tasting menu was just $25. In theory we were told the tasting menu worked like this: Pick a soup, as many appetizers as you want, and 3 main dishes. After that you were free to order more dishes. Again that's all in theory.
Maybe it's because we were 15 people, maybe it's because there was just 1 waitress, although the place was practically empty besides for us.
8:55pm: Arrived.
9:30pm: Took orders.
9:55pm: Appetizers brought out.
10:40pm: Entrees brought out, almost none of them are what people ordered. Nobody got more than 1 out of the 3 meals they ordered, and they made 5 of every meal that they did bring out. By the time we got the wrong meals and wanted to order more food with the "all you can eat" menu (or just the correct meals) or even dessert we were told that the kitchen was closed. So much for all you can eat.
The food that was brought out was excellent for the most part. The won-ton soup, peanut butter dumplings, chicken toast, General Tao Chicken, Orange Beef, and Salt & Pepper Chicken (They ran out of beef halfway through the meals) were all delicious. The service was 100% incompetent though. A 15% gratuity was added automatically onto the bill.
Oh and also lesson learned by some in the group-don't order Sushi on a Saturday night!
Yakimono Sushi Bar: Incredible sushi and well priced as well.
I'm really not such a big sushi fan and would never touch raw fish with a 10 foot pole. We went here as an afterthought but it was well worth it.
Yakimono is clean and sleek looking restaurant. I got a fried sushi roll (10 pieces for $11) with salmon, mango, and avocado with fried tempura which was amazing. They serve their Sushi with a number of sauces (The sweet sauce was awesome!). The nice portion of fries ($4) were well-spiced and very good.
The only disappointment was the Hot Apple Crumble with Ice Cream ($8) that was overdone and consisted mostly of just dry crumble.
Morty's Steakhouse: Very good steaks but overpriced.
Morty's is a very good steakhouse. The hot french bread they serve when you are seated is delicious dipped into the aromatic and very flavorful balsamic vinegar.
I got the small Filet Mignon (8oz. for $39, the large is 12 oz. for $56) done medium which was just perfect and succulent. They even let me switch the vegetable to get 2 potatoes with the steak, Yukon Gold Garlic Mashed Potatoes, and absolutely incredible steak fries. Another diner had theirs done medium well which came out with a strong charred taste. Larger steaks (16 oz.) were about $60.
They even have a 70 ounce rib steak for $99 that if one diner is able to finish they don't have to pay for it!
The hot chocolate cake with ice cream was OK, nothing compared to the sublime La Marais version of the dessert.
Click on the pictures to enlarge and to view the full non-cutoff picture: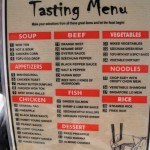 The all you can eat menu at Ernie and Ellie's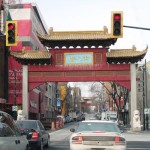 Chinatown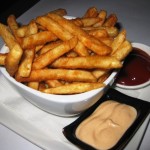 Fries at Yakimono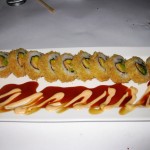 Fried Sushi Roll at Yakimono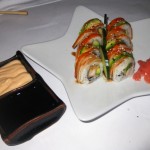 Fake Crab Sushi Roll at Yakimono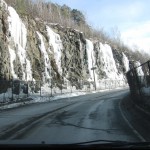 Driving up Mont Royal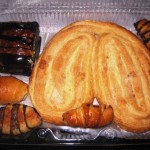 Babka, Elephant ear, and Rugelach at Cheskie's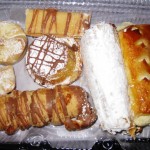 Don't miss the Cheese Florets, Cheese Muffin, and Flaky Cheese Confectioners Sugar Danish at Cheskie's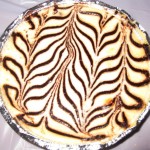 Cheesecakes at Cheskie's
Agree? Disagree? Sound off in the comments!