Related Posts:
PRICE MISTAKE!!! AIRFARE AND HOTEL TO SELECT CITIES FOR ABSOLUTELY FREE!
Trip Notes: Cleveland -> Las Vegas -> Los Angeles -> Cleveland (03/23/09)
Airfare: $0
Bellagio: $0
Cirque du Soleil: $0
There are some things you don't need money to buy…That's why I founded Dansdeals.com!
Live notes from our free trip to Vegas!  I'll update this post as time permits!
11/24:
Update 4:
-9:00am: Checked out from the Bellagio. We had moved things around the motion-sensitive minibar to put food in there and then replaced the items before we checked out. I expected to have to have them remove the automated minibar charges but interestingly it was already taken off.
The internet and dinner charges were removed as well, so I got an awesome $0 final invoice!
-9:15am: We walked right across the street to The Coffee Bean & Tea Leaf in the Miracle Mile mall and picked up some of their parve, pas yisroel, everything bagels at $2 a pop for the trip home. They were actually pretty good! They also had some overpriced parve, pas yisroel, prepackaged sandwiches from LA.
Beware in the Venetian! There are 2 Coffee Bean locations here. The first one we saw had bagels for $3 each. We walked a little further to the food court location and there they were $2 each!
-If you're looking for affordable blackjack tables the Bellagio always has 2 $5 blackjack tables. One when you enter and one near the back. The dealers here are great and will always tell you what your best move will be so that you can maximize your odds on winning (You can buy a $1 pocked strategy card at souvenir shops on the strip). At $5 a hand playing a game where the odds of winning are as close to 50% as you can get in a casino you can be entertained for hours without ever losing (or winning) more than you'd pay for a night of entertainment at any other venue in the city.  And hey, you drink for free while you play as well!
-9:45am: I put a $4 of gas in the Infiniti right at the airport and bring it back to Avis who brought us straight to the terminal in the car.
-10:00am: So much for the busiest travel day of the year. We're already at the gate! There was not one person in line at security. Again we just picked a line with a traditional metal detector and never had to worry about the x-ray or pat down on the entire trip.
-There's no way to go to the awesome Continental Presidents club with its great Strip views (or the rest of the D concourse) in LAS from the USAir gates without going out of security. What a poorly designed airport!
-Couldn't pull off an upgrade as a Continental Platinum but we got even better row 7 bulkhead seats on the 752. More legroom than Zydrunas Ilgauskas would know what to do with! There wer screens on the plane, but no entertainment played at all.
-The tailwinds were so strong that we made it from Las Vegas to Charlotte in just over 3 hours! The flight attendant said it was the fastest she ever flew for that route.
-We arrived so early that there were 2 flight options back to Pittsburgh before our flight. Now on most airlines they would just let you standby at the connecting airport for an earlier flight for free. But this is USeless we're talking about. Their official policy is that if there are seats available it would be $50 per person. Rather than spend $100 on a trip that was nearly completely free I went to check out a few of the clubs and again had no problems getting in with my AMEX Plat card.
-The B club was dingy and dark. The TV is apparently owned by CNN so there's no was to change the channel! The only free alcoholic drink was Bud or Bud light, a far cry from the dozens of varieties of free drinks at a Continental or Delta club. The C club was much brighter and nicer at least.
-USAir agents are by leaps and bounds the worst of any airline I've ever flown. The vast majority are extremely bitter and will treat you like garbage even if you approach them with a smile and friendly greeting. Flying them reminds me why I prefer Continental so strongly. It's uncommon at Continental to run into a really bad agent that will ruin your trip. At USeless Air it seems that nearly all of them take pride in making your trip as uncomfortable as possible. Even the club agents can be downright rude and cold. Their planes are very dirty and poorly maintained. Honestly, avoid them if you can!
Well, that's all folks. We took the trip, flew for free, parked for free, stayed for free, watched cirque for free, surfed the web for free, and even ate for free at times. That's the way to do it! Hope you all have a great time as well!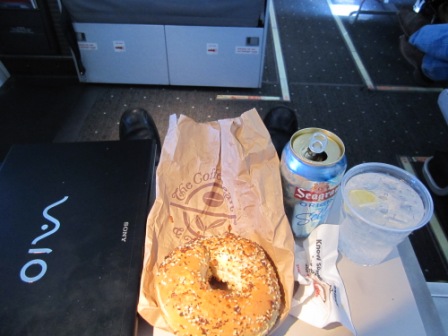 7C is a great US752(v2) seat if you can't get into Envoy.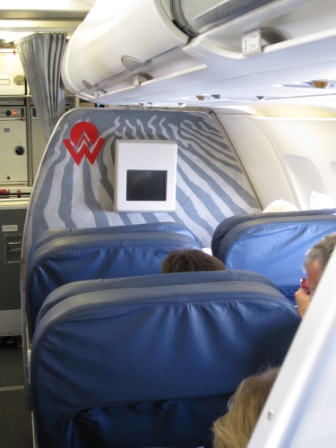 Time to update the airline logo maybe?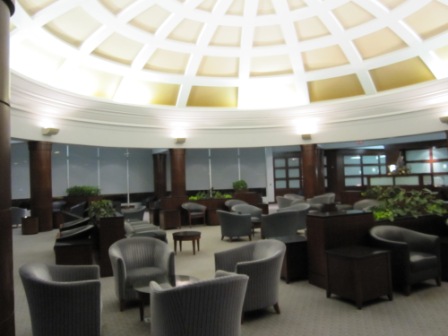 The airy CLT term. C club.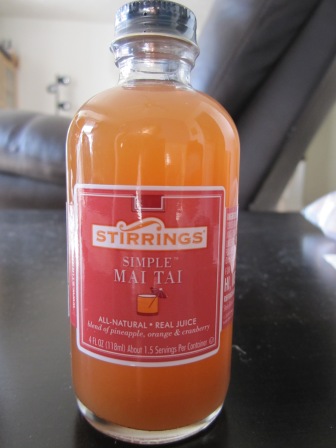 $1 Mai-Tais on US that will evoke Hawaii memories, just watch out for $7 rum!
11/23:
Update 4:
-10:00am: I booked the Bellagio under 2 separate reservations so that each night would be completely free. Unfortunately they gave away our room to someone else for the 2nd day even though they had told us that it would be OK. After spending nearly an hour sorting things out I was no longer a happy camper.
After a manager agreed to waive my internet fees ($17/day) and to buy us kosher dinners delivered to our room I was quite a happy camper again!
-Definitely try to get a room on floors 29-36 in the Bellagio. These floors are newly renovated and are light-years ahead of the rooms on the lower floors. The new rooms are simply incredible while the older ones are slightly dated.
-1:00pm: I recalled from a previous trip that the soft-serve Ice Cream from Adar Pizza was very good.  The place is ridiculously overpriced, by far the most expensive pizza shop I've ever been to and the service comes with an attitude and tip expected.  Last time I was here we were given 2 pitchers of water that had a number of gross floating stuff in them and although they said they'd be happy to give us bottled water they still unapologetically charged us $4 for it! At any rate I called beforehand to confirm what flavors of Ice Cream they had and was told that there was Vanilla and Chocolate.  So we drove over there and lo and behold the Ice Cream machine was broken and hadn't even been working in some time!  It's just BAD business practice to lie to a customer just to draw them in and as expected from this establishment, no apology was offered when I asked why they didn't just say that it was out of order when I called earlier!
-1:30pm: I've already been to Panini Cafe (who said that they still honor restaurant.com GC's as long as you follow the rules on them) where the food is generally quite good so we went to Sababa. Sababa had a falefel special ($6.95 for a felafel and a sode) and a shwarma special ($8.95) going on. The Shwarma was very good and the felafel was delicious and loaded with felafel balls and tons of great salads! Their homemade baba ganoush was very good as well and was great in the sandwiches. The fries were fine, nothing to write home about, and the weird off-brand of ketchup the serve sure could desperately use an upgrade to Heinz!!!
-There's really no need to pay for shows in Vegas. Just walk down the strip, take in all of the great free outdoor shows offered by many hotels, and check out all of the awesome themed hotels!
-Valet parking is free at the hotel casinos along the strip. It's definitely worth using them!
-9:30pm: We knew that Haifa restaurant does not have the best reviews, but it was the only place that had steaks and the like and it was recommended by the Bellagio (who paid for the meal after all) as it's the only kosher meat restaurant on the Strip. It's shockingly overpriced for barely edible food. Nothing is seasoned at all. The lamb chops ($42) and rib-eye ($35 although their online menu says $32) were way overcooked and completely bland. The chicken shishlik ($22) was equally bland and dry. The best thing may have been the marinara penne pasta which came as a side dish. Delivery took an hour and was $15. Had I paid all that I of my pocket I would have been very disappointed!
– It's such a shame that Village Steakhouse closed since I was last in Las Vegas…now that place was excellent in every way!
-For now I can recommend Panini Cafe, Sababa, and Big Dragon Chinese for dining out in Vegas. They are all 10-25 minutes from the Strip, depending on the volume of traffic. You will need a rental car to get to these restaurants.
-There are also tons of Coffe Beans And Tea Leaf stores all over the strip. They seem to all have a kosher certificate that everything is kosher dairy, cholov stam. However the bagels and kosher parve and pas yisroel.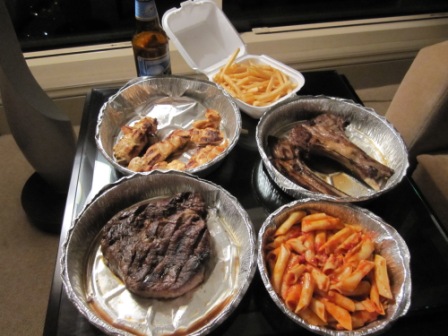 Haifa food…not worth it unless you get it comped like I did!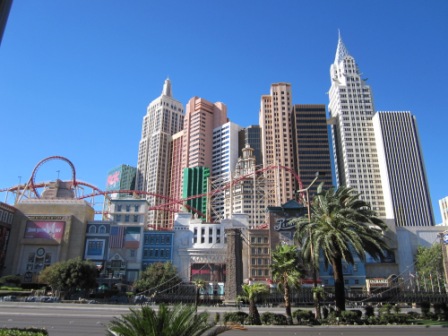 New York, New York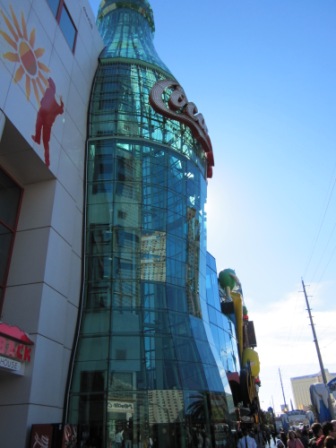 Coke Store!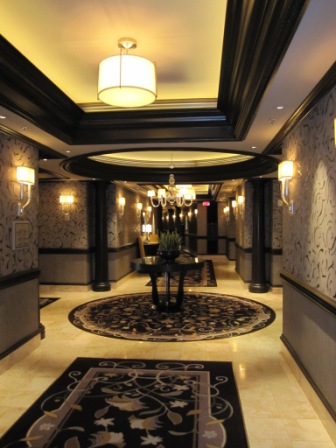 Bellagio Hallway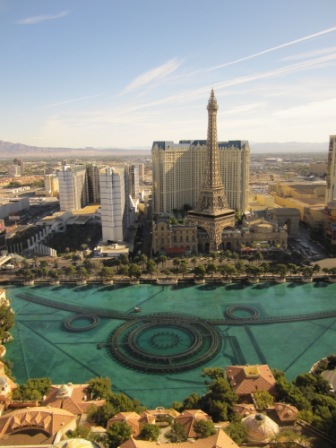 Daytime view from our room.
11/22:
Update 3:
5:30pm: My refund just posted to my credit card…this trip is now officially free!
Don't worry if your refund didn't post yet. Give it at least a week to process depending on the card you used.
-6:45pm: We are able to trade in our 9:30pm Cirque tickets (for the Beatles version at the Mirage) for the 7pm showing are are upgraded to category 1 seating in the 3rd row!
The show is cool for about 15 minutes, but honestly at about 95 minutes it's too long. The plot is flimsy and very hard to follow. A few sequences are very cool but most feel like filler.  Be sure to hold onto your respective head coverings during the weird part where a massive sheet covers the entire crowd!  Maybe it's just not my thing and I'm missing something? I truly felt sorry for the folks seated next to me who had paid $160/ticket for their entire families (complete with bored and kvetchy kids) to attend.
I took a few pictures and they tried to confiscate my camera. We compromised and they just deleted every picture of the show.
At $0 I guess I can't complain too much though…
-9:15pm: We went to the brand new Big Dragon Chinese restaurant. It is run and owned by a very affable young Asian man and the Chabad mashgiach was on site the entire time. The restaurant is well decorated in a streamlined modern and minimalistic way, in a word: classy.
The egg rolls (2 nice sized ones for $3) and Sesame Chicken ($15.95 for a good portion) were both very good. Rice is extra (.50 for steamed and you have to buy a $9 meal for fried rice).
-11pm: The Bellagio fountain show is simply breathtaking, I can't get over how beautiful it is! The show runs every 15 minutes at night and changes every time…I could watch it all night long!
The fountains can shoot water as high as our room on the 32nd floor!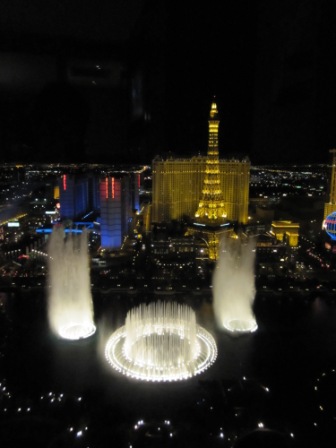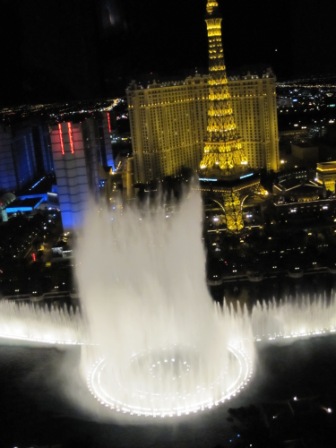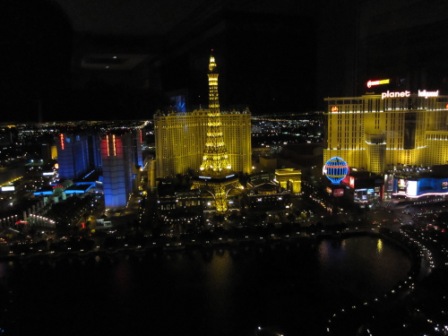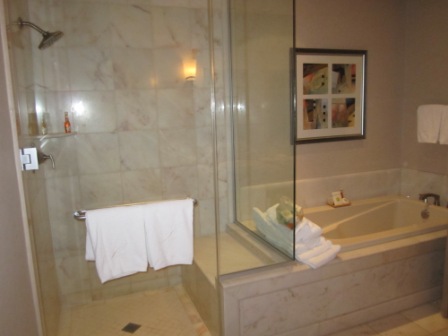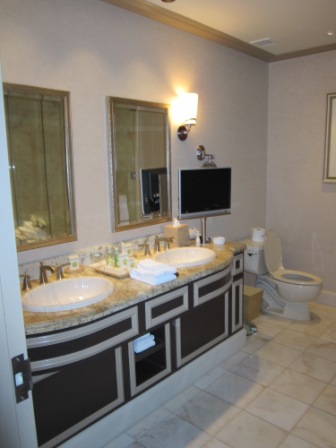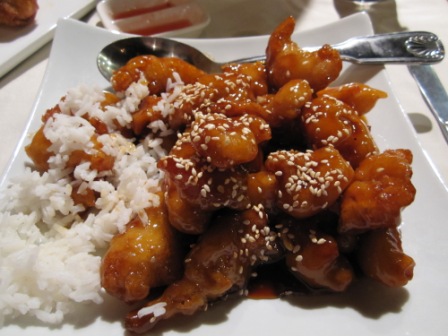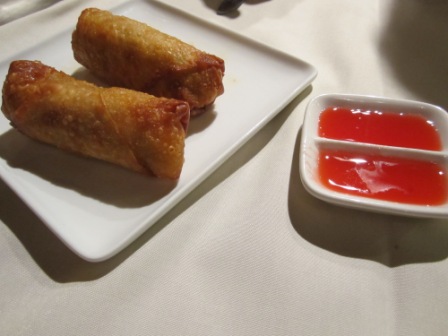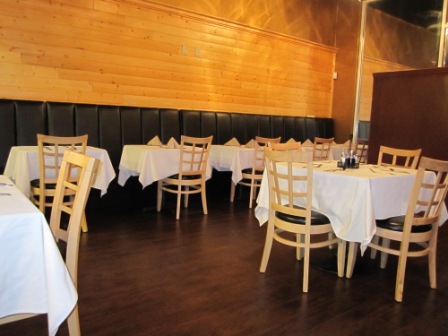 Update 2:
-11:00am: USAir wouldn't upgrade us despite my Continental Platinum/Star Alliance Gold status. We did get great bulkhead seats for the PIT-PHX segment and exit-row seats for the PHX-LAS segment.
-Despite the 5 hour flight time from PIT-PHX there was no entertainment whatsoever offered on the flight. That's what you get for flying USeless!
-2:20pm MST: Never fun arriving 20 minutes late when your connection is only 45 minutes long in the first place! But a little jog from one end of the airport to the other was good enough. A delay on the PHX-LAS flight didn't hurt either.
-2:45pm: I plugged my phone into my laptop to use it as a modem and the flight attendant came by and demanded that I turn it off immediately. After I stalled for a minute she came back and said she would wait to tell us about the exit-row regulations until it was powered off. After I asked if the aircraft door was closed she got really angry and said that she makes the rules on this flight and I can cooperate or get off.
The aircraft doors wouldn't close for another 20 minutes due to the delay.
Apparently the FA was afraid of something as she suddenly became all friendly and comped me 2 Stirrings Mai-Tai mixes (OU!) later in the flight…bizarre!
-3:00pm PST: Avis is giving me an Inifiniti G37x for the price of a midsize…nice!
-3:30pm: Valet parking is free at the Bellagio! Gotta love all this free stuff!
-3:45pm: The $20 Vegas Suite upgrade tip (discreetly sandwich a $20 bill between your credit card and drivers license) is alive and well at the Bellagio 🙂 We have a sick room with a perfect view of the Bellagio fountains, the Eiffel Tower, and the strip!  Seeing the fountain show from your room is just awesome!
Update 1:
-7am EST: Leaving the house for a free trip to Vegas.
-7:10am: Picking up some delicious fresh boiled and baked Jalapeno and Garlic Bagels from The Bagel Shoppe in Cleveland.
-7:15am: Driving to Pittsburgh to catch the flight. Unfortunately flights from Cleveland were too expensive to be free after $300 savings.
-9:05am: Drop off the car in a free parking lot and take a shuttle to the airport.
-9:45am: Just got in the USAir club with my AMEX Platinum card. No ID or boarding pass is required at the USAir club.
They give us free wi-fi passes. While beer and alcoholic beverages are free in most USAir clubs, apparently there's some PA state law that requires them to charge $1 for a drink here. No matter, it's too early anyway…
I've picked up a few newspapers and an Economist from the club and am ready for the flight!
As a Continental Platinum member I'll pick up 4,628 Continental miles for the one-way flight!