Update, 11am: Got home thanks to United and the kind AA phone agent.  One unlucky guy on the plane came up to me and thanked me for the $490 Delta deal nonstop to Israel that he was just coming back from.  Why poor sap? He used miles to fly on the American flight and when he went to checkin learned that all of their nonstop flights were cancelled.  They refused to accommodate him on United so he shelled out some $500 that United wanted for the one-way, more than his round-trip from NYC to Israel!
Don't worry, I chastised him for not having 10K United miles or Chase Ultimate Rewards points that would've saved him the $500…
Side note: How awesome is this story on United!?!
———————————————————————————
Related:The Joys Of HUCA
———————————————————————————
As any of the 6,300+ members of DDF can tell you, HUCA means to Hang Up and Call Again. It's pretty good advice for anything. Most phone reps are incompetent or not willing to help, so it can take many phone calls to find someone helpful.
If you'll click on the related post link above you can read some of the examples I gave for it last time.
I'll share another great example of it that I just encountered, but first the background story.
———————————————————————————
I flew yesterday from Cleveland to NYC for 9,000 Avios. American wanted $1,176 for the round-trip as they require a 3 night minimum stay for a discounted fare, so not a bad use of miles.  This is why I love Avios.  It fills the gap that other miles have.  I feel guilty using American or United miles on a domestic trip as those so valuable internationally.  BA Avios aren't great for most long-haul international flights (though there are a few notable exceptions) but they are oh so awesome on domestic short-hauls.
I'll be flying into or out of the Cleveland airport for 3 days in a row. There should be a prize for this stuff 😉
When I landed in NYC I headed straight for Pizza Da Solo, the first authentic Neapolitan kosher pizzeria in the world.  But I didn't go just for the food, I got to meetup with several members of my DDF family and trade stories and tips for a couple of hours.
As far as the food goes, the pizza was very good and unique, the calzone may have been even better. My calzone had ricotta, homemade mozzarella, eggplant, basil, caramelized onions, and garlic with sauce on the side.
2 of the guys ordered the $38 Truffle Pizza. The Pie didn't look it had any $100/ounce truffle shavings on it, but one person speculated that it must have been really fine shavings that they missed! When I went back to get some sauce for my calzone I mentioned that the triffle pizza disappointed as they were not even visible. Turns out they forgot to add the truffle shavings to their pie! Not something that should happen for $38, but they did get a whole new pie out of it. And it still wasn't worth $38, but at least this time they were able to say that authoritatively. If you do get it ask for them to go light on the arugula which drowns out the truffles.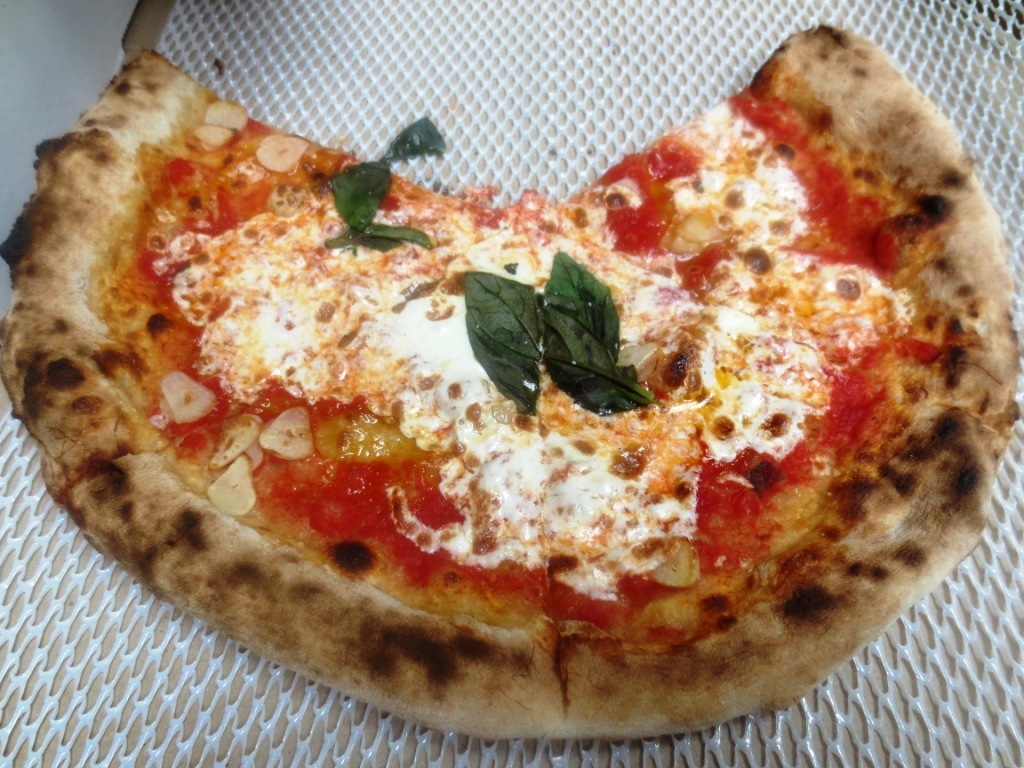 A extremely thin crust Pizza with San Marzano tomato sauce, homemade mozzarella, basil, parmesan, and garlic, $9.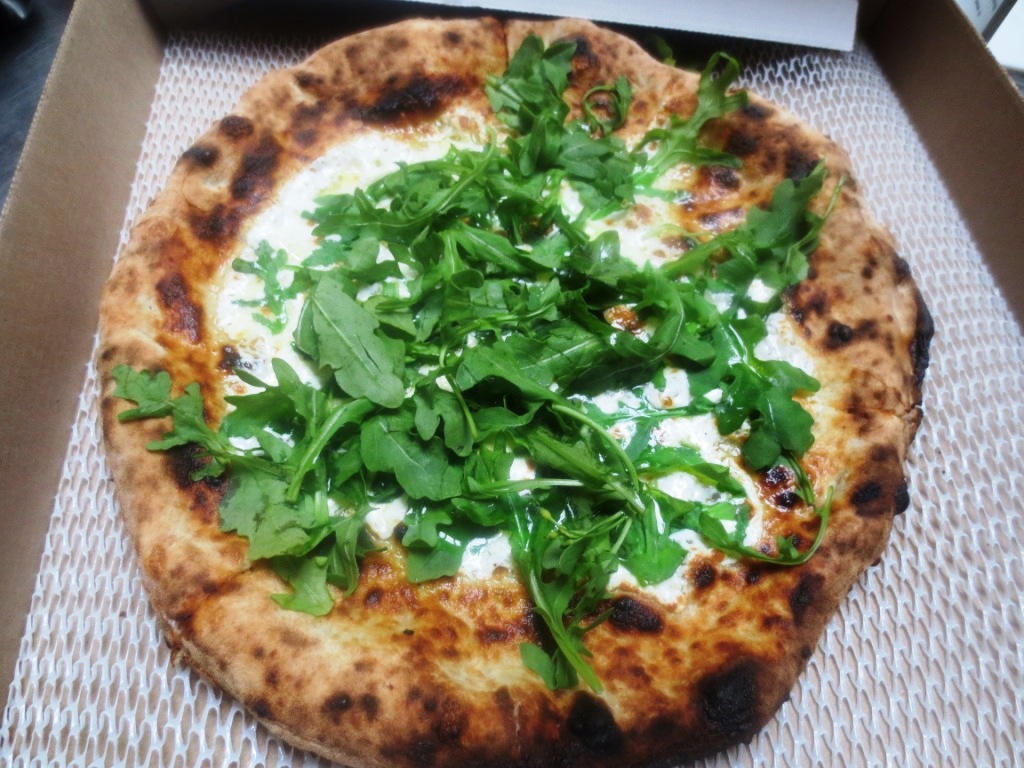 Invisible Truffles.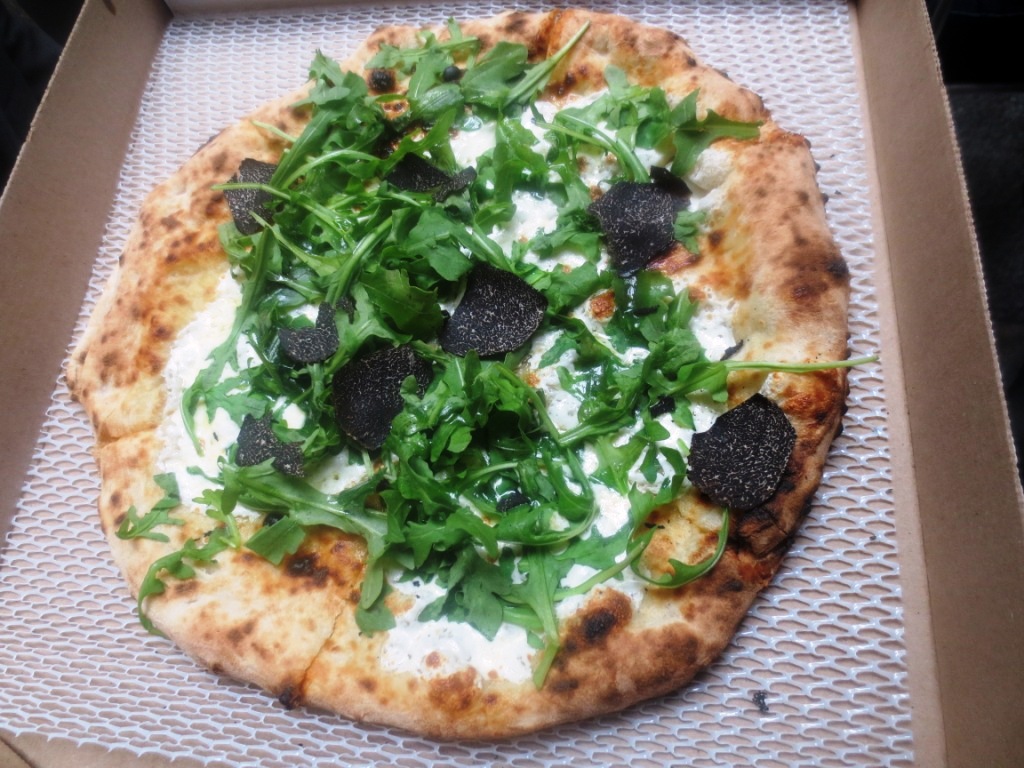 Truffles, Take 2. ($38)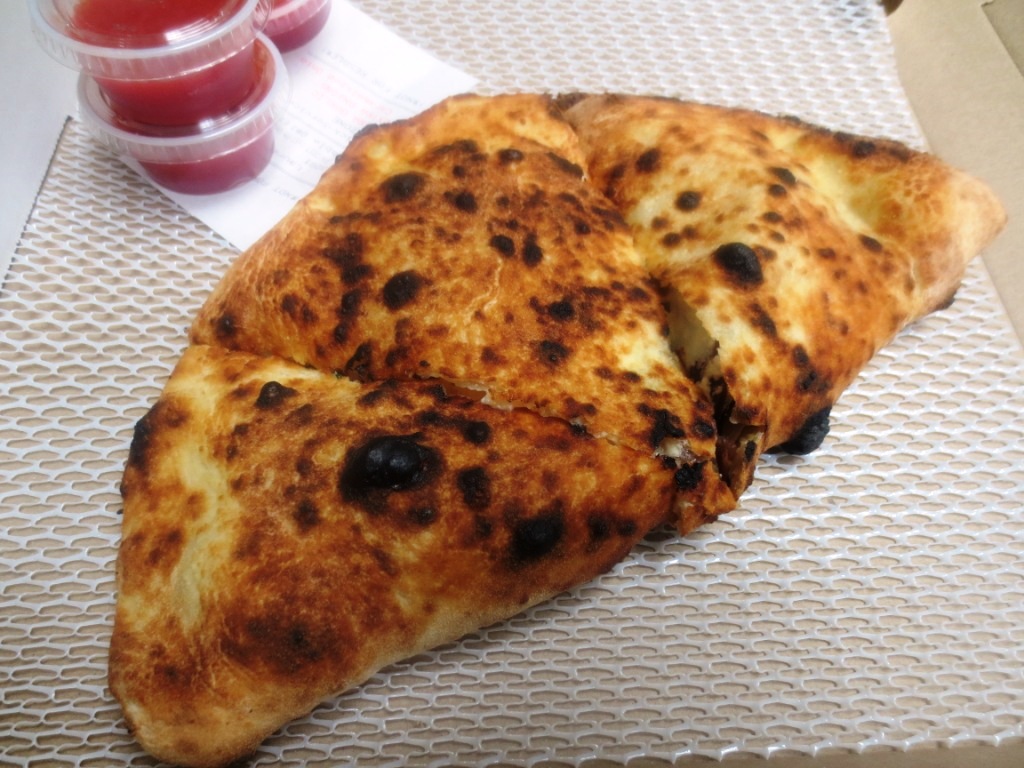 Calzone ($13)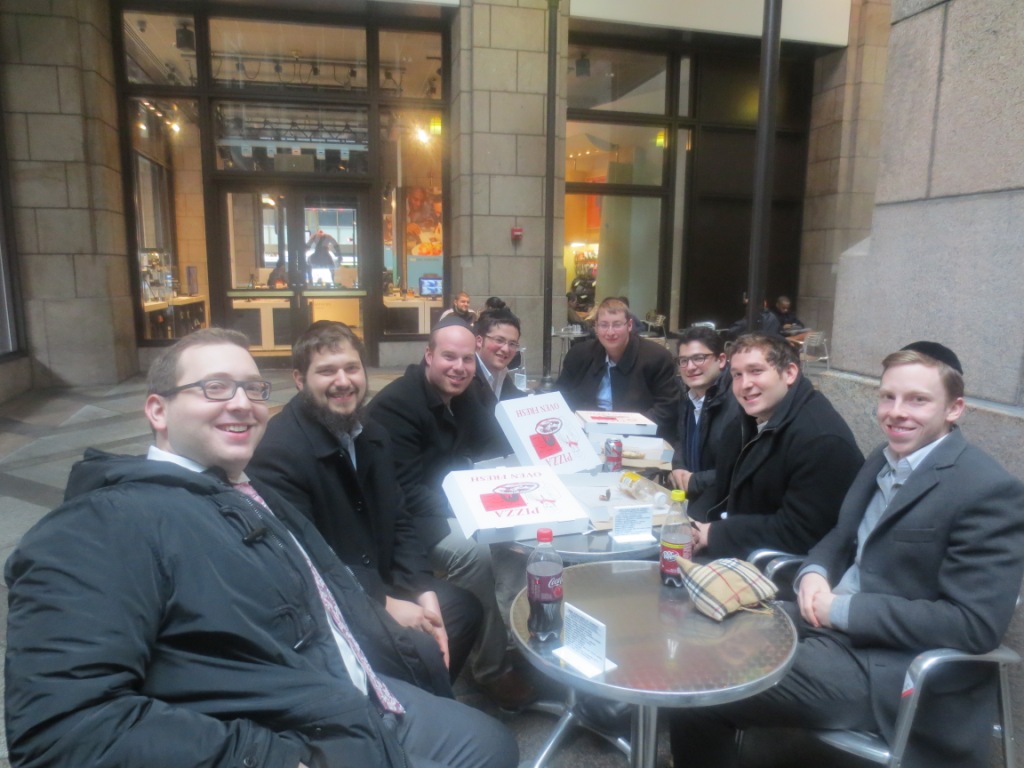 Just 8 strangers sharing a lunch together. But not just any guys, Guys who let the world know about offer matching, the $330 El Al tickets, and more via the DansDeals Forums. I'm easy to find here, the only one with a beard 🙂

Next stop was checking in at the Aloft Brooklyn. I booked it for 7,000 Starpoints though now it goes for a ridiculous 12,000 Starpoints. It's very kitchy and not really my style.  The room is somewhat refurbished, though the HVAC unit is a real eyesore. If this is what all Alofts are like I'd stay at a Hyatt Place any day over it.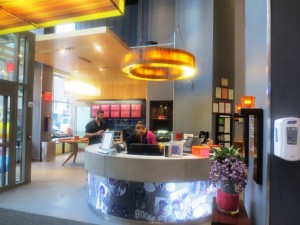 Lobby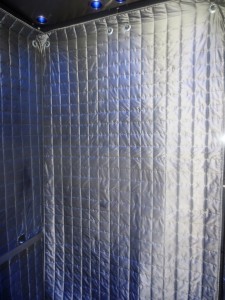 Elevator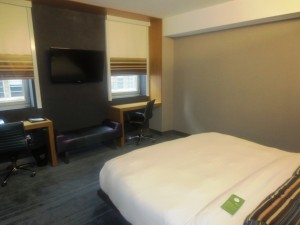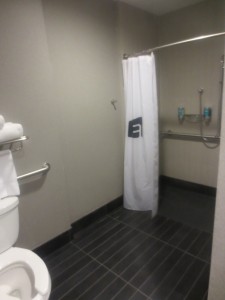 No enclosed shower and shampoo dispensers. Plus the water never got hot.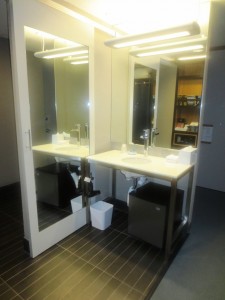 Funny place for a fridge.
I went to Avis next to the Aloft to trade in my $25/day ridiculously humongous Infiniti QX56 SUV and got a Jetta in return. No shocker here, but in Brooklyn a QX56 with 4WD is a real pain…just about impossible to park anywhere. Some upgrades to $70,000 cars just aren't always welcome. Boy I would have loved to have that car on the Big Island of Hawaii though, could have done some serious damage in it.
Then the highlight of the day, dancing the night away and saying L'Chaims (which may or may not be influencing my writing style right now) at AsherO's wedding in Crown Heights, Brooklyn. AsherO, who joined DDF the very day that it was launched, is one of the most prolific posters over at the DansDeals Forums with over 18,000 helpful posts.
The coolest part? There were at least 20 DDF members who came to dance at AsherO's wedding, most of whom only know him via his online persona or who perhaps met him once or twice at a DDF meetup in the past.
Yet we got together to dance with the happy groom. Or as he put it, his virtual family. When a non-DDF member broke into our DDF circle AsherO called him out for it, "noobie!":D
The camaraderie among the active DDF guys was just awesome, really something special that I can't explain in words.  It's just very cool to start to make new friendships via an anonymous online forum.
Another fun story. While waiting for the Chuppah to begin a few DDF'ers went into the local Crown Heights bookstore.  I had a $25 GC there to burn and picked up $26.50 of stuff.  When I asked if I could put the balance on my Freedom card (hey, 13 miles is 13 miles!) the cashier asked, "What is this a DansDeals thing? I'll take cash!" We all just rolled out of the store laughing uncontrollably 😀
So, about that HUCA story I promised.
American cancelled all of their morning and afternoon flights from LGA to Cleveland for later today.
I called to find out my options but nothing was very good. Especially because I need to get back to catch another flight on Friday!
When I asked about being moved over to United (which still shows all flights to Cleveland as on-time) I was told:
-We can't do that if the delay is for weather.
-We can't do that unless we have no other flights that entire day.
-We can't touch reservations made by British Airways.
-We can't help you until you go to the airport.
Finally on the 6th call I got a helpful rep who moved me over to United after a nice amount of cajoling.
The ticket is even booked in full-Y class so I should earn a nice amount of elite and redeemable miles which is always fun on an award ticket.
And that was today's excitement. Sorry for the rambling, it's been a long day!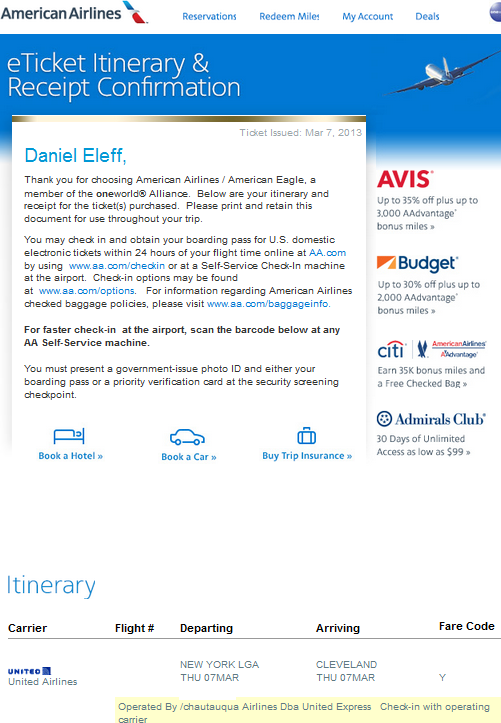 Not a sight I see every day but one that can be done with persistence.  A BA 4.5K Avios award on AA being operated by United in a fare class that will earn 150% United elite miles.  But most importantly, switched without having to fight for it in the airport and that American was pulling the "weather" card as the reason for the mass cancellations.