Update: A commenter says he was told by an agent that they will no longer do this process.
Luckily I can confirm that isn't true as can several DDF'ers.  I recently helped a couple of family members setup a Plan B award to Israel.  They were able to get saver awards on United thanks to having expanded saver class award availability as they had a Chase United Explorer card.
We held the 85K coach saver award online and setup the 140K business saver award with all segments waitlisted for business class.
Their return trip from Tel Aviv cleared into BusinessFirst automatically.
They were nervous about their outbound trip to Tel Aviv as the domestic portion of the flight cleared into first class in advance while the Newark-Tel Aviv segment was still in coach. United.com was showing that BusinessFirst was completely full with several passengers standing by. Luckily United.com is explicit that if the domestic first class portion clears but the BusinessFirst portion doesn't clear you can still get a full refund after the flight.
They had the agent waitlist them for BusinessFirst at their departing airport but I noticed that the United.com flight status page showed them at the bottom of the BusinessFirst waitlist.  So in Newark I told them to go to find another agent and explain clearly that they paid for BusinessFirst and were displaced business class passengers and therefore they deserved top priority "PR-1" status.  They referenced the GG code listed below as well.
They found a competent agent, 3 people in business no-showed for the flight, and they both got their lie-flat business class seats to Israel!
Truly the hidden gem of United miles.
————————————————————————
Note that as the article below was written prior to the 02/01 devaluation, the rates and examples listed were with pre-devaluation numbers that I haven't updated.
Originally posted on 12/12/13:
I've been booking Continental and United award tickets using Plan B for years. I blogged about in passing here in 2009 and here in 2011. I blogged about it still working with United last year as well.  Several DDF members have used it over the years and they have flown in business class every time!
Business class award tickets are typically a sweet spot in award redemption charts.  While you can fly to Israel for $1,000 in coach you would have to shell out 5 times that to fly in business.  Whereas with miles the difference is much smaller, United currently charges 40K miles for a one-way coach ticket or 60K miles for a one-way business ticket.  (Note that for awards booked after 01/31 those rates will go up to 42.5K in coach and 70K in United business.)
Of course that creates a lot of competition for business class award seats which is why they're harder to find than coach award seats.  Nonstop business class awards to Tel Aviv are among the most challenging award tickets out there.  Not that it's impossible, I recently booked a friend who is in the air right now on a USAirways business saver award to Tel Aviv and is returning in 2 weeks on a United business saver award.  But it means constantly checking to see if award seats have opened up and possibly waiting until the last minute to book.
And that's where Plan B comes in handy.  It works as long as there is United saver coach award availability.
Unfortunately Plan B is just the internet name for this type of ticket, there's no easy way to describe what you want to an agent. You need to tell the agent that you found United coach saver award availability but would like to purchase and be issued a business class saver award, be seated in coach, and waitlisted for a business class seat.  I often tell the agent that I have done this in the past over the phone and was wondering if they know how to set it up.
At this point most agents will think you're nuts and say that no such thing exists.
Indeed in preparation for this post I had the web support desk call me and the first agent just laughed at my suggestion.  She told me to book the ticket online and call in to waitlist for a business class seat. However that is NOT what I wanted as that would not have the benefits of a Plan B booking, as I'll soon explain.
Then I called the 1K Premier line and the agent was more courteous but couldn't help me.  Afterward I used the web support callback link again (I always take note of an agent's name when I play HUCA (Hang up, Call again) so that I don't bother the same incompetent agent again) and got Gary H, who turned out to be fantastic.
At first Gary said he recalled such a thing being possible in the Continental days but he hadn't heard of it being done in years and he wouldn't even know how to go about doing it.
Then he asked me to hang on while he was looking up documentation.  He found the exact procedure and proceeded to book my Plan B award!
He correctly debited my account the 60,000 miles needed for a one-way business class seat to Tel Aviv while he seated me in coach.  He said that I would need to call back in after the itinerary had ticketed (United itineraries can take anywhere from a minute to an hour to be ticketed with an eticket number) in order to waitlist for the business class seat.  However just 2 minutes later I actually got a call back from Gary letting me know that my reservation had ticketed and that he had waitlisted me for a business class seat!  Now that's great customer service!
I asked him if there was anything I could tell an agent in the future so that they don't think I have mushrooms growing out of my head.  He said they have a documentation system called CORE.  In there an agent can lookup the procedure for award waitlist guidelines and it will tell them how to manually issue a business class saver award when there is only coach saver available. If you have to refer an agent to look there I'd tell them that a previous agent who booked such a ticket for you told you to reference that system in case you have any problems in the future.
If you have correctly setup your ticket it will look something like this online: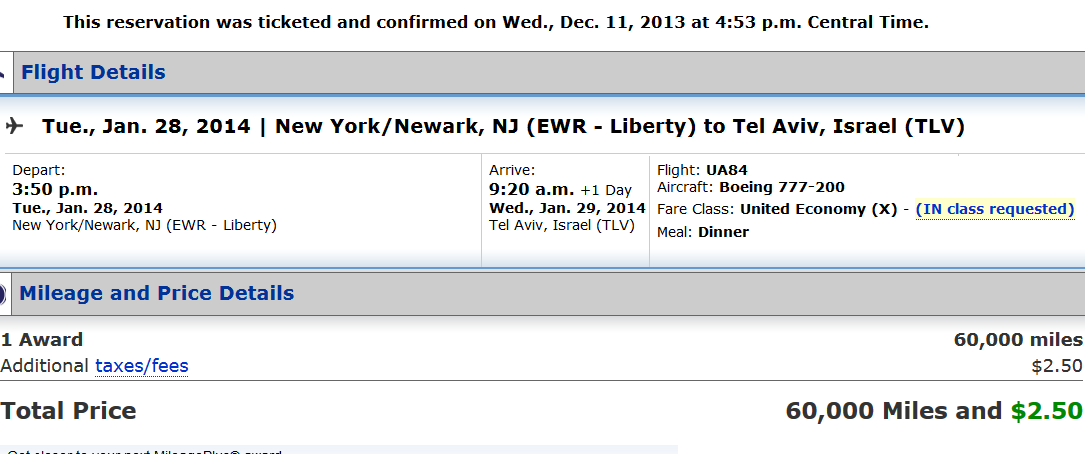 Notice how I was charged the full 60,000 miles, the business class rate.  However my fare class is Economy.  The letter code for a coach saver award is either X or XN.  X refers to saver coach award space for general members. XN is expanded saver coach award space for logged-in elites and people who have the Chase United Explorer credit card. (That's an incredibly valuable benefit of having the card, especially for a Plan B award as you'll have expanded coach, business, and first class saver award space as well.  The card also gets you free baggage, priority boarding, and it might just be the only credit card in the world that gives free primary car rental insurance in every country in the world-even in your home country and Israel.  Almost every other card only gives weak secondary coverage in your home country).
Then notice how IN class is requested.  I class refers to saver business class award space. IN is expanded saver business class award space for Platinums/1Ks/Global Services.
If you have I or IN class requested AND you were debited the miles for a business class saver award then you've properly setup a Plan B award!
If business saver award space opens then you may be automatically moved into business or there may be a message to call in to clear you from the waitlist.  It's important to keep checking as it may or may not automatically clear you and when you see that it says the space is available you should call in right away.
But what happens if that space never opens up?  The system will stop checking at 24 hours before your flight for that space you need.
Because you paid for a business class seat you are considered a displaced business class passenger.  Thus you should be prioritized ahead of all upgraders trying to nab business seats on the day of departure.
Unfortunately the system is not setup to automatically give you that priority, only an airport agent can do that.  So show up at the airport as early as possible for your flight (or if possible you can go to the airport 24 hours before your flight) and explain to the agent that you are not upgrading with miles but you paid for a business class ticket and are only seated in coach.  This is true as you have paid the full business class rate already.  If the agent doesn't understand this you should ask for a supervisor, it's crucial they understand that you're not a coach passenger trying to upgrade with miles but a displaced business class passenger.
The agent should give you "PR-1 status" which gives you top-priority status and moves you to the very top of the upgrade standby list, ahead of employees and everyone else trying to upgrade with miles+cash.  If one agent won't put you on the list as a displaced Business class passenger with PR-1 status then find another one who will.  With this status the odds of you getting a business class are very high if there are still open seats (or if anybody no-shows).
If the agents in the airport are all clueless you should direct them to look up "gg onestandby" in their system (they'll know exactly what this is) and look around lines 81 which spell out the details of the procedure for this award. (Parenthetically, when trying to get a gate pass to access a club as a United Club cardholder when I'm not flying I sometimes need to tell an agent to look up "gg checkpoint line 53″ which instructs agents to give you a security pass for you and your guests to access post-security United and USAirways clubs even if you aren't flying.)
If they don't believe that you really paid the business class award rate then have them call up the reward desk.  Like I said, it's good to leave plenty of time at the airport for Plan B tickets.
I can't stress enough how imperative it is to have this setup correctly: If you don't get an airport agent to properly give you top-priority status then there is very little chance that you will be flying in business class.
With the United app or on United.com you can search for the upgrade standby list for any flight by searching under flight status.  You will see how many business class seats are still open and you should see your name at the very top of that list.  If you're on a Plan B ticket and are at the bottom of the business class upgrade list then the agent didn't give you the right priority status as a displaced business class passenger.
Everyone I know who has properly setup and followed through on a Plan B ticket had flown in business class.  But what if you don't clear?  Just contact United after the flight (Again, I'd use the web support callback link) and they will refund the extra miles you paid for business class.  For EWR-TLV this means a refund of the extra 20,000 miles each way they charge to fly in business saver over coach saver.
Of course this also works on connecting flights.  If you are on a connecting flight you should be sure to be waitlisted for First Class on all of your flights.  Say you are coming from Los Angeles, even if you clear into first class on the LAX-EWR flight, as long as you don't clear on the international EWR-TLV flight you will still get the 20,000 miles each way refund!
All of this only works with United flights, it won't work for partner flights (partner flights can be on the same itinerary, you just can't use Plan B for them).
This Plan B process would also work for routes with global first class that has only coach or business saver awards available (Tel Aviv does not have Global First class).
Happy flying!  And when you're flying in a lie-flat business class seat you're guaranteed to be a whole lot happier, especially when you're just using the miles you got from opening a single credit card 😀