Continued from: Trip Notes Part 1: Trip Planning + Zurich, Switzerland.
Airline notes:

Flying on a Star Alliance award ticket means always traveling through Star Alliance hubs.
In Europe this means traveling through cities such as Frankfurt, Munich, and Zurich.
On an award ticket you are allowed to make a free stopover (or more depending on the airline you are booking with). On a domestic ticket you are only allowed to stay in a connecting city for 4 hours (or the next possible flight) or else it is considered a stopover. On an international itinerary you are allowed to stay in a city for up to 24 hours and it is still considered a connection, not a stopover.
When planning the trip we were originally planning on going straight to Paris, but based on recommendations from members at the Dansdeals Forums, I decided to add a stop in Zurich. I didn't have a stopover to spare however, so we had to stay less than 24 hours there, which was plenty of time to have a blast, as I wrote about in my last post.
However, there were unfortunately no nonstops available from Zurich to Paris before 11am for award travel, so that meant having to go through Munich to get to Paris. Basically this meant flying Cleveland to Paris with connections in Chicago, Zurich, and Munich. Air Canada only charges 100,000 miles for a First Class US-Europe ticket, but they balked at the number of connections and zigzagging travel that I wanted. USAirways on the other hand charges 125,000 miles, and they let me have all the connections I wanted.
In the US on Tuesday we were given the Zurich and Munich boarding passes, so my wife thought that we were going to spend Shabbos in Munich. The flight from Zurich to Munich on Thursday was on Lufthansa in business class. Business class on intra-Europe flights is an absolute joke. While the Europeans know how to make great business and first class on international flights, the domestic business class is just a standard economy seat with a guaranteed empty middle seat.
Upon arriving in Munich my wife started heading to the baggage claim, but I motioned toward the connecting flights saying I wanted to daven in the lounge first. I wasn't sure if we would be able to use the First Class lounge as we had flown 1st class into Zurich the day before, but I tried anyway and they let us in without any problem!
The lounge agent asked where we were going and I said that I can't say because it's still a secret from my wife! The lounge lady loved that and said it was "the most wonderful thing she'd every heard." We were actually in economy for the Munich-Paris flight as there was no award space in business, but the excellent lounge agent gave us business class boarding passes for the flight. She told us that she'd send an agent up into the lounge to get us and escort us to the plane when it was time.
The Munich First Class lounge is very nice, there was even a restaurant style dining area with kosher meals. Mind you that they're airline meals, but still it was a nice touch. There's a good number of private offices and even jacuzzis and showers.
Unfortunately while we were eating lunch a different agent came up and asked if we were the passengers going to Paris 🙁 Oh well so much for the surprise.
When we went downstairs the original agent was still under the impression that my wife was in the dark and she even crossed off "Paris" on our boarding passes. We decided to play along…
In Munich you are normally bussed to the airplane. First Class lounge passengers are taken to the plane by Mercedes. As there was no first class on the plane we were the only passengers going to the flight by Mercedes. The chauffeur was also instructed not to tell my wife where we were going. He commented, "You know she's not blonde…she will figure it out," and "I hope you packed well for Vladivostok." 🙂
When we got to the plane the chauffeur ran up the plane. I figured out what he had done when they never made any announcement as to where the plane was headed! The entire crew was in on it!
OK, enough about the plane ride…on to the city of lights!
City Notes:
-We took the Roissy bus from Charles de Gaulle to the Opera metro station. It was €9 for the nonstop service and dropped us off just blocks from the Park Hyatt Paris. It was definitely the way to go as a taxi would have been about €90 and the train/subway would cost about the same as the bus but would've required transferring with all our luggage. Oh and for French newbies, it's apparently pronounced "Wa-see" as we got completely blank stares trying to find the "Roy-zee" bus.
-The Euro kept plummeting during our trip…it sure was nice paying $1.25 for each Euro as opposed to $1.50!
-There is a minimum spend amount to use your credit card in Paris at any store, either €10, €15, or €20. We never changed in for Euros in Paris, but it did mean having to forgo any minor purchases, although it is a great way to save money and not spend on little things that you don't need anyway.
-At first I was unconvinced as to the lure of Paris, especially having just come from spotless and efficient Zurich. It does seem like NYC with the same level of dirtiness and smells. But it does grow on you…Slowly but surely. The architecture is definitely amazing though.
Don't go without guidebooks! I'd recommend taking Lonely Planet's (Best of) Paris Encounter, The Rough Guide To Paris, and Streetwise's Laminated Folded Paris Street Map.
-The metro system is incredible. Very efficient and very cheap. The lines all criss-cross the town and go in all directions so it's much easier to get to places than with the NYC subway. Plus above every line in every station there is a sign stating when the next 2 trains are coming. When a train is crowded, it's nice knowing that another is coming in 2 minutes because it's worth waiting! You are never more than a couple blocks from a metro stop in the entire city. A single ride is €1.60, but if you buy them in books of 10 it's just €1.10 per ride. We went through 3 books of 10 in 5 days!
-Beware that the metro shuts down just after midnight on weekdays and after 1am on weekends. On Saturday night we got on a metro at 1:20am, but we missed our connecting train and had to take a taxi back to the hotel. It was surprisingly cheap for the taxi, just €6, I had thought it would be much more as the distance looked much further than it would be possible to walk.
-Paris is split up into 20 districts. If something has a zip code of 72012, the last 2 digits tell you that it is in the 12t district. Most guidebooks have an overlay of all the districts as well as a metro map, so if you know the district something is in you can quickly locate where it is and which metro you need to take to get there. The only issue is that the districts circle around the city center in a strange clockwise order that can make things confusing when you're walking and you go from the 1st straight to the 8th and then to the 17th. You can get some sence of the districts on google maps.
-A Museum pass is €32 per person for 2 days. This gets you into dozens of attractions such as the Louvre, Versailles, the Arc de Triomphe, Musee d'Orsay, etc. The best part about the pass is that you get to skip the queue to purchase tickets which can be up to an hour long in each place! If you stay at the Hyatt buy $100 Hyatt GC's at Costco for $80 and you can charge the museum pass to your room bill and save some money on the pass by paying with GC's from Costco!
-Museums close their doors half an hour to an hour before they officially close, so don't go somewhere close to closing time thinking you'll get in to just see the Mona Lisa. Not that I would ever do that 😉 Well if you do happen to do that be sure to shop around for a nice looking guard and you might just get lucky by trying the different entrances…(illustrated below)
-Versailles was very nice, I'm not sure if it's the "must-do" that everyone makes it out to be though. The castle is ornate, expansive and impressive and the gardens are beautiful as a whole, although individual gardens were not always as nice when walking through. It does take nearly a whole day to get there by train, wait in massive queues to enter, and walk around. Perhaps I'm spoiled from seeing castles and gardens in Kyoto, Japan. I thought that the gardens in particular were much nicer out in the Far East. Also as we went on Sunday there was a "fountain show" that costs an extra €8 per person (actually €6 with our student ID's) which is totally not worth it in my opinion, the fountain show at the Grove in LA is far more fascinating. If you go on a day when there is a fountain show you can't enter the gardens unless you pay, otherwise the gardens are included for free.
-The Eiffel Tower is beautiful, especially at night on the hour when they do the light show. It's not in the best neighborhood though and the gray-market sellers can be downright scary. Show any interest in their goods and you'll be hounded for the entire walk from the metro to the tower. Be sure to bring ID if you're 25 and under as tickets are much cheaper.
Hotel Notes:
-The Park Hyatt Paris is just insanely awesome-And at $1,000+ per night it had better be! The room was absolutely stunning and the service was top-class. It looks nothing like your typical hotel room. The lighting was great and when you put the powered drapes down it is pitch black in the room. The rain shower and jacuzzi in the bathroom are both excellent and the large closet area is great to put luggage. And you gotta love a heated towel rack! The toiletries were created by Blaise Mautin exclusively for the Park Hyatt Paris and have quite the intoxicating aroma about them. It may sound funny, but the hotel was easily our favorite part of Paris!
-As a Hyatt Diamond member we were entitled to a free breakfast. In most hotels this gets us some berries as we only eat kosher food, but not here. These guys went all out and provided bottles of Israeli fruit juice, loaves of bread, milk, jam and fancy cheeses, bags of danishes and pastries (although jeers to the store that gave them a bag of passover pastries for us!), and other goodies. I loved the jelly filled muffins they gave us! All of it mehadrin kosher and cholov yisroel, and all on the house!
-We were given a bottle of kosher Laurent-Perrier champagne (that went for over €100 in the local grocery store) from the Park Hyatt as an amenity!
-The Spa in the hotel is excellent with separate changing rooms and a mixed jacuzzi, sauna, steam room, and relaxation area. Whenever we checked it out it was empty so we had it to ourselves!
-The hotel gives you 2 large bottles of Evian daily and there is more free water in the spa…nice touch!
-There was some banging above us on our last day that woke us up. After calling to enquire about it they said it was emergency repairs and they proactively offered us a refund of the points for the night for the inconvenience. We actually had only used a faster free night for the room, but sure enough we got the whole 18,000 points back for the night!
-On the last day they left us a full sized bottle of the Blaise Mautin room-spray perfume that they use around the entire hotel.
-We took the Roissy Bus on the back which is supposed to come at 15 minute intervals but we waited over half an hour for it to come. Definitely leave extra time on the way back… we only made the flight because I got to skip the huge line with my Star Alliance gold status.
Shabbos Notes:
-We went to Chabad of Champs Elysses for Shabbos which was excellent. The Brazilian-born Rabbi Yona Hasky is very friendly and multi-lingual. The meals have plenty of great food and are a bargain at €10 for children, €15 for students, and €20 for adults. I highly recommend it.
-It is a bit a walk to get there, about 35 minutes from the Park Hyatt, but it's a very nice one. You can go through the Tuileries garden and then down the regal Champs Elysses with the Arc de Triomphe guiding the way. It's also walkable (about 30 minutes or so) from the Hyatt Regency, or the Starwood (category 6) Westin. The Chabad House is just a few minutes walk from Starwood's (category 6) Prince de Galles.
-In the Park Hyatt there's no stairwell from the room floors into the lobby, all of the staircases go outside the hotel. Which is just as well because there are only electric doors at the front and back of the hotel. The staircase exits at the rear of the hotel onto Rue Volney. There is always a doorman to allow you back up the stairs.
-There is no Eruv in Paris, so be sure to bring what you'll want in shul before Shabbos.
-As Friday night services at Chabad of Champs Elysses is taken in well before Shabbos starts (as late as 9:40pm in Paris!) the best strategy coming from the Park Hyatt or the Westin is to take the metro 1 line from Tuileries to George V (4 stops) before Shabbos. Be sure to also bring metro tickets with you to leave in the Chabad House to get home after Shabbos. This way you'll only have to make the walk back and forth 4 times instead of 6.
Food notes:
-Very few restaurants have English menus. If your guidebook has a French chapter in it definitely bring it along. Some kosher restaurants claim to speak hebrew, but my french was better than their hebrew, and considering that my french is just the words that are the same as in Portuguese that ain't saying much.
-There are over 500 kosher restaurants in Paris, however the vast majority of those are under the Beth Din of Paris which doesn't require Glatt kosher meat. There are some very good websites dedicated to kosher restaurants like 123cacher.com and kosherinfrance.com
-Tax and tip is already built into the prices on restaurant menus so there's no need to tip more. If you order items to go you'll pay less as they subtract the tip. If you eat bakery items in a sit-down table at the bakery you'll pay more than the quoted price for the tip.
–Il Conte off of Champs Elysses had some of the best spicy focaccia bread in the city, I was full just off the complementary bread…and their garlic oil to dip the bread into is simply too good to describe. The Parmesan cheese on the tables had the most unique of flavors and was very good. The garlic stuffed focaccia bread was great as well. However their Pizza was not very good and the pasta with mushroom and cream sauce was good but not great. This was the only restaurant we went to that had an English menu.
–La Marina in the 19th district was one of those places where they claim to speak Hebrew but don't. When I asked what Ravioli Epinards was the waiter told me "kitnios" or beans. Doubting that I walked outside and asked at the nextdoor restaurants Tib's what it was and they said it was eggplant. So I went back to La Marina and asked the waiter if Epinards meant "Chatzilim" or eggplant and he said that it did. Tell that to the subpar Spinach Ravioli that I wound up with… However we got an AMAZING dessert at La Marina that made up for it, the "Farandole." It was €13 and worth every one of them. It was a plate of a number of small desserts including hot chocolate cake, chocolate mouse, apple pie, chocolate/vanilla layer cake, ice cream, 3 flavors of whipped cream, and dark and white chocolate dipping sauces with strawberries…heaven!
-Right next door to La Marina are 2 chocolatiers. Ardely's makes amazing cholov yisroel milk chocolate creations and sells a box of 15 for about €15. A few stores down is Damyel's which had the most amazing dark chocolate truffles possibly ever made, a box of 15 was about €13. Damyel's even offered to let us sample a few delicious pieces in the store. They also sell the French craze, Macarons, which have nothing remotely to do with the simulacra sounding Passover items. They are delicious little meringues cookies with a cream in the middle and they came in dozens of flavors for €1 each.
-In the Pletzel, the old jewish neighborhood in the 4th district, we ate at Pitzman which was some of the best Pizza I've ever had. I tried the tropical Pizza with Hearts of Palm, Pineapple, mushrooms, and corn! It was really quite good! And the fluffy crepe with chocolate and bananas was very good as well!
-Also in the Pletzel we went to Korcarz. The Park Hyatt had given us a loaf of their bread that was very good. However the eggplant lasagna in their restaurant was not very good and their Greek Salad didn't resemble a typical one and not in a good way. The lemon meringue pie we had for dessert though was delicious.
-We saved "Darjeeling" (in the 17th district) for the last night, a glatt kosher Indian restaurant that came highly recommended, but when we went for dinner at 6:30pm they were closed. Turns out they don't open for dinner until 7:30pm! We were starving so we walked over to Le Shine, a Chinese restaurant. The chicken egg rolls were very unique and good, the caramelized lemon chicken was not bad either. When we were trying to figure out what everything on the menu meant they brought out a jar of Skippy's for one item because they didn't know how else to describe peanut butter! And the peanut butter chicken was pretty good too with a nice kick to it.
You need to click on the cut-off thumbnails below in order to view the entire photo!
First Class Lounge Munich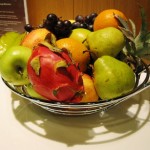 First Class Lounge Munich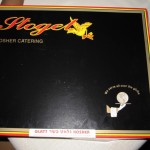 First Class Lounge Munich Kosher Meal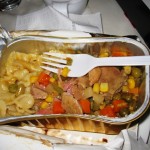 First Class Lounge Munich Kosher Meal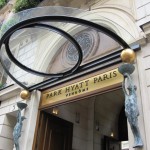 Park Hyatt Paris
Park Hyatt Paris Room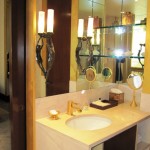 Park Hyatt Paris Bathroom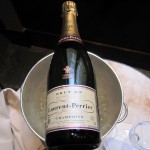 Kosher Champagne from Park Hyatt Paris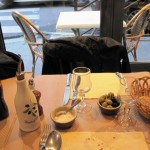 il Conte (The garlic oil I raved about can be seen by clicking on the picture)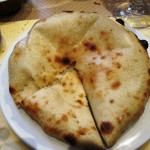 Garlic filled focaccia at il Conte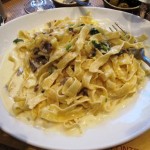 pasta with mushroom and cream sauce at il Conte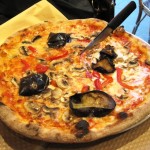 Pizza at il Conte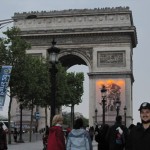 Arc de Triomphe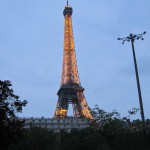 Eiffel Tower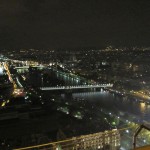 View from Eiffel Tower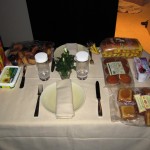 Kosher Breakfast at the Park Hyatt Paris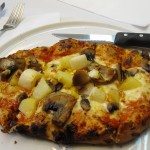 Tropical Pizza at Pitzman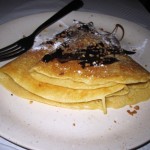 Chocolate Banana Crepe at Pitzman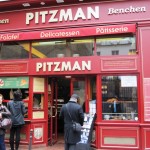 Pitzman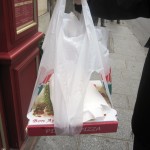 Neat Pizza Bag From Pitzman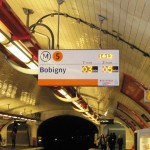 Metro sign with the arrival times of the next 2 trains
Farandole Dessert at La Marina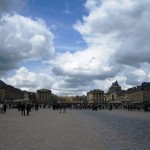 Chateau de Versailles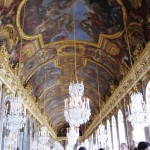 Chateau de Versailles
Gardens at Versailles
Gardens at Versailles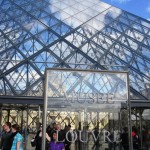 Lourve Museum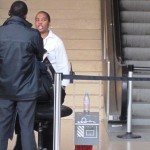 If you're running late at the Lourve don't go to her…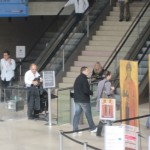 …but he will let you in by kindly turning his head.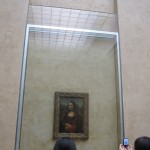 Mona Lisa at the Louvre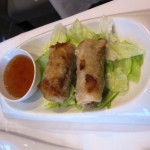 Chicken Egg Rolls At Le Shine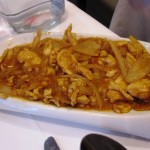 Spicy Peanut Butter Chicken at Le Shine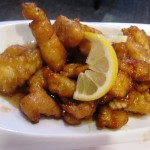 Carmelized Lemon Chicken at Le Shine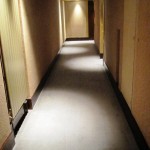 Park Hyatt Paris Hallway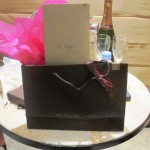 A parting gift from the Park Hyatt Paris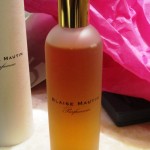 A parting gift from the Park Hyatt Paris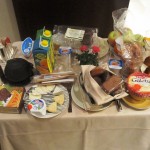 Another great kosher breakfast at the Park Hyatt Paris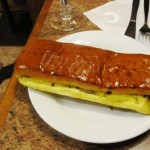 Chocolate/Custard Danish at Korcarz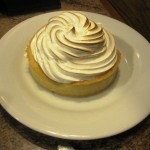 Lemon Meringue Pie at Korcarz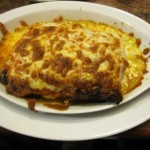 Eggplant Lasagna at Korcarz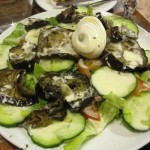 Greek Salad at Korcarz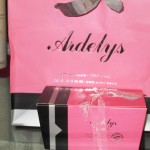 2 great chocolatiers, conveniently located right next to each other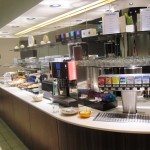 Open Bar At Star Alliance Gold Lounge in Paris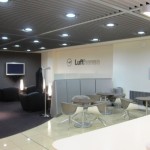 Star Alliance Gold Lounge in Paris