Update, 04/01: CVS has put out a new memo stating that chainwide rollout of this policy should be completed by 04/04.

———————————————————–
For the past 18 months mileage junkies have been able to use manufactured spend to get miles on the cheap at CVS thanks to cards like Vanilla Reload, Serve, etc.
Via @Ringsthecaddy comes this image of a policy change that says that effective Monday, 03/31, CVS will only take cash for Vanilla Reloads, Serve, and many other reload methods.  The registers will be hard coded to reject credit cards just as they are in Walgreens stores.
This was taken in a store in Boca Raton, FL: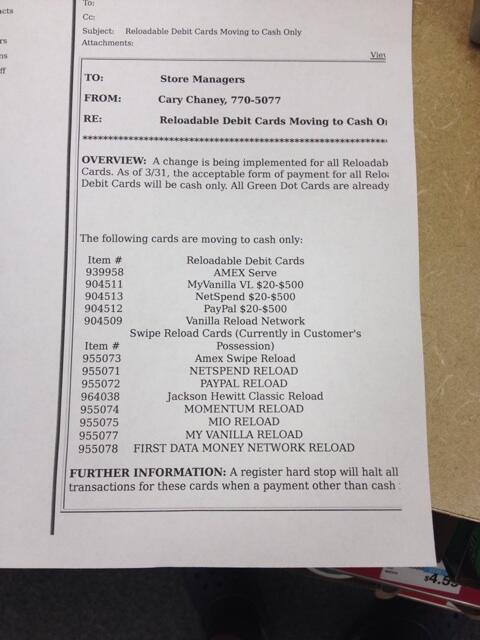 Additionally DDF member ccsaver reports that he was showed the same memo in a CVS store in Edison, NJ.
Previously rogue stores refused to take credit cards, but it was never official policy or hard coded.  Official policy was that you could buy $5,000 in Vanilla Reloads per day,
Based on reports from numerous states and that the memo was sent from a CVS corporate it seems like this will be a nationwide policy and not just a regional policy.  The memo is drafted by Cary Chaney, who works in CVS' corporate headquarters and is in charge of the prepaid cards category for CVS.
There still are other methods of manufacturing spend via Bluebird as you can read here.  By buying gift cards with your Ink Plus, Ink Bold, or Ink Cash card at Office Max or Staples you can still get 5 points per dollar and load them onto Bluebird at Walmart.  Or buy a money order at stores that takes debit cards for money orders.
It was a fun ride while it lasted. And like we learned with mint coins, all good things come to an end. RIP VRs.