Find more articles like this by clicking on the "Mileage Posts" tab on top of the DansDeals banner at the top of this site.
————————————————————————————–
People seemed to appreciate my Random Travel Tips that I posted 2 weeks ago so I figured I'd continue the series with tips on BA.  Your feedback is always appreciated!
British Airways (BA) Avios are awesome.  They effectively fill the gap that is left by the major programs like American AAdvantage and United MileagePlus.  The major programs provide a fantastic value for long-haul flights, especially for one-way flights, last-minute flights, or flights in business or first class.  But they're not great for short flights.
In 2011 BA launched the Avios program which provides an incredible value for short-haul flights.
I've booked probably a dozen short-haul tickets in the past year for myself using Avios.  A Cleveland-NYC ticket can cost $1,200 round-trip if you don't stay for at least 3 days or if you book last-minute.  But BA allows me to use just 9,000 Avios for that same flight, a whopping value of over 13 cents per mile.  Now I can hop over to Chicago or NYC on a whim without any kind of mileage regret like I used to have in the pre-Avios days.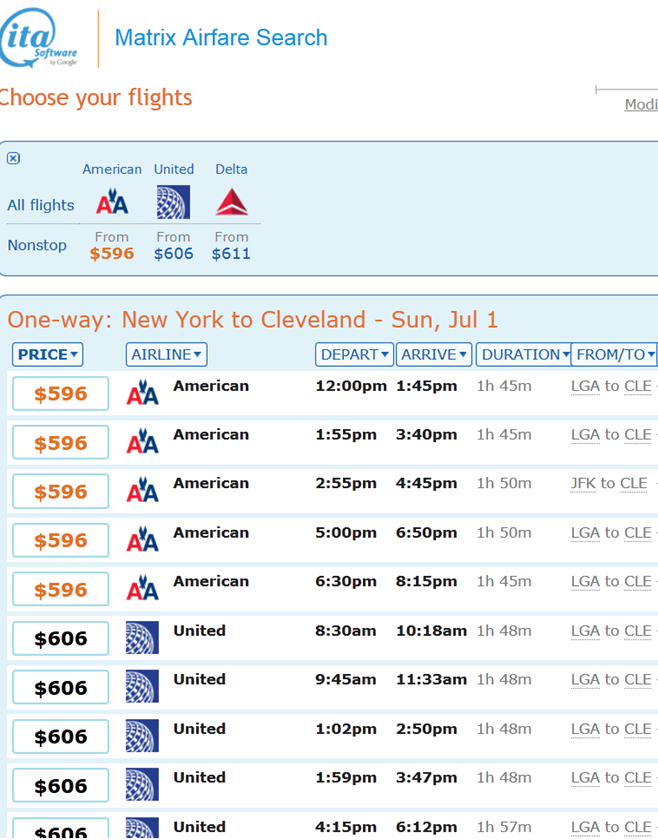 4,500 Avios+$2.50 tax or $600. Hmmm… 😀
Here is what you need to know about the program:
-You can register for an Executive Club/Avios account via this link.
Searching for flights:
-Use this link to login or create a BA Avios account in order to search for flights.
-After logging into your account on the left-hand side be sure to change the search from "Book with money" to "Book with Avios" If you get an error about BA not having traffic rights to a route you probably forgot to switch it to "Book with Avios."
-BA charges a flat rate for every leg of a flight.
-BA.com is not very effective at searching for connecting flights. You will often need to book a connecting flight on 2 separate tickets or you will need to call them to book it. Either way it will require the same amount of miles as they charge for each flight segment.
-The best way to search for availability is by using the award calendar search on AA.com. BA can only book MileSAAver awards from that calendar.
-You can limit the AA.com calendar to show nonstop flights only. If it's showing availability with connections remember that you may have to book each flight connection as its own ticket.  Just click through the find the connection city and then search on BA.com for 2 separate tickets.
-Ignore the mileage rates on AA.com, they have nothing to do with what BA will charge you in Avios to fly on that same AA flight.
-Once you find MileSAAver award availability on AA.com you can return to BA.com and plugin those same dates to book it. Don't forget that if AA.com showed a connecting flight you may have to book it as 2 separate tickets on BA.com. In other words if AA.com shows a flight from NYC to Honolulu via Dallas you may have to book NYC-Dallas as a separate ticket from Dallas-Honolulu if you want to use BA.com. Alternatively you can call BA to book it as 1 ticket but the Avios rate will be the same and your luggage can be checked straight through either way.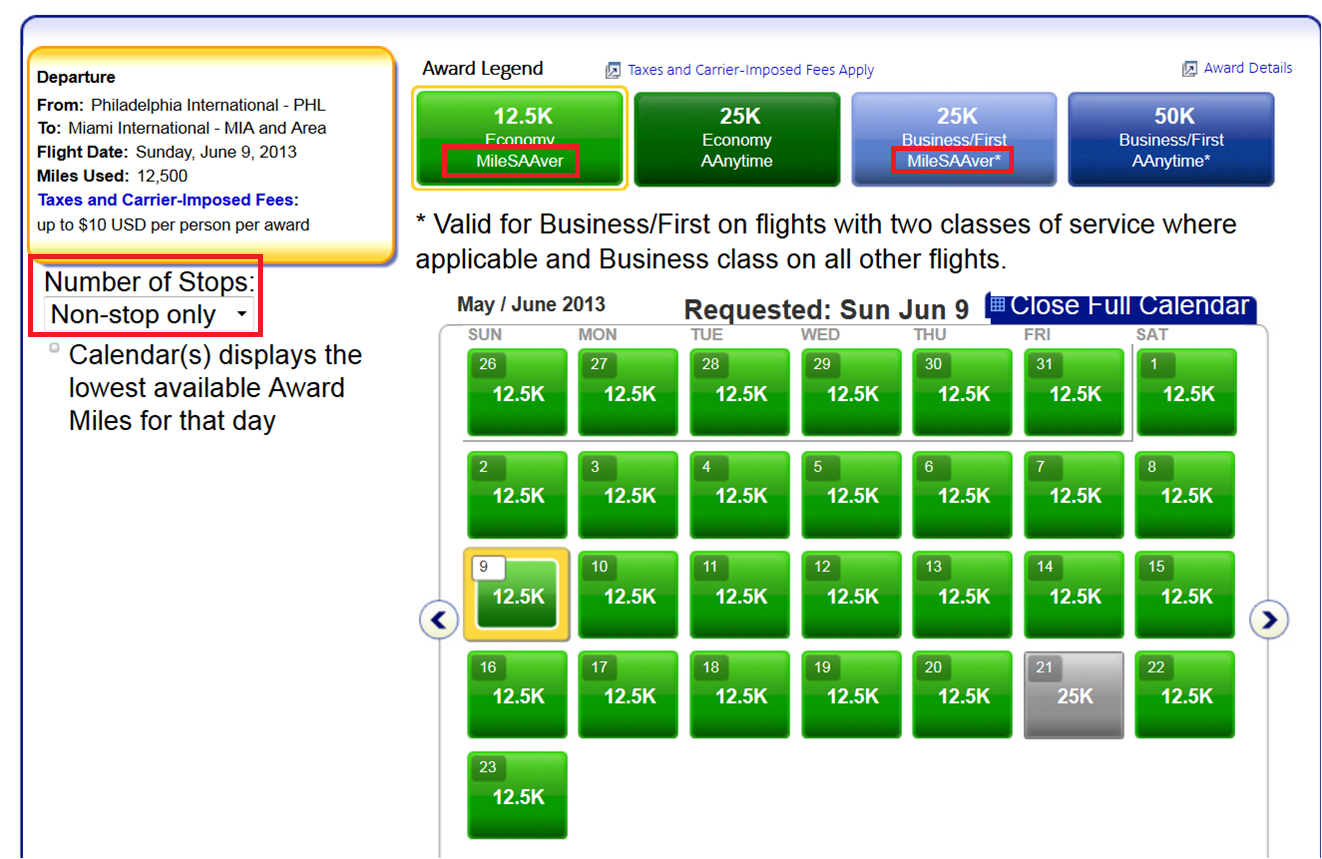 The picture above is an award search on AA.com.  Note the number of stops box on the left that I've boxed in red.  By changing this to nonstop you'll be able to quickly find nonstop availability for an entire month that you can book on BA.com.  Also note the boxed in MileSAAver award options.  These are the only options that can be booked with Avios.  You need American AAdvantage miles to book AAnytime double-mileage last seat awards.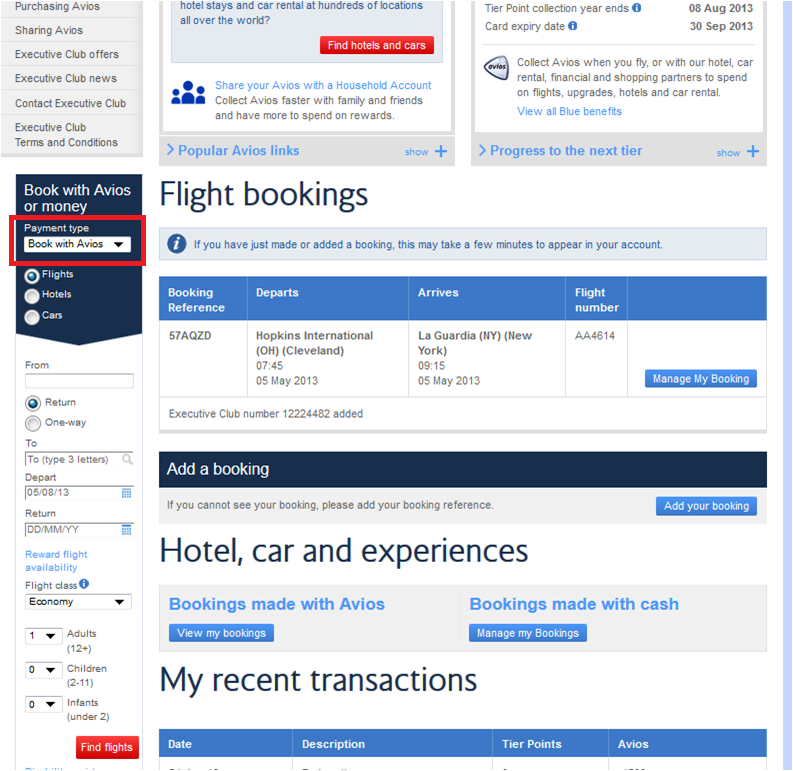 BA.com is displayed in the picture above.  Be sure to toggle from Book with Money to Book with Avios as I've boxed in red to search for an award flight.
Infant travel:
BA Avios are great for lap children. I used BA Avios to fly First class to Buenos Aires with Rafi as a lap child even though American would have been fewer miles. The reason for that was because with BA I only had to pay 15,000 Avios for Rafi whereas American wanted $1,000 to bring Rafi as a lap child!
-If you have a lap child and are flying within the US or Canada do not mention them when booking a ticket on BA.com.  You can add them for free at the airport. There may be some small fees for Canada travel but you'll be better off dealing with it at the airport than booking it on BA.com.
-If you have a lap child and are flying outside of the US or Canada be sure to include them when making a booking on BA.com. If you do that at the time of booking you will only pay 10% of the adult mileage required. If you want to add them after the time of booking you will be subject to 10% of the full paid fare.
Booking flights:
-BA does not charge a last minute close-in/expedite fee.
-Taxes for domestic flights are just $2.50 per leg.
-After booking an award you can cancel it for free for 24 hours from the time of booking by calling BA at 800-452-1201.
-Once 24 hours have passed from the time of booking you can cancel an award and redeposit your miles for the lower of the taxes you paid or $40. In other words a one-way award from LGA-Detroit is 4,500 Avios plus $2.50. You can cancel it online for just $2.50 and get back the 4,500 Avios. An one-way award from Tel Aviv to NYC via Germany that costs 30,000 Avios plus $75 tax can be cancelled for a $40 fee and you will get back your Avios and taxes paid.
-It is cheaper to cancel an award that had less than $40 in taxes than to make date changes to it which will cost $40 regardless of the taxes paid.
-You can thus extend the life of your miles for another 36 months for just $2.50 by booking a short-haul domestic award for 4,500 Avios plus $2.50 and then cancelling it after 24 hours. This constitutes account activity which extends the life of your Avios.
-You can't cancel or change an award within 24 hours of the flight time.
-You should always book domestic awards as one-ways in case you wind up wanting to switch or cancel just one-way of the ticket. That way you just lose the tax for the one-way instead of the round-trip. Plus if you want to change just one-way you won't have to cancel the entire ticket and hope the award space for the leg you want to keep will still be there.
-If your international award isn't subject to fuel surcharges (so the departure flight from the US costs just $2.50 in fees) then you should book that as a one-way award in case you may want to change only the outbound flight for just the $2.50 fee.
-If your international award is subject to fuel surcharges (so the departure flight from the US has heavy fees) then you should book that as a round-trip award as otherwise you will be hit with the $40 fee twice in case you need to cancel the trip. If you need to change just one segment you will be paying a $40 fee regardless as the fees you paid will have been more than $40.
Partner awards and fuel surcharges:
-BA is part of the OneWorld alliance. Alliance partners include Air Berlin, American, Cathay Pacific, Finnair, Iberia, JAL, LAN, Malaysia, Qantas, Royal Jordanian, and S7. These are all bookable on BA.com
-BA also owns Open Skies which flies between NYC (JFK/Newark) and Paris Orly. This is bookable on BA.com
-Other partners include Aer Lingus and Alaska. These airlines can only be booked by calling BA at 800-452-1201.
-You can get the $25 phone fee waived if you explain that you tried booking online but were not successful. Ask for a manager or play HUCA if the rep refuses to waive the phone fee.
-Flights that are on Aer Lingus, Air Berlin, Alaska, and LAN are not subject to fuel surcharges.
-Flights that are on American and are wholly within the Western Hemisphere are not subject to fuel surcharges.
-Flights that are on Qantas and are wholly within Australia are not subject to fuel surcharges.
-If you have an Iberia account with miles in it (including a transfer from AMEX or Starwood) then you can transfer BA Avios into Iberia at a 1:1 ratio and save on much lighter fuel surcharges for travel on Iberia.
-BA flights from London have a double whammy, they are subject to heavy fuel surcharges and obnoxiously high London APD fees. However there are BA flights that don't touch London such as Singapore-Sydney, Nassua-Grand Cayman, Antigua-Punta Cana, etc. that are called 5th Freedom flights. These flight have much lighter fuel surcharges and of course don't have the APD fees.
Problems people run into:
-If you have an AA credit card you get benefits like free bags when flying AA and using your AA mileage number. If you have AA elite status you also get benefits like preferred seating. However it can be difficult to change the mileage number from BA to AA. Read this post for the steps you can take to do so.
-BA.com often forgets to ask for the passengers date of birth, especially when you are booking a ticket for someone besides for the account holder. In this case it will seem like you have a valid ticket but you actually do not. I have heard from many people who were told at the airport that they did not have a ticket issued.
To avoid this you should always checkin on AA.com 24 hours before your flight so that you can print your boarding pass and know that you are good to go.  If there is an error you have to call BA to have your ticket properly issued.
You can read this post for info on how to get your AA record locator online so that you can look at your reservation on AA.com and make sure everything is in order.
-If BA.com is not asking for a date of birth you can try using another browser. Otherwise just book the ticket and then call them at 800-452-1201 to add the passenger's date of birth. If you don't give BA this info you will not have a ticket.
-People that use their account to sell tickets to several people with different last names will likely find themselves in audit and have their accounts frozen and tickets possibly canceled.
-People often just search for an origin and destination city without considering stopping over in between. For example if you are searching for a ticket to Israel without any luck you may be able to search for a ticket from the US to Berlin or Dusseldorf and then a separate ticket from Berlin or Dusseldorf to Tel Aviv. See this post for more information on properly searching for Air Berlin award tickets.
Award Bands:
-BA Avios are based on 9 award bands. The longer the flight is the more you pay.
You can calculate distances using the Great Circle Mapper. You can type in LGA-YUL to learn that the flight distance from LaGuardia to Montral is 324 miles and is therefore a band 1 award that costs 4,500 Avios each way.
-The prices below are for coach travel. You will pay double for business class and triple for first class. Note that BA considers most domestic US flights to only have first class and will thus cost triple the coach rate. So a flight from LGA to Cleveland in business class will cost 13,500 Avios each way. This does not apply to international flights so LGA to Toronto in business class will cost just 9,000 Avios each way. Either way you'll get 3 free bags-definitely something to factor into the cost!
Exceptions to the triple business class price are on domestic routes operated by 3 class planes like between JFK or Miami and Los Angeles or S. Francisco where business class is just double the coach price as there is a real first class cabin on those planes that cost triple the coach price.
Award bands include:
Band 1: Flights that are 1-650 miles cost 4,500 Avios.
Sample routes: LGA-Cleveland, LGA-Toronto, Miami-Cancun, Miami-Key West, London-Paris, Melbourne-Sydney, Los Angeles-Las Vegas
Band 2: Flights that are 651-1,151 miles cost 7,500 Avios.
Sample routes: Los Angeles-Cabo San Lucas, LGA-Chicago, LGA-Miami
Band 3: Flights that are 1,151-2,000 miles cost 10,000 Avios.
Sample routes: Los Angeles-Chicago, Berlin-Tel Aviv, Hong Kong-Singapore
Band 4: Flights that are 2,001-3,000 miles cost 12,500 Avios.
Sample routes: Boston-Dublin, JFK-Los Angeles, Los Angeles-Maui, JFK-Costa Rica
Band 5: Flights that are 3,001-4,000 miles cost 20,000 Avios.
Sample routes: NYC-Berlin, Dallas-Maui
Band 6: Flights that are 4,001-5,500 miles cost 25,000 Avios.
Sample routes: NYC-Buenos Aires, London-Johannsesburg
Band 7: Flights that are 5,501-6,500 miles cost 30,000 Avios.
Sample route: NYC-Amman
Band 8: Flights that are 6,501-7,000 miles cost 35,000 Avios.
Sample route: S. Francisco-Hong Kong.
Band 9: Flights that are 7,001 miles or more cost 50,000 Avios.
Sample route: Los Angeles-Sydney
Award chart anomalies:
-All flights from North America to Hong Kong are band 8 awards, even though flights like JFK-Hong Kong should really be a band 9 award.
-Due to using a band system instead of a region system it's important to search for surrounding airports. For example a flight from Chicago to Fort Lauderdale is 1,182 miles according to the Great Circle Mapper and is therefore a band 3 award. However a flight from Chicago to West Palm Beach is just 1,144 miles and is therefore just a band 2 award, saving you 5,000 Avios round-trip per person in coach in 15,000 per person in first.
-While you may not find availability for NYC-Miami for your dates, be sure to check other airports like Philadelphia-Miami.
-Due to the band system flights with connections may be cheaper than flying nonstop so always check possible connections! A nonstop flight from Los Angeles to Sydney is 7,488 miles placing it into band 9 with a round-trip cost of 100,000 Avios in coach. However a flight from Los Angeles to Honolulu is a band 4 at 2,556 miles and a flight from Honolulu to Sydney is a band 6 at 5,066 miles. The cost of a band 4+band 6 round-trip is just 75,000 miles in coach.
-A nonstop from JFK to Dublin or Shanon on surcharge-free Aer Lingus is a band 5 award. If you fly from NYC-Boston-Dublin or Shannon you'll save Avios as Band 1+Band 4 is less than Band 5.
-A nonstop from Miami to Tokyo is a band 9 award. However Miami to Los Angeles is a band 4 and Los Angeles to okyo is a band 6, meaning you'll save 25,000 Avios by connecting.
-Plus when you connect using Avios you can stay in the connection city for as long or short as you desire.
Earning Avios:
There are more ways to collect Avios than any other mileage currency!
-You can earn Avios on the Chase British Airways Visa. You earn 50,000 points for spending $2,000 within 3 months plus 1.25 Avios per dollar spent everywhere and 2.5 Avios per dollar spent on BA.
-By having the BA Visa you also get 10% off paid BA flights with code: CARDOFFERU
-If you spend $30,000 in a calendar year on the BA Visa you earn a free companion ticket that is good for a free companion award in any class when you redeem your Avios but it is only good for travel on BA or Open Skies operated flights which means you'll be paying fuel surcharges.
-You can transfer Starpoints to Avios at a 20K:25K ratio thanks to the 25% bonus for transferring Starpoints to miles. Starwood points are earned from the consumer Starwood Preferred Guest® Credit Card from American Express or the Starwood Preferred Guest® Business Credit Card from American Express OPEN.
-You can transfer American Express Membership Rewards points to Avios at a 1K:1K ratio. There are bonuses that range from 20%-50% several times a year. Membership Rewards points can be earned from consumer cards like the American Express® Premier Rewards Gold Card and The Platinum Card® from American Express. Business cards include the Business Gold Rewards Card from American Express OPEN and The Business Platinum Card® from American Express OPEN.
-You can transfer Chase Ultimate Rewards points to Avios at a 1K:1K ratio. Chase Ultimate Rewards points are earned from consumer cards like Sapphire Preferred, Sapphire Non-Preferred, and Chase Freedom Visa. They can also be earned from business cards like Chase Ink Bold, Chase Ink Plus, or Chase Ink Cash.