I've never been a fan of Hilton points.  The currency is not nearly as lucrative as other hotel brands like Hyatt (which can also be accumulated via the Chase Ultimate Rewards program) or Starwood.  With 22,000 Chase or Hyatt points you can stay in any Hyatt worldwide, even in Park Hyatts in places like Paris, Sydney, and the Maldives with $1,000+ nightly room rates.  With Starpoints you can transfer points into dozens of airline mileage currencies at very favorable ratios in addition to some great hotel bargains.
However there have been some good values in the Hilton program.  For example the Hilton Bora Bora Nui is 50,000 points per night and Hilton elites and credit card holders save 15% on 4 night stays, 20% on 5 night stays, and 25% on 6+ night stays, so it can be had for as little as 37,500 points per night.
Now that will only get you a base room, expect to pay an extra $100-$250 per night to confirm an overwater bungalow based on how good of a negotiator you are. But still it's a great value.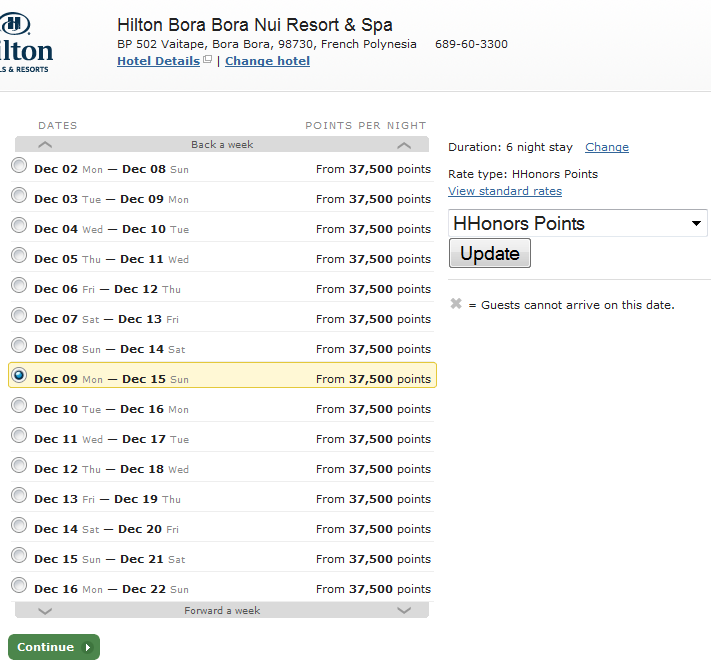 Hilton Bora Bora Nui
How bad will this devaluation be?
This page has the new award chart and this page breaks down the new categories of each hotel.  You can also use this tool to search for award pricing.

The Hilton Bora Bora Nui will now cost a whopping 95,000 points per night.  The 5th night will be free, but the 15%-25% discount for Hilton elite and cardholders on 4+ night stays will be history though apparently Hilton AMEX cardholders will continue to get some sort of discount.
For a 7 night stay in Bora Bora for someone with a Citi Hilton Visa or Citi Hilton Reserve Visa:
Booked on or before 03/27: 262,500 points
Booked after 03/27: 570,000 points.
That's an increase of a whopping 117%. It's murdering the aspirational value of the Hilton program. It's insane. Just downright insane. If you have the points and aren't totally set on using them at the Waldorf Astoria Jerusalem (which catastrophically can't yet be booked with points and will almost surely cost 95,000 points per night under the new award chart) you may well want to make speculative reservations if you may be able to use them in the future.
If you're short on points you can transfer points from American Express Membership Rewards into Hilton at a 1,000:1,500 ratio.  You can also borrow points from American Express and pay them back over the next 12 months through opening new cards or future spending (though point borrowing will be going away effective June 30th)
Luckily the 2 free signup nights from the Citi Hilton Reserve (which comes with Gold elite status that can be matched to top-tier Hyatt Diamond status) will be extended from working in category 1-7 hotels to all category 1-10 hotels that are being created with this change, so you should be able to use your 2 free nights at the Waldorf Astoria Jerusalem when it opens this August.
Other hotels in the same exact situation include the Hilton Maldives and Conrad Maldives. Currently as low as 37,500 points per night, soon to be as much as 95,000 points per night. Ditto for the acclaimed Conrad Ko Samui Thailand where 37,500 points per night can currently get you a villa with a private pool.
Not that I ever trusted you until now, but shame on you Hilton for bringing on the worst hotel points devaluation that I can ever recall.