You too can travel the world for free! Head over to the Dansdeals Forums and start strategizing now! Or just open up your own Starwood AMEX to start earning to the most valuable and flexible travel currency around!  Or open up a Hyatt Visa to earn 2 free nights at the Grand Hyatt Kauai!

Related:
Shaloha Folks!
Hawaii Trip Notes: Part 1, Oahu.
-There are 4 main Islands in the state of Hawaii: Kauai, Maui, Oahu, and the Big Island of Hawaii.  Oahu is by far the most populated with the capital of Honolulu and touristy.  If you are going to Hawaii you need a minimum of 5 days on any Island, but a week is ideal.  In order of importance my opinion would be Kauai, Maui, the Big Island, and finally Oahu.
-We just finished an amazing week on Kauai.  Kauai is just incredible, my favorite Hawaiian island. It's hard not to gush about it. The air is deliciously fresh with greenery abound. It's just a stunningly beautiful island without any of the touristy kitsch that permeates Oahu and to a lesser degree Maui. From the depths of Waimea Canyon to the sheer and awe-inspiring cliffs of Na Pali it's hard to not lose your breath…
-We stocked up on some of our kosher favorites in Whole Foods in Oahu before flying to Kauai. Got some ZenSoy Chocolate/Vanilla pudding ($3.99 vs. $2.99 in Cleveland), Corn and bean salsa ($3.69 vs. $2.99 in Cleveland), Whale Tales corn chips (never seen these in Cleveland), and Fat free soy milk ($5.69 vs. $3.29 in Cleveland)
-Groceries and gas are generally insanely expensive in Hawaii.  Except at Costco.  I confirmed on a number of items that Costco's prices here are the same as on the mainland.  Even on frozen and refrigerated items like frozen salmon and Tropicana Orange Juice that can be double the price at other stores.
-Also before we left Oahu I picked up some of the great Aloha Hawaiian Kippot from Chabad of Honolulu. If you've never seen them they have double sided aloha prints in a myriad of unique designs and colors. They are great to wear around (you'll get tons of compliments!) or to bring back instead of some tacky wooden gift. They're $8 and help support the great work of Chabad of Honolulu.
-On our way to Honolulu we flew on Continental which allowed 70 pound bags, but from Honolulu to Kauai on Hawaiian we were only allowed 50 pound bags…which is where Skycaps come in handy 😉
-A convertible is definitely the way to go in Kauai!
-Tabi's are awesome! I'd never heard of them before reading about them in the Hawaiin guidebooks.  They are a Polynesian hybrid of a beach shoe/boot with felt bottoms that grip onto slippery rocks.  They are perfect for hiking on slippery trails or for the beach.  Walmart in Hawaii sells them for $15-$20.
-This past week we stayed at the Grand Hyatt Kauai down in dry and sunny Poipu. How awesome is Kauai? You have to go through a "tree tunnel" just to get down to Poipu! Anyway the hotel is absolutely incredible. When you walk in the lobby there is an open wall where you can see straight to the Ocean.  There are dozens of pools, hot tubs, and lagoons that never seem to end. Exotic landscaping, talking parrots, and tons of free entertainment. You could literally spend a week here without leaving the hotel and never be bored for a minute…but that would be a crying shame.
-The Grand Hyatt put us in a ground floor suite when we arrived.  It was nice but I didn't care for it.  There was no balcony, no ocean view, and no cell phone reception.  They let me take a look at a few other suites and I settled on a 1,400 square foot beauty with a separate living room, dining room, bedroom with walk-in closet, a bathroom with a jacuzzi and separate shower room, a 40 foot ocean-view balcony, 3 LCD TV's, 4 phones…Total cost: $0.
-At 4am on Tuesday morning the Hotel fire alarm system malfunctioned.  It told everyone to evacuate the building.  After we left we were told it was a mistake, but they couldn't get the alarm turned off for half an hour.  In the morning they sent out an apology letter offering everyone a $50 resort credit.  I don't think so! I negotiated a more fair response with a manager over the phone, 18,000 Hyatt points (enough points for a free night at any Hyatt) and a $100 resort credit…which bought a nice pair of Naot's for my wife!
-Wi-fi for 2 computers for the week came out to $200…waived of course for Hyatt elite members.
-The resort fee ($18/day) was waived as it was an award stay. Parking was free.
-The hotel offers a daily Scuba lesson in their expansive saltwater lagoon for free!
-They have these great sized Heinz ketchup packets at the self-service bar by the pool.  You know those regular Heinz packets that you need to open 7 of to cover your burger? Well 1 of these babies and your burger is covered!  Why haven't I seen these anywhere else???
-We brought some self-heating La Briute meals with us (Cheese Ravioli and Meatballs and Spaghetti). These flavors are actually pretty good, and it's great to have a nice piping hot meal in middle of a long hike!
-We were able to freeze the food that we needed for Maui upon arrival and get an extra fridge in the room for our food for the week in the hotel.
-Times Supermarket carries a complete line of Jelly Belly products and confections, including some super fresh candy corn! Yum!
-On Wednesday night we went to the "Tiki-Torch" menorah lighting at Chabad of Kauai which was nice. Rabbi Goldman brought down Zvi Bielski, the son of "Defiance" World War 2 hero Zus Bielski. At Chabad I ate the only Latke that I would have all Chanukah long!
-It hit me when we brought in Shabbos at the Hyatt that we were among the last Jews in the world to bring in Shabbos. With Kauai being the westernmost part of populated Hawaii and with sunset at 6pm local time/4am GMT and us being located further west than the local jewish community I think it's entirely plausible that we were the absolute last people in the world to bring in Shabbos…kind've cool!
Some of the activities I've done on Kauai on this and past trips (5/5 = must do , 0/5= don't bother):
-A Helicopter tour of Kauai with Blue Hawaiian (Kauai Revealed, Pg. 134), as recommended by the Kauai Revealed book. This trip is AWESOME!!! They have first class helicopters with comfy seats, 2 way noise canceling headphones, and huge windows for incredible views. The biggest problem with Kauai is that so much of it is inaccessible. With a helicopter tour you can go right up to sights that seem impossible…into the canyon, over Na Pali, and it ends of with Mt. Waialeale, one of the wettest spots on earth with some 500 inches of annual rainfall and dozens of waterfalls gushing down: 5/5
-Kayaked to Fern Grotto and Secret Falls (Kauai Revealed, Pg. 163). Both sites are very impressive! It is a little tricky to dock at Fern Grotto and to actually find the beautiful Secret Falls with its swimmable pool…but well worth it. We started from Hawaiian Village where it's just a short 5-10 minute kayak to either site. We ran out of time and couldn't find Secret Falls before they closed, but they let us come back a couple days later and try again for free-and we made it! Bring Off or you will get eaten alive. : 4.5/5
-Polihale Beach (Kauai Revealed, Pg. 88). 13 miles of uninterrupted and deserted beaches in the remote westernmost part of the United States. It's mostly unswimmable in the winter due to waves up to 25 feet tell. However standing in Queen's Pond where the massive waves are taken down by the reef just feet in front of you makes for a surreal experience. Watching the sunset over the "forbidden island" of Niihau at Polihale is breathtaking: 4.5/5
-Snorkeling at Poipu Beach (Kauai Revealed, Pg. 112). I snorkeled right on top of a green sea turtle that was bigger than me! Monk seals often park themselves at this beach which is just a few minutes from the Hyatt. 4.5/5
-12 Mile Hike in Waimea Canyon Nualolo/Awaawapuhi loop (Kauai Revealed, Pg. 144). I'm not sure what I was thinking here. This hike included half a mile of altitude change, some very scary cliffs (don't make a false step or it's miles till the next one!) and was way too strenuous for my taste. The views of Na Pali were shockingly beautiful (which is why I did the hike in the first place) but I was nice and sore for a day or 2 after this hike.  If you do this hike don't forget lots of water-I went through 4 liters myself easily: 2/5
-4WD Miloli Ridge Road (Kauai Revealed, Pg. 196) Stunning view of Na Pali without the 12 mile hike. 4WD car is required though…4/5
-Liko Kauai Cruise of Na Pali. (Kauai Revealed, Pg. 168) These are supposed to be great in the calm summer seas…don't bother in the winter. It was so nauseating that half the boat was throwing up. There are better ways to see Na Pali than this. 0/5.
If nothing else, just drive around Kauai, there is beauty everywhere. The drive up to the quaint North Shore with its 1 lane bridges and into Waimea Canyon is just awesome.
We're off to Maui now…catch 'ya later! Oh, and thanks for all of the comments on the last trip notes posting!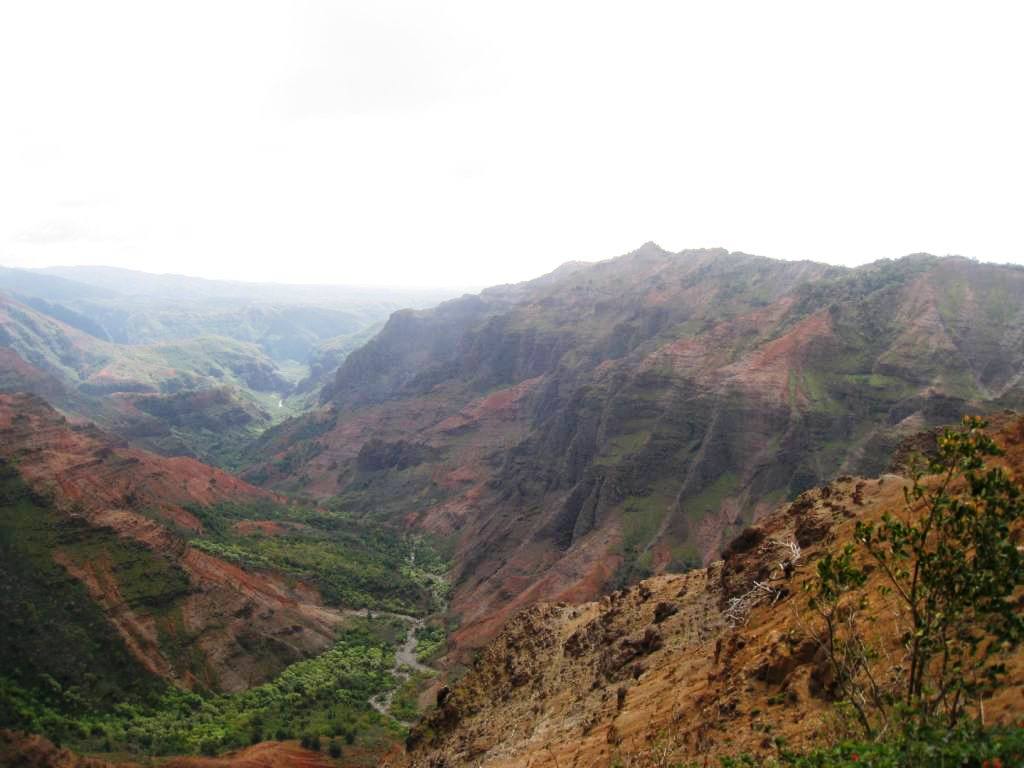 Waimea Canyon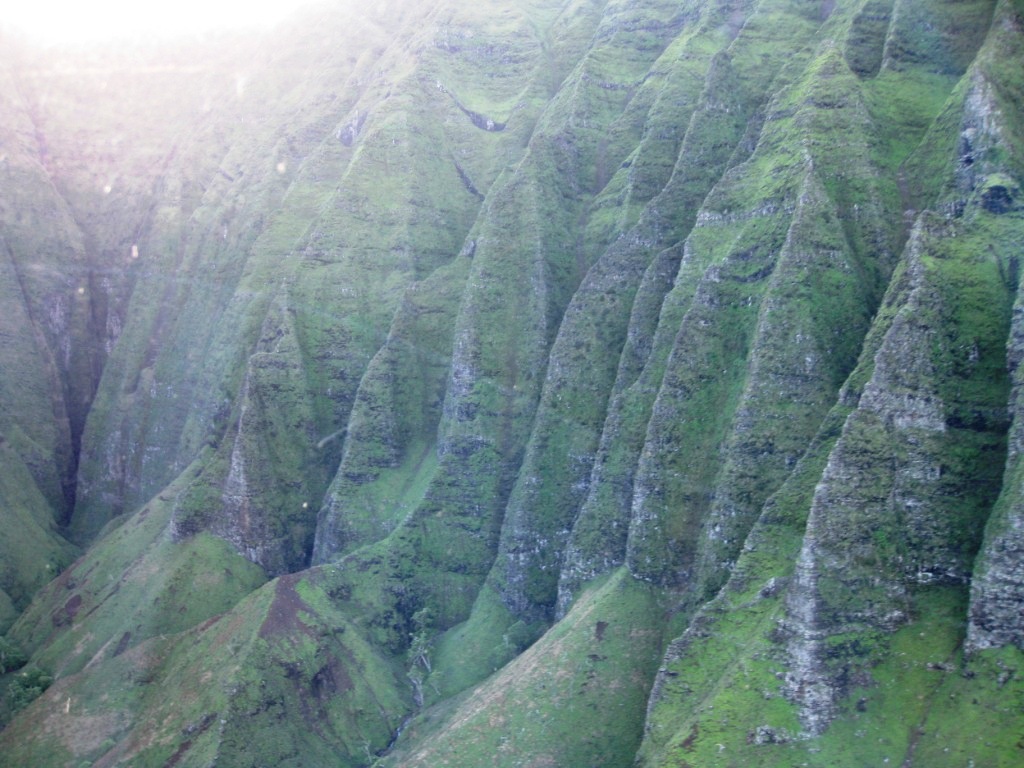 Na Pali, from a helicopter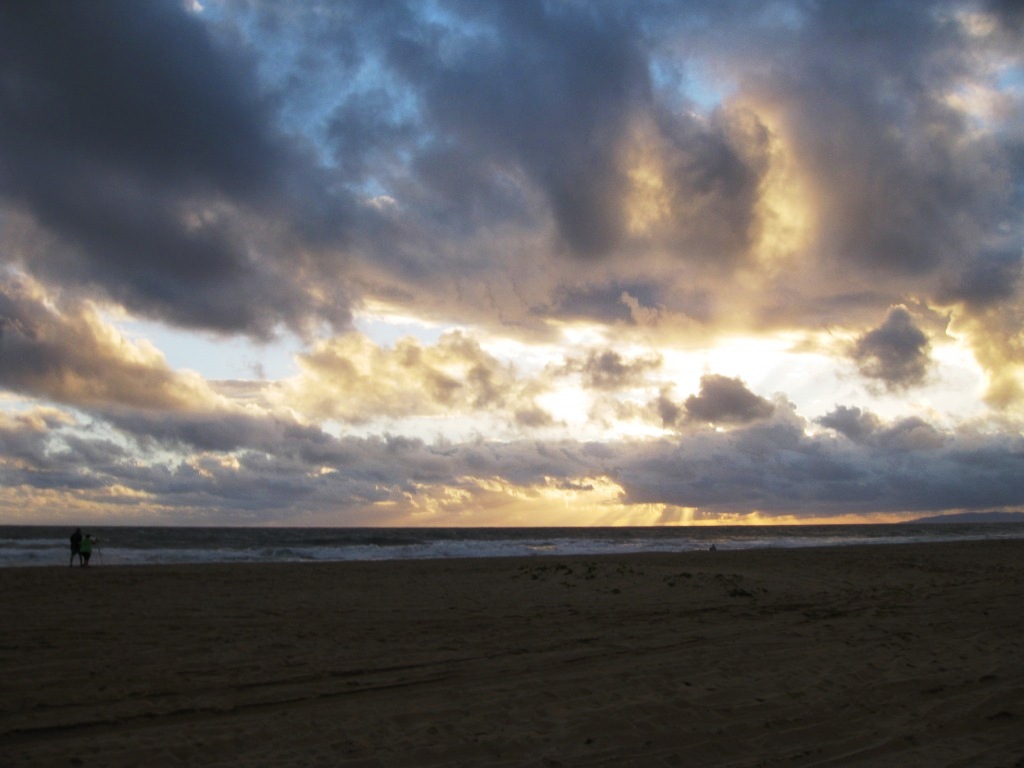 Sunset at Kekaha Beach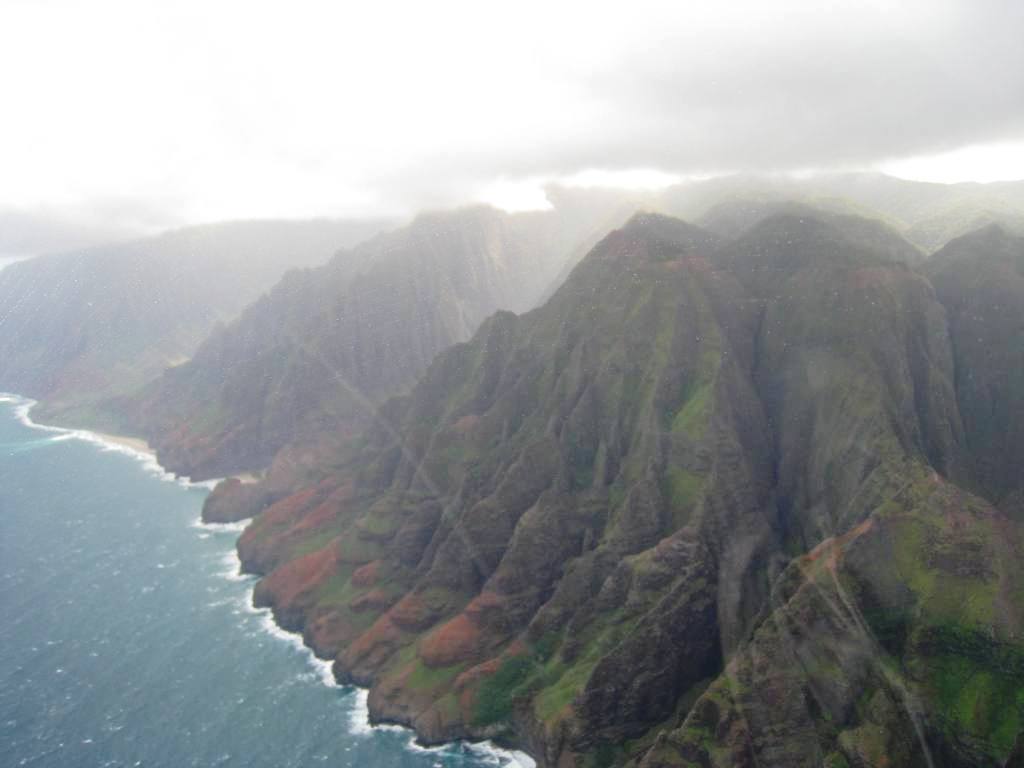 Na Pali, from a helicopter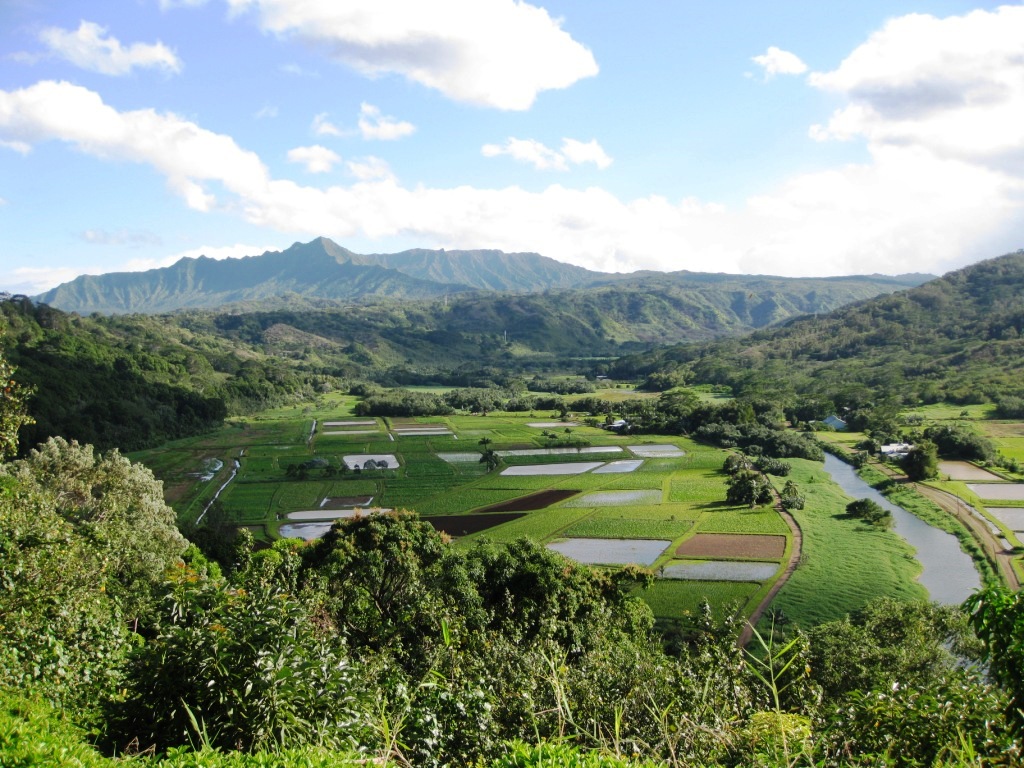 Hanalei Lookout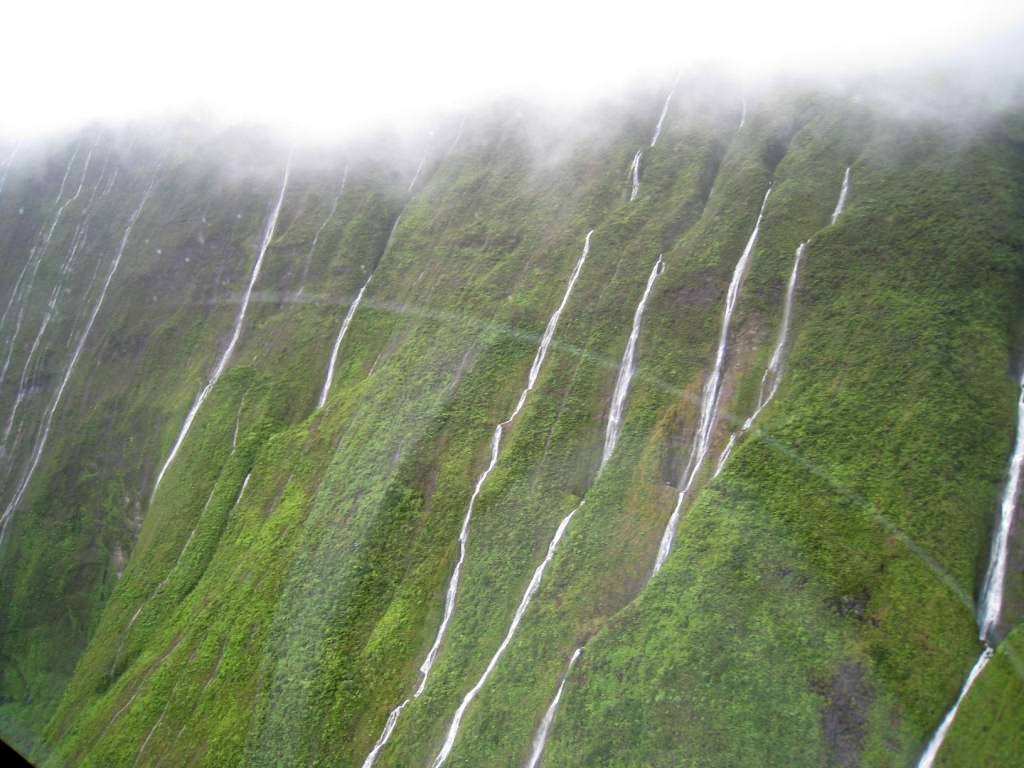 Mt. Waialeale, from a helicopter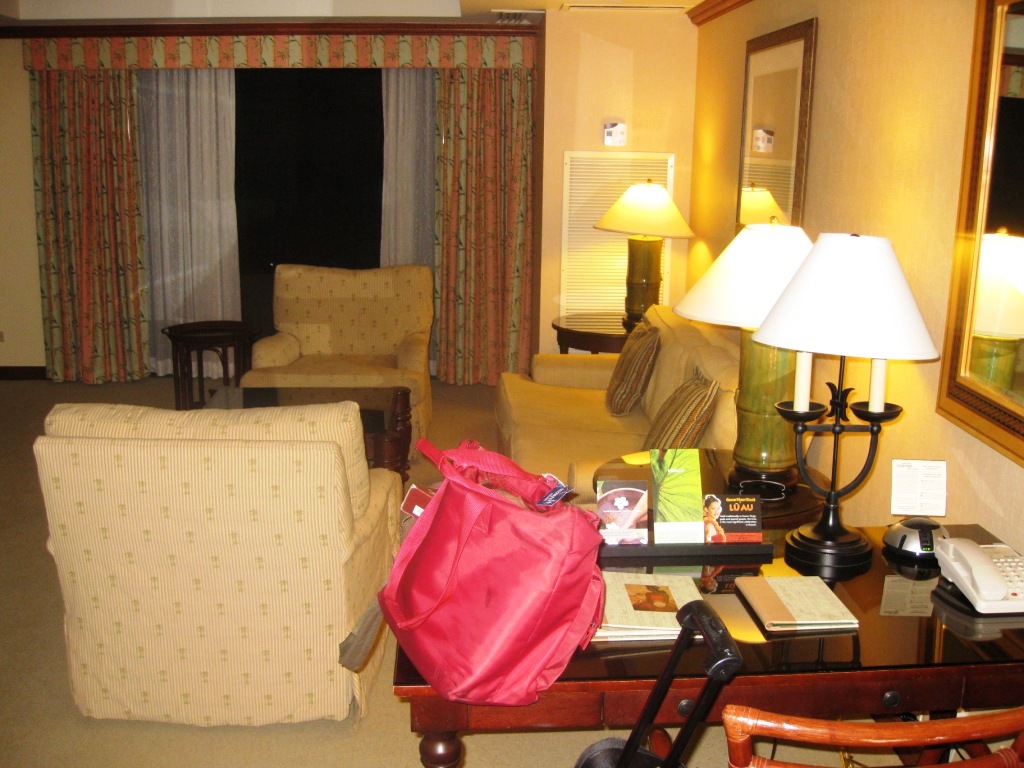 Grand Hyatt Suite Living Room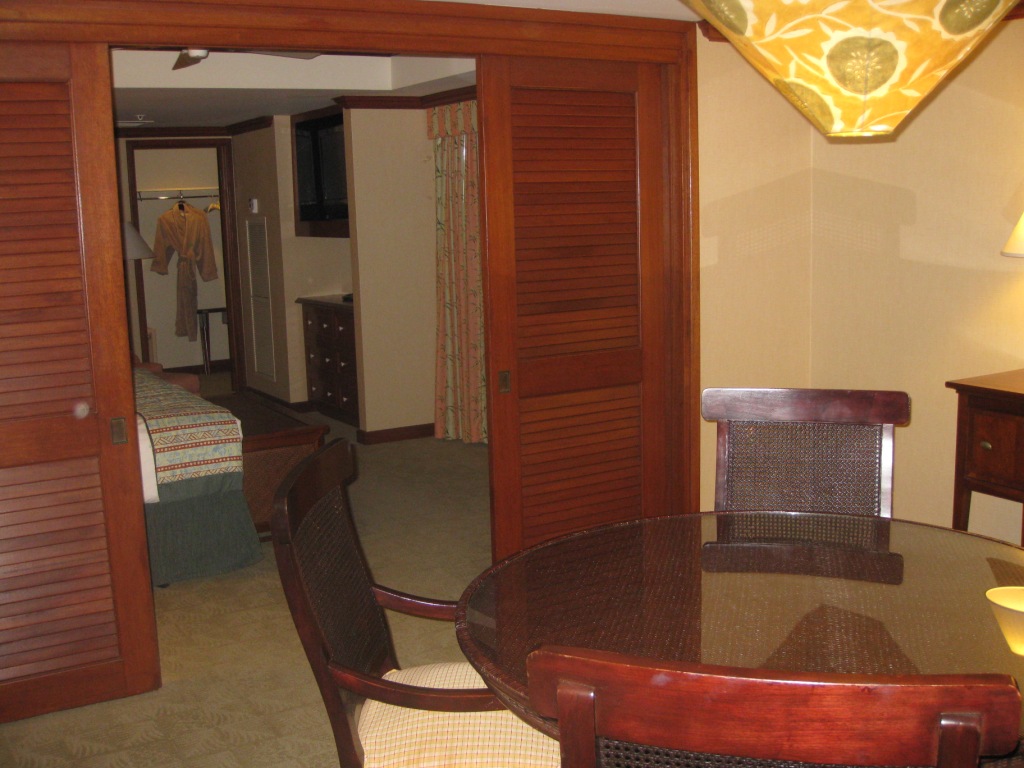 Grand Hyatt Suite Dining Room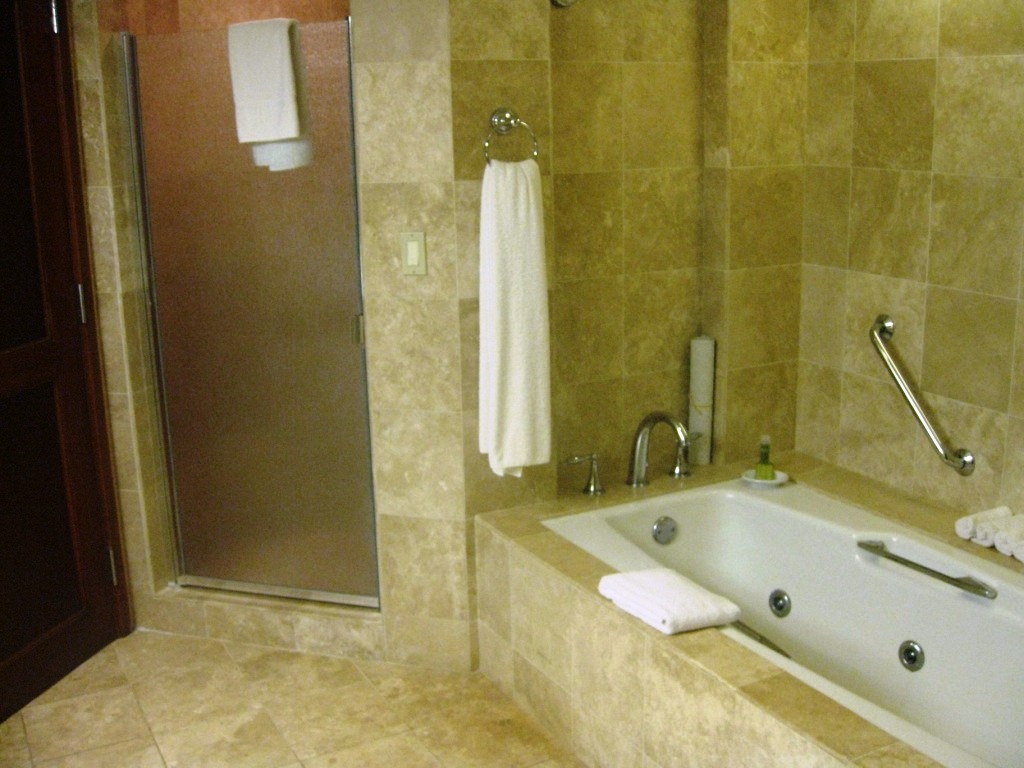 Grand Hyatt Suite Bathroom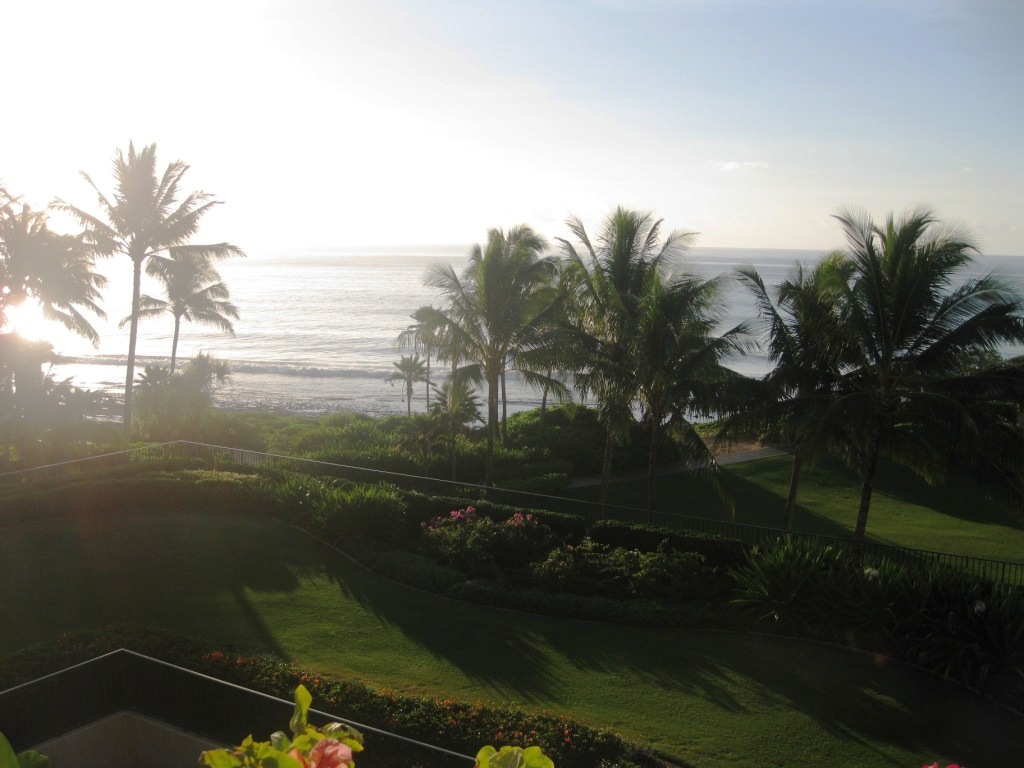 Grand Hyatt Suite Balcony View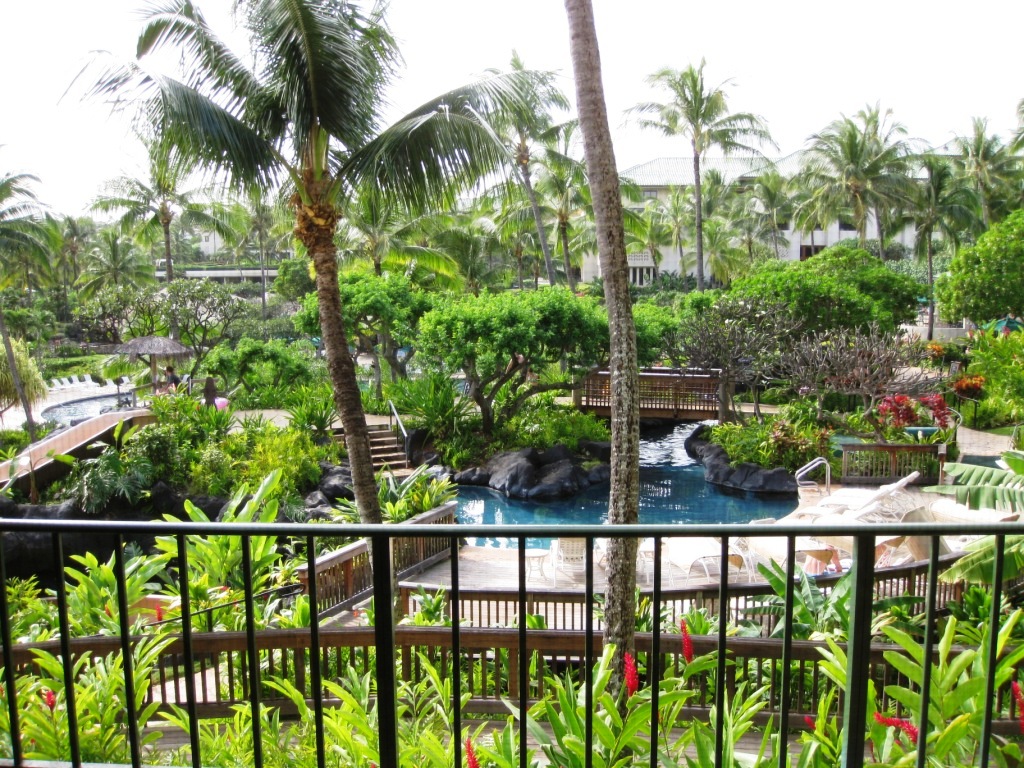 Pools At Grand Hyatt Kauai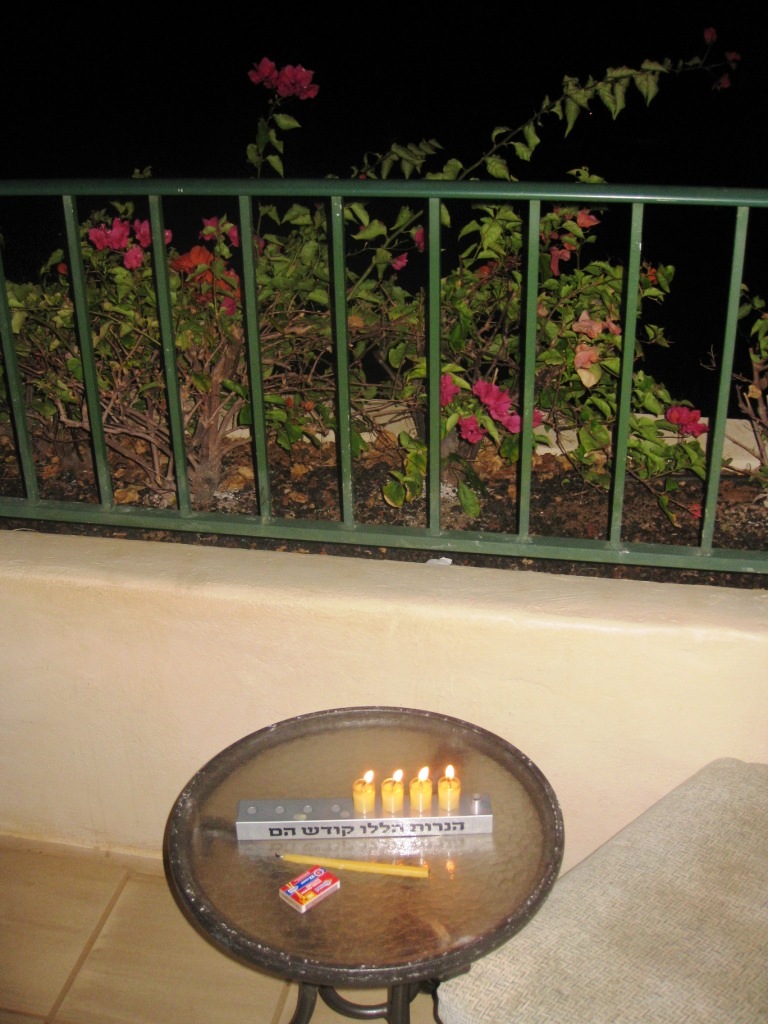 Menorah on balcony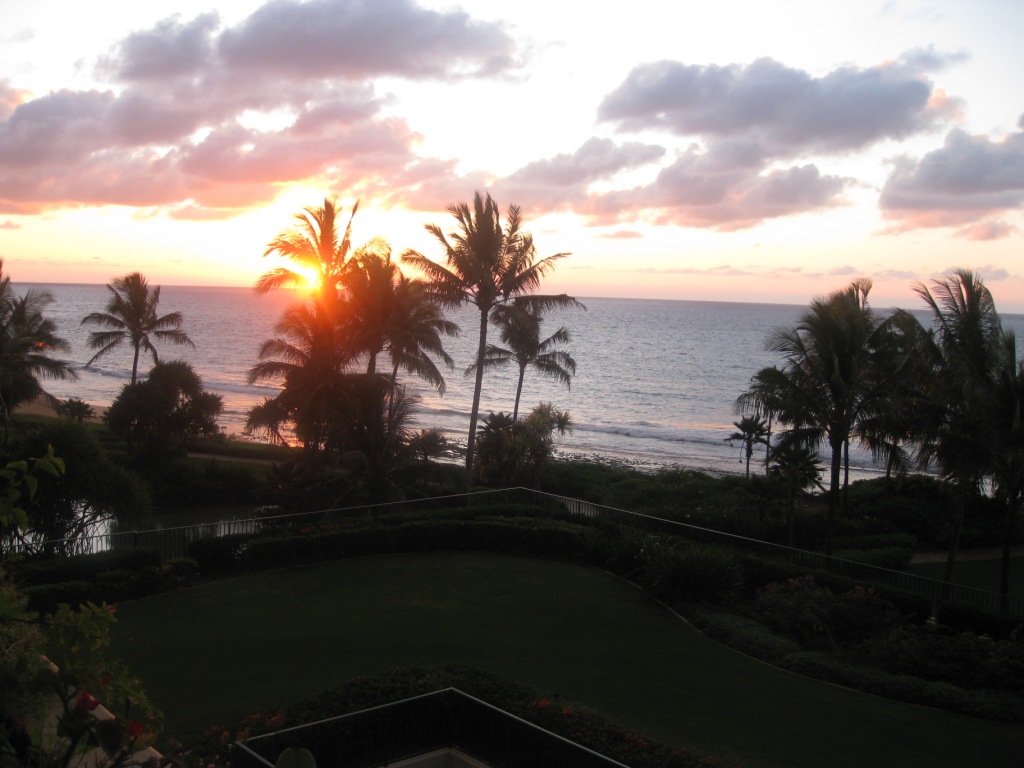 Grand Hyatt Suite Balcony View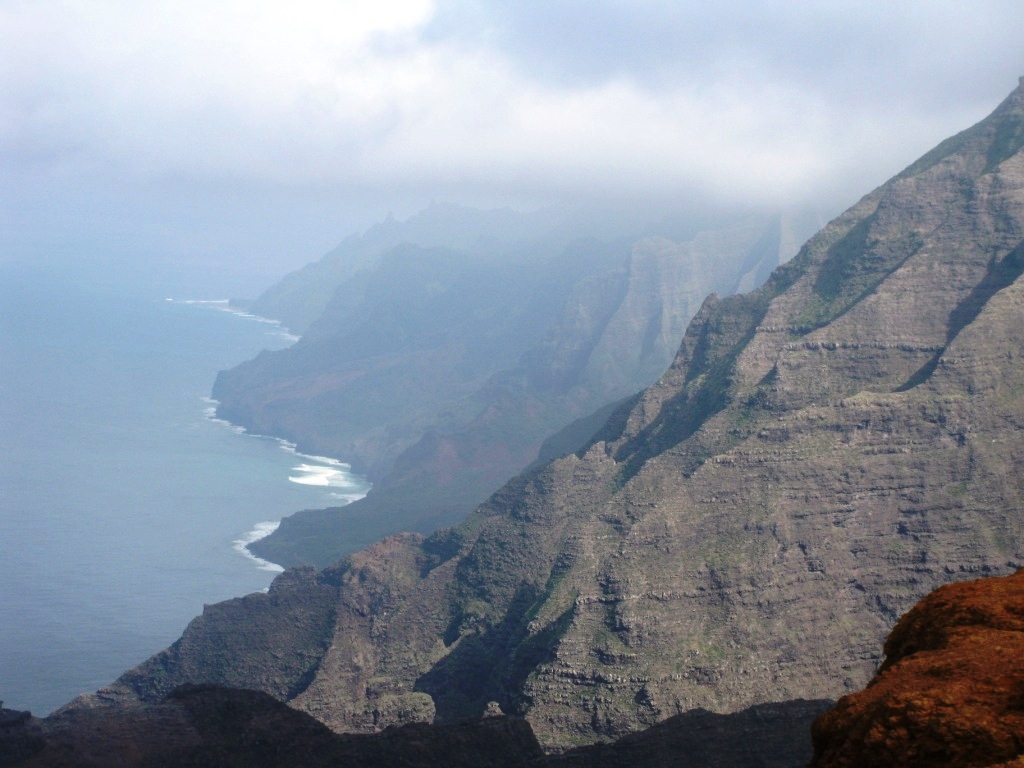 Na Pali, from Waimea Canyon loop hike.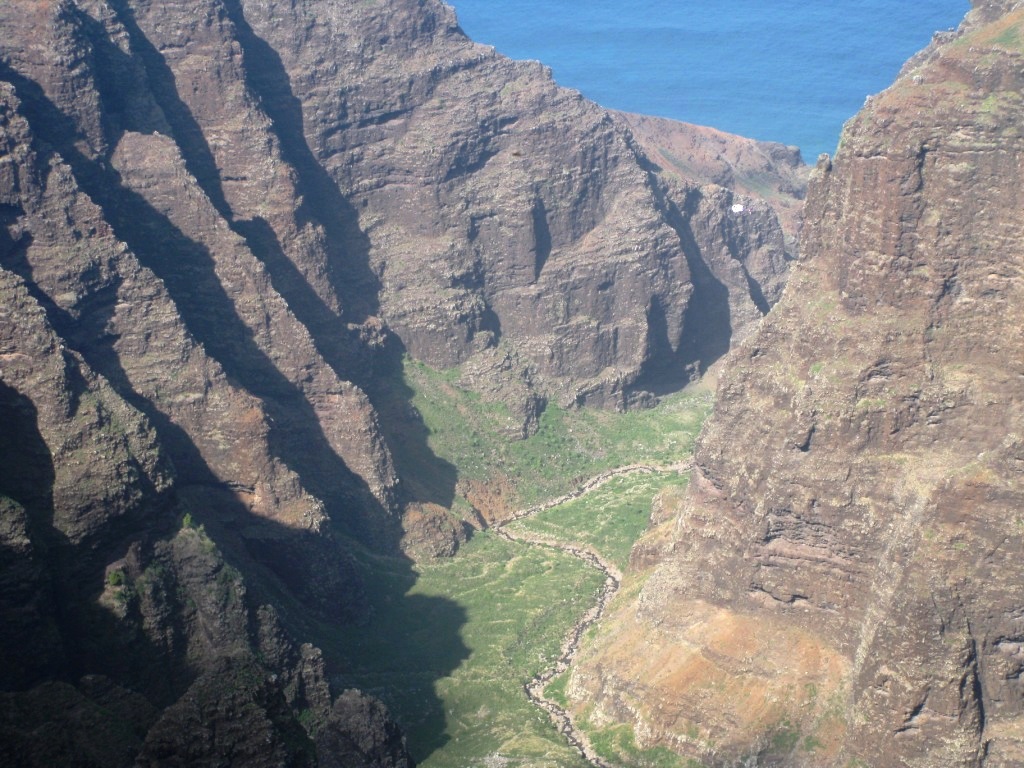 Na Pali, from Waimea Canyon loop hike.
Waimea Canyon loop hike.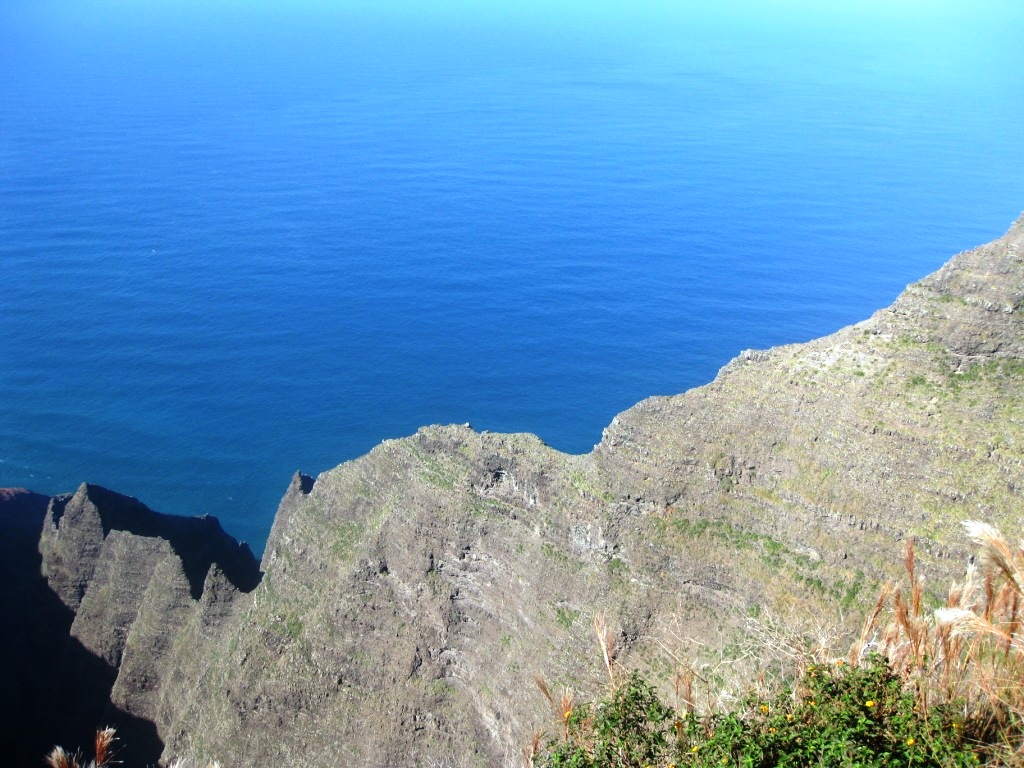 Na Pali, from Waimea Canyon loop hike.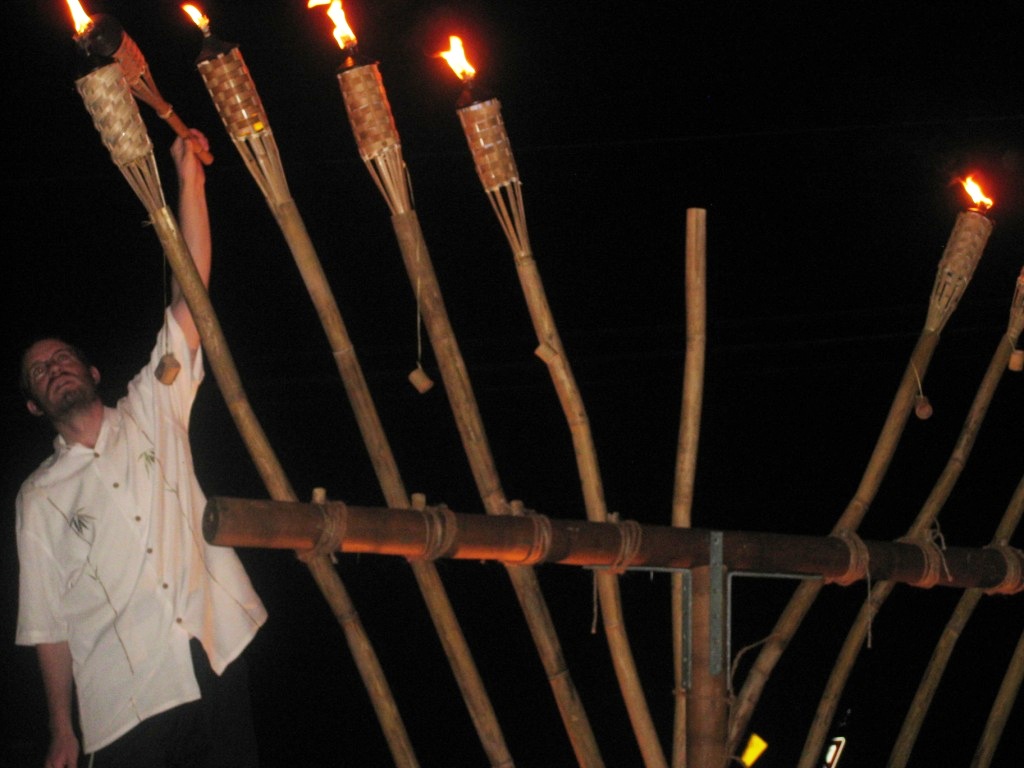 Menorah Lighting at Chabad of Kauai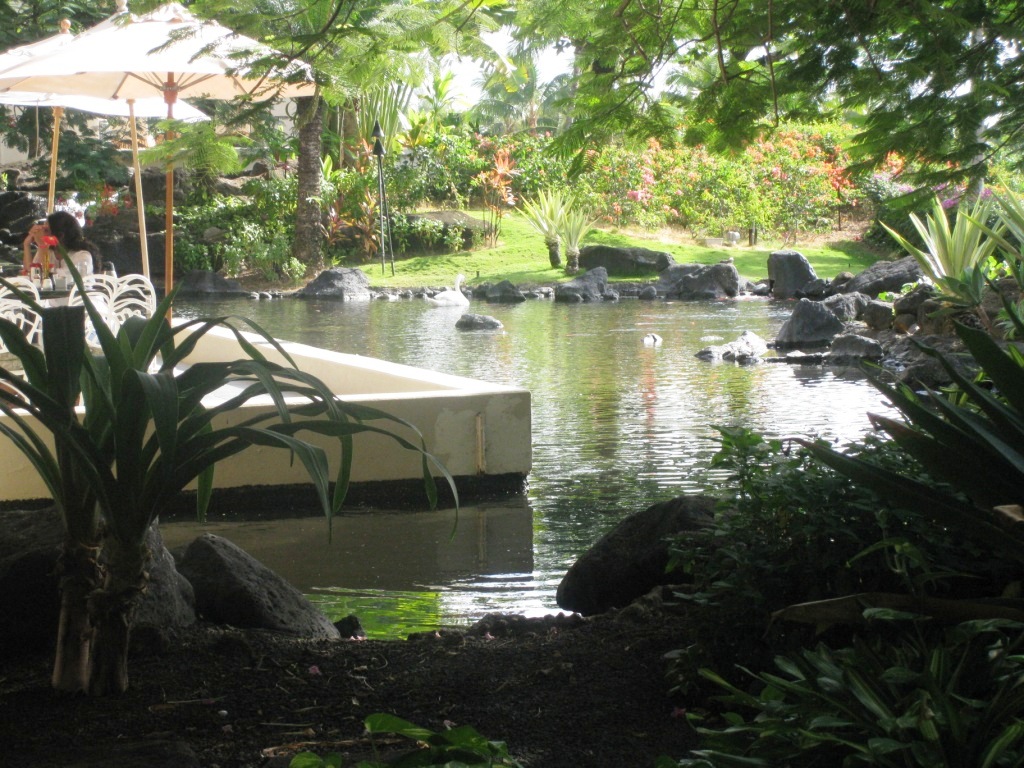 Grand Hyatt Kauai Restaurant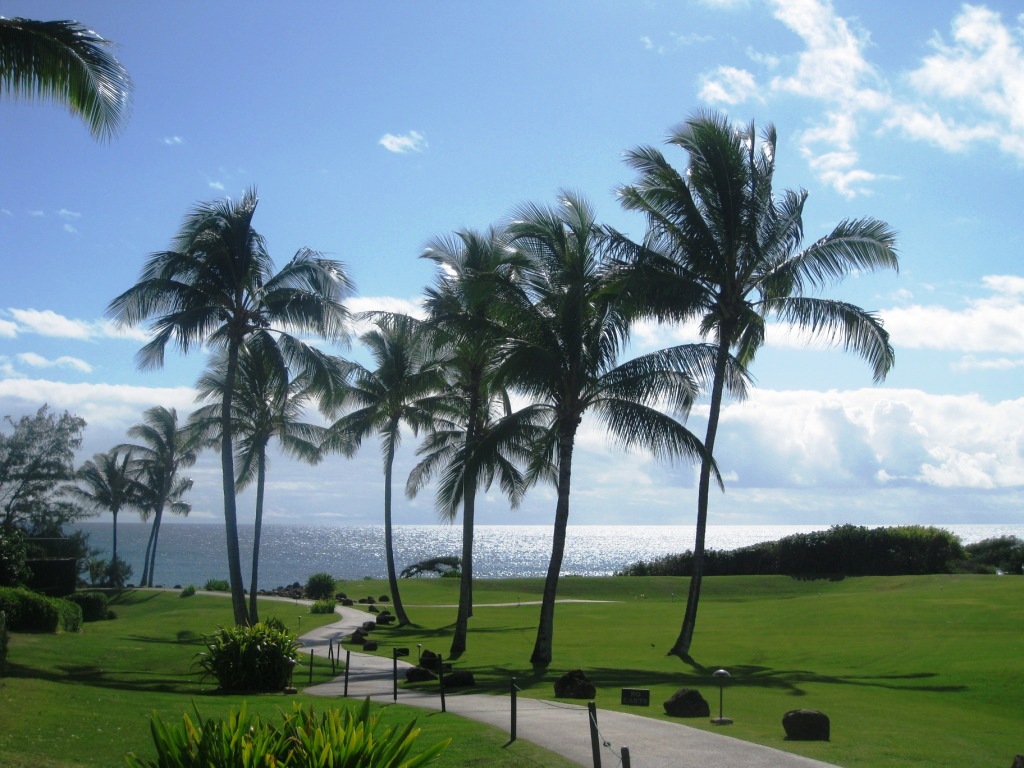 Grand Hyatt Kauai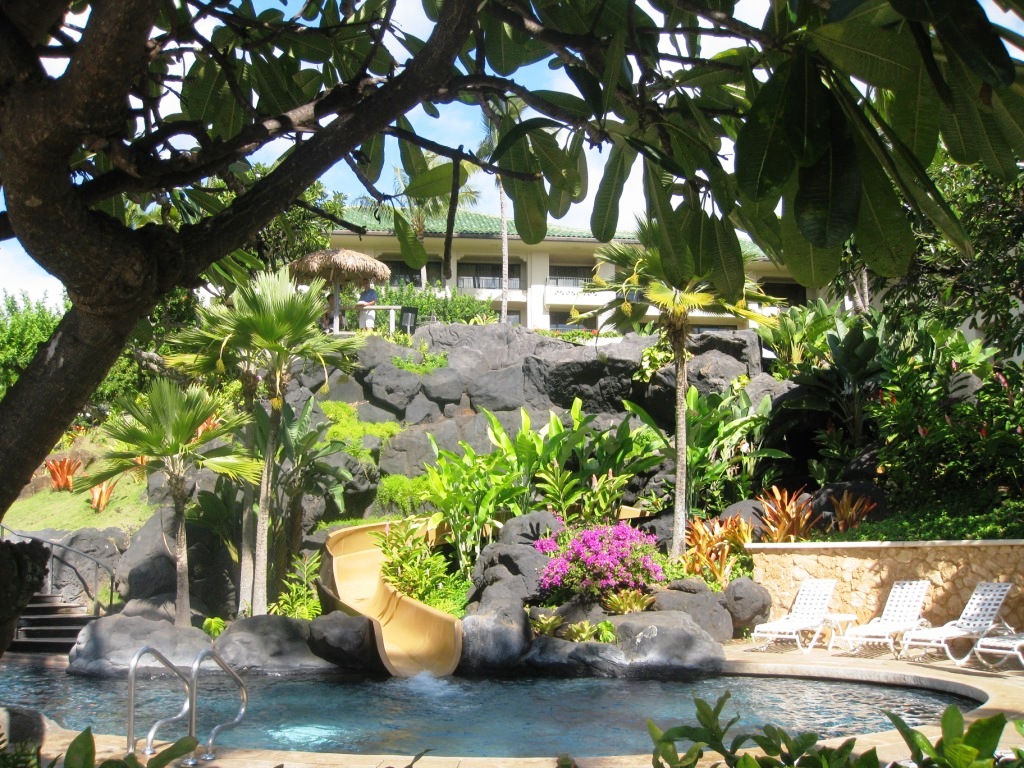 Pools At Grand Hyatt Kauai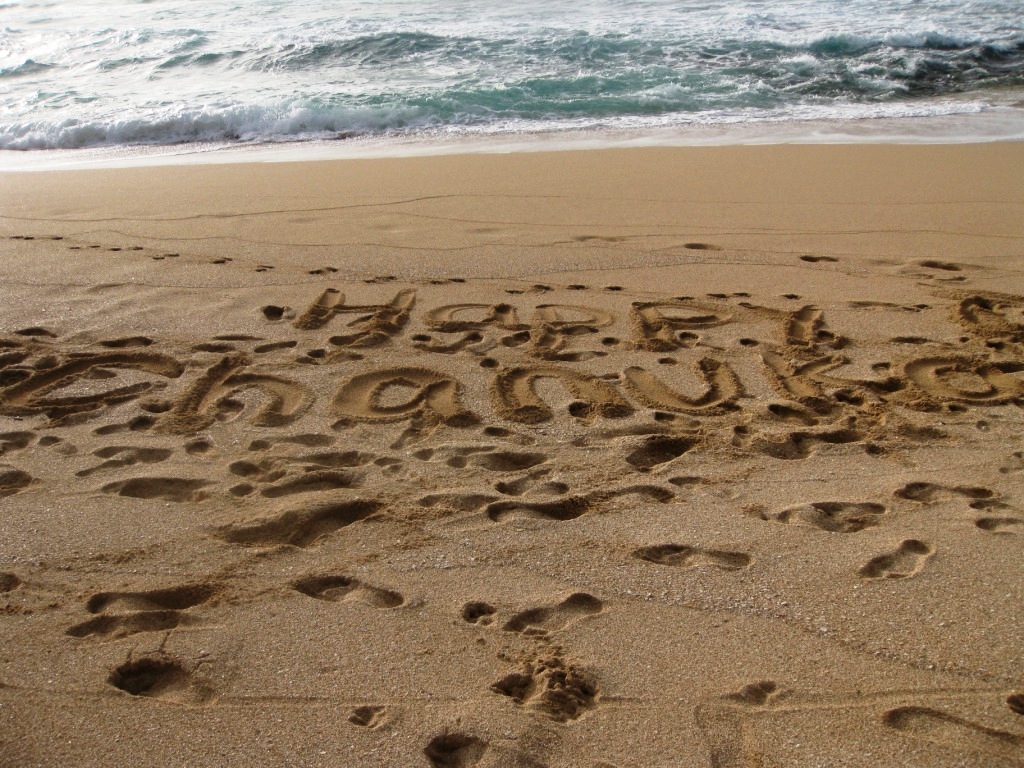 Message left at Polihale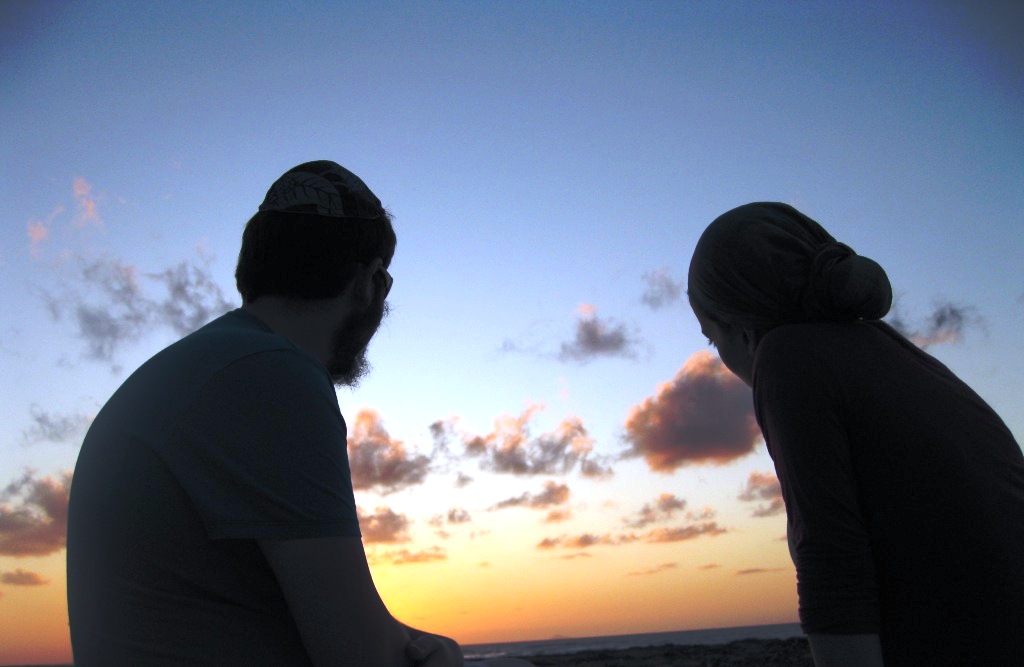 Sunset at Polihale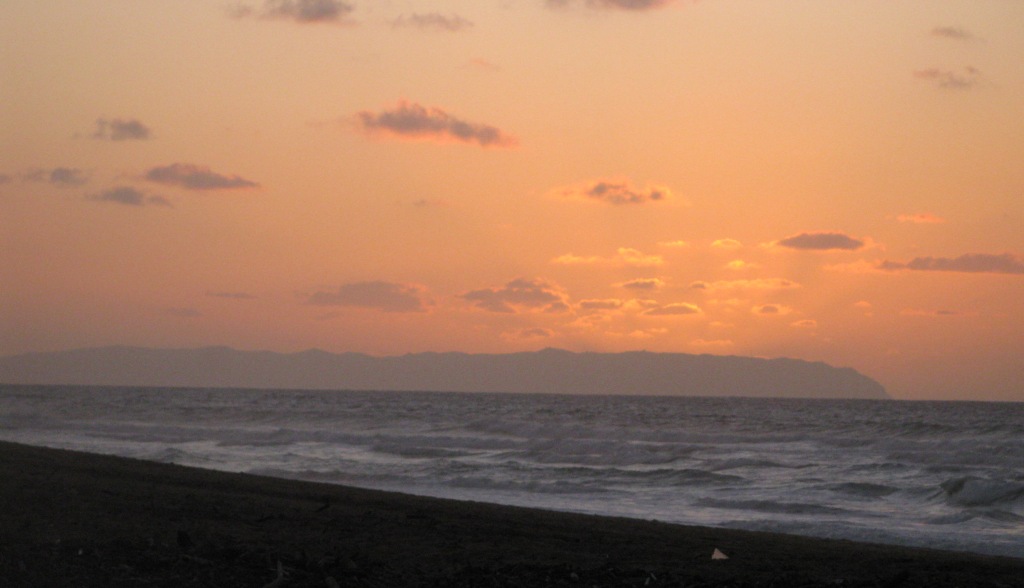 Sunset at Polihale (Background: Ni'ihau)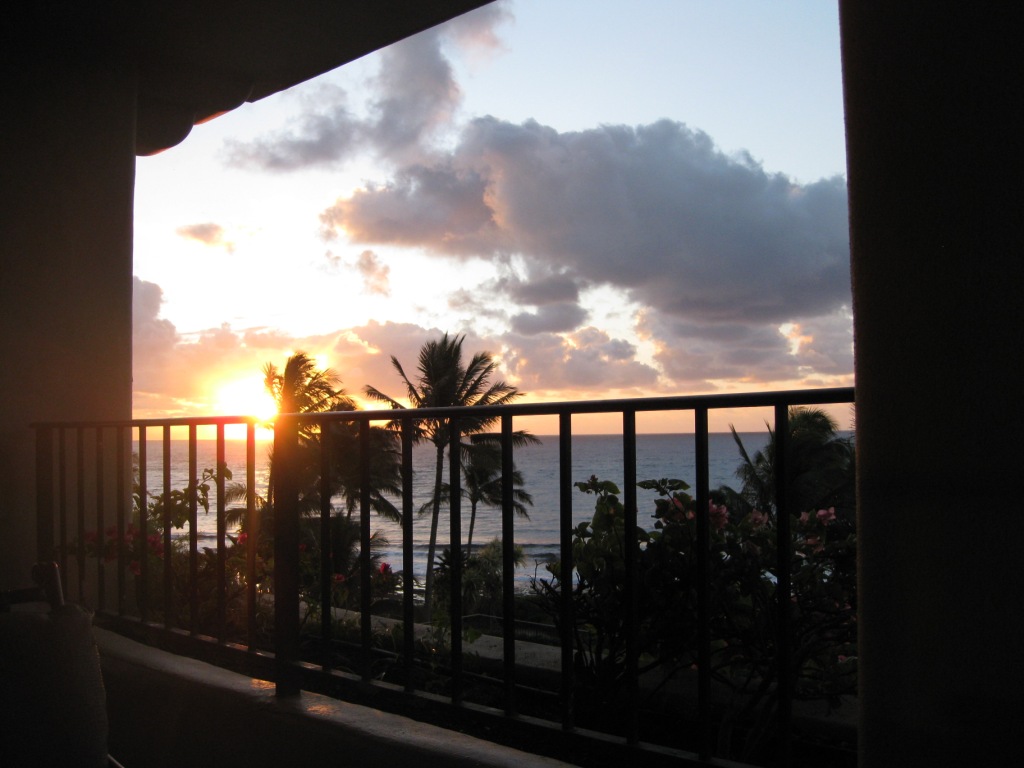 Grand Hyatt Suite Balcony View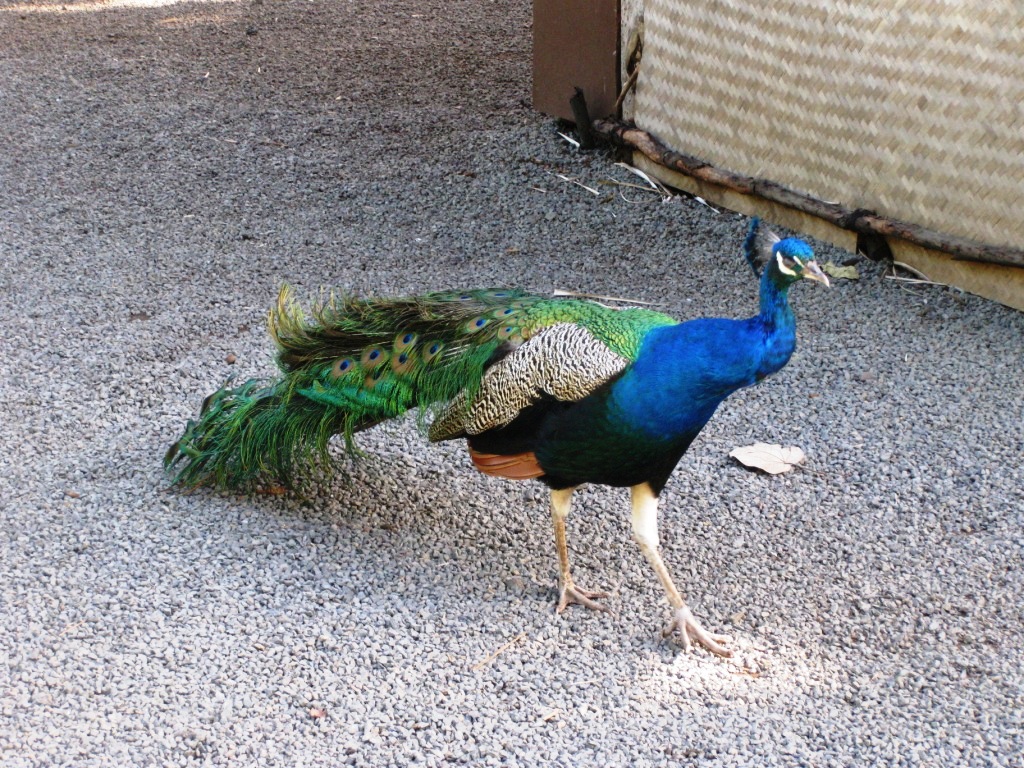 Wild Peacock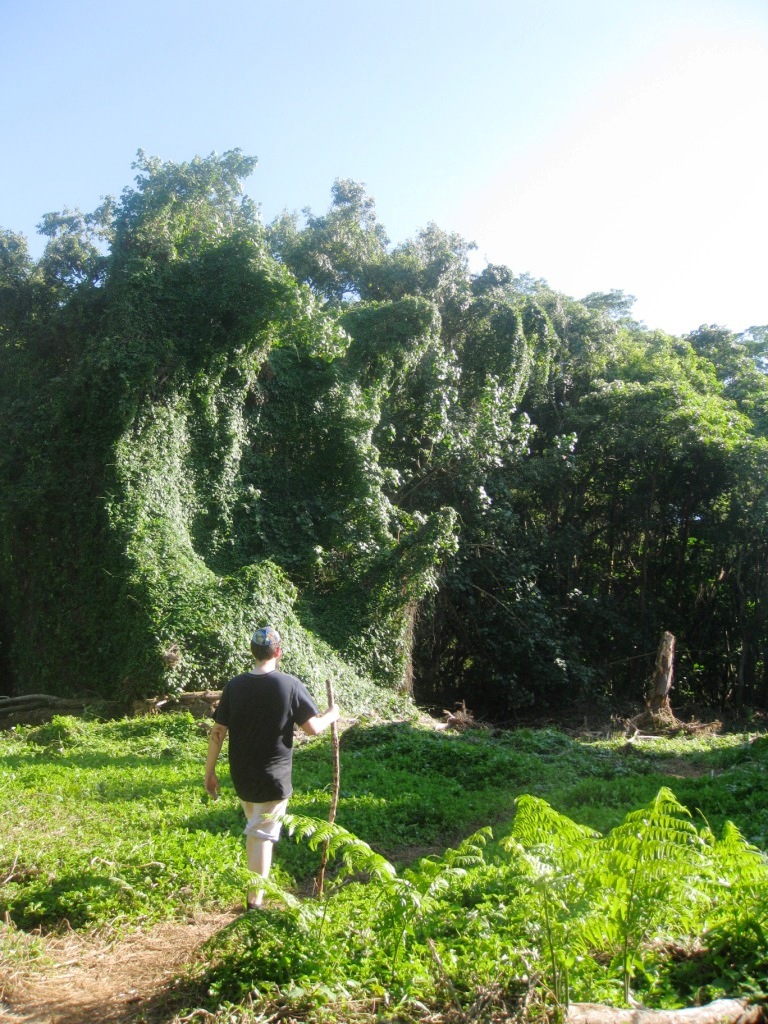 Secret Falls Kayak/Hike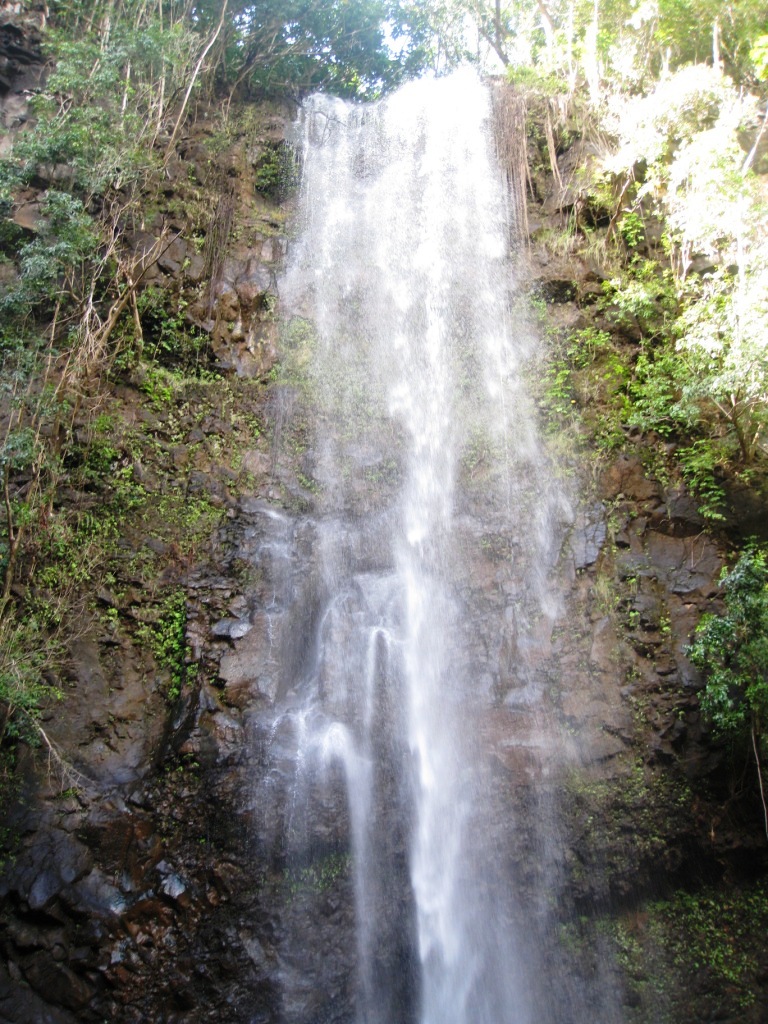 Secret Falls (Partial view)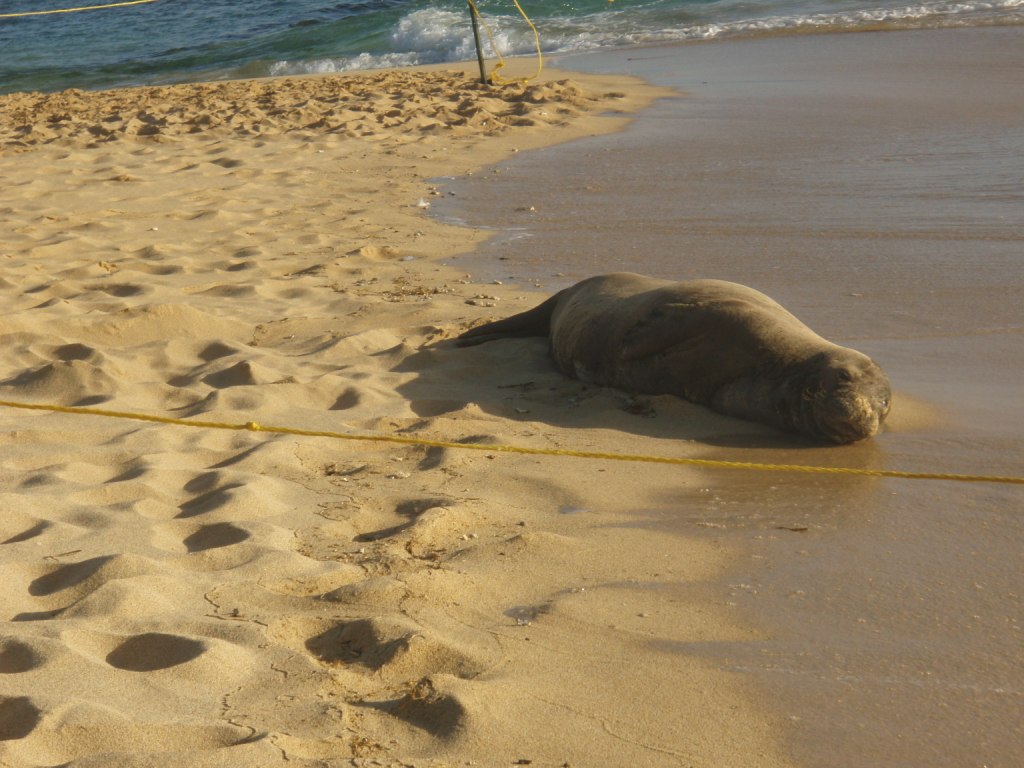 Monk Seal Tanning At Poipu Beach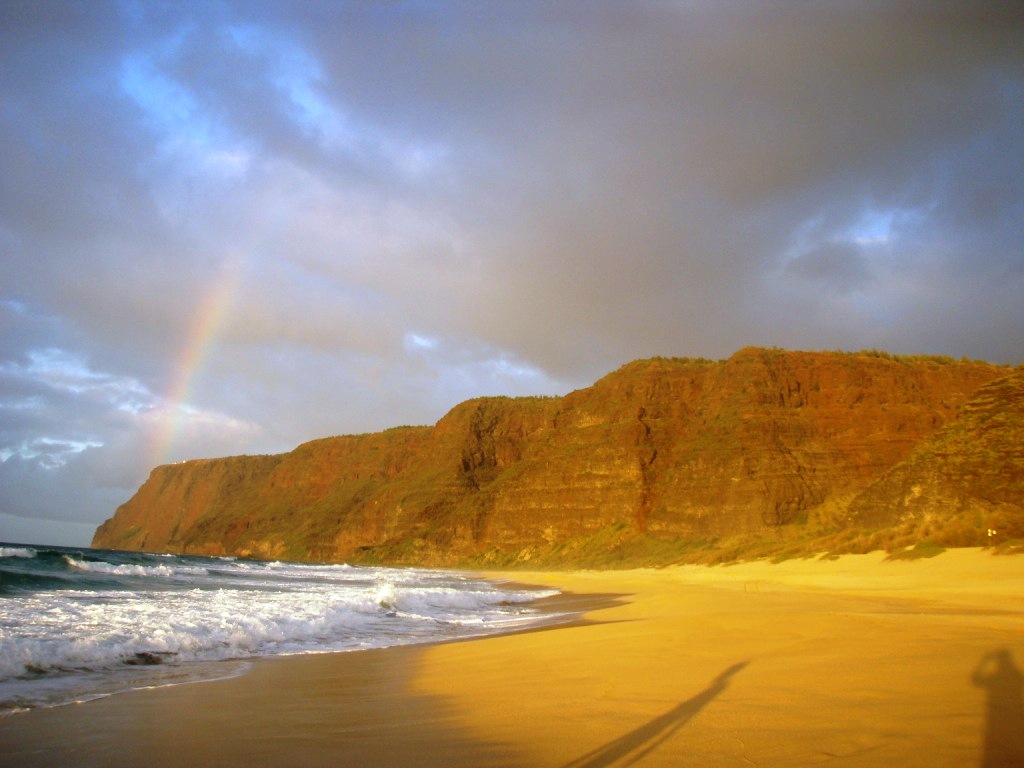 Sunset at Polihale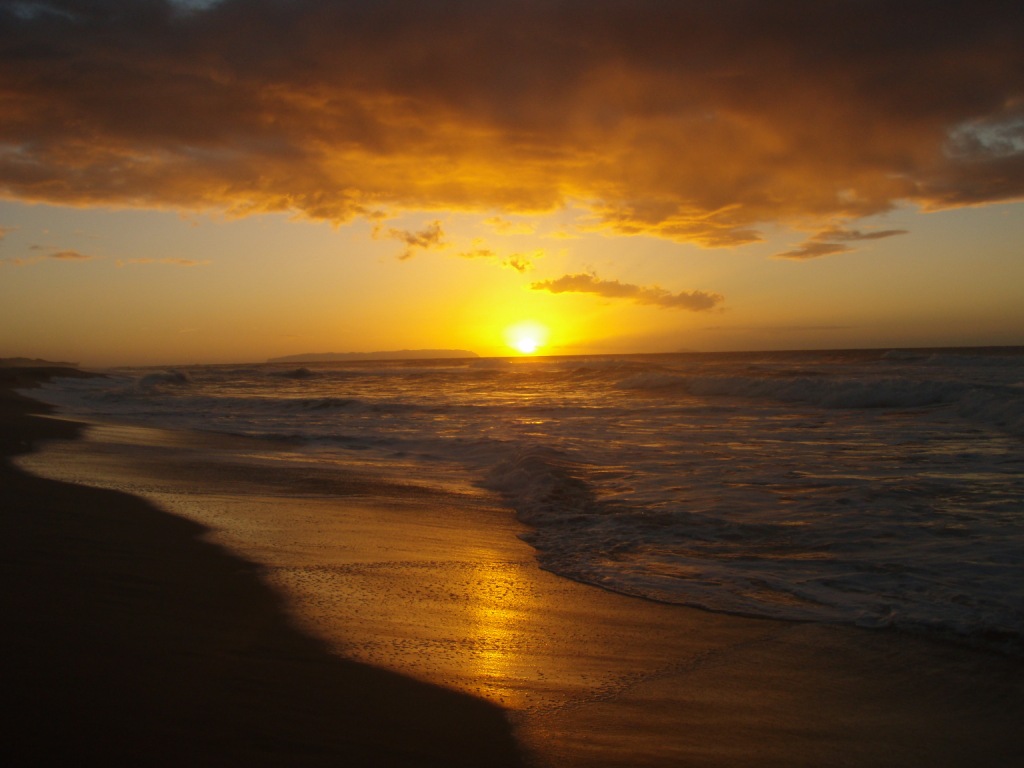 Sunset at Polihale