-Taking a 2 week trip to Hawaii as a religious Jew sure is far from easy. My dear wife spent a good couple days making all of the food for the trip in advance. We then froze the food to get it to be rock hard.
-I did my share as well as well-arranging every trip detail and constantly being on the lookout for Continental First class and BusinessFirst seats to Hawaii (Only fair after my wife slaved over a stove for that long!). It paid off-each of our flights were confirmed in First or BusinessFirst. I locked in the 75K mileage rate before it went up to 80K in October. I love that Continental now gives free date and routing changes on award tickets! It makes planning mileage tickets so much easier!
-Forum member agug was extremely kind and hooked me up with a free room at the Sheraton at the Cleveland airport (Starwood Category 2).  With the mercury clocking in at 10 degrees on Thursday night we were able to leave the food in a suitcase in the car without worry. By staying at the airport we were able to roll out of bed at 5am and get right onto the 6am flight.
-Continental's BusinessFirst on the Houston-Honolulu leg was great.  It's not lie-flat (although it will be within a couple years), but it's probably as good as it gets for flights to Hawaii.  A nice luxuriously wide seat, with plenty of legroom, a footrest, and a personal LCD.  We got a kosher lunch and pre-arrival snack.  Neither were great, although the chocolate mousse dessert was quite good-it was so rich I was able to make it last for hours!  The flight attendants were excellent, some of the best I've ever had!
-Anyone even thinking about going to Hawaii must read the "Revealed" series of guidebooks. These are guidebooks like you've never seen before.  They are funny, easy to read, detailed, full of great tips, and unbiased straight-talk reviews.  It would be criminal to visit any Hawaiian Island without the appropriate book!  I only wish the author would create more books like this for other places!
-We're staying at the absolutely gorgeous Westin Moana Surfrider in Honolulu for 2 nights.  One night was with my Platinum free weekend night, the other with a Starwood category 5 free night redemption. They TOTALLY hooked us up! A 17th floor corner suite complete with 2 large oceanfront balconies, a massive living room that has a dining room table, an empty fridge and pantry, a murphy bed in the wall, a couch, chairs for 7, a flat-screen, and a work desk.  The bathroom is all marble and the toilet, um, I'll let you see it for yourself but I haven't seen one of those since I was in Japan!  The hotel also sent up a fantastic fruit tray and 4 bottles of water.
-Parking at the hotel is a confiscatory $33/day.  I found $15 parking across the street.  No-brainer there.
-The food arrived in Honolulu frozen solid.  We took out the food we needed until Sunday and sent the rest of the suitcase of food to the hotel freezer.
-While the hotel is great and I'd highly recommend it, it's far from ideal for sabbath observing Jews. The stairs have sensors that turn on the lights when you enter the stairwell which meant we'd be spending Shabbos in the room.  Mind you, this room was not a bad room to be stuck in!  The air conditioning unit turns off when you open the balcony, but I got an engineer to override that "feature" (he said the sensors for the stairs were not able to be turned off).  The toilet had to unplugged-good thing we noticed it before shabbos or it would've been quite unpleasant!
-The Whole Foods in Honolulu has tons of great kosher food, but prices are 10%-50% higher than on the mainland.  Regular grocery store prices can be 25%-80% higher than the mainland, but buying things on sale with a Safeway discount card helps.  Costco's prices on the other hand are pretty much in line with the mainland and is a great place to stock up.
-My opinion is that Oahu is too overcrowded and touristy.  While there are nice places and fun things to do on the island, the other islands just offer so much more that there is no compelling reason to spend more than a couple days in Oahu.  There's relatively little of the awesome greenery, hiking, active volcanoes, and serene waterfalls that the other islands offer.
Previously on Oahu I've done the following activities (5/5 = must do , 0/5= don't bother):
-Jet-skied insane waves near the Banzai Pipeline (Now this was exhilarating!): 4/5
-Kayaked to a "sunken island" (So cool to be able to walk in the ocean after kayaking for an hour): 3.5/5
-Walking down the Waikiki Boardwalk, checking out the stores and people (and a lot of them sure are interesting): 3.5/5
-Snorkeled Hanauma Bay (More exciting snorkeling is free on other islands): 3.5/5
-Watch surfers battle 15 foot waves at Banzai (Worth a stop during the winter if you're at the north shore): 3/5
-Driven the H3 (Some of the best scenery on Oahu): 3/5
-Hiked to Manoa Falls (Pretty falls, nicer ones on other islands that are easier to get to): 2.5/5
-Climbed Diamond Head mountain (Nice view, but not much nicer than a Ocean view room balcony!: 2/5
-Visited Pearl Harbor (I'm pretty sure I was the only non-Japanese person there…weird): 2/5
-Visited the Dole Plantation (Cute store, with great kosher Hawaiian microwavable kettle corn, but not much else worth spending the money on).: 1/5
-Anyway now we're off to my personal favorite, the Island of Kauai!
The flight attendant even offered to take our pic!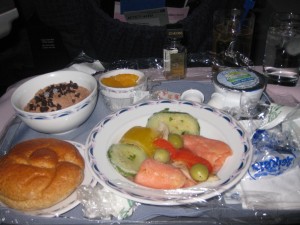 Kosher Lunch (appetizer and dessert)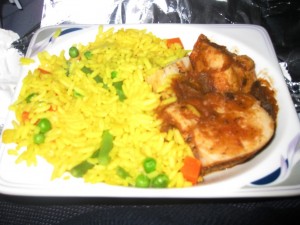 Kosher Lunch (entrée)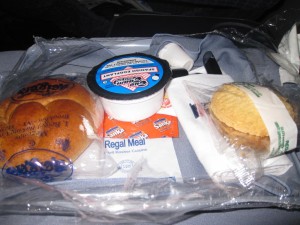 Kosher snack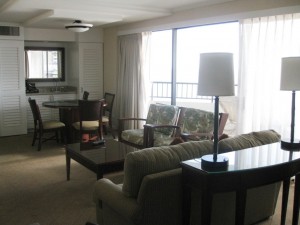 Partial view of living room
Partial view of bathroom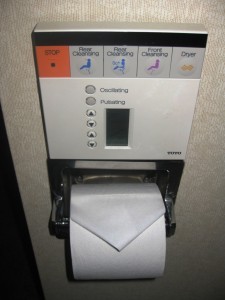 Toilet controls…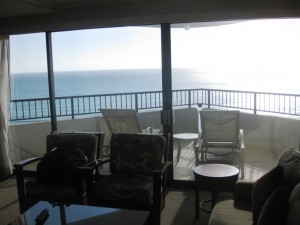 Living room balcony
Hotel fruit tray
Getting ready for Shabbos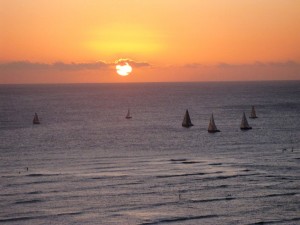 View from the balcony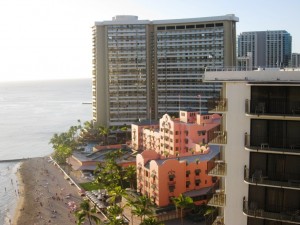 View from the balcony, from left, Sheraton Waikiki (Starwood Cat. 5), Royal Hawaiian (Starwood Cat. 6), and Outrigger Waikiki.
-Agree/Disagree with any of my opinions? Let's hear it in the comments!