Update 2: From March 4th through March 31st Continental will be operating the Houston to Honolulu route with 777 aircraft instead of 767 aircraft! Among many other niceties (flying on a larger, newer plane, etc) that means lie-flat beds instead of angled seats in Businessfirst and AC power outlets and Audio/Video on demand entertainment systems for all passengers instead of a loop system!
If you can go in March the 777 between Houston and Honolulu will be a real treat! And best of all it's available every single day at the saver rates!
HT: eliteflyer
Update: This seems to work for all qualifying Continental accounts listed below on the Continental BusinessFirst flights from Denver, Houston, and Newark to Honolulu.
From Continental Gold and Platinum elite accounts (and apparently some cardholder and silver elite accounts, but not most of them…) there is also perfect first class saver award availability on pretty much every domestic route, like Newark to Houston, Las Vegas, Los Angeles, S. Francisco, etc, even on the 757-200 lie-flat BusinessFirst equipped planes!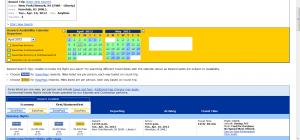 EWR-HNL (click to enlarge)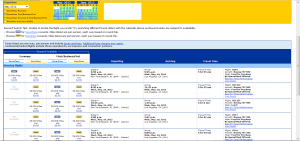 EWR-LAX (click to enlarge)
—————————————————–

If you have the Continental OnePass Plus Mastercard, or are a Continental elite you'll want to check this out!
People who have one of those can book the last seat on the plane for miles, but at the easypass rate for typically double the miles.
Right now though when logged into your Continental.com account that has a Continental card or is elite you can book the last seat availability at saver rates on certain routes. So far I've just seen this on domestic routes.
For example for Newark-Honolulu, which is always difficult to find in coach and extremely difficult to find in BusinessFirst there is saverpass availability on nearly any day you want to travel!!! That means just 40,000 miles each way to fly nonstop from Newark to Honolulu in BusinessFirst whenever you want!
(It's a glitch because the fare class is "JN" which should cost the easypass rate as it's good for last-seat availability, but is bookable right now at the saverpass rate!)
Find other routes that work well with this glitch?  Book a ticket with the glitch? Post a comment!
Book now and think later!  If you don't have enough miles in your account you can hold award tickets for 3 days, I don't recommend holding this as you may not be able to book it once the glitch is fixed.
You do however have 24 hours to cancel a booked award reservation for free.  Plus dates on award tickets can always be changed 21+ days before the new flight for free, as many times as you want!
This availability glitch won't last long though so don't wait!
HT: FT