Some stories and deals don't get their own post, but should get some coverage. Here are some quick takes on stories that caught my eye:
Travelers now have to wait for a shuttle to take them to a lot where they can get matched with a ride. During peak travel times that wait time can exceed an hour.
With peak holiday season coming up, the new system is likely to be a disaster.
It's even worse for people traveling with families, as they now have to shlep their bags and kids onto the shuttle bus before waiting for an Uber.
If LAX really wanted to reduce ride share traffic, maybe it should have imposed another surcharge on the service? Or kept the option to skip the shuttle in exchange for an added fee?
There is a way to bypass the mess though. Uber Black is exempt from the new rules. Uber Black can be pricey though, especially for long distance rides. Maybe the best move is ordering an Uber Black to a nearby location and then switching to an UberX so that you don't need to wait and shlep your bags and family onto a shuttle?
---
Globes ran this fascinating interview with Cathay Pacific's outgoing head of Israel, Jonathan Bailey, about their Tel Aviv route a few months ago.
We already knew the flight was performing well as Cathay has gone from 4 weekly flights to 6 weekly flights to daily flights on the route. I mentioned back then that I hoped that meant that Cathay would add first class onto their Tel Aviv flights. From the article it sounds like Tel Aviv might just land the next generation 777-9, which will operate with a first class cabin!
I can't wait to use 70K Alaska miles to fly from the US to Israel in first class for both flights!
Some other interesting tidbits:
The majority of the Israeli passengers use the flight to continue to other destinations, "mostly to Japan, followed by Sydney, Singapore, Taipei, and Vietnam."

How cool would it be to have Qantas or Singapore fly nonstop to Tel Aviv!

Cathay doesn't regard El Al's upcoming nonstop to Tokyo as a threat. They think they will profit more as they offer far more frequent service than El Al's 3 weekly flights. Cathay also offers service into Haneda Airport, which is far preferred to Narita where El Al will fly to. Plus they'll benefit from El Al marketing Tokyo to Israelis.
"We have more than a few passengers traveling to Hong Kong every week and returning to Israel for the Sabbath."

Now those are some serious road warriors!

Israelis love booking last minute. "More than a quarter of our tickets can be purchased one month before the flight…it made us nervous at first, but when we saw that this behavior was consistent, we realized that we would sell these seats. We used to try to sell 6-9 months in advance, but we've eased up on the pressure. In a certain sense, the Israelis have educated us as to how to sell to them"

I love this. I'm a spontaneous traveler and my love of miles stems from the fact that I can book last minute trips at affordable rates. Cathay in particular is great about opening up award space at the last minute.

"The profit comes from business class. In tourist class, we're trying to reach a tie-breaker. We have 46 business class seats, which make up 10-15% of the plane, and they're the big profit."

No surprise here. It's the reason United created a special premium heavy version of their 767-300 for routes like Newark-London with 46 business seats, 22 premium seats, 47 economy plus seats, and just 52 economy seats.

"In Israel, we use the Dan lounge, which is alright, but expensive. If you compare it with the business lounge in Hong Kong, which is one of the best in the world, we charge less for it than what we pay here."

Mr. Bailey is being generous here. The Dan Lounge is barely usable during peak travel times due to overcrowding and the amenities are weak. It's insane that they are able to command such high rates for such a poor product. It seems like they must have some sort of lounge monopoly arrangement with Ben Gurion as many other airlines besides El Al would love to offer their own lounge product in Tel Aviv.

It's the best country I've lived in, except for the high prices. It's more expensive here than in Qatar and the UK.

That's quite the ringing endorsement for Israel. 
---
CLEAR has finally arrived at Newark Airport, though for now it's only available in Terminal C for PreCheck passengers. The regular CLEAR line at Terminal C will arrive next.
It's too bad that the service isn't available at Terminal A or B, though there is a bus located airside that can take you to the other terminal should you say, clear security in Terminal C and have a flight from Terminal A.
PreCheck is great, but CLEAR is amazing.
PreCheck costs $85 for 5 years (it's included for free with the excellent Global Entry, which costs $100 for 5 years) and allows you to keep your shoes, belt, and jacket on, and your laptop in your bag. You get to go through metal detectors rather than assuming the position for the nude-o-scope. Adults that have PreCheck can also bring their kids with them, even if their kids don't have PreCheck.
PreCheck and Global Entry are free with cards like the Chase Sapphire Reserve, Chase United Explorer, Capital One Spark Miles Business, Capital One Venture, AMEX Business Platinum Card, AMEX Platinum Card, Citi Prestige, Citi Executive AAdvantage, and more.
Once upon a time, PreCheck lines were always short, but that's no longer a guarantee. With PreCheck these days you may be able to walk right up to security or you may need to wait 20 minutes.
CLEAR allows you to skip to the front of the line. If you have PreCheck you can skip to the front of the PreCheck line and if you don't have PreCheck you can skip to the front of the regular line.
You don't need to take out your ID either, your fingerprint or eye act as your ID.
The dependability that skipping the line gives you is simply amazing. It means I can leave my house 55 minutes before a flight and know that I won't miss my flight out of CLE. When I'm with my family I'll leave plenty of time and enjoy the airport lounge, but if I'm solo, the less wasted time in the airport is always a win.
CLEAR also works for sports stadiums. I've used it to skip the line at Progressive Field, which is a nice bonus on top of skipping the lines at the airport.
A full list of CLEAR locations can be found here.
---
Kudos to Virgin Atlantic for trying to understand religious clientele before launching service to Israel.
They hired consultant Arieh Wagner for sensitivity training for their crew, and they went to London's Golders Green suburb to learn everything from kosher food to wig boxes.
They have also added kosher snacks and wines onto flights, a kosher menu in the Virgin Clubhouse, and they'll be switching from Hermolis to high-end caterer Food Story. Hermolis is generally considered the best kosher meal provider, but I'm told that Food Story will take it even a notch higher.
Competition on the London-Tel Aviv market is fierce and it's great to see Virgin join the ring.
Now if only Arieh could provide the same training to El Al, Delta, and United…
And here's a cute video of Richard Branson selling tickets in the Jaffa shuk:
---
El Al's final 747 flight is now flying from Rome to Tel Aviv; It just drew a 747 in the sky.
Another sad day for the 747 as another airline retires its final Queen of the Skies. El Al flight 1747 is making its way from Rome to Tel Aviv.
DDF member yandmk is aboard and reports that he ran into another Jewish avgeek on the flight who flew to Israel and bought tickets on the flight after seeing the final flight details posted on DansDeals.
The flight path even drew a 747 in the sky:
The aircraft will likely face the same sad fate as this El Al 747-400:
I'm just a bit obsessed with the Queen of the Skies, so it's always sad to see videos like that.
In 2016 I took Rafi to San Francisco to let him experience flying on the upper deck of the glorious 747 before United retired it.
In 2017 I flew to Hawaii on United flight 747, which was United's final 747 flight. I even have a piece of a 747 in my office.
Luckily, the 747 will fly on as airlines like Korean and Lufthansa operate the newer 747-8, so it will be a while until the Queen is gone from the skies.
---
American and United have matched Delta in requiring you to fly on their airline or partner airline in order to access their airport lounges.
That's certainly within their right to do for annual members.
However after lifetime club members complained to all 3 airlines about the terms of their purchase being significantly altered, American and Delta relented and will allow lifetime club members to access their clubs, even if they're flying another airline.
United refused to make an exception. They will require people who paid for a lifetime club membership to make an additional purchase in order to access the clubs they already paid to access for life. It's just wrong.
This isn't the first time United has behaved badly toward lifetime members. They also promised in writing that Million Milers would get regional upgrades for life, before they backtracked on that promise. They also have refused to honor lifetime Silverwings memberships.
United seems to take pride in showing just how little trust they deserve. It costs them practically nothing to keep their word in this case, but they still managed to anger a group of their most loyal customers.
---
This is one of my favorite museums in the world and it's sad to see it go. If you're around the nation's capital it's certainly worth a visit!
From the Newseum 9/11 exhibit: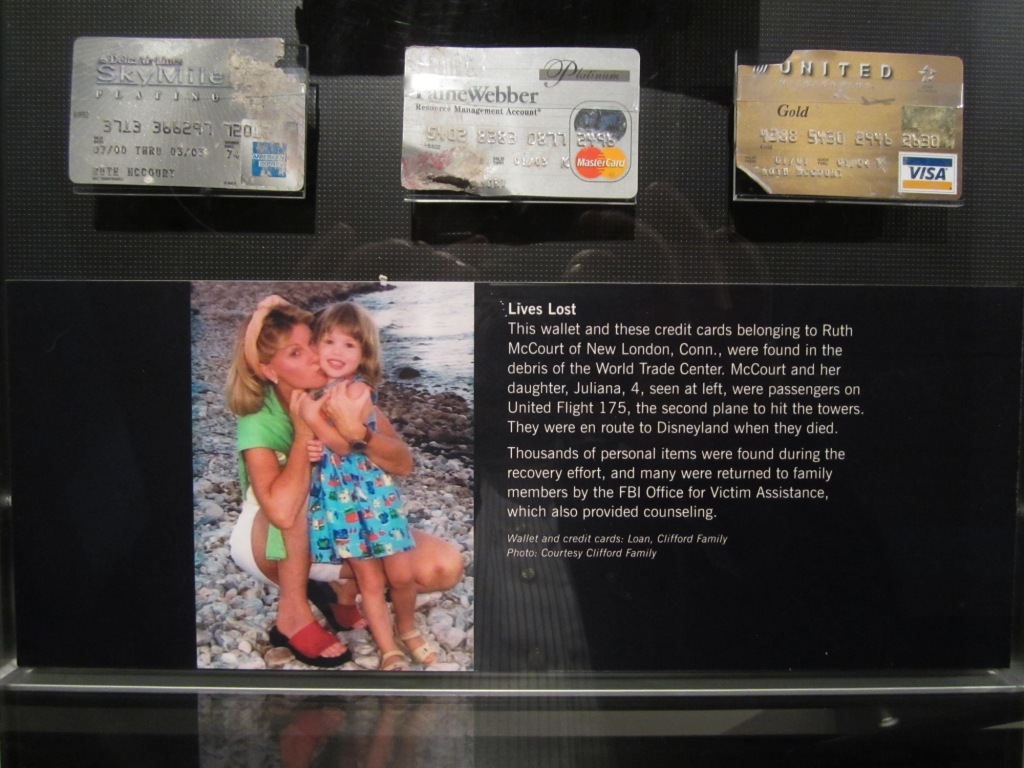 ---
Airbnb can be amazing, especially for big families that don't fit into hotel rooms or suites. But with a hotel you generally know what you're getting and if you don't get it, the corporate chain that manages the hotel will step in.
Airbnb though is the wild, wild west. I rented in Airbnb in Florida that was exactly as pictured, but smelled so bad that we had to checkout and move into a hotel. Good luck fighting with Airbnb for a refund in a situation like that.
My brother JJ rented an Airbnb in Cairns, Australia, only to find it covered in spiders and insects. He got a refund as the home's owner never responded, but had to pay for a hotel when he was expecting a home with a private pool.
But the Vice article takes the cake and is just shocking. Sophisticated scammers know that Airbnb sides with the home owners and that means they can take advantage of renters and get away with it. At least until they scam a journalist who unwraps the scam.
Airbnb didn't seem to care much and I doubt they'll offer proactive refunds. They're just another tech company growing fast and behaving badly.
But the FBI is now on the case.
Have you had problems renting an Airbnb?
---
Mishpacha covers the DansDeals Vacation Nod
https://twitter.com/DBashIdeas/status/1190762652504641536
This is hilarious 😀
I'm certainly guilty of just about everything in this paragraph. Though I have been asked if I got my vacation deal through DansDeals and only on rare occasions will I spoil the fun by saying that I am Dan.
---
Share your thoughts on these stories or post a comment about what other stories that I missed!